Joined

May 3, 2018
Posts

204
Likes

286
Location
Do you have a source for this? I don't recall seeing any papers that made reference to this when I was deliberating on what resonance point I should use back in the beginning.
I don't think there is a definitive answer where it says which is the most accurate resonance point, because different ear canals and all, but 8kHz is definitely too "low" (close to the bottom/minimum). What I can provide though, is the technical documents for the standard (IEC 60318-4) ear simulator, as well as the new Hi Resolution one.
Link to the PDF.
It's resonance point is actually at 12.5kHz, so I am assuming this should be the goal when measuring. Now, I know that the ER4SR was measured with the GRAS (Hi Resolution one), which has lesser "resonance peak", and thus more accurate, but still, measuring with the 8kHz resonance in mind creates too big of a deviation from what it should be, in my opinion. I will use the ER4SR again as a comparison:
Black line is the official measurement (most accurate), and the green "dashed" one is the DF target, extrapolated from this:
The listener's perceived response is the actual intended response tuning, while your measurement would have a huge gap after 10kHz after compensated: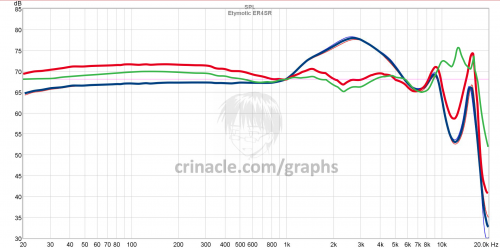 Red is your measurement compensated, green is the official measurement compensated, both using the same DF target template, with reference plane at 1kHz.
Again, I could be wrong, and I know that the "general rule" is not to "trust" graphs beyond 7/8/9/10kHz, but... what if we could make it as close to reality (the Hi Resolution GRAS) as possible, by adjusting the resonance point (again, using the 12,5kHz, as the simulators calibrated at)? Anyway. I am most likely wrong. But if I happen to be right, I might have an idea to "fix" your existing graphs by moving the resonance point, using the provided curves from the PDF document I linked to, without having to "re-measure" everything using different resonance point:
Anyway, if it comes to that, I will do the dirty work, so no worries. Also, if there are people that know something about all of this, please, feel free to join in the discussion.