I'd like to introduce a virtual newcomer of a brand stateside, Cen.Grand. The brand is currently being distributed by
Power Holdings, Inc
. The product that I'm most interested in is the Cen.Grand 9i-906 headphone amp, nick named 'Silver Fox". There's not a lot of info on the headphone amp that is not in Chinese, but I've taken some time to collect as much info as I could about the amp.
Before I get into information about the amp, I'd like to start of by giving a little history about company itself. Founded in 2011 by experienced audio engineers, Cen.Grand Digital Media Technology Co., Ltd. specializes in the design and production of hifi equipment. Their initial focus was on producing digital players. At that time, Cen.Grand did not want to focus on audio only, but also on video. They believed that products leading in technology needed to sufficent in both audio and video to be competitive in the market.
Their first product release, 9i-AD, gained many accolades around the world. It lead to development of Cen.Grand's first official product the 5i-10 DAC. This product did not have high technical content and only used WM8805+WM8741 Wolfson DAC chips. The sound of 5i-10 DAC was classified as traditional British style. The sound was soft and warm and it is suitable for enjoying the charm of voice and strings, not for large-scale music. At that time the price of 5i-10 DAC was very cheap, about $300 US dollars, so it got good market performance.
The 5i-10, 5i-A, as well as 5i-AD products constitute the original product line of Cen.grand. Althought these products were not available for sale in 2011 because R/D delay, they still got a considerable number of pre-orders. Later, the 5i-300 video HD players and the 5i-1600 Blu-ray disc players were also put on the market successively.
Why is the product model name 5i? The original meaning of 5i is "I love". A series of products enabled Cen.Grand to quickly accumulate a large number of users in the first two years. Those products garnered them a good reputation in the hifi and high-definition AV field. These products were mid-range products, which were not enough to lead the market. Therefore, the development of the 9i series of products was put on the agenda in 2012. The meaning of "9i" was "just love." The first 9i series included two products: 9i-60SDAC and 9i-AD media player.
Two years later the 9i-80S DAC went to market replacing the 9i-60S. It came loaded with the latest XMOS second-generation USB solution and used cpld technology for digital processing. The 9i-80S DAC used in dual AK4495 DAC chips with the same output circuit used in the 9i-AD black gold version. The 9i-80S DAC had a good reputation amongst its users, but was also debated about in the hifi forums. Overall, the 9i-80S was a successful product for the Cen.Grand company.
Fast forward to 2016. Cen.Grand entered the desktop and headphone market. In order to bring beautiful video to headphone enthusiasts, they reduced the 9i-AD "black gold version" to a smaller size. This made it more suitable for use on a desktop. Soon after, Cen.Grand discovered that the sound of the 9i-AD was unsuitable for headphones. So it was tweaked and adjusted for better output for headphone usage. Thus the 9i-ES media player was born. The other model that integrates the headphone amplifier is called 9i-ESA.
The 9i-90SA "Lark" was the first dac/amp combo released by Cen.Grand. It was a versatile product with high performance. It was the key product for Cen.Grand to enter the earphone market and gained them brand recognition. In 2018, the 9i-90SA "Lark" was rated as the "best headphone amplifier" at the Guangzhou Hi-End show, the largest audio exhibition in Asia.
In recent years, subsequent products of 9i-90SA have been launched in succession. The 9i-92SA "Golden Thrush" DAC/Headphone Amp/Pre-Amp, include 3 generations of products. All of this finally brings me to the product I want to introduce, the 9i-906 "Silver Fox" headphone Amp. At the time, it was the most expensive transistor headphone Amp with the highest sales volume in china. The 9i-906 won the highest award at GuangZhou hifi show 2021 and BeiJing international HiFi show 2021.
Product Details
9i-906 "Silver Fox" Headphone Amplifier​
The nickname of 9i-906 headphone amplifier is "silver fox". Purpose is to drive "monster" headphones. Its circuit architecture originates from a large power amplifier. When many redesigns for electrical characteristics and adjustments of sound style were completed, "silver fox" became a wonderful headphone Amp. High analytical, high density and neutral without tendency, especially power driving force, make it leader in similar products. Whether high sensitivity or low, high resistance or low, dynamic earphone or flat panel headset, "silver fox" can adapts to them by it's super driving ability and quality. It can show the characteristics of headphone more than normal headphone amp.
1. Introduction:​
9i-906 "silver fox" is a headphone power amplifier with high performance, strong power supply and high current output. It's circuit design is complex and perfect, 4 pairs of high-power British FET are used in output part, the output power is 30Ω/20W. Ultra low sensitivity headphones can also be driven with excellent audio performance.
It has four output modes: Normal, Balanced(BTL), Virtual Ground(Active G) and Parallel, as well as three low resistance modes and one high resistance mode. A variety of headphones can be matched.
It has two balanced and two unbalanced inputs. Even if you input an unbalanced signal, the internal circuit will convert it into balanced signal. Therefore, even if you input an unbalanced signal you will also get the maximum output power.
"Silver fox" has four output interfaces: 4 pin XLR balanced, 6.35 single, 4.4 balanced as well as double 3 pin XLR balanced.
2. Operating Instructions:​
"Silver fox" is a pure headphone Amp and the operation is very simple. There are only several function keys: power switch, input selection, output mode selection, high/low resistance selection.
Long press the out key to switch between high and low resistance modes. There are four kinds of headphone impedance options for choice: high resistance, low resistance 1, 2, 3. You can selected any mode according to whether you hear noise. High resistance mode is recommended in most cases.
3. Performance Parameters:​
Power: 20W (30 Ω BTL, distortion 0.02%)
Frequency response: 20-20KHz (0.2db)
Net Weight: 12kg
Gross Weight: 13.7kg
Cen.Grand 9i-906 "Silver Fox"​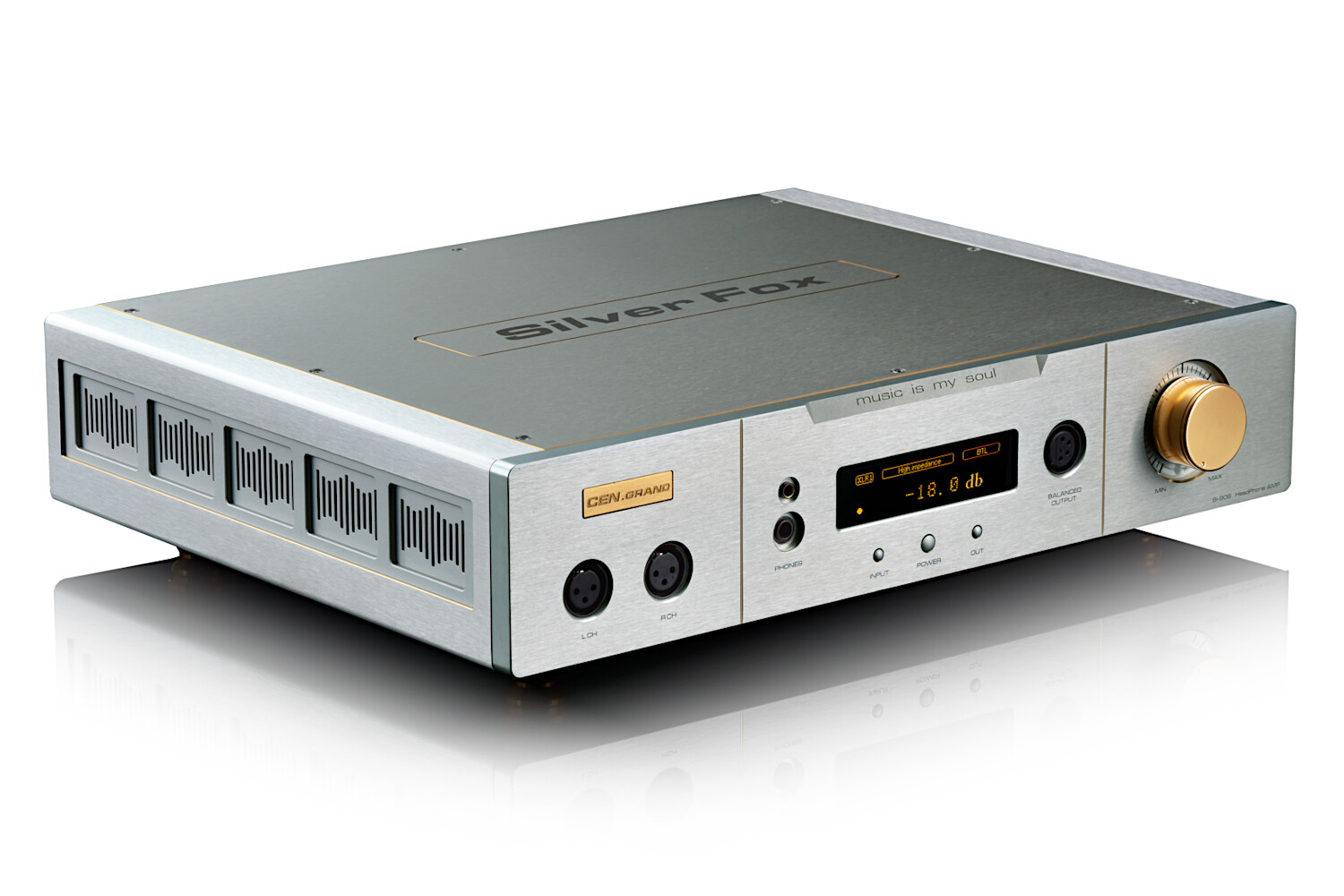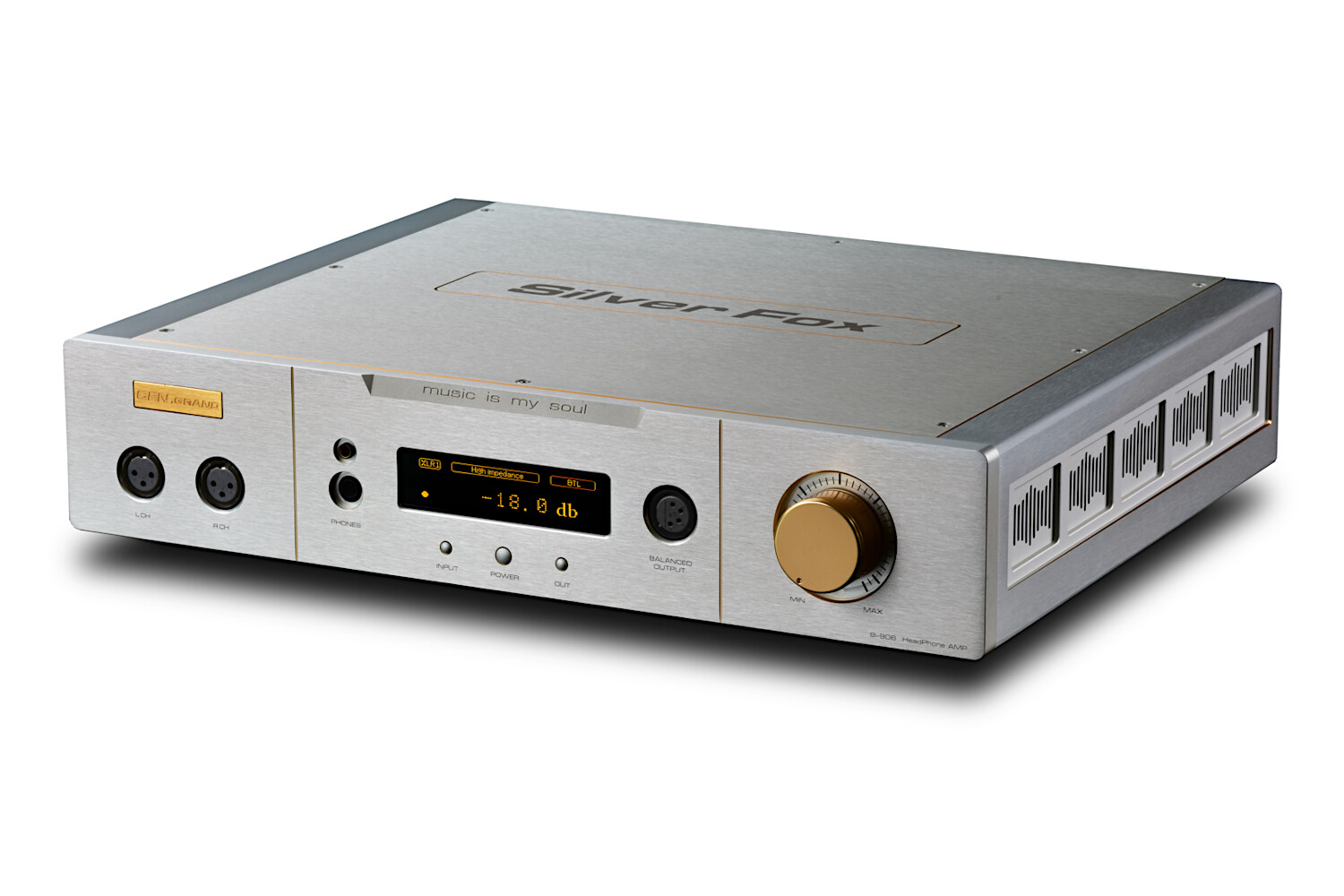 Reviews:
6Moons
Last edited: