Joined

Oct 6, 2013
Posts

13,734
Likes

36,845
New Flames of Campfire!
Due to overlap in Unboxing, Accessories, Cable, some new Design concepts (Solid Body design), and based on numerous requests to compare 2020 Campfire Audio models, I decided to combine all 3 reviews in one instead of copying same sections in separate reviews.
The product was provided to me free of charge for the review purpose in exchange for my honest opinion. The review was originally posted on my
site
, and now I would like to share it with my readers on Head-fi.
Manufacturer website
:
Campfire Audio
. Available for sale directly or various retailers like
Audio46
and others.
---
Intro.
I still can't get over Ken's and Caleb's poker faces when I asked them early this year at CanJam NYC'20 if Campfire Audio is planning to release something new. Without blinking an eye, they only mentioned about a possibility of some lower end model later this year. You can only imagine my surprise when a few months later I was watching Head-fi TV where they were talking about the updated line up of Andromeda 2020, Solaris 2020, and all new ARA. So, when opportunity knocked on my door, Campfire Audio (CFA) didn't have to ask me twice if I'm interested to review their new IEMs.
Once all three arrived and I started to share initial impressions and pictures on Head-fi, my original intent was to have a short combined first look overview, followed later by a full review. But as I continued to answer numerous questions about 2020 CFA models, I realized that short impressions write up will not be enough. I still wanted to publish a combined review because majority of questions I received were either about comparison of 2020 Andro and Solaris to their OG versions, or comparison of all three to decide which one to pick. And this is exactly what you will find in this full detailed review!
Unboxing and Accessories.
The best way to describe CFA 2020 unboxing experience is "like a box of chocolate". While I know some don't really care about unboxing in general, this was on a totally different eye candy level. And don't take my words for it, just look at the pictures.
Each IEM comes in a compact box with its own color scheme and 3D picture of corresponding model popping out from the cover of the fancy French paper wrapping. That wrapping is held together by a round sticker on the back which you need to cut/remove to unfold the top layer like it's an origami, and inside it looked just like a candy box. The view was even more impressive since I was doing all 3 boxes at the same time in the kitchen, and my wife and kids passing by thought for real that I was opening candy boxes.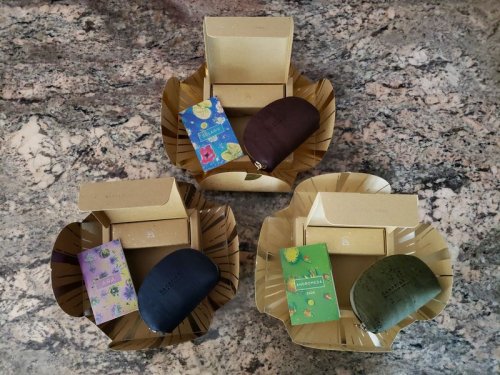 When you open the actual product box, inside you will find a new premium cork zipper earphone case, in different dyed colors (Andro – green, ARA – blue, Solaris – brown) to match the color theme of each IEM packaging. These cases are made in Portugal, from a material found in outer bark of the Cork Oak Trees, and each features a thick faux wool lining and a quality zipper. The cases are very compact, pocket friendly, and great for storage and keeping IEMs secure during transport.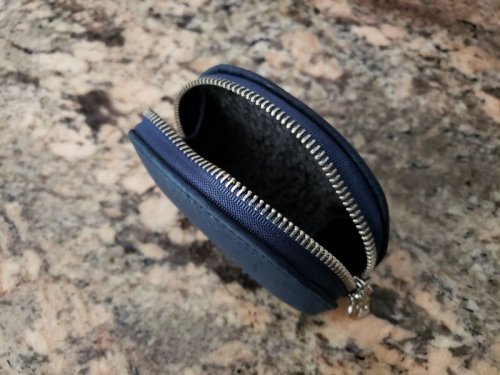 To make sure anodized finish of the shells is not ruined by IEMs banging against each other inside the case, Campfire also includes earphone protection double-pocket sleeve, 3 pairs of it. One was used for IEMs, and other spares were used for eartips storage. The other included accessories, besides a stock super smoky Litz SPC cable, were a set of Final Audio E-type brand name eartips (xs/s/m/l/xl), generic silicone eartips (s/m/l) and marshmallow eartips (s/m/l), Campfire Audio traditional lapel pin, and a cleaning tool.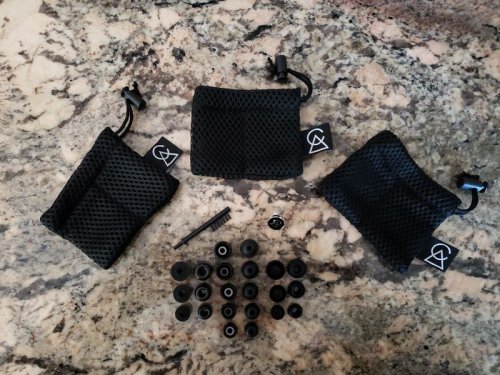 Cable.
The new stock 2020 CFA cable is 3.5mm TRS terminated, with 90-deg gold-plated plug and over-molded rubbery housing with a nice grip and built-in strain relief. The 4 twisted Silver-Plated Copper Litz multi diameter stranding wire conductors have a smoky finish with a medical grade soft PVC jacket. The y-split is a slim aluminum black "bullet" with a matching chin slider which retracts from the split. The wires going to each earpiece after the split are twisted, and closer to mmcx connector housing have a piece of heat-shrink pre-shaped flexible earhook (no more memory wire!!!). The mmcx connector itself uses a quality beryllium copper material, and the smoky housing of the connector has red/blue dots corresponding to Right/Left sides.
The original Super Litz cable found in OG Solaris has thicker conductors and a little stiffer in comparison to lighter, softer, and more pliable Super Smoky Litz cable. Also, the original Super Litz had memory wire, while Super Smoky Litz didn't, only a flexible pre-shaped earhook.
And in addition to physical difference, the perception of sound difference when going between these cables was quite noticeable as well. For example, with Andro 2020, the original "silver" Super Litz cable has more body in mids and narrower soundstage width, while Super Smoky Litz cable gives new Andro mids/vocals more transparency, more air between layers, and noticeably wider soundstage when tested with LPGT. The difference was noticeable to my ears in a number of blind tests.
Design.
While unboxing experience and selection of accessories was nearly identical between these three, the design of each IEM requires a separate attention which I'm going to cover individually in this section of the review. But before I begin, there were 2 common features I would like to bring up.
First one is Campfire Audio Tuned Acoustic Expansion Chamber (T.A.E.C.) which is a patented design of an optimized acoustic resonator assembly machined into the shell. It actually replaces the traditional tube and dampener system commonly used in many IEMs by adjusting the volume of space in front of the driver. T.A.E.C. has been used in many previous CFA IEMs.
The new addition in 2020 models is a Solid Body Design which provides optimized acoustic performance by including the tuning chambers directly into the earphone print. In other words, it is what CFA refers to as a single monolithic boot design with all the drivers inside, including the built-in sound path, which also ensures a much tighter build tolerance.
ARA
(
https://campfireaudio.com/shop/ara/
, $1,2999)
Starting with the new kid on the block, it's a brand new 7 BA drivers ARA IEM which according to CFA was inspired by a tuning of their special edition Andro Gold and also 10-year anniversary edition MW10 (MixWave) which featured crossover-less design. As a matter of fact, while having a familiar outline of a signature Andro shell, the spout is elongated, similar to Andro Gold design.
The shell is machined from Grade 2 Titanium billet, with a raw titanium finish, PVD black stainless-steel spout with a new grill design, and black screws. And of course, you will find their latest beryllium/copper MMCX socket. The titanium shell, accentuated with black screws and spout, has a rich eye candy look. It is still lightweight, has a comfortable secure fit, and good isolation.
Inside, you will find a crossover-less driver single boot design which incorporates their new Solid-Body acoustics design. The split between 7BA drivers is Dual (2x) high frequency BAs (T.A.E.C), Single (1x) mid frequency BA, and Quad (4x) low frequency BAs. The impedance of ARA is 8.5 ohms with 93 dB sensitivity, but despite its lower sensitivity it did not require to push volume higher or to drive with more powerful source.
Solaris 2020
(
https://campfireaudio.com/shop/solaris-2020/
, $1,499)
From the "new kid", we move on to a "total makeover" surprise which is 2020 version of Solaris. One of the main complaints about OG Solaris was its size which some found to be a bit uncomfortable, asking CFA for custom version of this popular hybrid. Campfire reply was a new 20% smaller shell which is also 25% lighter in weight (from 8g to 6g). Also, the new design is less flashy since the gold faceplate is gone. With an exception of stainless-steel spout, it's now an all-black shell with a bonus feature of a fingerprint magnet.
The shape of the shell is a perfectly scaled down version of the OG Solaris, featuring a durable black PVD finished body, vented shell (for dynamic driver), and as already mentioned, a stainless-steel short spout with a new grill design. Of course, the latest beryllium/copper MMCX socket is there as well.
Inside, it features single boot "Solid-Body" acoustic design, and the identical driver config as OG Solaris. It is still a 4-driver hybrid design with Dual (2x) high frequency BAs (T.A.E.C), Single (1x) mid frequency BA, and the same single 10mm DD for lows with plasma enhanced Chemical Vapor Deposition (C.V.D.) Amorphous Diamond Like Carbon (A.D.L.C.) diaphragm. The impedance of Solaris 2020 is 15.5 ohms with 115 dB sensitivity.
Andromeda 2020
(
https://campfireaudio.com/shop/andromeda-2020/
, $1,099)
Since its first introduction, Andro went through a number of different versions and special editions, everything from v1, v2, v3, white, gold, mw10, and now 2020 version. Some changes were cosmetic only (going from v1 to v2), others were special limited editions with unique tuning. But the common Andro iteration remained the same inside of zirconium blasted aluminum shells with a classic emerald green anodizing finish and the latest custom beryllium/copper MMCX socket.
The only exterior change here is the new grill pattern at the end of stainless-steel short spout. But inside, Andro was updated with a single monolithic boot Solid-Body acoustic design. The 5-driver config and the crossover are still the same with a Dual (2x) high frequency BAs (T.A.E.C), Single (1x) mid frequency BA, and Dual (2x) low frequency BAs. The impedance of Andro 2020 is 12.8 ohms with 112.8 dB sensitivity.
Last edited: