Joined

Sep 4, 2020
Posts

1,793
Likes

6,326
Location
Hello Head-fiers,
Dropping MICRO-REVIEWS of my favorite headphones and IEMs below. They are ranked as per my overall
subjective
preference, price no bar.
I have not heard every headphone in the world, and the ranking is only of headphones I have heard (which I am fortunate to report, is a fair number).
SECTION 1: Headphones
1a. HIFIMAN Susvara:
Very natural, musical and analog-sounding. Arguably the one headphone among TOTL that has no obvious flaws. Strength is it's midrange which is liquid, fluid, and emotional. Strings and vocals come to life on the Susvara. Treble is wonderfully energetic without ever being sibilant. Bass is often EQ-ed by users, and absolutely demands a speaker amp for the bass to sound its best. Overall, my favorite headphone for a long, long time, and is a wonderful all rounder. No weaknesses; however, no ostensible wow factor, other than the liquid midrange and overall timbral and tonal performance. I also prefer a tad more bass impact, but nothing a good EQ can't fix.
1b. Abyss AB-1266 Phi TC:
Class-leading technicalities, and arguably the most powerful bass and slam on a headphone. Mids can be recessed and dry, but works with the rest of the presentation, which is a tad U-shaped. Best headphone on the planet for rock and metal. Darn good for EDM. Works excellently with live music as well. The one caveat is that if the vocals on a track are dry and recessed to start with, they will sound un-engaging with the TC. If vocals are sweet to start with, TC will deliver them adequately. Imaging, sound stage, and detail retrieval also excellent, probably second only to the Raal SR1a. My video review comparing the TC, Susvara, and Raal SR1a
here
.
3. Raal SR1a:
Serbia's gift to the head-fi community. Wonderful speed, resolution, sound stage, vocals. Bass and slam can be lacking, but EQ can do the trick (somewhat). Needs a speaker amp to be driven properly; this is not a good-to-have, but a must-have. Of course, Raal has its own amp, but that's another $4000. I personally consider the SR1a flavor headphone. It won't replace the TC anytime soon, but comes close to the Susvara in overall performance, and surpasses it in some respects. Another downside is that the ribbon drivers start clipping when you play bass heavy tracs too loud. All said and done, I prefer the TC and the Susvara to the Raal for being better all-rounders, and having fewer quirks.
4. Final Audio D8000:
This is the world's most underrated headphone. It has one of the best bass presentations on a headphone, period. It's dynamic, and overall sound signature is warm. Bass comes down appropriately to reveal very natural vocals and instruments. Treble is present without ever being sibilant. Good detail retrieval at its price point. Sound stage is not exceedingly deep or wide, but wider than on the Utopia. Overall, I prefer this to either the Utopia or the LCD-4, at this price range. I have not heard the D8000 Pro, but I hear it's brighter.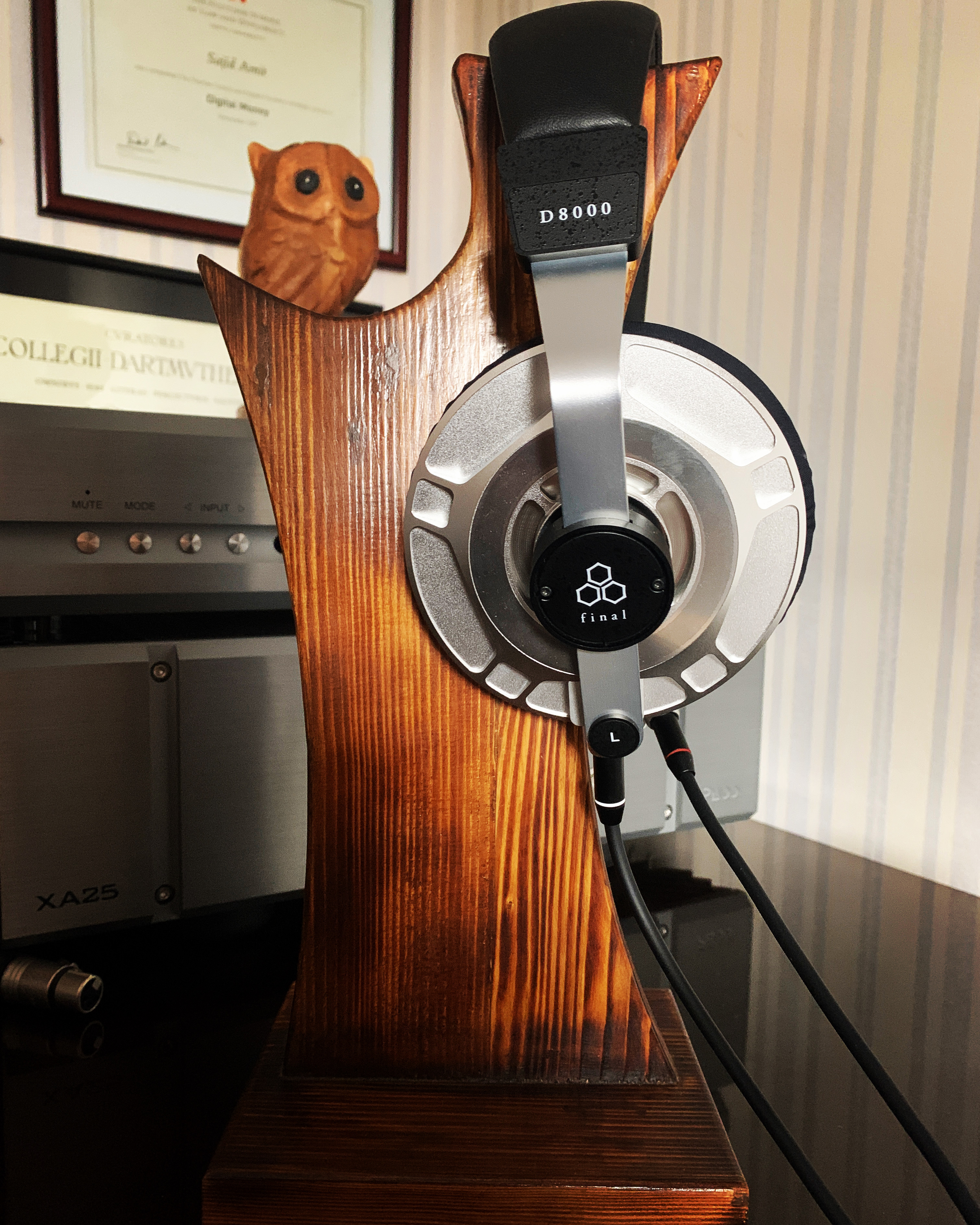 5. Focal Utopia:
The French speaker manufacturer's finest headphone till date. Very musical, fast and dynamic. Hits the Harman 2018 Target beautifully. Can be a tad bass-shy and the timbre can be metallic, but this headphone works well with all genres, and maybe the best all-rounder in the market, along with the D8000, if you can get over its slightly metallic timbre, and the forward (almost shouty) mids.
Disclaimer:
I have not had long listening sessions with the HIFIMAN HE1000SE, V1 and V2 so not including these HIFIMAN headphones in my ranking, although from sources I trust, they are wonderful headphones worth a try.
6. Audeze LCD 4:
Warm, laidback, bassy. Low to mid treble is relatively rolled-off so can sound a tad veiled compared to other TOTLs. Bass is class-leading, only surpassed by the Abyss 1266 Phi TC. Vocals are thicker and more natural than on the TC. Sound stage and imaging are decent. My biggest problem with this headphone is that when you listen to a Susvara or a TC and then put on the LCD-4, the LCD-4 can appear veiled, given its low-to-mid treble recession.
7. HIFIMAN HE-R10P:
The HIFIMAN HE-R10P is a very technically proficient headphone with a warm, mid-centric sound signature. In terms of technical attributes, it is a very dynamic and punchy headphone. It has class-leading imaging compared to any flagship headphone, open or closed. It also stages better than many flagship open-backs, and certainly better than any closed-back out there. The mid-range has some energy in 500-3 kHz, which means that vocals sound forward, sweet, and rich, without becoming shouty or harsh. This headphone is particularly good for vocal-based tracks, especially female vocals. However, the one downside of the mid-range centric tuning is that the overall presentation can come off as bit polite and relaxed. It lacks the absolute sharpness and clarity of a Focal Utopia or if you are into IEMs, the Final A8000.
8. Focal Stellia:
Focal's iconic closed-back is not a closed-back Utopia, but has a warmer and more laidback tuning than the Utopia. It's bassier, has decent sound stage width for a closed back, and impressive technical performance. The Stellia is probably more appropriately priced at around $2-2.5K, but there are deals available if one looks, and of course one mustn't forget that there is a usually premium for high-end closed-back's.
Disclaimer:
I would place the RAD-0 and the ZMF Verite Open/Closed here in overall performance, but my time with the RAD-0 and Verite O/C was too brief for even micro-reviews.
9. Meze Empyrean:
Arguably the world's most comfortable headphones with iconic aesthetics. Tuning is great, with solid bass, a warm mid range, and a pleasantly tuned treble. It is with regard to technical performance that the Empyrean leaves a lot to be desired, at its price range. Technical-performance wise, headphones far less expensive give it a run for its money, and surpass it in some cases. However, owners who like it, seem to like it a lot. For those that yearn to get the best technical performance for their buck, may want to look elsewhere.
10. Abyss Diana V2:
This popular headphone has great technical performance. Aesthetics are lovely but comfort is subpar. The bass is excellent, the mids are dry, but still works well with rock and EDM. Overall, not my favorite headphone, and I found it a tad over-rated.
11. Hifiman Arya:
The Aryas are Hifiman's second best headphone in the world, after the Susvara (barring their e-stats). Overall, the Arya can be an endgame for many if you are not looking to spend thousands of dollars. The tuning is lovely, including great bass extension, present mids, and a vibrant treble. The Arya after its silent revision is not a bright headphone at all, but it has some treble energy and pairs well with a warm amp. The Arya soundstage is amazing! No major weakness at this price point. A video review I have made comparing the Auteur, the Focal Clear, and the Arya is
here
.
12. Focal Clear:
One of my favorite headphones in the world after substantial burn-in. Perfectly neutral (Harman 2018) with great bass and slam. You put them on and everything just sounds right! The bass and slam sound so real. All Focal headphones do this well. The Clear is also wonderfully resolving at its price point. I would say this ties with the Arya as the best headphone at this price range. It doesn't have the Arya's sound stage, but Arya sounds soft compared to the Clear's dynamic energy.
13. ZMF Auteur:
Best-in-class timbre, aesthetics, build, and a warm, laid back tuning. No major weakness at this price point. One of my favorite headphones of all time. Tuning is more universally appealing than the tuning on the Verite Open. Stunning aesthetics - probably the best looking headphone in the world. I let it go in order to maintain some fiscal prudence when I bought the Raal, but I miss it. It has some enchanting vocals.
14. Sennheiser HD800s
: A classic and deservedly so. Great detail retrieval and sound stage (second widest after the Raal SR1a), and very comfortable. However, frequency response is counter-clockwise tilted and bright, although not as bright as the OG HD800. Pairs well with a tube amp. I also find the bass lacking.
Disclaimer:
I have not heard the Focal headphones in the sub-1000 dollar price bracket. I have also not heard the Ananda. Neither have I heard ZMF headphones in around the kilobuck range.
15. Focal Radiance:
Not a closed-back Clear but close. Bass is faster and more detailed on the Focal Clear, but has more sub-bass and mid-bass energy on the Radiance, so it will slam harder. I, however, prefer the Clear's combination of bass quality and quantity to what the Radiance offers. The Radiance is also warmer in the midrange owing to the mid-bass energy, and surprisingly, has some mid-treble energy that is not noticeable on the Clear. Still a great option for a closed-back if you like the Focal house sound. Overall, V-shaped, bassy, and fun.
16. Hifiman Sundara:
The Sundaras have great technical performance and tuning at this price point. Can be slightly bright for treble-sensitive listeners, especially if paired with the wrong source. But overall technical performance is really, really impressive at this price range. Great entry-point to planar magnetic headphones. My video review comparing the Sundara, the Sennheiser HD 600 and the HD 650
here
.
17. Sennheiser HD 600/650:
These headphones are famous for being non-fatiguing and having class-leading timbre and vocals. However, the 600 has a rather limp bass IMO, while the 650 sounds veiled and unclear. Overall, I loved both these headphones at a point in time, but don't enjoy them as much anymore. Switching from any high-end headphone to either of these gives me the immediate impression that I am losing a lot of information, not to mention the underwhelming sound stage.
However, I did love these headphones earlier, so I can respect the sentimentality they command, perhaps owing to their vocal performance.
SECTION 2: In-Ear Monitors (IEMs)
With regard to IEMs, I haven't heard too many. Hence, please don't take this as a comprehensive ranking. This is just a ranking of IEMs I have heard. If I have not listed an IEM here, that means I have not heard it. I am way more of a headphone person than an IEM person, so to speak.
1. 64 Audio U12t:
This is a safe recommendation in around the $2000 range. Great bass for a BA, probably the best you will hear. Great resolution, stage, imaging, overall a fantastic all-rounder. However, I find the presentation a tad soft, which some call "analog". I just find it soft and can be boring as a result, IMHO.

2. Final Audio A8000:
This is a fantastic IEM but needs a warm source. Some find it bright and it may well sound bright with certain tracks. But has great technicalities and a clarity of presentation that's second to none. The midrange is also rather liquid. Detailed written comparison between the A8000 and the U12t
here
, and video review
here
(my first video review ever, forgive mistakes

).
3. Thieaudio Monarch:
This is my favorite IEM, bar none. If I ranked with my heart rather than my mind, this would be number 1. Awesome, awesome Harman 2018 tuning, with an amazing bass shelf. This IEM hits hard and works so well with all genres. I prefer my IEMs bassy while being "neutral" (Harman) tuned, and this just checks all my boxes.
4. Campfire Andromeda 2020:
Beautifully liquid IEM with a lovely midrange and treble. The latest tuning of the CA does not have midrange and treble quirks of previous version, and is worth a try. Of course, this is an all-BA IEM so won't hit as hard as IEMs that DD bass. My full video review
here
.
5. Sony IER M9:
A legend in the kilobuck range. Technicalities far surpass the CA 2020, but for me, the presentation is a bit hazy. The bass ought to have come down far earlier than it does. But otherwise, it's an amazing IEM for imaging, detail retrieval, and so forth. All BA, but doesn't sound like one!
6. Dunu SA6:
I have only had a brief listen to this, but this is an incredibly impressive IEM. An all-rounder, and the safest recommendation at this price point. I preferred it to the Zen, although the Zen has more physicality. The SA6 has superior treble extension and the right amount of air frequencies, to my ears.
7. Dunu Zen:
Another great innovation from Dunu. The Zen is a fantastic IEM at its price point. Great DD bass, slam, and overall technical performance. I, however, find the midrange too forward, and the treble extension a bit lacking. Not my favorite tuning.
Disclaimer: I had very brief listens with the SA6 and the Zen, but I am confident that I have a sense of their tuning.
8. Sony IER M7:
A more linear presentation than the M9, and to my mind, more reference-tuning. For detailed comparison of the M9 and M7, please check out my YT review
here
.
9. Dunu DK-3001 Pro:
A decent performer at this price range, with good neutral FR, good technicalities. I did find it boring for long listening sessions, however, and I think there are cheaper options that I prefer to the 3001 Pro.
10. Moondrop Blessing 2:
Forthcoming.
11. Moondrop Aria 2:
Forthcoming.
12. Moondrop Starfield:
Forthcoming
Disclaimer:
Note this ranking is a work-in-progress as I listen to more and more headphones. Feel free to check out my YouTube reviews
here
and written reviews here.
Two more photos I like...
And my first love, the Susvaras.
My thanks to...
@nickdhrubo
for the HIFIMAN Susvara, courtesy,
Gears for Ears
.
@Audio46
for the Abyss AB-1266 Phi TC as well as the Arya, the Diana V2, Final A8000, U12t and several other pieces of gear
Also a big thanks to
@TeamHiFiMAN
,
Bloom Audio
,
Headphones.com
,
MusicTek
,
Moon Audio
,
Hart Cables
for various support and various friends / online acquaintances for discussions and generous sharing of their wisdom, including
@GoldenOne
,
@paradoxper
,
@donato
,
@xtr4
,
@Roasty
,
@ThanatosVI
,
@Resolve
,
@Currawong
,
@project86
,
@kmmbd
,
@jlbrach
,
@smodtactical
,
@3ggerhappy
,
@number1sixerfan
,
@Ciggavelli
,
@BassicScience
,
@MatW
,
@Andykong
[/USER], and
@justin w.
Photo credit for the Auteur, Diana V2, Dunu SA6 to
@kmmbd
and HIFIMAN Sundara to
@nickdhrubo
Last edited: