Joined

Apr 5, 2004
Posts

33
Likes

10
Hi There!
I've been lurking on this forum for a little while and wanted to introduce myself and say "Thanks!" for all of the great info I've learned from this board.
Since I don't want to be too off topic, I'll at least talk about some headphone sutff
Before getting into headphones (and discovering this forum), I found myself spending less and less time with my stereo system. There were two main reasons for that: 1) I've been doing a lot more computer stuff lately and the stereo is another room, and 2) We have a 10mo old baby and once she's asleep I don't want to wake her with the stereo.
I started out listening to a pair of cheapo earbuds connected to the headphone jack of my logitech computer speakers. Needless to say the sound left a lot to be desired.
So I started thinking about building a pretty good PC audio system and getting some good headphones to go along with that. I talked to my dad, who used to be heavy into audio gear a long time ago (For the last 30 years my mom has told the story of how my dad spent several months' salary on his stereo system -- Rectilinear III speakers at that time (early 70s?).
So anyways my dad says he has some old headphones he doesn't use any more and offered to send them to me. This is what he sent: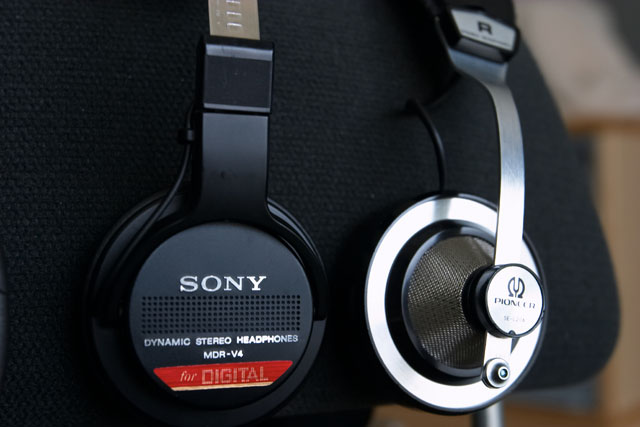 While waiting for his package to arrive, I also ended up buying a M-Audio Audiophile 24/96 Firewire. I choose the Firewire over the USB version mainly because the Firewire looks a little more professional to me than the USB version
Anyways I get his package and first listen to the Sony MDR-V4. Wow, a lot better than the cheapo ear buds I had before. After listening to the MDR-V4 for awhile, I decided while it was a drastic improvement over the ear buds, the highs were tinny. So then I try out the other pair my dad sent. I remember seeing my dad use these when I was a kid. They are Pioneer SE-L20A.
I was listening to all different kinds of music while trying out the different gear. One of the tracks I was listening to was the Telarc recording of Tchaikovsky 1812 Overature.
So I'm listening to the first track and immediately the old Pioneers (again early 70's gear?) sounded so lifeless compared to the Sony. I was just about to take the Pioneers off when all of a sudden this amazing bass comes through. Amazing in that I could not only hear it, but feel it. I can't believe that headphones that are over 30 years old can reproduce bass so well. So I listen intently, and rumble rumble, there it is again! A smile breaks out, amazing! I can't believe it. Let me switch back to the Sony's and listen to that same spot. As soon as I take the Pioneer off I realize why the bass sounded so good....
The night before after I ripped the 1812 cd to my hard drive I took the original cd and put it into my main stereo system to see what I liked better -- audio through my PC or on my main stereo. Coincidentally enough, as I was doing the headphone testing listening to the 1812 Overature, my wife decided to turn on some music for the baby to listen to. And what was in the cd player? 1812 overature. hahaha, no wonder these old pioneer's had such excellent bass. it wasn't the headphone that was generating the bass, but my velodyne sub which happened to be playiing the same track which my wife started around the same time I started my testing.
Anyways I decided to get a good setup since I spend a lot of time in front of the computer. I ended up ordering the Senn 650 (from Todd the Vinyl Junkie, excellent service BTW). I also ordered the MG Head Mk III from Audio Advisor which I hope gets here soon. The Senns sound a LOT better than the other two headphones I listened to...
The Senn is the best of the bunch (no surprise).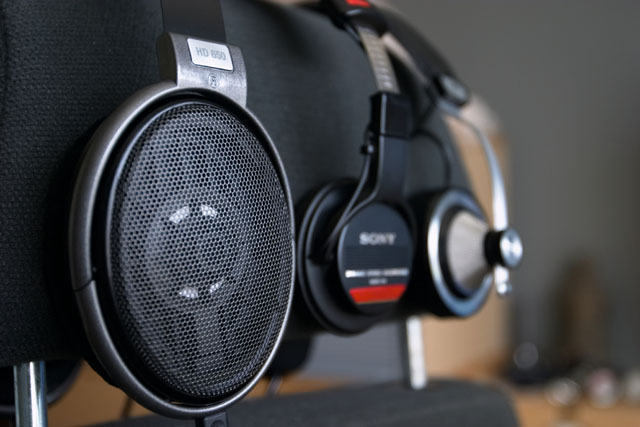 Oh, and the tale of the lost opportunity. After getting the Senns I was talking to my dad and telling him what I decided to do. Anyways, I mentioned that I ordered a tube amp to go with the headphones. As we discussed the tube gear, I mentioned that I may try to find Sylvania 5751 tubes to replace the stock one in the MG Head. My dad mentioned that he worked at Sylvania for forty something years. I said I thought you worked for GTE? He said he was originally hired at Sylvania, but Sylvania got bought by GTE (I didn't know that).
Anyways he mentions that he still has a bunch of old milspec tubes from his days at Sylvania. I said Wow! That stuff may be worth a lot of money! He goes to check the garage where he keeps his odds and ends... and then comes back and says "oops, I forgot I threw them out maybe a year ago when I cleaned out the garage" oh bummer.....
Anyways, that's enough rambling for now! I just wanted to say "hi", introduce myself, and say "thanks!!!!" for the greeeaaat info and friendly members of this board!
Old system: Logitech control pod -> freebie earbuds
New Sytem: M-Audio Audiophile Firewire -> Mg Head Mk III (soon) -> Senn 650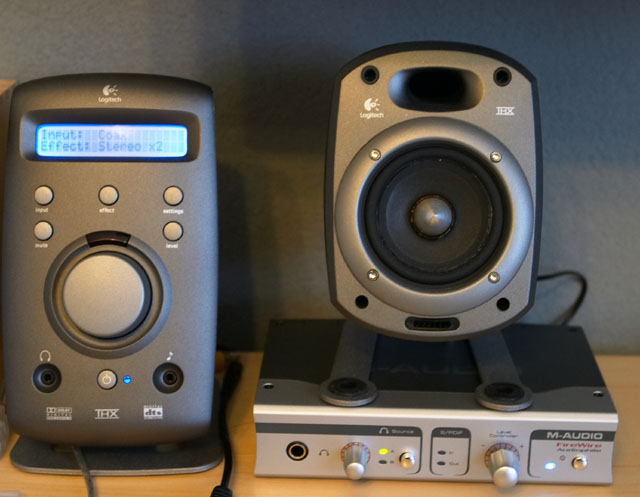 Cheers!
-bailey