Joined

Jan 18, 2013
Posts

309
Likes

86
Presentation of LEAR (
http://nss.lear-audio.hk
) patented -NSS(Natural Stereo Sound )earphone acoustic simulation technology.
Introduce and demonstrate the difference between loudspeakers, normal earphones, and NSS enabled earphones
This video will reintroduce the earphone world to you.
Please make sure you've turned on the subtitles and put on your earphone to experience the effect !
All audio in the video was recorded by LEAR's binaural recording device and solution!  
 ​
 ​
 ​
We name this NSS, Natural Stereo Sound.
LEAR's NSS technology makes earphones simulate the loudspeakers' natural hearing experience. With NSS, users can experience a natural front audio image with current audio files, without any additional plug-ins or external power!
A lot of users feel uncomfortable, some to an extent that they get a headache because of traditional earphones' stereo sound.
Some might link to Crossfeed and relates electronics/software /DSP products, but LEAR's NSS technology is the world's first acoustical HRTF simulation earphones technology, which features are listed below:
1. No external software/hardware, electronics, or external power needed; plug the NSS earphones into any mobile/player and that's it!
2. A NSS switch is attached onto the cable, users can alter between traditional or NSS sound at will. For if the music is a binaural recorder, it works better with traditional sound.
3. Changeable wire design, which users can optimize the earphones with their preferred wire or parts in the future.
4. The technology is not limited to in-ear earphones but is applicable to headphones as well.  
 ​
To support our project, please visit :
http://nss.lear-audio.hk
Thanks for all your support!    
10/3 Update:
Since the release of the LEAR NSS (Natural Stereo Sound), we have received massive feedbacks from different sources.
We observe a general misunderstanding of NSS as hardware/software crossfeed products or surround-sound/stereo digital signal processing products.
As if one does not confuse different earphones with different EQ (Equaliser) or sound effect, one does not confuse the acoustical simulation of NSS with Digital Signal Processing (DSP).
For example, one would not suggest that he could simulate the sound of a pair of earphones through DSP.
Same applies to a recording engineer would spent thousands on buying microphones even though he has different DSP plug-ins on his Digital Working Station.
There is a simple difference between Digital Signal Processing and Acoustical Simulation.
It was out of our expectation that some of us confuses Digital Signal Processing Crossfeed products with Acoustical Simulation NSS.
One might not be clear with the idea of NSS Acoustical Simulation, but we hope that this brief explanation clear out the confusion.
Since one would not understand NSS, if they solely focus on the idea of DSP Crossfeed.
However, one would understand the capability of NSS with DSP if one understand the idea of NSS.
This happens as if a pair of great earphones with a great amplifier, it results in a better sounding!
To know more and back our project:
http://nss.lear-audio.hk
Thanks for reading.    
17/3 Update:
​
We are proud to announce that the production of the LEAR NSS-U1 has been fully funded, with thanks to your support! We hope to see your support in the future as well.  
First of all, this wouldn't be possible without your attention and support. The pre-order for LEAR NSS-U1 earphones has reached its $500,000 HKD target, which we will be launching the production procedures right away.  
For all customers that pre-ordered the LEAR NSS-U1, we expect to deliver the earphones by the end of June to September, 2015.  
For those who are interested in pre-ordering, the LEAR NSS-U1 is still available with the discounted price of $1,000 HKD.  
Please refer to the following link:
http://nss.lear-audio.hk
For we believe that customers support us with their high standards for quality earphones to enjoy quality music. Therefore, we hope to seek support for the LEAR Music Platform project in the remaining days left.
This will change the quality of music from its source, from the recording facilities for potential musicians. In the future, we would still need your support in high-quality music products!
Once again, thanks for all your support!  
Tatco Ma,
LEAR    
18/3 Update:
The Intention behind the ON/OFF design for NSS
We observe a trend that modern mixed pop music products are mixed to a balance between earphones or loudspeakers user (please correct us if you disagree). After all the growth of earphone users long-surpassed loudspeakers.  
However, the paradox between the principle of sound reproduction in earphones and loudspeakers remains. The sound space would be a lot wider when the mix focuses on loudspeakers. However, such mix will be unnatural in an earphone. For example, the instruments being panned to far left/right.  
Vice versa, the sound stage on a loudspeaker would be awkward and misplaced if a music is mixed for a pair of earphones (such as binaural recording).
This has been an unsolved issue for the recording industry. And the hope for a single mix that can fit to both earphones and loudspeakers itself is paradoxical.
As the LEAR NSS (Natural Stereo Sound) is released, we hope that the widespread of the technology would solve the paradox for audience.
In such case, producers can mix the music solely for loudspeakers, while the users determine to use the NSS in order to gain the natural sound experience. A recording produced in such way would be better appreciated through NSS.
This might be the reason why customers observe the benefits of using NSS on live/symphonic recordings.  
If you agree with our idea, don't hesitate to support us on:
http://nss.lear-audio.hk
22/3 Update:
80% and 100%? LEAR NSS Prototype vs LEAR-U1!
We have informed everyone who tried the LEAR NSS prototype in our retail store that the prototype resembles 80% of the final product, which you paid $1,000 for. The idea of displaying the prototype is to let all of you to understand the idea of Natural Stereo Sound.
Why 80%? We are more than willing to explain this to anyone present at the retail store, yet no one questioned about it. However, this has become another concern with people inquiring online.
Shown in the figure are the dynamic drivers for the prototype and the NSS-U1 final product respectively. We chose a better dynamic driver for the final product, which is contained with a better stainless steal casing.
As we fine-tune the LEAR NSS-U1, both the statistical and acoustical comparison between the prototype reflects that the NSS-U1's drivers are better in mid and high frequencies, the impedance, sensitivity, and distortion than the prototype. This of course results to a higher cost as well. To simplify the comparison, the low, mid, and high frequencies are improved with at least 20%. While the fact is, the mid and high frequencies are far more improved than 20%.
We have received inquiries that what is the difference of the 20%? This is an abstract idea as if describing sound with words, which is not fully describable with words. For example, if we denote on a clearer high frequencies, it would be easily challenged with a question "how clear?" We believe that our customers are more than willing to get a better product with he same price, which concludes that experiencing it is far more preferred than our verbal explanation. Try the LEAR NSS!
For further information, please refer to:
http://nss.lear-audio.hk
27/3 Update:
NSS is good for gaming all kinds of mobile entertainments as well!
It might be a misconception that a pair of $1,000 earphones are solely suitable for audiophiles only, but the fact is normal earphones are even more unnatural with phones, tablets, and laptops.
Since the sound source mentioned above synchronizes with the video every second, which the hard-panned sound would create an effect that the video of the person speak in front of your but the voice goes directly into your head instead of right in front you.
Some might feel extremely uncomfortable with this, for the video is right in front while the sound is hard-panned. This would highly affect the gaming experience, hence less enjoyable!
Earphones with NSS, such as the NSS-U1, will recreate a natural audio experience. The audio image will be place in front of you rather than on top, resulting in a natural synchronization between the visual and audio.
Users are more devoted into the experience in such way.
Don't miss the last chance to get a pair of LEAR NSS-U1 with the discounted pre-order price HKD$1,000!
http://nss.lear-audio.hk
1/4 Update:
Here comes to the end of our "Mass Order of the LEAR NSS-U1 Earphone, and Development of Music Platform Project".
We would like to give thanks to every supporter of ours.  
Despite we have tried every possible effort, we could not reach our 1 million HKD target. Although we could not launch our music platform project, LEAR NSS-U1 is now official on its way to production!  
Our apologies to those who are disappointed for this.  
The result reflected issues in:
1. The trust between customers and LEAR;
2. LEAR's popularity, and charismas;
3. The lack of depth in the introduction of Music Platform;
4. As a beginner to the pre-order project, there are unexpected mistakes. Such as, the delay of International and Online payment until 6th of March, which affect the easement of customer payment.  
We would not see these as an excuse, but a lesson for our future projects. Although we cannot fully implement the project, we have tried our very best to serve every customers of ours to develop experience and reputation for our future.  
Tatco, our director, will keep you all updated through photos/video on the production of LEAR NSS-U1. From the research, to development until the shipment process, we hope to share the happiness of birth and growth of LEAR NSS-U1.  
Please stay in tuned to
http://nss.lear-audio.hk
for first hand information.  
Once again, our thanks to you all!  
P.S. Please note that pre-order of our LEAR NSS has ended starting 1st of April, nor the prototype's trial will be available.
10/4 Update:
Keep finding more partners to back our NSS project!  
 ​
 ​
18/4 Update:
Visiting one of our mould factory partners,
preparing for the mass production of LEAR NSS-U1!  
 ​
 ​
 ​
9/5 Update:
Even It's still a baby, but it's keep growing!
So enjoyable to play with this baby all night long~
Wish you all have a nice dream !  
 ​
21/6 Update:
Despite all the challenges and difficulties, we have made it here that the molds of the earphones will be produced starting next week.
The earphones should be able to be shipped before September with the current progress.
We will keep you all updated on any further development on the earphones!
Furthermore, we will roll out discounts events for you all who ordered NSS-U1. Please stay in-tuned and follow our updates!      
24/7 Updates on the LEAR NSS-U1
To whom who ordered LEAR NSS-U1,
here are a few explanations for the time it takes to produce LEAR NSS-U1.  
It takes around 10 parts to make a pair of amateur earphones, while the advanced ones take less than 20. LEAR's NSS-U1, a pair of earphones priced at HKD $1,688, takes up to 30 parts. The composite of the earphones is far beyond expectation.
The more parts, the more time it takes to ensure the quality, which the changes are made internally while the exterior looks the same.
The part that has been altered the most happens to be the earphone's cables, which a slider by Japanese brand ALPS control has been chosen to increase durability and a better texture. The texture, quality, and durability are ensured to the highest standard.  
 ​
As seen from the boards in the figure below  
, the cables used in U1 are far complex than similar products.
Regarding the progress of the NSS U1, all of the moulding frames are under production while Tatco is visiting the factory next week to monitor the progress.
The moulding frames are to be finished in early August, then the testing process. We cannot be sure what will happen during the test, which alternation of the frame will delay the production process.
We do not want to sacrifice quality in order to speed up the production, which we have set 30th of September as our final deadline. We will try our best to begin shipping before the deadline, while procedures aforementioned will be taken in case that we could not make it.  
We have decided to be honest for you all to prepare for the worst, but we can promise that the production is under control. Please be patient and keep putting trust on us.
P.s. If you're not receiving our progress email notification, please follow the link below for NSS-U1's latest updates: http://nss.lear-audio.hk/#/updates    
(
31/7 Updates on the LEAR NSS-U1
) 
To whom who ordered LEAR NSS-U1,  
As of 30/7, Tatco has inspected the molding factory on the progress of mold makings.
They're on progress as one-third of the molds are made, while the rest are to be finished soon.
Attached are photos of LEAR NSS-U1's mold, as you will notice form its shape, for your curiosity!  
 ​
There's an extra video by Tatco on a U1 molding's EDM process. Hope you all like it!
https://youtu.be/sv70Miss3rE
 ​
 ​
 ​
(
15/9 Updates on the LEAR NS-U1
) 
 ​
 ​
As I've said, the finalised version of LEAR NSS-U1 (now officially named-NS-U1) would be available as a demo for you all. After verifying the moulds, we put together a non-polished earphones with 90% of the sound which the plugs are not installed.
We promised a 20% improvement in the final product, which I am sorry that I have to disagree with my hypothesis.
The final version of the U1, is a product of another level. Not only a more sounding and detailed mid and high range, but with a stronger bass that pioneers all in-ear earphones.
I am literally enjoying this pair of earphones while I am typing this announcement up.  
Furthermore, we would officially announce that the "Natural Stereo Sound-NSS" has been officially registered as "NatroSound" or simplified as "NS" technology.
Earphones with the feature installed will be labeled with the logo.  
Regarding the production and delivery schedule, we will be test producing next week, which the schedule will be ruled out once the production processes are confirmed. In conclusion, we are looking forward to mail before 30th of September for an all-new earphones experience.  
The pair of demo will be available in HK FS-Digital Retail Store this week(14/9) for pre-order as well, pricing at $1,600.  
I, Tatco, would thank you all of your support on this project whom no one has tried in Hong Kong. I can guarantee the payment and waiting time would be more than a product, but a opportunity and hope.
Let's look forward to what happens with the official release of the U1!  
by Tatco Ma      
26/9 Updates Regarding LEAR NS-U1:
 ​
After two days of factory residency, the test production can be concluded as successful with most materials on position, which puts us closer to the final production of NS-U1.
Our rigorous requirements for NS-U1's assembling puts the workers to 7-10 days of training before the production.
Despite we have the assurance to produce over a hundred pairs of NS-U1 before 30th of September, we would not sacrifice quality in order to meet the delivery deadline.
The Mid-Autumn Festival and 7 days national holidays of our cooperate partners in Mainland has forced us to go against our promise of shipping by 30th September. Since some of our partners had shut down their production department for the holidays, we have to wait till 7th of October to start our production.
Starting next Monday, Tatco will reside in the factory for 3 days in order to speed up the production, with balance between efficiency and quality control to shorten the time till shipping.  
The shipping of around 1,000 pairs of NS-U1 will be changed to within October, which Tatco will reconfirm next week.
Regarding any dissatisfaction to the delay, customers can proceed through following procedures after 30th of September:
1-Keep waiting
2-Exchange of equal value FS-Digital cash coupon
3-Direct refund (Service charges will not be refunded)  
Customers in participant of the pre-order will receive email in a short time for confirmation. All who has not received an email by 7th of October are welcomed to contact us through info@lear-audio.hk Thanks for your support, understanding, and patience.    
03/10 Updates Regarding LEAR NS-U1:
Successful assembly test on 3 pairs of LEAR NatroSound NS-U1!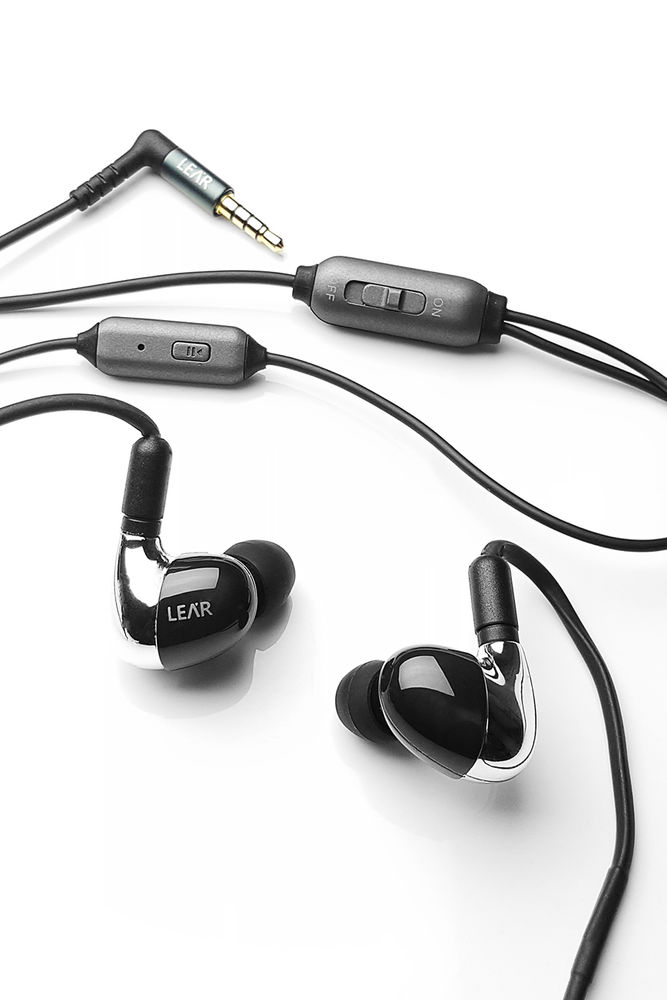 ​
We have mastered the production techniques, which all we have is to wait for the end of the National Day of the PRC holidays which is the 7th of October.
We are looking forward to ship by 20th of October, which we appreciate your patience. Please note that a sample of NS-U1's final product is available at the FS-Digital Retail Store for testing and pre-order.
Later on, we will contact every backer through email to reconfirm the address, and receiving details. At the mean time, we will keep updating our Facebook, NS earphones page (
http://nss.lear-audio.hk/
), and FS-Digital Forum(
http://fs-digital.net/thread-57210-1-1.html
). Please stay tuned!
If you have not received the confirmation email by 15th of October, please don't hesitate to contact us through +852 2332 6902 or email info@lear-audio.hk for enquiries.Our heartfelt thanks for the understanding and support!      
16/10 Updates Regarding LEAR NS-U1:
Here's the first customer to receive a pair of LEAR NatroSound™ NS-U1!
Since the large batch of the product has not arrived, all we can is to contact a limited number of backers which the rest will be contacted/delivered by the end of October.  
Thanks for your patience, please look forward to our phone/email contact as well as our latest news on Facebook or
http://nss.lear-audio.hk/
.  
To those who have backed us up but have not received a shipping notification by the 31st of October, please contact us through +852 23326902 or email nss.project@lear-audio.hk
If you would order a pair of LEAR NS-U1 please visit:
http://goo.gl/NZWqSr
Thanks again for your patience and support!  
8/11 Updates:
We have a good and bad news regarding LEAR NS-U1:
The good news is that we has received just around two hundred pairs of LEAR NS-U1 last week, which is on their clearance check to their text notifications and is also preparing for worldwide shipping. Please stay tuned.  
The bad news is that since the factory quality check takes longer than expected, a batch of LEAR NS-U1 is awaiting their test. The possibility that all NS-U1 are to be shipped by 9 is low, but the difference would be within 1~2weeks .  
The SMS confirmations(For HK local backers only) and email notification of tracking number (For International backers)will be sent by the coming 2 weeks, which we welcome any contacts to anyone who hasn't receive any SMS confirmation or email by 23th.  
Thanks for your support and patience.
We apologise for the delays.  
 ​
Tatco      
P.s. If you're not receiving our progress email notification, please follow the link below for NS-U1's latest updates:
http://nss.lear-audio.hk/#/updates