Hello,
This review will be dedicated to the latest DAC from Zorloo, the ZuperDAC-S.
First of all I would like to thank Andy from Zorloo for his patience (I had quite a lot of questions and comments) and the gratitude of providing me with the review sample.
Introduction

I do not consider myself as an audiophile. I try to listen to the music, and not to the equipment, and the best equipment to me is the one that will provide the most natural sound, that I like the most. The base needs to be able to get really low, and stay controlled. Mids should sound clear and natural, female vocals and guitars should be enjoyable, and highs should not pierce into my brain. I am giving this introduction, in order to let you better understand my comprehension of the ZuperDAC.
Part 1 - Physical and Compatibility


Here you can see the user manual, which you can also download from the official website.

Here is the unit itself. I got a shiny red one (there is also a silver and grey option), I think this is a good color for such a small device, as it will be a bit easier to find

.
No quality issues, it's really tiny and light.
The DAC arrives with cables that will allow to connect it to a mobile phone (both older type - B and the newer type-C) and to a PC as well. The cables are short, wrapped and have a nice quality feel, there is a good amount of metal there.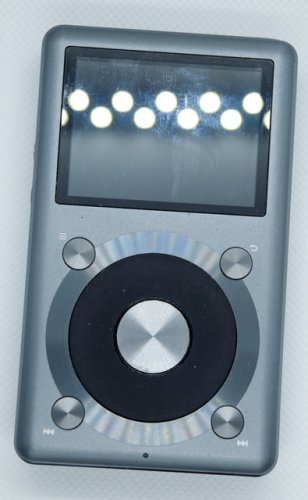 Some size comparison with FiiO X3-II and Sandisk Clip Sport Plus.
Some interesting facts:
The unit consumes between 0.46-0.56W (0.9-0.11A) from the USB socket it's connected to. It gets really slightly warm, regardless of the volume and connection status of the headphones.
The volume buttons work differently from any audio device I ever used. When you keep them pressed, the volume does not change, you need to keep clicking in order to change the volume.
The unit features a blue LED. It lights up when the DAC is initialized, and lights up steady when the unit is plugged in.

When connected to Android devices, there is nothing you need to do in order to get it working, real plug and play, it works on the fly, without even restarting the audio application.
The unit works well also with Amazon Kindle HD 10 2017. I am writing it because there is not much information regarding connecting external DAC's to Amazon devices (I am aware that the OS they are running is actually an Android, but it is heavily customized and I was unsure if the device will be supported).
Unit operation, sound

Well, when I got the unit I connected it to my PC that had the following setup : PC was connected to a DELL monitor's internal USB hub with a meter-long cable, and there was another meter long USB cable from the monitor's USB hub to the ZuperDAC. Well, the unit successfully initialized, worked but from time to time (every 1-2 minutes) I got a sudden eruption of static at some random songs, not reproducible at the same parts of the songs. I was a bit angry, as my first thought was that the unit was faulty, or had some other problem. Well, lucky for me I was wrong, when I connected the device with the bundled short cable, without the HUB, I never had any problem, with 3 different computers. Connection with Samsung Galaxy S5 and Kindle HD 10 was also flawless.
Volume - only 32mW ???

One of my concerns about the unit was the output power, of "only" 32mW. Well, it may look modest compared with my 200mW FiiO X3-II, but we must have proporsions. My first DAP, the Cowon G3 had 5mW, and it was enough at the time.
So ... Is it enough?
Yes.., depends.
What?
Well, when I connected Audio-Technica ATH-M50X to Samsung Galaxy S5 - the volume was almost enough o really enjoy the music. But with the Zuper ... well, it gets them ridiculously loud, you start feeling them move on your head, I would say it feels much much louder. The same situation with the Amazon Kindle HD 10.
But, when I plugged in the Koss TBSE1 (headphones that I enjoy listening the best) I could get to the max volume, and sometimes could ask for more. FiiO X3-II does not have any problem with those, and I never ever got to the High amp setting.
So, if you intend to plug in some low sensitivity and/or high impedance headphones you might want an amplifier after the ZuperDAC.
Sound

I can tell you this, the DAC does not disappoint. I really enjoy it, and it might be an ideal device for me. The bass gets lower than the build in DAC in SGS5 and in the Kindle HD 10, no harshness in the mids and really nice highs. If I would need to point some thing that I would like to be improved it would be the high frequencies - I think there is some harshness there. But from the other side, as I do not own an audiophile reference grade components for comparison, the DAC-S sound may be the "right" sound, and it is me who needs to adjust.
I did not do too much tests, but from my point of view the device has better bass (lower and better controlled) than the FiiO X3-II, but some harshness in the high frequencies that FiiO does not have. But I will repeat myself, I may be wrong, the sound is really enjoyable and the differences are not apparent.
Compared to the sound of SGS-5 and Kindle, ZuperDAC sounds clearer, across the frequencies, with much higher max volume.
I listened to the unit for about a week, and could not find a genre where the unit fails or excels, it's universal fro m what I can tell.
*** Listening via PC was done using Foobar2000, 24 bit 192 Hz mode (also in driver), WASAPI (event) setting. Music - really different genres, from metal to 80's, Enigma, Enya and so on and so on, lossless flacs.
Conclusion
Well, I think the device is great, it does what it claims to do well, it is universal and really easy to get liked.