Item information
Added by
Views

21,065
Watchers

2
Reviews

5
Last update
Rating

4.20 star(s)

5 ratings
Latest reviews
Pros
:
Versatility, great output performance, hiss-free and super portable
Cons
:
Gets warm and stays warm
Zorloo is a new player in the audiophile community based off China which offers a promising set of products pioneered by their ZuperDAC offering which is now superseded by the ZuperDAC-S, designed as an everyday ultra-portable DAC solution. There weren't any details about what the "S" stands for and my guess would be "Super" as in ZuperDAC-Super, accurate enough, right? The ZuperDAC-S retails for $79.00 which you can get from their official
Zorloo
site. Thanks to Andy from Zorloo for sending in a review unit in exchange for an honest review.
Specifications:
True portable HiFi USB-DAC
Support Hi-Res audio up to 192kHz 24-bit
ESS Sabre 9018 DAC and amplifier
USB Audio Class 2 asynchronous mode
SNR @ 120dB and THD+N @ 0.0005%
Small size at 50mm x 15mm x 10mm
Light weight at 10g
Aluminum chassis with stylish matted finish
Hardware volume keys with memory
Battery free, no need to charge
Includes USB, Micro-USB and USB-C cables
Packaging and Build Quality​
The Zorloo ZuperDAC-S came in a small slim white box which showcases the DAC on the cover as well as the 2 cool logos of the Zorloo brand as well the product specifications and accessory set. Inside is the ZuperDAC-S itself packaged with 3 different cable connectors (Type-C, Micro-USB and USB-A) which is approximately 4.5 inches long and all sheathed black which also has black housings so those who are particular with aesthetics won't have any issues pairing this with a myriad of products. The cables also have great flexibility to them while still being able to retain its form which is great when it is already connected to your audio devices. The ZuperDAC-S itself has an aluminum chassis and a matte finish, Zorloo provided me the gray colored one. The aluminum body has some sturdiness to it, I tried dropping it on a polished floor twice, once on hip level and once on shoulder level and it only showed a minor dent on the corner and still worked fine.
The ZuperDAC-S weighs in at only 10 grams and only 2 inches long, .4 inches thichk and .5 inches wide. Preference would come into play as to which you'd like to have as a front, the 2 button increase/decrease volume switch or the Zorloo logo/LED light indicator sides. One end of the ZuperDAC-S features a Micro-USB and a 3.5mm headphone out. The volume buttons uses a 16-step configuration which can work separate its source, it also has highly contrasted in relation to the body color and has great feedback click once used and such buttons aren't centered on the body and oriented near the Micro-USB.
Usability and Functionality​
One look on the ZuperDAC-S and its small form factor automatically relieves you of the feeling of having to carry additional gear just to get quality audio and it also fits on your denims inner pocket which for a non-smoker like me was unused most of the time and a lighter for those who do. The aluminum body also guarantees this would last considering the fact that it also doesn't have a battery for you to charge in order for you to use it.
The 3 included cables on the ZuperDAC-S all worked flawlessly as they should. I using it all on different sources and although the cables and the DAC worked fine, it also almost automatically warms up on different sources. The ZuperDAC-S has almost no learning curve to setup as it was designed to be a plug and play device be it used with a Windows computer (no driver installations needed) and an Android device, I however needed to turn on OTG storage on my OnePlus 3T device for it to work there. Using it with an iOS devices would need one to get their camera connection kit or Apple's lightning to USB Camera adapter.
The ZuperDAC-S has a single blue LED indicator which stays lit while it is used and while it has no built-in battery, the power draw that it consumes although only at .11A max was still able to drop my 3T's SOT to around an hour, this is subjective but just keep this in mind. The built-in volume controls also works independently from its source and decreasing or increasing the volume would need one to constantly click on them to adjust volume since long presses doesn't work so when 1 button fails, you're stuck unless you use your sources' volume controls.
Sound Quality​
Utilizing the ESS Sabre 9018 chip which is widely used on similar products such as from SMSL and Sabaj which also ironically has almost identical IDEA and Da2 products makes me guess they are sister companies or under all made under one roof. The single most noticeable audio feature the ZuperDAC-S lacks is support for DSD and PCM decoding which almost a standard now on devices although on the consumer end, who would be carrying those formats on their mobile phones which this is designed for, right? But yeah, would have been nice if it was included.
You had one job, just one job, and the ZuperDAC-S lives by this mantra which is to output higher quality audio off portable devices in a simplified way. I made sure to once again acclimate myself to using my mobile phone and MSI GF62-8RE laptop for music to get the mood on and just let the ZuperDAC-S go in between. Just by including it on the chain immediately made tracks clearer and fuller. I cycled through Norah Jones's Come Away with Me, Fleetwood Mac's Greatest Hits, Suicide Squad's The Album and DeadPool 2's Soundtrack albums in 16/44 Flac and although the changes are minimal, it is definitely noticeable as compared to using my 3T and MSI device direct for audio use. The lower frequency performance had a tad more impact to them while the higher frequencies are more articulate, the midrange frequency gained the highest benefits of this device with it being clearer and a kick more crisp. Imaging and soundstage also benefitted making the overall sound more distinct in its delivery.
Conclusion​
The Zorloo ZuperDAC-S comes in on the portable DAC party clad in simple looks and the most basic of functions with more than enough versatility and portability at a reasonable price. While all these are petty for some hardcore audiophiles, it certainly does a great job in ushering in the starters into the audiophile party looking for a solution to their basic mobile phone audio and direct PC audio woes.
Pros
:
Versatility
Small
Sounds great
Looks cute, understated
Cons
:
Some harshness in high frequencies (arguable)
Hello,
This review will be dedicated to the latest DAC from Zorloo, the ZuperDAC-S.
First of all I would like to thank Andy from Zorloo for his patience (I had quite a lot of questions and comments) and the gratitude of providing me with the review sample.
Introduction

I do not consider myself as an audiophile. I try to listen to the music, and not to the equipment, and the best equipment to me is the one that will provide the most natural sound, that I like the most. The base needs to be able to get really low, and stay controlled. Mids should sound clear and natural, female vocals and guitars should be enjoyable, and highs should not pierce into my brain. I am giving this introduction, in order to let you better understand my comprehension of the ZuperDAC.
Part 1 - Physical and Compatibility


Here you can see the user manual, which you can also download from the official website.

Here is the unit itself. I got a shiny red one (there is also a silver and grey option), I think this is a good color for such a small device, as it will be a bit easier to find

.
No quality issues, it's really tiny and light.
The DAC arrives with cables that will allow to connect it to a mobile phone (both older type - B and the newer type-C) and to a PC as well. The cables are short, wrapped and have a nice quality feel, there is a good amount of metal there.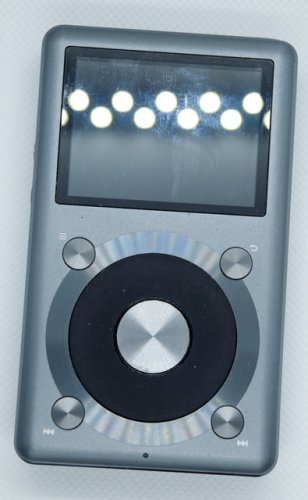 Some size comparison with FiiO X3-II and Sandisk Clip Sport Plus.
Some interesting facts:
The unit consumes between 0.46-0.56W (0.9-0.11A) from the USB socket it's connected to. It gets really slightly warm, regardless of the volume and connection status of the headphones.
The volume buttons work differently from any audio device I ever used. When you keep them pressed, the volume does not change, you need to keep clicking in order to change the volume.
The unit features a blue LED. It lights up when the DAC is initialized, and lights up steady when the unit is plugged in.

When connected to Android devices, there is nothing you need to do in order to get it working, real plug and play, it works on the fly, without even restarting the audio application.
The unit works well also with Amazon Kindle HD 10 2017. I am writing it because there is not much information regarding connecting external DAC's to Amazon devices (I am aware that the OS they are running is actually an Android, but it is heavily customized and I was unsure if the device will be supported).
Unit operation, sound

Well, when I got the unit I connected it to my PC that had the following setup : PC was connected to a DELL monitor's internal USB hub with a meter-long cable, and there was another meter long USB cable from the monitor's USB hub to the ZuperDAC. Well, the unit successfully initialized, worked but from time to time (every 1-2 minutes) I got a sudden eruption of static at some random songs, not reproducible at the same parts of the songs. I was a bit angry, as my first thought was that the unit was faulty, or had some other problem. Well, lucky for me I was wrong, when I connected the device with the bundled short cable, without the HUB, I never had any problem, with 3 different computers. Connection with Samsung Galaxy S5 and Kindle HD 10 was also flawless.
Volume - only 32mW ???

One of my concerns about the unit was the output power, of "only" 32mW. Well, it may look modest compared with my 200mW FiiO X3-II, but we must have proporsions. My first DAP, the Cowon G3 had 5mW, and it was enough at the time.
So ... Is it enough?
Yes.., depends.
What?
Well, when I connected Audio-Technica ATH-M50X to Samsung Galaxy S5 - the volume was almost enough o really enjoy the music. But with the Zuper ... well, it gets them ridiculously loud, you start feeling them move on your head, I would say it feels much much louder. The same situation with the Amazon Kindle HD 10.
But, when I plugged in the Koss TBSE1 (headphones that I enjoy listening the best) I could get to the max volume, and sometimes could ask for more. FiiO X3-II does not have any problem with those, and I never ever got to the High amp setting.
So, if you intend to plug in some low sensitivity and/or high impedance headphones you might want an amplifier after the ZuperDAC.
Sound

I can tell you this, the DAC does not disappoint. I really enjoy it, and it might be an ideal device for me. The bass gets lower than the build in DAC in SGS5 and in the Kindle HD 10, no harshness in the mids and really nice highs. If I would need to point some thing that I would like to be improved it would be the high frequencies - I think there is some harshness there. But from the other side, as I do not own an audiophile reference grade components for comparison, the DAC-S sound may be the "right" sound, and it is me who needs to adjust.
I did not do too much tests, but from my point of view the device has better bass (lower and better controlled) than the FiiO X3-II, but some harshness in the high frequencies that FiiO does not have. But I will repeat myself, I may be wrong, the sound is really enjoyable and the differences are not apparent.
Compared to the sound of SGS-5 and Kindle, ZuperDAC sounds clearer, across the frequencies, with much higher max volume.
I listened to the unit for about a week, and could not find a genre where the unit fails or excels, it's universal fro m what I can tell.
*** Listening via PC was done using Foobar2000, 24 bit 192 Hz mode (also in driver), WASAPI (event) setting. Music - really different genres, from metal to 80's, Enigma, Enya and so on and so on, lossless flacs.
Conclusion
Well, I think the device is great, it does what it claims to do well, it is universal and really easy to get liked.
Formerly known as Res-Reviews
Pros
:
Metal housing, neutral presentation, good amount of power, independent volume control, lots of cable options
Cons
:
Lacks native DSD decoding, cables a bit too stiff
​
Zorloo ZuperDAC-S Review: Excellent Performance, Small Package
Zorloo is a small Chinese company whose products were born in the crowd-funding marketplace. They've been doing a lot of work involving headsets that use integrated DACs and have recently released a successor to their first push into the mobile-DAC world: the ZuperDAC-S.
You can find the ZuperDAC-S available for pre-order
here
, for $70.
Disclaimer:
This unit was provided to me free of charge for review purposes. These words reflect my true, unaltered, opinion about the product.
Preference and Bias:
Before reading a review, it is worth mentioning that there is no way for a reviewer to objectively pass judgment on the enjoy-ability of a product: such a thing is inherently subjective. Therefore, I find it necessary for you to read and understand what I take a natural liking to and how that might affect my rating of a product.
My ideal sound signature would be an extended sub-bass with a leveled, but textured, mid-bass. The mids should be slightly less pronounced than the treble, but still ahead of the bass. I prefer a more bright upper range.
Performance / Features
The ZuperDAC-S is simple: two buttons, two ports. It makes use of a 3.5mm jack out and a micro-USB port in. It has a status LED as well, though it's on the bottom of the device which makes it hard to see if you are also fiddling with the buttons.
The DAC-S's sonic performance is excellent and bears no flaws. It has a completely transparent effect on sound and tone, though its output impedance is still a bit too high, coming in at roughly 1.6 Ohms, to perfectly suite sensitive IEMs such as the Audio Genetic AG2.
My ears are sensitive to hiss, so I searched far and wide for a high-performance mobile DAC that is compact and hiss-free. Well, the DAC-S checks all those boxes freely. I can't find a single pairing with my existing gear that produces any sort of audible hiss.
Build Quality
The DAC-S is built solidly with no machining flaws or sloppy craftsmanship. The shell is made from a single piece of aluminum and has cleanly (and safely) cut edges. They aren't sharp or uneven either. The top and bottom of the DAC-S are made from a matte plastic that is free from flex and warping. The 3.5mm jack and micro-USB port are well-seated within the housing and firmly accept their respective jacks/cables.
Summary
All in all, the Zorloo ZuperDAC-S is an impressive little device. It offers a premium look and build combined with great efficiency and performance, all in a small package. It also doesn't have a huge "audiophile" markup that you'll often find on mobile DACs aimed at this market.
Comments
There are no comments to display.