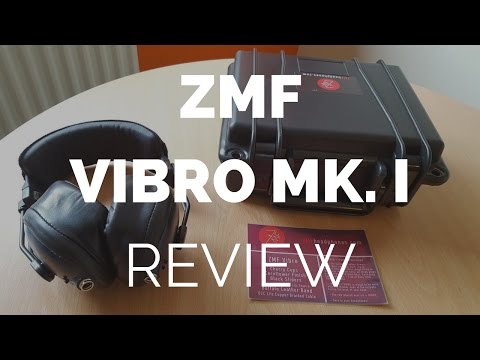 Edit: I bought a Schiit Magni 2 just to see how it sounded with clean amping and the sound has greatly improved. The Asgard, though I love how it sounds with my other headphones, isn't the best match for the Vibro. It needs a clean signal for it to shine.
Zach's blog on his fascination with wood, its properties and how it can be utilized by man is a good read.I recommend you all to check it out. The man uses the resource on his products in a way that blends both aesthetics and sound in the best way imaginable. This, of course, goes beyond the Vibro – check out the Blackwood and Omni models and how picturesque they are. Due to the use of wood, each pair is unique – which lends a sense of ownership that indiscernible factory designs from other manufacturers can't reproduce.
I was introduced to ZMF headphones by a friend of mine who had just recently purchased a Fostex THX-00 from Massdrop. He was absolutely in love with the sound but was looking for something to complement his repertoire of headphones. He fully recognized the V/W shaped sound of the THX-00 and wanted something more neutral. However, he didn't want to lose the bass impact that the Fostex gave him at the same time. After looking around, he showed me the ZMF website and told me about how it's a small-scale business run by some guy named Zach Mehrbach. I'll admit, I didn't quite grasp how the idea of tonewood (something I was familiar with as I have two acoustic guitars on hand specifically for their different wood and the sound difference) could translate to headphones. I thought the designs looked neat though, especially the Omni cups.
My friend soon got himself a pair of Blackwood Omnis, the top of the line offering by ZMF. It seemed he had finally found what he was looking for, neutrality without the cost of "fun." I had owned a neutral pair of headphones once, recently sold, in the form of the Sennheiser HD600. I enjoyed it for vocals, but the bass wasn't to my liking. I had looked into Planar Magnetics and managed to find an excellent deal on a new Hifiman HE400i due to a friend visiting Beijing over the winter. It quickly became my favourite pair and motivated me to sell both my HD600 and Beyerdynamic DT990 as I felt it blended and superseded what I enjoyed about both cans. With a little spare cash, I set out to see for myself what the ZMF hype was about.
I went for the Vibros because I wanted to experience what a truly "fun" headphone would sound like without attempting to be anything but that – at no cost of mids. I'm not bass-head, but I wanted bass. I read that further up the line, ZMF headphones tended to be a bit more laid back and I wanted none of that. Also my budget could only allow for a Vibro so hey I'll happily take what I can. I'm glad I took the plunge, but I won't be getting rid of my HE400i and this is why:
The Vibro is warm, very warm. "Dark" is a word that has been used to describe it and I don't disagree. The Mk. 2 is described to extend the treble, but I haven't heard one so I cannot say. Before I analyze what I hear and like about the Vibro Mk. 1, I will plainly state that if you only listen to certain genres of music like pop, rap and EDM – this should be your go-to set of cans at this price point. However, if you're like me and listen to a vast array of music – you want another pair to round off your collection that can handle the genres and recordings that the Vibro has difficulty with.
Consider an aggressive genre like metal. Now consider an aggressive metal band like Slayer. When you listen to Slayer, you want all cylinders to be firing on whatever audio system you have. You wouldn't enjoy it as much if something fell short. I'm glad to say that the Vibro doesn't fall short in this regard. The cherry cups and planar magnetic drivers combine to give sheer power to whatever you are listening to. This is not a laid-back set of headphones at all. It pushes the music out at you in a bombastic manner that makes you take notice of everything you hear – and most of the time you can hear it all clearly.
If you have a song you really like but can't stand how sibilant it can sound at times, this is the pair of headphones for you. If you have an album you wish had a bit more kick to it, these are the headphones you should listen to it with. If you want to kick back and listen to some progressive rock, these probably aren't the headphones for you – which is why I'll be keeping my HE400i. The treble roll-off on the Vibro is reliant on what you're listening to – both recording wise and genre wise. For pop and rap, it isn't even noticeable 90% of the time. For soft rock, it's quite noticeable and can feel a bit stifling – particularly with the likes of Pink Floyd. If you enjoy listening to vinyl rips, unless they are super clear and equalized, you might not enjoy them on this. EQ itself is something I tend to not use very much but I would recommend it to listeners who find the treble roll-off to be a bit too much. I, personally, will just switch headphones whenever I'm in the mood for genres this isn't the best for.
However, if you're listening to something that fits well with the Vibro's sound signature then there isn't anything like it in this price range. You'll find yourself switching the bass ports depending on your mood and genre you're listening to – but keep a close eye on where you put the little rubber plugs because it's very easy to misplace them. I personally have two plugs in most of the time, with only one plug in for pop/rap and no plugs in for electronic music.
I have to give a shoutout to Zach for his work with his headphones on behalf of myself and my friend who owns the Omni. I would absolutely recommend peering into his product line to anyone looking to get into "fun" high end audio. This isn't the realm of the HD800 and its benefits. This is the realm of musically-tuned drivers encased in sexy wood that is uncompromising in its identity and market niche.