Item information
Added by
Views

21,985
Watchers

1
Reviews

1
Last update
Rating

4.00 star(s)

1 ratings
Latest reviews
The Return of an Iconic Model
Pros
:
Sound.
- Size.
- Battery life.
- Construction.
- Power.
- Very low output impedance.
Cons
:
Display in general: Visibility in sunlight, slow text movement, somewhat blurred font...
- Card scanning is very, very slow.
- No line output, no USB dongle or USB amplifier.
- Some handling issues still need to be polished up.
Introduction
Shenzhen xDuoo Technology Co., Ltd. is a well-known brand in the Portable Hi-End world. Its DAPS are very well known among enthusiasts. However, xDuoo has a large number of amplifiers and DACs, especially tube amplifiers. Neither dongles nor its famous XD05 portable DAC/AMP saga, which is gradually being adapted to the balanced world, can be missing. This time, however, the brand is returning to an old success story with a revamp of its small DAP X2: the xDuoo X2S. Externally, it is still based on a small text-only display, a very small body, a single 3.5mm SE output and very simple handling. All while retaining the idea of power and battery life of its predecessor. The following review will go into detail on these and other issues.
Disclaimer
Penon Audio Store, offered me this model, in exchange for writing an honest review. I want to make it clear that all my opinions written in this review have not been conditioned by this fact, nor will I ever write anything that I do not really think or feel here. I will only write about my personal opinion in relation to the revised product.
Specifications
Power supply: Built-in 3.7V/800mAH battery
Charging specification: 5V/1A
Card support: Supports TF/Micro SD cards up to 128G
Output power: 250mW (32ohm load)
Supported audio formats:
DSD: DSD64-DSD128 (DFF, DSF)
APE: 16- 24Bit/44.1-96kHz
FLAC: 16-24Bit/44.1-192kHz
WAV: 16-24Bit/44.1-192kHz
AlFF: 16-24Bit/44.1-192kHz
WMA, MP3, AAC, OGG
Frequency response: 20Hz- 20kHz(±0.5dB)
Gain: +6dB
THD+N: 0.003% (1kHz)
S/N: 108dB
Impedance of connected headphones: 16 ohm-300 ohm
Battery life: > 10H
Charging time: <2H
Size: 6.3x4.0x1.5cm
Weight: 50g
Packaging
The xDuoo X2S comes in a small cardboard box, dimensions 102x82x40mm. The box is sealed in cellophane. On the front side is a small model name and a small description, in the top left corner. In the bottom left corner, the website, in the bottom right corner, the DSD logo and in the centre a realistic drawing of the X2S profile. All in black ink. On the back side are the specifications and more information about the brand, address, support e-mail, web address and so on. After opening the box you can see the X2S inside a thick, black, protective mould. Underneath it is a white cardboard box containing the accessories. In a summary:
The xDuoo X2S
USB to Type-C charging and data transfer cable.
Instruction manual, in Chinese and English.
Warranty card.
There is little more to say about the packaging and accessories. It's as small and terse as the DAP itself. One misses some pouch or accessory/case for protection, but the price is really tight. I prefer the effort to be spent on sound quality rather than on more superfluous things, when the budget is as tight as it is in this case. But a small protective case wouldn't have gone amiss.
Construction and Design
The X2S is striking because of its small size. You don't get the idea of its small size until you hold it in your hands. Although, this time, the thickness has increased, the size is still quite small and fits in any pocket, which makes it absolutely essential for sports or street use. Its weight is also very low, only 50g. It is made of aluminium alloy. It has a 0.96 inch HD OLED screen, capable of displaying 4 lines of text, in yellow and turquoise blue. It has 4 front buttons (menu, forward, backward, play/pause), two side buttons (volume +, volume -) and one top button (On/Off). Also, on the top side, there is the USB Type-C charging port. On the left side is the slot for the micro-SD card (up to 128GB) and the hole for resetting the device. Finally, on the underside, there is the 3.5mm SE headphone output, whose connector is gold-plated. The rear face is sealed with 4 screws and features the brand logo, the model name, the icons of the regulations it complies with, where it was manufactured, the brand's web address, the serial number and the model number.
Internally, it is not specified what type of DAC is used. It is only mentioned that a "Rail to Rail Op-amp" is used for amplification.
The design is ultra-compact, the buttons are well laid out on all sides. Although one has the previous design in mind, this new model does not look old, although it is true that the display could have been improved, especially the contrast in sunlight.
A line-out and dongle compatibility are missing. But this may not be the intended use of this little Hi-Res Lossless DAP.
Connectivity
The xDuoo X2S only has a 3.5mm SE, gold-plated headphone output. As mentioned above, there is no line-out, nor does it support USB connection to Dongles or other amplifiers with this type of connection. It has a USB Type-C charging/data port, through which song transfer is possible. Nothing else.
Operativity
The X2S is very easy to operate, it has a multifunctional menu button, which allows access to the DAP options. You can navigate through folders, playlists and favourites. There are system options, audio options and a 6-band equaliser. You can configure the display's light intensity, its on time, auto power off and various other functions.
It has 32 volume steps, ranging from 0 to 31. In my opinion, this is too few steps, considering that the device is moderately powerful for IEMS. So it is possible that in some conditions, jumping from one step to another, the volume rise is higher than desired. I would have preferred 100 steps, as is usual for many DAPS.
By configuration it is possible to make some or all of the buttons work when the display is off. But those options are wrong and the state is not memorised when the DAP is turned off. I hope it will be easily fixed with the next firmware, it's not a worrying thing. The power button is very sensitive and with a simple click, the device starts up. When the system detects a change in the micro-SD, either by charging via USB or by modifying the memory card directly, it proceeds to a complete scan on startup. This operation takes quite a long time, I counted 15-20 minutes for a 128GB micro-SD and 4000 songs. There is no way to avoid this scan and the process is tedious and very long.
Another weak point is the display. The yellow and turquoise blue colours of the previous model are retained. The font is not the most accurate and the lettering is a bit fuzzy. The display shows the volume, playback status, playback mode and battery level at the top in yellow. In the next row, already in blue, you can see the name of the song, just that. If it cannot be displayed completely, the text will scroll very slowly. This slowness slows down the navigation through folders or lists. The next line shows the current time point, some frequency bars and the EQ mode. Finally, there is the complete duration of the song and the sample rate. This display corresponds to the main screen.
Outdoor viewing is critical - in daylight, on a sunny day, the screen is not visible, even at full brightness.
On another note, the X2S can play DSD128 files natively and PCM files up to 24Bit/192kHz.
The battery life, according to specifications, is more than 10H. In my opinion, this is true, it could even be superior. The battery consumption seems to be quite small, compared to other DAPS. Perhaps, together with the size, the build level, the sound and the power, the battery life is another strong point of the DAP.
The menu entries are as follows:
Play: the currently playing song is accessed.
Music: All songs, Artits, Albums, Genres.
EQ: Now playing, Rock, Bass, Pop, Jazz, Classical, soft, Custom [62, 125, 500, 1k, 4k, 16k (-6 → +6)]
Folder: se accede a la navegación por carpetas.
Playlist: se accede a 3 Playlist
Options: Languaje, Create Playlist, Repeat (off, all, folder, 1, shuffle), Brightness (0 → 11), Default volumen (Memory, Custom), Lock Screen Setting (All Key, None Key, Only Volume, Only Play), Sleep Timer (Off, Set sleep timer [1 → 120 min]), Off Timer (Off, Set off timer [1 → 15 min]), Backlight timer (0 → 120s (gap 10s)), Information (Player information, Disk space), Format device, Auto upgrade, Factory Settings.
The firmware used for this review was v1.2B.
Measures
The X2S specifications indicate that its power at 32Ω is 250mW. That would imply an output voltage of 2.83V. In reality, the maximum RMS voltage is almost 1.2V. This means a power output of 43 mW at 33Ω and 85mW at 16Ω. It is true that the distance from 1.2V to 2.83V is very large, but a value higher than 1V in such a small device is not easy to find. This, added to its very low output impedance (my measurements show a value around 0.5Ω) makes it very suitable for IEMS, earbuds and for some other larger models with good sensitivity.
No load
15Ω
33Ω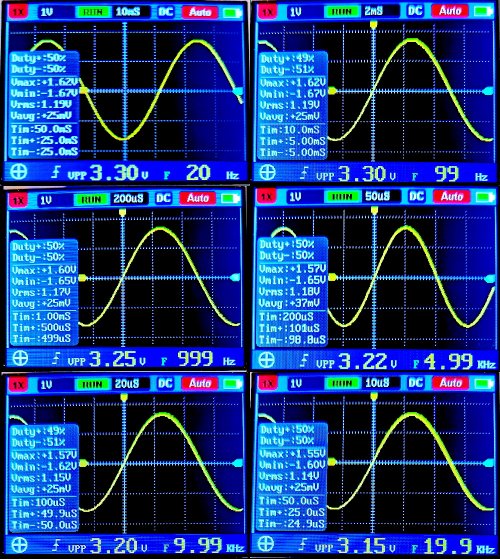 62Ω
100Ω
150Ω
300Ω
Frequency Response
The frequency response is flat from 20 to 20kHz and there is no crosstalk between channels at different volumes, as can be seen in the graph below.
Sound
And now it's time to describe the sound of the xDuoo X2S, the area where, along with its size and construction, it really stands out. With a flat but energetic profile, the new X2S delivers a punchy sound, both in bass and treble, without neglecting the mids. Because, remember, its profile is flat. In this way, the little X2S seems to be tuned to entertain, hence its sound is vivid and dynamic, capable of delivering a quite clear and perceptible sense of power. In addition to these initial qualities, its sound is also perceived with a fair amount of clarity and good separation. Admittedly, though, the soundstage is its weakest point, when compared to higher-priced DAPS. Nobody should expect this small DAP to be able to offer the openness and three-dimensionality of the bigger ones. But don't think that its sound is narrow and closed either. Still, this guy is a little rougher in that respect and perhaps a little rougher in the definition of the mid-high and higher notes. He's at that irreverent point of adolescence, where he hits with power in the low end and gets excited in that higher end. But he's not bad, just a bit playful. In that sense I find it ideal as a DAP for fleeting use and enjoyment, for going out on the street, for running or for public transport, where that point of grit and personality is necessary. But back to its sound, it is worth noting that its low end has practically everything, depth, energy, a good level of roughness, texture and an adequate level of speed and precision. Perhaps the decay is a little slower and the definition/resolution suffers slightly, hence the sense of darkness, cleanliness and transparency in the sound is not very high. But hey, look at the price!
Moving into the mid-range, this is a compendium of what we said about bass and treble. The presence is pleasant, it feels quite complete, full-bodied and with that bit of punch. Transparency and dynamics are moderately good. But it is true that in this area, the limited capacity of resolution and speed, allows the separation to be not so great, avoiding that darker background and higher level of silence, typical of higher level devices. Despite this, its descriptive ability is good, as is its texture, so that voices and instruments have a natural, slightly warm timbre, but with some of the playful brightness that characterises the energetic sound of the X2S.
I have already mentioned that the high end is perceived as splashy and energetic in its first phase, which brings that spark of brilliance to the sound, something that elevates the sensation of dynamism. And I say feeling, because in reality, I don't find the sound brilliant, nor the dynamics excellent, nor the cleanliness spectacular. It is clear that it helps, but to pretend that the definition of the treble is superior is too much. Thus, this first phase of the treble retains naturalness and a moderately good level of definition, although the resolution is not very high and the background is perceived as more diffuse than black. In that sense, the extension is adequate, but the sensation of air is something that does not particularly stand out, being, perhaps, another of the weakest points of the X2S, together with the size of the scene. Speaking of which, the sound recreation is quite correct, but without reaching a three-dimensional projection. This is how the recreation is perceived horizontally, with a good level of depth, but without too much height. The cohesion of the background and its very slight diffuse sensation, agglutinates the notes and traps them more than necessary, preventing them from escaping beyond the demonstrated confinement.
Comparisons
JWD JWM-115
The JWD is a somewhat particular DAP. It has a large colour touch screen, a peculiar interface, it is not very big and it is not very powerful, almost half the voltage of the X2S, which is comparatively very limited in this respect. It is not very big, but compared to the X2S it is, although thinner. Both are relatively simple DAPS, although the X2S is much simpler. The fact that the JWD has a complete touch screen may already be an insurmountable difference for some, even though its price is higher and its power is lower. The handling of the JWD is still quite simple, it has physical buttons, although it also has touch buttons and Bluetooth. On the downside, the battery life is a bit uneven and the weight is higher. Both have 32 volume steps, but the lower power of the JWD makes it seem more precise in volume jumps. In reality, however, what happens is that the volume increase cannot be as great, due to this lack of power.
The sound profile is slightly different, not as flat. The JWD has a slightly brighter profile, with less emphasis on the low end, being more focused on the mids and treble. The first sensation is that the low end is not as deep and punchy as in the X2S. In addition, the texture is also better on the xDuoo, being a bit more descriptive. Where the JWD wins is in the level of clarity, the cleanliness and the feeling of space, something that is already noticeable from the low end.
In the mids, the predominance of cleanness in the JWD gives a better projection of the voices, being more defined, smoother, clearer, with better texture and a more complete, rounder and purer body. On the X2S, they are perceived as simpler, somewhat darker and warmer, as well as having a less stellar presence and a less starring drawl. Instrumentation is somewhat denser on the xDuoo, while clarity is a small step ahead on the JWD. However, the density of the X2S may work in its favour in some genres, such as rock or pop, as it provides a forcefulness and dynamics, which in the JWD, becomes softness.
The treble presentation on the X2S is a little more rounded, while on the JWD, the treble expands a little, rising upwards and also in extension. You can perceive that slight increase in sparkle, as well as a little more liveliness in the sound. The bottom end feels a little darker, while the differences in definition and resolution can be marginal, but I'm leaning towards the JWD.
The cleaner sound of the JWD, gives it a better and more detached feel. It also has a little more air and a subtle improvement in the recreation of detail and nuance. All of this gives it a little more stage, more width and better headroom, even the bass softness and smoothness matches it in depth. Despite this, the overall difference in soundstage is slight.
As for the better power of the X2S, it can play a key role in some headphones, as that reserve of power can give you a greater amount of dynamics when needed. In this sense, for normal IEMS it may not be significant. But when the headphones are harder, the xDuoo handles these aspects better, as it can guarantee more voltage and current delivery. It may be something to consider, if you want a more versatile and all-rounder DAP, in this respect.
Conclusion
When that xDuoo X2 came out, there were rivers of ink, as they say. In my opinion, it was a small revolution: a small DAP with so much power and good sound. It had its drawbacks, but for the price, what more could you ask for? At that time I couldn't get hold of it, or even try it out. Now, years later, I have the possibility to review this new version. However, one question is now clear: Does the X2S make sense at this point in time? I can't speak for others, only for myself. And in my opinion the answer is clear: Yes, there are not many mobile phones that give an output higher than 1V. The X2S clearly exceeds that value, is extremely small, weighs very little and most of the functions are very fast to execute. It is also very cheap and sounds quite good for its price. It is true that it still has some negative aspects... But on the other hand, it has been a long time since there have been many DAPS in this segment, something that used to be more normal and there was even a lot of competition. So the sense is totally justified, on the one hand it revitalises an iconic model, updates it a bit, and reopens the cheap DAPS market. Will the rest of the brands dare to face this rival? I don't know, but beating the X2S will be difficult.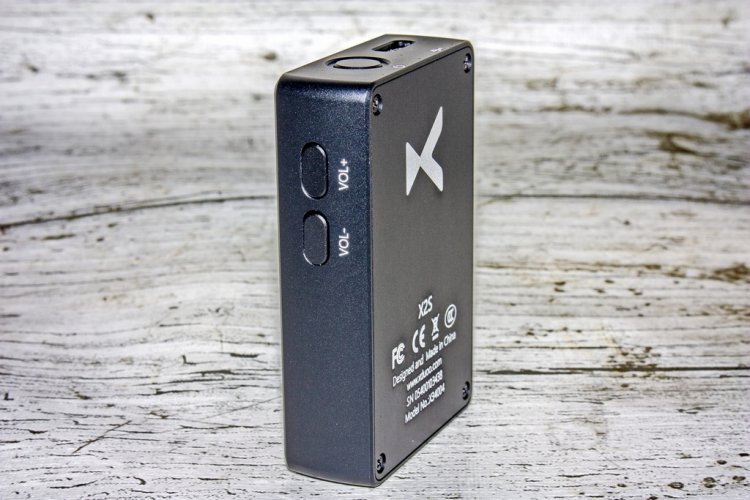 Earphones Used During Analysis
Reecho SG-03
Rose QT9 MK2
NF AUDIO NM2
NF AUDIO NM2+
BGVP ArtMagic VG4
ISN H40
NS Audio NS5 MKII Extra Bass
Tin HiFi T4
NiceHCK EBX21
ISN Rambo II
Ikko OH10
Takstar Pro 80
Ratings
Construction and Design: 92
Packaging and Accessories: 65
Connectivity: 60
Operability: 70
Sound: 90
Quality/Price: 95
Purchase Link
https://penonaudio.com/xduoo-x2s.html
You can read the full review in Spanish here:
https://hiendportable.com/2021/05/19/xduoo-x2s-review/
Last edited: