Westone W40 Quad Driver Universal-fit In-ear Headphones - Reviews
Pros
:
Fantastic treble, Clean tight audio, Comfort
Cons
:
Cheap plastic construct, 3 button cable awful, lack of sub-bass
My
review
is sneakily disguised as a video...Would love feedback      
Pros
:
Comfort, Isolation, Carrying case, Immersion factor, Clarity, and overall Sound Quality
Cons
:
Sound Quality isn't as competitive as other headphones in this price range.
I am in no way affiliated or work for Westone. For this review, the Westone W40 has been provided to me as a review sample courtesy of Westone, in exchange for my honest opinion of the W40.
Introduction:
Westone is definitely not new in the audiophile world; they have a large range of quality IEM's that have been praised time and time again. Among these are the W40, a quad (balanced armature) driver IEM with a 3 way crossover. For anyone new to the concept of multi-driver in ear monitors, each driver focuses on a specific part of the frequency range. A triple-driver IEM might have one driver (speaker) for the bass frequency, one for the mids, and one for the highs. More drivers generally mean that each one can focus more precisely on the range they were meant to produce, so you could expect a smoother and cleaner sound.  
Westone claims the technology of the W40 provides astonishing clarity, as well as extreme comfort. I've also heard rumors of up to 25dB of ambient noise reduction, which to my knowledge is considered outstanding isolation from a universal monitor. So although I'll go through everything in detail, special attention will be given to these categories. Will they live up to their potential? Let's find out.  
Packaging:
The W40's packaging is something you might expect from a flagship model – I was definitely surprised it here. There's all sorts of interesting information about the W40 and its build quality on the back of the box, as well as technical specs and accessories on the side. When you slide off the outside cover, you get to see one of the best designed grey boxes you've ever seen. No jokes. I personally don't care much for boxes and packaging in general, and this seriously, seriously impressed me.  
Imagine there was a $30,000 Orpheus IEM? This is the box it should be put in, if my vote counts for anything. It literally screams "High end product here!" Just opening the W40 to this should bring a smile to your face.  
Opening the side flap, we have a simplistic, yet elegant view of the W40, the extra faceplates (which I'll discuss in a little bit), and a quick insertion guide. I'm personally relieved to see the guide there, as IEM fits can get quite daunting. Overall – elegant, and high quality packaging for a high quality product. Westone definitely did it right.  
Accessories:
The W40 comes with a nice amount of accessories. Starting with the eartips, the W40's default tips are quite comfortable – but if that isn't enough for your sound tastes, feel, and comfort, Westone also provides a huge assortment of extra tips – 4 pairs of STAR silicon tips of different sizes (in addition to the pair that comes on the W40), and 5 pairs of Weston's True-Fit foam tips in different sizes as well. Both of the variations of tips are Westone's own products – a confident move on their part that worked well, and assures quality accessories.  
The silicone tips are outstanding in terms of durability and comfort, and the foam tips are excellent in this regard as well. The different sizes ensure that you get the tip that fits best with your ear, no matter the shape or size. Foam tips are usually known to have more bass response than silicone tips, however, that also will depend on the tip and seal the tips have in your ear, so YMMV. The True-Fit foam tips also feel of great quality, and are softer, as well as smoother, than Comply foam tips some other companies opt for instead. All the tips are color coded, so you don't have a confusion frenzy. The colors are nicely diverse, so there's very little to no mixing up of the tips.  
The W40 also come with an extra cable; one cable has an inline remote (for phones, playback, etc.) and the other is a braided, high quality cable. In the "build quality" section, I'll discuss them a bit more, so hang in there until then! I would like to say here though that I like the idea of providing an extra cable, as it's not uncommon for some customers to break one. If they do though, there's another cable waiting for them in the box.  
One set of accessories I'd like to focus on is the carrying case and cleaning tools. The case provided is a nice, vibrant, orange color, and is lined on the inside with foam. As for the build quality of the case itself, it is rock solid. It opens extremely smoothly, and although it is built out of hard plastic, I would take one of these any day over the metal cases I've seen. It is seriously built like a tank – very impressive on Westone's part.  
The case itself is moisture resistant, and even has what (to me) looks like an air seal valve. If there is a case you need to take with you on a long trip, this is the one I'd recommend. It's small, yet built to survive most impacts and weather changes. It locks securely as well, yet isn't a pain to open. I can't even think of anything I would want to have improved, which is a first when it comes to earphone cases I've reviewed, so I'm very happy with the work they've done here. Westone really nailed this one.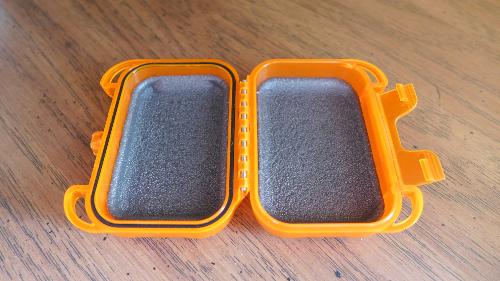 The W40 comes with an option to change faceplates, as well as two pairs of extra faceplates – one pair red, the other
blue. Very convenient for those that want to have the two earpieces different colors to color-code the left/right earpiece – well thought out on the designer's part. Of course, you could stick with the black plates that come by default on the W40 as well, if customization isn't your thing.  
Overall, I'm a big fan of the W40's accessories – they included in premium quality the accessories that are used most often, and left out a lot of unneeded accessories that other companies may include to impress customers, but aren't exactly practical or useful. The case – I'm a massive fan of. The tips? Done right, and that's not easy to do. The customizable faceplates? A smart option for those who like to color-code their IEM's. The wax cleaning tool is important for all sorts of customers – that doesn't need explanation. And lastly, their choice to include an extra cable is well appreciated. Perhaps my only suggestion would be to have the better, braided cable on the Westone by default, instead of the cable that includes the mic – most customers buying in this price range will opt for the Epic cable, and so to have to change the cable is a slight nuisance that can easily be avoided. Besides for that, though, I'm thoroughly impressed with what accessories they've given to accompany the W40.  
Build Quality & Design:
The housing itself is made of shiny plastic, but it's still built well nonetheless. The W40 is meant to be worn over the ear, so the shape of the housing may look a little different than some other IEM's you've seen, although it has a similar shape to the Shure SE846. On one side of the housing, you have the model of the IEM (W40, in this case) displayed, and on the other side, you have a nice, large left/right marking.  
Because the W40 is all black, both the "W40" displayed and the "L/R" markings are easy to read and don't cause you to strain your eyes. This is something many companies I've seen don't do well; by those IEM's I have to look all over to find which one is left and which one is right. Here, though, it's quite simple, and should be effortless even for those who are vision-impaired. I just want to point out that the "W40" faceplate can be replaced with one of the two other faceplates, for those who want.  
The all-black design provides a nice, sleek look to the IEM, although some may nitpick about the shiny coating not looking "professional enough." However, I for one adore the design, and in my opinion looks a lot better than Shure's "clear" design – to me, clear designs give the IEM a DIY look, while Westone's look more professional, in my personal opinion. Each has their pros and cons though, so to each I must say YMMV. For those who want a little more variety in color, you can replace the black "W40" faceplate with either the red or blue faceplate, giving it a bit of a more vivid look.  
The connection between the cable and the housing is quite strong, no matter whether you are using the iOS compatible cable or the EPIC cable. Moving on to the connectors themselves, there seems to be a bit of wiggle room, but not as much that it can be called "loose." I personally had some trouble removing the default cable to replace it with the EPIC one, and I hope the wiggle-room isn't a result from the strain I put on the W40's connectors. However, no one else seemed to have this problem, so let's leave it at that.  
The cable I will talk about is the EPIC cable, because it is supposedly the better of the two. There is a thin line of memory wire near the connectors, which makes it easy for you to wear it over the ear comfortably, and once you mold the wire to the outline of your ear you probably won't have to do it again. The actual cable is thin, but braided, giving it a competent look. I wouldn't be worried about the longevity of the cable though – it looks sturdy enough to last a while. It is also thin, which is great because bulky cables are a nuisance to carry around, and thinner cable are more flexible in general.  
The Y-split is made of plastic, and is very light. One thing that originally concerned me was the lack of stress relief leading up to the Y-split, but then I realized that the Y-split itself has some stress relief in its housing.  
The 3.5mm jack is right-angled, and the housing is made of rubber. It's not badly built by any means, but it doesn't scream of $500 when you first look at it.  
The build is solid enough, and the braided cable looks nice as well. I understand the lack of metal in the cable, as it is replaceable, but moving to metal shell housings in the future is something I'd love to see implemented. To be fair, much of the competition in its price range and even above also opts for hard plastic housings, so it isn't something to blame Westone for in particular.  
The build quality overall is nice and simple looking, yet doesn't have much to really impress me. There isn't much to be desired though, as all around they've done a great job. The design is sleek black as well, and that gets a thumbs up in my book. The fact they made the L/R markings so visible is also another thing I'm happy about, so overall I'm pretty satisfied with the way they've designed the W40.  
Fit & Comfort:
I was paying special attention to this, as Westone claims that the W40 excels at comfort. After a few hours with the W40, I realized they were absolutely right. Because of the shape of the IEM, there is an extremely snug fit which is very comfortable to the ear; so much so that after a few minutes I forgot they were even there. I achieved these results with the standard silicone tips provided; however, the foam tips are very comfortable too. I'm not a big fan of foam tips in general though, so I stuck with the silicone afterwards, and my impressions are aligned with the STAR tips. Comfort-wise, I wore them for over two hours in the subway yesterday, with no need to tweak them around at all. The first try with these may have you feeling a bit awkward, but after a couple of times it's easy to insert and remove them.  
These were designed for the cable to go over the ear, and I've worn them that way since I got them. Because of the thin-like cable, there's no discomfort to the back of your ear due to the cable, which is also important. The fit of the W40 makes it such that even if I madly shake my head from side to side the IEM stays snug in my ears – the solution for those who's IEM's fall out all the time.  
Overall, the fit and comfort are outstanding – you can wear these for hours on end without discomfort, and the W40 most likely 
will
stay in your ear no matter what you do.  
Isolation:
The W40's isolation is what makes it my favorite earphone. It blocks out 25db of sound, and astonishing amount for a noise-isolating IEM. In layman's terms, though, this means that if you take these on the subway like I did, you will hear your music and your music alone. Voices, shouting, train rumbles etc. are all outside of the W40, and you can get to listen to your IEM in peace and quiet.  
This is one of the top priorities someone on-the-go should have in terms of his headphone – noise isolation helps bring the music to the forefront, and everyone else behind. I cannot recommend these enough in terms of outside noise reduction.  
I listened to these for 2 hours on the subway yesterday. Those two hours were the 2 most enjoyable hours I've ever had on the go. It's shocking how much I was able to enjoy the music with everyone around me, and everything that goes on in Manhattan. I had the best time though – truly a blast, through the W40. I was actually able to listen to my music without compromising the sound due to the noisy environments I was in.  
For the office, the same rules apply. You want a earphone that zones out everyone else, while still giving you that sweet sound you were looking for? The W40's straight up your alley.  
Even more shocking though, is the idea that the foam tips can improve isolation even more. I was only using the silicone tips, and had this unbelievable isolation. Combined with foam tips? Forget Manhattan, you'll get premium isolation where ever you go.  
Overall, this is one of the really impressive points of the W40. Isolation is often understated, or viewed as "another tech spec." But for anyone in the workplace and on the go, you realize how important this factor is. And the W40? Deals isolation in aces.  
Microphonics:
Due to the over-ear cable design, there are no microphonics to speak of. I have a few IEM's that goes over-the-ear, and the W40 has less microphonics than all of them. I'll keep this section short: if you hate microphonics, the W40 is the right earphone for you. It excels in this category, and I couldn't be happier here.  
Sound
:
I would describe the overall sound of the W40 as smooth, lively, and dynamic. It doesn't go for a "flat" signature; rather the W40 excels at bringing a fun but audiophile-like sound to the table. It's also important to note that the sound is non-fatiguing, so you can use these hours every day without feeling tired of listening to them.  
Bass:
The bass a nicely textured, and quantity-wise is great as well. There seems to be a bit of a sub-bass roll-off; however, this isn't too noticeable. There is a very slight mid-bass boost (2db or so?). The boost is very small, and helps the dynamic-quality of the sound.  
I was initially confused, as some people were complaining about the lack of bass, while others said that these had too much bass for them. Although sound is subjective, there usually isn't this much of a discrepancy between impressions of the same product. However, after listening to the W40, I understood where both sides were coming from.  
If I were to group IEM's into two categories, I would say there are the analytical IEM's and the warm/fun IEM's. Although there are variations of each, it's pretty safe to say that most IEM's try to score either one or the other type of sound. However, the W40 is not either. Instead, in falls somewhere in the middle of the two groups; no one will mistake the W40 as a flat-sounding headphone, but it isn't the inaccurate "warm" and closed-in sound either. The W40 does indeed provide a sweet and addicting sound, but it isn't blurry, bloated, or warm. Neither would I say it sounds "cold", but rather it sounds spacious.  
Those who heard an abundance of bass where probably coming from a headphone with a flat and analytical signature, so the mid-bass threw them off a bit. Those who complained about the lack of bass most likely came from the very warm types of IEM's, and wasn't used to a more balanced and less warm sound, as well as the "lack" of sub-bass - or, in other words, the lack of the warm sounding bass many lower-tier IEM's have.  
Although there is a slight mid-bass raise, I don't desire much more in the bass region. If there was anything I could ask for though, it would be 2-3db raise in the sub-bass, to really show its true colors. I don't want a bass-heavy IEM, but a tad more balanced bass would sound amazing. However, don't think that the bass control, detail, or quantity is unbalanced or "off" on the W40; it sounds quite great how it is, and is really helpful for getting "in the groove".  
For those looking for a bit more sub-bass, fitting the W40 with some foam tips really helps there, at the expense of a bit of clarity/soundstage I'll mention later on.  
Mids: The mids are a bit of an interesting point – guitars get some nice help from the mid-bass I mentioned earlier, and pianos sound nice. However, these aren't meant to be analytical IEM's, so someone who is looking to reinterpret his classical music collection might want to look elsewhere. The detail could be a bit better in the mids all around, but it's so sweet sounding it's really hard to complain.
Although it may not be the last words on detail, vocals sound oh-so-sweet, and very natural. While not the strongest point of the W40, it definitely isn't left behind in any way. While I wouldn't call this a vocal-oriented IEM, it sure can be used to enjoy your vocal collection.
Overall, the definite quality I love about the mids is how sweet and coherent everything sounds. But that's for a later section. It's really important to note that the mids and highs will take a different form depending on what source you use – higher-quality sounding DAPs will show the true potential the W40's mids have. Otherwise, you may get frustrated with the sound, as the W40 isn't so forgiving of bad source equipment.
Highs: Again, this will greatly depend on your source files and equipment. I tried the same song on both the Cowon J3 and the Shozy Alien, and while the J3 is a pretty good DAP in its own right, the song on the Alien showed more vibrant and detailed highs. However, when paired with even a mid-tier source, the highs on the W40 don't leave much to be desired. Drums have that "snap" I'm always looking for, and violins sound as clear as ever. The highs here are semi-bright, so for those expecting a treble roll-off, you won't find it here.
Clarity: The crowning glory of the W40, in my opinion. Westone bragged of the W40's clarity, and by gosh, they are absolutely right. I always hated the dread "veil" other IEM's have, limiting the overall clarity, but the W40's clarity is literally spot-on. It helps create the vivid part of the sound that puts the W40 in its own league.
Soundstage: Overall, the soundstage is wide, and doesn't feel claustrophobic. If using the foam tips, you may find that the sound becomes more "centralized" and limits the soundstage a bit, with the benefit of a slightly smoother sound. As always though, YMMV.
Imaging: Great even for this price bracket, and the W40 actually shocks me sometimes with super-accurate imaging, although it doesn't happen all the time. This too will get sacrificed if going with the foam tips, although not bad by any means. Even with the silicone tips though, most of the sound seems a bit centralized, which is common with IEM's overall, so I can't complain.
Detail: Detail will stay average if you're using an average source – remember, this isn't supposed to be an analytical IEM, rather an accurate yet slightly fun-sounding one. However, with good equipment, the detail really shines as well. Which leads to the next section–
Equipment & Reveal Factor: This is quite important, as the W40 is by no means a forgiving IEM. Although it isn't in the "analytical" category, it just won't sound as detailed with bad equipment, and won't be amazing with badly mastered music. Highs don't take a roll-off with any music though, and the sound definitely doesn't lose its coherence with even average sources. Just that if you grab the most you can from the W40, try to use good equipment – although that really goes for any headphone.
Hiss:
 Many IEM's have hiss with certain sources - the W40 only had minimal hiss with my Shozy Alien, the source I use when testing for hissing.
Coherency & Flow: Wow. If there's anything I can compliment the W40 on, it would be how coherent everything sounds. Everything flows very well, and sounds sweet to my ears, no matter what type of music I'm listening to.
Immersion Factor: The W40 sucks you into its own world and is extremely easy to relax to. The incredible isolation definitely lends a hand to this, and is crucial to my personal listening experience. In the office, or on the train? You can still relax and get sucked into your music using the W40.
Amplification:
 At 31 ohms, these can be driven from most sources without any problem - even smartphones are making moves towards more powerful amplifiers as one of their components. Like I've said though, you should use these with the best source equipment you have, and amplifiers are known for bringing out detail, soundstage, and range in low to mid-tier sources, so looking into amplifiers isn't a bad idea. However, it is definitely not necessary, and if you have a good DAC/DAP to begin with, an amplifier is unneeded in your setup with the W40.
Genre Recommendation: With the W40, you'll probably be most happy with music genres that are involving, and not analytical-oriented. Jazz, rock, electronic, psychedelic music, country, and acoustics are some things that pair well with the W40. Classical music, while sounding good, is more for the flat and analytical IEM's, not the sweet sounding ones. However, since the W40 is a nice bridge between the detail oriented earphone and the "warm" IEM (like I've mentioned earlier), these pair well with most genres, with a specific lean towards the ones that let you relax and enjoy the music.
Overall Tonality & Sound Summary: The W40 sounds quite balanced, despite its unique bass, and its slight V-shaped signature. It sounds sweet and lush, and is definitely more of a relaxing IEM that an analytical one. But for the purpose it set out to do, it did very well. It's so effortless to relax to the sound signature the W40 has to offer, that this alone makes it a winner for me. A lush (yet not overly warm) sound, combined with outstanding clarity, should make this purchase a no-brainer for most people.
Value & Conclusion
:
The W40 is not cheap. However, for those looking for a detailed, clear, and lively earphone with isolation that will help you enjoy your music everywhere, the W40 is an all-in-one solution I would definitely recommend. The lush sound simply lets you forget all your troubles, and is top-notch for relaxation purposes. So is it worth it? Absolutely. These are built to be listened to - all day and every day, and for that, these are phenomenal. If you're looking for a good investment that you'll be happy with for a long time, these should be near the top of your list.