---
The product was provided to me free of charge for the review purpose in exchange for my honest opinion. The review was originally posted on my
blog
, and now I would like to share it with my readers on Head-fi.
Manufacturer website:
Westone
.
---
Intro.
Call it a deja vu, but after Westone ES80 announcement I got flooded with the same type of questions I received back in ES60 days (asking to compare it to W60), now with many wanting to find out about ES80 vs W80. Due to a custom fit nature of the design, it's not as easy to test and to compare Westone Elite Series (ES) like you would do with their other universal W-series and UM Pro-series IEMs. And quite often people make an erroneous assumption that ES is a CIEM version of corresponding W model. ES80 and W80 do share the same drivers, but tuning is different. As a matter of fact, I think ES80 is the first Westone model to take a serious step toward the audiophile tuning, away from their well-known lush laidback musically tuned house sound.
For some manufacturers, a change in sound signature could be a risky step, especially when it comes to a flagship release. In my opinion, for Westone it was an opportunity to open doors and welcome new audio enthusiasts and audiophiles, those who want a more neutral and revealing sound signature. I still consider W60, W80, ES60, and the latest ES80 to share the Westone flagship status which is going to appeal to different people, depending on their sound preference. And that's the whole point of my review, not to push one model as a "must-have" flagship, but rather to describe in detail how they sound and compare so you can pick your own flagship which suites your personal taste. So, let's take a closer look at what Cartwright brothers delivered this time!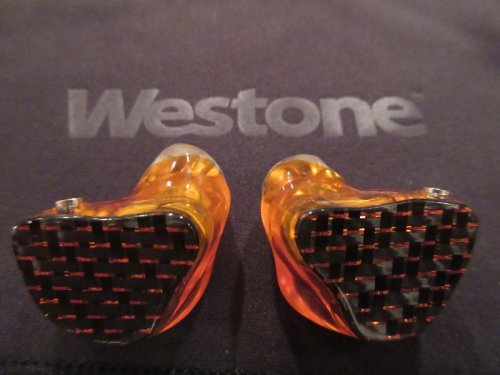 Unboxing and Accessories.
I decided to combine Unboxing and Accessories sections together since ES-series unboxing experience is limited to opening the Monitor Vault III storage case. It's understandable there is nothing to print as a cover picture on a box since CIEM will look according to your customization, and you can get detailed spec from Additional Info tab under a product listing on Westone site. But I was already spoiled by W80 unboxing experience, and will be lying if I say I didn't miss it here.
But taking Vault III out of the shipping box was still a bit of a surprise to me. Anybody familiar with Westone IEMs should also be aware of their bright orange Vault cases. Like a miniature Pelican case, though these are custom, with an exception of W80, the rest of the universal Westone iems all come with this little compact orange Vault. ES60 introduced a super sized large orange Vault II case. ES80 stepped up to Vault III case which is no longer orange, but larger in size and has foam cutout partitioning for accessories, cables, and CIEMs.
Inside you will find a complete set of accessories with Owner's Manual, Cleaning cloth (high quality thicker piece of cloth to wipe fingerprints off the shells), a standard cleaning tool with a brush, a small bottle of Oto-Ease lubricant for custom shells, and a desiccant pod used as dehumidifier inside of the case. The Vault III case has separate foam cutouts for the cleaning tool and Oto-Ease lubricant bottle to make sure these accessories are not rolling inside the case, and a special holder for desiccant pod to turn the case into a dehumidifier when you place ES80 inside. There is also an area in the middle, large enough for 2 sets of slimmer cables.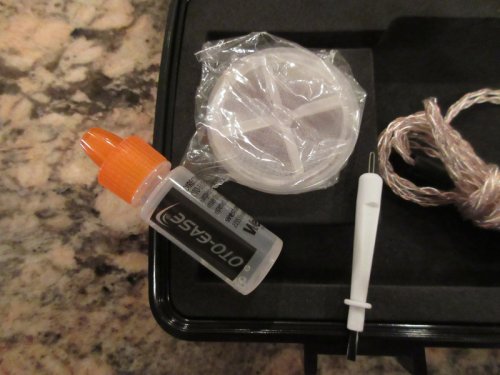 The cable.
Those familiar with Westone product line, now come to expect two sets of Epic cables with every pair of their IEMs: one audio only and another with in-line remote. W80 included both, Epic G2 cable with in-line remote and audio only which replaced Epic with a premium aftermarket cable from
ALO Audio
.
At least to me, one of the highlights of W80 release was a bundled ALO Audio Ref8 premium hybrid cable, which is also featured stock with ES80, along with their standard Epic audio only cable. This Ref8 cable has 8-braid design with 4 high purity silver-plated copper (SPC) conductors and 4 OCC copper conductors in FEP jackets keeping wires sealed and protected from oxidation. Despite 8 braided conductors, the cable is still relatively thin and supple, but not as soft and has some memory effect where the wires become springy after being wrapped for storage. Also, expect some microphonics, thus a shirt clip can come handy. The cable has a rubbery right-angled gold-plated connector with a nice grip, and I found it to be tall enough to work with any DAP or smartphone in a case. Y-splitter looks like a slim metal capsule with a rubber chin-slider which slides right into the splitter. Housing of mmcx connector is plastic, but not slippery, and it has Red/Blue id dots along with R/L marking. There is a memory wire surrounded by shrink-wrapped tube which could be shaped into an earhook.
The included original Epic cable is thin, lightweight, and flexible, with ultra low resistance tensile wire design reinforced with aramid fiber.
The Ref8 cable looks nice and comfortable to wear with ES80, but that wasn't the only reason why Westone choose to feature it with their next flagship design. The main reasoning behind using this cable was due to its sonic capability which starts to shine after about 100hrs of burn in. I will talk in more details about the actual sound in Sound Analysis section of the review, but I also wanted to compare Ref8 against other aftermarket cables in my collection, and here is what I found.
Ref8
->
TWag v3 pure silver
- a touch more bass rumble, similar impact, upper mids are a touch smoother and so does the treble.
Ref8
->
CB13 hybrid
- the same bass rumble, a little more forward and a touch more revealing upper mids, treble has the same sparkle and airiness.
Ref8
->
Affinity hybrid
- soundstage is wider, more sub-bass rumble, upper mids are a touch more forward, a little more organic. Overall sound is more neutral-balanced.
Ref8
->
Pristine Pure copper
- a little less bass rumble, and little more forward upper mids, and a touch smoother treble.
Ref8
->
Epic
- soundstage is very similar, bass has a little more sub-bass rumble and a stronger impact of mid-bass, upper mids are a bit smoother, just a little less transparent and a touch warmer.
While I didn't find any cable to stand out with a significant improvement in sound, I still think
Oriveti Affinity
cable has a nice pair up synergy, especially when it comes to soundstage width expansion.
Design.
ES60 was one of my first Custom IEMs (though, not the first), and it set a high bar with a positive experience. Afterwards, most of the CIEMs I reviewed were pure acrylic, and even one was all silicone. But I still haven't come across another hybrid-material design like Westone where you have acrylic body with a Flex Canal silicone nozzle - a reactive material which under a body temperature provides a better comfort and improved acoustic seal. Its dual bore has a very interesting property of Deep Open bore design which combines/mixes the sound from each bore at the tip of the nozzle before it enters the earcanal. Plus, the acrylic shell earpieces are manufactured using Cold Pour method for a thicker and more robust enclosure which also increases durability (from a firsthand experience, ES80 did survive an accidental drop on concrete titles at home).
Of course, the whole idea of Custom IEM is the ability to make an earpiece designed specific to your ears (from impressions taken by audiologist) and customized to your liking. Westone on-line Design Customization tool is very easy to navigate and has a clear visual feedback to show you exactly the color and the finish you select. You start by choosing a body color type which has 7 different options (ice, metallic, opaque, precious metals, sparkles, swirl, translucent) and then select from a variety of the actual body colors corresponding to that specific type.
Then you go through the same with a faceplate customization, selecting one of 7 faceplate types (carbon fiber, es exotics, granite series, house art, reflections, wood, or none) and the actual faceplate finish and material with a ton of available choices, especially when it comes to exotic type. Every step of the selection is reflected dynamically in the design tool. After you select the faceplate, you also have a choice of Logo art with many available options. To make your life easier, you can duplicate the design to the other earpiece (left vs right), or you can go to the next screen and start with a design of Right earpiece where you can, as an example, choose a different color to distinguish the left/right sides.
My ES80 finished earpiece arrived looking exactly how I selected it in the design tools, there were no surprises. The shell was very smooth, no bubbles, no joints/edges I can feel, and with a very smooth fusion of acrylic shell and silicone nozzle. That's something I still can't get over, especially when you brush your finger against it. You can see and feel the difference between two distinct materials, but I can't feel the joint where it transitions from acrylic to silicone. It's very important, otherwise it will hurt your ear going in. Also, I can see a line between the shell and the faceplate, but I don't feel it when brush my finger against it. Another example of great workmanship.
You have a full control over the shell design, unlike Universal W-series which comes only with a shell-customization kit that has different color removable clips. Inside ES80 shell, mirroring W80, you get 8 Balanced Armature drivers, partitioned into Dual bass, Dual mids, and Quad highs along with a 3-way crossover. As mentioned before, though the drivers between W80 and ES80 are similar and even have the same Sensitivity of 111 dB and Frequency Response of 5Hz-22kHz, they are tuned differently and have a different impedance of 5 ohms (W80) vs 80 ohms (ES80).
The fit.
Sound Analysis.
In the intro of my review I mentioned that ES80 made a big step toward audiophile oriented tuning. Of course, it's a subjective opinion since definition of "audiophile" sound is vague, with some considering it to be a more revealing analytical sound, while others leaning more toward a natural organic detailed sound. I find ES80 to have a more neutral, revealing signature with a natural realistic tonality that focuses on mids. It's not a mid-centric or mid-forward tuned iems, but no matter what song/genre I'm playing, the first thing that captures my attention with ES80 is the powerful rendition of vocals. Both the bass and the treble have a remarkable extension with an excellent quality, but their neutral quantity gives more room for vocals to shine.
In more details, ES80 bass extends far, down to a deep sub-bass which is accurate and has a distinct velvety rumble, but it's more neutral in quantity, just slightly elevated. Mid-bass is tight, fast, articulate, with an impact a bit north of neutral. ES80 responded quite well when I applied the EQ to boost it, still retaining a good control and separation from lower mids. But every time I tried experimenting with EQ (for some reason, lately I've been craving more bass), I went back to a flat EQ setting because I wanted to hear the original tuning which delivered a very realistic natural bass timbre.
Lower mids are also more neutral, perhaps taking away some of the Westone signature lushness, making the sound leaner to ensure there is not even a hint of veil. Upper mids in ES80 do truly shine, being more revealing (in a natural way), more transparent, with a perception of being a little more upfront, including a nice layering and separation. Treble is a little more relaxed, with a nice level of sparkle and airiness, but not too elevated or too airy, being smoother and more natural. As I mentioned before, extension is excellent, and overall treble definition is very good and non-fatigue.
Despite having a smooth sparkle and well controlled airiness, the layering and separation of instruments and vocals is quite good. And thanks to a very wide soundstage, which surprisingly holds its width even with some of my lo-fi sources, the positioning and imaging of instruments and vocals is very accurate and precise. You can pin-point every sound easily. With a soundstage, it's not only the width but also the depth which I found to be impressive, putting you a few rows in front of the performance, not too much out of your head, but still enough to project the sound a little further.
In general, I think the neutral signature of the sound also contributes to the coherency of the tuning, with all drivers working in unison with a smooth transition from lows to mids and to highs.
Comparison.
Here is how ES80 compares to some of the other IEMs inside and outside of Westone family. In every case I noted the volume setting which can give you an idea that with its average 111 dB Sensitivity and higher then average 80 ohm Impedance, you need to push the volume a little higher. Of course, I made sure to volume match every pair.
ES80
(v71) vs
W80
(v51) - ES has a little wider soundstage. W sub-bass goes deeper, with more rumble, mid-bass has more impact, and overall bass is more lifted vs ES which has a more neutral bass, though still a great low end extension. Lower mids are leaner and more neutral in ES while W has more body. Upper mids more revealing, more transparent, and slightly dryer in ES while W upper-mids are a little warmer and more organic. Treble has a similar sparkle with a nice definition and average airiness. W sound sig is more balanced while ES is more neutral-natural/transparent. If I would to summarize the main differences between these two, ES80 is more neutral, more revealing, more transparent, while W80 is more balanced, with a better low end rumble and mid-bass impact, and smoother and more organic tonality. I had someone ask me if I consider ES80 to be an upgrade of W80. I find ES80 to be a side-grade due to difference in tuning, where these two nicely complement each other.
ES80
(v71) vs
ES60
(v51) - nearly the same soundstage expansion. 6 sub-bass has a little more rumble, and the same with mid-bass, just a little more impact, not a huge difference but noticeable enough to make 8 bass sound more neutral in comparison. But the bass itself is tighter and more articulate with a little faster attack in 8. Both have a relatively neutral lower mids, maybe with 6 having just a touch more body. With upper mids, 8 is a little leaner, and with a little better layering, while 6 is a bit smoother and warmer, but not by a lot though. Treble is very similar, and in both cases has a nice definition and well controlled sparkle. While both are close to neutral sound, 6 is just a touch more organic with a little fuller body, while 8 is more neutral with a little better transparency. It's still a coin-toss for me which one I like better.
ES80
(v71) vs
UMPro50
(v61) - Pro50 soundstage is noticeable narrower. ES bass is more neutral while Pro50 has a deeper sub-bass and more mid-bass impact, but at the same time ES bass is faster, tighter, more controlled and doesn't spill in lower mids like Pro50 does. ES lower mids are more neutral and leaner while Pro50 has thicker lower mids which adds more body to the sound. ES upper mids are more revealing, more detailed, brighter, leaner, while Pro50 is a lot smoother, warmer, pushed a little more back, and not as layered/separated. ES has a little more sparkle in treble and more airiness.
ES80
(v71) vs
UE18+ Pro
(v73) - very similar soundstage expansion, with UE has just a little more depth. With bass, UE sub-bass has more rumble, while mid-bass has a similar quantity, maybe a touch less in ES. Both have a tight, articulate, fast bass with an excellent control without spilling into lower mids. Lower mids are also similar and sound very neutral. Upper mids are transparent and layered in both, revealing and detailed, with the only difference of ES being a little smoother and a touch warmer while UE being brighter and a bit dryer. Both have a treble with a good definition, but UE is crisper and a little brighter. While these two have many similarities, the main difference is in upper mids/treble where ES sounds a little smoother and more organic, while UE is more revealing and brighter.
ES80
(v71) vs
Pristine HUM
(v52) - ES has a wider soundstage, while HUM goes a little deeper. HUM bass has a little more sub-bass rumble and a touch more impact, but ES bass is tighter, more articulate, and better controlled. Both have a neutral lean lower mids. With upper mids, HUM is more forward, brighter, thinner, while ES is more natural, a little warmer, and with better layering and separation. Treble is crisp and well defined in both, but HUM is grainier. Here, the upper mids/treble advantage goes to ES with a more natural and transparent tonality.
ES80
(v71) vs
Noble K10UA
(v59) - ES has a wider staging while K10 has more depth. K10 bass has a little more rumble and more mid-bass impact, while ES is more neutral in comparison. Both have a tight and articulate well controlled bass. Also, both have a neutral leaner lower mids. Upper mids in K10 are brighter, leaner, and dryer, while ES is more neutral, slightly warmer, and more organic. Treble is crisper in K10, though both are well defined. Also, K10 has a little more airiness. In this comparison, bass difference didn't stand out as much, it was rather a brighter upper mids of K10 vs more organic smoother upper mids of ES.
ES80
(v71) vs
Harmony8.2
(v61) - ES has a little wider soundstage, while H8.2 has more depth. While sub-bass is similar, I hear H8.2 having more impact in mid-bass. Both have a well controlled bass, but ES is a little tighter and faster. Lower mids are more neutral in ES while H8.2 has a little more body. Upper mids have a similar presentation, but ES is a little smoother and a touch warmer, while H8.2 is a bit brighter and just a little thinner. Treble is very similar, crisp and well defined, with a similar extension.
Westone "family" (ES80, ES60, W80, UMPro50)

Pair-up.
As I mentioned in Comparison section, due to an average Sensitivity and above average Impedance, you do need to push the volume higher when listening to ES80, but they don't require higher power to sound great and can be easily driven by any hi-fi or lo-fi source. Of course, you can't expect the same level of resolution and transparency from a smartphone or an average laptop as you would from high end DAPs, but to my pleasant surprise it paired up good with all the sources.
Plenue 2
- wide/expanded soundstage. Neutral revealing tonality, very transparent, layered, dynamic sound.
LPG
- wide/expanded soundstage. Neutral-balanced revealing tonality with more bass impact, very transparent, layered, dynamic sound.
DX200
w/amp2 - wide/expanded soundstage. Neutral revealing tonality with a little more sub-bass rumble, very transparent, layered, dynamic sound.
X7ii
- wide/expanded soundstage, a touch less width. Neutral-balanced more organic tonality with a nice sub-bass rumble, great transparency, and good layering.
Opus#2
- wide/deep soundstage expansion. Neutral-balanced revealing tonality with a little more bass impact, very transparent, layered, dynamic sound.
AK120ii
- wide/expanded soundstage. Neutral-balanced revealing tonality with a nice sub-bass rumble, very transparent, layered, dynamic sound.
M2s
- wide/expanded soundstage, a touch less width. Neutral-balanced more organic tonality with a nice sub-bass rumble, great transparency and layering.
N3
- wide/expanded soundstage. Neutral-balanced revealing tonality with a nice sub-bass rumble and fast mid-bass punch, very transparent, layered, dynamic sound.
Note 4
- wide/expanded soundstage. neutral-balanced revealing tonality with deeper rumble and more mid-bass impact, transparent, layered, dynamic sound - surprisingly good!
Conclusion.
I mentioned in the Intro that I consider W60, W80, ES60, and ES80 to be current Westone flagships. We are so used to new releases with higher driver count, that we automatically assume it to be the next flagship. But we all have a different definition of what we consider to be a flagship, thus it's just a label which can be applied to different IEMs from the same manufacturer. Westone has a lot of fans (A) who can't get enough of their house sound, craving that lush, laidback, organic, detailed, musically tuned tonality. But there are also fans (B) who want to push the envelope of this sound tuning closer to a neutral-balanced signature, with a better retrieval of details and a more neutral tonality. If you follow the sound signature changes from W60 -> W80 -> ES60 -> ES80, you can trace the evolution with a transformation from (A) to (B).
And when you arrive at the latest ES80 stop, you will be greeted with Westone interpretation of audiophile sound tuning with a more neutral, revealing signature and a natural transparent tonality. Also, don't be surprised to hear one of the widest soundstage expansions in Westone C/IEM line up. But if you find yourself craving more bass and warmer tonality, you can go back to ES60 or W80 (if you want more slam). And if you want more lushness, retrieve back to W60. My point - you pick'n'choose your own flagship, with the only exception of ES being a Custom IEM which can hold back some people because they can't audition these IEMs before the purchase. In that case, hopefully my review will be able to guide you.