---
Before I start my review, I would like to Thank Vizio for providing me with a review sample in exchange for my honest opinion.  I already forgot the last time I had so much fun doing a review!
---
Flat screen TVs have been around for a long time, and with every year they are getting more advanced in functionality and thinner in size.  But the problem still remains where a picture quality goes up, while a sound quality goes down.  It's all part of a natural evolution with thinner TV frames not being able to accommodate large drivers.  Speakers built into TV are just OK to hear what's going on, but they don't do justice to watching the latest Marvel superhero flicks, as an example, denying you a full experience of HD picture with HD sound.  Even if you have a decent 5.1 Receiver with a set of 5 Speakers + Subwoofer, dealing with extra components and wires for your rear satellite speakers and subwoofer could be a hassle.  Or if you like to throw a party where your TV is a center of home entertainment system, why not use your existing speakers to pair your smartphone or tablet?  Didn't realize all of this could be possible in one compact setup with hardly any wire clutter when I got a chance to test the latest Vizio SB4051 Sound Bar 40" 5.1 Channel system.  Here is what I found.  
My previous experience with surround sound TV speaker setup was using our aging Sony DAV-FC7 dvd/cd changer with a built-in Digital AV Receiver and 5.1 Channel speaker setup where everything was wired.  I enjoyed its 5.1 Channel surround sound performance when watching movies, but the pain of running wires and the limited port connection wasn't ideal.  I never got around updating our system until now, so this is my first venture into TV sound bars.  Of course I was well aware of Vizio as a budget TV brand, though lately been hearing more about quality of their smart TVs.  I was especially curious how their speaker system going to integrate with our 55" Samsung TV considering I usually prefer not to mix'n'match different brands because I'm not a fan of multiple remote controls.  
Starting with a packaging, I didn't expect it to arrive in a single box.  Considering 40" sound bar speaker, two satellite speakers, and a large subwoofer - Vizio actually managed to pack everything into a very compact box while still providing enough of styrofoam padding to protect everything inside.  In my opinion it was nice to see a company putting extra effort into the ergonomics of the packaging with a ton of useful info printed on outside.  As a matter of fact, I probably got most of my info about the speaker capability by reading its detailed functionality description, looking through pictures of included cables and available connections, and even studying a pictorial diagram of speaker setup - all that before even opening the box.  
Out of the box, you are presented with 4 separate speakers and accessory box with plethora of cables, mounting hardware, remote control, and comprehensive manual.  I was impressed with availability of Stereo RCA connection, 3.5mm Stereo connection, RCA Coax connection, Optical Toslink connection, HDMI (ARC) connection, and even USB drive (WAV format only) connection.  Included accessories had a pair of RCA cables for satellite speakers, RCA to 3.5mm audio cable, Digital Coax cable, Optical Digital cable, and HDMI cable.  All the cables were of relatively high quality with beefy connectors, thick wiring, and durable cable jackets.  The most important point - a cable for every available connection was already included, and it's a huge plus!  
To accommodate different mounting options Vizio included a number of mounting wall brackets for the sound bar and satellite speakers, wall mount screws, and even a wall mount template for sound bar.  To manage excessive satellite speaker cables, they also included cable ties.  
Unboxing.
Starting with speakers you have the main Sound Bar which houses Left Front, Center, and Right Front speakers (dimensions of 40" x 3" x 3", housing three 2.75" full-range drivers), 2 rear satellite surround speakers corresponding to Left Back and Right Back channels (each one with dimensions of 3" x 5.9" x 3", housing 2.5" full-range driver), and a hefty 12.5 lbs Subwoofer speaker (dimensions of 9.7" x 10" x 9.7", housing 6" long throw driver).  All speakers have matching details of wrap around black metal mesh grill, rear plastic housing, and high quality thick brushed aluminum plate sides/top (depending on a speaker type).  I was actually impressed with a quality of those brushed aluminum pieces with etched Vizio logo - it adds a premium feeling to speakers streamlined design.  
The main Sound Bar has 5 buttons with Power, Input, Bluetooth, and +/- Volume controls.  Furthermore, on the left side of the bar along the edge behind the grill there is a stack of 12 blue leds which indicate the adjustment level, either if you are changing volume, bass, treble, surround level, etc.  Considering you have all your controls under a fingertip with LCD screen remote, there is no need for any display on the bar since it won't be even visible from a distance.  I think the use of bright LEDs is very efficient to compliment LCD screen of the remote when you are adjusting levels and have a visual feedback from a bar with a number of lit up leds.  
On the back of Sound Bar, you have two cavities with a number of available connection ports.  These cavities are just deep enough for a better management of cables, especially if you choose to wall mount the bar.  In one opening you have a power cable port and two sets of Auxiliary inputs, 3.5mm or Stereo RCA where you can use the same included 3.5mm to Stereo RCA cable to accommodate either of these connections.  The other connection opening has Coax input, Digital Optical Audio In, USB port (WAV playback only), HDMI In port, and HDMI Out (ARC - Audio Return Channel connection supported by newer TVs to send audio over HDMI cable).  
When it comes to Subwoofer, you no longer have to worry about running wires to the back of your room since it is wireless with 60ft of clear line of sight range.  But you do need to keep in mind that rear Satellite speakers do get attached to Subwoofer with RCA cables.  Still, it's a lot easier to manage running wires in the back (in our case, behind the couch) then doing this across the room.  Back of the subwoofer has a power switch and a power port, RCA connections for satellite speakers, and LED indicator along with a wireless pairing button.  By default subwoofer was already paired up, but if you need to do it again - it's an easy process.  Satellite speakers just have a single RCA connection, no power required since they are passive.  
Design and Accessories.
Setup with my TV was a breeze.  Vizio manual, in addition to a detailed setup walkthrough, also gives you suggestions about which cable/connection will yield the best sound quality.  Of course, you are limited by your TV hardware/ports, but I was lucky enough to have a dedicated HDMI ARC port and decided to use that as my primary audio connection.  Also, our TV is mounted to the arm attached to a TV table-stand, so it was an easy decision to place the Sound Bar on top of the table surface under the TV.  Subwoofer with satellite speakers went behind the couch toward the back of the room.  
I was actually happy with a look of a 40" bar relative to 55" TV.  I don't think having a wider sound bar in comparison to TV frame would look as good.  
Next to TV (55")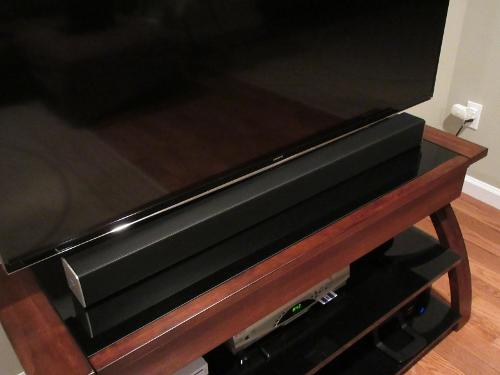 With a help of remote's LCD screen, setup and adjustment was easy and very intuitive.  Remote has a single line easy to read LCD screen conveniently located at the top with Input/Menu/Power buttons underneath, 4-way control with Enter/Play/Pause in the middle, and Volume +/- with Mute in between below that.  Input was the first stop to get to HDMI ARC port selection to enable a sound.  Afterwards, I was using Menu for selection of other available controls.  
Going through Menu choices is easy by pressing Up/Down arrow to go through available functions, selecting one with Enter button and using Next/Prev buttons to increase/decrease the value with a visual feedback from leds on the bar.  There were a lot of functions to fine tune the performance of these speakers.  First of all, you have Bluetooth Pairing (to pair up with a smartphone or a tablet).  Then you have separate Bass and Treble levels to adjust corresponding low frequency and high frequency content.  Center Level adjusts the amount of dialog in the center channel, Surround Level adjust amount of surround sound, and Surround Balance adjust the balance of surround level on each side.  Subwoofer level adjusts the level of subwoofer output to control the amount of "boom" without affecting overall bass level.  Surround On/Off will switch between virtual surround and 3.1 stereo modes.  DTS TruVolume On/Off will enable consistent volume level, and Night Mode On/Off will lower bass frequency so you don't disturb others when listening late at night.  Also, AV compensation audio delay could be adjusted from remote, and so does a few other options for TV remote setup, Eco Power Mode setup, Programming remote, or Reset to a factory default setting.  
Remote with LCD.
I also enjoyed the idea of being able to use SB4051 Sound Bar as a regular Bluetooth 4.0 wireless speaker which also supports apt-X codec.  Though I already have a number of high quality BT speakers at home, those are usually smaller in size and need to be charged up.  Here, with TV being already center of our home entertainment, I was able to add another functionality of streaming music from my smartphone or tablet.  Pair up was flawless where speaker was recognized and connected to Media Audio without any problem.  Keep in mind that it's not going to work as a speakerphone since there is no built-in mic.  Another thing to keep in mind, Sound Bar produces a rich balanced dynamic sound, but addition of subwoofer and satellite speakers is more appropriate for watching movies rather than listening to music where I found a sound to be a bit distracting.  For playing your music wirelessly I would suggest turning Subwoofer power off which also disables rear satellite speakers.  
Paired up with my Note 4.
Now since I covered design and functionality details, I would like to move on to the most important part of the test – sound evaluation.  I was actually surprised, expecting a typical power spec in Watts like you see it with other speakers, but instead found a reference to Sound Pressure Level (SPL) of 102dB with less than 1% THD.  It could get confusing with power rating of speakers where some vendors go for a marketing hype with Max power rating instead of the actual RMS power.  With SPL rating there is no confusion and it's more appropriate for loudness level measurement and relative audio level comparison.  
In our particular setup at home around the TV we have a disadvantage of open floor plan.  There is no acoustically treated wall material or covered windows or enclosed space for audio waves to bounce around.  As a result sound usually diffuses quickly, affecting low end to attenuate significantly in quantity.  Also, with a built in TV speakers, you can get a "loud" sound but to hear a speech better you need to raise the volume up which results in sound distortion and awful mid-bass thump without much of sub-bass support.  
I hate using a "night and day" cliche to describe the improvement in sound quality once we switched to SB4051 Sound Bar, but there is no other way to describe this sound improvement.  Since my TV has HDMI ARC and considering Vizio recommended it as the best quality, that's exactly what I used for the connection.  Even without a subwoofer and satellite speakers, you get a very dynamic and rich, front speaker firing sound with a lot of clarity and deep bass texture.  A sound was very linear and maintained its quality from the low volume level and all the way up to nearly the max.  I think that was the most impressive feature where even at low level I was still able to hear clear and articulate speech without a need to raise a volume up to hear it better.  
And speaking of volume control, after the initial setup to select HDMI ARC Input, I put the remote aside and was able to control volume directly with my Samsung TV remote control.  I did adjust the bass level for a better balance and color, and also played around with surround sound setting which had a noticeable effect.  As a matter of fact, SB4051 is packed with sound enhancement and audio decoding technology, everything from Dolby Digital to DTS Digital Surround, DTS Circle Surround, DTS Studio Sound, and DTS TruVolume.  For general TV watching or when my kids watch their favorite YT channels and Netflix shows, rear subwoofer/satellite speakers are not even necessary, or better yet – you can tone it down by adjusting subwoofer level from your remote.  But once you are ready for a real movie action, get some popcorn and turn up that subwoofer!!!  
As I mentioned before, the only true way to appreciate the impact of this 5.1 Channel system is to play some of your favorite action movies, in my case any of the latest Marvel Comic movies would do the trick!  With satellite surround speakers in the back, it really feels like you are in the middle of the action, and it took me a few minutes to realize that a thumb I'm hearing in the back wasn't coming from a neighbor blasting his car stereo outside, but rather from the subwoofer.  This speaker system really creates a home movie theater experience.  Now thinking that I don't even have satellite speakers on stands or subwoofer bass port facing the wall at the optimum angle, and our TV room in the corner of the house with only one solid wall, one larger window and one fully open wall/side - I can only expect sound quality to go up from there if I would have a proper acoustically enclosed setup.  
Not sure if it's applicable to use my usual sound test vocabulary to describe a sound, but you definitely hear a perfect balance of deep sub-bass texture with a punchy mid-bass. warm organic and still very detailed mids which deliver clear full body speech/voices, and smooth and detailed treble – no extra brightness or sibilance, just a smooth detailed sound with an excellent bass layer.  Of course, you can't apply EQ here, but Bass and Treble control was sufficient enough.  What I would refer to as "soundstage" is taken care by Surround sound setting, and it was quite convincing.  
Summary.
As I often mention, any review is partially an impression about the product and a comparison to other similar products.  Unfortunately, my only comparison to other Sound Bars is based on listening to a setup in one of my friend's house where they have a single sound bar.  I know it's not exactly a proper a/b comparison, but I remember always being impressed with a loud and clear sound, but not so much with a low end performance.  In my opinion, a true home theater experience comes from "feeling" that bass, rather than "hearing" it.  But nevertheless, I can speak from a firsthand experience that I really enjoyed sound quality, integration with my TV, and sound customization offered by Vizio SB4051.  I can't tell you if this is the best Sound Bar speaker since I don't have too many other references.  But what I can tell you is that I have a number of premium Bluetooth 4.0 speakers in $200-$400 price range where their only functionality is to play music streamed from your smartphone or tablet.  Here for the price of under $350 you get not only a rich sounding Bluetooth wireless speaker, but the whole sound system upgrade for your TV with 5.1 Channel support of a separate Sound Bar, active Subwoofer and rear satellite surround speakers.  With a level of customization using its LCD remote, you can fine tune the system to your exact liking and use it integrated with any brand of TV.  I had a blast using this speaker and can definitely recommend it.