The PPA V600 was designed by Fried Reim, CEO of the German Company Lake People/Violectric. Violectric and Lake People have a US/Canada distributor/reseller in New Jersey
http://violectric-usa.com
operated by Arthur Power. Both Arthur and Fried are available for technical inquiries, and have answered many of my questions.  
The V600 is a relatively new product and has just become available for the North American market. It retails for $1400.  
INTRO:
This past summer I contacted Arthur Power and inquired about the V600 when looking to buy my first high-end phono preamplifier. I was interested in the V600 for a number of reasons but first let me give you the context of my background with high end audio.   
I am an artist and designer with a great appreciation for extremely well crafted products. With regards to audio, I first truly fell in love with audio equipment when I bought a pair of Klipsch Cornwall speakers and a Adcom amp as a teenager 26 years ago. I listen to music obsessively and started listening to vinyl again in 2010.   
When considering a phono preamp I wanted something I would have for a long time as my system grows and changes: a versatile preamp (variable gain and loading capability), a neutral yet dynamic sound, a low noise floor, and an attractive and quality build.  The V600 met all of these parameters. I also considered the Musical Surroundings Phonomena II, the Soundsmith MCP2, the Jasmine LP-3.0, the Ray Samuels XR-2 and the Jolida JD9 MK II. All of the above mentioned preamps seemed to satisfy my parameters but in the end I chose the V600.  
BUILD QUALITY AND AESTHETICS:
The V600 is quite small - 170 x 49 x 226 mm (W x H x D). The front face is black anodized aluminum with engraved labeling. A single blue LED indicates when the power is on. The case of the V600 is a grey aluminum with a Nextel coating. Rear connectors are gold plated. Everything is well built and simply designed. The logo and model are quite big for the size of front face but the Violectric logo is attractive so it works. I imagine the V600 would look very handsome next to another Violectric component that uses the same sized case.  
DESIGN:
The V600 has a number of features that are typically available with higher priced phono preamps:  
On the front are two dials:
- A variable gain in six steps from +30 dB to +60 dB. This range makes it possible to run both low output cartridges and unusually high output cartridges.
- Balance control of +/-2dB. In the V600 manual, Fried addresses how many pickup systems don't present exact channel balance, and sure enough, my Denon Dl-103R has slightly more output from the left channel which was easily corrected.  
The back of the preamp has one pair of unbalanced RCA inputs, a single 5-pin XLR (Din) balanced input, one pair of unbalanced RCA outputs, a pair of 3-pin XLR outputs, a ground thumb screw, and a detachable AC power cord.  
Inside the case are many custom setting switches: 
-    Depending on the specific grounding setup of the cartridge and turntable, the V600 offers a number of grounding jumpers.
-    With a Moving Coil cartridge there are 9 input impedance switches.
-    With a Moving Magnet cartridge there are 17 input capacitance switches.
-    In addition to RIAA settings there are equalization curve settings for NAB, BBC, and FLAT.
-    A 20 Hz low-cut filter.  
The V600 uses instrumentation amplifiers with differential inputs typically used in professional microphones allowing for very low
noise amplification.  
The power supply offers multi-mode AC voltage (90-250 volts), and is extremely quiet. Fried was able to keep the power supply hum free despite being in the same case as the circuitry by using two switch-mode supplies treated by high frequency filters and linear voltage regulators.  
After extensive testing of the various grounding jumpers, frequency filters, input capacitance settings, and input impedance settings, everything works smoothly, quietly, and allows for significant versatility for various cartridges.  
Last but not least, the most significant design feature: Balanced inputs and outputs! This is where the V600 really proves its value. There are many phono preamps with balanced outputs but there are very few available anywhere near the price of the V600. The only fully balanced preamps I could find in this price bracket is the AQVOX PHONO 2 Ci MKII (also manufactured by a German company), and the Pro-Ject Phono Box RS MM/MC Phono Preamp (Austrian). Based on aesthetics alone, I would opt for the V600. More expensive fully balanced phono preamps include the Seta Piccola ($2500 with RIAA compensation module), Liberty Audio B2B-1 ($1750 x 2), Seta Model L/H ($5000 with RIAA compensation module), Aesthetix IO ($6500), and Seta Model L/H Plus ($7000 with RIAA compensation module).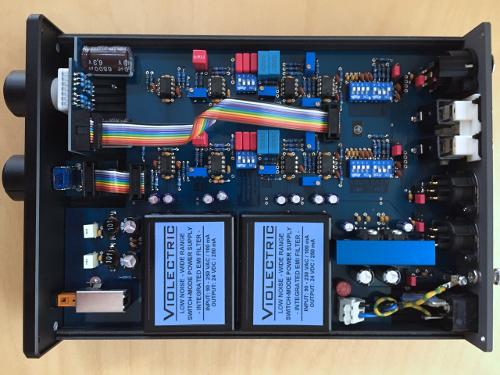 APPLICATION:
Equipment used with V600:   
Custom Turntable: 
 Denon DL-103R Cartridge / Grado Grado Reference Platinum 1 Cartridge
 Jelco A-370H Tonearm
 Discovery Cable balanced tonearm cable
 Denon DL-103R Cartridge / Grado Grado Reference Platinum 1 Cartridge
Audio-GD NFB-28 Preamp/Headphone Amp
HiFiMan HE-400i w/ balanced cable
Elekit TU-8200 headphone/speaker amp
Audio Nirvana Super 8 Alnico Drivers in custom minimonitor cabinets
Paradigm PDR 100 Subwoofer  
Albums of note listened to for the review:  
- Craig Leon, Anthology of Interplanetary Folk Music, Vol. 1: Nommos / Visiting, RVNG Records, 1980/2014
- Boards of Canada, Tomorrows Harvest, Warp Records, 2013
- Demdike Stare, Testpressing #4, Modern Love Records, 2014
- Andy Stott, Luxury Problems, Modern Love Records, 2013
- Actress, R.I.P., Honest Jon's Records, 2012
- Charles Cohen, The Middle Distance, Morphine Records, 1983/2013
- Walls/Oram, Sound Houses, Ecstatic Records 2014
- Joane Skyler, SSSSSSSSS, Boomkat Editions, 2014
- Oneotrix Point Never, R Plus Seven, Warp Records (LP), 2014
- Mika Vainio, Kilo, Blast First Petite Records, 2013
- Clark, Clark, Warp Records, 2014
- Aphex Twin, Syro, Warp Records, 2014
- Vessel, Punish, Honey, Triangle Records, 2014
- Grimes, Visions, 4AD Records, 2012
- Nigeria Special Part 1: Modern Highlife, Afro Sounds + Nigerian Blues   1970-76, Soundway Records, 2007
- Miles Davis, In A Silent Way, Colombia Records, 1969/1977
- Miles Davis, Kind of Blue, Colombia Records, 1959/2010
- John Coltrane, My Favorite Things, Atlantic Records, 1961/2013
- Alice Coltrane, Journey To Satchidananda, MCA + GRP Records, 1970/1997
- Deerhunter, Microcastle-/Weird Era Cont., Kranky Records, 2008
- Led Zeppelin, Houses of the Holy, Atlantic Records, 1973/2014  
Prior to purchasing the V600 I was playing records on a restored Marantz 6100 with a Grado Reference Platinum 1, running into the phono preamp of a Harman Kardon 3490 receiver. When first setting up the V600 I could immediately I could hear a difference with increased dynamics. This, of course, is not a surprise, although the phone preamp in the HK 3490 is a decent preamp.   
Next, I had Joe DePhillips of Discover Cable make a balanced tonearm cable (Discovery Plus-4) and tonearm wires, and I installed them in the Marantz. In the process the already sensitive auto-return mechanism was disrupted, and for the life of me, I couldn't get it to stop causing problems. At this point, I had spent a good amount of money on a preamp and cable and my turntable was inoperable. I decided I needed to buy a new turntable or modify the Marantz. I ended up significantly rebuilding the Marantz, and installing a new old stock Jelco SA-370H. I was amazed how much better the heavier, well dampened plinth and new tonearm sounded and tracked. And with the new balanced connection the noise floor was silent!  
It took me a few attempts to get the grounding correct but Fried from Violectric helped me dial that in. The trick was to run the two tonearm ground wires (connected to the turntable chassis) to the thumb screw on the V600. The tonearm cable shielding was not grounded so only the two channels (four wires) from the cartridge were connected to the 5-pin balanced input on the V600.  
This excerpt From: Robert Harley. "The Complete Guide to High-End Audio" explains why this works so well with the V600:  
"When the two identical but opposite polarity signals carried on the balanced line are input to a differential amplifier in the component receiving the signal, noise picked up by the interconnect is rejected.
Here's why: a differential amplifier amplifies only the difference between the two signals. If noise is introduced into the line, the noise will be common to both conductors and the differential amplifier will reject the noise. This phenomenon of rejecting noise signals common to both conductors in a balanced line is called common-mode rejection. Differential inputs are specified according to how well they reject signals common to both conductors, a measurement called Common-Mode Rejection Ratio, or CMRR. Note that a balanced line won't make a noisy signal clean; it just prevents additional noise from being introduced in the interconnect. If the noise is common to both halves of the balanced line, however, common-mode rejection will eliminate the noise."  
Now I was hooked! Listening to vinyl like I'd never heard it before. I was hearing much of what the V600 had to offer but only with the high output Grado Reference Platinum 1 moving iron cartridge. Curious about how well the V600 could handle a moving coil cartridge I purchased a Denon Dl-103R, which outputs at .25 mV. I needed a heavier counter-weight to accommodate the tracking force of 2.5 g. I found a counterweight for a Jelco SA-750D and was able to get everything where it needed to be. Hearing the Dl-103R (at 60 dB of gain and a load impedance of 100 Ohms) was/is incredible: warm mids and highs, yet with more detail, less record noise, and much more forward sounding than with the Reference Platinum 1.  
Listening to Nigeria Special Part 1: Modern Highlife, Afro Sounds + Nigerian Blues: 1970-76, a fantastically recorded and mastered album, the highs of the brass instruments are clean and sweet.   
With Boards of Canada - Tomorrows Harvest, the lows are visceral, grinding like a locomotive without any distortion.   
With Craig Leon - Anthology of Interplanetary Folk Music Vol. 1 and Walls/Oram - Sound Houses, the analog qualities of the synthesizers are remarkably obvious and exciting to hear.  
On Joane Skyler - SSSSSSSSS there is a sense of space much deeper than I have heard before.  
And with Miles Davis - In A Silent Way, my favorite Miles Davis album, the instrument separation and soundstage is more evident - allowing for the eerie, hypnotic tone of the album to really come through.   
CONCLUSION:
My only criticism of the V600 is that the jumpers and advanced setting are internal versus at the back, so configuring to a specific cartridge can take some time. That said, it would take time to get to the back of any unit unless your system is away from the wall, and the trade off is a very compact phono preamp.   
What I have learned is that the Violectric PPA V600 is an impressive device. Not surprising considering that Violectric makes highly regarded audio equipment - numerous headphone amps and DACs in various configurations, a preamp, and now a phono preamp.   
The V600 offers extensive settings and configurations for its price, in particular balanced inputs and a extremely low noise floor.  Staying consistent with Violectric's approach, the V600 provides a neutral, transparent medium for a cartridge to really fulfill its potential - with increased dynamics and enough clean amplification for at least an output of .25 mV.   
Without question I would highly recommend the V600 for anyone needing a handsome, well built, dead quiet phono preamp under $2000.   
The last five months have given me a crash introductory course in quality vinyl equipment and I can thank Violectric and the PPA V600 Phono Preamp for that.