INTRODUCTION
Upstart Venture Electronics has been making quite the name for themselves around Head-Fi in 2015. It seems like everybody who listens to their gear is nothing short of impressed with what this new company has been able produce in a short amount of time. From their super bang for your buck $5 Monk earbuds to their high-resolution Duke IEM to the Runabout amp, their products never cease to impress. The same can be said for their Zen earbuds. In fact, I received a review sample of the Zen earbuds quite some time ago. You remember those, right? The 320 Ohm white earbuds people were raving about. Well, right before I was going to write my review for them, I got word from VE that an improved Zen would soon be released called Zen 2.0. I was quite enamored with the original Zen, so I was skeptical that the new model could really be that much better. But on the other hand, VE really seemed to know how to produce master craft earbuds so I shelved my review of the original and waited patiently for the new model to arrive. Arrive they did, and boy was VE right about these being an improvement. They took an masterpiece of an earbud that I was looking at giving a solid 4.5 star review and kicked things up a notch. Yes folks, I'm awarding the VE Zen 2.0 my first ever 5 star review. I honestly never thought the day would come, but I think VE has simply done an outstanding job with these.   
Before we get to the review proper, let's take a moment to learn about VE (Venture Electronics):  
Before we head off to the review, I'm going to give you a few links I found useful:
DISCLAIMER
There is no financial incentive from VE for writing this review.  I am in no way affiliated with VE, and this is my honest opinion of the Zen 2.0 earbuds. I would like to thank VE for giving me a chance to review the Zen 2.0 earbuds, and I hope my feedback proves useful for my fellow Head-Fi members as well as for VE.
ABOUT ME
I'm a 43 year old father who loves music.  While I listen mostly to electronic and metal these days, I do listen to a wide variety of music - from electronic (Autechre, Boards of Canada) to modern/minimalist composition (John Cage, Philip Glass) to alternative rock (Flaming Lips, Radiohead) to jazz (John Coltrane and Miles Davis) to metal (Behemoth, King Diamond) to classic rock (Eagles, Rush).  
 
I'm primarily a portable audio enthusiast. My portable music journey started with the venerable Sony Cassette Walkman and then progressed to portable CD players, minidisc recorders (still have my Sharp DR7), and finally on to DAPs like the Rio Karma, iRiver IHP-1xx, iPod 5.5, iPhones, and the newer crop of DAPs from Fiio and iBasso.
 
Being a portable audio enthusiast, I typically listen with IEMs but am enjoying listening with full-size headphones more and more and tend to like u-shaped sound signatures, although I break out v-shaped IEM & HP from time to time for fun.
 
As with a lot of people my age, I've got some hearing issues.  I've got mild tinnitus and suffer from allergies, which can affect hearing in my right ear.  I'll admit it, I'm not blessed with a pair of golden ears.  That said, I've been listening to portable gear for a long time and feel confident in assessing audio gear - just wanted to be transparent up front.
SPECS
Driver: 15.4mm Single Dynamic 

Rated Impedance: 

320 

Ω @ 1kHz

Frequency Range: 

15 ~ 23500 Hz (-

10dB)

Sensitivity: 

106 dB @ 1mW

Cable: 

1.2m TPE-sheathed OFC

Plug: 3.5mm gold-plated L-plug 

MSRP: $148
PACKAGING & ACCESSORIES
Since this was an early review unit, I didn't receive final packaging. So what did I get? It's all in the picture below.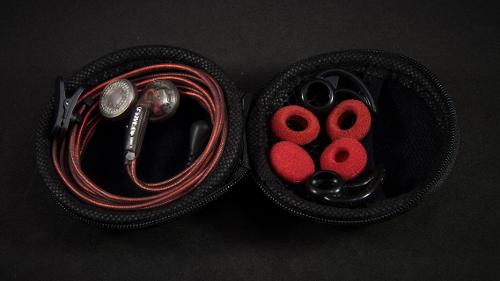 Zen 2.0, regular and donut foam covers, ear stabilizers, shirt clip, and clamshell case. Just a note that the foam covers included are the Heigi-style foams, which are thicker than the foam covers included with the original Zen earbuds. This has some ramifications on sound I'll mention later.    
BUILD & ERGONOMICS
As usual, I'll walk you through the VEZen 2.0's build in pictorial format.  
VE Zen 2.0 without covers
Hey, those look pretty sexy, don't they! Gone are the opaque white earpieces and cable of the original Zen earbuds. The earpieces are still the same shape and size, but they now come in a transparent smoked gray color. Each earpiece has the VE logo, which is their web address. So if you forget how to find out more about VE, just yank the buds out of your ears, take a peek, type 52VE.CN into your browser, and BAM! you're on the VE website. Of course there are also L/R markings on each earpiece, as well. To complete the transformation, the cable sheath is now transparent exposing the colorful red wiring underneath. I really like the new look, and I think you will, too!    
Y-Splitter, Shirt Clip, 3.5mm L-Plug
With the Zen 2.0, VE did away with the chin cinch, which is honestly no big loss. In it's place, they now include a shirt clip. I prefer using shirt clips anyway, so for me this was a positive move. I'm sure some of you will pine for a chin cinch, though. Sorry. Pretty standard 3.5mm L-plug. No complaints there.    
VE Zen 2.0 with Ear Stabilizers
While they look odd, the ear stabilizers actually do a really good job of maintaining a secure fit without resorting to using foam covers.    
Here's a pic of the ear stabilizers in action!
I know it looks weird, but it works. It really does. For me anyway. Some really dislike them, though. It all depends on ear anatomy and personal preference. All you can do is give them a try and see if they work for you. I've also used them naked, with the included foam covers, with the original Zen's foam covers, and with some rubber covers from my Yuin OK-series earbuds. They all change the Zen 2.0 different sound, some more dramatically than others.  
So just to wrap up, you're getting pretty much everything you need to get up and running with the Zen 2.0. You get a couple foam covers to choose from and ear stabilizers to ensure you get a good fit and can fine-tune the sound to your liking. You get a solidly-built pair of earbuds. And you get a case to stash them in when they're not jammed in your ears. What more could you ask for? A remote? Mic? Nope, not for this guy. I'm not about compromising the cable's integrity with such accoutrements. I'm not very likely to use 320 Ohm earbuds with my smartphone anyway. Are you?     
SOUND
I listen to a lot of experimental electronic and metal and mainly used those genres to evaluate the VE Zen 2.0 earbuds. During my time with them, I've listened through many sources including my FiiO X5 DAP and Aune X1S Desktop DAC/Amp. I've also listened through a couple DAPs I've had in for testing. Just for kicks, I also gave them a listen out of my iPhone 5s (yes it can be done!). I'll go over what I thought of the sound and some brief thoughts on cover-rolling.  
But first, a beauty shot with the Aune M2
You can change an earbud's sound signature quite a bit by using them with or without different covers. For those of you who're new to earbuds, this is a bit like tip rolling kicked up a notch. I'll try my best to covey what like about them with different covers and wrap-up with a brief comparison with Zen 1.0. So, here we go...  
In conversations with VE, I learned that Zen 2.0 are intended to be used naked. Yes, naked my friends. Take those covers off, and revel in the glorious balanced sound! In my experience, this is as good as it gets from an earbud. While it's not like a sub-woofer pounding away at your eardrums, you actually get good bass response. If you want more bass, you can experiment with covers. Using rubber rims will give you a bit more bass presence. Using foam covers will provide even more bass response, the level varying depending on foam thickness. Mids vary from very slightly forward naked or with rubber rims to slightly recessed with foam covers. Similarly, the upper end is nicely present, lively and engaging naked or with rubber rims. Throw on some foam covers, and the upper end is damped. So depending on the covers you use, you can get anything from a nicely balanced, detailed listening experience with a nice soundstage and good imaging to a warmer, darker, more intimate listening experience with thick foam covers. It really is a lot of fun to play around with different covers depending on your mood, the type of music you're listening to, and your source. As mentioned above, I listened to Zen 2.0 out of various sources. They're revealing enough to scale well with better sources, so please don't dismiss them just because they're earbuds. Play around with better sources and see how Zen 2.0 respond. I think you'll be as impressed as I was at how well they respond as you throw them at increasingly better sources.  
It was interesting listening to these after falling in love with the original Zen earbuds. While I loved the originals, they were a bit more of a one trick pony. Throw on some foam covers, and they were great. Nicely balanced with great detail. Take the covers off, and they sounded very thin, cold, and overly bright. The new Zen are much more versatile. Since they were tuned to be nicely balanced without covers, you can really play around with the sound signature. It gives you more reasons to fall in love with Zen 2.0. Nice!    
SUMMARY
I know they're derided, but I've always had a fondness for earbuds and just love what VE is doing. Along with other boutique earbud manufacturers like Blox and Yuin, VE is dead set on showcasing just how great earbuds can be. From their $5 Monk (Go! Buy!! Now!!!) to their mid-level Asura and on to their flagship Zen 2.0, each hand every one of VE earbuds are top-notch performers. The upgrade from Zen 1.0 to Zen 2.0 showcases just how fast VE is learning, iterating, and improving. I honestly can't wait to see what they'll bring us next!  
If you're at all interested in Zen 2.0 but aren't ready to drop more than $100 for a pair of earbuds yet, please do yourself a favor and pick up a pair of VE Monk. Seriously. I mean it. It'll cost you less that $10. Try those and get a small taste of what you'll be getting with Zen 2.0. I think you'll be convinced to take the next step and try out Zen 2.0, in which case you'll have Monk as your beater buds and Zen 2.0 as the buds you keep for a more immersive listen.  
I hope you found this useful and would like to give a hearty thanks to VE for giving me the opportunity to review the Zen 2.0. Keep cracking out awesome buds VE!    
LINK