Item information
Added by
Views

15,928
Reviews

15
Last update
Rating

4.43 star(s)

15 ratings
Venture Electronics (VE) Zen
General Information
A 320 ohm Hi-Fi earbud intended to be driven by desktop amp or powerful full sized portable rig.
Latest reviews
Pros
:
Great sound that can be tuned to your liking with covers. Comfortable. Attractive.
Cons
:
Needs a good source to really shine.

INTRODUCTION
Upstart Venture Electronics has been making quite the name for themselves around Head-Fi in 2015. It seems like everybody who listens to their gear is nothing short of impressed with what this new company has been able produce in a short amount of time. From their super bang for your buck $5 Monk earbuds to their high-resolution Duke IEM to the Runabout amp, their products never cease to impress. The same can be said for their Zen earbuds. In fact, I received a review sample of the Zen earbuds quite some time ago. You remember those, right? The 320 Ohm white earbuds people were raving about. Well, right before I was going to write my review for them, I got word from VE that an improved Zen would soon be released called Zen 2.0. I was quite enamored with the original Zen, so I was skeptical that the new model could really be that much better. But on the other hand, VE really seemed to know how to produce master craft earbuds so I shelved my review of the original and waited patiently for the new model to arrive. Arrive they did, and boy was VE right about these being an improvement. They took an masterpiece of an earbud that I was looking at giving a solid 4.5 star review and kicked things up a notch. Yes folks, I'm awarding the VE Zen 2.0 my first ever 5 star review. I honestly never thought the day would come, but I think VE has simply done an outstanding job with these.   
Before we get to the review proper, let's take a moment to learn about VE (Venture Electronics):  
Before we head off to the review, I'm going to give you a few links I found useful:
DISCLAIMER
There is no financial incentive from VE for writing this review.  I am in no way affiliated with VE, and this is my honest opinion of the Zen 2.0 earbuds. I would like to thank VE for giving me a chance to review the Zen 2.0 earbuds, and I hope my feedback proves useful for my fellow Head-Fi members as well as for VE.
ABOUT ME
I'm a 43 year old father who loves music.  While I listen mostly to electronic and metal these days, I do listen to a wide variety of music - from electronic (Autechre, Boards of Canada) to modern/minimalist composition (John Cage, Philip Glass) to alternative rock (Flaming Lips, Radiohead) to jazz (John Coltrane and Miles Davis) to metal (Behemoth, King Diamond) to classic rock (Eagles, Rush).  
 
I'm primarily a portable audio enthusiast. My portable music journey started with the venerable Sony Cassette Walkman and then progressed to portable CD players, minidisc recorders (still have my Sharp DR7), and finally on to DAPs like the Rio Karma, iRiver IHP-1xx, iPod 5.5, iPhones, and the newer crop of DAPs from Fiio and iBasso.
 
Being a portable audio enthusiast, I typically listen with IEMs but am enjoying listening with full-size headphones more and more and tend to like u-shaped sound signatures, although I break out v-shaped IEM & HP from time to time for fun.
 
As with a lot of people my age, I've got some hearing issues.  I've got mild tinnitus and suffer from allergies, which can affect hearing in my right ear.  I'll admit it, I'm not blessed with a pair of golden ears.  That said, I've been listening to portable gear for a long time and feel confident in assessing audio gear - just wanted to be transparent up front.
SPECS
Driver: 15.4mm Single Dynamic 

Rated Impedance: 

320 

Ω @ 1kHz

Frequency Range: 

15 ~ 23500 Hz (-

10dB)

Sensitivity: 

106 dB @ 1mW

Cable: 

1.2m TPE-sheathed OFC

Plug: 3.5mm gold-plated L-plug 

MSRP: $148
PACKAGING & ACCESSORIES
Since this was an early review unit, I didn't receive final packaging. So what did I get? It's all in the picture below.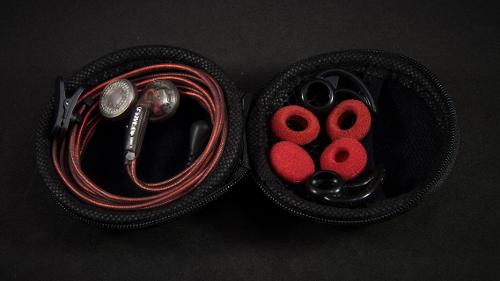 Zen 2.0, regular and donut foam covers, ear stabilizers, shirt clip, and clamshell case. Just a note that the foam covers included are the Heigi-style foams, which are thicker than the foam covers included with the original Zen earbuds. This has some ramifications on sound I'll mention later.    
BUILD & ERGONOMICS
As usual, I'll walk you through the VEZen 2.0's build in pictorial format.  
VE Zen 2.0 without covers
Hey, those look pretty sexy, don't they! Gone are the opaque white earpieces and cable of the original Zen earbuds. The earpieces are still the same shape and size, but they now come in a transparent smoked gray color. Each earpiece has the VE logo, which is their web address. So if you forget how to find out more about VE, just yank the buds out of your ears, take a peek, type 52VE.CN into your browser, and BAM! you're on the VE website. Of course there are also L/R markings on each earpiece, as well. To complete the transformation, the cable sheath is now transparent exposing the colorful red wiring underneath. I really like the new look, and I think you will, too!    
Y-Splitter, Shirt Clip, 3.5mm L-Plug
With the Zen 2.0, VE did away with the chin cinch, which is honestly no big loss. In it's place, they now include a shirt clip. I prefer using shirt clips anyway, so for me this was a positive move. I'm sure some of you will pine for a chin cinch, though. Sorry. Pretty standard 3.5mm L-plug. No complaints there.    
VE Zen 2.0 with Ear Stabilizers
While they look odd, the ear stabilizers actually do a really good job of maintaining a secure fit without resorting to using foam covers.    
Here's a pic of the ear stabilizers in action!
I know it looks weird, but it works. It really does. For me anyway. Some really dislike them, though. It all depends on ear anatomy and personal preference. All you can do is give them a try and see if they work for you. I've also used them naked, with the included foam covers, with the original Zen's foam covers, and with some rubber covers from my Yuin OK-series earbuds. They all change the Zen 2.0 different sound, some more dramatically than others.  
So just to wrap up, you're getting pretty much everything you need to get up and running with the Zen 2.0. You get a couple foam covers to choose from and ear stabilizers to ensure you get a good fit and can fine-tune the sound to your liking. You get a solidly-built pair of earbuds. And you get a case to stash them in when they're not jammed in your ears. What more could you ask for? A remote? Mic? Nope, not for this guy. I'm not about compromising the cable's integrity with such accoutrements. I'm not very likely to use 320 Ohm earbuds with my smartphone anyway. Are you?     
SOUND
I listen to a lot of experimental electronic and metal and mainly used those genres to evaluate the VE Zen 2.0 earbuds. During my time with them, I've listened through many sources including my FiiO X5 DAP and Aune X1S Desktop DAC/Amp. I've also listened through a couple DAPs I've had in for testing. Just for kicks, I also gave them a listen out of my iPhone 5s (yes it can be done!). I'll go over what I thought of the sound and some brief thoughts on cover-rolling.  
But first, a beauty shot with the Aune M2
You can change an earbud's sound signature quite a bit by using them with or without different covers. For those of you who're new to earbuds, this is a bit like tip rolling kicked up a notch. I'll try my best to covey what like about them with different covers and wrap-up with a brief comparison with Zen 1.0. So, here we go...  
In conversations with VE, I learned that Zen 2.0 are intended to be used naked. Yes, naked my friends. Take those covers off, and revel in the glorious balanced sound! In my experience, this is as good as it gets from an earbud. While it's not like a sub-woofer pounding away at your eardrums, you actually get good bass response. If you want more bass, you can experiment with covers. Using rubber rims will give you a bit more bass presence. Using foam covers will provide even more bass response, the level varying depending on foam thickness. Mids vary from very slightly forward naked or with rubber rims to slightly recessed with foam covers. Similarly, the upper end is nicely present, lively and engaging naked or with rubber rims. Throw on some foam covers, and the upper end is damped. So depending on the covers you use, you can get anything from a nicely balanced, detailed listening experience with a nice soundstage and good imaging to a warmer, darker, more intimate listening experience with thick foam covers. It really is a lot of fun to play around with different covers depending on your mood, the type of music you're listening to, and your source. As mentioned above, I listened to Zen 2.0 out of various sources. They're revealing enough to scale well with better sources, so please don't dismiss them just because they're earbuds. Play around with better sources and see how Zen 2.0 respond. I think you'll be as impressed as I was at how well they respond as you throw them at increasingly better sources.  
It was interesting listening to these after falling in love with the original Zen earbuds. While I loved the originals, they were a bit more of a one trick pony. Throw on some foam covers, and they were great. Nicely balanced with great detail. Take the covers off, and they sounded very thin, cold, and overly bright. The new Zen are much more versatile. Since they were tuned to be nicely balanced without covers, you can really play around with the sound signature. It gives you more reasons to fall in love with Zen 2.0. Nice!    
SUMMARY
I know they're derided, but I've always had a fondness for earbuds and just love what VE is doing. Along with other boutique earbud manufacturers like Blox and Yuin, VE is dead set on showcasing just how great earbuds can be. From their $5 Monk (Go! Buy!! Now!!!) to their mid-level Asura and on to their flagship Zen 2.0, each hand every one of VE earbuds are top-notch performers. The upgrade from Zen 1.0 to Zen 2.0 showcases just how fast VE is learning, iterating, and improving. I honestly can't wait to see what they'll bring us next!  
If you're at all interested in Zen 2.0 but aren't ready to drop more than $100 for a pair of earbuds yet, please do yourself a favor and pick up a pair of VE Monk. Seriously. I mean it. It'll cost you less that $10. Try those and get a small taste of what you'll be getting with Zen 2.0. I think you'll be convinced to take the next step and try out Zen 2.0, in which case you'll have Monk as your beater buds and Zen 2.0 as the buds you keep for a more immersive listen.  
I hope you found this useful and would like to give a hearty thanks to VE for giving me the opportunity to review the Zen 2.0. Keep cracking out awesome buds VE!    
LINK
Pros
:
1.0: Detailed & Analytic, good staging --- 2:0: Natural & Organic, immersive and addictive sound signature.
Cons
:
Lack packaging and accessories, no mic/remote, needs an amp.
VE or Venture Electronics is not your standard run of the mill audio company. My experience with them has been an enjoyable to say the least. The first I heard about them was on the off chance around Head-Fi from these savoury fellows who kept raving on about these earbud earphones that were reportedly amazing. Looking the pictures I completely dismissed it for just plain old unjustified hype; how naïve I was.
Then, out of the blue I got a message for uncle H20 asking me if I would like to take on some review samples from VE. Of course I gladly accepted his invitation. On arrival I received 3 items, one of which was VE's entry level earbud, the Monk, which I simply threw into a draw at work and forgot all about them. On an odd day I decided to try them and was completely blown away at what I heard. There is a whole story to this which you can read here:
VE Monk review.
As I got more and more engrossed into the amazing sound of the Monk, I was greeted with waves taunting messages from
@RedJohn456
to get my hands on the Zen, as it was supposed to be so much better. To me, this statement was preposterous as already had a bias against the earbud design and my mind just could not fathom how an earbud could sound even better than the Monk. I thought that the Monk was the pinnacle, and it costed $5 which was just madness, so a $150 model from the same company must be just bonkers good. I wasn't wrong.  
I first received the VE Zen 1.0 and was quite underwhelmed. I was expecting more of the same as with the Monk, but more of it. The Zen 1.0 was much the polar opposite. Sporting a colder, more refined, toned down, and somewhat analytical sound signature, whilst still having great character, texture and immersion as the Monk. Don't get me wrong, the Zen 1.0 is still a bonkers earphone; it's got 320 Ohms of impedance for goodness sake! What is this bizzaro world? But to me it missed that sweet spot and amazing character that the Monk had which needed to return.
So I spent some time with the original Zens and withdrew from discussions about it until I received the long await revised Zen, with fingers cross, hoping that Lee did not disappoint. And to my patient surprise it was all that I ever imagined the Zens to be, or should've been.
Again, VE had flip-flopped and the 2.0 became a completely different beast to the 1.0. The Zen 2.0 was more like Monk. Retaining the insane 320 Ohms of impedance and a new transparent skin as well as a new cable. The 2.0 brought back that amazing immersive and organic experience you got with the Monk but with a more refined and detailed representation of the music. When listening to the new Zens I can just put my library on shuffle and melt away into the abyss, just forget about everything. It is as addictive as the Monk was and more. It was enlightenment.  
---
Specifications
| | | |
| --- | --- | --- |
| Frequency response​ |   | 15 ~ 23500 Hz (-10dB) |
| Impedance​ |   | 320 Ω @ 1kHz |
| Sensitivity​ |   | 106 dB @ 1mW |
| Plug​ |   | Gold Plated 3.5 mm (1/8") 90 degree angled |
| Cable Length​ |   | 1.2m (47") TPE sheaved OFC |
| Driver​ |   | 15.4mm |
| Maximum Input Current​ |   | 1500m |
[size=inherit]Build[/size]

The built, as with all the VE earbuds I've tried is much the same. Being as standard earbud as it gets. If it wasn't for the colour and cable differences you would not be able to tell them apart. These earbuds are like Ninjas in disguise. They look like a normal everyday earbud until you actually listen to them.
The cable on the Zen 1.0 is a clear silver cable which is a tiny bit stiffer than what I'd like, and it's got a straight connector, but it's got great strain relief and one of the best neck synchs that I've ever used. The cable of the 2.0 is red coloured clear silver cable which is now a 90 degree angled jack and is much more supple now.
Both are very light and feel strong enough to last through daily abuse.
 


Comfort

I have very small ears and these, like the VE Monks, sit in my ear surprisingly very securely. On the odd occasion I do need to readjust them when turning my head, but for the most part they are very good. Weight plays a big role here.
 


Accessories

You get a hard ball shaped clamshell carry case witch is strong enough to protect it's contents. You also get some full sizes and donut earbud foams. You also get shirt clip if you need one. Nothing too special. You're really not paying for fancy accessories or an unboxing experience.
 


Driveability

Whilst you can get them loud enough from a mobile phone, I would not suggest it; the sound is dull and just sound wrong. I did most of my listening from my Audio-gd NFB15.32 and the Ve RunAbout for portable use. I did try it with the FiiO X1, FiiO E17, xDuoo X2 and xDuoo X3, but all seemed to struggle to power these beasts.
 


Sound

The sound of the two products is so different that they may as well be 2 separate products. I will describe both of them with a few words off the top of my head just to paint a picture of how different they really are:
Zen 1.0: Cold, flat, analytical, refined, open and dynamic.
Zen 2.0: Natural, organic, warm, open, detailed and dynamic.
 
As I have mentioned previously, the 1.0 is a flatter and more analytical approach, which to me is rather boring. I would have been very impressed with the 1.0 if I didn't hear the Monk before it. It still is a great sounding earbud when compare to the previous experience I've had with other earbuds.
 


Treble

Zen 1.0
It's not the fastest treble you'll hear but it's very good for an earbud. It's quite detailed and extends very well. Though I do feel there is a bit of a dip somewhere in there that makes it slightly blunted and too quick on decay.
 
Zen 2.0
The emphasis here has been shifted somewhat which brings back that shimmer that was missing in the 1.0. But the speed has decreased a bit which puts a bit of a veil on the detail. In return you get a more airier presentation.
 


Mids

Zen 1.0
The timber of the vocals and acoustic instruments is very good and sounds pretty accurate. There isn't a particular tilt or colouration that sways it in either direction. The are though a little recessed and lack some detail.
 
Zen 2.0
The Vocals are warmer and more textured and slightly more forward. It's a little less detailed than the 1.0 but more present and feel more alive with a bit more reverberation.
 


Bass

Zen 1.0
The bass on the 1.0 kind of reminds me of balanced armature bass. It's fast and detailed but lacks authority and thump. Nonetheless it's great for an earbud and it reaches quite low.
 
Zen 2.0
It has an amazingly addictive bass note that's textured and detailed. It's authoritative and has substantial kick. It's not bass head quantity but it's nearly perfect to me.
 


Soundstage and Imaging

Both have quite similar soundstage and imaging performance. It's really wide and deep and you get a very immersive out-of-head experience. The Zen 2.0 is better as it is slightly deeper and more accurate. The extra warmth makes the air feel more natural and realistic.


Click on the photo to see in larger resolution​

 

 
 
 
 
 
 

Conclusion
Both the Zen 1.0 and 2.0 are Head-Fi worthy and both have a place of their own. The Zen 1.0 sits in the colder analytical lovers corner and the Zen 2.0 sits in the musical, more bassy lovers corner. Both are completely bonkers and I love them both for that. Though, personally I feel that the 2.0 is the victor here. It took what I fell in love with the Monk and made it better. Lee from VE is a real wizard, and I really wish that he continues to make more of these completely insane products of his!  
Cheers!  
Pros
:
Sound quality, overall build, ability to sound like a full-sized open headphone, value
Cons
:
Relatively high impedance, somewhat unruly cable, need for additional amplification (depending on source)
​
For larger views of any of the photos (1200 x 800) - please click on the individual images
​
INTRODUCTION
I'd heard a little about the VE Zen previously on the forums, and it had been one to pique my interest given the glowing reviews it has received as a top of the line earbud. I have to be reasonably careful about what I actually buy (mortgage and growing family), so I was hoping there would be an Australasian tour at some stage so I'd have a chance to hear and review them. Then out of the blue my friend Tamal (RedJohn456) contacted me with an introduction to Lee (zhibili06), and Lee generously offered to send me not only the Zen, but also the Monk, Duke and Runabout amp.
So many thanks to both Tamal and Lee for this opportunity.  I've taken my time with all of Lee's products, because while I've used earbuds before, I'm usually an IEM or full sized guy, and it has taken a while to adjust.
ABOUT VENTURE ELECTRONICS
Venture Electronics (or VE) is a 3 year old audio company based in Shenyang, Liaoning in the Peoples Republic of China. I was able to ask Lee a little about the company, and he has been very open and approachable – something I love to see when dealing with a manufacturer.  It really shows a lot about a company when they show pride in their own achievements, and are so open about sharing information with their customer base.
VE is relatively small (for now) with 5 employees, and currently have a very small product line (Zen, Asura and Monk earbuds, Duke IEM and Runabout amp). I asked Lee about their core business, and he said they were primarily an internet company, and had developed more products than were currently on offer, but for now their current product range covered enough to cater for immediate development. Their goal long term is "to have the best budget and hi-end gear", and it was refreshing to see some frank and honest comments in reply to some of my inquiries. I'm going to quote one of Lee's replies, because it really does add to my impression of VE as a company.
"We see our fans, not just as moving wallets. I see our budget gear (like the monk) as a walking ad for our brand, among our online community (people who love earphones, because they mainly they love the ART the earphones can deliver, like gaming, movie, anime and stuff. We believe the Zen is the best earbud in the world, and as we can sell the monk for cheap then it might go viral and get more attention to the other products.  We believe to be the best hi-fi company, we need to have the best of the best gears, not only budget ones. If we only do budget, people will have a false image of us not being serious enough, so the idea is very simple"
And to close, I asked Lee about VE's mission statement or values statement, and the answer I received made perfect sense – "keeping it real".
DISCLAIMER
I was provided the VE Zen as a review unit. I have no other association or affiliation with VE.  I do not make any financial gain from this review – it is has been written simply as my way of providing feedback both to the Head-Fi community and also VE themselves.
I have now had the VE Zen since July (so a little over 3 months).  Normal RRP is USD 128.00. 
PREAMBLE - 'ABOUT ME'.   (or a base-line for interpreting my thoughts and bias)
I'm a 48 year old music lover.  I don't say audiophile – I just love my music.  Over the last couple of years, I have slowly changed from cheaper listening set-ups to my current set-up.  I vary my listening from portables (Fiio X5ii, X3ii, LP5 and iPhone 5S) to my desk-top's set-up (PC > USB > iFi iDSD).  I also use a portable set-up at work – either X5ii/X3ii > HP, or PC > E17K > HP.  My main full sized headphones at the time of writing are the Beyer T1, Sennheiser HD600, and AKG K553.  Most of my portable listening is done with IEMs, and lately it has mainly been with the Dunu DN-2000J, Jays q-Jays, Alclair Curve2 and Adel U6. A full list of the gear I have owned (past and present is listed in my Head-Fi profile).
I have very eclectic music tastes listening to a variety from classical/opera and jazz, to grunge and general rock.   I listen to a lot of blues, jazz, folk music, classic rock, indie and alternative rock.  I am particularly fond of female vocals.  I generally tend toward cans that are relatively neutral/balanced, but I do have a fondness for clarity, and suspect I might have slight 'treble-head' preferences.  I am not treble sensitive (at all), and in the past have really enjoyed headphones like the K701, SR325i, and of course the T1 and DT880.
I have extensively tested myself (abx) and I find aac256 or higher to be completely transparent.  I do use exclusively redbook 16/44.1 if space is not an issue.  All of my music is legally purchased (mostly CD – the rest FLAC purchased on-line). 
I tend to be sceptical about audiophile 'claims', don't generally believe in burn-in, have never heard a difference with different cables, and would rather test myself blind on perceived differences.  I am not a 'golden eared listener'.  I suffer from mild tinnitus, and at 48, my hearing is less than perfect.
Over the three months – I've used the VE Zen from a variety of sources, but for main body of this review, I've used it with my Fiio X3ii combined with the E11K amp. In the time I have spent with the Zen, I have noticed no change in the overall sonic presentation.  Listening time with the Zen now has easily been more than 50 hours, and probably a lot longer.
This is a purely subjective review - my gear, my ears, and my experience.  Please take it all with a grain of salt - especially if it does not match your own experience.
THE REVIEW
PACKAGING AND ACCESSORIES
The Zen arrived in a simple white and red cube shaped box measuring 100 x 1000 x 100mm.  Inside I received the VE Zen earbuds, the VE Monk earbuds and a selection of white full foam covers and red foam doughnut covers.
Also included was a round zipped clamshell case (about 85mm in diameter and 50mm deep) which has a mesh inner compartment and quite rigid outer shell.  It is reasonably pocket friendly. 
The case I'm using currently for the Zen though is a small hinged lid pelican type case (that actually came with the Duke), and the Duke in turn gets the clamshell case (just noting it here – in case there is any confusion).
So a reasonably sparse accessory package, but I keep going back to their value statement (keeping it real), and everything is covered nicely. Perhaps the only things I'd suggest looking at to add value might be something like the Earhookz retention clip system, and also a 3.5-6.3mm adaptor (as people will be using these with full sized amps)
TECHNICAL SPECIFICATIONS
(From

VE

)
| | |
| --- | --- |
| Type | Open dynamic earbud |
| Frequency Range | 15 Hz – 23.5 Khz |
| Impedance | 320 ohm |
| Sensitivity | 106dB (1mW) |
| Plug | 3.5mm gold plated, straight jack |
| Cable | 1.2m – silver side-by-side pair,  PVC coating |
| Weight | Approx 14g with dual foam pads in place |
| IEM Shell | Polycarbonate / hard plastic |
FREQUENCY GRAPH
The graph below is generated by a new measuring system I'm trialling – using the Vibro Veritas and ARTA software.  I don't have the calibration for the microphone 100% correct yet – but the graphs I am getting are relatively close to Innerfidelity's raw data (on other earphones we both share), and I think are "close enough" to get a reasonable idea of the frequency response for the Zen. Over time I am hoping to build a pre-set compensation curve so that I can get the graphs more consistent with Tyll's curves.
The frequency response graph was created with foams intact, and the body pressed lightly to the coupler to simulate a normal fitting.
What I'm hearing:
Full and rich bass, with surprisingly good extension for an earbud.

Warmish tonality – but a clear and clean mid-range with good vocal presence

Nice lift in upper mid-range which lends particularly well to harmonics with female vocalists

Detailed but smooth treble
BUILD QUALITY / DESIGN
When first looking at the Zen, you'd be forgiven for thinking "generic $10 earbuds", but looks can be very deceiving. The Zen has a white hard plastic shell, and has a driver enclosure which measures approximately 16m in diameter, and has two circles of ports (approximately 56 in total) close to the outer edge of the main face.  The rear of the earbud is ported on two opposite sides, and there is also a rear port running parallel to, and along the full length of the cable exit. The Zen has bass quality unlike anything I've seen on any other earbud, so it's likely the combination of porting is contributing to the overall quality.
The entire earbud is approximately 35mm long from the top of the outer face to tip where the cable exits. There is no strain relief from the cable exit, but given the quality of the cable, and the fact that it will be primarily worn down, I would not think this is even a slight issue.
[size=inherit][/size]

Y-split (mine is missing cinch - which is normally present)

​
The cable is silver plated with a transparent outer sheath, and each channel is separate and in side by side configuration. For anyone wanting to convert to balanced, it should simply be a matter of reterminating at the jack – nice! The cable itself is really well built and the sheath itself has pretty low microphonics.  What is there can be reduced further by a little cable management (under clothes). My only issue with the cable is that it can be slightly unruly (tends to want to do its own thing). It made photographing the Zen a right PITA.  But it is a small price to pay considering the build.
The Y split is pretty small, made of flexible rubber, and has no relief (but again none is needed).  My pair does not have a cinch – so I can only guess that this pair was a preproduction pair, as I know some of the other reviewers have had cinches on theirs. The jack is 3.5mm, straight, gold plated, and has excellent strain relief.
All in all – a somewhat "generic looking" build, but also a very solid build – and if the sound is good, who really cares about the looks right?
FIT / COMFORT
It had been a while since I'd used earbuds, but going to the Zen was pretty easy.  I first tried the re doughnuts, and then the white foams.  Both provided adequate comfort, but now a wonderful seal for me (they were loose, and the bass was not as good as it could be). So I added a second pair of doughnuts, and it very much improved both fit and sound.  I would recommend anyone trying the Zen to try fitting second pair of foams, because it really can help.
Comfort is also surprisingly good – they simply disappear after a while. I've also found them relatively stable for walking, but if I was jogging, or doing anything more strenuous, I really would suggest looking at a stabiliser like the Earhookz.
And a final word on isolation – it is an earbud – so any isolation is minimal.
POWER REQUIREMENTS
I know there has been some debate on this in the forums, and all I can give you is my impressions based on the gear I have.  I do tend to be a bit of a maverick at times, and here is where I do try to get a bit objective. The Zen is 320 ohms, so that does mean it may require a little more power to get to a suitable loudness.  But at the same time, their sensitivity is 106 dB (1 mW) so that suggests they are far easier to drive than a lot of people may think.  So I tried many of the DAPs and amps I had, and armed with my trusty SPL meter, measured the output in order to give me an approx. 70-75 dB average with my test tracks.  I then used this volume and test tones to set a benchmark, and then used this to look at equivalent volume for each device.  I also listened to each using Dire Straits "Sultans of Swing" to test for dynamics and detail.
[size=inherit][/size]

X3ii with Fiio Q1 and E11K (not shown)

​

Zens with L5 Pro and Fiio X7

​
Fiio X3ii – 60/120 low gain.  Plenty of dynamics, good bass response, does not sound anaemic in any way.

Fiio X3ii + line-out to the E17K (0 gain, 23/60 on pot). No significant change from X3ii solo.

Fiio X3ii + line-out to the E11K (low gain, approx. 2.5/9 on pot). No significant change from X3ii solo.

Fiio X3ii + line-out to the VE Runabout (low gain, approx. 15-20% of the pot used). No significant change from X3ii solo.

Fiio X5ii – low gain, 60/120. Plenty of dynamics, good bass response, good detail.

iPhone 5S – approx. 8-9 (50-55%) clicks of volume. Again plenty of dynamics, good bass response and detail level.

L&P L5 Pro – medium gain approx. 40/60 volume. One of the best sounding devices I tried. But I couldn't say that it was significantly better than any of the other sources – just a little different in overall presentation.

L&P LP5 – high impedance setting, maybe 10-15% on the pot (hard to tell because there are no markings). The other really dynamic sounding device. But again, I couldn't say that it was significantly better than any of the other sources – just a little different in overall presentation.

Fiio X7 – low gain approx. 71/120 on the digital volume. I made sure with this one (as there was some debate) that I matched it as closely as I could with the LP5, and when I checked for dynamics, I was checking in particular against the LP5.  The X7 has no issues driving these, and sounds spectacular with this track.
SOUND QUALITY
The following is what I hear from the VE Zen.  YMMV – and probably will – as my tastes are likely different to yours (read the preamble I gave earlier for a baseline).  Most of the testing at this point (unless otherwise stated) was done with my Fiio X3ii using line-out to the E17K.  With the Zen I used dual doughnut foam tips on each earpiece.
Tracks used were across a variety of genres – and can be viewed in this list http://www.head-fi.org/a/brookos-test-tracks.
Thoughts on Default Signature
I covered a bit of this when I was talking about frequency response above, but if I was to boil it down to a few words – then I'd use the terms "natural", "balanced", "clear" and "detailed but smooth".  In short, the Zen is the best sounding earbud I've ever heard. It reminds me a little of the HD650, or the HD600 if you reduced the 4kHz area, and added a little bit of mid-bass. The one thing I did notice with my listening was that the Zen (for me) suited a lower overall volume – with vocals being very clear, and bass easily discernible. If I tweaked the volume too much, vocals tended to get a little shouty and the bass could become too dominant.  But for relaxed easy listening at comfortable volume, the Zen was astounding in its tonality.
Overall Detail / Clarity
Tracks used: Gaucho, Sultans of Swing
The first noticeable thing with both tracks is that the bass is definitely there, and if anything I'd actually cut it back just a little bit (if listening at louder volumes) – more than anything because the bass guitar can dominate just a little.  Despite that though there is plenty of detail with a nice sense of decay from cymbals, click from the drums, and enough guitar bite to keep things interesting.  Overall the sound is very slightly U shaped with nice forward vocals, a little bass emphasis and some nice upper mid-range / lower treble detail.  Note – applying a shallow 3 dB cut centered around 100 Hz and extending between about 50-200 Hz balances things out even better.
Sound-stage & Imaging
Tracks used: Tundra, Dante's Prayer, Let it Rain
With the binaural track Tundra – there is a good sense of both width and depth – but rather than appearing diffuse and overly open, the staging is actually really pleasant, and rather intimate.  I wouldn't call it expansive by any means – but it does allow a sense of space between instruments, and the imaging is pin-point and very clear. 
With Dante's Prayer the Zen once again appeared more intimate than open, but it is believable rather than contrived.  The tonality is really spot on though, and the contrast between cello, piano and Loreena's voice is magical. The applause at the end of the track with a really good earphone / headphone can totally immerse me with a few select earphones.  The Zen didn't quite get there – but it didn't feel overly false either.  A really nice presentation.
Last up was Let It Rain, and it has a really good holographic feel to it – especially with the right earphone.  The Zen is that earphone. Absolutely gorgeous presentation – it just seems to nail female vocals so well.  And once again it is the balance and tonality I'm really enjoying.
Bass Quality and Quantity
Tracks used: Bleeding Muddy Water, Royals
I use Bleeding Muddy Waters mainly to test for bass texture and mid-bass bleed. What I'm hearing is quite thick bass with good impact, but it isn't impinging on vocals at all – and the track is suitably dark and brooding (as it is supposed to be).  I'm not hearing a lot of bleed despite the bass impact, and if anything the decay actually feels natural.
Next up was Lorde's Royals – and the Zen has no problems at all with impact and sub bass.  Again the overall clarity is stunning, and I am really enjoying this presentation.  It's easy to forget these are earbuds because the bass presentation is simply wonderful.
Female Vocals
Tracks used : Aventine, Strong, For You, Human, The Bad In Each Other, Howl, Safer, Light as a Feather, Don't Wake me Up
The Zen (on the graphs) appears to have a curve which should be very well suited to my preferences – especially with female vocals (bump in the vocal area around 2K and a 2nd peak in the upper mids), so I was really interested in hearing some of my favourite female artists. It didn't disappoint either.  Female vocalists were beautifully clear and had a hint of euphony in presentation, just the way I like it.  Once again their intimate nature (vocals very forward) shone through clearly – and while this does focus the vocals, at times the forward nature has the ability to sound slightly too sharp if listening at higher volumes.
Standouts for me were Feist's Metals and La Havas' Don't Wake me Up.  Metals had the dynamics and speed, La Havas had the lushness and creamy smooth vocals (velvet for the ears).
Male Vocals
Track used: Away From the Sun, Art for Art's Sake, Diary of Jane, Hotel California, Keith Don't Go, Elderly Woman Behind the Counter in a Small Town.
The Zen excels with Rock IMO – and this was where I often turned the volume up a tiny bit because there wasn't the issue with sharpness.  Bass continued to be punchy and dynamic, and this time the mid-range and lower treble were providing very good guitar crunch.  Detail levels were excellent especially on the acoustic tracks and older rock tracks (10cc was great, and I actually went back later and listened to the entire album – something I hadn't done for a while). Even with faster more guitar dominant tracks like Diary of Jane, the Zen's drivers coped really well, and they never felt like they were being overwhelmed.
Standouts for me though were acoustic tracks from the Eagles and Nils Lofgren – gorgeous tonality and excellent detail (I love hearing fingers sliding on a fret board).  My final test was once again with Pearl Jam though, and the combination of tonality, texture and detail was brilliant. The Zen does male vocals, and in particular Rock, really well IMO.
Other Genres
As you can guess, the Zen really is an all-rounder, and everything thing from Alt Rock, to Jazz, Blues and Classical was delivered with wonderful balance and tonality. Jazz in particular was absolutely brilliant – especially the tonal contrast between cymbals and double-bass. And the Zen does equally well whether it be piano or stringed instruments.
I really enjoyed EDM with the Zen as well, and Trip-Hop with Little Dragon or Trance with AVB was equally impressive.  Good bass, great detail, nothing overpowering – clarity and power makes for an addictive combination.
There was a tiny bit of sibilance with Adele (it is an issue with the recording I have – but worth noting), but didn't stop the track being thoroughly enjoyable.
I particularly enjoyed running through my classical tracks – and once again it was the tonality that was captivating. The Zen somehow captures the timbre of certain instruments (cello and piano amongst others) almost perfectly.
EQUALISATION
As I alluded to in my notes above, the Zen does exhibit rather strong bass at times, and if it does become overpowering a little cut centering around 100 Hz can help. At lower volumes though I never felt the need to engage EQ.  And if the upper end does get too strong – a little notch at 7-8 Khz, or even dialling back the presence area around 2 kHz has some interesting effects (creates a little more space / openness).  For the most part though I left the default tuning in play, because at lower volumes it is simply wonderful.
COMPARISONS
The issue with comparisons with the Zen is what to compare it with – as it really is like no other earphone I've heard before.  What could give you (the reader) some ideas about how the really Zen sounds? 
So for starters I've compared it to the Zen's little brother – the Monk, and then to my HD600 (which I think sounds kind of similar). 
For these comparisons – I used the headphone out of my iFi Micro iDSD.
Zen $128 vs Monk $5
The first thing I noticed swapping between the two was how similar the bass was, in fact how very similar the whole signature is.  The main difference is that the Zen just appears more vivid and detailed, while the Monk is a little bit more distant and doesn't have the same life. What is clear though is what an incredible deal the Monk is, and if I wasn't currently comparing the two side-by-side, I'd be praising the Monk as better than some IEMs I have at 20 times the price. But for lovers of the Monk wanting a step up – the Zen (to me anyway) is absolutely worth it. Every time I switch from the Monk to the Zen, it's like adding a notch of clarity and presence.
Zen $128 vs HD600 $300
Brooko – are you mad?  How can this little $130 generic looking earbud be compared with one of the best (IMO) dynamic headphones ever built?  Well naturally it can't – but we can compare it and look at the similarities.
The first thing I noticed was that the HD600 was more open, had a little less bass warmth, and was a little airier up top. The mids on the Zen comparatively were a little more forward, the bass a little deeper, and the overall tone just a little darker.
But the one thing that really stands out is that the Zen isn't embarrassed in the presence of the HD600, and this is the bit that really astounds me.  It really does sound like an open full sized headphone – and what continues to floor me is the natural balance, and the full rich tonality.
VALUE
The Zen has an RRP of $128 and at this price it really is a no brainer. I honestly can't think of another earphone or IEM that I've experienced (maybe the Titan series, and possibly Trinity's Delta) which will deliver comparable sonics at the same or better price. I know the Monk at $5 ultimately delivers better overall value – but for me personally, the Zen does deliver a sonic experience that is worth the extra money.
VE ZEN – SUMMARY
First up I want to take the chance to thank my friend Tamal for introducing me to Lee, and to Lee for giving me the chance to listen to the Zen.
At first glance the Zen looks a little like the generic earbuds you get bundled with a cheap MP3 player.  But on closer inspection, you'll notice that the build (while quite plain) is actually pretty solid, and the cable gives it away as something maybe just a little special. 
And then you plug it in, hit play, and watch as your jaw hits the ground (the first time you hear the Zen).
Sonically it is a little on the bassier side of neutral, and does exhibit a slightly darker sound than what I'm used to – but the vocals are really quite forward and extremely clear. The Zen is the closest I've come to any IEM or earbud sounding like an open headphone.
They can be powered out of most reasonable sources (and that includes my iPhone 5S), but if your source is slightly on the weak side, then additional amplification may be required.
I would recommend them unconditionally to friends or family. They are incredible.
I've had one or two ask me how I can rank something 5 star if I note during a review that they aren't completely perfect.  My answer is simple - if they are in my opinion close to perfect,a nd also exhibit incredible value, then in my books that rates a 5.  The Zen is the epitomy of near perfection combined with fantastic value.
RECOMMENDATIONS TO VE
Although the Zen has ticked virtually all my boxes there are a couple of things I personally would change.  YMMV.
Sonically I'd like to see just a little less mid-bass, and also a little less emphasis at 2 kHz.  This effectively would sit the vocals back just a little without losing any clarity, and give the Zen just a little more sense of space.

I'd love to see a little less of the generic look (note - this has already been addressed in version 2 coming out).

Inclusion of some sort of locking mechanism / stability enhancement – similar to the Earhookz

The option of inclusion of an in-line mic and volume control (perhaps with a lower impedance).  I know this isn't really "audiophile" – but these could then be my default earbuds for using with my iPhone and would be perfect for calls (being open).
 ​
​