Introduction
:
Unique Melody will by now need little introduction from me, since they're not only a very well-known and established company from China, but also one whose products I have now reviewed on several occasions, usually to great rapture and applause (mine, concerning the product in question, as opposed to readers', concerning the quality of my reviewing)
Pasted below are the IEM details from authorised dealer MusicTeck's website:
https://shop.musicteck.com/collecti...um-universal-mest-mkii?variant=39279351529534
This link also has photos and explanations of the considerable amount of tech that features in these IEMs.
The MEST retails at USD $1'499 (I believe MusicTeck have a sale on them at present).
Given some of the upgrades this new product offers (read on for more), that's an impressive amount of
price-hiking-restraint shown by UM, and I thoroughly applaud them for it!
The MEST is a hybrid IEM. Perhaps this now increasingly common term fails to give them the credit they are due; specifically, they are, to the best of my knowledge:
The World's 2nd or 3rd $1k+ Quad-brid-Hybrid-IEM-Type-Product (!!)

Here we have a combination of a single Dynamic Driver (DD) with 4 Balanced Armatures (BA), 2 Electrostatic drivers (EST) and if that wasn't enough to induce the kind of drooling that would put a teething toddler to shame, it also comes with UM's patented Bone Conductor Driver as well!
This veritable cornucopia of drivers has been arranged for your delight in the following configuration:
1 x Low (DD)
2 x Mid (BA)
2 x High (BA)
2 x Ultra High (EST)
1 x Bone Conduction Driver (BCD).
Note that UM, far from resting on the laurels of their previous MEST-based achievements, have continued their R&D efforts and the new MEST Mk II now features a new and improved BCD that spans the whole frequency spectrum of these IEMs, rather than just the mids and highs as the original MEST did.
It is a source of vicarious (but thoroughly legal) pleasure to be able to tell you that another area in which UM made changes with the MEST Mk II was with its appearance.
So, without any further ado, Layman1 cordially invites you to proceed to the section that - with almost Brutalist utilitarianism - is merely entitled 'Photos'

Photos
: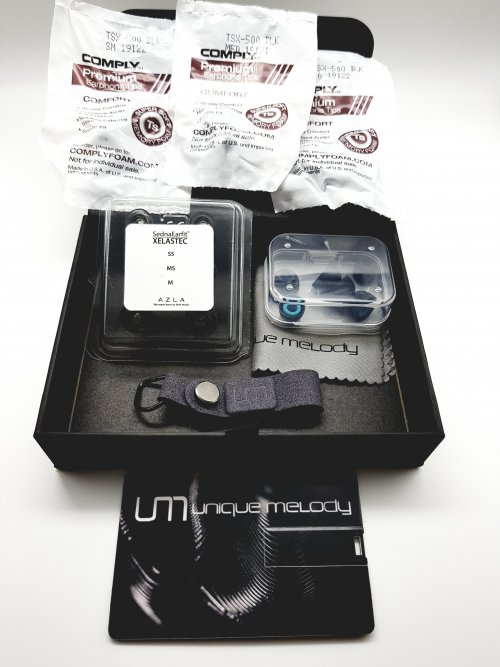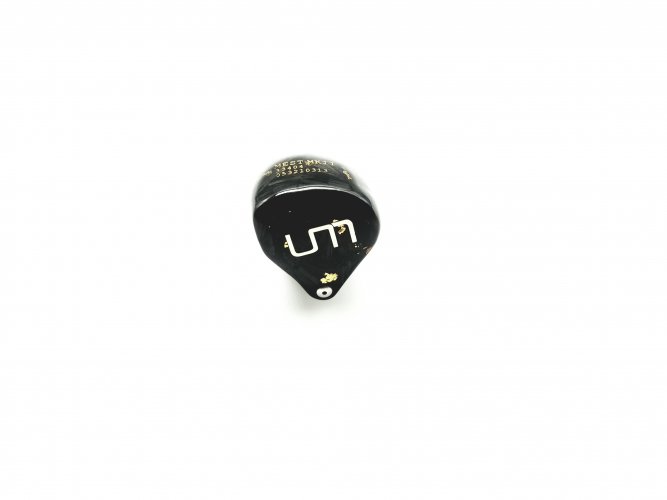 Build Quality and accessories
:
The MEST are solidly built with no visible blemishes or flaws of any kind.
The only small criticism I could level at them is that if they were going to go with the conventional 2-pin design, then I would have preferred the sockets to be recessed within the body of the IEMs, so that they don't have the less attractive part of the connectors sticking out (or used a different 2-pin plug on their cable), or that – if there wasn't enough room available inside the IEM body to do that – then they'd gone again with the same design used on the original MEST.
This small caveat aside, the Mk II's come in what I personally consider to be greatly improved design, with carbon fibre appearance flecked with gold, which goes marvellously well with gold (or black and gold) DAPs, such as the Sony WM1Z.
They come with a 0.78mm 2-pin cable, which can be terminated with your choice of plugs.
After a period where – due to issues with a supplier – UM were only able to offer 3.5mm or 2.5mm options (albeit with a free adaptor included), it's really great to see the 4.4mm option back on offer, and this was indeed the one I chose.
The original MEST came with a pretty impressive array of complimentary accessories, and I'm delighted to report that the Mk II once again brings improvements and further value.
As can be seen in the photos, in addition to the various things included previously such as premium Comply ear tips, and an artisan Dignis leather case, the Mk II comes bundled with 3 various-sized pairs of Sedna Xelastec ear tips, which would normally set you back $30 or so by themselves, not to mention a completely upgraded cable offering (which I just mentioned).
The cable itself is – for my preferences – a huge step up from the one that came with the original MEST. That was good enough, but I find the new one to be slimmer and lighter, very soft and supple whilst still feeling robust. Aside from that, this PW Audio designed and built cable is frankly gorgeous. It has some seriously great design touches, with the fairly glossy looking black cables offset by matte black plug, connectors and Y-split, and the UM logo prominently displayed on all of them.
Sound
:
I have a few tracks which I've only found available on MP3; the rest are FLAC or WAV in 16/44 or 24/192, with a few DSD56 tracks sneaking their way in too.
For the purposes of this review, the sources I chiefly used were the Sony WM1Z (using MrWalkman's 'Midnight Plus' free custom firmware) and iBasso DX220MAX.
Rather than have a separate comparisons section, I'll be including comparisons between the MEST Mk II and the original model scattered throughout this section, simply because I think it's the single most-requested comparison with the Mk II and also because the similar DNA shared by both IEMs makes it easier to compare apples with apples, so to speak.
Lows
:
One of the things I liked a lot about the original MEST was the controlled but powerful low end, and the Mk II does not disappoint at all in this regard. I feel it has quite a deep sub-bass extension with more power, depth and impact than that on the original MEST. With both models, I feel there is more emphasis on the sub-bass than the mid-bass, although that's certainly not lacking. Indeed, I feel it's one of the areas in which the Mk II differs from the original MEST, in that there's a bit more mid-bass presence that helps to add some warmth and body to the mid-bass and the mids that I felt was slightly lacking in the original model.
Mids
:
I hear the MEST Mk II to be moderately full-bodied (this quality varies from DAP to DAP).
I do feel that it has more body and note weight in the mids than the original.
This quality was more noticeable when listening with the DX220MAX, which I've reviewed previously and observed the authoritative amount of power and weight it infuses into the notes on most IEMs I plug into it. With the WM1Z, there was comparatively a little less note weight, but this was not really a negative point at any time, since the WM1Z brought its own organic richness to the mids of the Mk II.
As a comparison, I used two tracks from The Stranglers (from their 'About Time' album, where the main singer had been replaced by someone who sounds a bit like a lounge singer but which I actually really like): 'Golden Boy' and 'Sinister', two outstanding tracks from the album.
I notice with Golden Boy, from around 1m55s into the song, it breaks into a brief guitar solo followed by a quick instrument breakdown and re-introduction.
With the original MEST, I heard the guitar riff, bass and drums to take a very slight step back in the mix to the lead guitar solo, and yet this had the effect of increasing the musicality for me, bringing a delicate warmth and richness to those other instruments and making this part of the song as a whole sound a little more dynamic.
On the other hand, with the MEST Mk II, I found this section of the song to sound great, but slightly more homogenous and indistinct. I'd guess that this was down to a two possible factors; namely the tonality of the tuning in the mids of the two IEMs, and perhaps the way in which layering is implemented in each of them (or the effect of the tuning of the mids upon the layering).
Aside from this, with MEST Mk II, I felt the rim-taps of the drummer (or whatever that percussion effect was that came in just after the solo and breakdown) had more of a ring and chime to them than with the original MEST.
With the track 'Sinister' an immediate difference becomes clear.
The song opens with a mixture of kick drum and snare and a cello comes in shortly after.
I hear a good deal more thump, impact and body to the kick drum with the Mk II, a little more clarity and edge to the high-hat on the original MEST, and with the Mk II again the cello also benefits from the increased body and weight, as well as exhibiting a more realistic timbre with a lovely texture.
Generally with vocals, I hear a bit more body and meat and texture with the Mk II, and this quality is noticeable with guitars too, both acoustic and electric.
Playing 'The Boy in the Bubble' by Paul Simon on my DX220MAX, I noticed an absolutely captivating meaty, engaging and full-bodied tone with the accordion instrument that the song opens with. This wasn't so pronounced on the WM1Z.
The original MEST has some qualities more reminiscent of an 'Eastern' style tuning, whereas the tuning of the Mk II leans a bit more towards a 'Western' style.
Whilst both IEMs can be described as having a W-shaped sound signature, I feel the original MEST has more of an emphasis on the upper mids and treble, with less body, warmth and richness in the lows and lower-mids.
The Mk II rather flips this on its head, with increased weight, richness and body in the lows and lower mids, and the upper mids – whilst by no means recessed – taking a more equal place with the lower mids.
What this means in practicality is that if you're a fan of music featuring female vocals from places like Japan, India, Chinese-speaking areas, Korea, Thailand etc – and to some extent even some of the comparatively higher pitched male vocals from these areas - you'll probably find the original MEST to offer more sweetness and clarity to those vocals, whereas for male vocals, especially Western ones, I feel there's more richness, meatiness and body on offer with the Mk II, which really brings out the best in them.
There are always exceptions to both rules of course, but this is just some general guidance.
Highs
:
This is an area in which there's a fair degree of overlap between the two models, when one examines this part of the sound signature in isolation. I make that distinction, because my original immediate reaction with the Mk II was that it was less spacious and extended than the original. However, further critical listening disabused me of this misconception.
It's simply that the increased note thickness and body in the mids and lows of the Mk II have the effect of using up comparatively more of the space available within the soundstage, leading to the perception of slightly less spaciousness and air. In actuality, the highs of the Mk II are pretty much just as extended, and the air and spaciousness is there; it's just filled in a bit more with this model. Clarity and detail are equally stunning on both models.
Technical Performance
:
The original MEST frankly astonished me with its technical performance, and the MEST Mk II not only matches that, but I think lifts the bar slightly higher too.
With the Bone Conduction Driver in the Mk II now handling its entire frequency spectrum, I feel there's a touch more coherence and slightly more accuracy in the timbre overall.
It's a close thing and not a huge difference, and of course one's perception of this is going to be slightly skewed by the differing tonal presentation of the two IEMs.
With the original MEST, detail retrieval is perhaps a touch more apparent, simply because the somewhat leaner presentation and smaller note size leaves more space between the instruments and vocals, allowing details a bit more room to pop out. However, I think the Mk II possesses equally fantastic levels of detail retrieval, but due to the somewhat busier mids, those details are a bit more organic and natural in the way they present themselves.
As with the original, the soundstage is stunningly huge and holographic, the separation – whilst not quite as obvious as with the original MEST – similarly world-class, and the imaging, layering and resolution are equally superb. For the price point – and even aside from any consideration of price points – its performance is superlative.
Sources and synergies
:
iBasso DX220MAX
:
With the DX220MAX, I found there to be a remarkably good synergy with the MEST Mk II.
This DAP brought out a little bit more of a meaty and full-bodied tone, along with a significant amount of note weight. However, it also brought a nice touch of clarity, space and separation that allowed the Mk II to open up a bit more and have more breathing room.
This meant that there seemed to be a bit more space between the notes, and the details seemed to pop out with more clarity. The mids seemed to be pushed slightly more forwards; on the majority of tracks this was A Good Thing, but on one or two occasions, I found it to be a tiny bit sharp, compared with the more organic and laid-back signature of the WM1Z. Generally there seemed to be a bit more air and extension in the highs too.
Sony WM1Z
:
As mentioned, this has a comparatively warmer and more organic signature than the DX220MAX, and I found it to be a really enjoyable pairing with the MEST Mk II.
The WM1Z, with MrWalkman's custom FW (Midnight Plus), has a strong technical performance too, and this matched up well with the Mk II, allowing the marvellous technical qualities of this IEM to shine.
I found the mids and highs to be a bit more smooth and neutrally positioned compared with the DX220MAX. The lows had a bit more mid-bass presence, whereas I feel the sub-bass was comparatively a touch more enhanced with the DX220MAX.
iBasso DX300
:
I didn't spend much time with this pair up simply because, with the MEST Mk II, it felt tonally like somewhere pretty much mid-way between the signatures of the DX220MAX and the WM1Z. I found more of a significant contrast when listening with those two DAPs, and more of a noticeable synergy with each, albeit in different ways.
However, a couple of caveats:
Firstly, this was still a high-quality pairing, and if you were reading my notes on the two DAPs above and thinking "Gosh, Layman1, if only there were a DAP that could combine some of the qualities from each of those two!" then today's your lucky day
Secondly, I was listening using the stock AMP11 that came with the DX300.
I just received the new AMP12 whilst finishing up this review and I suspect I'm going to like its sound signature more than that of the AMP11. So I'll include the MEST Mk II in my review of that AMP unit, once I've burned it in and spent some time listening to it

Conclusion
:
I think people who prefer a leaner signature, or one with more forward mids, or one that favours Eastern style music from the Asia region such Japan, Korea, Chinese-speaking countries and so forth, will perhaps feel more at home with the original MEST, which is – as I have often said – a superb IEM. Similarly, people who have enjoyed the Empire Ears Odin or Zeus may find more in common sonically with the original MEST.
I'd describe the original MEST as being comparatively a little bit more vivid, bright and forward than the MEST Mk II.
Conversely, for those – like myself – who loved the original MEST but would have preferred a bit more body and richness in the mids, or a more ergonomic fit or slicker design, the new Mk II is going to be worth a listen, or even an outright blind purchase

Simply put, the Mk II picks up the gauntlet thrown down by the original MEST, offering the kind of holographic soundstage, separation, detail, clarity and timbre that one would normally expect to find in an IEM with an extra thousand plus dollars slapped onto the price tag. Not only that, it brings a somewhat more conventional tuning with increased body, richness and warmth in the mids, a touch more impact and slam and weight in the lows and improvements across the board in ergonomics, design, engineering and accessories.
At this price – and at this price one can only speak comparatively – I believe it to offer excellent value for money and I have no hesitation in recommending it.