---
The product was provided to me on loan for the review purpose in exchange for my honest opinion. The review was originally posted on my
blog
and now I would like to share it with my readers on head-fi.
Manufacturer website:
Unique Melody
, available on
MusicTeck
.
While using my new Galaxy S9 to take pictures, I didn't realize the resolution was set to a wide panoramic ratio, so the pictures in this review will look wider than usual.
---
Intro.
While the latest 16BA UM Mason V3 (MA3) is their ultimate flagship, I think this spotlight could be easily shared with 12BA UM Mentor V3 (ME3) which has been released at the same time and packed with the same flagship features I covered in my recent
MA3 review
. Both are equipped with dB-Go low-end tuning module, innovative Dual-Tone cable, updated shell manufacturing, and identical accessories. At the same time, they do vary in sound tuning and technical performance which I will go over along with a comparison to other IEMs and my usual pair-up summary with different sources.
Due to similarities, this review will have many recycled parts from my MA3 write up since unboxing, accessories, cable, and even design are nearly the same. If you already familiar with these sections, you can skip straight to the sound analysis, otherwise, let's get started with unboxing.
Unboxing.
ME3 arrived in a giftbox quality all black textured cardboard box with a glossy "UM unique melody" dark print on the top. It's a bit plain and would have been nice to have maybe a teaser artwork with a 4pin cable connector and maybe a crown of the tuning module. Obviously, makes no sense to put a picture on the cover of the box since both Custom and Universal shells are customizable. Other than that, unboxing experience is very basic, and under the cover you will find a dense foam insert with cutout pockets for storage case (with IEMs inside) and the rest of the accessories.
Accessories.
The included accessories are carefully selected without fillers. Considering my loaner pair was universal, it should include 2 sets of eartips: S/M/L genuine brand name Comply eartips and should come with S/M/L/XL silicone eartips, though some Comply tips were missing, probably from the previous reviewer. Furthermore, you will find a piece of cleaning cloth, I guess to remove any fingerprints off the shells. The rest of the accessories will be common between universal and custom models.
The plastic warranty card (the size of a credit card), has a printed S/N, website address, and a service email. But if you look closer you will find a hidden flat usb stick that flips open. UM will include a separate pdf file with pictures of the IEM, product features overview, warranty info, and even a color guide for different shell options.
The storage case is a hefty titanium matte puck with a threaded secure cover and a soft felt lining to protect IEMs inside. While similar shape puck cases are starting to become more common, those are usually lightweight and have a pop-up cover where the content ends up flying out when you open it. This one was a more "luxurious" high quality storage case that will make a great paper weight on any desk. Though great for storage and roomy to fit ME3 with Dual-Tone cable, it's not very practical as a travel case, so you will have to get another one, more pocket friendly.
Cable is part of the accessories, but I will describe it separately in the follow up section of the review. The other remaining accessory is a unique Magnetic Earphone Clip (MEC) which you can use both for cable storage and as a shirt clip. Made from of soft leather material, there is a strong magnet to hold it together, and you can use it magnetically "clipped" to a shirt (sideways) or secured at the neckline of a t-shirt (pointing down). A little metal loop attached to MEC is where you put the cable through to secure its attachment to a shirt or a t-shirt. You can also use it on a wrapped cable to organize it for a storage. Maybe not a big deal for some, but it's very different and unique, compared to other shirt-clips I have seen. Perhaps UM can offer it as a separate accessory for sale.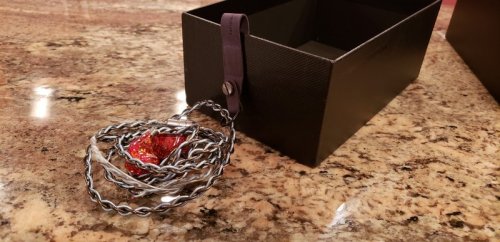 Cable.
At the first glance, the cable looks like it has a regular braided 4 conductor design with flexible dual color shielded wires. Upon closer examination, you'll notice a proprietary 4pin metal socket with a securing bolt (smaller than JH type of socket). When you read the included instructions on usb-stick, you realize this is not an ordinary cable, but a Dual-Tone cable with a separate 8-core 6N purity single-crystal copper and silver wires. Make no mistake, this is not a hybrid silver/copper cable, you have 2 separate cables inside of one.
In more details, Dual-Tone is a 4-conductor braided soft cable which contains two cables that you switch by flipping L/R sides. This is a very clever mechanism where you have 4pin threaded female connector at the cable side, with 4 wires attached to each pin, while the male side of the connector (in the shell) only has 2 pins connected to internal drivers. As you flip between L/R sides, you are switching between either left side or right side of 4pin connector of the cable to engage with 2pin connector on the shell. To keep track of which side is which, 90deg housing mold has 1-dot and 2-dot ID bumps: 1-dot left, and 2-dot right is silver side, 2-dot left and 1-dot right is copper side.
Cable itself is very soft, not too heavy, with 4 separate conductors: 2 with silver wires in a blue jacket and 2 with copper wires in a brownish jacket. You have a choice of 2.5mm, 3.5mm, or 4.4mm termination when ordering. The gold-plated plug has a nice short custom metal housing, different from other popular brand name connectors I have seen in the past. Also, there is a clear heatshrink strain relief. Y-splitter is a piece of heatshrink transparent tube, and so does the chin-slider. You can't even see these, creating a continuous visual of Dual-Tone wires. Above y-splitter, wires are twisted. At the plug, you have 90-deg transparent plastic connector mold and a memory wire.
Regarding the sound difference, the change is not as drastic as you would expect with some separate pure silver and pure copper cables. I do hear a similar bass and treble response and presentation, while the biggest change to my ears is in mids and lower treble where copper cable gives you more body, more weight, a little extra thickness with slightly above neutral tonality. With silver cable, lower mids are neutral which gives more room for upper mids to come forward and give the sound a little more clarity and a perception of wider staging expansion. As a result, I do hear some improvements in detail retrieval when using silver side of the cable, while copper cable gives the sound more musicality with a smoother and more organic tonality. While I preferred silver side for MA3, here with ME3 I liked the copper side which also affected the treble, keeping it smoother.
Conveniently, you don't have to carry multiple cables, and can judge for yourself if you do or don't hear a difference in sound between two different types of wires. The only drawback here is a proprietary connector which means you are stuck with Dual-Tone wires cable and can't try other cables unless aftermarket manufacturers get a hold of this new 4pin threaded connector.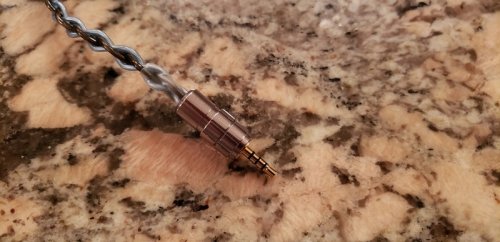 Design.
The Mentor V3 model features 12 Balanced Armature drivers, with a 4-way crossover and a driver partitioning of 4 lows, 2 lower mids, 2 upper mids, and 4 highs. Shells have a 5-bore design with 4 sound tubes per each group of drivers, and 5th bore allocated specifically for dB-Go tuning module. Each bore is reinforced with a metal tube for an improved structural stability. In case of Universal shell, as the one I received, the tip of the nozzle is all metal with a wax guard screen covering the internal bore openings which are not exposed like in CIEM. With an exception of 4 less drivers (half of mids drivers) and a different tuning, the internal design of ME3 and MA3 is very similar.
But regardless of custom or universal, in theory each one is approached like a custom design except you will need to provide your ear impressions from audiologist for CIEM. UM has a very friendly on-line IEM Designer tool where you can customize the shell color, the faceplate color, the canal color, add custom faceplate art, logos, etc. There are dozens of different color and finish selections, and every change gets reflected in real time in IEM Designer tool GUI. In there, you can also customize the termination of the cable and even pick the finish of the titanium storage case.
The shells itself feature UM new acrylic design, created using the layered technique to strengthen the build. I was told that UM invested in a very high-end 3D printer that allows them to print a very thin shell, especially useful for consistency between universal IEMs. Then, they add layers of finish by hand, including optional Dreamweaver fiber design where the actual strings of fibers are included, resulting in a nearly handmade customized product, even for universal shell.
According to UM, the module (dB-Go) provides acoustic dampening with a pressure attenuation and a real-time low frequency adjustment between 20Hz and 100Hz which I confirmed in my FR measurements and found to affect only the quantity of the sub-bass rumble. The effect is not subtle, but quite noticeable where sub-bass rumble goes from neutral (when both dials are open, turned toward you) to more present, boosted rumble (when both dials are closed, turned away from you). What impressed me the most is how precise this tuning it. I heard no effect on mids or treble. I don't even hear too much effect on mid-bass, the focus is mostly on sub-bass.
Regarding the effective range of the tuning, the crown of the dial is surprisingly small, yet has a good grip and easy to turn. The only problem, turning range is only half a full rotation. With a small diameter dial wheel this is on a level of a micro-tuning which going to drive anybody with OCD crazy. For me personally, I settled on either fully closed or open, like an on/off switch of sub-bass boost. I think this is the most practical use of this dial. Though there is some resistance, it has a continuous turning without any click action to indicate the exact position. Also, once you are placing shells in your ears, it's quite possible to bump the dial if it's somewhere in the middle. Turning the dial either closed or open is the easiest way to have a consistent control of the bass between left/right sides.
The fit.

Sound Analysis.
Since Dual-Tone cable and dB-Go module offer you a combination of 4 sound sigs, for my sound analysis I decided to use the one with a copper cable side and dB-Go closed to enable sub-bass boost. This combination offers a more balanced sound signature with more weight in the low end and more controlled highs at the top. It's all a matter of a personal sound preference, and I know some might prefer more energy in the treble or maybe a more neutral bass. Either way, you have choices to fine tune the sound to your liking by utilizing dB-Go module and Dual-Tone cable in addition to tip-rolling if you have universal model and can switch between eartips to control the seal of earcanal.
Even so I said that relatively speaking copper side and closed dB-Go port yield a more balanced sound sig, the sound itself still has more emphasis on bass with additional treble sparkle, making overall signature to be leaning toward v-shaped. If you go to another extreme with open dB-Go to flatten the sub-bass and silver side of the cable to brighten the top end, signature shifts more toward the mid-forward sound.
The sound itself is very resolving, and with a brighter lower treble it can reach a micro-detail level of resolution without sounding too harsh or fatigue. If you find it too bright for your taste, you can switch to MA3 for a smoother and more organic top end where I had to switch to silver cable to bring out more details.
With a soundstage, I find it to have a good out of your head (but not too far out) depth, and above the average width. Once you switch to Mason V3 and hear how wide it expands, you realize that Mentor v3 doesn't exactly reach that level. But it still gives you a good sense of instrument placement and sound positioning, without exaggerating the imaging.
The layering and separation here is excellent, where every sound detail could be easily distinguished. Neither Mason nor Mentor sound congested or veiled, but in a relative comparison Mentor with its more revealing upper frequencies has better separation of sounds in comparison to a smoother and more reserved natural tonality of Mason.
I already mentioned multiple times that I preferred to bring up extra sub-bass by closing the dB-Go port, adding extra sub-bass rumble which adds a layer of texture with extra weight under the fast punch of mid-bass. With sub-bass off, bass sounds more neutral and more typical of BA performance, while dialing it up gives the bass a more analog dynamic texture. Bass is still articulate and well controlled, not on a basshead level, but you will notice its quantity.
Lower mids are neutral with either cables, though I do hear a little more body when switching to copper cable, and a little more transparency and neutrality with silver cable. Upper mids are clear, detailed, revealing, and very nicely layered. The tonality is a bit on a brighter side, but I still hear vocals to sound realistic, either male or female.
Treble is crisp, very well defined, not harsh but with plenty of crunch and airiness which can scale up with different sources and by switching Dual-Tone cable. Relative to Mason v3, here the 12k peak is more elevated, giving treble more energy and crisper details. It's not fatigue, but if you prefer a smoother and more natural upper frequencies tonality, it could be a bit too much for you.
Comparison.
As I mentioned already, for all sound evaluation, comparison, and pair up testing, I kept ME3 with a copper side of the cable and sub-bass fully engaged using dB-Go module. The volume was matched in every comparison.
Mentor v3 vs Mason v3
- MA3 has a noticeably wider soundstage in comparison to ME3 which has more depth than width. Both have a very similar bass response with ME3 having just a little more punch, but sub-bass extension and rumble are very similar. With lower mids, MA3 is a little more neutral while ME3 has a bit more body. Both have a very similar detailed transparent upper mids with a natural tonality that is tilted a little more toward revealing brighter side, without crossing analytical threshold. Treble is where I hear the most difference between these two, where MA3 is smoother and more controlled, while ME3 has a more prominent peak, giving it more crunch and higher definition with a brighter tonality extension. As a result, Mason v3 sounds more neutral and more balanced, while Mentor v3 has a mild v-shaped sig with a little more emphasis on bass and treble.
Mentor v3 vs Maestro v2
(a.k.a. Mason v2) - Here, soundstage expansion is closer in width. MA2 bass has a little more sub-bass rumble and lower mids have more body (a little different from Mason v3). ME3 mids have noticeably better layering and separation and more transparency, while MA2 mids are a little more organic. Treble is also quite different where MA2 is smoother in comparison to crunchier and brighter ME3.
Mentor v3 vs HiFiMAN RE2000
- I found this to be an interesting comparison due to some similarities. RE soundstage is a little bit wider. Both have a very similar mid-bass impact, while RE subs have a little more quantity. Lower mids are nearly identical, while upper mids are more natural in ME3, while RE upper mids are brighter and thinner. Also, RE treble is splashier while both do have a bright crisp treble. I know, from my description above it sounds like they are different, but they are not too far off. The most noticeable difference is in upper mids where ME3 sounds more natural, more organic (not warm, but more natural).
Mentor v3 vs Noble K10UA
- both have a very similar soundstage expansion. K10 bass has more sub-bass while mid-bass punch is similar. Also, K10 has a little more body in lower mids while ME3 is more neutral. Upper mids are different as well where ME3 is more revealing, while K10 is a little smoother, and the same goes for treble where ME3 is brighter and crisper while K10 has a little more control and less crunch.
Mentor v3 vs 64 Audio Tia Fourte
- Fourte has a little wider soundstage and a more depth, with more out of your head spacing. ME3 bass is a little more neutral in comparison to warmer subs of Fourte. Lower mids are very similar. Upper mids are more natural and more realistic in ME3 while Fourte has their presentation a little more out of your head and brighter, more revealing. When it comes to treble, here I find them to be quite similar, both very crisp, detailed, and energetic.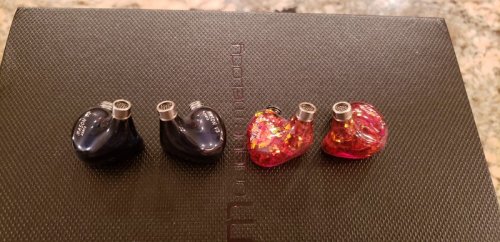 Pair up.
With 22-ohm impedance these IEMs are very easy to drive, though with 108 dB sensitivity I had to turn the volume a few clicks up. Here is how ME3 pairs up with various audio sources. I will also note if I hear any hissing. SPK was my baseline pair up and others were compared to it.
A&K SP1000 SS
- absolutely hiss free; above average soundstage width; neutral punchy bass with a textured sub-bass extension that has a more neutral quantity; neutral lower mids, natural-revealing upper mids, bright crisp extended treble.
Lotoo LPG
- a very faint hissing; a little wider soundstage (in comparison to SPK), bass has a little more rumble, the rest is very similar with a neutral lower mids, natural-revealing upper mids, and bright crisp treble, maybe just with a little more crunch.
Hiby R6
- without iEMatch, the sound is very similar to SPK, just a little thinner and a touch brighter. But with iEMatch I hear a noticeable more rumble in the sub-bass and treble is a little smoother, with more control. Because of this change, the sound is more balanced. Hiss free. This was one of my favorite pair ups with iEMatch for Mentor 3.
iBasso DX200 w/amp1
- very similar above the average soundstage and hiss free performance. Bass quality and quantity is nearly the same as well with a punchy mid-bass and nice sub-bass extension that has more neutral quantity. I hear lower mids being more neutral and upper mids more natural-revealing, while treble here is a little brighter and crisper, more in line with a reference nature of the AMP1. Something like AMP5 would pair up better here.
FiiO X5iii
- tried this pair up knowing it's a warmer source. Soundstage is similar, above the average. Sub-bass has a little more rumble, similar mid-bass punch, smoother more organic mids and treble is more under control. But unfortunately, hiss is very noticeable, and the sound doesn't have a good layering and separation. This was my least favorite pair up.
Conclusion.
Unfortunately, some of the audiophiles who are looking for flagship IEMs with TOTL tuning limit themselves by focusing only on models with the highest number of drivers, thus missing a few gems. In my opinion, I consider both Mason V3 and Mentor V3 to be UM current flagships. They both feature dB-Go bass tuning module, innovative Dual-Tone copper/silver dual cable, and a new shell design. And while Mentor offers 12BA drivers vs Mason with 16BA, besides the price, the main difference here is the tuning, especially the treble where it all comes down to an individual sound preference.
As I mentioned in my Mason V3 review, these IEMs were not tuned for those seeking an enhanced low-end impact, but if you want more treble energy with a higher resolution sound - Mentor V3 is your best bet, while Mason V3 will be your more "natural" spacious bet. And once you figure out your sound preference, either of these models will offer a premium build, fine-tuning sound options, and two-in-one premium bonus cable. Every manufacturer is trying to stand out from the crowd, especially when it comes to flagships. Here, Unique Melody accomplished it with both Mason V3 and Mentor V3 models.