Simple Man's review – Ultrasone IQ (~650 USD)
This is called simple man's review because they are based on the sound of these earphones directly from my mobile phone (HTC 10), using 320 Kbps mp3 tracks. No expensive gears nor lossless tracks,no EQ, and all that hi-fi stuff.
Product Specs :
Driver: 2-way Hybrid - One 8mm Dynamic driver + One Balanced Armature driver
Impedance: 20 Ohms; Sensitivity: 104dB/mW
Weight: 10g
Cable: MMCX detachable cables. One with mic+remote, another without
Shell: Hard die-cast metal housings
Nozzle: 3mm (like Etys)
Release year: 2012
Build – 5/5
Same as
Ultrasone IQ Pro
with a flashy colour theme that adds some bling. (Skip directly to Sound if you already checked out the IQ Pro review). The housings are super hard metal compressed under high pressure, robust and yet, super light. They housings seat very comfortably in the ear. These are one of the best designs I've come across in term of comfort. No part of the ear feels any unnecessary pressure. Excellent design. The nozzles however could have been a couple of couple of millimeters longer for a little more penetration. Nevertheless, we are loaded with a plethora of tips to ensure no trouble on this front. The wires are very comfortable and light and appear strong as well. The memory ear guides are thick as well, and I don't see them breaking for any reason. The detachable part swivels around smoothly which could be slightly annoying during wear. The L-shaped connector is same one used by the entire family, and they are super sturdy as well with a safe strain relief.


Accessories – 5/5
Inside the box we get,
An excellent tall hard leather case
which flaps shut on top, without a zipper. Perfectly size and can hold the earphones without suffocating them
Tips.
We get a lot of tips. Same set as provided with all Tio or IQ Pro. We get two sizes of Comply Tx-tips (with ear-wax guard this time), two sizes of conical tips, and 3 sizes of redular-styled tips. You can use these tips with you Etymotic earphones as well, if you are going for a shallow fit there.
We also get one Flight adapter and one OMTP adapter
Isolation & Sound leakage – 4/5
Ias i touched upon earlier, a the nozzles could have been 2 cms longer, which would have improved isolation greatly. But as it is it's still very good, and leakage is NIL for all practical purposes.
Fit – 5/5
Personally, for me, fit is easy and very straight-forward. I faced no problems whatsoever. I use the silicon tips, both the conical ones and the cylindrical ones work good for me. I've read some earlier reviews where they whine about getting a good seal, but for my ears, it's good and easy enough, and the comfort is amazing as well. With a shallow fit they sound great. I find no reason to dig in for a deeper fit.
Microphonics – 5/5
Microphonics are minimal, close to non-existant. The thick cables stay put and around the wear wear style nearly eliminates any concern of this. If you get a tight fit where the housings don't move, you won't hear the wires no matter what.
Drivability –
Being a little low on Sensitivity, they aren't super easy to drive. But with my HTC10 60% is sufficiently loud for me. I don't see any issues driving these with any smartphone. Maybe you will push the volume a little further than usual.
Before we get to the sound:
You must know that i don't listen to trance, EDM, or bassy stuff, no metal stuff, so, take my opinion about the extremes of the sound spectrum, and speed,etc., with a grain of salt, as they are just based on the kind of music I listen to- namely Jazz, blues, some progressive rock from the 70s/80s. However, to give a fair review, i include some of my favourite Daft Punk, Tool, NIN, and some Pop songs among my test tracks.
Eartips: I'm using the stock silicon eartips with the IQs, as they penetrate well and i also get a good seal. On some days conical tips work better than the other ones. I think it depends on the amount of wax in my outer ear.
Ultrasone provided their IEM line-up earphones for the purpose of my honest review. After testing these earphones, the Ultrasone Pyco and Tio were duly returned. I get to keep the Ultrasone IQ and IQ Pro. That said, please rest assured that this a completely unbiased and honest review. The impressions and comparisons are all my own and not driven by any external party.
Sound Signature–
The overall signature is balanced, with some extended treble presence. The general frequency curve sounds very much like their younger dynamic driver
Pyco
, very balanced, with bass that is big and tight in presentation. Only, the IQ has a roomier soundstage and delivers details in spades. The presentation is more intimate than monitoresque.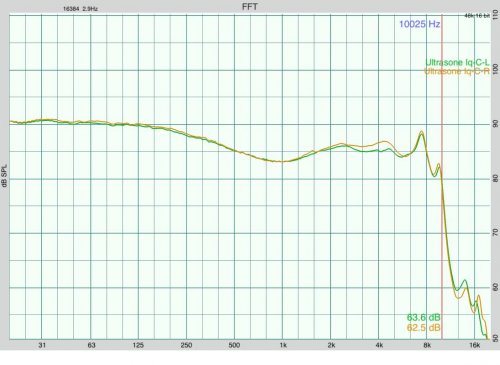 Soundstage:
The soundstage is very wide and deep. The depth is very evident with all the micro details popping up at different distances into the soundstage. And all the notes have a lot of breathing space for themselves. Being slightly intimate, the soundstage also displays good height, but not overly so. The players play at a distance that is neither far nor too up front. They are close enough to keep your toe tapping, and also give you some privacy, a little distance, to look up and appreciate the beauty of music. Perfectly positioned.
Bass:
The bass is tight and punchy. Very snappy, but at the same time they carry enough meat and land with an authoritative impact. It is very BA-like like in terms of speed, but dynamic-like in the thud it delivers. The sub-bass stands alongside the mid-bass, equal in quantity, and does not leave the user missing any of the rumble, definition or impact from the bass regions. They sit on a nice middle point between quantity and quality. Good definition and micro details are perceivable as well. Electronic music sounds great with the snappy and well defined punchy delivery of bass lines. Natural instruments also land in the right timbre. Overall, it's all very nicely done. It's monitoresque brother, IQ Pro, has slightly better definition in bass sacrificing the punchy impact that IQ delivers successfully.
Mids:
Mids are very detailed and play on the level. They are very slightly brought forward in the mix, just enough to hold your attention. Very perfectly positioned, and does not fall back in presence even in bass or treble heavy music. But one will not call these mid-centric. They are very much in line and balanced, somewhat like Sony EX800. Voices are crisp and clear and have nice warmth to them. The instruments present all the micro-details in the deep stage, and the guitar plucks ends in a satisfying echo displaying superb transient harmonics. We see no colouration in the mids except for the added warmth from the impactful bass regions. Definition and instrument positioning are stellar and flagship level.
Treble:
This is where the sound signature departs considerably from Pyco. The upper-treble, for me that is around 10Khz+, has more presence in the IQ, and presents greater shimmer and micro-details up-front. The clarity, if you aren't used to high-end earphones, will initially shock you with the details it presents in its deep soundstage. Although up-front, for my ears, these are not piercing in nature, although they do take you dangerously close to sibilance to deliver all the micro-details as possible without coming across as harsh or over-emphasised. They avoid this by not introducing any annoying peaks to the signature, but rather bringing the whole neighbouring band a little to the front of the mix. Complys do help a little to tame this, just a little, without sacrificing any details. From what i read about the EX1000, if you are used to them the IQ should be no different or harder to handle, even with silicon. I wouldn't call the IQs treble tilted, like FLAT4 earphones, for instance. These are much more balanced and use the treble to the maximum extent to present musical information without making them dominant.
Comparisons
For an internal comparison within the family, please refer to my
IQ Pro review
comparisons. In this review i'm simply comparing the Ultrasone IQ with the other most expensive earphones in my inventory to see how similar or different they stack up.
Round 1 – Ultrasone IQ vs Audio Technica CKR 100iS (~400 USD)
OK, first let's see how different they are from my top favourite dual-dynamic earphones CKR100iS. The original CKR100s would run you up to 400 USD (Don't buy the cheap Chinese counterfeits. It's simple, fakes will never sound like the original)
OK. Switching from IQ to CKR100, I could immediately say that the CKR100s are more mid-centric and have a lush quality to them. Voices carry more warmth and soul. The soundstage of the CKR100 is more rounded and intimate, compared to the slightly more distanced and wide presentation of the IQs.
Switching back to IQ from CKR100s, i could perceive that the IQ unit has more clarity and sounded significantly cleaner than the push-pull drivers of CKR100. This could be due to the more balanced tuning of the IQs that they are able to present all the details in superior clarity, sacrificing the intimacy and lushness. The bass of IQ also seems a little more elevated, but at the same time it's much quicker than the CKR100 in attack. IQ is more punchier and also has slightly more quatity to its mid-bass. The snappier attack also adds to the perceived clarity of the bassline with the IQ. This added definition seems a little lacking in the CKR100. The soundstage of IQ is much more roomier, and instrument separation is significantly greater. There is also more depth to the IQ's soundstage. Localisation as well goes in favour of the more expensive IQ. The treble is slightly laidback in the CKR100, which makes for an easier listen, versus the IQ, which demands a somewhat stronger ear in terms of treble toleration. But one is rewarded with a bounty of details in exchange.
Ultrasone IQ clearly the more superior phone technically. Snappier bass attack, definition, micro-details, separation and localisation all go to Ultrasone flagship IEM IQ.
Where the CKR100 reigns supreme is with its lusher mids, vocals, and a more intimate and thicker presentation, and slightly better natural timbre.
Round 2 – Ultrasone IQ vs Audio Technica E70 (350-400 USD)
This round, IQ is up against the Audio technica flagship of the monitoring E series, E70. These are armed with 3 BA drivers, and are notorious for their detail retrieval ability while sounding thick and dark. Let's get to it!
Switching back and forth, we can notice that the E70 is much darker and thicker sounding, giving gobs of detail within it's dark soundstage. Straight away, we also notice the big E70 treble peak flexing its enhanced treble presenting chimes in a flashy manner. There is also greater mid bass volume with the E70, and the male vocals are much thicker and up-front in comparison to IQs.
The IQs on the other hand, sound really balanced, and have none of that dark and fluid feeling to the music. Instrument separation is significantly better and there is so much space around each sound in the IQ, compared to which the E70s come across as cluttered. The male vocals in IQ are not so up-front but play at a slight distance compared to E70. IQ sounds cleaner, and its airier soundstage present the entire music in a much more satisfying manner than the E70. IQs come across as slightly thinner, it sounds better for this reason.
Easy win in my opinion for the more expensive IQs. If you like darker and thicker sound, then the E70s would suit you better.
Round 3 – Ultrasone IQ vs Ocharaku Donguri Keyaki Ti Plus (~500 USD)
The Donguri Keyaki Ti plus is the most expensive earphones that i own, after the IQs. The single dynamic wonder is an absolute bliss to listen to if you're like me, who likes a little upper-mid tilt. I love the Keyaki Ti Plus so much that i keep it locked up in a special place and refrain from using it too much.
Comparing the two, i found that both of these earphones were similar in certain aspects. Both had similar amounts of information, detail and micro-detail. Both had similar quantities of bass. Both can generally be placed in the balanced signature bucket. Of course, there are a number of differences which keep them apart.
The soundstage of two are very different and the overall presentation differs. The Donguri has this vertical soundstage, with certain elements of the song filling out the sides of the soundstage giving a little width. The vertical layering is very unique to the Donguri Keyaki and it is more about height than width. The IQ has a wide soundstage and has better lateral positioning of instruments, which presents information is a roomy manner. The Donguri has a nice emphasis on the upper-mid and it contains that ringing bell-like clarity so unique to the Donguri sound. This can be a little polarising and one might love it or hate it. IQ is more correct sounding with no excessive peaks. It has a little forward upper treble, then again it's not overly enhanced. Vocals are very mesmerising in the Donguri Keyaki Ti Plus. IQ play vocals at a decent distance and doesn't have this magical quality. Male vocals have more weight with the IQ, whereas the Donguri prefers female singers. Micro-details retrieval is almost the same, maybe, just maybe, it will go to IQs using their vast soundstage for easier picking of the details.
Really can't call a winner here. But a single dynamic standing its ground against the 700 dollar IQ speaks volumes about the Ocharaku driver capability. That said, IQ has better space and localisation. Keyaki Ti Plus will win with timbre and musicality. I'm proud of my Donguri Ti Plus.
I thought i'll only do these three comparisons, but after the Ocharaku Keyaki comparison, i'm in the mood for a little comparison with FLAT4 NAMI that i own.
Bonus Round –
Ultrasone IQ vs Ocharaku FLAT4 NAMI (~300 USD discontinued)
Flat4 NAMI is a dual dynamic unit which flaunts great soundstage width and is biased towards the treble. Let's see how it stands alongside the IQ
Just as i suspected, the Nami has significantly wide soundstage than the IQ. It is so wide it feels unreal. Sounds appearing from far right and far left, it's like American politics. Anyway, the treble tilt also is immediately noticeable with the Flat4 unit where you have exaggerated highs. It's still fun to hear and is exciting without sounding sibilant. Being dynamic drivers the definition somewhat suffers slightly in comparison to the BA driver used in the IQ. The dynamic timbre again sounds great for the instruments in the mids and lows. The IQ soundstage has more depth which can be easily perceived. The IQ generally feels more tighter all around with stronger positioning and sounds quite matured in direct comparison. IQ is the more balanced sounding IEM between the two.
The wide soundstage experience has it going for the NAMI, with its ringing highs and greatly separated presentation. Otherwise, IQ is the technically superior phone with better instrument definition, micro-details and positioning.
Bonus Round II – Ultrasone IQ vs Sony MDR-EX800ST (~250 USD discontinued)
Alright, i just had to do this. Just to see how to old EX800 stands up against the old IQ.
Switching back and forth...
Sony sounds warmer and fuller, and is a little more upfront. Timbre is top notch with the dynamic driver. The bass is very tasty in the Sonys and has a certain reverb that has a magical quality to it. The EX800 also sounds very cohesive in the sense that there is less air between instruments, they all seem to be working closer to each other in comparison. This is surprising because the EX800 has one of the widest soundstage for an IEM, slightly less than the FLAT4 NAMI, and has decent height as well, a little more than NAMI. The EX800 sounds more exciting as well, and has sharper highs which pop-up when in the right frequency.
The Ultrasone IQ has the same soundstage width and height. There was no difference in the size when is switched back and forth. But, the IQ (and IQ Pro as well) had much greater separation and stronger positioning. The bass is tighter with the IQs and quicker as well, much snappier decay which aids in greater definition. Micro-details are considerable greater in the IQs with their BA taking them ahead. IQs also have deeper stage depth, where the EX800 has very minimum depth to the stage. The IQ seems like they can hold limitless amount of instruments in their vast stage with their strong localisation and use of depth.
IQ (and also the IQ Pro to the same extent) trumps the EX800 easily in terms of technicality. Sony has a more dynamic and fun sound in comparison providing a juicier bass reverb and a closer presentation.
The IQs are definitely more expensive, but i really didn't expect them to walk all over my favourite earphones the way they did. Only my Donguri Ti Plus which is 500 bucks was able to hold its ground with a completely different presentation.
Overall Sound rating of Ultrasone IQ: 9.3/10
Vocals 4.5/5
Soundstage 5/5
Instrument Separation 5/5
Details 5/5
Timbre 4.5/5
Conclusion –
The Ultrasone IQ is simply amazing, and sounds like a high-end flagship IEM. Technically you can't really fault them in any area of sound reproduction. They will simply blow your mind if you haven't listened to any IEMs greater than 500, sure blew mine. The 2-way hybrid drivers play very synchronously and present music with great micro-details and separation like no other i've heard. I compared them to all the great earphones i have, and being the most expensive this also is technically most sound in my collection. The only competition is their own IQ Pro which has monitoresque bass. Ultrasone IQ, thank you!