Author's Note: The original review can be found at my blog -
Tronsmart Element T6 Max Review
@
JayceOoi.com
.
Introduction
Stunning 360-degree surround audio with max output of 60W. Loaded with four tweeters, one woofer and eight passive radiators! Yes, that's all part of
Tronsmart Element T6 Max
SoundPulse Bluetooth Speaker. Unmatched rich and clear sound for its compact size. Does it really that great? Read this review to find out...
Special Thanks
This review is possible thanks to below companies. Be sure to check them out...
Tronsmart for this Tronsmart Element T6 Plus SoundPulse Portable Bluetooth Speaker

Zorloo for Zorloo Ztella USB DAC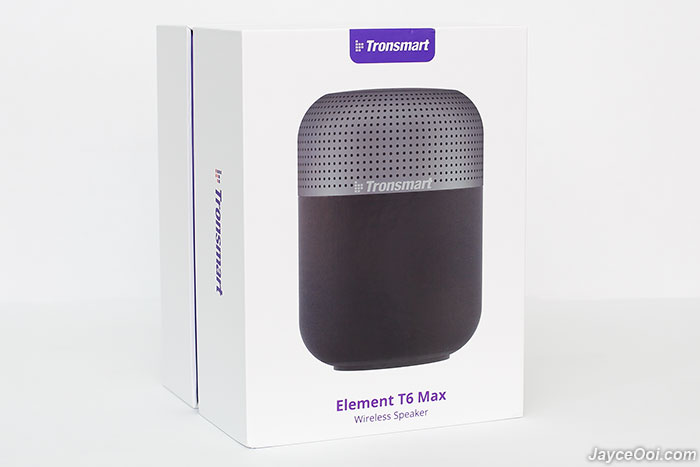 Package Content & Design
Element T6 Max comes well-protected like other Tronsmart's products as you can see. It's a heavy package by the way. And it looks like a giant pill.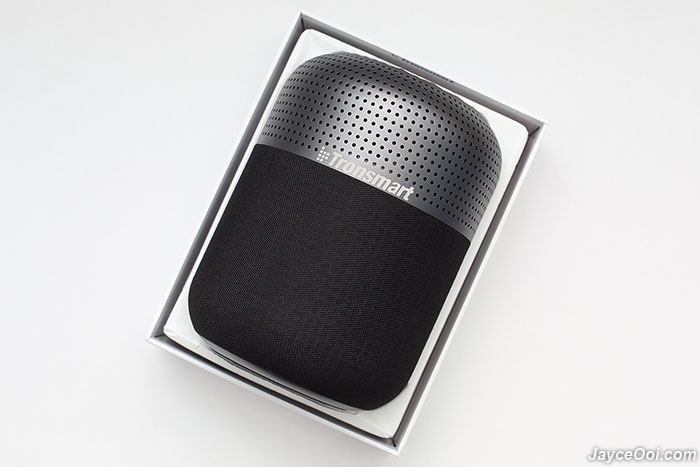 Once taken the speaker out, there are storage pouch, 3.5mm AUX cable, USB-C charging cable, warranty card, user manual in multiple languages and other quick guides. As usual, do go through all the guides to get started.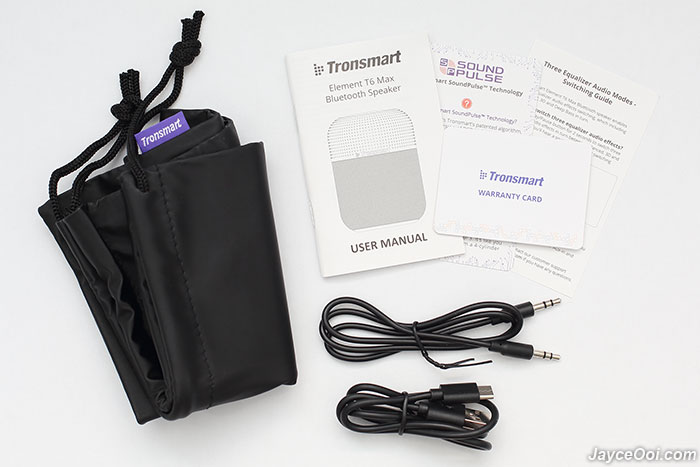 Excellent build quality with aluminum + ABS as housing. T6 Max is crafted in premium aluminium alloy and fabric finished speaker grill. Don't forget 4 tweeters and 1 woofer, plus the custom-designed array of 8 passive radiator inside T6 Max. Simple yet stylish in design. Compact and portable to carry around with bundled storage pouch. But do remember it is a heavy speaker at 2kg.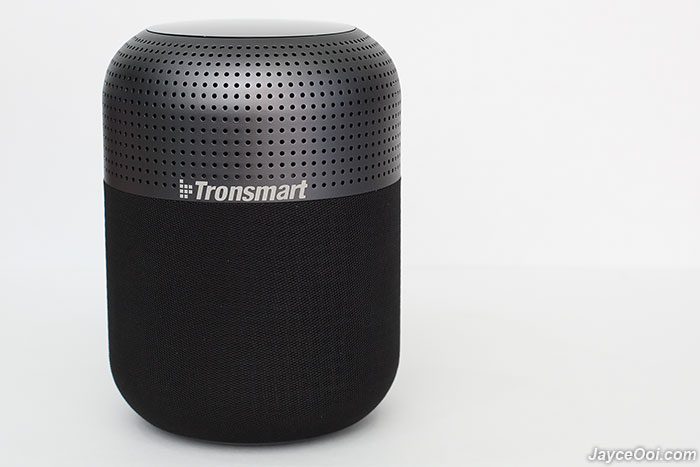 On top, there is an intuitive touch panel with integrated lighting. All the navigation buttons are located there. Yes, you can easily recognize the buttons even in a dark room thanks to the integrated lighting. By the way, it will go off after 30 seconds if there is no button tap. Just tap it to bring the backlight to turn on again.
Here are USB-C port, DC input, AUX input and power button with cover.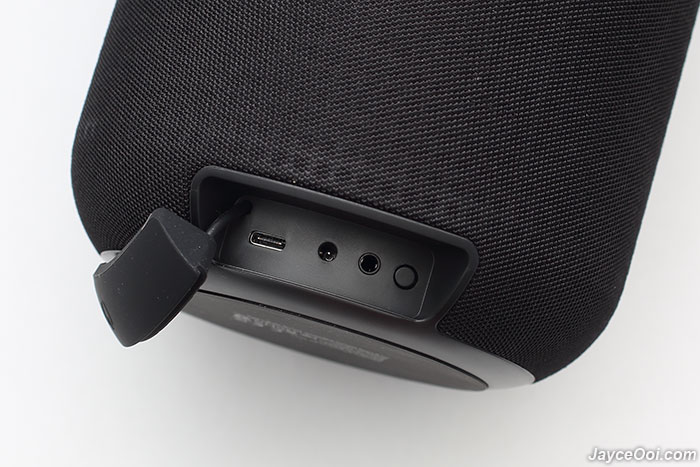 And here is the large round anti-skid pad that provides stability. Yes, it is working great even on maximum volume level. Stable as expected.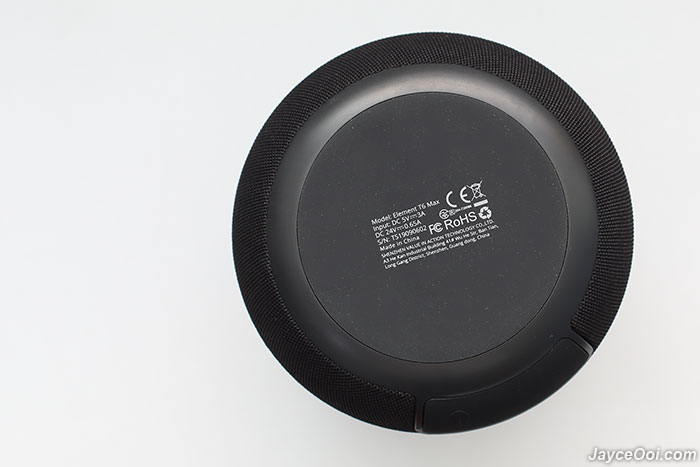 Performance Result
Outstanding Bluetooth wireless range! Yes, it is a pleasure to use Tronsmart Element T6 Max through its stable Bluetooth 5.0 connection. It can connect up to 8m+ with obstacles like wall. Free free to wandering around. Jumping between rooms is not an issue. In addition, it is virtually in-sync between video and audio. Great to watch movie, TV series and play games on mobile devices like smartphone and tablet. Lastly, there is AUX-in port for non-Bluetooth devices. Don't forget it supports NFC pairing as well.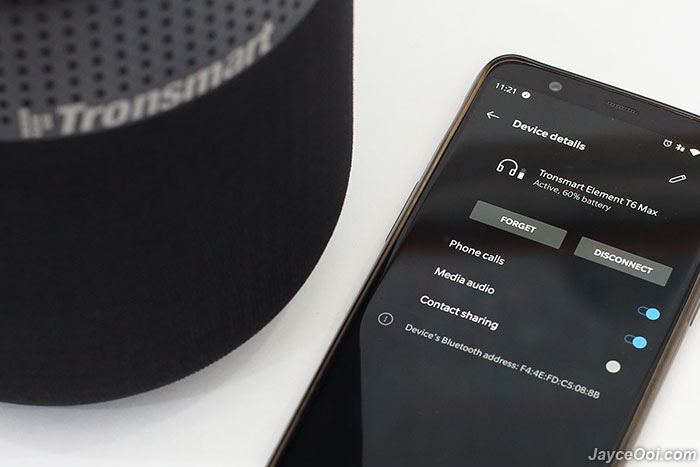 T6 Max does not have any micro SD slot like other Bluetooth speakers. So no built-in MP3 player. As for speakerphone, it is great. Others can hear me loud and clear. As usual, closer to mic == better voice quality to others. Yes, T6 Max is loaded with IPX5 water-resistant. No worry about getting wet with splashes and sprays. It can easily withstand sprays from sitting next to the sink, the pool, or the shower.
As for battery life, it can play non-stop music up to 20 hours at around 50% volume level (based on specs). All thanks to built-in 12000 mAh li-ion battery pack. And it requires about 6 hours to fully charge by using 5V/3A power adapter. By the way, there is battery life indicator on both iOS and Android devices. Great to know when to charge it.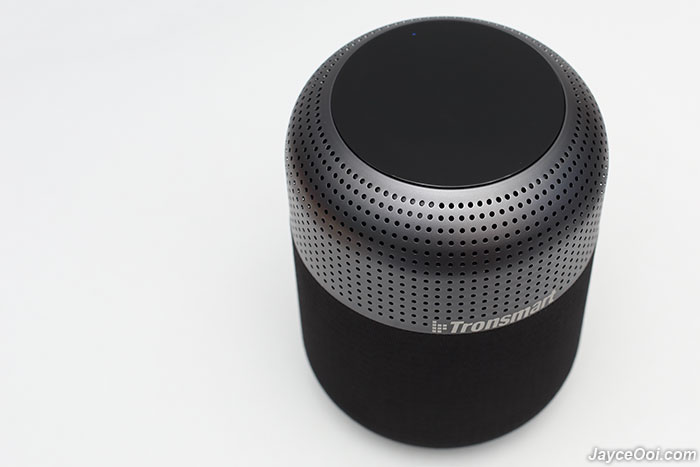 Don't forget that T6 Max supports TWS. Just pair up 2 T6 Max units together and enjoy wider soundstage in stereo. Louder too!
Sound Quality
Element T6 Max is loaded with Tronsmart patented SoundPulse audio technology and custom speaker drivers. It is able to evenly spread a max of 60W output with the balanced, detailed and wide-range sound to every corner of the room. Yes, enjoy stunning 360-degree surround audio. And due to that, the speaker placement does affect the sound signature a little bit especially on the treble part. With 60W output power, you can easily throw a small party. Great for indoor and suitable for outdoor as well.
Besides SoundPulse, T6 Max is loaded with 3 equalizer audio modes - Balanced, 3D and Deep Bass. By the way, Balanced audio effect is the default setting when you turn on the speaker every time. Alright, let's talk about sound signature for each audio mode. Balanced is just like its name - balance but slightly toward warm. Bass is a little bit more than treble. Putting T6 Max near the wall does help to increase treble volume due to sound reflection. As for 3D, you can feel that treble is being bumped up. And of course some 3D surround effects too. Not too much but you will feel it. Lastly, Deep Bass mode turns down the treble volume. Therefore, you can enjoy deeper and powerful bass in return.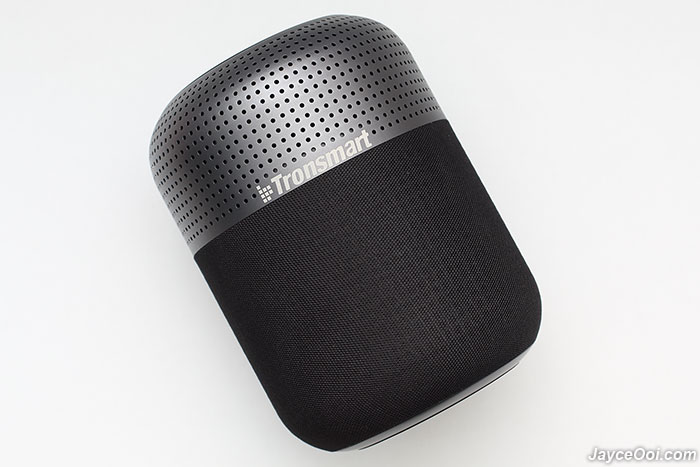 In detail, highs are clear and clean. Not the brightest out there but does its job well. As I mentioned, placing speaker against the wall does help to increase the clarity. Mids performs great. Both female and male's vocals sound nice and natural. Finally, you can't miss the great deep and low bass. Powerful for its size no doubt. Yes, you are almost getting subwoofer kind of bass level. Surely will level up your entertainment experience especially in action movies and games.
Advantages
Outstanding sound with 3 different equalizers

Powerful deep bass

Excellent build quality

Long battery life

TWS mode support

Great speakerphone

IPX5 water resistant

Portable
Limitations
No built-in MP3 player that I wish for
Default startup volume too low
Conclusion
Excellent sound for the price! Period. You will love its powerful deep bass too. Portable that great for both outdoor and indoor. Be sure to get your Tronsmart Element T6 Max soon. And party all day long.