Apollo Air and Air+, a real contender for AirPods Air Alternative
Pros
:
- Nice and light case
- Responsive and really configurable buttons
- Strong bluetooth connection
- More balanced sounding than the Bold
- Sound signature is pleasant and non fatiguing for long listening session
Cons
:
- Mediocre battery life in today standard
- I wish the placement of the earpieces in the case is reversed
- Different sound profile (boosted bass) in ANC and Ambient mode
Disclaimer:
Tronsmart offered these unit for me to test and review. Everything i write here is my subjective honest opinion about the unit.
Gears used for testing:
Spotify
from my Android phone
Other TWS used for comparison:
Tronsmart Apollo Bold, Sony WF1000 XM3, AirPods Pro.
I won't be covering informations/specifications that's already available on the website, so feel free to go to this link for more info.
https://www.tronsmart.com/products/tronsmart-apollo-air-truewireless-stereo-plus-hybrid-anc-earbuds
https://www.tronsmart.com/products/...s-truewireless-stereo-plus-hybrid-anc-earbuds
I will be covering things/ info that are not readily available on the spec page, also some personal thoughts and opinions after using it personally for a few days.
What you get in the box
(Apollo Air)
:
Back of the box info:
Built and accessories:
The case is really light, even compared to my other TWS that have small footprint. Also it is the lightest compared to my other Tronsmart TWS case.
I like the satin matte finish on the case, because it would be more resistant to scratches. Because the very light plastic however, it does feel a bit flimsy when picked up, though i have no problems with the build quality overall.
Also the lid won't hold itself open. Not really a big deal for me, but something worth mentioning.
Battery indicator on the case would blink blue when battery is above 10% and blinks red when under 10%.
When opened a blue/red light indicator inside would flash to notify pairing mode as it would pair immediately when the case is opened.
There's a pairing button near the USB C charging port.
The earpieces themselves feels quite nicely build. It uses a glossy plastic instead of matte one like the case. buttons are responsive. It also adopts the oval nozzle shape like the Apollo Bold
Provided inside the box are standard 3 pairs of eartips, USB-C cable, and manuals.
Apollo Air+ Version
Almost identical to the Apollo Air, but with extra added features like:
Wireless charging
More extra sets of eartips (6 pairs compared to the Air's 3 pairs)
Proximity sensors for auto pause/play when removed from the ears
Extra carrying pouch
Box size comparison vs Apollo Air:
The Air+ can fit and charge on the Air's case (and vise versa):
Proximity sensor:
Both of the Air and Air+ are available in black and white color for purchase.
Size comparison (left to right: AirPods Pro, Apollo Air, Apollo Bold, WF1000-XM3):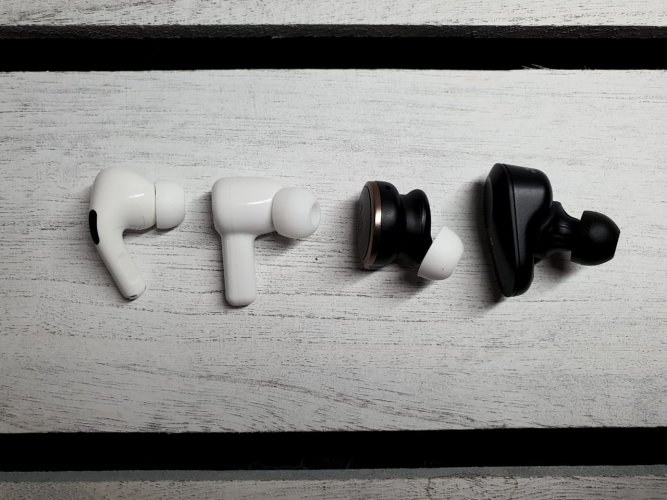 Fit:
This is one of those really rare cases for me (more so in TWS world) that an earphone could fit in my ears using all of the eartips. I usually wear L size eartips on almost all of my IEMs and TWSs, but with this one I can easily fit and made seal even with the S size. Maybe because of the combination of the slightly elongated body and angle of the nozzle. I did ended up using the stock M size tips as the happy middle ground, also because it's more flushed in my ears compared when using L size.
Bear in mind that this is strictly my personal situation and might not reflect on everyone the same way.
Battery life:
If there's a gripe that i have with this TWS, then it's the battery life.
Based on my personal test playing Spotify non-stop at my regular listening volume, i got around 4 hours until the battery shows 10% left with ANC on, and around 6 hours with ANC off (until it shows 10% battery left). It does has similar battery life to the AirPods Pro, but compared to the Sony WF1000-XM3 and the Apollo Bold, these two definitely have a longer playtime.
This might be fine a few years ago, but this is one of the shorter battery among my ANC TWS, and middle of the road with ANC off, considering the Bold can go much longer...also adding the fact that nowadays there are TWS that can break more than 10 hours of single charge playtime.
Apps:
just like the Apollo Bold, you can tune the EQ preset, toggle ANC/ambient mode, see the battery level, change the button configurations, and also update the firmware when available.
Tronsmart Apollo series are some of the most flexible and complete when it comes to button configurations among all TWS that i have/tried.
I like the fact that it also has the same level of button configuration like the Bold, as it can have hold, touch and hold, 1-3x tapping, and either left and right can be configured differently. Other TWS sometimes forced button pairings (for example, if single tap on the left is for previous track, you must use single tap on the right for next track).
The Air and Air+ has 8 EQ presets compared to the Bold's 5 preset. I personally prefer the "Rock" (and sometimes the "Default" when i want a more V-shaped presentation) setting on the Air, and the "Jazz" or "Pop" on the Bold.
Apollo Bold Presets:
Apollo Air/Air+ presets: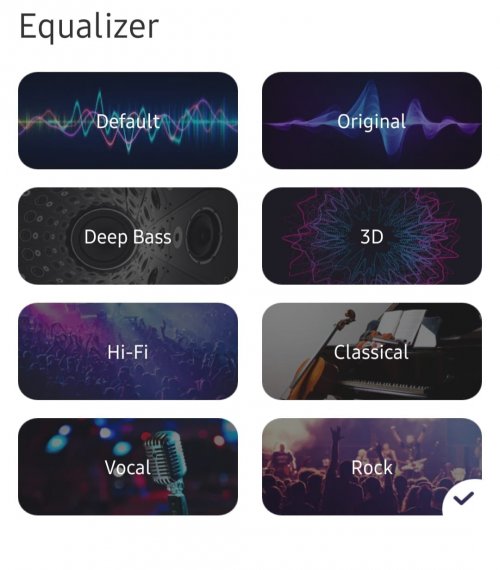 I really wish that Tronsmart would just give us a user adjustable EQ instead, as that would raise the overall value of their TWS by quite a lot…but one can only hope.
Isolation, ANC/ Ambient mode:
Passive isolation:
the Air/Air+ has a quite good passive isolation. To my ears, it blocks more noise than the Bold
ANC:
The Air/Air+ muffles out the higher frequency and human chatter a bit more than the Bold, while the Bold would have a sparkly high hiss on the upper frequency, but overall i would rate them both at similar level for high frequency cancelation. The Sony WF1000-XM3 and AirPods Pro performs a bit better than both of them on this regard.
For lower frequency cancelation like hum and engine noises, the Bold and Air/Air+ is similar, while the WF1000-XM3 and AirPods Pro performing a bit better
Ambient mode:
The way they pass through sound via their ambient microphone are somewhat similar to their signature sound: the Air/Air+ focuses on the mids more (like speeches and conversations) and soften out the hiss and higher frequency sound, while the Bold would have a thinner mids sound and lets through more microphone hiss. Also the Air/Air+ would make the human speech sound more honky (like cupping the hands in front of the mouth forming a funnel) and more boosted on the mid high, while the Bold presents human speech more evenly (albeit in a thinner overall sound).
The Sony WF1000-XM3 ambient sound is better than both of them because of the more realistic human voice sound, less mic hiss, also much more control over the ambient level and the added option to focus on human voice.
Airpods Pro is also better and more natural sounding in ambient mode.
Sound characteristic:
To put it simply, with the "Rock" EQ preset, it sounds really similar to the AirPods Pro, with added bass quantity and warmth, and a slightly wider stereo spread. mids and treble characteristic is similar.
It has a warm "analog" and non-fatiguing sound to it, with intimate mids, thumping bass when called on, and warm relaxing treble.
In comparison, the Bold can deliver more detail and resolution compared to the Air/Air+, but this one is better and comfortable for longer listening sessions.
Note: every sound comparison below would be based on the Apollo Air/Air+ on "Rock" setting, the Apollo Bold on "Jazz" setting, and no EQ changes to the AirPods Pro.
Bass:
The Bold has deeper sub bass reach (and volume) compared to the Air/Air+. the Air/Air+ has good thump, but has a more focused frequency on the upper bass/ low mids thump compared to sub bass rumble.
The Air/Air+ have slightly bigger and warmer bass compared to the AirPods Pro.
Like the Apollo Bold, the Air/Air+ also shares the same problem, that is the bass would be boosted when ANC/Ambient mode is engaged. I really hope they would fix this somehow with firmware update.
Mids:
I like the mids on this, especially compared to the older Apollo Bold. While the Bold has a distant and thin mids presentation, the Air/Air+ is more forward and thicker, giving vocals more weight to them. In ANC/Ambient mode on, the mid bass would leaked a bit and color up the lower mids, depending on the songs/material played.
The Air/Air+ also have a slightly thicker mids compared to the AirPods Pro, but not by much.
Treble:
The Bold has a more sparkly top end and more resolving treble, while the Air/Air+ is more relaxed and muted (really similar to the AirPods Pro). Cymbals would sound softer, though acoustic guitar would still have their top end bite, and vocal "s" would still come through nicely. overall this smooth treble presentation is good if you're looking for longer listening session.
Soundstage:
It has more intimate soundstage when compared to the Apollo Bold because of the more forward center stage/ mids. The Bold would sound more engulfing and eerily close to full over-ear headphones in presentation, while the Air/Air+ is more like traditional monitor IEMs.
if i have to choose, i would prefer the Air/Air+ more for music, and the Bold more for movies, although to be fair they both still do a good job at both situation.
Conclusion:
I like these TWS. Aside for the mediocre battery life, for the price, the Air/Air+ provides a good performing ANC and ambient mode, a very solid BT signal/range performance, nice button tweakability, and a warm analog sounding character that can be non-fatiguing for long listening session. It performs in similar level to the older Apollo Bold in ANC/Ambient mode, and personally i prefer the Air/Air+ in sound signature compared to the Bold and AirPods Air.
Which one do i recommend more? Well it all depends on the difference of features: do you need wireless charging and proximity sensors? If not, then you can go with the slightly cheaper Air as they have the same sound and features other than the two mentioned above.
Last edited:
A viable alternative to the Apple Airpod Pro's
Pros
:
Lightweight. Good inoffensive sound quality. Pretty good ANC. Excellent touch controls including volume control. Wireless charging.
Cons
:
Too much bass when listening loud. Battery life could be better. Unusual way the headphones fit in the case. Shallow insertion depth (that's a personal thing though).
I have become a big fan of Tronsmart's products over the past few months. I have reviewed the Apollo Bold, Q10, Air and their Force 2 bluetooth speaker - all these products were of high quality, worked flawlessly and offered superb value for money.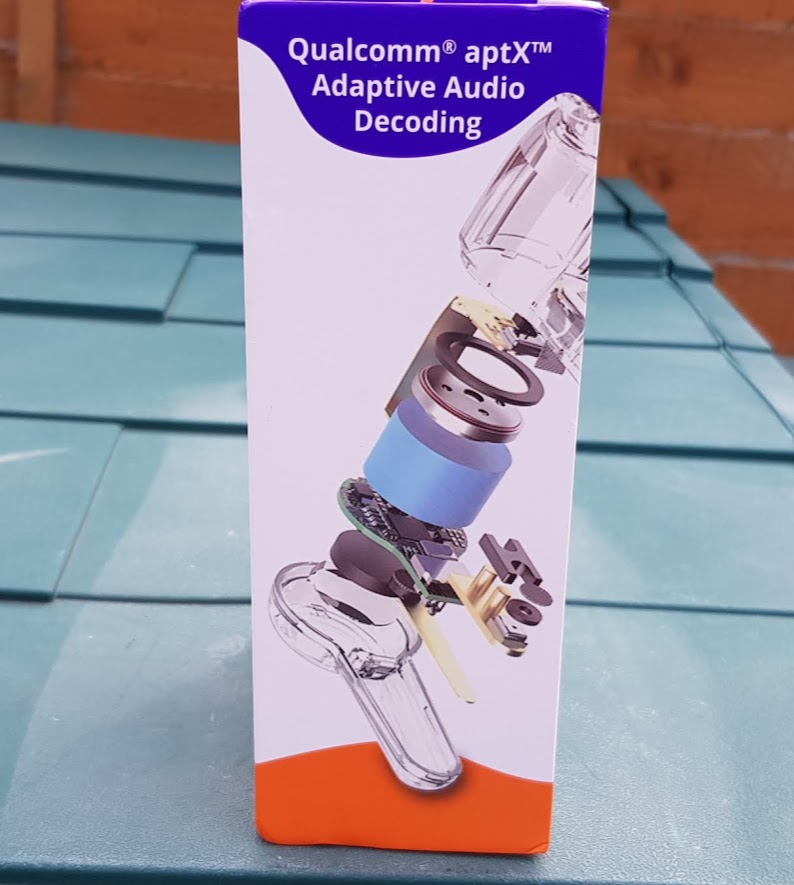 Tronsmart recently sent me their Air + model to review. Having experienced their Air model to good effect, I was curious to see what differences there were. Interestingly, although the Air + model is being advertised as being capable of wireless charging, I found that I could wirelessly charge their previous Air model so apart from the larger packaging used on this new Air + model, there doesn't appear to be much difference between the two models.
The Air + comes in a glossy black finish and is extremely lightweight. They are clearly modelled after Apple's Airpod Pro's - having a similar finish and a similarly sized case.
Removing and replacing the headphones in the case does take a little getting used to as they don't fit in the same way that the Airpods do - and I think that this is a shame as they're definitely a lot more fiddly in this respect. Perhaps over time I shall get used to it but I honestly think that Apple really nailed it with their design.
The Air + features touch controls for pretty much all the functions - including volume. This is always welcome as it allows you to really Stow away your player and the touch controls work really very well indeed - reminiscent of the Sony WF1000XM3's. That's very high praise as I personally feel that the Sony's have the very best touch controls out there at the moment.
Tronsmart have updated their app to support this latest model and this app allows you to change sound profiles to 6 different presets as well as reconfigure the touch controls to suit your needs. Whilst this app definitely offers some nice touches to the headphones, it would have been nice to have fully configurable EQ settings - hopefully this is something that Tronsmart may introduce with later updates to the software.
Connection to your phone is really quick and easy thanks to the use of Bluetooth 5.1. Range appears to be more than acceptable - easily passing the famous 'bathroom test'. I haven't experienced any drop outs at all and each earphone can be used independently - thereby potentially doubling the available battery life. Speaking of battery life, the Air + is rated to 5 hours playback with the case providing an additional 20 hours. Whilst this compares favourably with the Apple Airpod Pro's, it's not quite up to the standard set by the Apollo Bold's
.
Sound Quality
The Air + tends to veer towards the bass end of the spectrum - much like the Bold's. Playing around with the sound presets on their app doesn't really help tame this as the presets are configured differently on the Air + from the Bold's - even though they're both using exactly the same software. I found that the 'Jazz' setting worked quite well with the Bold's to help tame the bass but the presets on the Air + seem to mess around with the sound profile too much - resulting in me sticking with the Default setting. This is a bit of a shame but something that could be easily remedied with an update to the software.
As with many other Bluetooth TWS headphones, the very top end has been curtailed - resulting in a nice relaxing 'smooth' sound which I found both pleasing and non-fatiguing. These are comfortable headphones - not designed for really deep insertion in the ear canal and, as a result, the ANC isn't quite as effective as the Bold's - although it's fair to say that they're fairly close. Again, like with the Bold's, the ANC and Ambient modes tend to boost the bass but this also offers a nice rounded sound when listening at lower volumes (which for many people is what ANC is all about - enabling listening at lower volume levels without having to compete with outside noise). Obviously switching off the noise cancelling effects improves battery life and offers a flatter sound profile.
From a pure sound quality perspective, the Apollo Bold's do sound slightly better than the Air + model - having a slightly clearer top-end and, for me at least, a better fit. Both headphones do lend themselves quite nicely to low late night listening sessions - thanks to their boosted bass. Interestingly I had to reconfigure the touch controls on the Bold model to get rid of accidental touches when I was listening to them in bed but I haven't had to do this with the Air + model as so far I haven't experienced any accidental touches - strange!
Conclusion
The Air + brings a lot to the table - decent ANC, powerful sound, excellent connectivity, cool tiny form factor (these really can be carried around with you all the time without a problem) and offer excellent value for money - they're far cheaper than the Apple Airpod Pro's - that's for sure. I'm giving these headphones a 3.5 rating because of the excessive bass but I'm really hoping that Tronsmart updates their app to include more advanced EQ settings.
Pros
Lightweight. Good inoffensive sound quality. Pretty good ANC. Excellent touch controls including volume control. Wireless charging.
Cons
Too much bass when listening loud. Battery life could be better. Unusual way the headphones fit in the case. Shallow insertion depth (that's a personal thing though).
Last edited:
Hybrid ANC Earbuds with Sharp Treble & Powerful Bass!
Pros
:
Crisp V-shape sound with powerful bass
Excellent ANC for the price
aptX and AAC support
Outstanding microphone
Mobile App with EQ settings
Long battery life
IPX45 splash-proof
Cons
:
Average fit (at least for me)
Author's Note: The original review can be found at my blog -
Tronsmart Apollo Air Review
@
JayceOoi.com
.
Introduction
Hey guys, meet the latest ANC Earbuds by Tronsmart. Apollo Air is loaded with 35dB full frequency hybrid active noise cancelling. Powered by industry-leading Qualcomm QCC3046 chip with high-quality aptX audio decoding. And using customized graphene driver for better sound quality. Don't forget its six mics with cVc 8.0 technology for crystal-clear calls too. Sound great? Read on to find out...
Special Thanks
This review is possible thanks to below companies. Be sure to check them out...
Tronsmart for this Tronsmart Apollo Air TrueWireless Stereo Plus Hybrid ANC Earbuds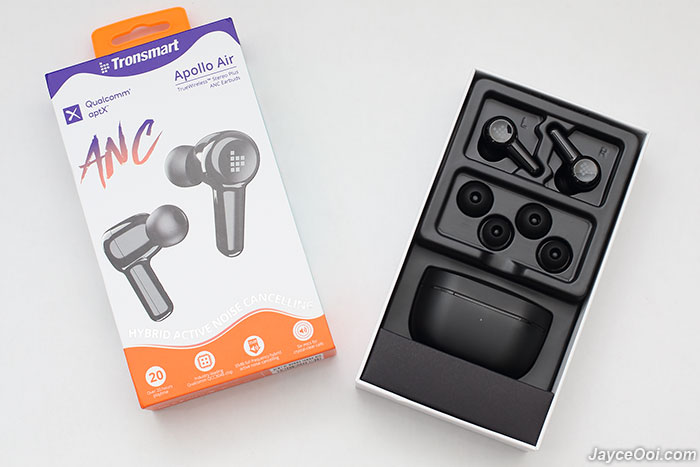 Package Content & Design
Everything comes well-protected just like other Tronsmart products. Once opened, you can find Apollo Air itself, 2 additional pair of ear tips and the charging case.
Followed by USB-C charging cable, warranty card and user manual (in multiple languages). As usual, do go through the guide to know more about Apollo Air.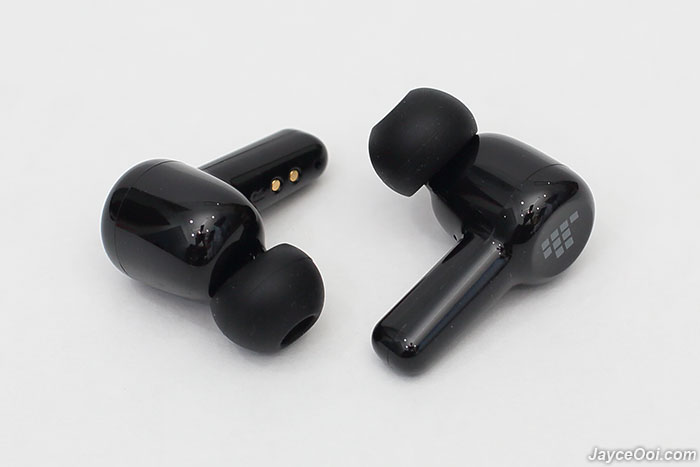 Build quality is great with sturdy plastic housing. Glossy surface as you can see. Super light in weight with just 40g only. It comes in 2 colours - black and white. Yes, it is loaded with 6 microphones. 2 feedback mics are located on the top, another 2 feedforward mics at the middle and the last 2 talk mics at the bottom. The Tronsmart Logo is the touch-able multi-function button. It is very sensitive.
Fit, Comfort & Isolation
Fit is okay not perfect. Maybe due to the oval bore tip design. I am using M size ear tips usually but I need S ones for Apollo Air. Comfort wise is okay as well. No complaint here. Just make sure to pick the correct ear tips size that matches you will do.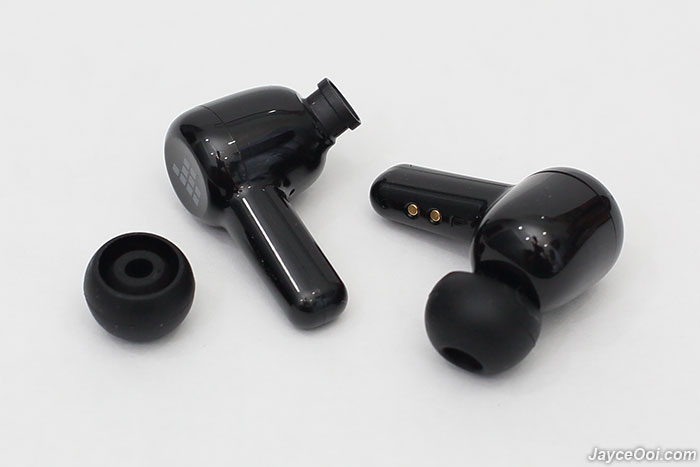 Yes, IP45 dust and waterproof are supported. Just focus on your exercise and no worry about sweat, splashes and even rain. As for passive isolation, it is decent. It can block some of the environment noises while music is being playback.
Performance Result
Excellent Hybrid Active Noise Cancelling performance for the price. Yes, Apollo Air does a great job on cancelling the environment noises. Better in ambient noises like engine from airplane, train and so on. They disappear totally when you play music with ANC turned on. Besides ANC, there are another 2 modes – ambient mode on and off. Ambient sound mode increases environment sound so that you can aware of your surrounding while commuting. Off is the normal mode without ANC.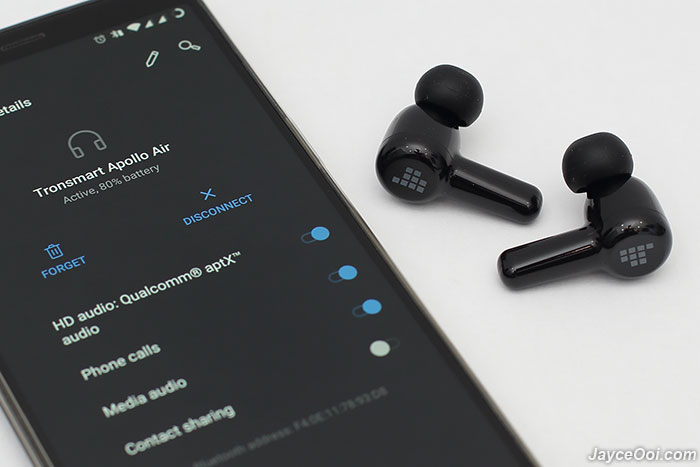 As for Bluetooth range, it is excellent as well for TWS. It can go up to 8m with obstacles like walls. Connection is very stable too. In addition, aptX and AAC audio codecs are supported and they have lower latency than the usual SBC codec. Thanks to TrueWireless Stereo Plus too. Yup, audio and video are virtually in sync that great for movie, games and MV. Lastly, you can use Apollo Air as stereo or mono as you wish.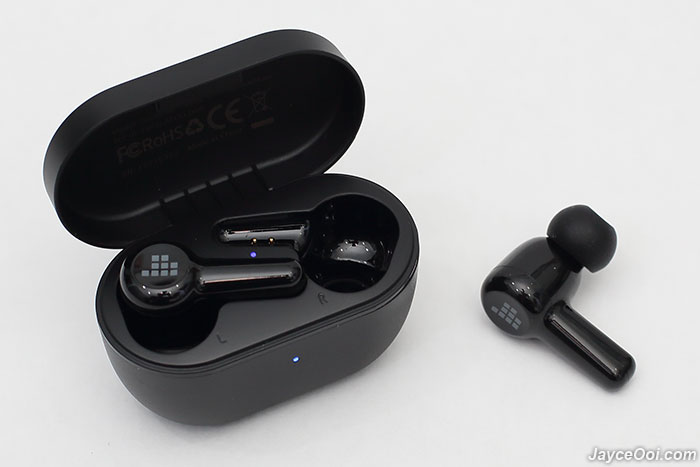 Based on specs, you can enjoy up to 5 hours of music playback. Over 20 hours of listening with the charging case. More than enough for your daily sport activities. And there is battery indicator status on iOS and Android devices.
Yes, excellent phone call experience is what you get. Thanks to 6 microphones with cVc 8.0 technology for crystal-clear calls. Others can hear me loud and clear.
Sound Quality
V-shape sound signature is what you get from Tronsmart Apollo Air. Yes, enjoy much more excitement due to that. And thanks to customized graphene driver for better sound quality too. As usual, this is the result that you get from perfect fit. Bass is gone if fit is not perfect. Highs are super bright and clear. A little bit too sharp for my taste. Certain songs will have harshness a bit. As for mids, vocals sound natural in both male and female. Placement correctly which not too close nor too far. Bass is punchy and powerful. Not bloated like those budget ones. The soundstage is decent. Not the best out there nor the worst. Instruments placement separation is clear even in the complex scene thanks to the sound clarity.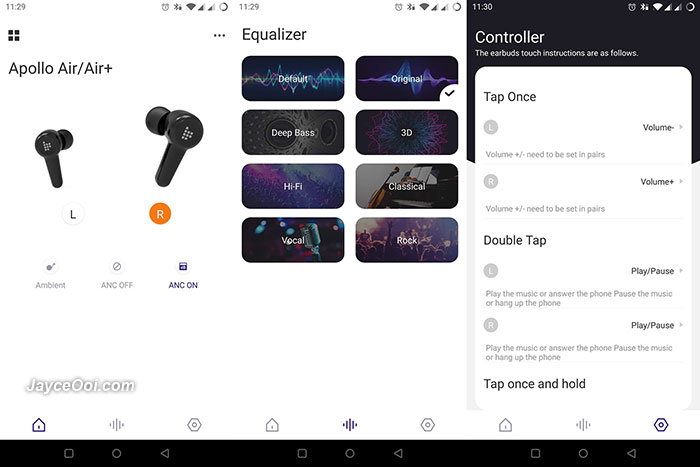 That's for the default setting. You can adjust its sound signature with equalizer in the Tronsmart app. There are Original, Deep Bass, 3D, Hi-Fi, Classical, Vocal and Rock. Each one of them has its own sound signature. Personally, I prefer Classical the most as it reduces the treble sharpness a bit while still retaining the powerful bass.
Advantages
Crisp V-shape sound with powerful bass

Excellent ANC for the price

aptX and AAC support

Outstanding microphone

Mobile App with EQ settings

Long battery life

IPX45 splash-proof
Limitations
Average fit (at least for me)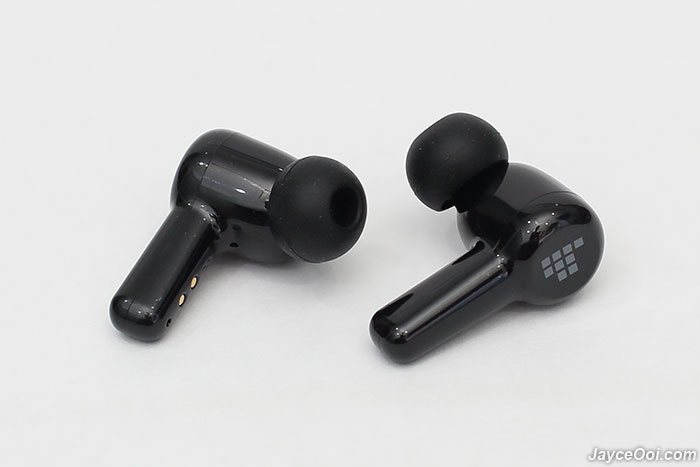 Conclusion
Hybrid ANC earbuds with sharp treble and powerful bass! Excellent ANC performance for the price. Don't forget the crystal clear call too.