Best single dd iem under 100$ ?
Pros
:
Timbre , staging, imaging, awesome low end , fun and easy to listen to. Sounds great on a phone
Doesn't need an amp.
Cons
:
Doesn't get even better with big amps
Tc01 review Best single dd iem under 100$ ?
Great vocals
Detailed yet relaxed combo
Very good low end , not bass head but sounds right , fantastic bass
Great fit and comfortable
Realistic timbre
Doesn't need amp to shine, excellent performance from phone
Relaxed good treble
Sounds very similar to bl01 but better ( enough to justify double the price and be worth it )
Fantastic imaging ,staging and separation
Big sound stage
Treble has good extension but is slightly
Polite
Mild energy and v shape but over all very fun iem, punches way above its pay grade
Best 50$ single dd iem currently? Perhaps
Good tips
Sounds better with copper cable ( to me )
Heart mirror, Kbear diamond ... see review
Sleeper...
Pros
:
Fantastic bass, decent resolving mids, great separation , tonality , price.
Cons
:
Mid bass is slightly overpowering
Tripowin are known as makers of very decent cables. Having not heard the well received TP10 I knew very little about Tripowin as makers of iems. Just before Christmas I saw a review by a well known reviewer (bad guy) on you tube looked them up on Amazon, six days later they arrived. I was surprised how cool and sturdy they looked. The Tripowin utilises a single dynamic driver. Not bucking the current trend. So I expected cohesiveness alongside speed and good tonal range. They came in a modest box. The cable looked decent for the price. Stock tips looked a bit meh!! Immediately swapped them for a pair of final tips. I was very surprised at what I heard. Summary."Punching above their weight" is possibly the most overused terms in audiophile land. In this case that annoying phrase rings true. The thing that struck me immediately was clarity. No budget veil here . Lows , mids and highs have a resolve I've not heard many times in this price range. Vocals sound glorious , tonality is on point. Timbre is very good. All in all they are indeed "punching" Lows. The lows are clean ,fast and tight. Impact is great. Maybe a tad too much mid bass but that can be overlooked. The speed and clean delivery makes a mockery of the bloated bass of budget darlings the Blon 01 and 03. Notes are rounded , decay is swift. No bounciness or bloat not to my ears . Texture is good , I've heard better but no complaints. Bass heads need not apply. Mids. Midrange is the special sauce on any set. I can report that the 01 delivers. Weight is decent. Female vocals sound wonderful , due to a slight emphasis in the upper mids. Pristine is a word I like and sums up perfectly the female voice. Male vocals are good but lack a bit of meat at times. Listening to Marvin Gaye his falsetto at times sound a bit feathery. No sibilance or shoutiness the bane of budget sets at times. Yes it is V shaped but tastefully done. The midrange are not scooped out but recessed not at the detriment of definition . Highs. Whilst your not going to get great extension thankfully the highs are not dark or particularly rolled off. They shimmer and sparkle. Edges sound clean at times the treble come across a bit thin , could do with a bit more weight but we are talking under $49 who's complaining? Treble is smooth and silky . A round of applause. The rest. Stage and imaging are very good. The stage lacks depth but is wide enough never to leave you wanting. Imaging is slightly above average . You can easily point out where the instruments are supposed to be. Separation is very good. Has an airiness which belies its price. You never get the feeling of stuffiness or claustrophobia. I would say it's a definite strong point with these mini marvels .
Verdict. I must say im slightly in love with the TC-10 .They are so pleasantly tuned and inoffensive. Listening to music on this set is an absolute joy. No peakiness (is that even a word?. In fact there is not one thing about them that is abrasive in anyway. Lows are fast , agile and a real highlight. Vocals have a robustness I've rarely heard in the budget category. Also to be noted is the clarity and floaty feel that is everpresent leaving you with a heady and euphoric feel. Yes the budget world is full of great sets . SSR , Blons , K bear Lark etc etc. I would take these over any of them because I don't ever get the feeling there is anything missing when I listen them. Tuned just right. A job very well done .
Last edited:
Super-Blond
Pros
:
Evocative flea-powered bass experience
Big lumberjack-sound from your phone
Real-life timbre at a fantasy price-tag
World-class, correct & detailed reverberations
A balance of detail and laid-back-ness
Golden-positioning of elements not too far-back or too-forward
Super-easy and comfortable fit
Not too heavy, not too small
The IEMs stay in place
Amazing $49 value in sound
They sound way better than you think they may sound
Instantly likable tone
Instantly listenable
Instantly fitting
You won't have to buy instant noodles or instant coffee to afford Hi/Fi sound
Thick robust vocal-weight
You can thank-me later
Cons
:
Kindly Look Elsewhere
Tripowin TC-10
Just when you think you've seen it all, along comes Tripowin.




That's right.....the name is TRIPOWIN. It's perfectly "OK" to laugh here! The name takes me back to July evenings at the carnival; you know the one place you see those made-up names on the rides and attractions............made up as a kind of juxtaposition use of the English language. And...........while you may question the aloofness and haphazardness in the name itself, this single IEM shows a pedigree and seriousness of intent through-out. In fact it's the kind of device that slowly gains more respect and appreciation the longer you get to know it.

The name in and of itself............a symbol of all the charm and quirkiness we have come to expect from new cutting-edge Chinese IEMs



I kinda can see where this is going. New Chinese audio manufacturers in the future!

Loop-O-Plane Disk'O Rock-O-Plane Roll-O-Plane Tilt-A-Whirl


Tripowin emerged (from Shenzhen) in 2019 making splash with a range of quality cables. Tripowin's only prior IEM offering was the unnoticed TP-10, a $34.99-$59.00 5BA IEM..... seemingly made at the same factory that the Knowledge Zenith IEMs come from?

While being strangely unique and different, there has yet to be anything before like the Triptowin TC-01 in my experience? The strangeness is in a good way.............both in form-factor and tone………we will get to all that uniqueness in a bit.

Get them here:
https://www.linsoul.com/products/tripowin-tc-01


PRODUCT SPECIFICATIONS:
Model Tripowin TC-01
Sensitivity 104dB SPL/mW
Frequency range 20Hz-20KHz
Impedance 16ohm
Noise isolation 26dB
Cable length 1.2m
Plug 3.5mm
Connector 0.78mm-2Pin
10mm DD
Silicon coated on Polyurethane
Product Packaging:
Fantastic as it may seem our IEM case has a special loop strap for hanging the IEM case off your belt…..………you know for going on carnival rides? Included is a set of small, medium and large tips, some paperwork (a cable) and a nice case. The back of the box shows a frequency response graph and list of specifics.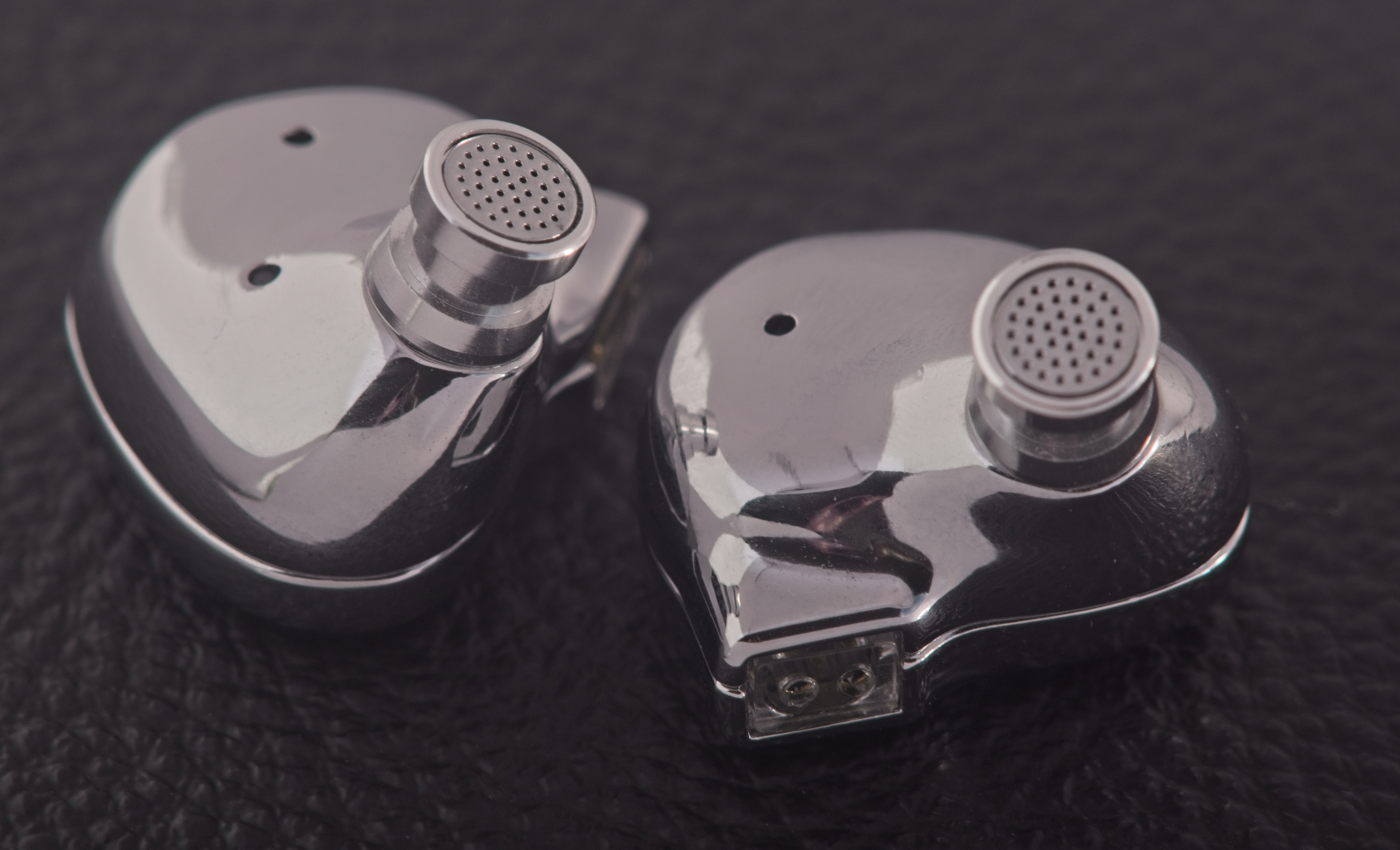 IEM constuction and form-factor:
I'm at a loss of the material being chrome plated steel/iron, or zinc alloy? I'm not even sure of it being a two piece or three piece design. We have all witnessed CNC nozzles threaded and placed on..............or smartly manufactured right in place. The shell is of a medium size and weight............and better fitting than the BLON BL-01. The IEM sits flush and is actually quite thin really. No "toe-in "or "nose-in" effect like the BL-01 wants to do. Also with pretty much any tip they just fall into place and stay there. Smartly Tripowin has included fairly long tips which help effectively increase nozzle length. While the nozzles may be borderline short they just fit my uses.

Looking close..........microscopic screens are placed behind the two air "in-and-out" vents facing towards the listener for when the massive DD goes into action. Also the main nozzle tip is fashioned with the nicest "spaghetti-strainer-kitchen-appliance-screen" mounted almost flush with the nozzle end. Around that nozzle end is a one-of-a-kind brutal lip adding to holding on any tip you throw at it. The cable placement plug area is fully flush allowing freedom for any two pin you choose. After 25 or more cable change-outs...........I can report the socket pin holders are super well-made and tolerant of Redcarmoose abuses.
Cable:

As far as construction it's actually very vague what the 0.78mm-2Pin included cable is made from. Also take note there is no choice of plugs (when ordering) so it's a single-ended 3.5mm gold plated plug. Overall the cable is especially nice......as expected at this price range being one of only two IEM releases from a known and respected cable maker. Ergonomics are great, though after the Y split it does get a little tangled on the way to the IEM. The ear-hooks are comfortable and the metal 2 pins are color coded red and clear. Part of my testing process is to start with the included cable then after a day or two start switching cables after I feel I know the IEM character and cable character. After two days switching to a nice 4.4mm SPC cable actually went and showed a slightly expanded upper region. Finally settling on the

$18 FAAEAL Hibiscus 4.4mm High Purity Copper 2pin Cable seemed to be a great match.

............................It's time to take a seat.






Normally............I try to make these reviews short. Even obsessed-IEM-audiophiles don't want to read super long rambling reviews most of the time. Let's face it, some of the subjective test details can often create one boring read! Some of the best reviews are effective due to 1/2 the information left out for easy reading.





yet........with the above in mind........................





Complete Sound Quality Outcome in Relation to Cable, Tips and DAPS.......and a Desktop



Even after much time spent, the TC-01 will continue to hold an air of mystery. There will always be surprises............especially how intense the bass is with EDM, only to find it pull all the way back in rock songs previously thought of as thick. Your first take is that we found a bad and uneven non-correct frequency response..............it's either that or one of the best IEMs ever made? Then you listen to a modern OST, to hear tiny artifacts of instrument cases falling over in the background sounding like thunder? This mixture is as confusing as sneaking a flask of moonshine into the town opera house. Seemingly totally correct yet at the same time a $49 IEM being the best thing you've ever heard, like your getting away with something? Is this all too good to be true?



Different source, cables and tips made a giant TC-01 sound change here. Unexpectedly a grand adventure started to unfold with results so important they became the focus of this review. Such drama demanded to be documented, so at the risk of making this review a sleeping tablet, here we go!

Such findings offer variables of tone in a concise and repetitive manner. And even if your a cable non-believer, keep in mind the different cables are used with different amps getting results here. And while I do believe different cables sound different; 1/2 of this process is also getting changes from different amp personalities. Such information here should act as a guide to encourage experimentation (from new owners) as a path to successful end sound goals. Just the fact that this funny named $49 IEM has this unheard of tone-chameleon ability is rather entertaining......if not an experience holding surprising bewilderment!

Let's get going:


I did cable/amp changes on the TC-01 about 25 times.

Cables used:
1) The included cable 3.5mm
2) The DUW03 #8Core SPC Modular Cable System 4.4mm
3) The Hansound Audio ZEN 4-wire OCC litz copper cable 4.4mm
4) The $18 FAAEAL Hibiscus 4.4mm High Purity Copper 2pin Cable 4.4mm



Tips:
As far as tips I used the DUNU Blue L tips, the Sony Triple Comfort Foam tips and the included large tips. I finally settled on the Triple Comfort Tips as they provided the best air-tight fit. Note though the included tips are actually fantastic being extra long and offering a medium "nice soundstage" bore. I will always end with tips that make me feel closest (physically/sonically) to the IEM regardless of design.



Cable/Tip/ Optional Source DAP-Device Conclusion:



The TC-01 is a very vivid IEM. Such size of replay and ability to deliver "audio-drama" means it can be joined up with a phone with the included tips and cable for world-class results. Interestingly enough, audiophile music must be used to reach this area; as in phone use, the TC-01 is simply good at expressing what's there.


Keep in mind the Tripowin TC-01 is the poster-child of the V response, yet upper-midrange gets the love too!




A dip climbing out at 1K


A peak above IEF neutral target at 2.5K
A boost at 4.8K above neutral


A possible peak at 8K, one at 11K and slightly at 17K (Take note, the 8K peak is often in an area of testing device coupler resonance) (Secondly above the 8K are not areas of hearing sensitivity, thus less crucial)



The response from a phone is maybe the important first clue to what's going on? This results from the clean and reserved lower midrange, pretty much the opposite of the IEMs they actually hand out with phones to use.

I have drawers of Chinese made IEMs that simply don't do this style of audiophile transient bass edge. Not only that, but because of that, we are gifted with an over-all fast and responsive and fully accurate presentation. Such an audiophile rush is rarely if ever found by joining a $49 IEM to a phone. These are the times we live in and this is what this single review is about in a sentence.

You truly are off the hook, and can stop reading now.



In fact, after my adventures in trying to get the TC-01 to become more vivid, I realized this moonshine was way too strong. Yes, audiophile cables did do their regular improvements..........a bigger soundstage.............more..........

.even........

more bass if you wanted it. Separation took place with better sources. And.......at the end of the day, yes, of course we found improvements. Still I had to go back.

There was a prim-and-proper replay on the IPod Touch 5th Gen. that was maybe what this IEM was all about?

It is absolutely an audio-microscope with better gear and it does climb up and away on all those aspects we try to find. Still there was a charm in that the IPod playback was not all that compact in soundstage. The IPod had audiophile bass. The IPod also showed a correct and non-digital sounding treble and midrange. So all I can say is if you get this IEM, don't get rid of the included cable or tips. Also just remember that even with too much moonshine..........you still need to find your way back home again.

I settled with the $18 FAAEAL cable in 4.4mm with the Sony Triple Comfort Tips and Sony 1A Walkman in direct mode with "J" region and MrWalkman's DMP-Z1 emulation firmware MK2. The 1Z was too bass heavy yet surprisingly the 1Z treble was not too bright? There is a style of supreme bass clarity and if offered by the file.........a deep low-end reaching those epic sub-levels. Remember those drawings showing the unexplored ocean depths? The bass tone is reaching those deep exotic levels. Though keep in mind it's just this IEMs ability to react with cables and sources to get there. The phone source keeps the general public happy parlaying a more straight-laced yet still exciting bass experience. Yet for those bass heads that want to explore the low limits it's there to be found totally free of EQ. It's this magic ability of the TC-01 being able to take you there.

In contrast to the regular frequencies shown on your standard rock-tracks, it actually may be that there is an issue not making them as thick as normal? They don't sound bad in anyway, but are a cause of confusion wondering if this bass-centric reality has always existed in electronic music, yet never visited except in smoke-filled nightclubs.


Your going to read all the above and think this is some consumer tune lower midrange fog $49 IEM for kids! When in fact it's 100% the opposite. It's simply the best quality $49 bass IEM in history.



Power Requirements:
To study the single DD Chinese budget IEM market at this point in time may mean to go up against BLON? And while I only have the BLON BL-01, it's been rumored that the Tripowin TC-01 is trying to compete in that (BLON line) realm. Both the BLON BL-01 and TC-01 share being single 10mm DD driver IEMs though comprised of different materials. From a sound standpoint they do compare, but in the end are totally different animals. In this section I will try to elaborate on what to expect if you did own the BL-01. This section also is of value if someone was not interested in getting a DAP and simply wanted to get a new IEM (like the TC-01) to use daily with their phone.

First off the TC-01 is way easier to drive. Most know right now that you really can't get good results from driving the BLON BL-01 off a phone. Amazingly the TC-01 is absolutely fabulous from phone or IPod Touch. What starts to stand out is not only the largeness of the sound but the dramatic sub-bass. So while the TC-01 will show the detail improvements from a possibly higher quality source, a phone or IPod Touch is complete and competent as a source for the TC-01.



It's emotional using OST style of music in Apple Lossless on the IPod Touch with the TC-01 due to sounding so very correct. Fast edge transients in timpani/kettledrum attacks. Super low and fast sub-bass extending way out in the sound stage.



In my minds eye I can just sit back and envision thousands of folks in cellphone shops getting ahold of the Tripowin TC-01 and having this jaw-dropping musical experience for $49! I'm not a budget IEM specialist, yet I can't imagine cellphone music getting any better than this for $49?

To be realistic here...........to sound the best the cellphones are also going to need well recorded music to sound optimal. The only reason playback is even so good is due to our TC-01 ability at hand. You you can't make a silk purse out of a sow's ear!




What about using my phone?


Almost the same soundstage you get from a dedicated DAP; and really the TC-01 has an amazing way of sounding good no matter what you would choose to use as source. And while the BLON BL-01 is the FOTM in many ways, I can't help but guess that this is doing what the BLON does...........only it's doing it better and with way less fuss. As much as the BL-01 is cranky........the TC-01 is forgiving of source and does it's magic basically for free!






In comparison to BLON BL-01


In many ways this is not a fair fight at double the money for the TC-01? Still as far as market demographics go these two IEMs are tuned similar and targeted to the exact same market. So it's safe to say someone with a BL-01 will be seriously curious about the TC-01. Both single DD driver 10mm, both in shinny solid metal cases. I wonder what would have happened if the TC-01 came out first? What would have happened if the electric-car came out before the gas automobile? Oh....wait?

This section is by far the easiest to put together. These differences take place due to the BL-01 and TC-01 being very different animals. In some ways they have the same sound, yet the TC-01 is so far ahead in over-all quality it's not even a contest. It's one of those contests the spectators laugh at.



BLON BL-01


Needs power
Needs SPC cable after mental adaptation sends it darker in perception
Needs an afternoon of trying tips
Has naturally compressed midrange and treble



Tripowin TC-01


Flea-powered
Perfect bass even from a phone
Expanded out midrange and treble clarity in comparison to BL-01
More detail all around
Better imaging and way bigger soundstage
No corrections needed
No extra cable needed
Over all better resolution







Sound Conclusions


Testing IEMs is actually very simple. It takes very little judgment or skill at times. Reason being is when you have a great IEM you can basically play any music and not want it to stop. The IEMs in the world that hold the most musicality draw you away from criticism or analyzing anything at all. Strangely this can even go on without one special feature of trick you may think they need to do. This may sound simplistic or shallow but our main issues are normally bad (off) things we hear. So......when all is well, all is well. The TC-01 is like that. Though to be honest it plays some genres better than others. And while there are no IEMs that are perfect......there are way more $49 IEMs that are way way less perfect on average.

Bass:
It's got that dip making it a V signature, but to tell you the truth (listening) it's not that bassy with rock? And to me that's one of the most interesting things here. Where this IEM gets bassy is with electronic music and EDM. Even still with all this talk of bass, the bass is technically special, textured and fast. The lower midrange is kind-of middle of the road for a V signature, but it's definitely not slow sounding or missing a bunch of wanted detail? The bass has a very special way of positioning where it kind of sits and allows everything else to be heard. In so many ways this style of bass works magic, especially with EDM where it's tight and contains great Pace Rhythm and Timing. It's not quite as defined as the Thieaudio Legacy 4 8mm DD I just reviewed..........but nothing is. It does have a small small area where it's not 100% defined, yet it so technically correct across the board there are no worries.........especially at the asking price.

Burn-in:
While questionable as reality or a mental aberration of reality, IEM burn-in was performed for the sake of completeness here. The included cable was burned in for 40 hours and the TC-01 for 50 hours. Upon the end of the process a noticeable increase in soundstage and fluidness of character seemed to take place. Bass presence also seemed to increase but by a marginal level. The above could also be attributed to mental burn-in......none the less an experienced component here of the subjective review process.

Equipent Used:
BLON BL-01 Universal IEM
Thieaudio Legacy 4 Universal IEM
Tripowin TC-01 Universal IEM
Listed (Above) 4.4mm OCC Pentaconn Plug cables X2
Listed (Above) 4.4mm SPC Pentaconn Plug cable X1
Included Tripowin TC-01 mystery cable 3.5mm
Sony Walkman 1Z in 3.5mm and 4.4mm using "J" region MrWalkman DMP-Z1 emulation MK1
Sony Walkman 1A in 3.5mm and 4.4mm using "J" region MrWalkman DMP-Z1 Emulation MK2
Sony TA Desktop Firmware 1.03 in 3.5mm and 4.4mm Walkmans as file servers/Cradle
AudioQuest Carbon USB
Apple iPod Touch 5th Generation with specific ALAC files OST and Metal/Top 40

Music Used:
Various OSTs in 24bit
Top 40 in 16/44.1 and 24bit
Rock in 16/44.1 and 24 bit
Metal in 16/44.1 and 24 bit
Electronic in 16/44.1 and 24 bit
EDM in 16/44.1 AND 24 bit

IPod Touch Test Files made into ALAC in Foobar2000

https://www.prostudiomasters.com/album/page/57213

These songs as well as some rock and metal I used to try and fully become certain of the IPod ability with these IEMs. Reason being is that it's a profoundly good recording which is able to show and outline the ability of good audio gear.

https://www.head-fi.org/threads/tripowin-tc-01universal-iem-49-00.951187/

Disclamer:
I was contacted by Lillian at Linsoul asking if I was interested in reviewing the TC-01. I then later received an email of shipping and the IEM arrived by DHL in 48 hours. These are my words, your results may be different; especially if you're sensitive to bass and treble.
Last edited: