Trinity Audio Phantom Sabre Earphone Quick Review by mark2410
Thanks to 
Trinity
 for the sample.
Full review here 
http://www.head-fi.org/t/823334/trinity-audio-phantom-sabre-earphone-review-by-mark2410
Brief:  That Vyrus thing, just more and better everything.
Price:  £125 or about US$152
Specifications:  All aluminium CNC machined shells, Twin push/pull driver set up, Titanium diaphragm drivers, Impedance: 16Ohm, Sensitivity: 108 +/- 3DB, Frequency response: 20 - 20000Hz, 24ct Gold plated 3.5mm Jack, 2 Pin detachable cables x 3 (included as standard) 1 x standard Trinity multi-braid 1 x memory wire multi-braid 1 x Fabric cable with mic/remote/volume control
Accessories:  5 x pairs tuning filters in standard length for shallow insertion and long length for deep insertion., OFC copper cables, Huge accessory package inc our standard case, 6.3mm adapter, 11 choices of eartips (S/M/M/L silicone, double flange,  M/L Memory foam, SPINFIT ear tips (SS/S/M/L)
Build Quality:  Excellent.  The jack, adapters and buds are all metal and you get 3 user swappable, replaceable cables.
Isolation:  A little dependent on your tip and filter choice but rather good for a dynamic.  I was happy to use out and about and on a bus.  Tube commutes and long flights they wouldn't be my first choice.  Easily enough to make you road kill if you forget what your eyes are for near traffic.
Comfort/Fit:  Excellent.  I didn't love the shorter filters but the longer ones were perfect for me.  Happy to wear them all day and effortless to put in.
Aesthetics:  I love bare metal, especially this darkened gunmetal colour.  I think they look fantastic.
Sound:  Like their siblings the Vyrus these are beasts.  Loads of vigour and potency encapsulated in such an itty bitty package.  Their dual driver, push pull configuration means that the bass especially is so unyielding and firm.  Its gloriously good and manages to pull off a magnificently dark and grand acoustic signature.  So epically scaled in their power that to borrow from my Vyrus review, paint an image of dark and stormy night.  That foreboding sky, so dark yet with flashes of lightning flittering across the broad expanse of sky.  The darkness, the brilliance of the lightning, the bass the mesmerizing shimmer of treble providing contrast.  It is all an extravaganza of wonder that you seldom see these days.  So often bass, that darkness comes with great dollops of richness and warmth, not that they are bad things but I find this dark, this more greyly monochromatic presentation comes across sooooo much more clean in its presentation.  It may not be for everyone but I find it to highly refreshing whether you go for stupid amounts of bass or blindingly bright in your filter choices.  There is just something so pallet cleansing about the Sabre's sound, love it.
Value:  At just £125 yep, you get every accessory you could think of and more then you get a very highly customisable sound with its array of filters and tip options.  There isn't really any down side to the Sabres at this price.
Pro's:  Epic, dark and grandiose sounding.  Highly customisable.  Vigorously impressive.
Con's:  If you want to melt in to a warmly rich acoustic puddle, this isn't it.

Pros
:
Overall build/design, fit, sound quality/clarity, filter system, value, cable options, accessories, filter lengths
Cons
:
Some minor issues with build, connectors tight, limited with tip usability (narrow nozzles)
INTRODUCTION
I've been working with Trinity (Trinity Audio Engineering) for a couple of years now. I don't get paid, but I do get listened to, and it has given me the opportunity to be part of the development process. Basically I try the new prototypes, give my feedback, and then it is up to Bob (the man who is the brains behind Trinity's product range) who ultimately makes the decisions on how to proceed – and whether to incorporate our feedback (myself and a couple of other Head-Fiers) along the way.
The underlying vision and philosophy behind Trinity is that high quality audio should be affordable to everyone – and without compromising on build or materials. And just because it is high quality – it shouldn't mean it has to be high cost.
Bob has been incredibly busy over the last couple of years, and this has led to the release of the original range (Hyperion, Techne and Delta original), and since progressed to the Atlas and Delta V2, and now the latest releases of the Phantom/Master series (Sabre, Master4, Master6, Phantom Air and Hunter – I should have most of these soon). One thing I really appreciate with a company like Trinity, and a designer like Bob, is the willingness to involve his consumers in some design decisions, so that the end result is (hopefully) exactly what the target audience is looking for.
I count myself incredibly lucky to have been able to work with Bob on this project – via email, PM and phone – and must admit a little personal pride in what Trinity have achieved. So without further comment – let's have a look at the new Sabre – the first of the Trinity IEMs to employ push/pull dual dynamic drivers.
DISCLAIMER
I was provided with the final model of the Sabre on its completion. These were given free of charge for the purposes of reviewing them after the public release. Bob does not expect them back. In the past I have purchased Hyperion (2) and both versions of the Delta (V1 and V2), but have been also provided free review samples (either prototypes or finals) of the Hyperion, Techne, and Atlas.
Apart from my obvious involvement in feedback on the development, I am not otherwise affiliated with Trinity in any way, nor do I make any financial gain from my contributions.
PREAMBLE - 'ABOUT ME'.
For the purposes of this review - I mainly used the Sabre straight from the headphone-out socket of my FiiO X3ii + E17K, and also used (at different times) my iPhone 5S, and a variety of the other DAPs I have around me. Although I tested them with an amplifier, I do not think they benefit from additional amplification (I use mine mainly for consistency when reviewing and also to extend battery life on the X3ii). In the time I have spent with the Sabre, I have noticed no changes in the overall sonic presentation, but am aware that I am also becoming more used to the signature of the Sabre as I use them more often (brain burn-in).
This is a purely subjective review - my gear, my ears, and my experience. Please take it all with a grain of salt - especially if it does not match your own experience.
THE REVIEW
PACKAGING AND ACCESSORIES
The Sabre arrived in a slightly different Trinity retail "book style" retail box – still measuring 125 x 190 x 55mm – but this time in a darker charcoal grey with red and silver text. The box is well presented, with the Trinity logo and model (SABRE) on the front cover, and specifications, accessories and a little about the Sabre on the back. There is also a window so you can see the Sabres nestled nicely in their foam cut out.
Opening the front flap reveals a foam inner with appropriate cut-outs to house the Sabre, carry case, provided tips, and filters.
The entire package is massively comprehensive and includes:
The Sabre

The Trinity zippered carry case

5 pairs of long tuning filters

5 pairs of short tuning filters

4 sets of silicone tips (1 pr small, 2 pr medium and 1 pr large)

1 set of dual flange silicone tips

2 sets of foam tips (1 pr med and 1 pr large)

1 multi braid cable with formable ear-guides, 1 standard multi braid cable (no ear-guides), and one cloth covered microphone enabled cable

1 shirt clip

1 straight to right angle jack converter

1 fold-out manual

My Sabre did not come with Spin-fit tips, but I understand that Bob is now including these also.
The Trinity standard case is black, has an internal mesh pouch for tips etc, is triangular shaped, and zips to open/close. It is reasonably spacious, has a good mix of both flexibility and strength – so it is comfortable to pocket, but still protects your IEMs really well.
TECHNICAL SPECIFICATIONS
(From Trinity)
FREQUENCY GRAPH
The graphs below are generated using the Vibro Veritas coupler and ARTA software. Ken Ball (ALO/Campfire) graciously provided me with measurement data which I have used to recalibrate my Veritas so that it mimics an IEC 711 measurement standard (Ken uses two separate BK ear simulators, we measured the same set of IEMs, and I built my calibration curve from shared data). I do not claim that this data is 100% accurate, but it is very consistent, and is as close as I can get to the IEC 711 standard on my budget.
The graphs are provided merely as a point of discussion, and later in the review I've included comparisons to other IEMs for similar reference. The graphs in this section are the Sabre with gold (or middle) long filter. I will discuss all filters and their effects in the "filter" section of the review
What I'm hearing:
Mildly elevated bass response, mainly mid-bass, but with good definition.

Typically "Trinity House Sound" slightly recessed lower mid-range (relative to bass), with comparatively lean lower-mids, and raised upper-mids – particularly in the presence area from 2-4 kHz. This leaves deeper vocals a little thin in body but quite clean and clear.

Upper mid-range is emphasised, and this does colour female vocals (adds euphonic warmth), and indeed female vocals are a little more full.

A bit of recession in the lower treble, but climbing to a peak at around 8-9 kHz. Quite smooth for the most part, but can expose sibilance in some tracks.

Overall it is a V shaped signature with warmer bottom end, clean and clear vocal area, and somewhat smooth upper end which also manages to portray upper end detail (cymbals ) pretty well.
I included the CSD also, and you will see evidence of some ringing at 5 and 9 kHz, but comparatively little overall bass bleed into the mid-range frequencies (which is good considering the mid-bass hump with the gold filter).
BUILD QUALITY / DESIGN
The Sabre is quite different to Trinity's previous designs, and this time consists of a circular 15-16mm polished aluminium alloy shell with a vertical/angled forward cable exit and forward angled nozzle. The shell on this pair is gun-metal, nicely polished, and very smooth (no rough angles) – so it is very comfortable when worn. It's depth is approx 10mm.
The shell is two piece with a visible but well matched seam (more on this later). The external face is flat, and has the Trinity name/logo on both earpieces. The interior face is nicely rounded with easily seen left and right earpiece markers. On the side of each ear piece is a single port of vent for the dynamic drivers.
The nozzle socket is approximately 5m in diameter and takes the skinnier type nozzle filters (also utilised on the original Atlas and Techne). The nozzles extend out and up or forward on an approx 45 degree angle (depending on how forward you wear the cable when over ear). The shorter filters have an exposed length of approx 5mm, whilst the longer ones extend this out to almost 8mm – and this has a massive difference for me in achieving a comfortable seal. The filter ends are approx 5mm in diameter and covered in a stainless steel mesh. There are 5 sets of tuning filters included, each in short and long lengths. We'll look at them in more detail later in the review. Each filter this time has a small rubber ring to aid in getting a proper lock once threaded.
The connector socket is 2 pin, and is exposed/raised. The Trinity male connectors are sheathed with the pins protected by the sheathing, and there is a small tab on the interior of the socket so that the Trinity cables can only go in one way (so you can't wire them out of phase – its a neat solution). The cables connectors are quite tight to mate together, and may require a lot of pushing and wriggling on the first couple of attempts. The good news is that you can also use some standard 2 pin cables (see pictures of the FiiO balanced 2 pin cable RC-UE2B). I had to modify the FiiO cable slightly – but it fits pretty well.
There are three cables included – the standard Trinity multi-braid cable (1.3m), a second Trinity multi-braid, but this one has moldable ear guides) and a cloth covered single button remote and mic cable (1.4m) – with separate volume controls.
The multi-braid cables are both practically identical with the only difference being the moldable ear guides. These work pretty well, but I've found that the standard cable fits and hangs over ear so well that I simply don't use the other cable. Both have Trinity's excellent braid – consisting of 4 OFC wires – both sets of two tight woven into a spring like weave. These two weaves are then woven again together below the Y-split. The end result is an extremely flexible, and gorgeous looking cable with virtually no memory. The weave also gives it strength. So far in my testing (over-ear), cable noise is minimal – unless it comes into contact with a rough surface (zipper etc). The cable can be slightly tangle prone – but careful winding and storage solves that easily.
The jack, y-split and connector housing are all a brushed aluminium which looks pretty classy IMO. All have very good strain relief, and the Y-split has a cinch which works extremely well. The jacks are gold plated, straight, and very smart-phone case friendly.
The secondary cable is cloth covered, very slightly longer than the standard cable (1.4m), has a 4 pole straight jack, and this time has a combined single button for track control, volume up and down controls, and microphone port on the left hand earpiece. The push button control is a universal standard (one-click pause/play, two click next track, three click previous track, and press and hold activates Siri for me). The control unit hangs about 10-12cm below my ear if worn over ear, so just below my chin. The microphone is pretty clear, and I had no problems being clearly understood when calling my wife. The cable is slightly micro-phonic but this disappears with careful management. The volume controls are universal and worked on both my iPhone and my wife's Galaxy. The control unit worked perfectly on both – except for the previous track not working on Android (seems to be a common problem). One of the nice things about this cable is that it also perfectly fits my Delta V2 – and it is the one I often prefer to use for the Delta (the volume controls are really handy).
All in all the build quality is pretty good – but I would be remiss if I didn't mention a couple of small issues. The first one has been mentioned by a relatively small number of owners – I can sometimes get connection issues with one of the connectors on the cloth cable and the Sabre. I mentioned earlier that getting the connector all the way down can be quite problematic – and it is the case with that particular cable and the Sabre. The standard cables I have no issues with – they fit well. Funnily enough the cloth cable has no such issues with the Delta V2. If you do get this issue, simply drop Bob or Jake a line at Trinity Audio. They'll have advice how you can overcome it, and if it happens consistently their quality service will make sure the problem is fixed.
The other issue has happened to both earpieces. They may have had an issue with one particular batch and glueing the two sides. Both sides have cracked open on me. The fix is easy, and one you can make yourself. A small smear of elephant glue or epoxy around the shell internal join, and stick them back together. For me it's worked perfectly on both earpieces and I've had no issues since. It did give me an opportunity to take a quick snap of the drivers – so I've included that for anyone interested.
FIT / COMFORT / ISOLATION
I have one ear canal slightly different to the other one (my right is very slightly smaller) - so I tend to find that usually single silicon flanges don't fit overly well. If I was using the shorter filters on the Sabre it would be a shallow fit, and I would tend to have issues. With the longer filters, the extra length has meant I get a perfect seal every time, and most tips have been successful (with a couple of caveats). My usual preference is for the included Crystal foam tips – but I often found that they would slip off the nozzle and remain in my ear. Because of the small diameter of the nozzles, this mean also Spiral Dots suffer the same issue. But I got good results with Spin-fits, Ostry tuning tips. Comply 200, Shure Olives, and either Sony Isolation or the new Trinity Kombi tips (although even those slipped off the nozzle sometimes). My go to with the Sabres most of the time is theKombi tips – providing good fit, durability and seal. Depending on the seal achieved there is sometimes mild driver flex.
Isolation with the Sabre will depend on the seal you achieve and insertion depth. I would call the isolation average for a dynamic driver. With music playing, isolation is pretty good. With nothing playing I can faintly hear the keys on the keyboard as I type.
Comfort for me is excellent – the Sabres are one of those designs which simply disappear when worn. They sit well within my outer ear (inside the external ear cavity – between tragus and anti-tragus), and are extremely easy to sleep in. On my recent business trip, I used the Sabres practically every day, and I often slept with them intact in hotel rooms etc. The photo bleow shows the original prototype I had - but the fit is the same.
So the Sabre looks good, has a pretty nice build, and is comfortable to wear. Let's have a look at the filters, and then move onto sonic impressions.
SABRE FILTER SYSTEM
The Sabre comes with 5 sets of filters in two different lengths. Each of the short filters stand just under 7mm tall (4-5mm when exposed), with a 4-5mm diameter threaded base, and 5mm nozzle. The filter screws easily into the main body of the Sabre, and can be replaced for different tuning. This time the filters come with rubber rings for easy locking when tightening. Most of the filters have a very small tuning vent located toward and just above the threaded section. The vents control the bass quantity.
The long filters are just over 10mm tall from bass to tip (7mm exposed when fitted) and have the same diameter and outward appearance. There has sometimes been small variances in some of the filters (getting those micro holes is not always easy), but generally the actual channel matching has always been excellent.
Lets have a look at the shorter filters first. On my pairs each filter changes the mid and sub bass from about 200 Hz down – with the bass quantity ranging from highest to lowest – Red, Orange, Gun-metal, Gold and Purple. All of the short filters are near identical from about 300 Hz up. Even with the gold or purple filters, mid-bass is around 10 dB above the mid-range at 1 kHz. The red and orange filters are another 5-6 dB above that – particularly with the sub-bass around 40-60 Hz.
The longer filters on my set are somewhat similar with minor variations in the upper treble (from the short filters), but generally the same shape curve overall. The difference with my set is that this time gold and gun-metal swap places for bass response – and also the response particularly with the purple and gun-metal are a lot flatter. For me this is great, because I really like a much more neutral bass response with just a slight mid-bass hump. This also brings the mid-range recession to far more manageable levels, and balances the overall signature a lot more.
Rather than go through each filter, I'll let the graphs speak for themselves. Suffice it to say, if your preference is for deep impactful sub and mid-bass, the red and orange filters will easily deliver. If you prefer more balance, then the purple filter may be more to your liking.
The spare filters are housed in the now familiar little aluminium tubes with the screw on caps. This is brilliant as the tubes fit neatly in the case pocket so that your filters are always with you – and the tubes should be big enough so that they won't get easily lost. The tubes this time are a little skinnier and a little longer – and will accommodate a full set of 4 (2 long and 2 short) for each colour.
My favourite of the filters is the long purple, but my one wish is that the Sabre had damped filter options. Lets take a look at that now …
SOUND QUALITY
The following is what I hear from the Trinity Sabre. YMMV – and probably will – as my tastes are likely different to yours (read the preamble I gave earlier for a baseline). Most of the testing at this point (unless otherwise stated) was done with my FiiO X3ii + E17K as source, the purple filter in place, and Bob's Trinity Kombi tips.
For the record – on most tracks, the volume level on the E17K was around 17-19/60 (on low gain) which was giving me an average SPL around 65-70 dB (with peaks around 75 dB). Tracks used were across a variety of genres – and can be viewed in this list http://www.head-fi.org/a/brookos-test-tracks.
Thoughts on General Signature
The sound signature of the Sabre is very much Trinity's "house sound" - with typically forward upper-mids, slightly recessed lower-mids and bass that can be either quite robust (red/orange filters) especially with respect to sub-bass, or dialled back to be more of a gentle mid-bass hump (purple filter). There are two main peaks around 4 kHz and 8-9 kHz and depending on your sensitivity to these particular frequencies, could enhance sibilance.
Overall Detail / Clarity
Tracks used: Gaucho, Sultans of Swing, Elderly Woman Behind the Counter in a Small Town
Overall balance and clarity is somewhat dependent on the filter used. At the two extremes, the red filter gives very much a bass enhanced V shaped signature, and upper register detail can occasionally be subdued or masked. The purple filter is the complete opposite with a much drier and leaner presentation which tends to expose all details – but can be a little lean.

Detail retrieval, particularly around the mid and especially upper-mid frequencies is very good.

Both guitar and brass instruments (sax) have very good presence.

Vocals tend to be presented fairly well – with female vocals having slightly more body.
Sound-stage, Imaging, and Sibilance Test
Tracks used: Tundra, Dante's Prayer, Let it Rain
Very good directional queues, and just outside the periphery of my head space – so average width and depth

Good spherically presented stage – not too much emphasis on width at the cost of depth

Imaging is very clean and clear and separation of instruments is very good – especially with purple or gun-metal filters.

Contrast between vocals, piano and cello is excellent with Dante's Prayer. Loreena's vocals are really nice with the Sabre, although there is a touch of sibilance for me at higher volumes.

Immersion (applause section of Dante's Prayer) is extremely good with the impression that crowd is around you (you are sitting right in it). There is very slightly more width than depth. "Let It Rain" also had a very holographic presentation – spatial ability is very good.

Sibilance is present in "Let It Rain" - I know it exists in the recording – and the peaks for me are revealing it (and it can be quite sharp).
Bass Quality and Quantity
Tracks used: Bleeding Muddy Water, Royals
Personally I find the bass impact from both purple and gun-metal filters to be more than sufficient with good speed and reasonable impact.

Switching to the red filter and the Sabre becomes a bass monster – warm lower end with visceral impact.

With the red filters there is an increase in quantity but a drop in quality (less texture and slight signs of mid-range bloom)

Average to good speed and bass resolution with purple filters. Slower and less resolving with red filters.

With red filters there is massive sub-bass for tracks like "Royals", and when the really low bass kicks in there is a lot of rumble (too much for me – but some will no doubt love it). With the purple filters bass is far more balanced and there is still some sufficient sub-bass rumble, but subdued.

With both filters there is good separation between mid-bass impact and vocals with "Royals" - Ella's voice still comes through quite clear.
Female Vocals
Tracks used : Aventine, Strong, For You, Human, The Bad In Each Other, Howl, Safer, Light as a Feather, Don't Wake me Up, Ship To Wreck.
Really nice transition from lower-mids to upper-mids – this is one of the strengths of the Sabre. Very vivid though, the mid-range is not subdued in any way.

Very euphonic presentation with plenty of air and a definite touch of sweetness (colouration) to female vocals

Very good contrast between vocals and lower pitch of instruments like cello

No signs of stridency with Aventine and Strong

Good contrast with tracks having more dynamic impact (Feist, FaTM) – and even with the purple filters, the presentation is extremely vivid and a lot of fun.

Seems to be brilliant with all female vocals and in particular slower jazzy type music from artists such as Gabriella Cilmi, Norah Jones and Sarah Jarosz.
Male Vocals / Rock
Tracks used: Away From the Sun, Art for Art's Sake, Broken Wings, Hotel California, Boulevard of Broken Dreams, Keith Don't Go, Elderly Woman Behind the Counter in a Small Town.
Differences between red and purple filters more pronounced – with red having male vocals appear a little thinner (comparative to bass), while the purple sounds a little more balanced.

Male vocals feel as if they have just a little distance than female counterparts.

Brilliant portrayal of classic rock artists like 10CC and Jethro Tull (that upper mid-range boost really makes older recordings pop). Mix of detail and tonality is very good.

Fantastic with acoustic tracks – stand-outs were Eagle's "Hotel California" and Nils Lofgren's "Keith Don't Go". Really good with stringed instruments.

Very good dynamic contrast with rock tracks, and the bass can be dialled up or down depending on the filter chosen.

With purple filters, Pearl Jam was very enjoyable – texture on Eddie's vocals was really good – just maybe the slightest touch thin (overall tone/timbre). Cymbal decay and detail was excellent in this track.
Genre Specific Notes
Very good with everything I tried, and I found myself enjoying almost everything with the purple filters – but then swapping out gold or orange for bassier tracks if I wanted more impact.

Only critique with some recordings was that if sibilance was present it did tend to be emphasised for me. One of the tracks that was really quite sharp was Adele's "Turning Tables"

Overall very vivid presentation with every genre I tried, and I particularly enjoyed the presentation of both jazz and blues.
AMPLIFICATION REQUIREMENTS
The Sabre is easily powered straight out of the portable devices I have, and I haven't experienced any issues with the iPhone 5S, or any of the FiiO DAPs. With typical pop/rock songs on the iP5S at a volume level of around 30-35%, on the E17K around 17-20/60 on low gain. I did try amping with the E17K, but noticed no obvious signs of improvement. I also used the IMS Hybrid Valve Amp with the purple filters and I did really enjoy that overall presentation (perhaps smoothing the upper end a little – or that was how it seemed to me). Form my tests, the Sabre neither benefits from nor needs additional amplification.
EQUALISATION
You can alter the bass to your liking with the filter system, but it is the upper mid-range and lower treble which are just a little over-done to my tastes. So as I was using the E17K, I simply used the purple filter, and then applied -8 treble adjustment. It definitely took away a lot of the additional vividness or colouration, and for me was a welcome adjustment overall. I'd imagine most may prefer the default frequency response – but for me the extra balance is just about perfect. I've graphed the two so you can see what the adjustment did to the overall frequency response.
COMPARISONS
When the Sabre came out, the introductory specials made it a very low ~$110 (an incredible bargain). It is now at a regular price of USD 165, but this comes down to approx $130 with Head-Fi 20% discount. So to compare I decided to use the two of its siblings (the exceptional Delta V2 and also the Atlas), and for a similarly priced and tuned IEM, DUNU's Titan 5. I've avoided higher priced IEMs like the FLC8S simply because it wouldn't be fair at over double the price.
All of these comparisons are very subjective – and influenced by my own preference, physiology and bias. Comparison was once again with the X3ii + E17K, and the Sabre had the purple long filters. All IEMs were volume matched with a 1 kHz tone and using a proper SPL meter.
Sabre (~$130 with discount) vs Delta V2 (~ $120 with discount)
Build quality is comparable on both. Fit and comfort fall more to the Sabre – and especially so for those with smaller ears. Accessory package similar. Sonically both are excellent. They share a very similar overall signature, with the Sabre just being a little more vivid and accentuated through the upper mid-range. Overall though, I find the Delta to have greater configurability with the tuning, and the ability to tame and balance out the upper mid-range and lower treble is what makes the Delta so good.
Sabre (~$130 with discount) vs Dunu Titan 5 (~ $139)
Both again have very good build quality, and accessory package, and this time on overall fit and comfort I would call a tie. Sonically both have similar signatures with the T5 having a little flatter and quicker bass, and also more overall extension. Both have very vivid signatures, especially in the upper mid-range. Lower treble peaks are relatively pronounced in both, and preference here may be dependent on where your own personal trigger points for sibilance lie. I tend to be very tolerant of peaks at 6-7 kHz, but have issues higher. Two fantastic earphones at two incredible prices. Both represent excellent value.
Sabre (~$130 with discount) vs Atlas (~ $175 with discount)
Again both are pretty evenly matched in terms of build and accessories. The Atlas has the slightly more ergonomic shape overall and also has the water-resistant coating. In terms of signature, the standard Atlas is bassier and warmer – but both undoubtedly share the Trinity house sound with upper mid-range. If I was to choose between the standard Atlas and Sabre, my choice would be with the Sabre – it has the same vivid mid-range, but less bass emphasis. But I also have my special Atlas (with the lower bass response), and as you can see in the graph this aligns the bass closely to the Sabre response. When pairing this with the slightly better shape and comfort, and the slightly lower peaks, I would personally take my Black Atlas (remember this is a slightly different tuning though).
TRINITY SABRE - SUMMARY
The Trinity Sabre is the first dual dynamic push pull IEM I've heard, and it has been a pleasure and privilege to put it through it's paces.
The build is typical Trinity with precision machined aluminium shells, some great cable choices, and a filter system which is very handy for adjusting the bass to suit either a very V shaped or comparatively more balanced signature. The build is pretty good overall, but as I mentioned earlier, I have had some minor single issues with the cable connector and shell joins.
What sits Trinity above some other manufacturers though is their willingness to communicate with the Community here, and allow input into making their products better. They also have top notch customer service – and if anything breaks or has issues, they respond quickly to make it right again.
The Sabre has a bass response you can vary to your own personal tastes, a vivid and sweet mid-range which is coloured in the upper mid-range, and particularly good with female vocals. The lower treble may have issues for some (especially the peak around 9 kHz), but it does respond very well to EQ.
In it's price range, the Sabre once again represent really great value, and my only deductions are for the minor issues with build, and the connectors. It is an easy recommendation for anyone who really enjoys the Trinity house sound, and well worth its comparatively low price. 4 stars from me.
My thanks once again to Bob for the chance to be involved in both development and review.
Pros
:
Insane accessories package, Lots of options to adjust fit and sound, High resolution and detailed tuning, Package and performance exceeds asking price
Cons
:
Driver flex, Upper frequency tuning is slightly unnatural, I would trade one top tier quality cable for the three included in the package
At the time this review was written, the Trinity Sabre was listed for sale on Trinity Audio's website. Here is a link to their listing of the product:  
https://trinity-audio-engineering.myshopify.com/collections/phantom-series/products/trinity-phantom-sabre-push-pull-twin-drive-in-ear-monitor  
Introduction
Trinity has established themselves as one of the best earphone manufacturers around when it comes to price and performance. The company is headed up by a guy from the UK named Bob (formerly of Rockjaw). If you've been on Head-Fi long enough you probably know him well.    
Bob's vision continues to remain the same. His designs start by asking the Head-Fi community what they want want to see/hear in an earphone. He takes ideas directly from the enthusiasts who participate on the Head-Fi threads, and turns their ideas into fantastic products.  
Trinity was launched last year with three earphones in their line-up; the Delta, Techne and Hyperion. After that came the Atlas and Delta V2. I was fortunate to partake in the beta testing process for the Atlas. To this day I still adore Atlas' fit and sound. They rank very high on my list of preferred monitors.  
One thing I've learned from my communications with Bob is that once he's done designing and bringing an earphone to market, the guy doesn't relax for a second. It's like he sets a new benchmark for himself with each new product, and tries to beat it with the next earphone he makes. Great design and sound isn't his only concern. Trinity products come in at prices that can be afforded by the masses. The end result is consumers who feel like they walked away a winner, as well as a camaraderie and loyalty between Trinity and it's target market.  
When Bob told me that he had something special coming soon and asked if I would be interested in beta testing another earphone, I didn't hesitate for a second. The guy called me later that day and unleashed one of the most entertaining "mad scientist" laughs I have ever heard to go along with his distinct British accent. He explained that his brother was big into car audio, and when he showed Bob his "push/pull" subwoofers he just installed in his car, a light bulb was lit in Bob's brain. If it can be done in car audio and improves overall fidelity, why can't it be done in earphones as well? This marked the start of the Trinity Phantom Sabre. Although the Sabre isn't the first push/pull hybrid earphone to come to market (that title goes to Audio Technica with their CKR series if I'm not mistaken) it is one of the first drops in what I assume will become a large bucket of earphones with this successful twin driver design.  
Push/pull drivers consist of two dynamic drivers that either face each other, or face away from each other. One driver is ran in phase, and the other is ran out of phase. When this is done the cones work off of each other's momentum. It's similar to two lumberjacks with a crosscut hand saw. When one pushes, the other pulls, making their cuts more efficient, controlled and with less resistance. Apply these physics to audio, and a dynamic driver's cone resistance and air movement is more controlled. The result is a response with less distortion and higher resolution.  
Although it was initially promising, the beta unit had some minor flaws and tweaks which needed to be addressed. Feedback on the Sabre beta was shared by a few seasoned Head-Fiers and shared with Trinity. Bob finished his tweaks and the Sabre is now one of the latest releases, and the first in the new Phantom lineup. Let's go over them with a comprehensive review, shall we?  
Disclaimer
I was given an opportunity to review a free sample of the Sabre in exchange for my honest opinion and review. I am in no way affiliated with Trinity audio aside from offering some constructive criticism via beta testing. I would like to take this time to personally thank Bob for the opportunity to experience and review the final version.  
My Background
I AM NOT a numbers and graphs audiophile or sound engineer. Personal audio enthusiast? Absolutely! Headphone junkie? Possibly…  
There's something about quality DAPs, DACs, Amplifiers and Earphones that intrigues me. I want to hear any earphone that looks promising, in hopes that I can share my impressions with  enthusiasts and help them find the audio product they're looking for. My Head-Fi profile has a list of audio products ranked from favorite to least favorite. For me, this hobby is more about getting great price to performance ratio from a product, and having a variety of different gear to mix and match. With personal audio gear, we tend to pay a lot of money for minor upgrades. One thing I've learned over the last few years is that just because a headphone has a higher price tag, it doesn't mean that it has superior build and sound quality.  
I'm always looking for great audio at a great price. I'm after headphones and IEMs that give me the "WOW" factor. I can appreciate different builds and sound signatures as long as they are solidly built, with ergonomics and sound that is pleasing to my ears. It's my pleasure to share my experiences with audio products and make recommendations based on gear I have owned and used.  
REVIEW
The Sabre comes in a medium size black box with red and gray accents. The front of the box has the product name and a clear plastic coated cutout revealing the Sabre housings.  
The back of the box displays specifications, and the benefits of push/pull drivers.  
Specifications and Accessories
Specification:
All aluminium CNC machined shells
Twin push/pull driver set up
Titanium diaphragm drivers
Impedance: 16Ohm
Sensitivity: 108 +/- 3DB
Frequency response: 20 - 20000Hz
24ct Gold plated 3.5mm Jack
Accessories:
2 Pin detachable cables x 3 (included as standard) 1 x standard Trinity multi-braid 1 x memory wire multi-braid 1 x Fabric cable with mic/remote/volume control
5 x pairs tuning filters in standard length for shallow insertion and long length for deep insertion.
OFC copper cables
Huge accessory package inc our standard case, 6.3mm adapter, 11 choices of eartips (S/M/M/L silicone, double flange,  M/L Memory foam, SPINFIT ear tips (SS/S/M/L)
As with all Trinity models, the accessories package is insanely good. You have everything you need to enjoy your Trinity earphone. I have the utmost confidence just about everyone who purchases a pair will have no problem finding a combination of tips and filters that is ideal for their fit and sound preference.
Housings
The Sabre housing is a CNC milled and polished aluminum housing. The shape is similar to a stack of dimes. They are lightweight and have a striking appearance. A driver venting hole can be found on the outer back part of the housing.  
Sabre uses a two pin connector along with a rubber/plastic fitting that helps make the connection more secure than just the two pins. The Trinity tuning filters operate as the nozzles wihich screw into a threaded fitting on the housings. There are two different lengths for each filter for fitting purpose. More on this in a bit.  
Cable, Y-Split, Cable Jack, Strain Reliefs
Sabre comes with three different cables. They are better than average quality and cover the diverse bass tuning preferences of most earphone enthusiasts. All three earphones come with matching two pin jacks and somewhat exclusive fitting to help secure the connection. All three cables come with identical straight 3.5 mm gold plated jacks. A metal jacketing leads to a metal spring strain relief. Y-splits on all three consist of a metal jacketing and a rubber strain relief. A convenient and effective chin/neck slider comes on all three cables and works well with Sabre's over the ear fit.  
The first cable we will go over is the cloth coated phone cable. It's covered in a cloth jacketing and features a three button microphone and remote. The cable is decent but comes with some minor flaws. The cloth cable is prone to kinking if twisted or bent in a way that promotes crimping. If not handled carefully, you will catch yourself getting knots and having to fix them. The remote is all plastic and seems to be on the more generic side things. Although I didn't have any issues with the remote, I don't have a lot of confidence in it lasting forever. The chin slider doesn't snug up as far as I would like due to the mic/remote placement. I don't mean to be too critical of this cable because overall it's very decent. To be completely honest I'm not a fan of the increasing instances where new earphones will come with a cloth coated cable, especially ones on the thinner side like this one. In my opinion the negative aspects outweigh the good and I've opted for one of the other cables in the package for my pair of Sabre. Even so, it's nice to see Trinity offer a cable with a microphone and remote. On a positive note, the the cable has very little in terms of spring and memory.  
The second cable is a four strand braided black rubber coated cable. If you already own a Trinity earphone, you will be very familiar with this offering. Aside from the two pin connector, it is almost, if not identical to the previous models released by Trinity. I really like this cable a lot. There is very little if any spring or memory, and the soft rubber coating creates a secure fit when looped over my ear. Although it is prone to tangling and knotting, it can be avoided for the most part by handling them in a way that prevents this.  
The third cable in the set is almost identical to the second, with the only exception being memory wire near the earpieces. If you are a fan of memory wire this will most likely be the best option out of the bunch for you. Personally, I feel the memory wire hindered my ability to get a fit more than it helped. Your mileage may vary.    
Functionality
The three button microphone and remote was tested and works for both Android and Iphone. Functionality was great and I didn't get any lag or hang ups when using it. When talking to friends and family they reported my voice to come through at a three or four on a scale from one to five. The remote did pick up a considerable amount of wind noise, and also noise from rubbing against my collar. All in all, the remote cable performed reasonably well. Again, the plastic construction raises a small red flag. Handle it with care and you shouldn't have any problems.  
Ergonomics, Fit and Microphonics, Isolation
I had no problem getting a secure fit with the Sabre. The over the ear fit works well for my ears. Previous concerns/comments from customers in regards to the Atlas and some other Trinity earphones were that the fit of the Sabre was too shallow. Well, Bob addressed this by offering two different lengths of the same filters (without altering the sound for the most part). That's right, an entire second set of the same tuning filters in a slightly longer length just to guarantee nobody encounters a fit that's too shallow. I prefer the shorter filters due to my ear anatomy. When/if your pair of Sabres arrive, make sure to spend the first day or two dialing in a filter you prefer (both for sound and fit). There's lots of options to tinker with. Bob has done just about everything I can think of to make these work for everyone who buys a pair.  
The large tip selection makes getting a seal easy. Trinity is one of the first companies to include Spinfit tips in their accessories package. These are some of the best tips you can get. I am confident many will agree with that statement.  
The Sabre's over ear fit makes microphonics pretty much non existent. Isolation is better than average. These earphones create a vacuum like seal. So much so, there is a mentionable amount of driver flex. Bob guarantees that the flex won't impact the Sabre sound. If it does, I'm sure Trinity customer service would help with the situation. Lifting the top of your ear with the opposite hand (which opens your ear canal), inserting the earphone, then letting your ear go will allow your inner ear to rest on the earphone tip and create an airtight seal rather than causing pressure build up by jamming them in your ears. This applies not only to the Sabre, but any earphone (especially those with driver flex).  
Sound Review
I did my demo with my usual gear. I used an LG-V10 for smartphone use, and either my Shanling H3 or iBasso DX80 DAP/Bushmaster D14 DAC/Amp for high fidelity portable use. For desktop use, I used my Toshiba Satellite Laptop in combination with a ifi micro iDSD playing at 32/192 kHz. I tested them with several other sources as well. I used Google Music in its highest download quality (320 KBPS), and also streamed FLAC via Tidal streaming service. I also used purchased and downloaded tracks in MP3, FLAC, WAV and DSD. I make sure that any gear I test has sufficient playtime before writing a review.  
I used my usual same songs for testing gear:
"Limit to your love" by James Blake (bass speed, punch, response)
"Doin' it Right" by Daft Punk (sub bass)
"Get lucky" by Daft Punk (bass to midrange transition resolution, male vocals)
"Madness" by Muse (soundstage, separation)
"Some nights" by Fun (soundstage and male vocals)
"The soundmaker" by Rodrigo y Gabriela (texture and imaging)
"Bassically" by Tei Shi (bass to midrange resolution, female vocals)
"Skinny Love" performed by Birdie (female vocals, acoustic playback)
"One" by Ed Sheeran (male vocals, acoustic playback)
"Outlands" from the Tron Legacy Soundtrack (symphonic presentation, imaging)
"Sultans of swing" by Dire Straits (detail, separation, balance)
"And Justic for All" by Metallica (driver distortion, treble response, rock playback)
"Ten thousand fists" by Disturbed (driver distortion, treble response, rock playback)  
Note: Other tracks were used, but the listed songs were primarily used to assess and break down the gear's response.  
Source Selection
Coming in at 16 Ohms, the Sabre is very easy to drive. They will sound good with just about any low powered source thanks to the diverse range of tuning filters that come in the package. Plug the Sabre into whatever low powered device you plan on using them with (preferably in low gain), then tinker with cables, filters and tips until you have an earphone dialed in perfectly for your listening preferences. On a whole, the leaner (less bassy) filters worked better with warmer sources, while the bassier filters worked well with leaner and cleaner sources.  
The Sabre has a fairly high level of resolution, so it will be revealing with poor recordings and low bitrate files. The filter you use will determine how forgiving it is. Once you find the perfect source and filter/tip combination, a high bitrate and high quality recording will help maximize your listening experience with the Sabre.  
Sound Signature
*Measurements of all five filters were taken with my Vibro Veritas coupler and ARTA software. The Veritas is not an industry standard measuring device, but this should give you an ideal of the Sabre tuning as well as how the filters differ
The Sabre has five sets of filters which alters the bass response while doing very little if any measurable difference to the midrange or treble frequencies. I will explain the differences and characteristics with as with most of my reviews, and generalize how the different filters alters the Sabre sound.
When measuring the Sabre filters there was little if any variance between the longer and shorter filters. If anything, the longer filters were a little bit leaner in measurements, but I couldn't hear an audible difference. There may have been a slight improvement in soundstage, but other than that they are relatively the same.
On a whole, I would say the Sabre borders on being considered a V-signature without going far enough to earn that title. It's an adjustable bass earphone with aggressive midbass and upper midrange tones.  
Bass
The Sabre's filters are nozzles with variances in driver venting holes. With the more linear filters the Sabre has a noticeable roll off at sub bass frequencies and a more noticeable mid bass punch. With the bassier filters sub bass came forward and was perceptually overall more warm in character. I personally preferred the Sabre with the bassier filters (primarily the Orange filters). With the bassier filters I felt the focus was taken off an aggressive upper midrange and midbass, and offered a soundstage depth that made them overall more fun and engaging to listen to. Your mileage may vary.  
In terms of response it's pretty fantastic. Linear filters will make them have more punch than rumble. Bassy filters will give them a nice combination of both. The thing I appreciated the most about the Sabre bass response (regardless of what filter used) was the speed and punch push/pull drivers achieve without sacrificing midrange clarity. During James Blake's "Limit To Your Love" the bass throbbed at an elite pace, and James' voice played with great clarity. Bassier filters occasionally struggled with sub bass tones and bordered on being slightly monotone at the lowest frequencies. Despite midbass being forward, there is no "bleed" or distortion to speak of.  
Midrange
Lower midrange is slightly forward and continues from where the midbass tones leave off. Male vocals and lower midrange toned instruments will have weight, but they will also sound very responsive and clean.  
A slight rolloff takes place from 100 Hz to 1 kHz takes place while maintaining a very high level of resolution. This dip makes things very enjoyable. What I enjoy most about the Sabre is the amount of detail I pick up in the midrange. This is one of the earphones that people will listen to and catch things in their music they haven't heard before. To my ears, the Sabre midrange isn't the most natural thing I've ever heard, but it's better than most of the stuff out there in this price range, and the level of detail is pretty phenomenal.  
Upper midrange seems a touch aggressive to my ears and borders on being shouty depending on what track I'm listening to. I'm not sure if it's due to the dip around 1 kHz or the peaks at upper frequency ranges, but there is a slightly dry and colder feel at upper midrange frequencies. This is the main reason I prefer a bassier filter with the Sabre, as it seems to balance out the lower and upper frequencies to my ears and takes the edge off of things. I know other people will hear them differently so I'm curious to hear other people's impressions on this.  
Treble
My Vibro Veritas isn't an industry standard measuring device, but I've measured enough earphones with it to determine radical differences from one earphone to another. With that being said there is rather large roll off at 6-7 kHz, then a fairly sizable lift at 8-10 kHz. Although this tuning takes some of the edge and harshness off where the dip takes place, it sounds a bit unnatural. Vocals finish at upper midrange frequencies with a very forward and almost shouty presence, but most pronunciations of the letters S and T are for the most part relaxed. I think many people will enjoy this tuning because a lot of the edge has been taken off of the sibilant ranges. From what I can hear the lift at around 8-10 kHz saves the Sabre from being overly warm and dark sounding. Overall, some ranges are smooth while others are crisp. You can't say it's one thing or the other because there's elements of both in this frequency range.  
Soundstage and Imaging
Soundstage on the Sabre is somewhat intimate. With bassier filters the soundstage has more depth. The somewhat wonky treble presentation is a mixed bag for me. It could be more balanced and maybe a touch more extended. Doing so would allow me to say that they have a nice sense of height. Although this is the case, the fairly high level of resolution prevents me from wanting to give them a bad score in this criteria. I would say that they are average/better than average in terms of soundstage. Combine the somewhat intimate soundstage and high resolution aspects into evaluating the overall imaging, it's bitter sweet. There's a nice sense of instrument placement on a stage that isn't huge
.
Comparisons
Trinity Atlas (Discontinued)
I'll start this comparison by saying that the Atlas is my favorite Trinity earphone that I've heard to this point. Despite others reporting that they got a shallow fit, they fit my ears almost perfectly. I really enjoy their engaging and natural sound. In this comparison I will evaluate them with the orange filters installed on each pair, as they were my preferred filter for both earphones.  
Comparing the two, the Atlas seems to be more natural and spacious sounding to my ears. The Sabre has a more warm and forward lower frequency range that is richer, more engaging and more controlled. In terms of treble response, they are perceptually somewhat similar in terms of how forward they project. Although this is the case, the Atlas treble seems just a bit more extended and balanced to my ears.  
Build quality is a draw. They are both wonderfully built. I will give an edge to the Sabre for having two pin connectors as opposed to the MMCX connectors of the Atlas. I also give a slight edge to the Sabre's accessory package thanks to the included Spinfit tips and extra sets of longer tuning filters.  
Dunu Titan 3 ($125 to $140 USD on many sites)
The Titan three is known as a "vocal lover's" earphone, offering a responsive tuning that emphasizes vocals.  
Comparing the two, they can be somewhat comparable in tuning with the leaner filters installed on the Sabre. Even still, the Sabre is an all around more relaxed sounding earphone. The Titan 3 reveals more sibilance. Bouncing back and forth, I far prefer the sound of the Sabre with a bassier filter. The Titan 3 may seem to be more clear at first listen, but critical listening revealed more micro details in with the Sabre, primarily in the midrange. Both earphones seem to have a somewhat dry and cold response at upper frequencies, with the Titan 3 being more balanced slightly harsher overall at this range. At the end of this comparison, I couldn't help it feel like the Titan 3 was a bit hollow sounding in comparison.  
Build quality is a draw. Both earphones have all metal housings and are well constructed. Fit is also a draw. The Trinity accessories package runs circles around the Titan 3 which isn't an easy feat, considering the Titan 3 accessories package is really decent.  
Conclusion
The Sabre has a lot of really unique and cool aspects about it. The Tuning is really engaging, and I enjoyed the heck out of the bass performance and overall sound (especially with the orange filters installed). The accessories package is insanely good for the asking price. I honestly have no idea how Bob makes money off of these earphones with all the goodies that are included. The accessories package is so good, I can't imagine very many people being able to say that they couldn't find a combination that matches their fit and sound preference.  
The Sabre isn't the most natural sounding earphone I've ever listened to, but the push/pull driver setup brings some very unique and special traits to the table, primarily the fast response and ability to reveal micro details at an elite level.  
When rating this product, I have to take all criteria into account. The Sabre gets an easy five stars for accessories and fit, three and a half stars for sound, four stars for price to performance, and I have to deduct a half star for driver flex. All in all I give the Sabre four stars. They are a very respectable earphone for their price.  
Thanks for reading and happy listening!
Pros
:
Clarity, detail, good soundstage, lack of distortion, engaging and very well tuned sound with selectable bass options through the filter system
Cons
:
Fit could be an issue for some, lack of treble tuning options
Trinity Phantom Sabre – initial impressions
Trinity Audio are a firm that have been making some serious waves on Head-Fi over the last 12 months with a range of Kickstarter-funded in ear monitors (the Hyperion, Techne, Delta and Atlas models), subsequently moving on to directly sold variants like the Delta V2, Vyrus and the new Phantom line. After enjoying my time with their sports IEM the Atlas, I picked up a pair of the new Phantom Sabre model as I was intrigued by the promise of the dual push/pull dynamic driver setup and multiple tuning filters. Being 100% honest, the previous Trinity sound I had heard was excellent but not 100% suited to my personal preferences due to the comparative aggressiveness of the treble, so I was interested to see what differences in tuning the all-DD setup and new tuning filters would bring – suffice to say, I am very glad I decided to take the plunge.  
About me: newly minted audiophile, late 30s, long time music fan and aspiring to be a reasonably inept drummer. Listen to at least 2 hours of music a day – prefer IEMs for out and about, and a large pair of headphones when I have the house to myself and a glass in my hand. Recently started converting my library to FLAC and 320kbps MP3, and do most of my other listening through Spotify or Tidal HiFi. I am a fan of rock, acoustic (apart from folk) and sarcasm. Oh yeah, and a small amount of electronica. Not a basshead, but I do love a sound with some body to it. My ideal tuning for most IEMs and headphones tends towards a musical and slightly dark presentation, although I am not treble sensitive in general. Please take all views expressed below with a pinch of salt – all my reviews are a work in progress based on my own perceptions and personal preferences, and your own ears may tell you a different story.  
Tech specs (from the Trinity website)
All aluminium CNC machined shells
Twin push/pull driver set up
Titanium diaphragm drivers
Impedance: 16Ohm
Sensitivity: 108 +/- 3DB
Frequency response: 20 - 20000Hz
24ct Gold plated 3.5mm Jack
2 Pin detachable cables x 3 (included as standard) 1 x standard Trinity multi-braid 1 x memory wire multi-braid 1 x Fabric cable with mic/remote/volume control
5 x pairs tuning filters in standard length for shallow insertion and long length for deep insertion.
OFC copper cables
Huge accessory package including case, 6.3mm adapter, 11 choices of eartips (S/M/M/L silicone, double flange,  M/L Memory foam, SPINFIT ear tips (SS/S/M/L)
Unboxing
If you haven't purchased a Trinity product before, the unboxing experience may come as something of a shock – the sheer volume of accessories Bob and his team deem fit to include in a product at this price bracket is quite frankly ludicrous, and probably accounts for a decent porion of the final sale price if you were to buy everything separately. There are 13 (yes, that's right) different tips, in different configurations from single flange through to foam, and a separate bag of SpinFit tips in four sizes. Trinity also saw fit to add some additional own-brand wide bore tips in with the pre-order, but these are not currently part of the "standard" packaging. They also include three detachable 2-pin cables (memory wire, non memory wire and microphone-enabled), two of which are braided and all of which would comfortably fit into the sort of quality bracket you would expect from an after-market cable. Unfortunately the 2pin design has been tweaked slightly by Trinity to allow a more solid connection to their IEMs, but the "sheath" on the housing can be removed by anyone with basic DIY skills if you do wish to use them elsewhere. Completing the loadout are four small metal tubes which contain the interchangeable filters (10 sets of them in total, 5 filter types in two different lengths), a triangular carry case in a pocket friendly size , a right angled 3.5mm connector and shirt clip and the IEMs themselves, sitting proud in a foam cutout. All of these accessories come in a nice cardboard presentation box with magnetic flap that would comfortably house something in a price bracket in the $500 region, so the overall impression created with an IEM that cost £75 on preorder and now retails at £125 is impressive. I can honestly say that the only unboxing experience I have personally had that comes close is the Nuforce HEM line of IEMs, but they generally retail in a higher price bracket so for the price, these are definitely impressive.  
Build quality and ergonomics
The Sabres are a circular "puck shaped" design, with a polished gunmetal grey finish and all aluminium build that looks premium and feels light but sold in the hand. The IEM shell itself is beautifully designed, and looks much better in the hand than it does in pictures. The braided cables provided are of similarly high quality, with an almost fabric-like appearance and high flexibility resulting in minimal cable memory.  The cables are finished in sold metal connectors – these are straight rather than L-shaped (my preference) and quite long, although they appear pretty sturdy and utilise a spring at the end of the connector as a very novel strain relief, so should last the test of time well. If you do require an L shaped connection, Trinity do provide a 3.5mm L-shaped adaptor in the box, so you can switch these across, although the "L" does become quite long as a result so may not work for smaller DAPs/mobile phones.  
Ergonomics are pretty good, with the circular shape of the IEM fitting nicely in to the bowl of the ear, with a reasonably slimline profile. I struggled to get a proper seal in my right ear (I have two different sized ear canals, both on the black hole side of large), but the addition of filters in longer lengths helped immensely with this, so people with a "normal" ear anatomy should have no problem finding a tip configuration and filter length that works for them. Once fitted and sealed properly, the IEM is very comfortable, with the slightly rounded shell edges making these comfortable for long listening sessions without chafing. These are designed for over-ear wear, and the inclusion of both memory wire and non memory wire cables also helps with choice of wear and fit. Overall, a nice looking and pretty well fitting IEM, with an unusual look.  
Sound quality
Test gear:
Xperia Z3 Compact (via Neutron Player)
Cayin C5 amp
Sansa Clip+ (Rockboxed)
Microsoft Surface Pro 2 (straight from the output jack)
Main test tracks (mainly 320kbps MP3 or FLAC/Tidal HiFi):
Nathaniel Rateliff & The Night Sweats – S.O.B. / Wasting Time
Blackberry Smoke – The Whipporwill (album)
Slash – Shadow Life / Bad Rain (my reference tracks for bass impact and attack, guitar "crunch")
Slash & Beth Hart – Mother Maria (vocal tone)
Richie Kotzen – Come On Free (bass tone)
Elvis – various
Leon Bridges – Coming Home (album)
The Chemical Brothers – Go (EDM tester)
Emile Sande – Our Version Of Events
Rodrigo y Gabriela – various
Mavis Staples – Livin' On A High Note
Foy Vance – The Wild Swan
ZZ Top – La Futura
Chris Stapleton – Chris Stapleton
Maroon 5 – Songs About Jane
The Winery Dogs – The Winery Dogs  
General impressions on the sound signature
Having read a little on the benefits of the push/pull driver technology utilised by Trinity in this IEM, I was hoping that the opposing driver would smooth out some of the edges I found in their previous Kickstarted sports IEM (the Atlas), and provide the now-famous Trinity range of tuning options with a little less gas in the chainsaw up top. Happily, Bob and his team must have been reading my crib notes, as this is exactly what they delivered: a smooth and detailed sound, with plenty of clarity in the higher ranges but just a touch less rawness to the sound, turning the industrial cutting edge of the Atlas into more of a surgical affair on the Sabre. Being a tuneable affair, the bass presence ranges from slightly too much for me (red filter) to just right (orange or gold), with an accompanying perception boost in the mid and high ranges as the bass drops as a result. The purple and gunmetal filters give a sound that for me is slightly too bass light, so the majority of the sound impressions will be based on either the orange or gold filters unless otherwise stated. With all the filters, the Sabre is clean, quick and smooth, with excellent separation and detail and no audible grain to the sound. The midrange is beautifully tuned, with a slight forwardness to vocals that highlights the almost liquid nature of the sound well. With some higher-end gear I have listened to, it can take time to appreciate the sound, with no immediate "WOW" factor as you first hear the music, just a growing appreciation of what they have to offer as your brain adjusts. This is definitely not the case with the Sabre – the excellent base (not bass, although that is pretty good too) tuning and silky midrange really make an impression with the listener immediately, bringing a smile to the face and a tap to the foot from the off. The other thing that hits you when you listen to these is the absolute lack of audible distortion, with the dual-phase driver tech producing a sound that remains immaculately smooth no matter how hard I have driven these. In the interests of fairness, you probably
could
get the drivers to distort if you hooked them up to a desktop rig pumping out HD600-melting amounts of wattage, but as most portable DAPS and mobile phones don't come with a portable nuclear powerstation attached, this is unlikely for most day to day use.  
Effect of the included tuning filters
The Sabre comes with five tuning filters in two different insertion lengths, each of which has an effect on the bass frequencies of the sound. As the filters progress from most to least bassy, they do appear to alter the treble response as well, but that is due to the increased perception of mid and high range sound as the lower end is slowly ramped down in audibility. The filters are colour coded, using the following scheme:  
Red
– these are the bona-fide "bass cannon" filters, providing the most bass slam and response to the sound. In practice, I found these to be slightly too much in terms of overall bass presence, providing a boominess and volume to the bass that started to overshadow the mid-range slightly. These will be for people who value maximum impact and bass "boom", and are easily bassy enough to start called them a proper basshead tuning option. For me, the overwhelming mid-bass starts to detract from the mids in this configuration and obscures some of the low-level detail, leaving the most pronounced V-shape as a result. Unless I plan on listening to music with practically no mid-range like some EDM in my collection, these are very much for special occasions only.  
Orange
– These are the second most bassy filter, and one of my top two in terms of overall sound. The bass presence is still definitely boosted, with a nice warmth and mid-bass lift that plays very well with rock music and EDM, and good presence and rumble in the sub-bass. The "boom" factor is dialled back from the red filters, with enough impact to satisfy those looking for a physical or visceral element to their bass presentation, but just stopping short of overshadowing the midrange. The added bass presence provides a slightly thicker lower edge to the mids while only losing a tiny portion of the finer micro-detail as a result.  
Gold
– This is my other "favourite" filter, with a bass that is slightly north of neutral and the flattest overall presentation for me. Mid and sub bass are still satisfying for most listeners, with the slightly lower mid-bass emphasis compared to the red and orange filters allowing the full technical capabilities of the dual-driver setup to shine through. The liquid midrange absolute glistens with this filter, with just enough warmth and body through the lower range to really make them sing, and the detail to drift through on each song. These are my go-to for acoustic and more low-level listening, being replaced by the orange when I need something with more thump (commuting, gym use etc). If the Sabre only came with one fixed tuning, I think this one would be most user's choice, highlighting the positives of the sound signature without accentuating any of the negatives.  
Purple
– Being honest, this is not a filter I have spent much time with. The Trinity website describes these as the most neutral of the filters, but to me the flatness of the bass actually detracts from the lower midrange and overall sense of body to the sound, leaving them feel slightly too clinical. There is more emphasis on the mids and highs with this filter, so for those who don't like bass emphasis and are looking for a leaner and slightly thinner take on the basic tuning, these will appeal.  
Gunmetal
– This is the treble rapier of the filter set, with the least bass of all and the most emphasis on mid and high ranges. Again, this is a filter I very quickly tried and discarded as not fit for my musical preferences, so this is one for people who prefer something tuned more along the Grado/Etymotic end of the scale, with maximum emphasis on detail and sharpness at the expense of warmth and body.  
Highs
As I generally mention in my reviews, my preference for headphones and in-ears lays towards darker tunings. Ideally I look for something that is clear and clean in the higher range without being too sparkly or aggressive - detail is important to me, but not at the cost of sandpapered eardrums. The treble on the Sabre addresses my only issue with the Atlas, and takes a polishing cloth to the rawness that made the Atlas so energetic, producing a sweet sound that sits right on the crossroads of detail and harshness. The tuning filters provided can be used to highlight this area by removing the bass, but the overall impression/tuning is pretty much identical through all of them. High falsetto vocals and guitars come through well, with plenty of clarity and an organic feel to them. There is just enough thickness to the treble sound to add a nice weight to higher passages, helping the overall impression of smoothness. My usual sibilance testers from Slash and Myles Kennedy sail through with no issues, with the dissonant guitar of "Starlight" and the helium-influenced vocals packing plenty of energy and detail, but always remaining buttery smooth even at full tilt. Cymbals hit with authority, but decay quite quickly rather than splashing. Overall, the treble is reasonably spacious but never feels overly airy or soaring due to the lack of etching or bite in the higher registers, which suits the sound signature pretty well.  
Mids
The mids are the star of the presentation for me, with a beautiful liquidity to the sound and dash of sparkle as you climb up the midrange that reminds me of the gold filter on the FLC8S. The mids sit slightly behind the bass and treble with most of the filters, but don't feel recessed. Vocals (both male and female) are well represented, with the smoothness of the presentation not losing any of the detail or texture of the singers voice in the process. Listening to "Everybody Knows She's Mine" by Blackberry Smoke, the whisky-soaked gravel in Charlie Starr's voice comes across excellently, with a genuine sense of feeling and emotion. Vocal harmonies are handled particularly well, in part due to the blackness of the sonic background underpinning everything – listening to the Foy Vance album "The Wild Swan", Foy's vocals capture the great tone of his voice, with the gospel style choruses in a few songs like "Burden" all sounding clearly defined, with each singer in the choir having their own separate voice while never being disconnected from the overall sound. In some respects, the mix of detail and smoothness is like the aural equivalent of someone taking the gravel on your driveway off to be polished smooth and then returned, so when you walk on it barefoot you can still feel each tiny rock, but none of them are jagged enough to cause any discomfort.  
Switching to another Blackberry Smoke song ("One Horse Town"), the acoustic guitar riff that runs through the song is rendered perfectly, sounding clean and clearly defined in contrast to the dirty southern riff chugging along behind it on the electric guitar. Guitars in general are very well handled, with more uptempo songs like "World On Fire" by Slash producing a great textured roar from the Sabre's twin drivers, while never crossing the line into harshness. There is plenty of crunch to satisfy most listeners, rock guitars growling and snarling away in the background of most tracks with a satisfying texture that is just a little thicker than neutral. I have heard IEMs that provide more crunch in this frequency range, but that comes at a tradeoff of less smoothness and silkiness, so I think the Sabre treads the line well here for most genres. Switching across to some EDM, "Go" by The Chemical Brothers sounds great, with the euphoric synths of the chorus swooping in and lifting the song up just like they should. Strings are also well rendered, with orchestral passages or pure classical music sounding full and textured while still blending the multitude of instruments together well without sounding congested or muddled.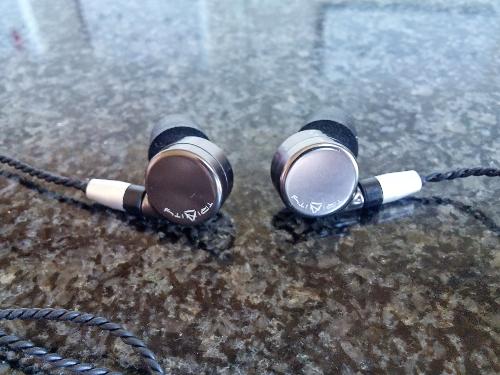 Bass
This is the most tuneable portion of the sound, with the filter system allowing you to go from "vibrate everything off your desk" levels of boom to an almost total absence of bass ("anti-bass"?). For personal preference, I use the orange or gold filter, so this section is based on the signature of those two predominantly. In terms of extension, the Sabre performs well, with good texture all the way down through the midbass and a nice subbass presence that makes itself felt as well as heard on the orange filters. Listening to EDM is a pleasure with these, with the blend of mid and sub frequencies coming together to really add a sense of body to most well recorded electronica. Playing some Emile Sande through the orange filter, the track "Heaven" positively hums, the meaty sub-bass rhythm drilling into your ears with a potent rumble while the vocals drift through the top end of the track.  
Despite the physical nature of the bass, the control imparted by the push/pull drivers on the sound ensures that unless you are breaking out the bass cannon and slapping in the red filters, the bass never muddies up the mid-range, staying clearly defined and agile no matter how much bass is being pumped through the track you are listening to. Drums in particular also seem to benefit from the clarity of the dual driver set up, with the bass and tom tom sounds feeling real and impactful, and adding a good sense of realism to the soundscape, rolling across the stage with precision. Playing The Winery Dogs through the Sabres, Mike Portnoy's playing sounds full of life and vigour, with the quickfire drum "riffs" he employs moving across the back of your ears as if the drummer was sat directly behind you. This also highlights the speed of the driver, as the fast moving bass slots in nicely, without ever seeming rushed or sloppy. Texture is also highlighted on this song, with Billy Sheehan's bass solo around the 3 minute mark feeling full and contoured, in counterpoint to the physical impact of Portnoy's drumming underneath it.  
Switching up to my favourite Sister Hazel bass test track, "Hello, It's Me" fills up the landscape nicely with bass that positively seeps around in the bottom of the soundscape, giving the track the warm and smooth flavour it should without ever seeming sloppy. My other bass tester of choice gets the thumbs up too – "Bad Rain" by Slash is full of the rasp and menace in the bassline that I know so well, with the strings vibrating and stopping without any distortion and creating a great foundation for the sleaze rock guitar riff to build on. All in all, this is a very good presentation for all but the craziest of bassheads – the nice blend between mid and sub bass with the orange (and to a lesser extent the gold) filter giving the best of both worlds and a great foundation for the rest of the sound.  
Soundstage/separation
Soundstage on the Sabres is somewhere between good and very good, with a nice width outside the ears in both directions and good spatial cues when panning from left to right. The depth is a little less impressive compared to something truly holographic to my ears like the Aurisonics ASG 2.5, but still better than average. Separation and layering is excellent, with the jet-black background to the presentation helping the low-distortion driver setup to pinpoint each different layer of music easily without pulling it all too far apart for the listener. The drivers also handle multi-instrument passages well, with the dual drivers coming to the fore to ensure that no matter what is going on, the soundstage always sounds roomy enough without the congestion that can sometimes occur.  
Isolation
I find the isolation on the Sabres to be very fit-dependent, and for me, somewhere between average to good. This is mainly due to the size and shape of my ears – I struggled to get a proper seal with the Trinity Atlas, and although the puck shaped body and two different filter lengths help massively with the ergonomics, it still takes a little effort to get a good seal on my right ear. That being said, they are still able to block out enough noise to use on public transport, just maybe not on a long haul flight.  
Amping
As Bob (chief designer at Trinity Audio) states he tests all his gear on mobile phones as well as low to mid range DAPs, it is unsurprising that these can comfortably be driven from most mobile devices without any issues at all. The dual drivers do seem to appreciate being hooked up to my Cayin C5, but the different isn't night and day, and I have been able to get more than enough clarity and dynamism out of my Z3 Compact to say that these are an easy to drive IEM.  
Comparisons
Pinnacle P1
– MEE Audio's current "budget flagship" (currently retailing around $199), the P1s are a good comparison point for the Sabre, with a similarly good all-metal build and a neutral and detailed tuning that has gathered plenty of acclaim on this site since they launched. Using the orange and gold filters, the Sabres have a bigger bass presence than the P1, with more slam to kick drums and more sub-bass extension, and using the gold filter (the neutral tuning most similar to the P1) there is still a nice bump in bass impact compared to the P1. The soundstage is similar in size, with the P1s offering the larger of the two, and giving a little more of an "out of head" feeling overall. The spatial cues on both IEMs are excellent, with the slightly larger soundstage of the P1 being noticeable here, but overall direction and "feel" are very similar. One area where the Sabre surprised me vs the P1 was separation of vocal harmonies, giving a slightly better feel of multiple voices in the same range working together compared to the P1, which seems to "blend" things a little closer together. Detail wise, both are excellent, with the push/pull dynamic drivers on the Sabre extracting a similar detail level to the single DD of the P1. The Sabres are considerably easier to drive, requiring approximately 25% less power through my usual sources to attain the same volume levels. Build quality and ergonomics are similar, with the Sabres offering an all-aluminium build compared to the zinc of the P1s, with similar quality detachable cabling and tip layouts. These are two pretty evenly matched IEMs – the Sabre offers more sound tweaking options and a slightly more aggressive "base" tuning compared to the smoother P1 (and different insertion lengths on the filters for those who need a shallower or deeper fit), and is also slightly cheaper overall at current exchange rates. The P1 offers a smoother and more spacious and refined sounding basic tuning, but neither would be a poor choice in this price bracket so again, this will be down to tuning preference as to which will work best for each listener.  
FLC8S
– These are in the next pricing bracket up from the Sabres at around $350, but head up the pack of tuneable IEM options in the mid-fi space at the moment so again are a comparison worth including. The FLC8S has 36 different tuning configurations, so for clarity I am comparing them using my preferred tuning of red-black-gold with Comply comfort tips to the Sabre using Orange and Gold filters and foam tips. The filter choice I use allows for more sub-bass and mid-bass presence, giving a slightly deeper "feel" to some music due to the rounding out of the low frequencies. The gold filter on the FLC8S has a slightly more liquid midrange presentation with vocals than the Sabre, although the Trinity IEM comes close enough to make it purely a preference call over which presentation you prefer. The mid range is also slightly thicker and less airy sounding on the Sabres, with less air and a little more substance. In the high frequencies, there is a less "crystalline" sound up top for the Sabre compared to the sharper and airier sound coming from the FLC8S. The FLC is overall a slightly more forward sounding IEM than the Sabre, pushing the music closer to the listener for a "larger than life" presentation compared to the more laid back and neutral positioning of the Sabre. Build quality is won by the Trinity, with the all-aluminium build feeling nicer to the touch and more durable than the all plastic design of the FLC8s, and the cabling and accessories all feeling slightly higher in quality and polish than the corresponding items in the FLC package. Ergonomics are won by the FLC, with the unusual shell design making them easier to obtain a perfect fit than the more ear-specific Sabres. For me, the FLC provides a wider range of tuning options than the Sabre, allowing you to get closer to your ideal sound, but the actual sound produced is similar enough in overall quality to me that it becomes more of a personal (or economic preference).  
Audio Technica ATH-CKR10
– these were the flagship dynamic driver model from Audio Technica until recently, and can still be found for around $275 on Amazon. The CKR10 are another push/pull dynamic driver setup, with a similarly smooth and distortion free sound. The CKR10 are not tuneable, and have an energetic sound with good levels of bass and detail. The CKR10 have a more forward overall tuning, especially around the vocal frequencies, with the singer and instruments seeming to be placed a little closer to the listener. The bass levels on the CKR10 sit somewhere between the orange and gold filters of the Sabre, with the orange having slightly more overall bass presence (more towards sub bass with mid being more even) and the gold having slightly less, but both having less slam than the larger 13mm drivers used in the CKR10. Quality and extension of bass on both is excellent. The overall tone of the Sabre with the orange/gold filters is slightly warmer than the CKR10, with the more energetic and sharp treble tuning of the CKR10 taking away some of the smoothness and warmth that the mid and lower ranges would otherwise offer. Guitar music sounds more aggressive on the CKR10, with a more jagged feel to the high treble and edge to the guitar chords that the Sabre manages to polish off. This does make the CKR10s sound more "lively" than the Sabres with more upbeat music, but for me, they edge a little too far over the line into aggressive treble, and suffer in comparison to the beautifully smooth but still detailed Sabre as a result. Detail and separation are evenly matched, with the CKR10 seeming to project in a smaller but deeper "sphere" in terms of soundstage, with the Sabres being wider but not quite as deep. In terms of build and ergonomics, the Sabre wins it for me, with the part-plastic/part-titanium build of the CKR10, the unusual fit (they are best worn down rather than over-ear and the lack of detachable cables all counting against them compared to the more ergonomic and polished Sabre. Accessories are also sparse on the CKR10, with a handful of silicon tips and one small leather carry case compared to the metric ton of goodies that Bob and the team at Trinity insist on including with each package. From a purely sound-based perspective, it is difficult to call between these two – if you are a fan of forward vocal tunings and slightly more cutting treble, then the CKR10 pull out ahead. If you prefer the tuning options offered by the Sabre and are looking for something with the same detail but with a warmer tuning and smoother top end, the Sabres would be my suggestion. If you take the other factors like the all-metal build, removable cables and accessory package into consideration along the with the cheaper cost of the Sabres, they come out comfortable winners, however.  
Audio Technica ATH-IM50
– The IM50 is an entry level dynamic driver IEM from the Audio Technica IM range, retailing at around £40 at current prices. They employ a dual dynamic driver setup like the more expensive ATH-CKR10, but this time in a symphonic rather than push/pull configuration (in other words, the drivers work together in unison, rather than against each other out of phase). This isn't strictly like for like, but I was interested to see how the different dual-DD configuration would affect the overall sound. In terms of overall refinement, the IM50 shows its "budget" roots compared to the cleaner and more vibrant sounding Sabre, with a slight loss across the board in terms of clarity and definition. The bass on the IM50 is evenly distributed between mid and sub bass, and gives a nice solid grounding to the overall sound, sitting somewhere between the orange and gold filters on the Sabre. Mids are more forward on the IM50 with its slightly more vocal-centric tuning, but feel slightly more detailed on the Sabre. Treble is similar on both, with the Sabre having the slight edge in extension and clarity as the IM50 are more of a "stage" tuning with more smooth treble in comparison, only giving up the finer details when blasted at close to full volume compared to rhe better low level performance of the Sabre. Detail level is good on the IM50, but is taken to the next level on the Sabre with a greater feeling of definition and clarity in between notes, possibly aided by the airier (in comparison) soundstage. The IM50 overall sounds slightly "thicker" than the Sabre with a slightly smaller soundstage, which highlights the better separation from the Sabre overall. One area they are both very similar on is lack of distortion, with the dual symphonic drivers of the IM50 keeping a clean and smooth presentation no matter how loud they get, very much like the crystal clarity and lack of audible distortion on the Sabre. In real terms, the IM50 compete in a different price bracket, but as a dual-DD setup, they share a few similarities and are an excellent choice for their price point. If you have the extra cash, the audible increase in quality and different filter options make the Sabre the clear winner.  
Overall conclusion
I have listened to quite a few highly-rated IEMs in this price bracket recently, and while all of them have their own particular strengths and weaknesses, there haven't been many that were able to make me sit up and pay attention from the off. The Phantom Sabre gave me that within about 15 minutes of slipping the shiny gunmetal discs into my ears - the combination of the sweet and liquid midrange, bass impact and crunch from the guitars really giving me a "Holy Cr@p!" moment listening to a track I'd heard a hundred times before. For the price, these are quite simply fantastic – sound that cuts through the audio landscape like its namesake, flexible bass tuning and packing case full of cable and tip options thrown into every pack making it difficult to imagine that someone won't be able to find some configuration that ticks the boxes for them. If you are after high levels of detail and clarity, an unusual driver setup and a drop dead gorgeous design and accessory load-out, then these are a steal at the current price in my opinion. Being hyper-critical, the fit could possibly be improved, the filters could be upgraded to offer the same level of treble tuning that they allow on the bass and there could be a touch more warmth in the mids for me personally, but that feels very much like nit-picking with something this good. Overall, a well designed and executed IEM from an up and coming company – check them out if you get a chance.
Pros
:
Adjustable Bass; Excellent Clarity and Detail; Accessories au massé; Outstanding customer service
Cons
:
The connector has its quirks; Midrange recession; Isolation is disappointing
Note:
I bought the Trinity Phantom Sabre in the pre-order period for ~75€. The Value rating is based on the full retail price of around 150€.
Manufacturer website: https://www.trinityaudioengineering.com/
Preamble
:
First of all, welcome to another review here on Head-Fi.org. My name is Noel aka. FUYU, I'm 19 years old and a avid lover for everything technical.
While everything subjective, I like to explain in more rational enclosure with graphs and technical prowess. I care about facts and facts only, meaning no fancy 300$ cables and value by price-to perfomance.
As someone who is always on the hunt of the "best bang for your buck", looking for the right product can be tedious. Personally, I'm mostly active in the newly flourishing
Chinese Threads
and certainly there are many many contentors out there trying to take the crown for the best deal in audio history.
Although I don't condemn myself in stereotypes too much, Chinese vendors on Aliexpress are not really peaking in the Trust department. This time around I'm not showing you another chinese product, but rather something from the great little isle which is Great Britain. A small little project courtesy of
Bobtrinity
: Trinity Audio Engineering. A small little company, sparking hype unlike I have seen on Head-Fi.
This royal project has it all: Community-driven products, insane price-to-performance and customer service bar none. But is this really the case? Can their new release shake the audio-industry?
Enter Trinity Audio Engineering: Phantom Sabre.
Official Phantom Thread: http://www.head-fi.org/t/796729/trinity-phantom-series-new-thread-worlds-first-push-pull-hybrid-iem
Specifications
:
> Twin push/pull driver set up
> Impedance: 16Ohm
> Sensitivity: 108 +/- 3DB
> Frequency response: 20 - 20000Hz
> 2 Pin detachable cables x 3 (included as standard) 1 x standard Trinity multi-braid 1 x memory wire multi-braid 1 x Fabric cable with mic/remote/volume control
> 5 x pairs tuning filters in standard length for shallow insertion and long length for deep insertion.
> 6.3mm adapter, 11 choices of eartips (S/M/M/L silicone, double flange, M/L Memory foam, SPINFIT ear tips (SS/S/M/L), Trinity pouch
Accessories
:
Under normal circumstances I'd combine the Accessories and Build part into one. But due to the absolute obscene amount of goodies included, I have to make an exception.
The Sabre comes in a moderately big package for an IEM, which has a convient magnetic clip for opening it. After revealing the first compartment, I thought I got something from a fancy pastery-store. It just screams chocolate box, which I didn't like too much as it has the individual tips enclosed in a layer of foam. Fiddling around took its time, but I eventually removed all the tips and the actual earpieces.
Moving on there also the all important triangular pouch. In itself its not really noteworthy, as it's not really big and identical to the MusicMaker pouch, though it does it job. Inside the pouch however, it gets interesting: We get 4 aluminum tubes, which contain the filters and another plastic bag which contains the red filters. I don't know why the red filters are not in a tube of their own, but it seems like Bob just hates red. I wish for a uni-body solution for carrying the filters, next time around. A rather unpratical solution, which seems like a compromise rather then a fully realised concept. Additionally there are a 1/8' (3.5mm) to 1/4' (5.2mm) adapter and another 1/8' straight to 1/8' 90° angled connector included. Nice and always useful. This should be a staple for every mid-to upper tier IEM. Period. In the final compartment under the pouch reveals 3(!) cables for your personal enjoyment. Two braided ones, 1x with and without memory wire and a mobile cable with an included microphone and botton functionality. Oh, and a shirt clip I never ever use.
Design and Build
:
The Phantom Sabre utilises a rather uncommon Dual-Push Pull design, which is more commonly seen in bigger speaker-systems. One might predict a large body, but in reality it's actually smaller than most IEM designs. WIth a diameter of 1.5cm it easily fits into my ear without straining the outer parts of my concha. I really like the design and look. I opted for the Gunmetal colour giving it a distinctive industrial design.
The Sabre and Phantom line are using a proprietary 2-pin design which is sadly not 100% compatible with the tradtional UE 2-pin more commonly used in CIEMs. This limits the usage of aftermarked cables, which is surely a bummer for those feeling fancy about it. I'm not of these people, thus this is a non-issue for me, personally.
Isolation is pretty average. Due to the vented design it does not isolate as much as I like it to.
The filters are easy to change. Unscrew clockwise and vise-versa for adding the nozzle. Overall one of the best builds in IEM history, although the cable has some little quirks: For attaching it onto the connectors, you have to allign them with a little piece of plastic. Make sure it sits fully flush or it might causes sound to cut off. In case of a problem or issue, please don't hesitate to contact
Bobtrinity
via. PM or write an E-Mail to jake@trinityaudioengineering.com.
Pairing
:
If you have read some of my reviews, you might notice a trend: Get a good source and that's it. Like almost all IEMs, you won't need an amplifier, unless you're crazy. But then again, alot of us are a bit lunatic, so keep that in mind. Non of my sources (Xduoo X3, Samsung Galaxy S3) had any issues whatsoever. You might get into some issues if your output impedance is to high. Other than that, just pop'em in and enjoy the musical fireworks.
Sound-Analysis
:
Thanks to the dual-push pull design, the Sabre has excellent clarity and dynamics. Still, it is no neutral listen. Overall signature is more fun sounding, with good energy in the upper-mids. As the Filters have only an impact on bass, I will mostly use the Gold, Orange, Purple and Gunmetal/Gray filters for reference. I found the Red filters too boomy for my tastes, with an unnatural amount of reverb.
I personally had no clear favorite among the available options.
Soundstage and Imaging is fantastic. There is more than sufficient blackness in between instruments, due to the great depth in all three dimentions. Extention is very good in the lower registers, but looking at the other direction it is somewhat rolled off in the treble.
(From most bass-heavy to least: Red ->
Orange
->
Gold
->
Purple
->
Gunmetal
)
> Orange filters: This is the most fun-sounding and will be my go to filter for running and sports. With the orange filters you definitely notice the moderately recessed lower-mid to mid-range. This causes the soundstage to widen and due to the great reverb and sub-bass extention sounds spacious and out of your head. Sub-Bass is crazy good, with close to perfect contrast between sub- and mid-bass. Neither is there any bleed into other frequencies, with a smooth transition between the frequencies.
> Yellow filters: The yellow filter is for some the most balanced option, though to me this is not quite the case. The signature retains it slight U-shape, although the decrease in Bass impact is quite noticeable. Reverb does take a slight backseat compared to the orange configuration, making it a bit more natural.
> Purple filters: The most neutral filters and my go to filters for most applications. Although the difference compared to the Gray Filters is pretty much non-existant, it has a slightly lower upper-end energy compared to the Gunmetal variant, which in certain tracks makes the purple filter sound a tad more natural.
> Gunmetal/Gray filters: The gray variant is what I'd consider the most treble heavy out of all configurations. The U-Shaped signature has now been transformed to something in the line of the traditional balanced signature with some more upper-mid energy. The low distortion of the dual-push driver work wonders here. Even though the contrast from bass to treble is increased in this config, it never sounds harsh or shouty.
The biggest strengh of the Sabres is its immaculate smoothness. Still treble-extention is only average.
Comparisions
:
> Audio-Technica CKR9: Compared to the Sabre, the CKR9 has more forward mids. Soundstage is less wide and deep. Imaging is fairly similar. Bass quantity is comparible to the Gunmetal-filters, although the CKR9 has more sub-bass than mid-bass. Treble-extention is better on the CKR9, without going into sibilant territory much like the Sabre. The Sabre are tuned more fun and lively, while the CKR9 has a neutral signature. Detail-retrival is pretty similar with the Sabre having a slight edge, though it is easier to focus on these things with the more mid-centered signature of the CKR9.
> Audio-Technica CKR9LTD: Similar to the CKR9, but with more lower-body focus and a more even mid-range. It sounds more focused and instruments are more upfront. Soundstage is similar to the regular CKR9, but sounds slightly more intimate. Bass quantity is inbetween the Gold and Gunmetal filter. Rest is identical to the regular CKR9.
> LZ-A2S: The A2S is much much warmer, with a L-Shaped to downsloping signature. The Sabres sound much thinner in its mid-range. Bass quantity is in between the Orange and Gold filter, though more swaying to the gold ones. Treble extention is slightly superior on the Sabres. Sub-Bass is more emphasized on the Sabres, it's more punchy and quicker in decay and overall speed. The A2S falls slightly behind the Sabre in clarity. The Sabre is much better in detail-retrival. Soundstage width is similar, though the Sabre has better depth and height. There is more space inbetween instruments on the Sabre, aswell.
Final Words
:
So, is the Sabre the holy trinity of price, performance and whatever the third might be? Almost. It has its slight quirks and you can definitely see some unrealised ideas here and there. But if you're looking for an all-in one package with fun, but detailed sound, look no further. The Sabre is your man. With an amazing price to performance ratio to boot.