TRI i3 Pro in-ear monitors 1planar+1DD+1BA
TRI I3 PRO- A NEW PLANAR HYBRID IN THE MARKET!!!
Pros
:
Good sub-bass
Great bass
Great treble details
Great stage depth and layering
Good transparency with good
Good microdetails in the mids
Notes body definition were great
Cons
:
Not great treble extension
No good air in the strings
Lacking details in the treble region
Notes edge definition is not great
Not very wide
TRI I3 PRO- A NEW PLANAR HYBRID IN THE MARKET!!!
TRI
is the luxury counterpart of the chifi manufacturer
KBEAR
. Given the reputation of both of the sister companies I have hopes that this I3 PRO will be a great iem and would overgrow the sales of the original TRI I3, which though I haven't had the chance to hear but have had heard great things about. So, let's dive into the review of
TRI I3 PRO
!!!
DISCLAIMER- THIS UNIT BELONGS TO MY FRIEND @suman134 AND thanks to him I get the time to review it. Well as always, the opinions are mine alone and not influenced by friendship
haha!
SPECIFICATIONS
Drivers: 10mm Planar magnetic + composite 8mm dynamic driver + 1 balanced armature
Impedance: 15 Ω
Sensitivity: 103 dB/mW
Frequency Range: 20 – 30,000 Hz
Cable/Connector: 2PIN (0.78MM)
UNBOXING-
Now TRI is well known for their beautiful and practical unboxing experience and this didn't disappoint in that regard. It's mostly similar to every KBEAR products I have tried but still the box gives such chromatic vibes that I played with it more than check the iems inside
. Rest I will let the pictures dictate for you all
BUILD & FIT-
The Iem is solid dense metal with 3 grooves. It feels dense yet not too heavy in addition the silver colour just makes its shine through. The finish is mirror / metallic so be wary of legendary scratches
if you won't be careful
!
Fit for me was just right, it's just a tad bit big for my medium ears, so adjustment after two hours or so is needed. No vacuum feeling with it either
CABLE-
The cable is excellent as always with the TRI products. It's a 5N OFC (oxygen-free copper) cable which has no microphonics, is pliable and thick, has some weight added to it.
OTHER ACCESSORIES-
Carry Box (feels a little bit small for this mirror finish iem)
Lots of tips
Cleaning brush and cloth will be needed trust me!!
Paperwork
POWAH REQUIRED-
This iem does need a bit of power for full potential but my DAP of 400mw was able to drive it fully too. So, depending upon the source it might be good / bad / okayish but try to give everything a bit of time (No burn in needed per se here no changes I encountered).
NOTE- This IEM is used with-
N6ii and T01 module & R01(mostly R01 since it adds more naturalism to the iem and also better stage) for portable on chair listening experience for the most part of the review.
On desktop- N6ii LO and A30s (Burson V5i D) and XDUOO MT602 Sylvania tubes (beautiful pairing but then low gain on N6ii and also volume at 08 but I would stay since it becomes a beautiful entity but this requires a better silver cable !!!) has been used.
Sometimes LG G8x as phone source.
Tips used were stock 'M' sized tips but I felt wide bore tips of E horn pro 'M' size would be great and hence I am using that.
NOW COMING ON TO THE SOUND OF THE TRI I3 PRO- (This is subjective and your opinions may vary)

BASS AND SUB-BASS-
Sub-bass is rumbly enough to satisfy my tastes. The texture is slightly present but makes up with the rumble. The decay is fast and precise but rumble goes on for quite a little longer than the body of the notes. Overall tone is slightly leaner but still is very close to being organic
. Addition of dynamism (not a lot but good enough) makes the experience much better. A lot of energy is present though which makes the overall experience pretty good
.
Now coming onto the bass, the interaction between both the sub-bass and bass is pretty great. Everyone respects each other and maintains the balance between "The Darkside and The Force"
. The tonality is on the leaner but close to natural side. It has that wonderful midbass punch and has a lot of energy there. The timbre is present but the decay is fast, but the it does leave a trail to ponder upon. The projection ain't that much into the head-stage but it does give you a good feel of it. Notes have a good beginning and body but edge definition needs a slight improvement. There is good amount of separation of the notes but this still doesn't give the planar experience that I had while using the LCD I3 and the HIFIMAN SUNDARA but the layering is pretty good between the different percussion instruments.
MIDS-
Vocals are the soul of the music and this defines that beautifully. The body of the notes of the vocalists just shine throughout the song and makes you feel the energy and the emotion in the song
. Notes beginning is also pretty great but this does lack some extension in the ending (you can't expect everything
). The tonality will be affected by what tips you use since the upper mids and treble will affect the overall signature but with my use of E-Pro Horn tips and KZ reverse starline tips (both wide bore tips), this just gives such a great natural feel to the voice, it breaks my heart why they didn't add such wide bore tips (why Tri !!!, hopefully they see my review and start adding wide bore tips to their arsenal
). The air in the voice does come up but it feels a little cut off on the edges further giving the impression of low extension. The thickness of male vocals needs to be more pronounced but female vocals shine through with this leanness. They feel more balanced and doesn't leave more to be found, on the other hand male vocals needs more love. Dynamics aren't lacking in either of them and the tonality difference is also well perceived. Overall, a great experience but still makes you want more.
Instruments in the mids are really the best part of this iem. They are emphasized greatly and overall; the tonality is slightly on the leaner side with great dynamism in the notes. Timbre is confusing a bit, hi-hats and other metallic hits gives off a slight BA metallic timbre but guitars and other string instruments, even piano and other keys just seem have that planar presence and beautiful fast timbre. The decay is though fast and gives off a very small sense of projection into the head stage (don't worry reverb is still felt though
). Notes are more beginning and body focused but with great emphasis on the body of the notes. Edge definition needs a bit more work but it's still very good to give an enhanced sense of separation. The inter instrumental separation is great, every instrument has its own space and air, the layering is not top notch but still gives a planar presence to it. Lower mids does need some more thickness to the notes (even with wide bore tips it did improve but still needs more). Upper mids love the leanness and extend more than the lower mids but with using the stock tips, it was a sharp experience in some genre of music hence I shifted to wide bore tips. Otherwise, really a great experience with all genres of music.
TREBLE-
Treble presence is really good and energetic. It's sparkly and really gives off a great feel when the trumpets and all go off
. If you want a smoother experience this isn't for you, but please don't use it with stock tips use the wide bore tips, otherwise it will be a congested and very sharp experience
. The tonality is slightly lean here, closer to natural (with wide bore tips) but with much better decay than the mids. The tambourines and other metallic instruments still have that slightly metallic BA timbre, others though don't have that and shine through. The notes are well defined in every part, even the edge definition too. Air and transparency are pretty good in the instruments for the price but extension is required more in the notes. Separation in between the notes is pretty great and this just goes through to the instruments too. Micro details do come through but will leave you, still wanting for more, a slightly more increased transparency might have been required. The dynamics are still great and gives you an enhanced experience overall and really brings more excitement and energy to the music.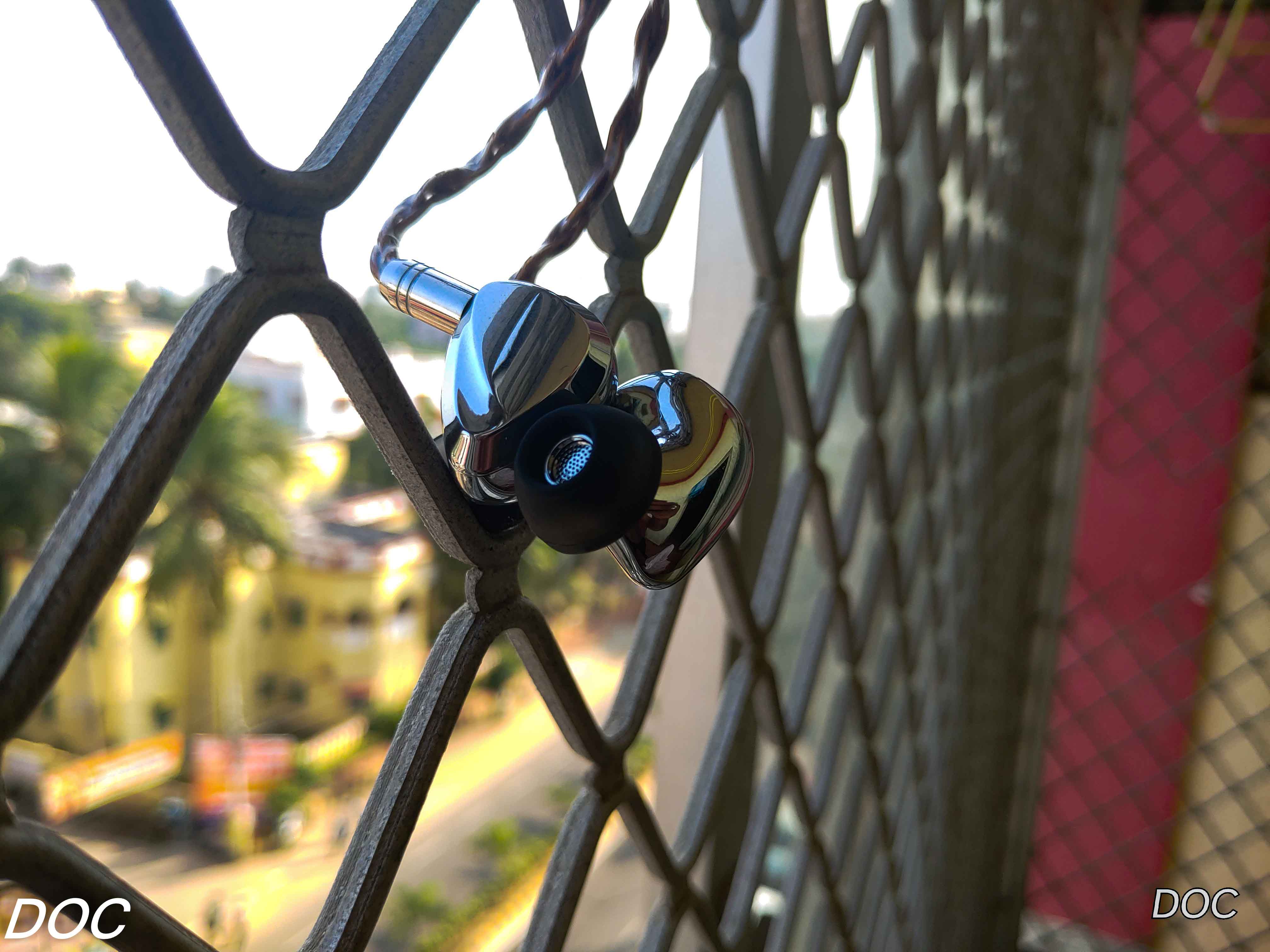 HEADSTAGE AND SEPARATION-


Now the head stage isn't that wide but its quite tall and doesn't lack at all. The layering is quite good and separation makes it much better. With stock tips, this might become congested but, wide bore tips it will become a different story all together. The depth (-y axis) is quite good and in stage depth is also enhanced with the planar driver presence. In between the instruments, there's good space and some air, but slightly more width in the head stage would have been great.


RESOLUTION AND IMAGING-

Resolution is pretty great, not lacking in showing you the bad effect of badly mastered tracks too
. Microdetails are slightly lacking but its quite good for the price and whatever is there, it pops up albeit neither musically nor on your face, but slowly creeping up. Transient are easy to track though and doesn't make you want for more. Imaging is pretty great added with the layering. Its slightly diffused, but is still pretty good in maintaining the presence of the instruments over the head-stage.

COMPARISONS-

BQEYZ AUTUMN
Pros-
More balanced signature
Better mid bass tightness and definition
Better inter-instrumental separation
Texture is better enhanced
Better notes edge definition
More controlled and balanced notes
Wider stage

TRI I3 PRO-
Pros-
Better treble extension
Better treble details
Better sub-bass
Better stage depth and layering
Better transparency
Better mids
Notes body definition were better.

TIN P1 PLUS-
Pros-
Better treble extension
Better air in the string instruments
Better transparency
Better edge defintion of the notes
Better texture in bass
TIMELESS 7HZ
Pros-
Bass is warmer
Sub-bass is warmer
Better vocals than T1 plus
Less air
Less details
SUMMARY-
The iem is pretty great for its price. It felt more like an DD with Planar staging missing out on the planar treble though. Using silver cable like TRN pure silver made it much more excellent and felt like the way to go haha!!! But overall, really good experience and I would surely recommend it
!!!
Last edited:
A re-release done right! Short write-up about the TRI i3 Pro
Pros
:
Build quality
Design
Unboxing experience
Comfort (the new lightweight design really helps the IEMs disappear in your ears)
Improved mids
Improved highs
Value
Cons
:
The lows are inferior in quality compared to the original i3

The following are neither cons nor pros, just some differences caused by the minor design change:
Soundstage is slightly smaller compared to the original i3
The nozzle doesn't allow for two different settings anymore
A re-release done right!
Oh yes, I can finally say that a company has not let down its customers with a re-release. How many times have you seen a manufacturer re-release a popular model and completely ruin it and change it up from the original version? I'll tell you: too many times. The whole purpose of re-releasing a product is to refresh it, but most importantly, to improve the "bads" and keep the "goods". As a customer, I do not want a downgrade in quality in a re-release, neither do I want a warm sound signature if the original one had an analytical sound signature (and vice versa). TRI masterfully kept the good's and implemented several changes and improvements. Welcome the i3 Pro!
Unboxing Experience
As someone who greatly appreciates good marketing, all I can say is "My goodness! What an experience". Hats off to the design team responsible for the packaging. The cover is what made my jaw drop. The design is very minimalist yet very modern and attractive. On the front, there are holographic lines which follow a circular pattern and are slightly dented into the cover's surface. In the center there is a simple white print of the company's name [TRI] and the model's name [i3 Pro]. The background print resembles a purplish galaxy. However, the holographic details truly set this packaging apart. Also, it's very nice to see that there is no repetition on the sides. The left side of the packaging features a large print of company's name and logo, while the right side has a print of "Continue classic, beyond classic" in three languages (my guess is that it's: Chinese, English, Japanese). On the back, there are vague details such as the driver setup, specifications, and company details.
If you thought the goodies stop there, you are mistaken. Once you slide the cover off, you are met with a rubbery matte box. So far, it's the most pleasant material I have seen being used for a cardboard box. I hope the company keeps using this material in its other models, because it truly gives off premium vibes. In this box you will find all the contents placed inside of a foam insert — something I can say I'm used to.
Formal format of what's inside:
1x cleaning cloth
4x silicone ear-tips (S/M/L)
5x KBEAR silicone ear-tips (S/SM/M/M/L)
1x 3.5mm cable
1x 3.5mm plug plastic cover
1x leather carrying case
Silver Surfer is back at it again
It would be a true shame if the i3 Pro didn't retain the authentic i3 silhouette. Fortunately for everyone, the silhouette is still here. The main changes between the previous i3 and the new i3 Pro are related to the physical size. A 26% reduction in size is the biggest and most obvious change. The purpose of this was to make the IEMs both more comfortable and more lightweight. Besides this, the shells still have the "wavy" design on the faceplate, they are still made of two pieces, and the overall shape is pretty much the same.
Some of the more notable changes that might not be as apparent are: 4 vents, 2-pin connectors, completely different nozzle design, different nozzle grill.
For reference: the original i3 only had a single small vent that was located on the side, and it used MMCX connectors. In my opinion, the switch to 2-pin connectors is a major improvement and step in the right direction. I think we can say that 2-pin connectors are a industry standard. Many people have a collection of 2-pin cables, which means they can finally use them. The nozzle on the original i3 model was both longer and the ear-tips could be placed in two different ways. What made that nozzle special is that it featured a lip in the middle of the nozzle, whereas the new i3 Pro (and many other IEMs) uses a lip at the very tip of the nozzle. The grills differ by design. The original grill featured a slanted oval design, and the new grill features a significantly more dense circular design.
Interestingly enough, while looking through online images of the TRI i3 Pro, I found that many of them featured the old grill… This leaves me to question which grill the IEMs use (there are clearly two different grill versions).
Edit: It turns out that TRI did release a 2-pin version of the i3 at some point in time. However, the original i3 that I posses uses MMCX connectors.
The reduction in size is without a doubt a huge improvement, but I'm uncertain whether I can say the same for the other changes that were implemented. The shorter nozzle that doesn't give you the flexibility of two different iterations of the ear-tips is a drawback, if you ask me. At first, I experienced driver flex issues. However, that was because I received a prototype pair that had very dense grills. Since the i3 Pro features 4 vents, it made no sense as to why there was driver flex occurring. I haven't experienced driver flex on the original i3, so it wasn't logical for the more vented design to introduce driver flex issues. I suspected that the grills were the cause of these issues, and I was right! After I received a pair of grills that are included on the commercially available release, the driver flex issues were gone.
Build Quality & Cable
""Life in plastic, it's fantastic" is the complete opposite of what the TRI i3 has to offer - not a single plastic piece was used in its construction" — from my original i3 review.
This still holds to be true. The shells are still made of an aluminum alloy (according to the marketing, 7000-series aluminum alloy is used). 7000-series aluminum alloys are used in wing bearings and landing gears, which require the highest strengths and strongest reinforcements. Fun fact: 7000-series aluminum alloys have the highest strengths of all other aluminum alloys. Apple has used it in their watches, phones (e.g. iPhone 6s). TRI actually did reveal that they are using specifically the 7050 aluminum alloy, so there you have it.
In terms of the cable, it's a 50/50. Don't get me wrong, the cable itself is amazing, but I just have a thing for the old cable. The positive "50" is that it's finally a 2-pin cable, while the negative is that it's not the old cable. The funny thing is that it appears as though even the cable was later changed in the original i3. The cable that I am talking about is the same cable featured in the photos in my i3 review. It was a loosely braided 4-core cable. I liked it both for its pinkish look and its lightweight nature. I'm sure many prefer the new cable (referring to both the new i3 Pro and the newer versions of the original i3), but I personally prefer the old one. On the positive side of things, i3 Pro's cable features all-metal housings (2-pin connector housings, chin slider, Y-Splitter housing, 3.5mm connector housing).
Comfort
I want to keep this section sweet and short.
Compared to the i3, the i3 Pro has a deeper fit and a more relaxed seal. The original i3 had a shallow fit, but had a very tight seal. Something to take into consideration is the fact that the ear-tips I use on the i3 are considerably larger and longer than the ones I use on the i3 Pro. This has an effect of both the insertion depth and the seal, so, keep this in mind!
Both IEMs are very comfortable and could be worn for hours. Obviously, i3 Pro will be the more logical choice to take if you are going outside, because the weight reduction truly does make a difference.
The change in the nozzle design is also noticeable in the ears. The new i3 Pro disappears in your ears, while the older i3 was always kind of present in your ears. The older i3 also feels heavier (the good kind of "heavy") in the ears.
Sound Performance​
Lows
The sub-woofer-like quality in the bass region is still here to stay. This is one of the key factors that made me fall in love with the i3. There is a distinct track that truly set the old i3 apart from other IEMs.
Let's start out with my standard bass quality test tracks: "Hydrogen" by MOON, "Smoking Mirrors" by Lee Curtiss. Listening to the first track, I noticed that the mid-bass is thick and "heavy". In other words, a lot of bass quantity. Upon closer listening, I came to the conclusion that the definition suffers a bit, the "cleanliness" isn't quite there. The fast attack is there, but once the planar-magnetic driver puts out all of that bass, it sticks around for a bit, causing it to have a slower decay.
Sub-bass. Hmm. I absolutely adored the old i3 for its sub-bass capability, and am sure some of you are aware of my admiration of its performance in Arctic Monkeys' "Do I Wanna Know?". This is the "one distinct track" that I was referring to in the beginning. i3 Pro carries a similar quantity, but differs in quality. Much like the mid-bass, the i3 Pro is less aggressive and has less "oomph" than its older brother. This was also apparent in Hans Zimmer's "Why so Serious?".
These differences in quality and quantity are very subtle. I for sure can see how one may not notice them if they are not performing analytical A/B tests. I had to go back and forth listening to a single element dozens of times to notice these differences. Once you notice them, you can't really unhear them.
Update: After directly contacting KBEAR, I was informed that TRI i3 Pro is easier to drive than the original i3. However, after closer inspection, I found out that the specifications of these two IEMs are just about identical. Ms. Wendy from KB EAR clarified that i3 Pro should be easier to drive on your phone. With this in mind, I will take this answer as though there is no loudness difference between the two, making my comparison valid.
Mids
I'm tapping my feet because the new i3 Pro is very different in tonality and mid-range compared to the original i3. I did a simple test, having the i3 Pro in my left ear, and the i3 in my right ear. I went through a couple of tracks and noticed the distinct difference in tonality. I noticed that the new i3 Pro sounds much more natural and cleaner in the mid-range.
For example, the guitar in "Do I Wanna Know" by Arctic Monkeys, and the guitar & vocals in "Soldier of Fortune" by Deep Purple, are quite different. However, I later noticed that "Do I Wanna Know" has a guitar tonality difference on the left & right sides, making my initial impressions invalid. On the other had, "Soldier of Fortune" has a vocal that's in the middle, which means that the difference I heard was true. The original i3 has a nasal-like quality in the vocals compared to the clean-sounding vocals in the new i3 Pro. I also noticed that the vocals are muddy compared to the vocals in the i3 Pro, which are not only more natural, but also have more body.
Highs
I came to a similar conclusion here.
Going through my two standard treble testing tracks "Portia" by Miles Davis and "Stop Trying to Be God" by Travis Scott, I found that the new i3 Pro has slightly more edge. This is something that people like me will enjoy, but shouldn't be a turn off for those who enjoyed the old i3. It's not a drastic difference, but is an audible one. It's one step closer to having sparkle (a trait I adore, but one that many are scared of).
I don't wanna ramble for too long, as though I believe I worded my self pretty well in my original i3 review.
The point is that KBEAR listened and introduced more edge in the new i3 Pro. It's the right move (imo), and makes the whole listening experience more enjoyable.
Soundstage & Imaging
Both of these have great soundstage and imaging, but the older model is better due to the greater shell size. I went back through my original i3 review and relistened some of the tracks I mentioned in the "Soundstage" section, and I have noticed i3 being more "larger-sounding".
For example, "Dogs" by Pink Floyd, from mark 3:48 - 3:59 — both of these showcase great imaging capabilities, but the original i3 has the drums really rolling around your head. Perhaps, this has to do with its low end, because the drums sound bigger, have a bigger "thump", and sound more voluminous. Both soundstage and imaging were i3's pride, making them one of the few IEMs for which the term "holographic" holds true to its meaning.
Conclusion​
I am aware that this review isn't as thorough as my original i3 review, but I find these two IEMs to share a lot in common. I didn't want to repeat myself, as though they only delicately differ from each other.
KBEAR didn't ruin the original sound, but did make slight changes (whether they were intentional or were a result of the physical size change) that separate these from each other. Both the original i3 and the new i3 Pro differ enough from each other to make both worth keeping. This is something that matters in my eyes, because if the new fully replaced the old one, the original buyers might feel disrespected or even unsatisfied owning the original i3.
The original TRI i3, in my opinion, really put the brand on the map. It attracted a lot of attention. I remember when I was very active in the IEM forums on Head-Fi, and I remember seeing the i3 blossom. It started catching people's attention, and I glad that I was able to be a part of those early stages. I can say that I put a great amount of effort into composing the original i3 review, and I was very happy to see it started getting recognized for the same qualities that I initially mentioned in my review.
The new i3 Pro is more of an "option" for those who either found the original i3 to be too large, too heavy, or not portable enough. It's for people who want to hear a more refined and toned down version of the original i3, but also at a smaller form factor. For those who found the original too bassy, and want to hear more qualities in the mid-range, this release might be worth your time… and wallet
Setup:
DX300 + AMP11 mk1
Gain: Mid
Volume: 43-47
Original i3 review:
https://www.head-fi.org/showcase/tri-i3.24171/review/23896/
Smaller... but perfectly formed!
Pros
:
Powerful sub bass
Smooth open mids
Clean detailed treble
Expansive soundstage
Beautifully made and presented
Cons
:
Staging not as wide as the original
Treble could be more extended
Cable is a limiting factor
I would like to thank Ann from Keephifi.com for providing this item for review via Amazon.co.uk.

The TRI i3 Pro is the new redesigned version of the original i3. Like the first model, it sports an 8mm dynamic driver for the bass, a 10mm planar magnetic unit for the midrange and a custom balanced armature for the treble region. The size has been reduced by more than a quarter and the MMCX connection has been changed to a 2 pin interface.

The i3 Pro comes attractively packaged in a rectangular box with a colour sleeve featuring a graphic recalling a time-lapse picture of the sky. It features circular star-trails with an iridescent effect set against a starry background with the model name "TRI i3 Pro" in the centre. The reverse is printed with specifications. Removing the sleeve reveals a plain black box inside which the earpieces are displayed above the leather case.

In all the package contains:

* TRI i3 IEMs
* 8-core 5N OFC cable with 3.5mm plug
* Leather case
* 3 pairs white silicone tips
* 5 pairs KBEAR 07 silicone tips
* Cleaning brush
* Polishing cloth
* Documentation

This is a generous accessory set similar to that supplied with the TRI Starsea and KBEAR Believe.

The earpieces are crafted from polished CNC formed alloy and are similarly shaped to the original with subtle contouring but are significantly smaller. The 2-pin sockets are recessed and accept standard connectors. There is a row of four small vents for the dynamic driver on the rear of the earpiece. Although I had no problem with the fit of the original i3, the newer model fits very well and I think would suit more users.

The supplied cable is an 8-core single crystal copper type with 2 pin connectors and a red mark on the right plug for channel identification. The 3.5mm plug is in shiny metal and has TRI branding, and the metal Y-split has a trident logo. A metal ring serves as a chin slider but is not as easy to use as the bead type. The cable is supple in use and the ear guides are not too stiff, resulting in a high level of comfort.

The i3 Pro was principally tested with an Xduoo X20 DAP and the stock cable and the pre-fitted medium white tips were used. I also used a Grace-S balanced cable during testing. A burn-in period of 100 hours was allowed to stabilise the components. Like the original, I found the i3 Pro sounded at its best with additional power so drafted in a Fiio A5 amplifier for this purpose.

First Impressions
The i3 Pro displayed a well-balanced mild W profile with powerful sub-bass. The mid bass was lower in level and transitioned gently into the mids. The mids themselves were slightly forward and well-resolved with a natural timbre. The treble was clean and clear and fairly well-extended with a moderate peak before rolling off smoothly although perhaps a little early. The soundstage was expansive with a little more depth and height than width and separation and imaging were excellent.

Bass
The i3 Pro's bass was powerful and visceral with a good sub-bass presence and satisfying rumble. Mid bass was dialled back and gradually became near neutral as it approached the midrange. Transient attack and speed were on point and texture was also very good with a touch of extra warmth.

"Nuvole a Colori" appears on the album "Stagioni de Venezia" by Rondo Veneziano. It begins with a deep and powerful synth bass chord accompanied by descending diminished chords in the minor key. Percussion elements are added and a meandering violin solo plays arpeggios over the top. The bass was very impactful with good weight and depth, providing a perfect foundation for the solo instrument and showcasing the dramatic quality of the piece.

"In Church" is a part of the "Slovak Suite" by Viteslav Novak and features a prominent part for organ. In the version by the Royal Liverpool Philharmonic conducted by Libor Pesek, the depth, texture and power of the instrument was presented realistically and the lowest notes possessed good extension and natural timbre with a good reproduction of decay. The balance of the organ and orchestra was handled very well.

"Rock On" by David Essex has a superb production by Jeff Wayne ("War of the Worlds"). Founded on double-tracked bass guitars in each channel, they plumb the depths and growl menacingly while remaining clearly separated from the kick drum playing simultaneously. The texture and impact of the bass realised by the i3 Pro really impressed and brought the production to life.

Midrange
The i3 Pro continued where the original left off with excellent timbre from the planar driver but this time it was a little more forward and lively. As a result, clarity was improved and details were easier to discern but there was the impression of a narrower or more intimate stage.

Kevin Kern's brand of gentle piano music always enchants with its attractive melodies. "Through the Veil", from the album "The Winding Path", is a perfect example. A solo acoustic guitar plays a simple theme accompanied by the sound of a rain stick and then, after a deep bass drum the piano enters with the beautiful main theme. The timbre of the piano was very well realised as was the warm woody tone of the guitar. The resolution of the individual sounds of the rain stick was notable and the whole piece demonstrated the superb separation and imaging of the i3 Pro's midrange which was testament to the tuning of the planar driver.

"Bring him Home", from "Les Miserables" received a heartfelt rendition from The Piano Guys. The timbre of the cello and piano was very natural and authentic and the i3 accurately reproduced the subtle changes in dynamics which convey emotion, allowing the feeling of the performance to come through. The details of the bowing and of the decay and harmonics of the piano were very well portrayed.

Rafael Fruhbeck de Burgos's colourful transcription of the "Suite Espanola" demonstrated the excellent timbre of the i3 Pro. Performed by the New Philharmonic Orchestra directed by de Burgos himself, the superb vintage Decca recording sounded fresh and full of life. In "Sevilla" the concertante woodwind parts in the central section were clearly depicted with believable timbre. Bright incisive brass and percussion provided an effective contrast while the lively and infectious rhythm drove the piece along in great style.

Treble
The treble on the i3 perhaps displayed the greatest difference from the original, being quite a bit brighter and possessing more detail. There was a gradual rise with frequency up to a moderate peak in the upper region after which there was a gentle roll-off. There was plenty of sparkle and life and the BA timbre was generally very good.

"Natural Light" is the title track from the album by Steven Halpern and Dallas Smith featuring Halpern's keyboards and the latter's delicate Lyricon work. Sustained electric piano tones underpin hypnotic swirling figurations from the Lyricon wind synthesiser embellished by crystalline electronic effects. On the i3 Pro the finest details were delivered with good treble extension and separation, fine resolution and a clean and natural tonality. The meditative feeling of the track was conveyed admirably.

Jacques Loussier's album "Play Bach No.1" was first released in 1959. The superb French Decca remaster from 2000 sounds fresh with remarkable fidelity. In the "Aria" from Suite No.3 in D Major, the subtleties of the brush work and the metallic quality of the cymbals were clearly audible on the i3 Pro although perhaps a little softer than ideal. The highest notes of the piano sounded natural and bright with the atmosphere of the intimate acoustic adding to the experience.

In the classic 1960 Archiv recording by Helmut Walcha, J. S. Bach's famous "Toccata and fugue in D minor" received an impressive display from the i3 Pro. There was a remarkably clean and etched quality to the high notes from the Silbermann organ which were reproduced with accuracy and immediacy. The tonality remained clear and crisp even during the most energetic passages and when accompanied by the powerful pedal tones the reverberation in the St Laurenskerk at Alkmaar was realised very effectively.

Soundstage
The original i3 possessed a very expansive stage and the Pro's was similar in depth and height but it was a little narrower. This derived from the more lively and forward mids or possibly an acoustic effect due to the reduction in size of the earpieces.

Sibelius's "The Swan of Tuonela" is a moody evocation of a Finnish legend. In the superbly recorded version by the Minnesota Orchestra under Eiji Oue, the orchestra was laid out convincingly with the cor anglais solo placed clearly in the centre and the distant bass drums rumbling menacingly in the background producing a feeling of uneasy serenity. The cello solo was very effectively portrayed and the atmosphere of the concert hall reproduced very faithfully.

"Desert Vision" is an album by David Lanz and Paul Speer celebrating the natural wonders of the American South-West. "Carlsbad" showcases Lanz's lead piano accompanied by elaborations from Speer's guitar. Supported by George Deuter's woodwind cameos and Jonn Serrie's lush synth backgrounds, the complex arrangement of the piece was expansively recreated on the i3 Pro with a huge stage and pinpoint imaging and exhibited excellent layering enabling the listener to appreciate the intricacies of the production.

In Clannad's "Theme from Harry's Game", Moya Brennan's ethereal voice is supported by banks of synths and augmented by vocal sections in the chorus. The i3 Pro made the most of this with an atmospheric and spacious delivery presenting the lead vocal clearly and effectively. The central part features powerful keyboards which showed good layering and the whole piece was set in a broad acoustic with impressive reverb and an attractive airy quality.

Change of cable
After thoroughly auditioning the i3 Pro in stock form, I changed to a TRI Grace-S silver plated cable. There was an immediate improvement in resolution in the mids and the treble appeared more extended with a silky quality and an increase in "air". The soundstage expanded, matching that of the original i3, the bass was tighter and cleaner and the background was "blacker". In this configuration I found the Pro preferable to the original i3. I also used the KBEAR Limpid Pro pure silver cable and obtained similar results so would recommend cable rolling to any owners of the new model.

Comparisons
TRI i3 (Original)
The i3 Pro does sound different from the original. Its profile tends more towards neutral with a somewhat forward midrange, a bass which is slightly less prominent and a well-behaved treble with good detail and extension, resulting in a somewhat brighter presentation and good technical ability. The original is warmer and more U-shaped with slightly recessed mids and a polite treble although the excellent planar tonality and timbre shine through in the same way as in the newer model, endowing it with a particularly musical and "cinematic" character. The soundstage on the original appears larger in size and more spacious with the newer model possessing a slightly narrower presentation and imparting a more intimate feeling but at the same time possessing a little more depth. These differences are subtle but audible and the choice between them is a matter of preference rather than anything else.

BQEYZ Summer
The Summer is a tribrid which has a large 13mm dynamic driver for the low frequencies, a proprietary BA covering the mids and a 5-layer piezoelectric unit handling the treble, all housed in a resin shell with 2-pin connection. It has a warm, well-balanced mild W or U-shaped profile with high resolution and expansive staging. Bass is deep, firm and well-textured with a powerful mid bass which sometimes dominates. It has a midrange which is clear and nicely detailed with good BA timbre and an extended treble courtesy of the well-tuned piezo driver. The musical quality is an outstanding feature and music is displayed in a bold "cinematic" fashion, similar to that of the original i3. The treble occasionally displays a thin tonality on certain material. The i3 Pro has a smoother treble, is better balanced across the frequency spectrum and has superior imaging and separation and there is more "weight" in the sub bass, whereas the Summer is faster and more snappy in its delivery with a brighter treble.

MT300
The MT300 is an innovative tribrid. It is beautifully made with a shell-like alloy housing and MMCX interface, and also includes a unique locking cable connection. It features a 10mm carbon DD for the bass, a Knowles 29689 BA covering the midrange and a TDK EST unit for the high frequencies. Its presentation is unashamedly bold and romantic and highly entertaining. It is a V-shaped profile but its resolution and impact are notable. The full-on sound does resemble the original i3 but there is a deeper sub-bass and more prominent mid bass, a recessed midrange which still has excellent timbre and presence courtesy of the Knowles driver, and a very extended, delicate treble with that EST magical tonality. The i3 Pro is more balanced in character with a superior midrange, but the treble is not as impressive as that of the MT300. In bass, it is honours even with the i3 Pro being tighter and more textured and the MT300 majoring on impact and depth.

Conclusion
Thei3 Pro has a slightly different character from the original i3. The emphasis has been shifted subtly from a warm U shaping to a more neutral and technically adept presentation. The bass has been dialled down a touch, midrange has been brought forward and the treble brightened resulting in a "flatter" response whilst still retaining most of the character and musicality of the original. The expansive and spacious quality of the former model has been generally retained with a more accurate profile being created and a change of cable did restore most of the qualities of the original. Add to this the smaller size, more comfortable fit and generous accessories and you have the recipe for a winner. With its unique driver configuration and high quality musical sound, the i3 Pro occupies a special place in the IEM market and is highly recommended.
Last edited:
Tri i3 pro; solid option, yet could be much more
Pros
:
Very wide and precise soundstage. imaging and seperation on the mids. good bass quality.
very flexible tuning that provides a good experience with wide variety of genres.
it has both smooth details and good musicality
Cons
:
It lacks a pinch of treble that could benefit for imaging and staging capabilities
details in kick drums and some instruments can be blurry due to shy treble.
Greetings everyone. I'm here with my first ever review on this forum. With this first one lets take a close look at Tri i3 pro.
I got this product for review purposes in both here and a Turkish blog that I'm writing on. I thank Wendy from KBEAR for oppurtunity.
First I would like to mention a few things about myself; I'm fairly new at this hobby. Although I only have 3 years of experience with relatively high quality audio equipment I can understand what the manufacturers are aiming when designing a product.
I mainly use my laptop while doing critical listening. I dont have a dedicated AMP yet but I can easily notice the difference in the performance of the IEM that I'm reviewing when I hook it to my laptop.
Well on to the guest of the review.
Tri i3 pro is a redesigned version of old i3 from Tri; the sister company of Kbear. They have solid options for every price range and as far as I can see they improve on every product that they release according to user feedback. I like this constant improvement rate.
İ3 was a hybrit setup that used Dynamic driver, Planar and Balanced armature drivers. I can see what the company was aiming here; each of these drivers were used in the audio spectrum where they excelled at best. It was rather bold and innovative approach. But i3 suffered from some issues like drivability, comfort and stable connection (mmcx can be tricky)
I3 pro keeps the working elements of original model and improves on every problematic aspect; potentially problematic mmcx? We got 2 pin here. Heavy and bulky design? New one is smaller and fits my tiny tablespoon sized ears. Power managment? It's easier to drive.
All in all i3 pro is a more easy recomendation for users.
Now lets get into details.
The presentation and unboxing is neither overkill or disappointing. When you open the nicely designed box you are presented with the IEM's above on protective foam insert and the vegan leather case on the bottom. Every accesory that product has is tucked inside of the case; no fancy eartip presentation in here which I like. I'm not keen on dealing with unnecessary plastic waste just for presentation. I hope other companies would pay attention on this area.
The accesories are good; stock white tips are not bad, ok at their best. But the kbear 07 tips are amazing. They are very comfortable, seals easily and fits nicely. Plus they have a wider option on the sizes and also look great. Cable is a braided copper cable. Its very soft and doesn't gets tangled easily. But for some reason sometimes they look disorganized and holds a messy shape. It doesnt affect the usage. And the microphonics are basically non existent. Its a bit heavy but I didn't had any issues with it.
Soft cleaning cloth and cleaning brush is a nice addition. it will be useful for users who might want to stick this IEM for the long run. I can see people liking these for a long perion of time.
The design of the IEM's are very similiar to the original. But they are smaller. Their weight is noticeable, but doesn't affect the usage. Shiny finish is a pleasure to look at and a nightmare if you want to keep them clean.
But the lobes are very durable; they are made of 7000 series aluminum; aluminum at one of its most durable forms.
I didn't get any issues while wearing these, except I cant sleep with them; the nozzle design prevents this. They need to work on nozzle angle a little; its not particularly bothersome but with a better angle it could fit perfectly. Meze Rai Solo is a great example for this. Isolation is good but it doesn't block outside noise as effective as Meze Rai Solo. Its because i3 pro has 4 venting holes on its upper side and it lets noise in. But I didn't had any issues with outside noise while music was playing. And the sound leak to outside is minimal. I had some air pressure issues while wearing them, it doesnt have vent on nozzle to prevent air pressure. I asked Wendy why they didn't ad done and she said that i3 pro was performing at its best with closed nozzle design. Take a deep breath and smile while wearing these; it prevents air pressure.
Sound impressions
I3 pro has a warm yet detailed sound signature; its fairly balanced but also has some fun and musicality to it.
The bass is provided by an 8 mm dynamic driver; I really like the speed and texture of it but it doesnt blows me away. It's neither disappointing or mind blowing. Really good for the price range. Its very detailed but doesnt have a big footprint like some of the other bassy options like Blon's.
Mids are provided by a planar magnetic driver. And they are the reason why you should consider these. The perfomance it has in this area is amazing; better than the balanced armature based models in this price range. They are as fast as the BA's but they dont have that over emphasized timbre (BA timbre). the layering, texture and imaging in this area is exceptional. I don't want to fill you with praise but as far as I know i3 pro is the only otion in this price range that can provide a mid range with such clarity and smoothness.
Treble is provided by a balanced armature driver. The details prominent and imaging is good but there are some issues with the treble area of the spectrum.
The imaging and performance in treble instruments are good but I cant feel the fine details in 's's, 't's, 'p's and other fine details in the instruments in the other parts of the spectrum. Some of the instruments in bass region of the spectrum has treble charactristics; like snare drum for example. ıt goes like "thum-ps", that "thum" part is good, very detailed and prominent but you can't hear the shining "ps" part. I don't have a compatible silver plated cable to test if it provides a differnet result in this area. But I will return to this post if I can test it.
Soundstage and seperation is great; it has a wide and very detailed soundstage; you can easily feel the texture of the instruments, especially in the mids. The headroom is wide and open positioning is very good. But I think it could have been much better if it had a little bit more extension on the treble; relative lack of extention prevents i3 pro perform at its best in there. But still it's the best option if you are looking for wide soundstage.

Power requirements and pairing
I3 pro is supposed to be more efficient than its predecessor but keep in mind that this is still a hybrid that uses a planar on the mix. Altough it is possible to use it with a phone you might face with some issues with the volume levels; it can be hard to find a perfect sweet spot with the relatively limited volume settings of a smartphone; I had to change difference level in the volume steps in audio settings from my Galaxy Note 9 to get a precise control over the volume level. But I was able to get a really good performance from it. I got a better performance from my Asus N550 laptop. The soundstage, seperation and imaging was better. But this is due to amp difference between my phone and laptop, I3 pro performs relatively similar in both sources. It's very efficient for what it provides.

Overall experience and my feedback for the company
I3 pro is a very easy recommendation for its price range. Not just because it provides a relatively good experience because it exceeds it. It really does; capabilites of this model in mids are only possible with a planar driver. The coherence between drivers are great yet you can definetly pinpoint which driver is on the wheel when you listen. It doesn't feel like an IEM it almost feels like a closed back.
Its a good option for a wide range of genres from edm to instrumental tracks. But I enjoyed the live recordings and concerts most. The echo of the concert hall, fine details of each instrument ( almost poor snare drum and high hats can't shine as much as they want) are beutifully delivered.
And recordings with natural elements were also a joy to listen; the echo of the leather drum that bounces back from the walls, the way vocalist moves their lips and the later reverberations of the string instruments like harp, kodo, and zither is a pure joy with this IEM. Yes I did had a similar experience with some of the BA-DD hybrids but none of them were as detailed yet as smoth as this one. And one more thing; usually an IEM that excels at strings can be painful while listening some concert recordings like Magical Mirai. The echo of the concert hall causes a very thick and overbearing experience that causes me to lower the volume even tough it's not that high. Well its not an issue with i3 pro; the timbre of planar driver provides a more comfortable and flexible experience. Even with high volume you won't experience any harshness or discomfort.
What you might find disappointing is absence of some sparkle on the treble region; don't worry its not a total blackout like I experienced with BGVP NS9; treble instruments like bells and shakers are easily noticeable. But some of the fine details of snare drum, high hats and later sparkling bits of shakers are not as prominent as you might want. And this is the only area where I think some attention would be needed. I think this is happening because of the lack of crossover circuit in this model. By its design each driver is performing their tasks on their own and doing it very good. But due to power requirements of the drivers lack of some detail in treble region is possible. Balanced armature on this IEM is the most sensitive one and Planar Driver is the most power hungry one; had they increased the sensitivity of the BA we might had to deal with some static noises or hissing. So I can uderstand why they kept the BA with this level of sensitivity. But if they can improve the power divison between drivers a little bit more I don't have a shadow of doubt that this model could be a solid option for years to come. It already has a very appealing performance, all it needs is a little bit more fine tuning on the treble area and some design improvements with the nozzle design.
And adding matte option would be a good idea. Altough they look fantastic its also problem if you are nott keen on cleaning them everytime.
I have a couple of feedbacks to the company and some ideas for us to brainstorm. While I dont think its necessary to change any of the drivers inside I can't help but think about how it would be if they experimented with some different setups. For example mids in this model is very succesful and this is thanks to the timbre characteristics of the planar magnetic driver. I wonder if its possible to entend this particular drivers' range to the bass region? Or full spectrum. And I wonder how it would be if they could pair this one with a magnetostatic driver like the one on the CCA NRA? The timbre on that driver is very good; its transparent and very shiny yet doesn't have any of the downsides of a poorly tuned DD or BA and with some fine tuning it could provide very interesting results with planar drivers. Especially with the spacious performance that the planar driver provides in this model. I think people on the company should think about this idea.
Last edited:
Pros
:
Good resolution despite a warmed tone, incredible mid-range, good layering, immersive holographic sound, beautiful vocals, smooth timbre, quick mid and high attack, good transparency, easy to love, fair price for such a hybrid planar
Cons
:
Uncontrolled and poorly calibrated bass, poor sub-bass and kick-drum separation, lack of air, lack of precision in the separation of instruments, not super textured, tonal balance isn't perfect, planar driver potential isn't fully exploited
TONALITY: 8.2/10
TECHNICALITIES: 8.5/10
CONSTRUCTION: 9/10
SOUND VALUE: 8.2/10

TRI is the sister company of KBear and aims for more audiophile-minded earphones with higher-end audio technology. Today I will review the I3Pro model, which is I3 with a smaller body size and different dynamic driver and overall more balanced tuning. This hybrid has an 8mm composite DD for low, a 10mm Planar driver for mids and an unknown balanced armature for the highs. As a guy that was both disapointed by the Obravo Cupid (bad balance) and Tinhifi P1 (no bass), i was very eager to give these a try, so let's see in this review if they pass my grumpy critical hearing test!
CONSTRUCTION
CNC carved aluminum alloy shell material with mirror finish, feel sturdy and is very eye apealing, it have interesting curves too. Thanks god it's 26% smaller than first I3 because it's not the smallest IEM either. It feel very sturdy and durable as well as carefully built without sign of bad gluing-fitting. Like every mirror finish, this is a finger prints magnet.
DESIGN
have an organic shape that slip easily in there and will fit most ears size. Due to it's 4(!) venting port at it's side, it most be noted that sound leakage is very present and isolation is just average.
CABLE
The 5N OFC braided copper cable included is very good, nothing to complaint here even if it does add slight hint of warmth to the tonality.
SOUND IMPRESSIONS
(using mostly Xduoo X20, SMSL SU-9+SH-9 and Xduoo XD05plus. Stock cable. KZ Starlines eartips)
The
TONALITY
of the I3Pro is well balanced for the heterogeneity of the transducers used, although the sound is not the most natural, but it is organically cohesive. The frequency balance is U-shaped to smoothen W shape à la Harman, without obliterating the presence of the mids, which are flat but clear, transparent and nimble.The bass is boosted in the extension and spills into the lower midrange, creating warmth and affecting the overall sonic cleanliness.
Here is the biggest flaw of the I3Pro: its warm and poorly controlled
BASS
. All of its power is emphasized on the sub-bass and mid-bass, there is no flexibility of impact and a lot of resonance. The kick drum gets swallowed up and darken by this loose rumble and the attack speed cannot keep up with the faster mids and highs. The texture isn't very rich either, due to its hazy tone. We have more quantity than quality here, despite having anemia in the high lows. Likewise, it seems that the planar transducers mix its bass with the dynamics driver, making its definition and separation too opaque. But it's not all bad, I mean, if you remember the complaint about Tinhifi P1 lacking bass, the I3Pro solve it by adding some juicy boom. It's perhaps not very detailed or refined, but it does add fun slam to an otherwise very refined tonality. It's mostly problematic for acoustic bass and toms.
The
midrange
is the best part of the I3Pro, thanks to the talent of the planar which delivers high resolution and complex articulation with ease. The tone is dense with nuances, the attack is fast and the rendering is open and panoramic. Despite a slight boost in the upper midrange, there is no problematic sibilance. The female vocals are more prominent than the male ones, but both have no shortage of content. The piano sounds realistic, but doesn't have much of a natural resonance after the impact of its notes, but it does allow for a clean articulation and well defined in impact albeit blurry in its contours. Wind instruments sound particularly realistic, with an airy layer and nice density, in fact, I have rarely heard a saxophone sounded as well as with the I3Pro, because it is neither too dark nor too textured. In fact, I would consider the midrange perfect if it weren't for the bass that denatures them. The attack is fast and tight, and it will not go messy with fast busy track unlike the bass. The planar driver delivers a mid-range that has a precision and effortless resolution we rarely if ever find in sub-200$ price range.
The
treble
is also a strong point of the I3Pro, although it is not the most complete or balanced there is due to some coloration. Here it's the micro details that are brought to the fore, quite delicately and some upper section is darkened to keep the sound smooth despite a high degree of musical information. The upper highs bite more than anything below 8khz and can sometimes distract us or seem too frontal. But that's nit-picking, because their alot of IEM that are not as well balanced as I3Pro. Still, it brings extra energy and also an illusion of sound clarity, air, and brilliance. On the other hand, the rendering can be unpredictable, benefiting the texture of some instruments in the high harmonics, like the acoustic guitar, but lacking in definition for others like the electric guitar.
The
soundstage
is large and open at the periphery, but shallow, especially when the bass renders cloudy.
The
imag
ing is well articulated in its layers, but not precise in instrumental placement, making spatial decortication difficult.
The sound
timbre
is mixed, as the bass has a warmer, darker, meatier timbre. The midrange tone is the most natural and the high is the coldest.
Technically
, the I3Pro would be extremely impressive if it weren't for the immature and poorly calibrated low frequencies. The mids and highs are quick in attack, high but not forced in resolution, transparent and well controlled-articulated.
COMPARISONS:

VS TINHIFI P1 (1 PLANAR-160$)
The P1 is more mid centric than I3Pro, as well it have a faster attack, richer texture, more transparent timbre and overall more realistic tone…but the bass i not there at all.
SOUNDSTAGE isn't as deep, but imaging is clearer and more precise.
TIMBRE, while thinner, is more textured and life-like.
BASS is leaner and notably more rolled off, its more textured and balanced, as well, it doesn't bleed on mids like the I3PRO. But it doesn't have punch, weight, body and can make bassy music intensely underwhelming unlike the I3PRO.
MIDS are similar but cleaner and bit brighter, more snappy and crisp, attack is even faster and clarity is higher.
TREBLE is where the P1 feel superior, in the sens it's fuller, leaner and more accurate. It doesnt have a dip in texture section and feel more cohesive than BA treble of I3PRO which is a hint more artificial.
All in all, I do prefer the I3PRO as a whole, because it most be noted the dynamic impact is easier to achieve with humble amping, so, it's easier to drive, have more bass slam, similar planar tech plus a BA that extend treble further but isn't as well calibrated as the P1. Both are guilty pleasure for different reason, but the P1 is more serious and sterile.
VS OBRAVO CUPID (1DD+1PLANAR-240$)
While these have similar driver implementation…they aren't similar at all. Obravo being more agressive V to W shape with upper mids brightness.
SOUNDSTAGE is wider but less tall and deep. IMAGING is inferior, too saturated and messy.
TIMBRE is notably brighter, more artificial and saturated with grainy texture.
BASS might be faster, but it's all about punch. Sub bass is more rolled off and the body is less full.
MIDS are more recessed but more fowards in upper mids, it's more shouty, agressive and artificial. It can't deal as well with busy track to. Vocal are displeasant, female being too screamy and male being too messy. You will encoutner way more sibilance with the Cupid too.
TREBLE is way more intense. peaky and out of control than I3PRO…so much in your face and not refined. It's more rolled off too.
VS BQEYZ SPRING2 (1DD+1PIEZO+1BA-140$)
What hit first is how the SPRING2 is cleaner and clearer than the I3PRO even if brighter and less transparent in timbre.
SOUNDSTAGE is very similar, but more holographic and out of your head, as well as deeper. IMAGING is more accurate, it has more clean space between instrument too.
TIMBRE is way more textured, brighter and less transparent.
BASS has less sub-bass emphasis, resonance and extension, it's more punchy and thick. It's clearer, tighter and more textured. It's less warm and organic .It's faster in transient too. Kick drum sound notably better and realist with those Spring2.
MIDS are brighter, more fowards and textured, less transparent and natural.
TREBLE is more aggressive, it have more bite and micro-details, it's a hint more splashy due to longer decay. I3pro highs are thinner but better balanced and more delicate.
I love both and both have their quirks, but if your treble sensitive, the I3pro is a better bet even if warmer and more hollow in resolution.
CONCLUSION:

While the I3pro isn't perfect due to it's bass imbalance with poor control, it still has plenty of trick in it's pocket that offers an immersive and appealing holographic sound experience. In fact, this might be the best Hybrid planar in term of full-sounding tonality with a mid-range technicality that only Planar can achieve. Still, I wish the planar have more presence than bass and ba.
All in all, I really love the I3Pro for what it give: a warm, rich, fun, well resolve bassy sound that doesn't offend the ears and have a balanced tonality with weighty dynamic and soft treble.

I do think TRI is on something and should continue their efforts with planar-based IEM.
-------------------

PS: I wanna thank KEEPHIFI for this review sample. You can buy the TRI I3PRO from their store HERE.

If your are curious about my Best sound value IEM list, give a look
HERE.
TRI I3 Pro - Planar Luminescence!
Pros
:
EVERYTHING
1 - Well-extended bass
2 - Smooth highs
3 - Exquisite Mids
3 - Huge soundstage
4 - Great imaging for gaming
5 - Size
6 - Instrumental and classical music shines with this IEM
7 - Great for metal
Cons
:
Almost nothing at this price range
1 - The cable is meh at best
2 - Stock white tips are just bad
3 - Pressure build up issue
4 - Fit
5 - Not so comfortable for sleeping
6 - Bass impact is quite low for my taste
7 - Requires proper amplification to perform the best
Sources used during review - Sony ZX300 (3.5mm and 4.4mm), Shanling UP4, Apple Dongle and Samsung Galaxy S8 Audio Jack (3.5mm).
Cables used during review - FAAEAL Hibiscus 4.4mm, TRI GRACE - C 3.5mm, provided Copper cable in the retail box.
Tips used during review - Final E-series Tips and KBear A07 Tips

This is a brief review of the TRI I3 pro.
This is a Tri-brid IEM with One planar driver, One Dynamic Driver and One Balanced Armature. TRI revised their older I3 and came out with improved TRI I3 pro and if you ask me they've nailed it. The sound is amazing for it's price and I'm really happy with it.
Price -
Tested at 190USD and bought completely with my own money so the review is completely unbiased.
Accessories -
The packaging is quite nice with a space-y theme to it and the provided eartips are quite good along with the case. They also provided a cleaning cloth so more fingerprints all over this beautiful IEM.
Sound -
This IEM has kind of a Harman-ish tuning and a U-shaped signature to it. Highs are smooth and non-fatiguing. Detail retrieval is quite good if you're searching for that but other than that, it's missing that sparkle. The soundstage and imaging is absolutely phenomenal on these. I've accidentally taken these IEMs off quite some times just to see if I'm playing music through my speakers or my IEMs. The imaging is on par with my HE400i and Sundara sometimes. I played some rounds of CSGO and Killing floor 2 with these just to test out the imaging and everytime it was extremely accurate. Moreover, in music it's very easy to tell which instruments are playing and where. The Mids on this IEM are Clean, smooth and exquisite. it's transparent and has an extremely rich texture to it. There is no metallic timbre present here as far as I've heard. It feels completely natural and not artificial at all. The bass is fast, tight and full. But the impact is not as good as it could've been to me. Testing on the 4.4mm jack it feels more or less the same. Speaking of which, amplification is a must here. I've tested it with the Apple Type-C dongle and it sounds lifeless and thin. But with enough power it shines as bright as the sun.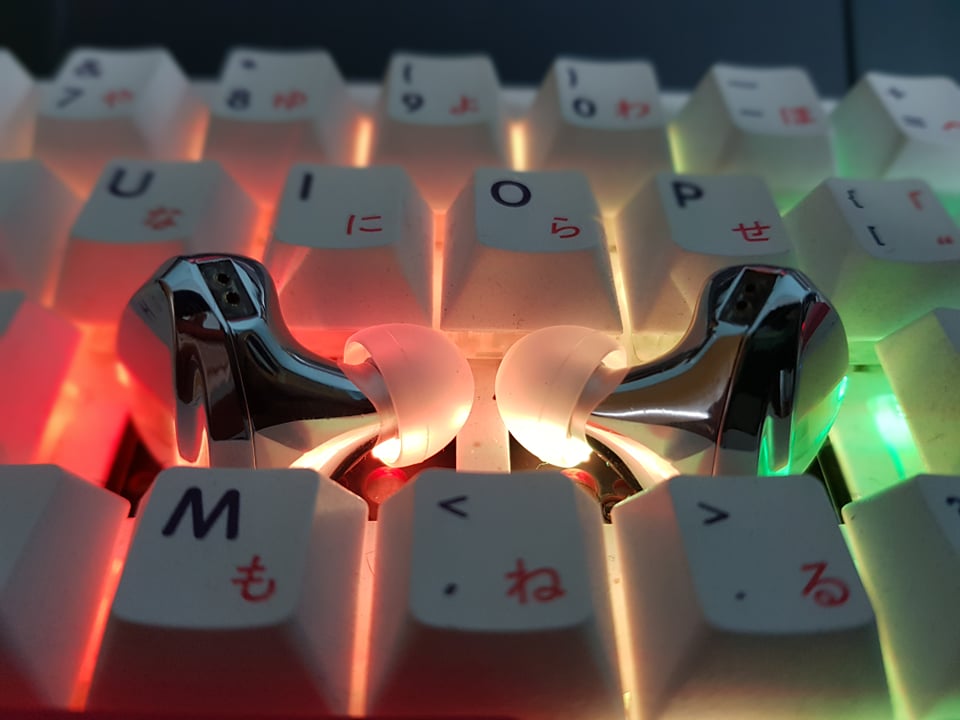 P.s - This is just my opinion and it may vary widely with people. So do look at other reviews before getting one for yourself. This is my first review and I'm quite inexperienced in writing reviews. Thank you for reading this and I hope you have a good day.
Planar Tribird In Space 🚀🔥 - Tri i3 Pro Review
Pros
:
- transparent, open, smooth sound signature
- well-extended bass
- great sub-bass
- lean clean mids
- smooth resolving highs
- big soundstage
- good imaging
Cons
:
- treble dip
- mid-bass
- cable synergy is off
- air pressure build up
- dynamics
Tri i3 Pro is Tri (KB Ear)'s latest take on a tri-bird IEM. It is the successor to the well-regarded Tri i3 and it comes in at $189usd ($40usd more than Tri i3). It sports a 3 driver configuration, with 1DD for the bass, 1BA for the mids, and 1 Planar driver for the highs. Upon opening the "space-themed" box, I have presented a pleather case, 2 different types of ear tips (3 pairs of stock eartips and 5 pairs of KB Ear a07), a cleaning brush, a 3.5mm OFC cable, and last but not least, the IEM itself.
In terms of unboxing experience, I think that Tri nailed it. It feels premium and appropriate for the price point. Overall, pretty happy with the unboxing experience here.
With the unboxing out of the way, let's start the review.
*Disclaimer: This review is done usng stock eartips and stock cable.
PROS :​
The tuning here is somewhat Harman-like. It has sub-bass boost, lean mids, upper mids boost, and smooth treble. I would describe the sound signature here to be transparent, open, smooth.
In terms of bass, I would describe the bass here to be well-extended and clean. The bass here is sub-bass focused, with impactful sub-bass, great texture, and great slam. However, the mid-bass is a bit lacking and lightweight. Depending on your library, this could be a good or bad thing. If you listen to mostly modern music with tons of sub-bass, then you are in for a treat as the sub-bass here is really impactful and tasteful. However, if you mainly listen to genres like rock or classic hip-hop, where there's not much sub-bass, the bass here can come off as flat and lacking.
The midrange here is transparent, open, and lean. Vocal presence is good too with crisp, clear, forward vocals. It is also pretty detailed, with 3D-like staging and instrument separation. However, the midrange here lacks body. Thanks to Tri i3 Pro's mid-bass (or lack thereof), vocals and midrange sound thin, which throws the timbre off a little.
In terms of treble, the treble here is smooth, yet resolving. The easiest way to describe the treble here is that it has good planar resolution, yet it is smooth and non-fatiguing. It shines when amped, and I find it pretty enjoyable (for the most part). However, I think the low-treble dip makes the treble here sound muted. It is like the "planar treble" is somewhat missing. I would be much happier if the treble dip isn't there, but it is what it is.
In terms of soundstage, it is big and airy. The staging here is pretty big, with good width, height, and depth. I would describe it as being somewhat like a hall.
Imaging is pretty good too with good imaging and separation.
In terms of drivability, I would disagree that Tri i3 Pro is easy to drive, as the planar highs definitely need amping to shine. However, I would say that it is "easier" to drive than expected. I expected it to require more juice, is what I'm trying to say. Anyways, as long as you have a decent enough amp, you should be good.
Unboxing experience is pretty good. With good accessories, good case, great tips selection, great cable.
CONS :​
Treble dip can be too smooth for some. Makes me feel like the "planar treble" is somewhat missing.
Mid-bass lacks impact. A bit too soft for my liking.
Cable IEM synergy is off. Treble is too smooth with stock cable. KB Ear Limpid 8 core pairs much better with Tri i3 Pro. Brings out the "planar treble", adds air, and overall improves the treble extension and articulation
Coherency is off without amping. Treble, bass, mids sound separated. DD Bass is limp, planar treble sounds like dying, and the BA mids sounds separated
Noise isolation isn't good. Isolates like a semi-open IEM. Outside noise can be heard
Air pressure build up over time. Driver flex?
Not the most dynamic sounding. Dynamics could be better
BEST PAIRING FOR TRI I3 PRO :​
I find Tri i3 Pro to pair best with KB Ear Limpid 8 Core "Pure Silver" Cable
KB ear Limpid fixes the "Planar treble" issue that I have. With stock cable, I find that the treble is too smooth for a Planar tri-bird. KB Ear Limpid 8 Core brings out the "planar treble" more, adds, air, and overall improves the treble extension and articulation.
TRI I3 PRO ($189USD) VS BQEYZ SPRING 2 ($169USD) :​

Spring 2 is warmer fuller more natural sounding, with warmer thicker bass (but not as defined or textured as Tri i3 Pro), warmer fuller mids, fuller lusher vocals, more textured / better-defined treble. Soundstage is slightly narrower with better depth. Imaging is slightly better imo. Timbre and coherency are better than Tri i3 Pro.
Tri i3 Pro is leaner sounding, with deeper more impactful sub-bass, better bass texture and slam but lacking in mid-bass punch, mids are leaner more transparent but lacks body, vocals have good clarity but can come off as thin and lacks fullness of the Spring 2, and treble is smoother but more resolving. Soundstage is wider than Spring 2.
Winner: It depends. Tri i3 pro has better bass in terms of texture, extension, and slam, but Spring 2 has fuller thicker mid-bass which is more tasteful. Tri i3 Pro has leaner more transparent mids, but Spring 2 has fuller thicker mids with better timbre. Tri i3 Pro treble is smoother with better resolution, but Spring 2's treble has better texture and definition. Technicality wise, they are similar too as compared above.
TRI I3 PRO ($189USD) VS BQEYZ SUMMER ($129USD) ❄:​

Summer is brighter more V-shaped sounding, with tighter punchier more dynamic and more impactful mid-bass, brighter clearer tighter mids, brighter more forward and sibilant vocals, brighter splashier better defined/textured treble. Note weight on Summer is slightly thicker in bass/lower mids but thinner in upper mids/treble region. Soundstage is slightly wider but flatter than Tri i3 Pro, timbre and coherency aren't as good as Tri i3 Pro as Summer's upper mids/treble can come off as thin while bass / lower mids sound warm and fuller.
Tri i3 Pro is smoother, warmer, not as V-shaped. Bass has better sub-bass impact and texture but lacks dynamics and mid-bass impact, mids are more open and transparent but a bit lacking in body and note weight, vocals are slightly smoother not as crisp as Summer, and treble is smoother warmer with better resolution. Soundstage is bigger on the Tri i3 pro with similar width but much better depth and height. Timbre and coherency are slightly better on the Tri i3 pro.
Winner: Again, it depends. Tri i3 Pro has better sub-bass texture and slam, but Summer has fuller punchier tighter mid-bass with good sub-bass extension. Tri i3 Pro has more transparent mids, but can come off as flat. While Summer has clearer tighter mids presentation. Vocals on the Summer are crispier clearer, but with a hint of sibilance at times. While Tri i3 Pro vocal presentation is smoother whilst still being forward and clear. Tri i3 Pro treble is smoother with better resolution, but Summer's treble has better texture, better definition, crispier, brighter, and splashier. Summer has better note weight in terms of bass / lower mids but has thin note weight in terms of upper mids/treble. Coherency and timbre are slightly better with the Tri i3 Pro.
IN CONCLUSION:​
At around the sub-$200usd mark, you have 3 options (and more) for tri-birds: Tri i3 Pro, BQEYZ Spring 2, or BQEYZ Summer.
Whichever you choose is up to you. I have compared all 3 of them and frankly speaking, none of them is perfect.
Each of them has its own strengths and weaknesses. Which aspects are more important is entirely up to you, your personal preferences, and your music library.
In terms of Tri i3 Pro itself, I think that Tri i3 pro is pretty good. It has great sub-bass, lean mids, smooth resolving Planar highs, big soundstage, good imaging, and good detail. If you listen to mostly modern Hip-Hop/Pop music (or any music with fat sub-bass), Tri i3 Pro will seriously shine with its impactful and rumbly sub-bass.
However, if you mostly listen to rock or genres without sub-bass, Tri i3 Pro's bass might come off as too lean/lacking to you thanks to its flat mid-bass.
Overall, Tri i3 Pro is a pretty decent tri-bird that I wouldn't mind recommending to some folks. Sure, it isn't perfect. But with the right music and library, Tri i3 Pro can seriously shine.
This review unit is provided by
HILL AUDIO - MY
as part of their Tri i3 Pro review tour. I am not at all compensated by them and all thoughts and opinions are my own.
KBEAR TRI I3 Pro – Children Of The Revolution
Pros
:
Improved transparency and dynamics whilst maintaining the pleasant and unique planar-magnetic sonic characteristics of the original; smaller earpieces with nozzle; added accessories.
Cons
:
Smoothness and richness reduced in revised tuning; still lacks treble extension; still needs strong amplification.
Executive Summary​
The TRI I3 Pro remains a unique sounding planar-magnetic earphone that now features more bass and upper midrange which results in improved transparency, clarity, liveliness, and dynamics, at the expense of richness and note weight.
This review was originally published at
www.audioreviews.org
Introduction​
KBEAR released their original $169 TRI I3 in late 2019. It was the cheapest planar magnetic earphone on the market and received lots of attention. We analyzed it to death – here the takes by
KopiOkaya
,
Baskingshark
, and
myself
– and also addressed the pros and cons of planar-magnetic drivers.
The original was plagued by channel imbalance, lack of nozzle lips (any eartips were stuck in my ears after each use), the earpieces were "sumo sized" (Baskinghark), the cable did not harmonize sonically, and some say the tips didn't either. All of these (except the eartips) have been addressed in the Pro model.
Regardless, the original's sonic offerings were so appealing to the users that the model prevailed until recently – almost unheard of in this genre.
Specifications​
Drivers: 10mm Planar magnetic + composite 8mm dynamic driver + balanced armature
Impedance: 15 Ω
Sensitivity: 103 dB/mW [strong amplification needed]
Frequency Range: 20 – 30,000 Hz
Cable/Connector: 2PIN (0.78MM )
Tested at: $190
Product Page/Purchase Link: KBEAR Official Store
Physical Things and Usability​
In the box are the earpieces, 2 sets of eartips, cable, pleather pouch (known from Diamond and Believe models), cleaning cloth (!), cleaning brush, and paperwork.
Fingerprint magnet? Not anymore…cloth included.
The aluminium alloy earpieces, although shrunk by 26% compared to the original, are still not the smallest lightest but they are (still) very comfortable for me. Build and haptic are premium. The 5N OFC (oxygen-free copper) cable works sonically, has no microphonics, is pliable but a bit on the heavy side. Optically, it is nothing special. in terms of comfort, I had no problems listening through a double CD. Isolation remains average.
The grey stock eartips are fine for me, I cannot not find any better alternatives after some tip rolling. Amplification is required for the I3 Pro to shine, and the more the better. Regular dongles were ok, but the
EarMen TR-amp
worked best in releasing the sonic details.
Physical Differences between TRI I3 Pro and TRI I3​
As you can see from the 2 photos, the shell size has been reduced in volume by 26% (the number is from the
product page
) without changing shape. You further recognize the nozzle lip added to the Pro.
Original I3 on the left. Face with hat for scale.
The
song
shape remains the same.
Note nozzles grills and 2 pin connectors.s
Tonality and Technicalities​
Testing and Measuring Details
Equipment used: MacBook Air +
EarMen TR-amp
.
Hidizs S9 Pro
,
Earstudio HUD100
,
AudioQuest Dragonfly Red
w.
JitterBug FMJ
,
AudioQuest DragonFly Cobalt
, Astell & Kern PEE51; grey stock eartips. Worked best with the most powerful TR-amp.
KBEAR have addressed a few concerns about their original I3 but kept the principal sonic character. The changes are rather tonal nuances of the original packed into smaller shells.
The I3 Pro is still a warm (but to a lesser extent) iem with that special planar-magnetic timbre that is so different from the rest of the competition – a unique feature of this earphone.
As you can see from a graph comparison, the I3 Pro received boosts at the low end and in the upper midrange, which pronounces the original model's U-shape. But instead of the vocals being pushed back, they are actually moved forward. This means that the upper midrange wins the balance game over the low end.
In the big picture, the TRI Pro has become brighter, faster (at least perceived so), more dynamic, but also a bit leaner however cleaner in the midrange.
Although the low end has been boosted (and the pinna game is still at an acceptable 11 dB), it is somewhat compensated for by the elevate upper midrange so that the bass perception is only marginally stronger compared to the original. It is still a bit on the slow side as it is typical for planar-magnetic drivers. It ain't fuzzy but could be tighter. Because of the changes in the mid frequencies, the bass appears faster than it probably is. Extension into sub-bass is average.
The lower midrange has moved forward and lost a bit of richness and weight. It is leaner, brighter, and more forward. This is probably the biggest sonic difference to the original. And I am not sure it is better for everybody, but it makes for more midrange clarity and dynamics. And it leaves the impression of more sparkle and bite but the Pro is also more prone to be fatiguing to some.
Treble has essentially remained the same. The rolloff is too early at the expense of sparkle and air. That's probably the reason for raising the upper midrange.
Soundstage has been deepened because of the increased U-shape which makes for improved spatial cues and transparency. The stage has become more three dimensional. Co-blogger Larry records a loss of width, he claims the more forward presentation (I add: increased depth) gives the impression of a narrower stage. One could say, the original I3's stage is flatter and wider. I find the increased three-dimensionality an improvement, but such perception may vary individually.
The technicalities also remain mostly the same, that is average. Instrument separation, resolution are all good but not outstanding. Midrange clarity and air as well as dynamics have been improved.
Since the I3 Pro is so unique, it is pointless comparing it to other models in this price segment. Take it or leave it.
Concluding Remarks​
The TRI I3 Pro is an upgrade over the 2019 original in many respects and a sidegrade in others.
Upgraded were the size of shells and therefore comfort, added nozzle lips, included cleaning cloth…and the price, too

. Sound has become brighter, livelier, more transparent, and more dynamic, but the at the cost of richness and note weight, and it digs into that famous ChiFi peak, at least marginally.
Nevertheless, the TRI I3 Pro remains a completely different beast because of its unique sonic appeal, and therefore competitive, even at the upgraded price. Sadly, I observe such raises throughout the ChiFi community, lately.
When starting comparing original and Pro version, I first favoured the former. But with increasing A/B-ing, I find the Pro version better as livelier sounding. The IE3 Pro is still one of the lowest priced planar-magnetic iems on the market and should remain an audio enthusiasts' favourite.
Until next time…keep on listening!

Disclaimer​
The TRI I3 Pro were provided from KBEAR for my review and I thank them for that.
Get the TRI I3 Pro from KBEAR Official Store
Last edited:
TRI I3 Pro [tribrid] -- a critical quickimp
Pros
:
size & fit
good BA & planar timbre
good bass quantity & quality
good for classical & instrumental
Cons
:
driver flex
blunted upper mids
slight unbalanced FR
overall mushy & smeared presentation
unique tuning that shines on certain songs
Tonality: 7/9
Technicalities: 6.5/9
(total 6 mins read)
TRI I3 Pro is supposedly a revamped model of the original I3 that was released in 2019. however, I haven't had the chance to audition the original I3 for comparison but it's said to be an upgrade in terms of tuning and fit (26% smaller). hence, the "Pro".
it has the look or finish that has become quite the choice of many entry to mid-tier IEMs nowadays, such as HZSound Heart Mirror & Moondrop KXXS. it's a kind of no-brainer aesthetically for people who love shiny things, but I find this style is a little
dull
while sometimes 'extravagant
'
for my taste. this tour unit noticeably already spotted hairline scratches everywhere on the shell and it's a bit concerning if the
mirror
aesthetic is what one's looking for in purchasing an IEM. it comes with a plentiful of ear tips, a 5N OFC cable, a polishing cloth & a small faux leather carrying case with a magnetic lid. the package is rather fine as one could expect for today's standard, which I don't bother.
Price: US$189
Configuration: 8mm DD, 10mm planar magnetic, BA
Impedance & Sensitivity: 15 ± 2Ω / 103 dB
measurement graph courtesy of Hill Audio Malaysia
my preference signature is neutral with or without bass boost, with an exception for a little warm-tilted, mild V-shaped but to be honest, I'm a "signature agnostic" because anything can work. I listen to mostly everything but currently lusting more on the modern sub-genres of Jazz, Progressive Rock & Metal, Drone, Post-Rock, Noise Rock, No Wave, Minimalism, Totalism, modern recording of Chamber, Orchestra, Concerto, or Modern Classical at large. I'm a musician myself and very passionate about [my acquired taste] music & music reproduction.
Frequency response & tonal balance
the first thing I notice about TRI I3 Pro is the bass quantity and quality. it has good bass slams with authority but maintains a tad longer decays than I expected. starting with pop music,
Dua Lipa's Don't Start Now
is entirely enjoyable with good quality, textured lows. the mid-bass is fluid and nicely blends to the mids without obvious bleed. the overall bass of
Nancy Ajram's Ah W Noss
is so lush yet punchy with decent microdynamics.
I don't find any serious lacking in the bass department especially with bass-heavy music except maybe for its tactility.
Mastodon's The Wolf Is Loose
shows the lows of the kick drum is always fell behind chasing the mid-high tones of pedal hit to the drum skin that makes it perceivably a little loose and disjointed. nonetheless, I think the overall bass presentation is quite good as long as one's not going specific on the speedy metal's requirement or bassheads' subwoofer-like appetite.
the overall mids are fine honestly. not great, and not bad either. the female vocal is about half a step to the back and sometimes it's like standing in line with other instruments. once in a blue moon the vocal can go behind the woodwind & horn instruments for certain recordings. the male vocal is good thanks to its fine bass response & quality, but like any other instrument that exhibits more in the mids to the treble region, it lacks the
correct
overtones & presence that seems to be the '
missing link'
to my ears. the upper mids also can get a little hotter if pushed, especially with metal songs. I think this has to do with the whopping 4-6kHz scoop for its imbalanced response.
"non-fatiguing"
is not my concern or considered as a good point for an IEM in this price bracket, because I think it shouldn't be an issue for today's standard. I'm paying more attention to how well an IEM is going to execute a harsher recording such as of metal & hardcore genres. so far, I don't find any serious issues related to 'fatigue' for most pop and radio-friendly music. however, my favorite progressive metal song,
Mastodon's Capillarian Crest
is a bit shouty in the vocal, snare, cymbals & guitars combined (almost nothing's left). it's not a sharp kind of harsh, but I might call it
blunted-peaking-crunch
. it's the upper mids to the treble peaks that are lacking resolution if that makes sense. more later in the technicalities+.
from my metal library, that is normally where the true capability of treble reproduction is revealed. other than metal, the tricky track like
Shudder To Think's X-French Tee Shirt
sounds not quite
natural
than average IEMs playback to my ears. it is as sibilant as it can get.
Herbert von Karajan & Berliner Philharmoniker's Beethoven: Symphony No. 9 "Choral"
is good enough but not up to the sonic quality standard that I'm so used to. everything seems a little congested and sacrilegiously bleeding when the choir part is blasting at 6:32 that's supposedly heaven-like. not quite hell,
Biffy Clyro's God & Satan
does fairly give me the emotion or feeling that I'm accustomed to but with a lesser sonic quality that may be forgivable.
into the void we go
Technicalities +
TRI I3 Pro has an average sound stage width & depth that's acceptable to my listening needs. however, the imaging is not that very good with subpar pinpoint capabilities. to be honest, the imaging is a little blunted and hazy. I find the reproduction of the magnificent
Será Una Noche's Taquito Militar
is kind of vague and uninspiring. the playback here somehow is lacklustered with the absence of the last bits of resolution that does injustice for the masterpiece.
(FYI, MA Recordings is known in the audiophile community with its famous dual omni mics live setup that's outputting in a lively and 'presence' recording especially with Será Una Noche's second album La Segunda)
.
by embracing its mild BA & planar timbre, I3 Pro is a decent IEM but its slight
imbalanced
tuning might be a problem. it seems like either the planar or BA driver has a very short decay that makes the treble sounds not quite
natural
. the combination with the long decay of the dynamic driver shows the overall incoherency; a configuration that's not properly tuned. thus, the blunted imaging & the overall smeared presentation.
it requires a higher loudness to achieve or in this context, for me to
receive
a more 'balanced response' and just to
squash
out for the
last bits of information
which sometimes resulting unpleasant lower treble peaks and sibilance. at a lower volume, I'm afraid the playback might not satisfy one's musical desire (like mine) with its somber characteristic. nevertheless, I believe most classical and instrumental music can benefit best from this tuning. multi-layered tracks like
St. Vincent's Chloe In The Afternoon
also does pretty well with highlighted synths texture.
Comparison
it's surprising to me, that the recently released Tripowin Mele has an overall cleaner presentation here. it also has a more balanced tonality & organic timbre across all frequency spectrums. for example,
Zu's Carbon
shows a more
realistic
&
believable
playback on Mele than I3 Pro. little strange that a budget single dynamic driver like Mele can compete and trade blows while sometimes slightly outperform the multi-driver I3 Pro not only in terms of tonality & timbre but also the separation & imaging.
for certain songs, the instant sense of 'resolution boost' when swapping to Mele is so obvious that it makes it harder for me (if it's not already difficult) to evaluate the I3 Pro's performance impartially. fair enough to say, it's a more enjoyable and pleasant listening experience with the Mele for more than half of the songs compared. but sometimes, TRI I3 Pro seems like a more
competent
set.
(I'm suggesting

Dua Lipa's Don't Start Now

,

Fear Before the March of Flames' High as a Horse

,

Daughters' Satan In The Wait

, or

Nick Cave & The Bad Seeds' Red Right Hand

for additional self-comparison to everything I've said above)
comparing to a closer priced IEM, ThieAudio Legacy 3 has a better definition all-around although it's a bit on the leaner side. I3 Pro is superior in terms of delivering note weight & depth but inferior in terms of imaging and timbre. Legacy 3 is a bit hotter and shoutier at times but boasts a more balanced frequency response. both are decent & equal to my eyes (ears), to each of their own fortes.
source: Tidal via Topping EX5 with/out Aune X7s & UAPP via LG G7(it does scale better with amplification)
tested with: stock cable & cut-short Azla Sedna Earfit Light
mirror mirror on the faceplate, who's listening to a planar up this late? - it's 5 am here while I'm writing this
I can see why people love this set and many more will enjoy it because it's really a not bad IEM in and out, especially for those who focus on a small number of musical genres or styles. honestly, I don't mind the BA & planar timbre because they're considerably good but for my huge library, it's undeniably a decent IEM but an underperformer that might only succeed in certain areas. for its price, I'm expecting a bit more given the
tribrid
driver configuration, but certainly a good attempt by (KBEAR) TRI nonetheless.
this review unit is provided by Hill Audio Malaysia for the local tour, and I want to thank Hill Audio & my buddy
Bryan
for including me in the tour. I have 100% control of my words and am not compensated by any party.
purchase from Hill Audio Malaysia Shopee
here
(non-affiliated)
*quickimp = quick impression
Last edited:
One of the best under $200
Pros
:
Excellent bass extension and focused sub-bass.
Very good clarity and details.
some of the most detailed treble.
Clean and transparent.
Eye candy.
Very good cable.
Cons
:
Mids could have been a bit more forward, especially the vocals.
INTRODUCTION:
Tri audio is an extension of KBear but unlike the parent brand Tri brings more innovative and expensive IEMs with various setups and configurations. They start as low as $70 for the i4 and go as high as $800 for the Starlight.
What I have here is revision to one of their most popular models i3. The outgoing model has the same driver configuration as the successor but this time around the shell is petite and is more rigid. The price is only $20 more at $189 and the same chrome finish on the shell lives on.
No doubt this IEM looks exceptionally good. But does it sound equally impressive? Let's find out. I will compare it with the **** MT300 and a Fiio FD3 for more contexts.
Get one for yourself from these links:
https://keephifi.com/products/tri-i...-composite-8mm-dd-ba-dynamic-in-ear-headphone
https://hifigo.com/products/tri-i3-pro
ACCESSORIES AND UNBOXING:
The i3 pro comes in a black box with some futuristic designs on tbe box. It looks cool but the unboxing experience is fairly simple. The first thing that greets us is the earpieces stuffed in the foam and the faux leather carey case. Every other accessory is inside the case including the cable. There is 7 extra pair of tips, a cleaning cloth, and a cleaning tool. An instruction manual can be found at the bottom and it concludes the list of stuff out of the box.
HOW IS THE CABLE:
i3 pro ships with a very good looking brown colored cable and strangely this cable feels better to the hand than the BGVP DM8 cable. I like the cable more than any other in this price. This 8 core 5N OFC cable is not stiff or unreasonably supple. It has barely nay micro phonics to worry about.
There is barely any stress relievers on the cable but this cable is strong enough and should hold strong against minor stress. The cable splitter is small in size while the chin slider is easy to work with. Chrome plating across the connectors give this IEM a more premium look.
BUILD QUALITY AND ERGONOMICS:
These IEMs have a very similar design to the OG i3. i3 pro has the exact type of housing made out of slightly better quality 7050 series of aviation aluminum. The pr version has 26% less volume as the OG providing equally impressive strength, stability and better comfort inside the ear. The nozzle size is not wide and aptly long which helps with a more comfortable and secure feel. It can fit anything between T500 and T400 sized tips. The set of tips it ships with are comfortable and stable inside the ear. There is a series of pressure releasing vent on the side of the body.
I3 pro is not a very ergonomically designed IEM but still has a bit of wing like structure which helps with a bit of traction inside the ear. Best thing are the rounded edges which cause no problem while moving the IEM inside the ear. The biggest positive is the shape and weight, i3 pro's weight distribution is very good and the IEM doesn't tend to slip out of the ear.
SOUND QUALITY:
I have no experience with the OG i3 but one thing I can say clearly that this i3 pro is a very capable IEM, it has all the traits which makes an excellent IEM. This tri-brid with use of an 8mm DD, 10mm planar and one BA driver delivers a satisfying sound. The bass is tight, mids are slightly in the V, treble is clean, clear and sparkly.
It does not try to be warm or thicker and that makes it more neutral and natural sounding.
MATCHING WITH SOURCES:
This is a critical point for an IEM equipped like this. This tri-brid IEM has an impedance of just 15ohm and an sensitivity of 103db. 103db makes it slightly hard to reach satisfying volume but the 15ohm is kind of misleading. i3 pro needs good amount of power to sound close to it's full potential. Use a dongle and it will do the job, use a proper AMP and it will sing. Use a mobile phone and the stage will lose it's expansion in the X-axis and the treble air js gone.
BASS:
What I really like about the i3 pro is it's control over the lower end notes. It has the body, slam and punch but it does not get out of control. It has to be one of the most tighter and cleaner sounding lower end from an DD under $200.
It has very good extension but lacks a bit of sub-bass rumble and body but is better than what a BA based IEM like Satsuma offers. The mid bass is a bit more voluminous providing it the required amount of body and fullness. The notes do not have a lot of weight because of faster decay speed. It doesn't let the notes precipitate and get heavy which brings class leading control. It has good amount of texture but is slightly inferior to the **** MT300, so is the amount of details. This 8mm DD haa good dynamics, as good as Onkyo E900M.
Upper treble is nicely energized and nicel5 blends into the lower mids.
MIDS:
The only problem I find in this IEM is it's slightly V shaped sound signature which pushes the mid range, especially the vocals back. A projection like this would not have been a problem but vocal notes don't have enough room and the lack of height robs it off of some dynamics and naturality but both male and female vocals have good accuracy and body. Male vocals are not a lot throaty but female vocals are lot more defined and accurate. The downside is the slight lack of texture.
The main attraction of the mid range are the instruments, they have a cohesion of their own. If you like instrumental tracks and space music this IEM can easily captivate your mind. It doesn't try to make the notes sound overly tall or energetic but thanks to more precise finishing it delivers high quality resolution and very good details. It has a pleasing kind of attack, it bites but with love, without leaving any sibilance behind even at the upper mid region. The downside is the lack of cleanliness at the base of the notes.
The transition phase at the upper bass to lower mid region has very good details and energy. There is no anomalies to worry about.
TREBLE:
The treble region is the strongest point od this IEM. It doesn't miss a single note or detail. It has the best sense of space and air in the whole spectrum. It is slightly more energetic than average but is not overly so. The Akoustyx R220 is a lot more attacking than the i3 pro. The biggest plus here is the cleaner and exceptional definition of instruments. The i3 pro simply has some of the best air and separation here. There is no overlapping at the base of the notes either. It performs admirably in the sonic front too. It's cue placement is very clean and precise. For formalities, treble extension is very good for the price, it does much better than what the Spring 2 and is on par with Fiio FD5.
The only down side is notes do not have the fastest decay emulating what a DD based IEM does, it is slower than the MT300. The EST inside the MT300 is super fast with decay.
STAGE AND IMAGING:
Another plus of the i3 pro is it's stage. It is not the biggest but the stage feels evenly filled without getting lopsided. This stage has very good height, average width and depth. Most of the vocals, nearly 70% starts and end inside the ear while most of the instruments are placed out of the head. The out of head feel is on par with it's competition. The dynamic feel of this stage is impressive, it doesn't feel limited to a boundary. It can extend if the track has it.
COMPARISONS:

VS **** MT300:
This EST, DD and BA based IEM has been one of the favourite IEM under $200 and it still is.
I can end this comparison by saying that pick any aspect, MT300 is simply better, let it be, bass body, details, clarity or stage this IEM still is not bested. MT300 is more balanced, has even better finishing definition, but there is more to it.
i3 brings a cleaner and calmer sound with a deeper and taller stage. It is more musical and cohesive sounding too. While the MT300 can sound a dry and less juicy and can induce a bit of comfort issues for those with sensitive ears.
VS Fiio FD3:
This newly released IEM has it's say in this price bracket. This is not the pro version but has the same 12mm driver. It sounds more organic and warmer.
This has slightly bigger bass body and more texture. Sub bass has less extension but the volume and fuller notes make up for it. Mids are more forward and the vocals are a lot more natural and accurate with notes body and finishing. Treble is where the FD3 is considerably weaker against the highly capable i3 pro. It lacks a lot of upper treble energy and lack with sparkle at the mid treble too.
Stage size is taller on the FD3 but i3 pro has better width.
CONCLUSION:
The i3 pro from TRI is an excellent IEM and is one of the top contender under $200. It is one of most cohesive and accurate sounding IEM in recent times. It barely adds anything more that what it is supposed to be. Yes, it is not the best in most scenarios but has one of the best treble clarity and does admirably in every other aspect. The mid range is it's weakest part but it barely affects it's performance since it is well separated and doesn't get shadowed by anything. It just doesn't have the energy or balanced feel with the vocals.
If you don't know what you want but have to have details and good accuracy across the spectrum, i3 pro should be the top option.
Have an excellent time!! Enjoy your Music!!
Cheers!!
Last edited:
Pro is Pro
Pros
:
Great texture
flagship mids
well tasted lows
Accessories
Cons
:
Taking away the BA may be better.
It's been a long time since I got it. I don't have enough time. I'm a bit lazy and a bit busy, but it's better than nothing to post.
1. Unboxing
To be honest, the design is much better than the original i3, and the storage bag is also better. I like the TRI storage bag very much. It could contain a lot of things, is easy to open, and has a good texture. If you need to buy a storage box, then I undoubtedly recommend this storage box, which is very affordable and comfortable.
All the accessories are in the picture, you can see that TRI i3 Pro has a lot of accessories. Maybe we don't need too many ear tips but we really want them, it will be more convenient sometimes.
You can see the texture of the earphone and the earphone cable. The earphone is very delicate and the earphone cable is also very soft. My description of the
sound is based on this headphone cable.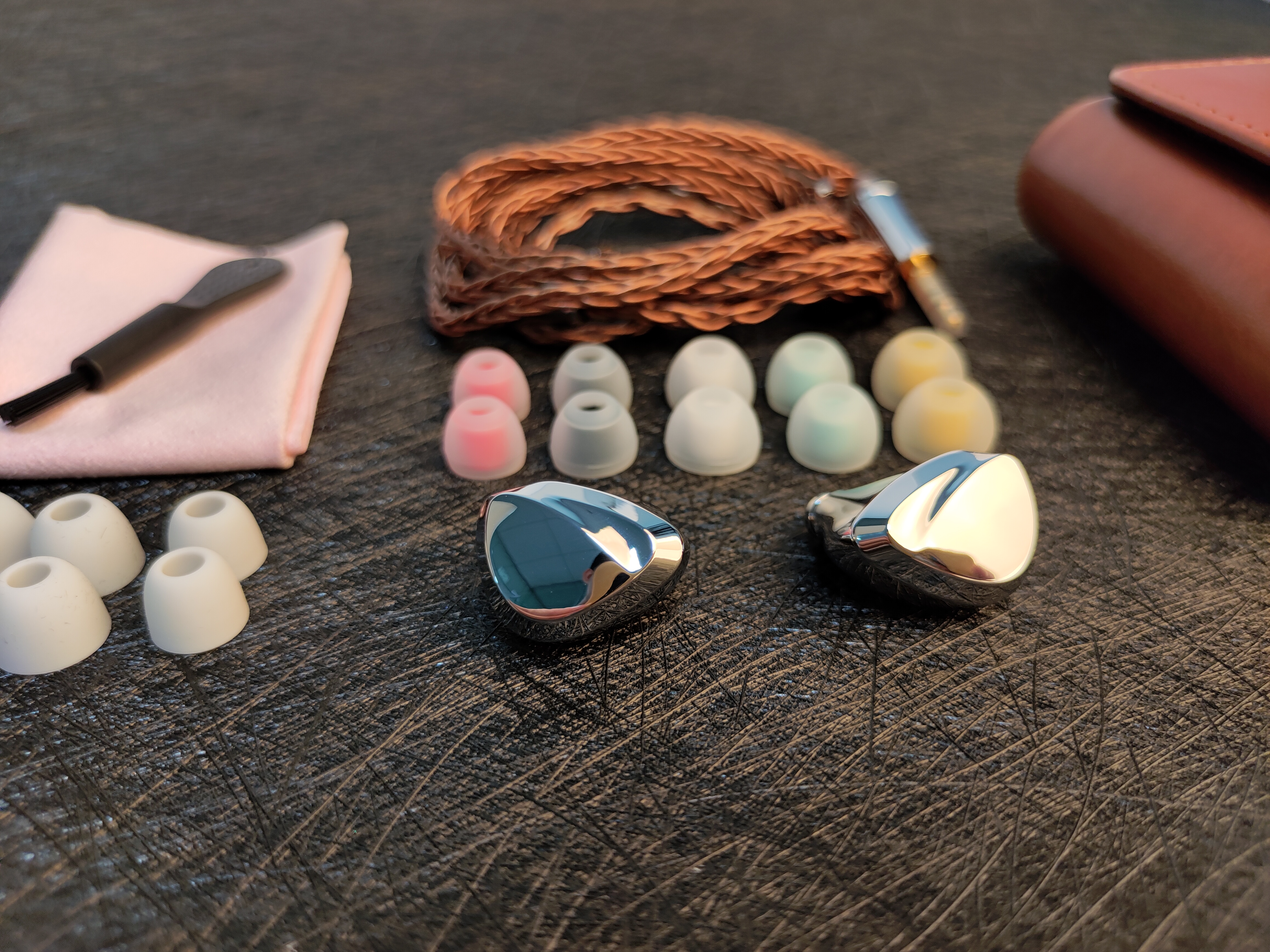 2.
Configuration
Unit: 1DD for bass + 1planar for mids + 1BA for treble.
Wire: 5N oxygen-free copper
(No need to say more)
3. Wearing
The biggest failure of the original i3 is the wearing problem that many people are complaining about. I have big ears so i3 is OK for me, but i3 Pro is really comfortable. The volume is reduced, it will fit the ears and be comfortable.
Here I think it is necessary to talk about the driver flex. In fact, I have seen a lot of earphones have driver flex, so do i3 pros. but only a few seconds just after wearing them the driver flex will diappear, a little adjustment will also be fine. So it will not bother you.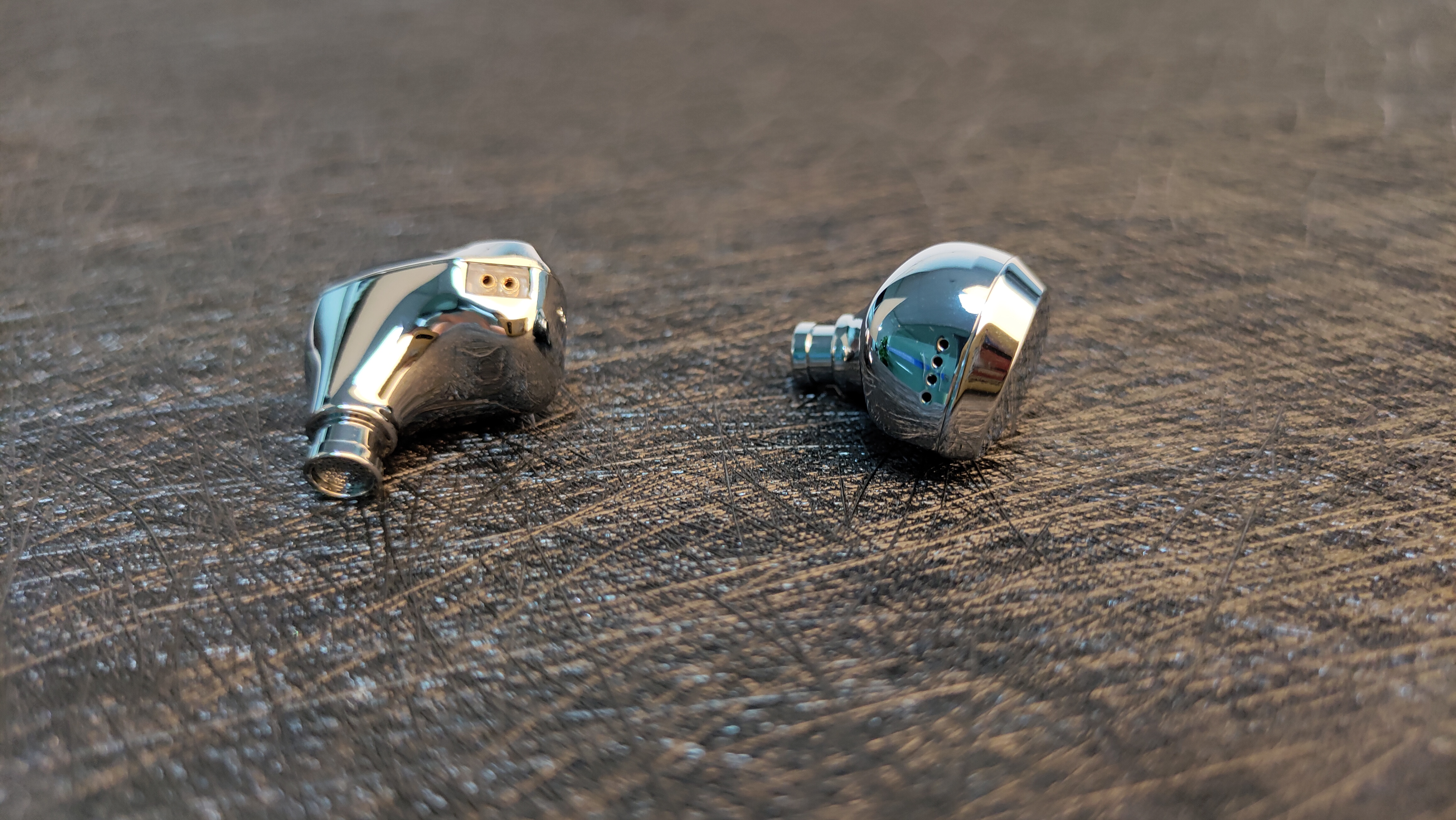 4. Sound
Source:MEIZU Pro6 & Dethonray DTR1
Eartips:SONY Colombia
Music :FLAC(16bit/44.1khz)
i3 Pro is easy to drive, meizu pro6 has a amazing sound and is one of my main source to test and review.
Lows
: 8mm DD did a good job, the same DD in oroginal i3 we all know. Lows is not too much, the texture and tune is very exquisite, It will make you feel comfortable, the existence of lows is just fine, enough power and comfortable feeling.
Mids
: the mids or I should say the mids and highs, famous for the 10mm planar.It is impossible for the planar to work on the mids only, because if in the case, the high frequency cannot be like what you hear.In other words, most of the high frequencies we listen to should belong to the mids and highs, and there are no much highs that can be heard. The difference here is mainly the timbre. The timbre of the planar is too easy to distinguish from the BA. The BA try hard to make the highs to be linear and thickness but it just failed, the planar easily did it and then performance better in mids.
So let talk about the mids, the mids is really smooth and well tasted. Not cold but neutral, such a ultra mids, if you are looking for mids flagship but not too much money, i3 pro is the only choice in many ways.
Highs
: The BA is very tiny in the soundstage and planar make the highs funuy and well tasted in some area. Some one said that highs is not good enough, very easy to solve it , take away the BA you may find a flagship timble, maybe.
Some people say that i3 Pro is not as good as i3, even worse than i3, but I think i3 Pro is much better than i3. Why? The timble matching. I personal don't like i3, because I think i3 is not good in timble matching, the planar and the DD have different timble, you can easily tell the them from each other, but to be honest I don't like that, the timble in i3 pro is well matched.
As for the sound stage, I care nothing when the soundstage is big enough, and I would say i3 is so large that I think it is not nature, yes I don't like i3, before i3 was released I got one pair, for review. After I hear it I returned i3 and refused it. I don't like it so it is ok for me to refuse, maybe seems a little stupid.
5. Conclusion
i3 pro has many Pros to i3, maybe will not be as popular as i3, but from i3 pro we can see that tri are listening to their customers, i3 is hard to drive, too large or something else, we will find i3 pro is much better in many ways, or in another words, make more people satisfied.Hope TRI will be better.
(just shot by my phone)
Last edited:
Tri i3 Pro Review: "Smooth Criminal"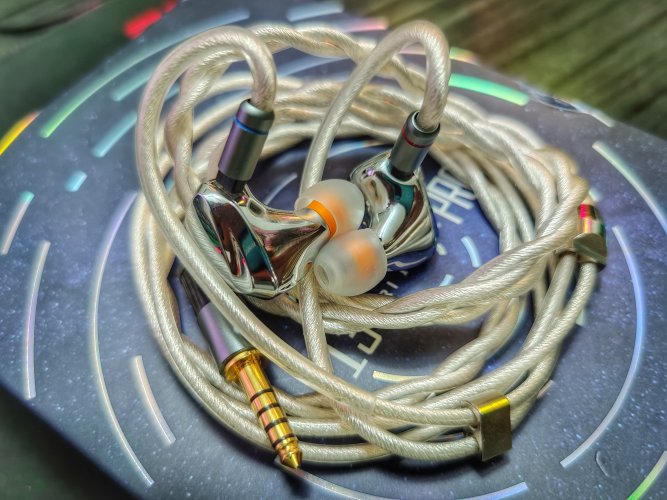 Sources used during review:
Hiby R5 Saber DAP, Shanling UA1 Dongle
Cables used during review:
FAAEAL Hibiscus Cable High Purity Copper Cable (4.4 mm), Tri Grace- S Cable (4.4mm)
Tips used during review:
Spinfit CP-145
Into:
Tri i3 Pro is the upgraded version of the original Tri i3, which came out last year with a very interesting driver combo, a 10mm Planar Magnetic, an 8mm dynamic driver & a balanced armature driver. The original i3 is a classic earphone, ever since its release Tri i3 has grabbed a lot of positive feedback for the brand especially for its well-finished ergonomics, smooth sound, and attractive price. The i3 Pro comes with basically the same tri-brid setup but with an upgraded 10 mm dynamic driver for better bass response. Tri has also focused on the ergonomics this time, reducing the shell size by 26%, one of the major complaints with the original Tri i3 was its big shell size which was uncomfortable for many users. Tri has also worked on the tuning this time around promising smoother vocals & a sweeter treble frequency response. We will explore these claims further in the "Sound" section of the review. The original i3 was launched at $150 while the i3 Pro has been launched at an increased price of $189.
Packaging & Accessories:
Compared to the original i3, the i3 Pro come in a much more attractive packaging adding to that premium unboxing experience. The original i3 came in simple black box with the TRI logo, the i3 Pro comes in a funky cosmic designed box with circular silver patterns that has a light diffraction surface, allowing rainbow colors to shine in certain angles. Inside the box you find the following accessories:
- The Tri i3 Po
- 1 Tri branded leather carrying pouch
- 3 pairs of white stock silicone tips
- 5 pairs of KBEAR 07 silicone ear tips
- 1 Tri branded high-purity 8-core 5N OFC cable with a 3.5mm termination plug
- Warranty Papers
For the price Tri has provided a generous amount of accessories, however I don't think the 3.5mm termination plug cable makes any sense, given the planar driver inside which requires a decent amount of power to show its full potential. These days most portable dac/amp, dap setups have moved to a 2.5/4.5mm balanced port, so I think Tri should have at least added an option to choose what kind of cable the customer wants while placing an order. Another thing that bothered me is the size of the leather carrying pouch included in the retail box, its to small for the IEM to fit properly inside it. I literally had to wrestle the i3 pro's to get them to fit inside that pouch each night.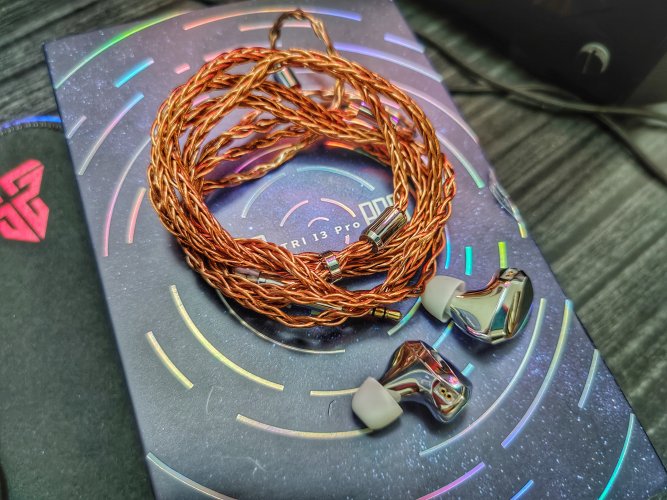 Build & Fit (4.0/5):
The shell of the i3 pro is crafted with 7000 series aviation-grade aluminum alloy material. The end result is a gorgeous & super shiny mirror-like aluminum alloy surface on the housing. Even though they look gorgeous, still they are a fingerprint magnet, you will find yourself using the included cleaning cloth quite frequently. Even with the 26% reduction in size, the i3 Pro's still quite big compared to some of the other IEM's offered in this price bracket. It's not uncomfortable or anything, its just that due to its large shell size sleeping with the i3 po's is out of the question. And during some longer listening sessions it might get a bit uncomfortable wearing these.
Source/Drivability (4.3/5):
Tri i3 Pro has an impedance of: 15±2Ω and Sensitivity: 103±3dB. This is the first time I am using an IEM with a Planar driver inside it, so I was pretty sure I will have to crank volume all the way up, even on the 4.4 mm balanced port of my Hiby R5 Saber. Considering the fact that Planar driver IEM's are infamous for requiring huge amounts of power for them to perform to their full potential. While my Shanling UA1 was able to drive the i3 Pro to loud volumes I could still tell that dynamics were missing. Using the balanced 4.4 mm port of my Hiby R5 Saber I did not have to go above 70% listening volume for most of the songs (I am a loudness junky). So, I don't reckon the tri i3 Pro is really that hard to drive. Experienced reviewers like
@RikudouGoku
on head-fi forums have reported being able to drive the i3 Pro's from LG G7 Quad DAC phone. Based on my own experience & what other users/reviewers are saying the new i3 Pro seems to be much easier to drive compared to the original i3.
Sound

Tonality:
The i3 Pro has a U-shaped tuning, leaning towards a warm-ish neutral sound signature. The tonality is very different to what you hear from regular sub $200 IEM's. They are usually Harman target, focus on either mids or bass & have an above average soundstage and imaging performance. Tri i3 Pro distinguishes itself from the rest of the herd with a very balanced performance across the frequency range while still retaining that liveliness & fun signature.
Highs (3.9/5)
: The highs on the i3 Pro are smooth, safe & non-fatiguing. The trumpet chorus in Nick Jonas's "This is Heaven," starting from 2:52 sounds detailed and clean. The lower treble dip from the graph might suggest otherwise, but this was not the case in real life scenario. Not everything can be judged from graphs alone. Detail retrieval here is very good but not excellent due to the smoother nature of the highs, micro details can be picked up as well when you are listening for them. The treble extension is pretty good overall, with an ample amount of airiness present but lacks sparkle.
Soundstage, Imaging & Separation (4.8/5):
I am extremely impressed by the soundstage performance of the Tri i3 Pro, it sounds wide, has good depth & height. Combined with its excellent imaging performance the i3 pro is now reaching nearly a 3D-holographic presentation. While listening to the Beatles "A Day In The Life," a record which is unique because the orchestral part at the end was not composed, arranged or written out. Each player created their own part on the fly, here I could easily tell each individual instrument apart with ease while listening with the i3 Pro.
Mids (4.8/5):
Tri i3 Pro just trails the rest of the competition here with its amazing Planar mids, the mids here are transparent, with a smooth velvety & rice texture, not to mention the amazing level of clarity with the planar driver presents us with. Listening to Damien Rice's Cannonball (Live Version) literally gave me goosebumps on the i3 Pro, the acoustic guitars used in track just sounds so soothing. The planar driver gives Damien's voice in this track a thick & lush texture which is simply not possible for a dynamic or balanced armature driver to pull off. Female vocals sound just as sweet, there is no upper mids peak or harshness present at louder volumes. The timbre accuracy for instruments sounds very natural and on point, nothing sounds artificial or has a glossy/metal sheen.
Lows (4.3/5):
Lets get something clear right off the bat, the i3 Pro's are not a bass-head's wet dream. The sub-bass takes priority in the tuning over mid-bass. The mid-bass is still audible, its not totally drowned out by the quantity of the sub-bass. Talking about the quantity of the sub-bass to me it felt like an "above average" performance, its enough to be noticeable and satisfy the needs of the average user who are looking for a balanced yet fun signature. Listening to Astronauts in The Ocean by Masked Wolf, you can feel that sub-bass rumble and slam. The bass is well textured, fast & tight, perfect example to showcase the i3 Pro's bass would be listening to Metallica - For Whom the Bell Tolls (Live in Mexico City). It is pretty clear the new upgraded dynamic driver is doing its job. To summarize while there is an early mid-bass roll off, the sub-bass extension here is great.
Conclusion
: Kudos to Tri for executing a brilliant tuning with the Tri i3 Pro, its easy to come up with a balanced tuning, but its not easy to do so while retaining a lively & fun presentation which the i3 manages to do. Sure, there are compromises, the treble could have been more exciting, there could have been more focus on the details retrieval aspect, there could have been more balance between the mid & sub bass performance. But we can't have it all at the sub $200 range, that's what the upper bracket is for. The Tri i3 pro comes pretty darn close to being the perfect all-rounder but loses out to the competition in some aspects by a very minimal margin.
Comparisons:
Please check out my Sub $200 IEM'S: A Battle Royale Style Comparison thread to check out how the Tri i3 Pro did against the rest of the IEM's I have tested out so far. The thread will be updated pretty soon with the i3 Pro's data. You can find this thread on my page The Audio Bloke (
https://www.facebook.com/TheAudioBloke
)
Last edited:
Original I3s compared to the TRI I3 Pros
Pros
:
Everything!

Given the price to quality ratio, these incredibly good value for money.

That Planar Magnetic Magic.
Cons
:
I cannot think of any.
Introduction
The Original TRI I3s are the second model produced by TRI, a sister brand to KBear. TRI now has a range of five earphones available for sale as at the date of writing. The latest, a new iteration of the I3, being the I3 Pro. The question is, does the I3 Pro differ from the Original I3s? If so, how does the Pro set differ.
The new iteration, the I3 Pros were launched in September 2021 to succeed the Original I3s, the best-selling earphones in TRI's range.
This is probably the most time consuming review I have done to date. One of the reasons for the time it took to complete is that the two sets are incredibly similar. TRI may have intended to make the two sets sound alike, whether perfectly or not, I do not know, but, they are certainly almost identical both visually and sonically. It was a unique experience.
Another unique point is that most readers who are likely to read this review, are highly experienced audio enthusiasts. Even more interestingly, they are likely to own a set of either the Original I3s or I3 Pros or both, so your feedback please.
Note:
I have reworked my review of the original I3s into this article primarily because they have (and also my opinion of the Original I3s has) not changed one iota. Therefore, I saw no need to alter what I previously wrote specifically in relation to the Original I3s. The few parts I have not significantly altered is done intentionally, not a short cut!
I have also kept some of the tracks in the sound check and added other tracks so as not to bore those who read my original article. All of which I hope are helpful to the reader of this article.
Original TRI I3
The Original TRI I3s were launched in August of 2019. They have a setup of 3 drivers, one 8 mm Planar Magnetic driver, one 10 mm Dynamic Driver (DD) and a Balanced Armature (BA).
The IEMs came in a small package including a cable, a soft velvety pouch and a selection of tips. However, the Original I3s have now been withdrawn from sale following the launch of the I3 Pros.
The soft velvety pouch which came with the TRI I3 is nice to the touch but as it is a soft pouch, it does not offer much protection for the IEMs.
The TRI I3 has been described as "ear potatoes" due to their size. They look and feel huge initially. They are shiny chrome pieces (which sounds "blingy") but they have a good look and feel. More importantly, despite their size, they fit my ears snugly and comfortably, without much protrusion. Isolation is very good and you get little sound intrusion.
The original cable on the Original I3s looks similar to the Tin P1 cable, which is a loose weave and copper in colour.
The new iteration - TRI I3 Pro
The new iteration, the I3 Pros, were launched in September 2021. We are informed that they use the same 3 drivers as the Original I3s, one 8mm Planar Magnetic driver, one 10 mm DD and a BA.
The I3 Pros come in a medium-sized package including a cable, a faux leather case and a good selection of tips. I bought the TRI I3 from the KBear official Ali Express shop with a generous introductory discount when they were launched. The retail price is $180.
The inclusion of the faux (or are they real) leather case is a good move but surprisingly, the KBear hard faux leather case is used for the first time on TRI products. To my eyes, these cases are very good looking. More importantly, they offer very good protection to the IEMs.
The cable on the I3 Pros is a mid brown cable which looks good, feels soft and is malleable. It definitely looks the part.
Comparison

General -
They both appear to be very well built. It is noteworthy at this stage to point out that the Original I3s launched with MMCX cable connection (as on my set) which was later changed to two-pin connection. As far as I am aware on one occasion, the two-pin connection was reported as having fallen out of the casing. This appears to have been a design fault simply because of the fact that the re-design intended for altering the cable connection created another issue, which later became apparent on at least one set. I can only say, I have not heard of any other issues with the build quality or any other quality concerns with the Original I3s. Hopefully that bodes well for the I3 Pros. My Original I3s remain in good condition despite over 18 months of use and abuse.
Visual differences -
Now that we have the TRI I3 Pros on the market and the "ear potatoes" are no more, what is obvious is that the Pros are smaller in size and feel less weighty. Though looking at them together, the feeling of déjà vu does not leave you. The Pros are exactly the same gorgeous shiny chrome pieces but smaller, and they also have the same feel as the Original I3s, even down to sounding like marbles when the earpieces (accidentally) hit each other.
More importantly, due to their smaller size, they should fit most ears as they fit my average ears comfortably, without much protrusion. Again, for me, the isolation is very good and I get little external sound intrusion.
The obvious and primary difference is the size, although not obvious at a glance, as already stated. The next difference I found are the vents: on the Original I3s there is a single vent just on the shell beneath the cable connection (when in the cable up position), whereas the I3 Pros have what appears to be four perforations which I take to be vents. Beyond those two visual differences, I do not see any other
During this comparison, I found myself on numerous occasions looking for the telltale signs to differentiate between them. If there were a prize for the perfect iteration with one brief size reduction, the I3 Pros must be there or thereabouts for top prize. However, these are IEMs, which means there is also the effect on the sound to consider.
In short, for those who do not want to read in detail, I am happy to say, both sets are very good and the differences in this comparison are marginal and arguably the sonic difference is almost imperceptible, but I must report that I notice a difference; others might also notice that they are not identical in sound reproduction and the extent of that difference is by a hair's breath. Both these IEMs are incredibly good, if you want to know more read on.
The Sonic Difference

My setup for this review
I paired them with Samsung galaxy note 10 plus and Fiio M11 as my source, and for amplification, variably: SMSL AD18, a Samsung dongle, Fiio BTR5, the HA FEE HA11 and the Littlebear B4X tube dac/amp, mostly balanced 2.5 mm and on high gain.
Method used for comparison
For the purposes of ensuring there is no variation, irrespective of my thoughts on the sonic attributes of cables, I used Dunu DW02 cables on both sets, the only difference being that one set of the DW02 cable is MMCX and the other is two-pin. I also used the same set of eartips, which are the off-white pair installed on the I3 Pros in the package. Thus the aim is to have exactly the same (in as far as QC is consistent) set up right through from source to earpieces, which is where we want to detect differences, if any.
On sonic differences, the first thing to point out is that the new iteration has been made easier to drive. Therefore, the volume difference is noticeable when switching in A/B testing the two sets of I3s.

I previously described the Original TRI I3, as being like speakers stuffed into the ears. My view has not changed, they have the big sound effect, which then gives perception of stage - not any old stage but a grand stage, to my ears. What makes them even better for me is that they scale very well. That was my original assessment and that has not changed: they both scale well.

Both IEMs are clear, detailed and with good separation. Although it must be said that they Original I3s are in their element with amplification, which brings out their full potential. Although easier to drive, the I3 Pros also benefit from good amplification. Just to reiterate the point, that is not to say that they are in any way inferior on a phone, you just get that bit better resolution as you give them more power.

Sound Check

You may want to put on your monitors of choice, useful (to hear your feedback) if you have either the Original I3s or the Pros, and check out the music using the links.

Bass

For me the bass is the backbone of (granted not all, but) most tracks. We usually think of the bass guitar and the kick drum as the source of bass. Yes, on many tracks they are the source of bass and timing (and this relates to the entire drum section) but there are more instruments which deliver bass to a track than we would usually give credit for. The point here is to say we lose a lot if we do not have the definition of bass notes and simply settle for, what is often called, the "slam". They may not be for everyone but check out at least one minutes of each out.

On both IEMs, bass is delivered as recorded. You do not have a dominant bass tuning which is ever-present. I do not detect bass bleed on either. To my ears, both in terms of quality and quantity, the bass is just where I like it. Mid-bass is beautifully restrained. What does that mean? It simply means to my ears, the mid-bass has been tuned to be slightly less prominent in comparison to the more elevated sub-bass. The effect is that you get a well disciplined mid-bass, there when called for.

As I said in my review of the original I3s, where the recording provides for sub bass, the sub-bass on the TRI I3 feels like REL speakers: visceral bass delivered to your body without bothering with your ears. That rich and solid but tempered REL-type bass is a sublime presentation, in my view. To reiterate, what I stated in my previous I3 review, in contrast to the brutal bass on other so-called bass monitors (speakers, over ear headphones or IEMs) the bass does not attempt to knock you over the head like a thug with a blunt instrument. You know that type of bass that kills every note around it when it hits? That is NOT the bass on the TRI I3, the sub bass and mid bass here is mature, sedate and yet incredibly satisfying. Those who tuned the TRI I3 Pros have managed to capture this presentation of bass perfectly.

The difference between the Original and the Pros is marginal but, for me, the TRI I3 Pros keep the mature sub bass of the original with no alteration. The sub-bass on both the Original I3s and I3 Pros is a velvety, lush, deep and visceral bass. The good quality bass on both sets is well defined in that the notes are clearly discernible one from the other.

Fourplay's album Heartfelt contains a track entitled Chant which contains bass-heavy passages. Bass kicks in virtually at 03 seconds and sub-bass at 0.22. The bass is delivered with such wonderful after taste by way of the decay to every bass note and sprinkled with delicate mids and treble notes it just feels like the musicians are on a huge stage on the Original TRI I3.

The TRI I3 Pros do not disappoint, either. In fact, I find it difficult to differentiate between the two versions of the I3 when it comes to bass. However, there is something different about the TRI I3 and the TRI I3 Pros. The only way I can describe it is that the Original seems a touch more sedate and reassuring in their delivery.

Fourplay - "Between the sheets" - "Chant":



Midrange

I make no apologies for my love for a well implemented planar magnetic midrange. You probably love them, too, and that is why you bother to read this. When it comes to the midrange, namely voices and instruments that fall within it, planar magnetic drivers, as opposed to other drivers, for me have that quality to sound which makes it whole and complete without sputtering or stuttering.

Djelem Djelem - I have chosen this track because of the arrangement which allows anyone trying to listen to instrument separation the opportunity to do so with relative ease.

The implementation of the Planar magnetic driver makes the voice of Sandra Sangiao seamlessly whole and full-bodied, without relying on a relic of the DD bass for assistance. The instruments support her voice with clean, clear notes. Each instrument comes to the fore and gives the listener the opportunity to appreciate the clarity of the tuning of the drivers. There is a certain weight which the tuning of the planar magnetic drivers in both sets of the I3s give you. This, in my view, brings the midrange to life; they are tuned so realistically, where you get thin and fragile notes for mids, or bloated mids elsewhere, that they deliver weighty yet nimble mids. This means that whether you are listening to male or female voices, you get a whole, realistic and satisfying rendition of the range of the original voice.

Barcelona Gipsy Klezmer Orchestra. "Djelem Djelem":



Treble

Just as I previously said in the Original I3 review, the TRI I3 treble is delivered without fanfare, just right. Both the I3s' treble is beautifully done to my ears, they both give you treble to the limit without sibilance. Listening to classical music, jazz and salsa was a joy. These two IEMs do sparkle quite well; in fact, on some tracks it is a very busy sizzle, with no fatigue.

They both present music which is harmonic and give you treble which is neither demanding nor exhausting.

Instrument separation

One of the wonderful features of the Original I3s is the instrument separation. These earphones are amazing at being able to give you a clear indication of the instrument you are listening to, so that effect is that instruments sound distinct one from the other. This is no accident, there are numerous earphones in this price range where the instruments are congealed, even if they attempt to separate the instruments at lower volumes, they fall apart as the volume is increased, especially on busy tracks. Both the Original I3s and the I3 Pros do not suffer the same shortcoming. What both versions of the I3s do is well above their price range, to my ears.

Chuck Magione: "Feels so Good":



Timbral accuracy

Both sets capture the timbre of instruments beautifully. They sound so realistic with every track but virtually come to life with orchestral music where the multiple violins, for example, just seem to sound like one authoritative instrument. I have included a track by Marcus Miller which in essence shows the different styles of bass delivery. I also include a link for drums to show the timbral accuracy of the combination of drivers and tuning.

Marcus Miller bass solo:



Aly N'diaye Rose and Lucas Van Merwjik: Drumix!:



Sound stage

The sound stage on the TRI I3 is just fantastic and feels so realistic. The TRI I3 Pros have managed to capture that wonderful perception of stage and do not disappoint by any means but in comparison with the TRI I3 they fall slightly short.

Listening to Dave Koz "Saxophonic" album - "sounds of the underground" on the TRI I3 is like being dropped on the front line of a battle between instruments with auditory weapons firing from all angles on both sets of TRI I3s. I followed that with Carlos Santana "Nothing at all" - a much calmer track but no less encompassing.

Dave Koz "Saxophonic" album - "sounds of the underground":

Carlos Santana - "Nothing at all":



Dynamism

One of the features I really appreciate on the Original I3s is the ability of the drivers to efficiently present sound in busy passages dynamically. The effect is that you hear passages which are prominent as the instrument or instruments in the fore are usually louder, whilst instruments softly playing in the background are still clearly audible. In short they do dynamism as competently as you would find in much more expensive IEMs. The TRI I3 Pros are no different in their presentation.

Conclusion

In conclusion to this comparison, I have to say these two IEMs are a credit to the TRI tuning team.

Do I think the TRI I3 Pros are a worthy of the mantle of the Original I3s, the answer is, yes, emphatically so.

Do I think they replace the I3s, the answer is, no!

The Original I3s, the ear potatoes, may not be impossible to replace to others, but appear to be impossible to replace to me. As the original design includes huge earpieces, given a reduction in size has acoustic implications, which cannot easily be replaced by vents.

However, the I3 Pros are 98% successful in their attempt to do the impossible. Where does the 98% come from? It is certainly not scientific, rather it is entirely subjective. The fact is, if you ask me specifically where the I3 Pros fall short by 2%, I will say, it may be the size of the ear pieces, or the vents, which may be in place to compensate for the reduction in the size of the earpieces. It may be tuning or the low impedance to make them easier to drive or simply time, and they may in time sound identical when the drivers eventually settle.

The fact is, if I had never heard the Original I3s, I would not be missing that 2% and when I put the I3 Pros in my ears, I cannot tell the difference until I do an A/B test, the I3 Pros are that good. Believe me, I tried hard to find the reason for the difference….that 2% (still within the tolerance for unit variation). All I can say is when I blindly place the

Original TRI I3s in my ears, I am immediately certain (I guess correctly) that I have the Original set in my ears from the sound (not the feel in hand, which is much more difficult to tell) but when I put the I3 Pros in my ears, I am not always certain which set I have in my ears. That to me shows that the TRI I3 Pros are a very good iteration of the exceptional Original I3s.

Just to end this comparison, I let the Saxophonic album run on and this track just captured the magical essence of the ear potatoes for me. I hope it does for you as well. If you are listening to the Original I3s.

Dave Koz "Saxophonic" album - "I believe":



Enjoy Your Music!

Note:
Thank you to @Poganin for giving up so much of his time to proof read this review. Much appreciated!
Last edited:
Pros
:
-Dynamic sound pressure in image formulation

-Natural transient response

-Wide-spreading sound stage (to side direction)

-Specialized in acoustic recordings, Strings, Chamber music, or any tracks with vocals
Cons
:
-Modern highly distorted music with edgy notes may be a little shouty

-positioning is not the best sales point
Disclosure: This i3 Pro was provided as a review unit, I usually do not discriminate against any IEMs depending on the means of acquisition, however, you may still consider any positive bias as a result of this.
Benchmark IEMs compared:
-Softears RSV (TOTL positioning, natural timbre reference)
-GeekWold GK10 (sound stage)
-Moondrop Aria / Starfield / KXXS (direct rival at the same price range)
-See Audio Yume (direct rival at the same price range)
-TRI Starsea (different lineups of hybrids from the same brand)
Initial Impression:
i3 Pro is scalable depending on the driving source (high gain preferred)
With stock tips (white soft bass boost silicone) and stock tips, Chamber music sounds very vivid, but for modern pops, the upper-mid is a bit too sensitive
Stock tuning is W shape tuning with three focus points on sub-bass, upper-mid, and treble

Neutral

or

Colored

? i3 Pro is IEM that will add a

specific color

to Acoustic instruments as well as vocals
Current setup for i3 Pro:
-PW Audio Legend II copper cable
-SpinFit CP360-L(blue core)
This setup will tone down the sub-bass, and bring 9khz up more air to breathe, retain maximum transparency for mid-range.
Post 100-hour burn-in Sound Impression:
[Post-Burn-in delta] The initial sibilance calmed down, Bass impulse response got quicker
Overall Score: 83/100 (Grade-A)
Smooth treble, inoffensive
Sound Image formulation has some similarities with KBEar Lark (Forward trebles, with clean-sounding mids)
Well formulated gain spot peaks around 3kHz and 12kHz, not too much, not too less, just right
When compared to those of EST drivers, i3 Pro may lack finesse, but it's more than necessary to sustain itself from providing clear upper registers transparency
Comprehensive wrap up:
The mid-range, realistic and tactile, the weakness of single-DD (slow treble and lack in definition) is non-existent
The "dynamic" and "direct" presentation of sound pressure, which does not necessarily need to be super accurate and realistic, yet very emotional and touching
The "direct sound wave in a form of a huge tsunami or tidal wave hitting you by a magnitude of a huge wall of sound " is more engaging and immersive on some occasions where emotional presentation is the grand scheme. i3 Pro is a great amplifier of emotional presentation
-Harp tonality is the best one of all my IEMs and it reminds me of Sennheiser's Legendary Orpheus's ancestor, the world's first Electrostatic headphone, Unipolar. Soft and Fragile. Beautiful tonality.
Comparisons:
i3 Pro & See Audio Yume ($170):
i3 Pro got better scores overall except image coordinate positioning capabilities. Yume has excellent positional technicalities, both have the same resolutions or detail retrieval capacity as well as comparable upper mid/treble region: If micro-detail is the priority Yume, if macro-dynamism is the priority i3 Pro
i3 Pro & Moondrop Aria ($80), Starfield ($120), KXXS ($190):
i3 Pro is better on midrange compared to Aria / Starfield, and pars with KXXS in terms of tonality, but has better imaging capability to all Moondrop Single dybamic three sisters. However, when positioning is on stake, i3 Pro is behind Aria / Starfield, and pars with KXXS. The modded Aria has widest diffusion field but i3 Pro has wider side duffisions.
i3 Pro & Starsea ($130):
When compared to its little sister, Starsea, i3 Pro has slightly more technical bass, midrange, as well as momentum presentation, however, both IEMs are targeting different audiences, i3 Pro is Lively tuning and Starsea is Euphoric and laid-back tuning.
i3 Pro & Moondrop Blessing 2 ($320), Blessing 2: Dusk ($330), and Softears RSV ($730):
Finally, when comparing with upper graded legends, Blessing2, Dusk, and Softears RSV, i3 Pro struggles in coherence technical scores, such as positioning, focusing, or resolutions, but still could trade blows with blessing 2 for midrange expressions, considering the price difference and technical compositions (4BA+1 or 5BA(extremely well-tuned) ) the difference is forgivable
Final thoughts:
Overall, the i3 Pro is an unparalleled product --with a very unique (1Planer + 1 DD +1 BA) tribrids r configuration-- which amplifies the slightest emotional expression in a very passionate way.
Member of the Trade: Earbud Maker
Pros
:
Sub-bass quantity/quality
Mids quality
Airy treble and smooth treble
Massive soundstage
Technicalities
Coherency for a TRI-brid
Bass/mids timbre
Build quality
Accessories
(Power efficient, can be used with a smartphone)
Cons
:
Might lack treble for treble-heads (4-6k dip can bottleneck clarity depending on the track)
slight BA timbre in the treble
Isolation
Weird 2-3 seconds "depressurization" time on insertion
Slight pressure build up
Fingerprint magnet
Disclaimer
: I received this review unit for free from TRI, thank you very much.
Price:
190 usd
Specifications:
Impedance: 15±2Ω
Sensitivity: 103±3dB
Frequency response:20hz-30KHZ
Driver unit: 10mm Planar magnetic + composite 8mm dynamic driver + balanced armature driver
Cavity material:7050 aviation aluminum alloy
Accessories:
Leather carry bag
Cleaning cloth
S/M/L KBEAR 07 silicone narrow tips
S/M/L stock grey silicone narrow tips
Cable:
Resistance at 0.34 ohms, 8-core OFC cable. Has a working chin-slider and metal divider/connectors. Not needed to change the cable.
Build:
All metal, aluminum build including the nozzle and with a metal filter. Size wise it is a bit bigger than average. There are 4 smaller vents on the side of the shell. Mirrored surface (as you can see in the picture above lol) and a big fingerprint magnet.
Fit:
Fit itself is good, but there is a strange effect where at insertion it takes 2-3 seconds before the pressure dissipates (during which time the sound is very weird).
Comfort:
Slight pressure build up is making it a bit less comfortable than usual.
Isolation:
Poor due to the vents. (Not a set I would recommend to be used outside due to the isolation.)
Setup: Schiit Asgard 3 (low-gain, volume around 9 o´clock), Elecom EHP-CAP20 tips L, stock cable 3.5mm

Lows:
Lots of sub-bass but very clean due to the relatively low mid-bass. Very fast, tight and well textured. Extension and rumble are great as well. If you are a (sub) basshead that also wants quality, this is great.
Mid-bass:
Metallica – fight fire with fire (01:11-01:52), very clean due to the fast and tight bass, texture is decent but quantity is a bit low. The (02:55-03:01) section with the chopper is hearable and clean.
Hiroyuki Sawano – Pretenders (01:18-01:47), very clean due to the fast and tight bass, Texture is good and quantity is decent but a bit more mid-bass would be more fun.
Sub-bass:
Djuro – Drop that bass (01:15-01:30), low extension and lots of rumble but still very clean due to the fast and tight bass punch with a lot of quantity and texture.
Will Sparks – Sick like that (03:08-03:22), amazing texture, quantity and is clean due to the tightness and speed.
Mids:
Excellent vocal tonality with both male/female vocals, timbre is very good as well and is natural. Not recessed nor forward.
Female-vocals:
Hiroyuki Sawano – OldToday (01:25-01:52), vocal and instrument tonality and timbre are excellent. A bit more forward vocals could be better, but it is very natural, clean and detailed.
Yuki Hayashi – MightU (01:58-02:55), great vocal and instrument tonality with a natural timbre.
Evanescence – Bring me to life (01:18-01:35), not peaky but a bit fatiguing due to the tonality (bright).
Hiroyuki Sawano – Crescent (02:07-02:26), shouty and fatiguing.
Male-vocals:
Hiroyuki Sawano – Pretenders (00:57-01:17), great vocal/instrument tonality/timbre and very clean and detailed.
Hiroyuki Sawano – Scapegoat (00:57-01:17), natural timbre, clean and detailed but tonality (vocal/instruments) does need to be warmer.
Treble:
Linkin Park – Shadow of the Day (03:24-03:42), accurate tonality and not sharp at all.
Deuce – America (03:03-03:16), a bit shouty but separation and imaging are very good so its not chaotic.
Hiroyuki Sawano – Lose (string version) (01:22-01:59), Cello timbre, texture, clarity and detail are great while tonality is good but could be warmer. Violin tonality, treble-extension, texture, clarity and detail are great. Timbre is good.
Hiroyuki Sawano &Z (02:18-02:57), great tonality, timbre, detail and clarity.
Soundstage:
very wide and airy soundstage, depth is good and is holographic.
Tonality:
U-shaped, leaning slightly more towards brightness rather than warmth. Timbre and overall coherency are great.
Details:
Lots of detail, both macro and micro.
Instrument Separation:
Very good instrument separation and imaging.
Songs that highlight the IEM:
https://www.youtube.com/watch?v=u0CqY27IFyo
https://www.youtube.com/watch?v=eVtFldZZCKc
https://www.youtube.com/watch?v=8F_11HaH4mE
https://soundcloud.com/djfusiont/djfusion-kingmalcolm-right-back-trance-rap-beats-yuri-kane-sample
https://www.youtube.com/watch?v=RkID8_gnTxw
https://www.youtube.com/watch?v=QtXNvoPfO84


Good genres:
Trance, Pop, Kpop, EDM, OST, Hiroyuki Sawano, acoustic/vocal music
Bad genres:
Suits my library very well, but rock/metal lack a bit of mid-bass to me.


Comparisons:
IEM: Blon BL-03 (mesh mod), Radius deep mount tips L, cable B3 4.4mm
Bass:
Djuro – Drop that bass (01:15-01:30), lower extension on the I3 Pro as well as bit more rumble. Punch quantity is higher, more textured, tighter and faster on the I3 Pro. More tonally correct on the I3 Pro but better timbre on the 03.
Hiroyuki Sawano – Pretenders (01:18-01:47), similar quantity but cleaner on the I3 Pro due to the faster/tighter bass that is also more textured. More tonally correct on the i3 Pro but better timbre on the 03.
Metallica – fight fire with fire (01:11-01:52), a lot cleaner and more detailed on the I3Pro, due to the lower bass quantity, tighter and faster bass.
Mids:
Hiroyuki Sawano – OldToday (01:25-01:52), vocal tonality is actually similar but slightly better timbre on the 03 although it is cleaner and more detailed on the I3 Pro. Instrument timbre is a lot better (especially the treble, where the I3 Pro has BA timbre) and more coherent on the 03 but tonality is similar.
Evanescence – Bring me to life (01:18-01:35), slightly peakier and more fatiguing on the I3 Pro.
Hiroyuki Sawano – Scapegoat (00:57-01:17), vocal and instrument tonality is better on the 03 (warmer) and also better timbre/coherency.
Treble:
Linkin Park – Shadow of the Day (03:24-03:42), electric guitars are slightly sharper on the 03 but more natural timbre on it.
Hiroyuki Sawano – Lose (string version) (01:22-01:59), Cello tonality, texture, detail and clarity are better on the I3 Pro but slightly better timbre on the 03. Violin tonality, texture, treble-extension, detail and clarity are better on the I3 Pro but better timbre on the 03.
Hiroyuki Sawano &Z (02:18-02:57), better timbre on the 03 and slightly better tonality as well but cleaner and more detailed on the I3 Pro.
Technicalities:
Shiro Sagisu – Hundred years war (02:24-02:57), a lot wider soundstage and a bit deeper on the I3 Pro and is more holographic. Detail, imaging and instrument separation are a lot better on the I3 Pro but better timbre/coherency on the 03.
Overall:
The I3 Pro is more technical and is also more suited for my library than the 03, cleaner and also more fun due to the higher sub-bass on it. 03 has better timbre and coherency though.


IEM: GS Audio GD3A, Elecom EHP-CAP20 tips L, cable A6 4.4mm
Bass:
Djuro – Drop that bass (01:15-01:30), extends lower and rumbles a lot more on the I3 Pro. Punch quantity is also a bit higher on the I3 Pro and is a lot more textured, tighter and faster on the GD3A. Tonality is more correct on the I3 Pro but better timbre on the GD3A.
Hiroyuki Sawano – Pretenders (01:18-01:47), more quantity and texture on the I3 Pro, cleaner on the GD3A due to the faster and tighter bass. More tonally correct on the I3 Pro but better timbre on the GD3A.
Metallica – fight fire with fire (01:11-01:52), cleaner on the GD3A due to the faster, tighter and lower bass quantity. Treble is peakier on it though.
Mids:
Hiroyuki Sawano – OldToday (01:25-01:52), Vocal tonality and timbre are better on the I3 Pro as well as more forward. Instrument timbre and tonality are better on the GD3A though. Cleaner and more detailed on the I3 Pro.
Evanescence – Bring me to life (01:18-01:35), a bit peakier on the GD3A.
Hiroyuki Sawano – Scapegoat (00:57-01:17), vocal and instrument tonality are better on the I3 Pro. Vocal timbre is better on the I3 Pro but better instrument timbre on the GD3A.
Treble:
Linkin Park – Shadow of the Day (03:24-03:42), sharper electric guitars on the GD3A but better timbre and tonality.
Hiroyuki Sawano – Lose (string version) (01:22-01:59), Cello tonality, texture, timbre and detail are better on the I3 Pro. Violin timbre is better on the GD3A but similar tonality and cleaner on the GD3A, treble-extension is better on the I3 Pro.
Hiroyuki Sawano &Z (02:18-02:57), better tonality and details on the I3 Pro but better timbre on the GD3A.
Technicalities:
Shiro Sagisu – Hundred years war (02:24-02:57), Wider and airier on the I3 Pro with similar depth, more holographic on the I3 Pro. More macro-details on the GD3A but better micro-details on the I3 Pro, imaging and separation are slightly better on the GD3A. Timbre and coherency are better on the GD3A.
Overall:
The I3 Pro is the more fun and more relaxing set (also works better with my library), while the GD3A is more natural (timbre/coherency) and has an edge in technicalities.
IEM: Fiio FH3, Final Audio Type E tips, cable A3 4.4mm
Bass:
Djuro – Drop that bass (01:15-01:30), extends lower and rumbles more on the I3 Pro. Punch quantity is higher on the FH3 but a bit more texture on the I3 Pro as well as being a lot tighter and faster. More tonally correct on the I3 Pro as well as more natural timbre.
Hiroyuki Sawano – Pretenders (01:18-01:47), more quantity on the FH3 but similar texture. Cleaner on the I3 Pro due to the faster and tighter bass. More tonally correct as well as more natural timbre on the I3 Pro.
Metallica – fight fire with fire (01:11-01:52), cleaner on the I3 Pro due to the tighter and faster bass, but a bit more quantity on the FH3 while texture is similar.
Mids:
Hiroyuki Sawano – OldToday (01:25-01:52), vocal tonality is slightly better on the I3 Pro but a lot better timbre, more forward on the FH3 though. Instrument tonality and timbre are a lot better on the I3 Pro. More detailed and cleaner on the I3 Pro.
Evanescence – Bring me to life (01:18-01:35), similarly (tonality) fatiguing but more natural timbre on the I3 Pro.
Hiroyuki Sawano – Scapegoat (00:57-01:17), vocal and instrument tonality/timbre are a lot better on the I3 Pro. But more forward vocals on the FH3.
Treble:
Linkin Park – Shadow of the Day (03:24-03:42), sharper and more fatiguing electric guitars on the FH3.
Hiroyuki Sawano – Lose (string version) (01:22-01:59), Cello tonality, timbre, texture and detail are better on the I3 Pro. Violin tonality is similar but better timbre, treble-extension, texture and detail on the I3 Pro.
Hiroyuki Sawano &Z (02:18-02:57), better tonality, timbre and detail on the I3 Pro.
Technicalities:
Shiro Sagisu – Hundred years war (02:24-02:57), wider, deeper, airier and more holographic soundstage on the I3 Pro. Imaging, details, instrument separation are better on the I3 Pro. Timbre and coherency are a lot better on the I3 Pro.
Overall:
the I3 pro is better in basically everyway. The FH3 will suit people wanting both a more basshead-like bass and more forward vocals though.


IEM: Fiio FD5, Elecom EHP-CAP20 tips L, stock cable 4.4mm
Bass:
Djuro – Drop that bass (01:15-01:30), extends and rumbles a bit more on the I3 Pro. Punch quantity is higher on the I3 Pro but tighter, faster and a bit more textured on the FD5. A bit more tonally corrects on the I3 Pro but better timbre on the FD5.
Hiroyuki Sawano – Pretenders (01:18-01:47), a bit more quantity on the FD5 but cleaner due to the faster and tighter bass. Similar texture, more tonally accurate on the FD5 and better timbre.
Metallica – fight fire with fire (01:11-01:52), cleaner on the FD5 due to the faster and tighter bass, similar quantity though (treble is peakier on the FD5).
Mids:
Hiroyuki Sawano – OldToday (01:25-01:52), slightly more forward on the I3 Pro but better timbre and slightly better tonality (brighter) on the FD5. Instrument tonality is slightly better on the I3 Pro (warmer) but better timbre and coherency on the FD5. More micro-details on the I3 Pro but better macro-details on the FD5 and also cleaner.
Evanescence – Bring me to life (01:18-01:35), peakier, shoutier and more fatiguing on the FD5.
Hiroyuki Sawano – Scapegoat (00:57-01:17), instrument tonality (warmer) and timbre are better on the FD5. Vocal timbre is better on the FD5 but similar tonality while it is more forward on the I3 Pro.
Treble:
Linkin Park – Shadow of the Day (03:24-03:42), electric guitars are sharper on the FD5 but more tonally correct and more natural timbre.
Hiroyuki Sawano – Lose (string version) (01:22-01:59), Cello tonality, timbre, texture and clarity are better on the FD5. Violin tonality, timbre, texture and clarity are better on the FD5, slightly better treble-extension on the I3 Pro.
Hiroyuki Sawano &Z (02:18-02:57), slightly better tonality on the FD5 and a lot better timbre/coherency. Also, cleaner sounding on it.
Technicalities:
Shiro Sagisu – Hundred years war (02:24-02:57), slightly wider, deeper and holographic on the FD5 as well as airier but quite similar. Imaging, instrument separation and detail (similar micro-detail though) are better on the FD5. Timbre and coherency are a lot better on the FD5.
Overall:
The I3 Pro is a more relaxing (warmer) and more fun (bassier) iem, but the FD5 is more technical and has better timbre.


IEM: LZ A7 (pop-red), Final Audio Type E tips LL, cable A3 4.4mm
Bass:
Djuro – Drop that bass (01:15-01:30), extends lower and rumbles more on the I3 pro. A bit more punch quantity on the I3 Pro similar texture and tightness, slightly faster on the A7. More tonally correct on the I3 Pro but a bit better timbre on the A7.
Hiroyuki Sawano – Pretenders (01:18-01:47), More quantity on the A7, similar speed/tightness and texture though. A bit more tonally correct on the A7 and better timbre on it.
Metallica – fight fire with fire (01:11-01:52), more quantity on the A7 but cleaner on the I3 Pro due to the tighter bass, similar texture and speed though.
Mids:
Hiroyuki Sawano – OldToday (01:25-01:52), Vocal tonality is slightly better (brighter) on the A7 but better timbre on the I3 Pro, similar quantity though. Instrument tonality is better on the I3 Pro but timbre on both got some unnatural timbre (piezo (and very slight BA) timbre on the A7 and BA timbre on the I3 Pro).
Evanescence – Bring me to life (01:18-01:35), very similar but a bit peakier on the I3 Pro.
Hiroyuki Sawano – Scapegoat (00:57-01:17), vocal tonality is slightly better (warmer) on the I3 Pro and better timbre, similar quantity. Instrument tonality is better on the I3 Pro and slightly better timbre.
Treble:
Linkin Park – Shadow of the Day (03:24-03:42), electric guitars are a bit sharper on the A7but a bit more tonally correct (brighter) on it with similar timbre.
Hiroyuki Sawano – Lose (string version) (01:22-01:59), Cello tonality and texture are better on the A7 similar clarity and timbre. Violin tonality, texture, clarity, details and treble-extension are better on the A7 but similar timbre.
Hiroyuki Sawano &Z (02:18-02:57), slightly better tonality on the A7 and more clarity but similar timbre.
Technicalities:
Shiro Sagisu – Hundred years war (02:24-02:57), wider, deeper, airier and more holographic soundstage on the I3 Pro. Details, imaging, instrument separation and timbre are similar.
Overall:
Both are very similar in technicalities and timbre (slightly unnatural in the treble on both), but the I3 Pro has more sub-bass and an airier treble. While the A7 has more mid-bass and a better tuning (I3 Pro´s dip at 4-6k does make it lack a bit of clarity compared to the A7 (and other iems sometimes)).


IEM: Tanchjim Oxygen, Final Audio Type E tips LL, cable A6 4.4mm
Bass:
Djuro – Drop that bass (01:15-01:30), extends lower and rumbles a lot more on the I3 Pro. Punch quantity is a lot higher on the I3 Pro as well as more textured, but faster and tighter on the Oxygen. More tonally correct on the I3 Pro but better timbre on the Oxygen.
Hiroyuki Sawano – Pretenders (01:18-01:47), more quantity and texture on the I3 Pro but cleaner on the Oxygen due to the faster and tighter bass. More tonally correct on the I3 Pro but better timbre on the Oxygen.
Metallica – fight fire with fire (01:11-01:52), cleaner on the Oxygen due to the lower bass quantity and it being faster/tighter. But more fatiguing treble on it.
Mids:
Hiroyuki Sawano – OldToday (01:25-01:52), Vocal timbre and tonality (also more forward) are better on the Oxygen but sounds more refined (less peaky) on the I3 Pro. Instrument tonality is better on the I3 Pro but better timbre on the Oxygen. Cleaner and more macro-details on the Oxygen but similar micro-details.
Evanescence – Bring me to life (01:18-01:35), shoutier and more fatiguing on the Oxygen.
Hiroyuki Sawano – Scapegoat (00:57-01:17), vocal and instrument tonality is a lot better on the I3 Pro. But better timbre and cleaner on the Oxygen, although naturality is still better on the I3 Pro.
Treble:
Linkin Park – Shadow of the Day (03:24-03:42), electric guitars are sharper and more fatiguing on the Oxygen. But better timbre on it.
Hiroyuki Sawano – Lose (string version) (01:22-01:59), Cello tonality, timbre and texture are better on the I3 Pro but cleaner on the Oxygen. Violin tonality, timbre, texture, clarity and detail are better on the Oxygen but slightly better treble-extension on the I3 Pro.
Hiroyuki Sawano &Z (02:18-02:57), better tonality on the I3 Pro but better timbre and cleaner on the Oxygen.
Technicalities:
Shiro Sagisu – Hundred years war (02:24-02:57), slightly wider on the Oxygen but a lot deeper and more holographic on the I3 Pro. Imaging, instrument separation, macro-details and timbre are better on the Oxygen. Similar micro details though.
Overall:
Oxygen has better female vocals, technicalities (except soundstage) and timbre/coherency but otherwise the I3 pro is better (bass, lower-mids, treble) with my library.
IEM: Tin Hifi P1 (PEQ, high-gain), Radius deep mount tips L, Cable A9 4.4mm
Bass:
Djuro – Drop that bass (01:15-01:30), extends a lot lower and rumbles more on the I3 Pro. Punch quantity is a bit higher on it as well but a lot more textured, tighter and faster. More tonally correct and natural timbre on the I3 Pro.
Hiroyuki Sawano – Pretenders (01:18-01:47), similar quantity but more textured, tighter and faster on the I3 Pro. More tonally correct and more natural timbre on the I3 Pro.
Metallica – fight fire with fire (01:11-01:52), similar quantity more textured, tighter and faster, individual bass strikes are more distinct on the I3 pro as well.
Mids:
Hiroyuki Sawano – OldToday (01:25-01:52), similar vocal tonality and quantity but more natural timbre on the I3 Pro. Instrument tonality and timbre are a lot better on the I3 Pro. Cleaner and more detailed on the I3 Pro.
Evanescence – Bring me to life (01:18-01:35), more fatiguing and sharper (treble) and shoutier (vocals) on the P1.
Hiroyuki Sawano – Scapegoat (00:57-01:17), vocal tonality and quantity is similar but better timbre on the I3 pro. Instrument tonality is better (warmer) on the I3 Pro and also better timbre. A bit cleaner and more detailed on the I3 Pro.
Treble:
Linkin Park – Shadow of the Day (03:24-03:42), electric guitars are a bit peakier on the P1 but more tonally correct, but better timbre on the I3 Pro.
Hiroyuki Sawano – Lose (string version) (01:22-01:59), Cello tonality, timbre, texture and detail are better on the I3 Pro. Violin tonality, treble-extension and clarity are better on the P1 but better timbre and texture on the I3 Pro.
Hiroyuki Sawano &Z (02:18-02:57), better timbre, tonality and cleaner on the I3 Pro.
Technicalities:
Shiro Sagisu – Hundred years war (02:24-02:57), a lot wider, deeper and holographic on the I3 Pro. Imaging, instrument separation, detail and timbre are also better on the I3 Pro.
Overall:
The I3 Pro is better in basically every way (also a LOT less power hungry).


Sources:
Regarding power, planars are usually quite power hungry. Which is why I tried it on my LG G7 (AUX mode, quad DAC on) and it is fully capable of driving it. Not much worse from my Asgard 3 amp. So, I wouldn't worry too much about power on this one.
Conclusion:
The I3 Pro is an iem I have been looking forward to for an entire year already, suffice to say that I had a ton of expectations from it. And well, they met and surpassed what I expected with ease. Highly recommend it if you have a library that is similar to mine or just love lots of bass with quality, quality mids and a massive soundstage. I would only advise treble-heads to stay away from it, as the dip between 4-6k is likely to be dark for people with that preference.
Graph:


Cable source:
https://docs.google.com/spreadsheet...zTm4ei7HEfP8AI1zxswrMw2ho/edit#gid=1801072063
Reference/test songs: