THX Onyx Portable DAC/Amplifier
The first consumer product from THX is a home run
Pros
:
Balanced and transparent sound signature, and powerful amplification for a dongle DAC. A clear upgrade in sound quality when adding to computers/mobile devices.
Introduction
THX. A legendary company founded in 1983 by George Lucas. THX became known for developing high fidelity audio/visual reproduction standards for movie theaters, with the goal of helping filmmakers translate their work to the big screen in the best way possible. THX certification became known as the gold standard in the audio/visual industry.
More recently, THX developed its AAA (Achromatic Audio Amplifier) technology for use in headphone audio products with a stated goal of providing the highest fidelity audio with extremely low levels of noise, distortion, and power consumption. I distinctly remember hearing the first prototype THX AAA headphone amplifier at CES several years ago and it was one of my personal highlights of the show that year.
I later had the chance to extensively use the Benchmark HPA4 headphone amplifier which uses THX AAA technology and the HPA4 remains one of my all time favorite solid state headphone amplifiers, regardless of price.
So it was with great anticipation that I found out about the THX Onyx earlier this year. The first consumer product directly from THX.
The THX Onyx is a portable DAC/AMP and is part of a slew of dongle DAC products that have hit the market over the past couple of years. The purpose of the dongle DAC is to provide the user with better sound quality as compared to using a direct connection with a laptop or smartphone. With most recent smartphones ditching the headphone jack altogether, the dongle DAC provides a direct USB-C connection. The Onyx stands out from the crowd by its utilization of THX's AAA technology and by its relatively high price of $199, as compared to many more affordable dongle DAC's. Let's find out how it performs.

Unboxing, Build, and Features
Taking the Onyx out of the box reveals a rather large and well constructed dongle DAC, coming in at around 8 inches long. One of the immediately noticeable features of the product is the soft-touch rubber feeling cable sleeve which connects to the actual unit with a built-in strain relief. There are also magnets in the unit end and the USB connection end, which enable the folding over of the cable for easy transportation or storage. The Onyx connects via USB-C, and a USB-C to USB-A adapter is also included in the box. This makes for an easy connection to computers and Android devices.
Apple iPhone users will need to add a Lightning to USB camera adapter along with the included USB-C to USB-A adapter, and while this is somewhat convoluted, it works perfectly well and was my preferred method of using the Onyx.
The Onyx uses the ESS ERS9281PRO DAC chip for its D/A conversion and uses its in-house THX AAA amplifier technology to help deliver enough power to drive higher impedance headphones. And while I exclusively used IEM's with the Onyx, I can confirm that it can drive my more demanding IEMs with authority and plenty of headroom.
The Onyx features a set of 3 status indicators that are color coded based on the audio signal being passed through. Blue indicator lights are Standard quality 44.1 or 48 kHz PCM, Yellow lights indicate High resolution files over 48 kHz PCM, Red lights indicate DSD files, and Orange lights indicate MQA files, which is currently the highest supported format. The Onyx is capable of sending audio up to 32-bit/384kHz.
I tested out the Onyx in a couple of configurations. The first was connecting to my laptop directly with the USB-C connection. The second was to my iPhone which requires the use of the included USB-C to USB-A adapter as well as the Apple Lightning to USB camera connection kit. In both cases my primary IEM was the qdc Anole V14.
Sound Quality
In evaluating the sound quality of the THX Onyx, it was important to keep in context both the stated goal of the product as well as its price point of $199. The goal of the Onyx and dongle DACs in general, is to improve the sound over the existing internal DAC and headphone amplification of a computer or mobile device. In both of my use cases, the Onyx provided a cleaner and clearer musical experience and reminded me of some of the better portable DAC/Amp products I've heard over the years. With a sound signature on the neutral side and the AAA amplification stage providing gobs of headroom, I found the improved sound quality to be excellent, especially for the price point.
Conclusion
The $199 THX Onyx is a great value and an easy recommendation for anyone looking for a dongle DAC to improve the sound quality from their mobile devices. It combines a balanced and transparent sound signature, along with a powerful amplification stage that will be able to drive all of your IEMs and most full size headphones with plenty of headroom. This is a must audition for anyone in the market for a dongle DAC. Highly recommended!
Reign Supreme
Pros
:
- Reference sound
- Powerful
- Crystal clear and transparent
- Musical and engaging
- Excellent timing and dynamics
- Highly resolving
- Can drive more difficult loads
- Build quality
- MQA
- Plug and play
Cons
:
- Increased power consumption
The THX Onyx was kindly provided by THX and doesn't need to be returned.
THX never asked for a favorable review and as always this is my honest and subjective evaluation of it.
It is selling for $199.99 and you can buy it from
here
Introduction
The THX Onyx is a powerful portable digital-to-analog (DAC) amplifier equipped with THX AAA™ technology, to ensure the highest fidelity mobile listening experience for music, games, and movies.
The Onyx is the first consumer product to be manufactured by THX.
THX is now widely known for their Achromatic Audio Amplifier technology that is used by various third party manufacturers on devices ranging from headphone amplifiers to subwoofers.
The THX AAA technology ensures the ultimate no-compromise headphone audio experience by delivering the world's highest fidelity audio with infinitesimally low levels of noise, distortion and power consumption.
Full THX AAA features are available
here
.
A couple of examples with products featuring the THX technology is the Drop+ THX AAA 789 linear amplifier that we have tested
here
and the FiiO Q3 that we have tested
here
.
The Onyx is quite expensive for a single ended dongle but not without a reason as we are going to find out later.
THX Onyx technical specifications
The THX AAA™ technology inside the Onyx enables the world's highest fidelity audio and maximum dynamic range with the capacity to support power-hungry, audiophile grade headphones.
The key difference between the Onyx and similar USB dongles is that THX opted not to use the embedded headphone amplifier of the DAC chip but rather add an extra THX AAA - 78 amplifier stage.
The chip used is the top line ESS 9281PRO digital-to-analog converter (DAC) which provides best-in-class dynamic range and lowest distortion, with direct rendering of MQA files in the DAC.
The internal amplifier is disabled and the DAC analogue output is amplified by a separate THX AAA - 78 high current amplifier module.
Voltage output is a full scale 2V that translates into a whopping 180mW / 22ohm , 125mW / 32ohm and 27mW / 150ohm making the Onyx one of the most powerful single ended USB dongles in the market.
Loads lower than 22 ohm may trigger the internal protection circuit which limits current but we still get 130mW at 16 ohm.
Output impedance is as low as 0.25 ohm.
Power consumption is quite high , typically 590mW with a maximum of 900mW for extreme conditions such as full volume with low impedance load.
Crystal clean power
Another key point that sets the Onyx apart from the competition is that it uses proprietary low-noise power conversion techniques followed by a linear active filtering to transform potentially noisy 5V USB into very clean +/- 4.5Vdc power to the amplifier.
This helps ensure the noise and distortion remain very low.
THX also did the complete schematic and PCB design in-house, paying extremely careful attention to PCB layout to ensure noise and distortion from power signals doesn't enter the audio chain.
MQA and High resolution certified
MQA Renderer technology in the THX Onyx can connect to an MQA core signal – in global streaming service apps such as TIDAL – to complete the final "unfold" of an MQA music file up to 384kHz Master.
PCM is supported up to 32bit 384kHz and DSD in DoP64 / DoP128.
All PCM and MQA files / streams are automatically up-sampled to 705.6 / 768kHz, a function that cannot be disabled.
There are three tiny LED indicators that inform the user about the sample rate.
All three LED lit blue is 44.1/48 kHz PCM , yellow is >48 kHz PCM , red is DSD and purple is MQA render.
The Onyx connects to any USB/USB-C port and works on Android, iOS, Windows 10, and Mac without the need for any drivers or installation.
A USB-C to Lightning adapter is not included but we get a female USB C to male USB A adapter.
The Onyx is compatible with mic and non-mic headphones.
Design and build quality
The Onyx is a classy and well designed device with a chassis made of CNC machined aluminium which is lightweight and tough.
A large THX logo and the three LEDs are seen on one side of the chassis.
The USB type C cable is embedded into the main body and is wrapped in a flexible and thick silicone band.
Both ends of the cable feature a heavy duty custom made strain relief that looks durable.
A built-in magnetic clasp enables quick and convenient cable management, ensuring there are no messy headphone wires dangling around.
Well we didn't find much use of it but still nice to have as an extra option.
In order to house all the extra electronics , the Onyx is a little larger than the competition but the thin shape allows for a good handling experience.
Dimensions are 7.2x14x210mm measured with the cable.
Set up
Using the Onyx is a straightforward experience as it is plug and play with Android , Windows and Mac os.
All streaming apps are supported natively but some Android phones may need the extra USB Audio player pro application in order to get a 'bit' perfect high resolution playback with streaming services like Qobuz.
MQA playback
Listening to MQA on a Windows/Mac PC is easy although it requires you to take a few steps inside the Tidal app to set the output device into exclusive mode.
While writing this review Tidal has rolled out an update that supports full MQA decoding on Android with the Onyx as a DAC.
All the needed guides are available at the THX website.
The Onyx gets a little hot to the touch but not overly so to be alarming.
Extra power comes at a cost and the Onyx is going to drain your phone battery much faster than the average low powered USB dongle.
Associated gear
We have tested the Onyx with various earphones and headphones like the FiiO FH5s , Dunu EST 112 , Focal Elex and Sennheiser HD660s/650 just to name a few.
Noise floor is practically absent and below the listening threshold resulting in a crystal clear sound.
Sound impressions
Reference sound quality with top of the line transparency and a perfectly flat frequency response yet musical and engaging would be the summary for the lazy reader.
Truly Achromatic as the name would suggest the THX AAA - 78 amplifier works in perfect harmony with the 9281PRO DAC to pass the musical information without adding a character of it's own at least in a way that it doesn't color.
Because when seen in the grand scheme of things the Onyx does pose a character which is musical and engaging , the opposite of being called clinical , full bodied with blooming dynamics and harmonic richness.
Timbre is natural without severe digital artifacts and music sounds well textured and finely articulated.
Fast and precise with excellent timing the Onyx is able to portray the recording venue with a great sense of reality thanks to the extended and spacious stage that is well layered and proportionally aligned.
Thankfully it is not as analytical and sterile as someone would expect from a THX - ESS combination but it sounds detailed and resolving without becoming artificial and monotonous.
Bass reaches low and has a weighty and visceral feeling that remains always tight and controlled with excellent layering.
Mid frequencies , always present , shine with clarity and finesse while treble breathes energy and light in a well extended but smooth manner.
Sometimes timbre may sound just a little steely but it is not too severe to spoil the overall experience.
Compared to the EarMen Sparrow ($199)
So far so good , the Onyx is an excellent sounding DAC but not without competition.
For example the EarMen Sparrow is another excellent performer with two ES9281PRO DAC chips inside and a true balanced output while selling for a lower price.
Furthermore its balanced power output is almost the same with the Onyx while power consumption is much lower.
So why should someone opt for the Onyx?
For starters, the Onyx provides its power from a single ended output so it is out of the box widely compatible with more headphones without the need to change the cabling.
Then the extra THX AAA - 78 amplifier module makes a big difference in favor of the Onyx which outperforms the Sparrow in raw power delivery.
Listening to the same material with both devices (level matched) it is not that difficult to notice that the Onyx sounds more controlled and impactful.
Bass is fuller , faster and tighter with grander scale and far greater dynamic contrast while demanding headphones surely benefit from the extra current delivery.
The THX amplifier is able to continuously perform under extreme stress conditions and at full scale output without clipping while there is always that extra headroom when the program calls for it.
As long as we keep impedance /sensitivity in reasonable values , the Onyx can drive full size headphones with authority and without distortion reaching desktop level performance.
While the Onyx felt slightly underpowered to do justice to the HD650 with the HD660s it was a totally different experience and one of the best we have encountered from a small USB dongle.
The EarMen Sparrow can also drive the HD660S and reach loud enough but with the Onyx control always felt better and the overall presentation was more effortless especially with challenging material.
Other sonic differences will not be further discussed because both dongles share more or less the same sonic characteristics and the THX amp benefits become less important with easy loads.
At the end
The THX Onyx is a top of the line reference sounding USB dongle with power and sound reaching desktop level quality and performance.
It is more expensive than the competition but not without a reason as we have pointed out in our review.
The implementation of the extra THX AAA amplifier is a game changer and leaves the competition back by a fair margin pointing the way to the future.
If cost is no object and you want the best USB DAC dongle available then this is the one to get.
Test playlist
Copyright - Laskis Petros 2021
Last edited:
World Premiere! THX Onyx Review: Their First DAC/Headphone Amp Combo Is Marvelous!
Pros
:
Sleek Beautiful Design
Great Build Quality
Amazing Balanced Sound
Overview​
The portable DAC/Amp market is a crowded one. I've reviewed a bunch of them, and I have a couple on deck waiting for evaluation. To make noise in this product category, you have to come up with something special.
Enter THX and their new
THX Onyx
, a $199 DAC/Amp that happens to be their first foray into Consumer Hardware. They came out swinging with the Onyx, a sleek device with massive power and tremendously clean sound due to their impressive
THX AAA amplifier technology
.
Add to that a flagship ESS DAC chip with MQA decoding, and you do, in fact, have something special here. The Onyx's sound is stunningly transparent, with a depth and separation rarely encountered at this price point. If you're looking for a mobile DAC/amp that provides near-reference sound at a very attractive price, you need to check it out.
Highlights:​
● THX Achromatic Audio Amplifier (THX AAA™) for transparency and power
● Master Quality Authenticated (MQA) Renderer for Tidal Masters high-resolution audio
● ESS ES9281PRO Flagship Mobile DAC for depth and resolution
● Magnetic cable management to keep headphone wires neat and tangle-free
● PLUG and PLAY-easy connection with PC, Mac, Android, and iOS
Disclaimer: The THX Onyx was provided to us by THX in exchange for an honest, unbiased review. It doesn't have to be returned.
Build​
I really love the design of the THX Onyx. It has a streamlined aluminum casing with the THX logo in raised relief, plus the USB cable portion is flexible and rubberized, which makes it feel quite durable.
The cable's metallic end next to the USB connector can bend back and magnetically attach to the main body, which helps to make a compact shape for storing. You can also use the loop to hang the DAC/Amp out of the way when not in use.
It's a nice little touch that lets you know THX had innovation in mind when creating this product. It's really hard to believe this is their first consumer-focused piece of hardware.
You see, THX is known more for licensing audio technology and standards to other companies that build and market the hardware than building their own.
For example, THX Achromatic Audio Amplifier (THX AAA™) circuitry, which forms the heart of THX Onyx, has started a craze via products like the
THX AAA ONE
and
THX AAA™ 789
desktop headphone amps from Drop.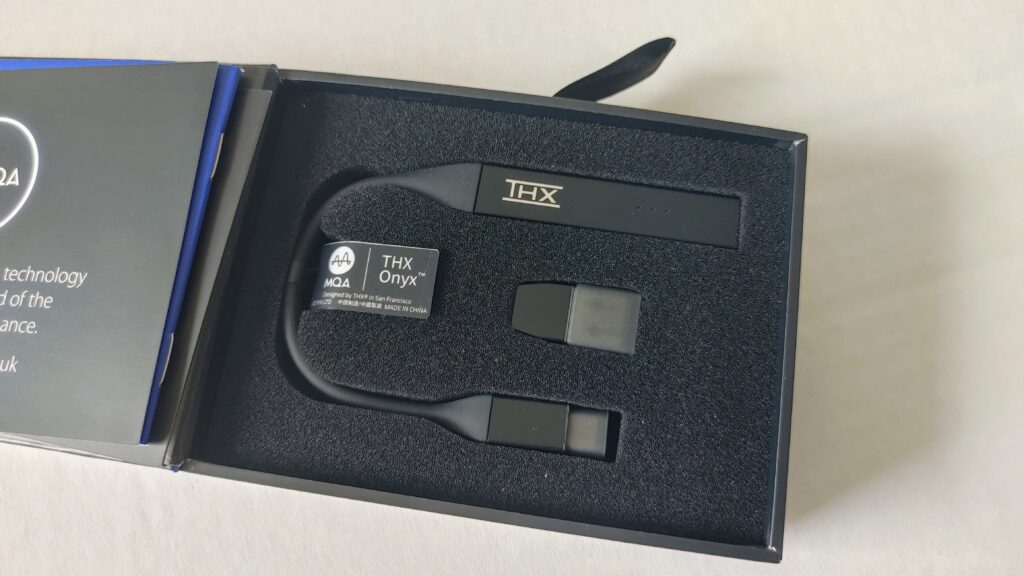 On the portable side, HELM Audio utilized a mobile variant of the THX AAA amp in their DB12 AAAMP Headphone Amp, which provided tons of power and transparency
when we tried it last year
.
That product used the THX AAA-38 mobile amp circuit, but THX included its best mobile amp circuit in the Onyx, namely the THX AAA-78. The AAA-78 offers about double the power output of the AAA-38, and at 180mw into 22 ohms, the Onyx has output power that rivals many desktop amps.
That means it will drive some of the most power-hungry cans on the market with no problem, including my Dan Clark Audio Aeon Flow Closed headphones, which are known for being hard to drive properly. Even with the AFC headphones, I never had to raise the volume level above 50%, and I heard none of the compressed dynamics I have heard with other portable amps.
The "Achromatic" in Achromatic Audio Amplifier means "without color." That speaks to the amp circuit's promised lack of distortion or noise, which THX says provides a "realistic, fatigue-free" listening experience. Most who have listened to it, including me, agree.
To achieve this, THX AAA uses a patented version of feed-forward error correction which means two inverted signals are summed at the output canceling out distortion and removing noise. This is the same principle used in high-end THX AAA desktop amps like the
Benchmark HPA4 headphone amplifier
.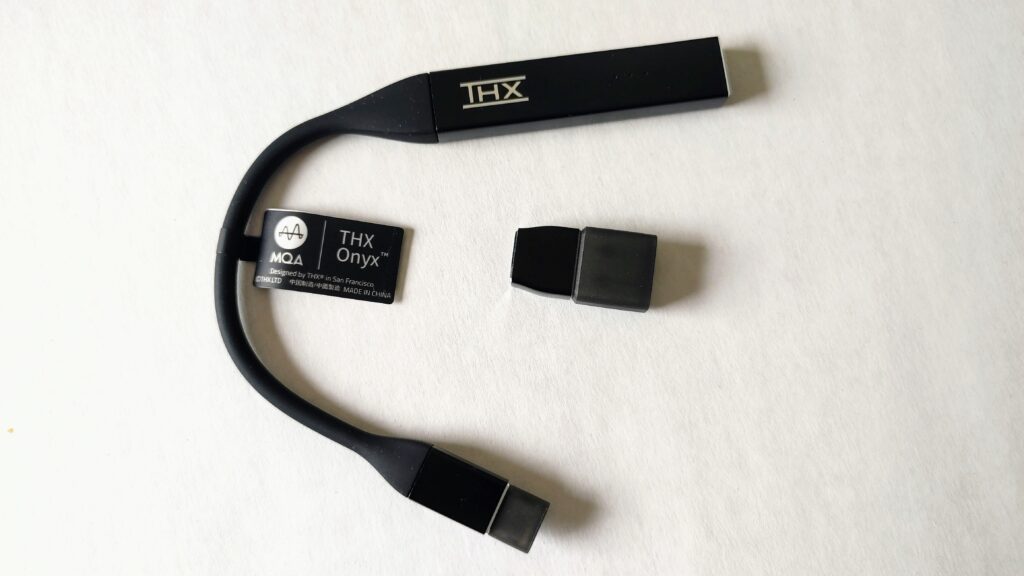 This transparent amp section is combined with a high-quality DAC section based around the ESS ES9281PRO DAC chip. It offers very low total harmonic distortion, MQA rendering, and PCM decoding up to 32-bit 384kHz PCM. The THX Onyx also handles DSD128 over PCM.
Of course, as an MQA renderer, it needs a software decoder like the Tidal Desktop App to do the first unfold of an MQA file, then it will take the 24-bit signal and do the final unfold to a higher bitrate if encoded in the file. The Onyx also 8x up-samples the signal within the DAC to 705.6/768 kHz before the D to A conversion.
On the top of the amp are three led lights that different colors to indicate what signal is going through the DAC. For example, 3 magenta lights mean MQA is being decoded, while 3 yellow lights mean a PCM signal above 48 kHz is being processed. Red indicates a DSD signal. The lights are bright and easy to read.
The THX Onyx has a permanently attached USB-C connector to plug into most newer smartphones and laptops, but if you have a laptop that doesn't have USB-C, you can use the included USB-A adapter to connect. Apple folks with iOS devices will need the Apple Lightning to
USB Camera Adapter (slim version)
to plug into that stuff.
By the way, if you are a gamer, the THX Onyx supports mic input from a headset as long as it uses a 3.5mm TRRS plug, which is quite common. This will let you upgrade the audio for games as well as music. That's pretty cool.
Listening to the THX Onyx Portable DAC/Amplifier​
To test out this DAC/Amp, I connected it to both a
Moto G Fast smartphone
and my HP Envy Laptop via USB-C. On the Smartphone, I played a bunch of MQA tracks from Tidal through the USB Audio Player Pro app. I also used the Desktop version of the Tidal App, playing the same music from the Audiophile 101 MQA playlist on the Laptop.
https://tidal.com/browse/playlist/9641458c-6145-4c15-9515-52110f7cbbcc
As far as headphones are concerned, I mainly used the Focal Elear, and The Mr. Speakers (now Dan Clark Audio)
Aeon Flow Closed
planar magnetic headphones. I also tried the
Hifiman Sundara
planar magnetic headphone and the
Periodic Audio Carbon
earphone to see how it did with IEMs.
I noticed right away about the THX Onyx how extraordinarily crisp and balanced this Dac/AMP is. It is extremely transparent and flat. That means it really allows the headphones to shine and do their thing. As such, it sounded good with every pair of headphones I threw at it.
I wouldn't worry about matching too much with the Onyx; just find a pair of headphones you like and plug them in. You should be delighted with the result.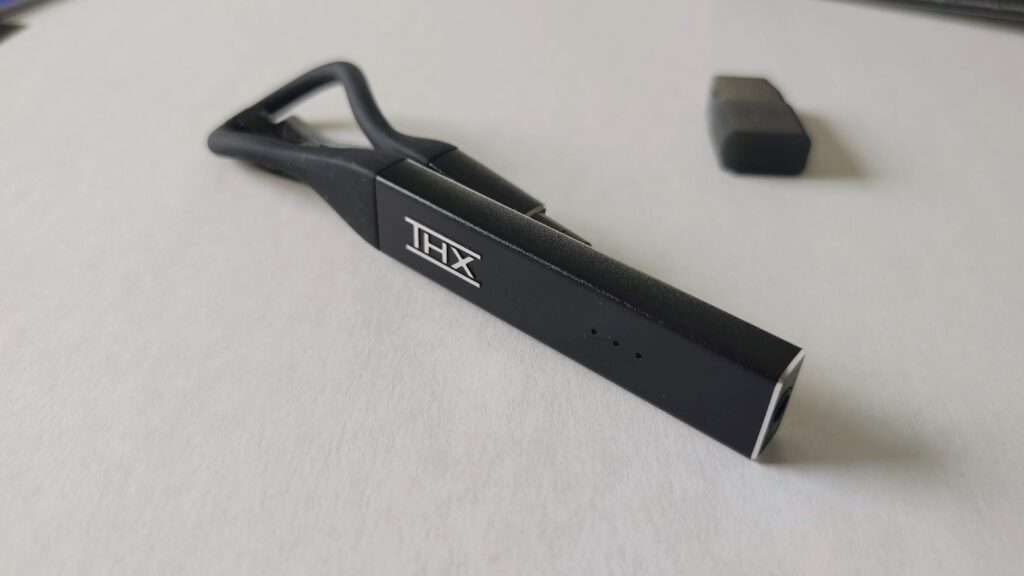 Also, as I said earlier, this DAC/Amp combo should be able to power just about any headphone out there, including power-hungry Planar models with no sweat. I really enjoyed the Onyx with the Aeon Flow Closed, a pair of headphones that really need some juice to open up, and the THX amp did so at less than 25% of volume.
Listening to Angus and Julia Stones' "Draw Your Swords," I was amazed at how the Onyx allowed the AFC to present micro-dynamics, such as the guitar strings' trailing notes and the echo of the male vocal in the recording space. It was out of this world. As far as macro-dynamics were concerned, it also did a good job reproducing the punch of the kick drum and the presence of the guitar strumming.
On the song "Babylon Sisters" by Steely Dan, the Onyx played the song with nice depth and punch through the Focal Elear; it also played all the vocal parts with crispness and separation. It's crazy how transparent this amp is. It's hard to believe you're listening to a USB DAC; it really has performance more on par with a desktop unit.
Comparisons​
I compared the THX Onyx with two other USB Dac/Amps with MQA, the
Audioquest Dragonfly Cobalt ($299)
, and the Helm Audio Bolt DAC, which is THX Certified ($99).
The BOLT was clearly a step down from the Onyx in both power and transparency. While it sounds amazing for its price, giving you nice timbre on instruments and vocals, plus decent detail, the Onyx was just more open and had more depth, giving you more sense of the recording space and just more detail overall.
The comparison with the Cobalt was much closer. Powerwise, even though the Onyx has more power output on paper, it didn't really matter because both amps will play just about any pair of headphones louder than you have any business playing them.
As far as sound quality is concerned, I would say the Cobalt has more detail and separation overall, but I would say the difference is very slight. That's significant because the Cobalt is $100 more at retail, and I can't say the Audioquest DAC sounds anywhere near $100 better.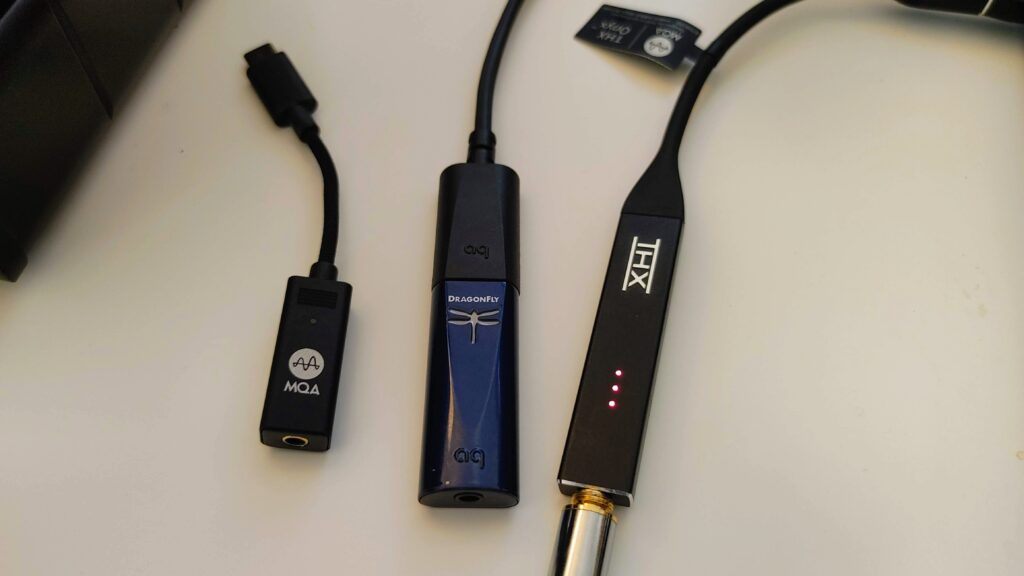 The Cobalt gives you more spatial cues, and transients are a little more fleshed out. It also sounds more layered than the Onyx. However, I would say the Onyx's overall tonal balance is better as the Cobalt can sound a little hard on certain tracks, something the THX product has no issue with.
At the end of the day, I would say the Onyx gives you about 90% of the detail, separation, and layering of the Cobalt, so if you don't have $300 to spend, just don't want to spend that much, or you want something easier to carry, the THX Dac/Amp is a darn good choice.

​
The Wrap Up​
At $199, The
THX Onyx
may be the best value in USB DAC/Amps today. It has crazy power, a clean, transparent sound that is breathtaking, and a sleek design that makes it easy to carry around. The well-thought-out mix of features also makes it quite flexible for many different use cases.
Music lovers who are looking for a lightweight USB Dac/Amp that compete with Desktop models for both output power and sound quality, then you should give the THX Onyx a look.
This review was originally posted at:
https://hifitrends.com/2021/04/07/w...r-first-dac-headphone-amp-combo-is-marvelous/