At the time this review was written, the TFZ Series 3 was listed for sale on Penon Audio's website. Here is a link to their listing of the product:  
http://penonaudio.com/TFZ-SERIES-3?search=TFZ%20SERIES%203  
Introduction
The TFZ is geared to be the middle ground model of the TFZ lineup. TFZ broke onto the scene earlier this year, bringing their budget earphones to market. When Penon Audio asked me if I would cover them with a review on Head-Fi, I gladly obliged. Having heard several positive impressions on them I knew it was something I would want to experience for myself. Let's go over them with a comprehensive review.  
I am starting this review coming fresh off of reviewing the TFZ Series 1. Here is a link to this review:  
http://www.head-fi.org/products/tfz-series-1/reviews/16935
NOTE: Because the design, build and tunings of the TFZ lineup of earphones I am reviewing are very similar, there will be some portions copied and pasted from the other reviews done on these products. This is not done to make quick work of the reviews, but rather an honest depiction due to the fact that they are so similar. Please don't disregard the information because some of it is the same. I have identified differences in the review(s).  
Disclaimer
I was given an opportunity to review a free sample of the Series 3 in exchange for my honest opinion and review. I am in no way affiliated with TFZ. I would like to take this time to personally thank Penon Audio for the opportunity to experience and review the product.  
My Background
I AM NOT a numbers and graphs audiophile or sound engineer. Personal audio enthusiast? Absolutely! Headphone junkie? Possibly…  
There's something about quality DAPs, DACs, Amplifiers and Earphones that intrigues me. I want to hear any earphone that looks promising, in hopes that I can share my impressions with  enthusiasts and help them find the audio product they're looking for. My Head-Fi profile has a list of audio products ranked from favorite to least favorite. For me, this hobby is more about getting great price to performance ratio from a product, and having a variety of different gear to mix and match. With personal audio gear, we tend to pay a lot of money for minor upgrades. One thing I've learned over the last few years is that just because a headphone has a higher price tag, it doesn't mean that it has superior build and sound quality.  
I'm always looking for great audio at a great price. I'm after headphones and IEMs that give me the "WOW" factor. I can appreciate different builds and sound signatures as long as they are solidly built, with ergonomics and sound that is pleasing to my ears. It's my pleasure to share my experiences with audio products and make recommendations based on gear I have owned and used.  
REVIEW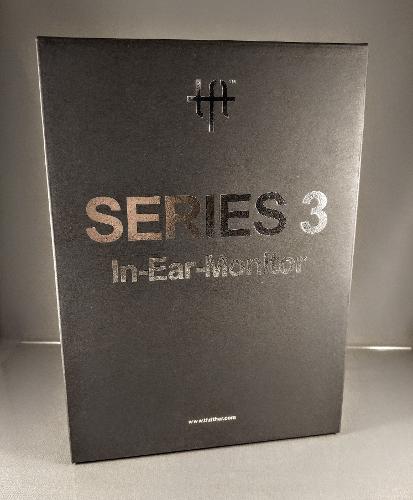 The Series 3 comes in a black box with silver print. The front features the product name and TFZ logo as well as the website address in small print.  
The back of the box is blank aside from a small sticker with the barcode and small photo of the earphones displayed.  
Specifications and Accessories
Specification
Model Number: TFZ SERIES 3
Driver: 12.5mm Titanium Crystal Dual Loop Dynamic Dual Chamber (N50)
Impedance: 12ohm
Sensitivity: 107dB/mW
Frequency Response: 8Hz-24 kHz
Style: In-Ear
Plug Type: Line
Connectors: 3.5mm
Mic: No
Lowest Power: 8MW
Interface: 3.5mm Giled
Cable length: 1.2M
Accessories
1X TFZ SERIES 3 earphone
3X pairs of Silicone ear tips
1X pair of double-flange silicone eatips
1X pair of Foam ear tips
1X pair of Ear hook
1X Carry bag
1X Clip
Housings
TFZ was smart with their design. The entire lineup has a custom-ish over the ear fit.  
The Series 3 is a black plastic and metal shell. There is a nice brushed black aluminum faceplate on the outside, and a matte black plastic used on the inside of the inner part of the housing. The housing are lightweight, solidly built, and designed to fit comfortably. I really like the shape and ergonomics. They have a nice universal shape that will fit just about everybody's ears. Nozzle are average in terms of width and length. Tip rolling with these earphones is an easy and fun experience.  
Cable, Y-Split, Cable Jack, Strain Reliefs
For a budget earphone I really like what TFZ has done with this cable. It's a black rubber jacketed cable with some spring and virtually no memory. The Y-split is a firm rubber piece that is very adequate. A metal chin/neck slider sits flush with the Y-split when not in use.  
The earphones have a straight 3.5 mm gold plated plug with a metal black and gold jacketing. There is a serial number printed on the the jack. One thing about the jack I'm not fond of is how the jacketing sits close the the jack and is a considerably wider, making it incompatible with many smartphone and DAPs with aftermarket cases. I was unable to use them with my LG V10 unless I removed my phone case. Strain reliefs are subtle and adequate. If handled with a reasonable amount of care, I don't see the TFZ cable breaking any time soon.  
NOTE: TFZ also has introduced the S series of earphones which offers a different silver plated cable. I haven't heard it so I'm not sure of the sonic differences. It also appears that TFZ has upgraded the cables on both the Series 3 and Series 5. Instead of the basic black rubber coated cable versions I received, they now have a braided SPC cable.  
Functionality
My pair did not come with a microphone or remote. They are specifically designed for music enjoyment.  
Ergonomics, Fit and Microphonics, Isolation
The over ear fit of the TFZ series of earphones worked well for my ears. We are seeing more and more universal shells with this custom inspired shape. The way they are designed, they fill a large portion of the concha of my ear. The angled strain relief loops around my ear and are snugged into place with the chin/neck slider. Thanks to the over ear fit, microphonics are virtually eliminated. Isolation is average for a universal model.  
Sound Review
I did my demo with my usual gear. I used an LG-V10 for smartphone use, and either my Shanling H3 or iBasso DX80 DAP/Bushmaster D14 DAC/Amp for high fidelity portable use. For desktop use, I used my Toshiba Satellite Laptop in combination with a ifi micro iDSD playing at 32/192 kHz. I tested them with several other sources as well. I used Google Music in its highest download quality (320 KBPS), and also streamed FLAC via Tidal streaming service. I also used purchased and downloaded tracks in MP3, FLAC, WAV and DSD. I make sure that any gear I test has sufficient playtime before writing a review.  
I used my usual same songs for testing gear:
"Limit to your love" by James Blake (bass speed, punch, response)
"Doin' it Right" by Daft Punk (sub bass)
"Get lucky" by Daft Punk (bass to midrange transition resolution, male vocals)
"Madness" by Muse (soundstage, separation)
"Some nights" by Fun (soundstage and male vocals)
"The soundmaker" by Rodrigo y Gabriela (texture and imaging)
"Bassically" by Tei Shi (bass to midrange resolution, female vocals)
"Skinny Love" performed by Birdie (female vocals, acoustic playback)
"One" by Ed Sheeran (male vocals, acoustic playback)
"Outlands" from the Tron Legacy Soundtrack (symphonic presentation, imaging)
"Sultans of swing" by Dire Straits (detail, separation, balance)
"And Justic for All" by Metallica (driver distortion, treble response, rock playback)
"Ten thousand fists" by Disturbed (driver distortion, treble response, rock playback)  
Note: Other tracks were used, but the listed songs were primarily used to assess and break down the gear's response.  
Source Selection
At 12 Ohms, the Series 3 is a very easy to drive earphone. They can be driven with any DAP or cell phone. Their warm tilt and smooth response is better setup to work well with a more neutral sounding source. They will work with a warmer sounding source, but I personally found them to work more ideally with my leaner sounding DAPs and portable amplifiers.  
The tuning of the Series three is somewhat forgiving with poorly recorded music and low bitrate files. There will be improvements with higher bit rate music, but it won't be significant. The Series 3 has a fit and sound that makes it a great commuting earphone. The elevated bass and solid fit works great when commuting.  
Sound Signature
*Measurement was taken with my Vibro Verita coupler and ARTA software. This is not an industry standard measuring device, but should give you an idea of the earphone's sound signature
.  
NOTE: If you read my TFZ Series 1 review there will be repeats of information, with added and edited portions to identify any differences. The Series 3 has a tuning that is perceptually slightly more refined and defined than the Series 1. There is a few dB increase in higher frequencies.  
The Series 3 is a bass forward earphone that definitely falls into the "basshead audiophile" category. They maintain a very natural and engaging midrange and treble presence and sound excellent with modern genres of music. Hip Hop, EDM, R&B, House, Techno and other similar genres are rendered wonderfully with these earphones. Rock, Speed Metal, Grunge, and band genres with complex music passages are adequate, but don't make the best of the Series 3 tuning.  
I consider the Series 3 to be an L-shaped tuning that yields a very natural midrange and treble response. Those who enjoyed the TTPOD T1E will enjoy these a lot.  
Bass
Bass is definitely the star of the show. The Series 3 has a rumbling bass with good extension a slight mid-bass emphasis. There is a very nice sense of soundstage depth that will satisfy the inner basshead in all of us. Although very impressive and entertaining, bass does have a slight resonance that casts a slight shadow over the entire lower frequency response. It's more of a thick note presence and slight resonance that adds warmth. I don't hear a whole lot in terms dreaded "mid-bass bleed" or distortion caused by the driver not being able to keep up keeping up.  
A tighter and faster bass response would make the Series 3 elite. Still, as is, the bass is very adequate and performs well (especially when considering the price).  People looking for a linear earphone won't appreciate the Series 3, but most everyone else will.  
Mid-range
Mid-range definitely takes a back seat to the forward bass presence. Despite this, it manages to sound very natural just like the rest of the TFZ lineup. Like the others, there is a warm tilt that doesn't go overboard. Vocals (both male and female) sound excellent and don't sound overly weighted or hollow. Although resolution, separation and detail could be a little better, this is pretty much the only thing I can hold against them. The driver struggles when very complex music passages are playing. Even still the positives far outweigh the negatives.  
Treble
Treble is present and polite. The higher frequencies of the Series 3 have average extension and avoid sounding harsh. Pronunciation of the letters S and T balance out nicely with vocals. Cymbal crashes and hi-hats are relaxed and slightly back of the mix but not to the point I would say they are severely lacking or rolled off. Again, this range doesn't have the same refinement of flagship transducers, but for the price they are very decent.  
Soundstage and Imaging
A superior sub bass extension and forward bass presence combined with a very natural and formidable upper midrange and treble response gives the Series 3 a better than average soundstage. The forward and somewhat thick bass response combined with average refinement and detail prevents me from saying the same about imaging. I would say the Series 3 is average in terms of imaging.  
Comparison to the TFZ 1 and 5
I will usually compare to similarly priced and comparable models from other brands but I feel that it would be better to figure out how these stack up to the other two in the lineup.  
My pair of Series 3 and Series 5 sound very similar, and their frequency response measures pretty much identically. The Series 3 is maybe just a touch warmer and bassier. All of the earphones have what I would assume are very similarly designed drivers.  
NOTE: Since receiving the Series 1, 3 and 5, TFZ has made tweaks. They now offer a Series T1S which is described to have a SPC cable and sound characteristics more like the Series 5. The Series 3 and 5 also received a facelift, getting a braided cable which claims to improve their sound.  
All three earphones are bassy, having a L-shaped tuning, somewhat natural and slightly warm tilted midrange and smooth treble response. There was a small measureable difference between the Series 1, and the 3 and 5. The Series 3 and 5 has a few dB increase at mid/upper-mid and treble frequencies.    
The Series 3 sits in between the Series 1 and Series 5, and their tuning leans more towards the Series 5. Series 1 is the warmest, smoothest and least defined. The Series 3 has the tuning of the Series 5, but doesn't seem to have the same refinement, detail and separation. The Series five is the same tuning as the series three, but with an overall more refined and high end sound. The difference isn't significant and required extensive A-B testing to figure this out.  
Build quality is nearly identical. The Series 1 has a transparent shell, while the other two models have black shells with aluminum faceplates. Accessories is identical on all three models.  
Conclusion
The Series 3 is an upgrade from the Series 1 in the sense that they have slightly more upper midrange and treble presence. This makes the sound slightly more balanced and better proportioned to my ears. I feel less inclined to use EQ adjustments with the Series 3 as compared to the Series 1. They have a sleek and more sophisticated black shell and aluminum face plate.  
After trying the entire inaugural lineup from TFZ, the biggest problem I have is that they perform so closely that I don't know why they would feel compelled to release three separate models. The Series 3 does have a slightly more sophisticated look than the Series 1, and what I consider  improved sonics, but throw EQ adjustments into the equation and it makes choosing between the two is a toss up. I think this comes down to how you feel about their appearance and whether or not you're a fan of using an equalizer.  
Because I feel the Series 3 is a slight improvement over the Series 1 which I gave a four star review, I would say the Series 3 gets a half of a star more. Due to the fact that these very minor improvements cost an extra fifteen dollars, I have to take that half star back. From what I see, these two products should be closer in price, or the same price. At the end of the day, the good news is that they all fit and sound really good.  
Thanks for reading and happy listening!