Item information
Added by
Views

14,327
Reviews

6
Last update
Rating

3.58 star(s)

6 ratings
General Information
Over Ear IEM
Latest reviews
Pros
:
Big bass, clear highs
Cons
:
too much mids and vocals seems a bit off
TFZ Series 1 was lent to me by a local dealer, and the unit i got is a full black.
Appearances
For me, the TFZ with a double flange seems to fit oddly to my ears, the driver housing is a bit big and protrudes out of my ears quite a lot. Although so, luckily it is light and head swings will not distance it or fly it out of my ears. Wires are fixed and not exchangeable. The wires are thin and prone to tangle just by a simple couple random toss around in a bag. It gets all coiled up and could take some time to untangle.  
Sound
The trebles are quite ok still,  It has a tiny appearance in the back, weak but still there. Cymbals are tiny and feels a little artificial.  
The mids are relatively flat sounding and dull. It doesnt have the ability to give the guitar the power and impact that it should have. The guitar feels dull and without energy, making listening to Metallica very VERY boring sounding.  
The bass hits hard and deep, yes, but then although with a good deep bass but lacking in other departments, what does that remind you ? okay, it doesnt go to that extent but it does have a deep "n" sound eq feeling to it.  
Conclusion
Maybe some will find this interesting, but for me, even though appearance wise it looks sort of cool with a big headphone jack and all, the sound wise doesnt fit my taste and I'm not sure if other series from them made significant improvements but I hope they do
Pros
:
Quality build and materials
MBC/ PINOYMAN's review:
The TFZ series 1 Iem.
Id like to thank Christopher Gatchalian for lending me his pair unit for the purpose of this review.
Shell: clear in smoke black.
Cable: quality is thick and strong. It can survive as a daily beater from rolls and throws.
Strain relief is small, but well made and implemented. It gets the job done keeping the cable safe from cut and breaks.
Y splitter: no volume control, size adjuster.
SQ:
Tonal balance is warm but clear.
Bass hits hard and deep, mibass is on the fun side. It can sometimes sound boomy and strong at times. Something you may like or not. Most prominent in its signature. Its not well controlled. More sub bass than midbass.
Treble lacks the energy and extension. Fatigue-free, yes. Somewhat veiled or blanketed. Instruments doesnt come out alive but thankfully the vocals is sweet, something to love about.
Mids is warm and vocals sound sweet. Sometimes being drowned by too much bass (again). Sometimes this good vocals is affected by the bass slams which kills the full experience.
Texture and timbre is just so so. Pianos and stringed instruments dont sound too defined, a little on the dull side.
Soundstage, instrument separation and layering is good. More depth than width. Bass have more weight, affects by diminishing details, attack and definition. Making this bassy signature. Bass makes the presentation sounds big.
Somewhat transparent but blanketed by too much bass. Can be fatiguing in long listening sessions. Recommended for bass lovers.
Personally, i find the signature as bass heavy. I could have fell in love in the sound, if only the bass is controlled and a if its a little distant. Too bad, the bass smeared some details and it fools you of its strong weight to make you fell it sound big. Bass is weighty but less in texture and definition compared to what i heard in CFA ANDROMEDA and what i have - the FITEAR TG334.
Definitely this is a colored pair, warm and fun, but lacks the sparkle and crisp of treble to counter the bass. Unlike the JVC FX850, bassy but bring an open back, makes it like a headphone sounding iem. Adding hole in the iem may improve airiness and may lessen the bass weight and boomy-ness.
But thats just my gripe. We have our own personal tastes and preference.
Recommeded for bass lovers. (Again)
If TFZ iem will be converted to words it will be ALL ABOUT THE BASS.
pls enjoy the vid of Meghan Trainor

https://youtu.be/7PCkvCPvDXk
Source:
Iphone 6
Christian Bautista Live album.
Pros
:
Big bass and fatigue free sound, Solid and secure fit, Easy to drive, Very natural midrange
Cons
:
Will be too bassy for some, Lacking refinement and detail, Cable jack doesn't work with some phone cases
At the time this review was written, the TFZ series 1 was listed for sale on Penon Audio's website. Here is a link to their listing of the product:  
http://penonaudio.com/TFZ-SERIES-1?search=tfz  
Introduction
Regardless of what gear I'm listening to, I'm always curious when a new earphone hits the market. With every new offering comes an opportunity to see if the next "giant killer" has come to market.  
When Penon Audio contacted me to see if I was interested in reviewing the new lineup from TFZ, there was no way I could turn down the chance. Budget earphones are where I cut my teeth and I'm still a fan of the price to performance ratios some of these products have. Based on the marketing information, the TFZ models seemed to be the next big things to come out in the budget-fi price range.  
I will be reviewing all three earphones in the lineup separately. There will be repeats in what is posted due to the fact that the earphones are basically re-tuned versions of the same thing. Let's take a look and listen to the Series 1.  
Disclaimer
I was given an opportunity to review a free sample of the TFZ Series 1 in exchange for my honest opinion and review. I am in no way affiliated with TFZ. I would like to take this time to personally thank Penon Audio for the opportunity to experience and review them.  
My Background
I AM NOT a numbers and graphs audiophile or sound engineer. Personal audio enthusiast? Absolutely! Headphone junkie? Possibly…  
There's something about quality DAPs, DACs, Amplifiers and Earphones that intrigues me. I want to hear any earphone that looks promising, in hopes that I can share my impressions with  enthusiasts and help them find the audio product they're looking for. My Head-Fi profile has a list of audio products ranked from favorite to least favorite. For me, this hobby is more about getting great price to performance ratio from a product, and having a variety of different gear to mix and match. With personal audio gear, we tend to pay a lot of money for minor upgrades. One thing I've learned over the last few years is that just because a headphone has a higher price tag, it doesn't mean that it has superior build and sound quality.  
I'm always looking for great audio at a great price. I'm after headphones and IEMs that give me the "WOW" factor. I can appreciate different builds and sound signatures as long as they are solidly built, with ergonomics and sound that is pleasing to my ears. It's my pleasure to share my experiences with audio products and make recommendations based on gear I have owned and used.  
REVIEW
The Series 1 comes in a black box with silver print. The front features the product name and TFZ logo as well as the website address in small print.  
The back of the box is blank aside from a small sticker with the barcode and small photo of the earphones displayed.  
Specifications and Accessories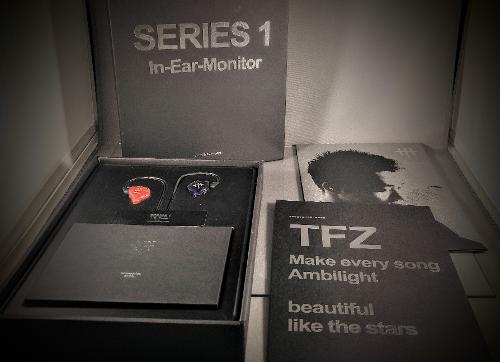 Specification
Model Number: TFZ SERIES 1
Driver: 12.5mm Titanium Crystal Dual Loop Dynamic Dual Chamber (N50)
Impedance: 12ohm
Sensitivity: 103dB/mW
Frequency Response: 18Hz-22 kHz
Style: In-Ear
Plug Type: Line
Connectors: 3.5mm
Mic: No
Lowest Power: 8MW
Interface: 3.5mm Giled
Cable length: 1.2M
Accessories
1X Pair TFZ SERIES 1


3X pairs of Silicone ear tips




1X pair of double-flange silicone eatips




1X pair of Foam ear tips




1X pair of Ear hook




1X Carry bag




1X Clip
Housings
TFZ was smart with their design. The entire lineup has a custom-ish over the ear fit.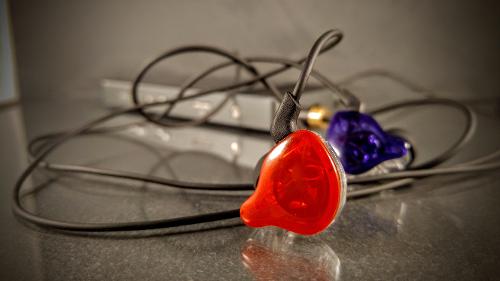 The Series 1 is a plastic shell that comes in several different colors and designs. I received the red/blue variant. Unfortunately, the colors are mixed as compared to the industry standard. Red should be on the right and blue should be on the left. It is the opposite with this earphone. Although not a deal breaker, I'll occasionally catch myself getting this mixed up when putting them on. Some small gold stickers come included in the package. These can be applied to the outside of the shells, making it even easier to disseminate the difference between channels and improve the appearance. I personally am not a fan of stickers and opted to not use them. Your mileage may vary.  
I really like the shape and ergonomics of the housings. They have a nice universal shape that will fit just about everybody's ears. Nozzle are average in terms of width and length. Tip rolling with these earphones is an easy and fun experience.  
Cable, Y-Split, Cable Jack, Strain Reliefs
For a budget earphone I really like what TFZ has done with this cable. It's a black rubber jacketed cable with some spring and virtually no memory. The Y-split is a firm rubber piece that is very adequate. A metal chin/neck slider sits flush with the Y-split when not in use.  
The earphones have a straight 3.5 mm gold plated plug with a metal black and gold jacketing. There is a serial number printed on the jack. One thing about the jack I'm not fond of is how the jacketing sits close to the jack and is a considerably wider, making it incompatible with many smartphone and DAPs with aftermarket cases. I was unable to use them with my LG V10 unless I removed my phone case. Strain reliefs are subtle and adequate. If handled with a reasonable amount of care, I don't see the TFZ cable breaking any time soon.  
NOTE: TFZ also has introduced the S series of these earphones which offers a different silver plated cable. I haven't heard it so I'm not sure of the sonic differences.  
http://penonaudio.com/TFZ-SERIES-1S%20?search=tfz  
Functionality
My pair did not come with a microphone or remote. They are specifically designed for music enjoyment.  
Ergonomics, Fit and Microphonics, Isolation
The over ear fit of the TFZ series of earphones worked well for my ears. We are seeing more and more universal shells with this custom inspired shape. The way they are designed, they fill a large portion of the concha of my ear. The angled strain relief loops around my ear and are snugged into place with the chin/neck slider. Thanks to the over ear fit, microphonics are virtually eliminated. Isolation is average for a universal model.  
Sound Review
I did my demo with my usual gear. I used an LG-V10 for smartphone use, and either my Shanling H3 or iBasso DX80 DAP/Bushmaster D14 DAC/Amp for high fidelity portable use. For desktop use, I used my Toshiba Satellite Laptop in combination with a ifi micro iDSD playing at 32/192 kHz. I tested them with several other sources as well. I used Google Music in its highest download quality (320 KBPS), and also streamed FLAC via Tidal streaming service. I also used purchased and downloaded tracks in MP3, FLAC, WAV and DSD. I make sure that any gear I test has sufficient playtime before writing a review.  
I used my usual same songs for testing gear:
"Limit to your love" by James Blake (bass speed, punch, response)
"Doin' it Right" by Daft Punk (sub bass)
"Get lucky" by Daft Punk (bass to midrange transition resolution, male vocals)
"Madness" by Muse (soundstage, separation)
"Some nights" by Fun (soundstage and male vocals)
"The soundmaker" by Rodrigo y Gabriela (texture and imaging)
"Bassically" by Tei Shi (bass to midrange resolution, female vocals)
"Skinny Love" performed by Birdie (female vocals, acoustic playback)
"One" by Ed Sheeran (male vocals, acoustic playback)
"Outlands" from the Tron Legacy Soundtrack (symphonic presentation, imaging)
"Sultans of swing" by Dire Straits (detail, separation, balance)
"And Justic for All" by Metallica (driver distortion, treble response, rock playback)
"Ten thousand fists" by Disturbed (driver distortion, treble response, rock playback)  
Note: Other tracks were used, but the listed songs were primarily used to assess and break down the gear's response.  
Source Selection
At 12 Ohms, the Series 1 is a very easy to drive earphone. They can be driven with any DAP or cell phone. Their warm tilt and smooth response is better setup to work well with a more neutral sounding source. A warmer source will further emphasize their lower frequency response and make them sound slightly wooly from what I could gather.  
The tuning of the Series one is very forgiving with poorly recorded music and low bitrate files. There will be improvements with higher bit rate music, but it won't be significant. The Series one has a fit and sound that makes it a great commuting earphone. The elevated bass and solid fit works great when commuting.  
Sound Signature
At first listen I wasn't very impressed with them. They seemed to have a wooly and boomy response, and seemed overly smooth. After giving them some time and experimenting with tips and sources they began to grow on me. There's no denying the fact that they will be considered bassy by some, and others may say that they lack high frequency presence and extension. Anyone who says this won't necessarily be wrong in their assumption. Aside from these traits,  there is some very natural and engaging things about their sound, primarily vocals.  
NOTE: The entire TFZ series rocks with modern genres of music, and is one of the better budget earphones I've hear for this genre. I got a kick out of turning these things up with Hip Hop and Dubstep music. I was able to get the bass bumping without the treble going overboard. As I always say, don't turn the volume up too loud for too long. I want you to be able to relate to my reviews. You won't be able to do so if you can't hear.  
Bass
There is some very nice bass extension and depth to the Series 1 sound. Although midbass seems to be slightly more forward, I was able to thoroughly enjoy basslines from any genre of music I listened to.  
Midbass does have a tendency to perceptually rear its head a little too much at times, impacting lower midrange resolution. Trust me, I've heard other earphones that are much worse than the Series 1, and although forwards and slightly intrusive, I don't consider it to be dealbreaker. It's not fat, it's "thick."

To my ears the perceived midbass forwardness could be remedied in one of two ways. You could EQ down the 100-300 Hz range, or raise the 4-8 kHz range. Doing either creates similar results. The idea is to create a good proportion between lower and higher frequencies.  
Mid-range
Aside from a little mid-bass boom, mid-range is very natural to my ears. A warm tilt carries throughout middle frequencies and is pretty spot on from what I hear. Male vocals were solid without being overly weighted for the most part. Female vocals were a little sucked back but still very adequate. There could be a touch more detail, but texture is excellent. Overall, mid-range manages to be smooth and natural.  
Treble
Series 1 has one of the more fatigue free trebles I've heard without being rolled off. For my ears there could be a little more presence in the 6-8 kHz range. On a positive note, this an earphone I would definitely recommend to people who are very sensitive to sibilant and harsh high frequencies. Extension is decent, but not one of their strongest attributes. I consider it to be adequate.  
Cymbal crashes, and pronunciations of the letters S and T tend to be slightly behind the upper mid-range.  
Soundstage and Imaging
The Series 1 has some impressive soundstage depth. A mid-bass lift makes its depth less noticeable than it actually is. Add a somewhat relaxed upper frequency presence, and the overall impression I get is that the Series 1 is average, maybe slightly above average in terms of soundstage. The response is very natural, but lacks the detail and refinement that allows me to say that imaging is elite.  
Comparison to the TFZ 3 and 5
I will usually compare to similarly priced and comparable models from other brands but I feel that it would be better to figure out how these stack up to the other two in the lineup.  
My pair of Series 3 and Series 5 sound very similar, and their frequency response measures pretty much identically. The Series 3 is maybe just a touch warmer and bassier. All of the earphones have what I would assume are very similar, if not identical drivers.  
NOTE: Since receiving the Series 1, 3 and 5, TFZ has made tweaks. They now offer a Series T1S which is described to have a SPC cable and sound characteristics more like the Series 5. The Series 3 and 5 also received a face lift, getting a braided cables which claims to improve their sound.  
All three earphones are bassy, having a L-shaped tuning, somewhat natural and slightly warm tilted midrange and smooth treble response. There was a small measureable difference between the Series 1, and the 3 and 5. The Series 3 and 5 has a few dB increase at mid/upper-mid and treble frequencies.    
The Series 3 sits in between the Series 1 and Series 5, and their tuning leans more towards the Series 5. Series 1 is the warmest, smoothest and least defined. The Series 3 has the tuning of the Series 5, but doesn't seem to have the same refinement, detail and separation. The Series five is the same tuning as the series three, but with an overall more refined and high end sound. The difference isn't significant and required extensive A-B testing to figure this out.
Build quality is nearly identical. The Series 1 has a transparent shell, while the other two models have black shells with aluminum face plates. Accessories is identical on all three models.  
Conclusion
At the end of reviewing the Series 1, I'm left wondering why TFZ would make a Series 3, then a more expensive Series 5 which to my ears sounds almost very similar. I was expecting a bigger variance between each model. I would have preferred a bigger variance in sound, or maybe they could have sold one earphone with different tuning filters (sold at a higher price). I assume the tweaks they made as I described in the comparison section were done to address this concern.  
On a positive note, I really like the "house sound" of the TFZ series. They are natural and smooth with a bass lift and impressive soundstage depth. While I find the series 3 and 5 to be slightly more refined, I was able to improve the sound of the Series 1 with an EQ adjustment (as noted above in the review). Truth be told, a little less mid-bass and a little more detail and refinement would make these the new "giant killer."  
The Series 1 will make a great earphone for commuting, and you'll catch yourself turning these things up when your top forty hits are playing through your portable device. The fit is great, and the sound signature will make them something that works great in noisy environments. I can also see these making some great earphones for the gym.  
When rating a product, I have to take all criteria into account. The Series 1 gets four stars for build and design, four and a half stars for fit and isolation, and four stars for sound quality. All in all, I give the Series 1 four stars. They are worthy of their asking price, and will impress many with their impressive bass and fatigue free tuning.  
Thanks for reading and happy listening!