Heaven
Pros
:
Realistic imaging and positioning
First dynamic driver and balanced armature Hybrid TSMR ever built
Clear, with all the trimmings that go with crystal-clear
Careful and authoritative bass, that's dialed in and kept in check
Contender for most IEM sound for the money, if you're into the tone
Pace to die for
Redesigned nozzle with added lip, for better tip placement
Huge holographic soundstage response due to large air-vents, almost like an open-back design
Up-front and in-your-face electric guitars that are positionally correct and sound real
Exquisite instrument separation and imaging
Welcome to audio-microscopy, once you enter you may never leave
Good delineated instrument personality and texture
Correct decay and reverberations (correct amounts)
I thought I knew detail, but you don't know detail till you know
While not exactly hot-sauce, somewhat spicy
One Knowles balanced armature driver for treble
Two Sonion balanced armature drivers for midrange
One custom in house 10mm driver for bass
Gorgeous hybrid sound response, reminding us the hybrids are still fully advancing forward
Amber light (that's not beer) color in the midrange
Tuned, sculpted and satisfying bass response
Nice package of extras including (just one) 2.5mm/3.5mm or 4.4mm plugged flagship cable
Large selection of tips (9 pairs) including bass enhancement and wide-image enhancement
Beautiful matching zippered carrying-case
Low-frequency enhancement, balanced and high-frequency enhancement mode via dip-switches
Clean precise sound signature
A very special midrange, yet it also has precise bass and focused treble
Impeccable handmade build craftsmanship and construction
Cons
:
Can and will be bright with poorly recorded/mastered music/not forgiving with some recordings
May need a warmer source and cable to align sound for bright-sensitive people and even regular listeners
Who is Tansio Mirai (TSMR)?


Tansio Mirai is a Chinese manufacturer who currently makes a number of specialized IEMs. TSMR or TANSIO MIRAI was registered as an IEM maker in China by the Beijing Tang Song Bouyan Technology Company in 2016. The TSMR name is actually a play on words originating from the English language translation of "Tang Song era". The Tang Dynasty and The Song Dynasty was an era of immense social change, scientific, agricultural and artistic progress. The Chinese invented gunpowder during that time as well as the printing press and the magnetic compass. The first paper money was invented in Song Dynasty in China during the 11th century. The name TMSR is in remembrance of such eras, ultimately bringing such values and dynamics into the future.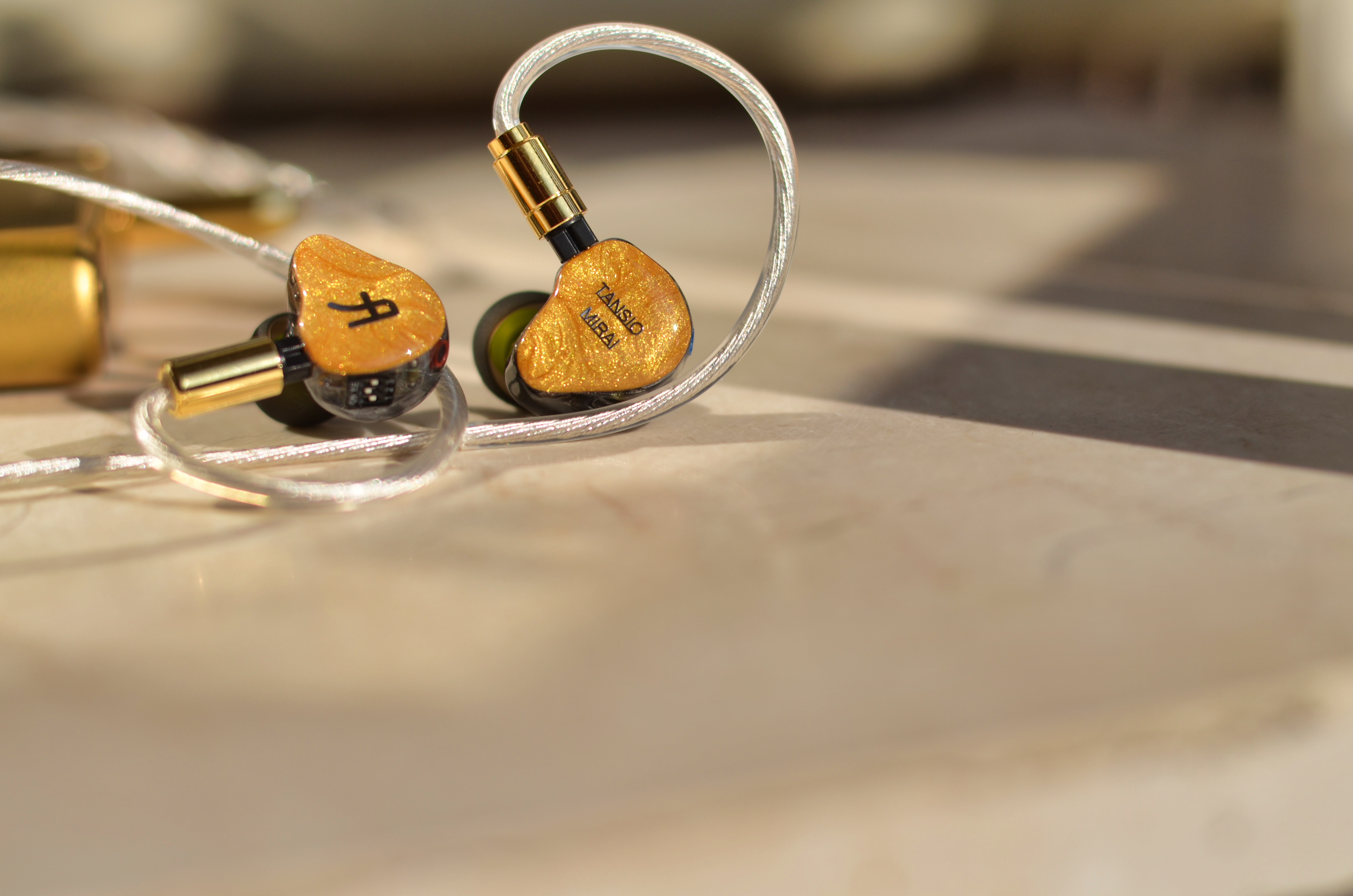 TANSIO MIRAI production as of today
TANSIO MIRAI ZODIAC - 12 BA Flagship $1349.00
TANSIO MIRAI TSMR 8 SPACE - 8 BA $729.00
TANSIO MIRAI TSMR 6 - 6 BA $529.00
TANSIO MIRAI TSMR 5 - 5 BA $419.00
TANSIO MIRAI TSMR 4 PRO - 4 BA $319.00
TANSIO MIRAI TSMR 3 PRO - 3 BA $219.00
TANSIO MIRAI TSMR 2 - 2 BA $169.00
TANSIO MIRAI TSMR 10 - 10 BA Flagship $1029.00
TANSIO MIRAI Spark - 4 EST 7 BA Flagship $1499.00
TANSIO MIRAI Land - 2 EST + 3 BA + 1 Dynamic Driver $599.00
TANSIO MIRAI Akiba - 7BA + 4 EST Hybrid $1550.00
TANSIO MIRAI Sands - 1DD + 3 BA Hybrid $319.00
The Advancement of the Hybrid:
https://www.head-fi.org/threads/ultimate-ears-super-fi-5-eb-vs-ue-super-fi-5-pro.359811/
In 2005 the term "Hybrid" was introduced to American culture via the Toyota Hybrid automobile. The word before only being commonplace in such vehicles as submarines. The word "Hybrid" goes to describe any use of more than one driver methodology. So even a mixture of EST drivers, Balanced Armature Drivers and Dynamic Drivers are all still technically Hybrids. The term Tribrid was first used in story-books to describe the layered characteristics of fictional fantasy characters, yet also is fully descriptive of such IEMs.
In 2008 the Ultimate Ears "Super.fi EB" was the first "Hybrid" also later around 2012 came the $1200 AKG 3003......matching 2 Balanced Armature drivers with a Dynamic Driver. They didn't even know to call them Hybrids, though they were simply called 3-way monitors, or such, simply describing the number of drivers. The term Hybrid (for IEMs) hadn't even been invented though the Hybrid IEM was. In those early times Unique Melody Merlin had a Hybrid as well. It wasn't until 2014 when Sony dropped the XBA-Z5 that people started to really notice the idea. Around 2016 the Hybrid was in full-force. So if anything this review goes to show that Hybrid IEM philosophy is still in its infancy (and advancing) even though by nature we seem hyper-obsessed with new methods of IEM sound procurement. This Sands release proves that the manufacturing and design of Hybrids is still advancing.
Art:
Every once in a while you get reminded that the creation of IEMs is art. In actuality it's both an art and a science, but once in a while you get reminded in the best of ways. The TSMR Sands is exactly one of those ways. Photographs don't do it justice. I mean over the years I've have had my share of box opening experiences, but never one exactly like the Sands. Seeing the Sands in person for the first time is a special experience!
Aesthetic Charms:
As consumers we want products that look good, even those who are naysayers are influenced, even if they won't admit it. These little ear devices end up being extremely close to us, so close they actually enter our body. So to have attention to detail with aesthetic responsibilities is important.
A speculated list of the five major components in IEM craftsmanship:
1) The actual design of the earphone drivers/creating the sound profile
2) The making of a prototype and realization into the world
3) The design/choosing of the look
4) The daily IEM factory production which conforms to the rigor of the first design
5) Testing the final product
Above is a highly simplified list, but shows an outline. At times a first production run is produced then revamped as step one was changed.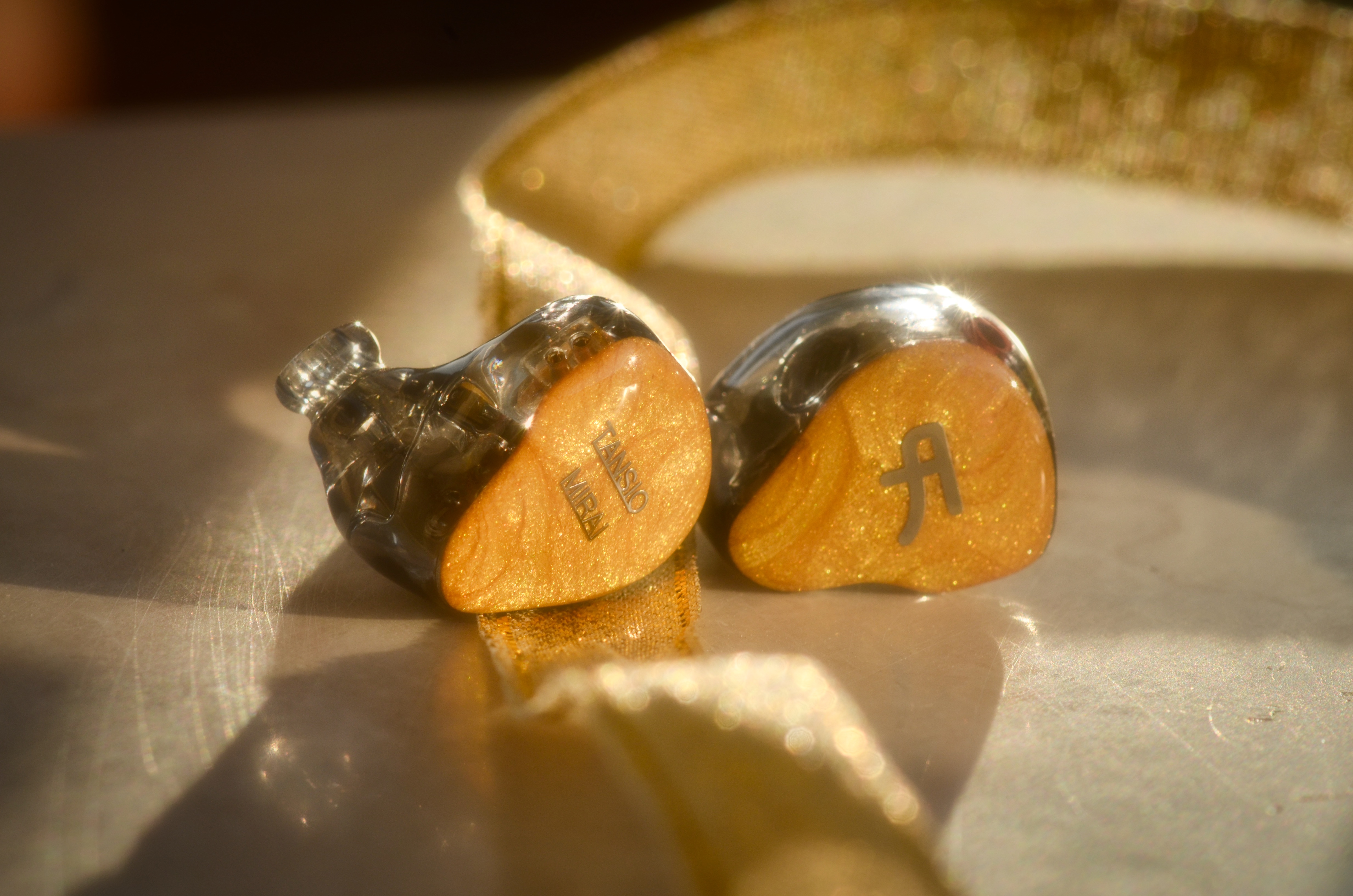 3) The

design/c

hoosing the look:

Art is subjective. Maybe one of the most subjective things, right along with music. Everyone has their own ideas. Have you ever gone to a friends house after he just purchased a new panting that is supposed to be art? A painting of a cow dressed in a suit wearing a hat. Really you can't help smile sheepishly, but your friend doesn't notice. He is under the ether and fully obsessed with this painting. He is telling you where the artist studied and what their background is. He is trying to explain the deep profound meaning that the painting conveys to everyone, but you don't see any of this talk. In fact you wouldn't pay $50 for the painting, and you would be embarrassed to have the thing hanging in your home. That's how subjective art is. So to think something as serviceable and utilitarian as an IEM may have a little of that going on? Still only us few at Head-Fi and the international IEM community that really understand IEM art. Normal people could almost care less how an IEM looks. Even your wife humiliates you with……"That's nice honey." But to the people who understand, well………..the rare gold dust impregnated into the Sands faceplate has meaning.

Ok, so it's not rare gold dust, but still it's different and unique. It gives you a warm feeling whenever you pick the IEM up. It's the little things in life. The things that cheer you up after a long day at work, the look of this thing goes along way. But more than that it's the whole package, the IEM case, the gold cable, the fit and finish of it all. It simply goes to explain how TSMR has created something complete, it shows that they care. In case you realize it or not a trade takes place when you go to buy something. If an IEM looks good, you are getting more for your dollar.

Of course a new IEM is simply a dream before you buy it. A set of ideas (made into a product) that represents a certain trade value. A thing that you may get in exchange for your money. So if the manufacturer is savvy enough, the IEM will look like something you might dream about. Also if the manufacturer is savvy enough the IEM will sound like something you might dream about. If the manufacturer has their act together.............the build quality will keep that dream alive throughout the ownership period.

So let's start with what's unique about the Sands, because uniqueness is a component of the selection process. Manufacturers want their products to be differentiated from others in the market place. This is perceived value, design concepts, aesthetics….etc..etc

1) Tuning switches with 7 possible sound profiles
2) Large pressure release ports with color coded R and L rings
3) One piece built-in 2 pin
4) Semi-custom form-factor
5) Medium-small size

The physicality:
First off it's super super small, you almost can't even see it all up-close with the naked eye. Some reviewers have called the Sands a medium build size, I would really like to name it a medium-small size. The way the faceplates capture the light, all the tones, the detail of handy-work on the inside are unique in my experience. Such shell details cause you to stop for a moment, just to try and take it all in. The Sands offers very unique vents that are huge in relation to all the other air-ports I have come across with the exception of semi-open designs. These particular vents are encircled with red and blue rings. We also find the option to chose 7 possible sound profiles with the dip switches. Typically I will leave the switches on balanced (regular mode) as that's just the way I fly. Each IEM says "Sands" on the back opposite of the faceplate.




The cable:
Tansio Mirai 2pin 0.78mm Silver-plated IEM Cable

Description:
8 strands of silver-plated oxygen-free copper (0.06*25 cores)
Full metal high-grade plug-in
Japanese Senju lead-free silver solders wire soldering
Connector:2pin 0.78mm
You have a choice of 3.5mm, 4.4mm balanced or 2.5mm balanced.

When ordering you can stay with the included cable (pictured) or upgrade to an additional

cable; the Penon Audio PAC 480 for $30. Such is a

recommended cable match in addition to the Sands purchase. https://penonaudio.com/pac480-iem-cable.html

This would basically give you the Sands cable (pictured here) and an extra OCC cable for the additional cost. I have never heard the Penon Audio PAC 480, but the HanSound Zen is maybe like it, with both being OCC? I actually like both cables with the Sands, but the OCC alternative gives you a warmer sound which some may prefer.
The cable that came with the Sands is silver and has gold hardware noted in the photographs. Everything is gold. Now even if you don't like gold, like I'm not really a gold person, still you will like this, you can help but be moved by it. When I first started using the Sands I used the Walkman 1A, a mismatched pairing. Just too bright and energetic! The way all this works is you have to find your very own synergy. It's your personal synergy and it may or may not work for another person. The Walkman WM1Z turned out to do the trick.
The included IEM case may be leather, seriously I don't know. It smells like leather, looks like leather; it's either leather or virtual leather, same thing, right?



The Tansio Mirai (TMSR) Sands



1 dynamic driver + 3 balanced armature
10mm custom dynamic driver for low frequency
2 Sonion balanced armature for middle frequency
1 Knowles balanced armature for high frequency
3-way crossover, 3-channel design
Impedance: 17Ω@1kHz
Input sensitivity: 107dBL/mW
Passive Noise reduction: 26dB
Frequency response range: 5-20000Hz

Tuning mode instruction
0 means push down, 1/2/3 means push up
Mode 1:
100: Bass enhancement mode
120: Mixed tuning
Mode 2:
020:All balanced mode
103: Mixed tuning
Mode 3:
003: high frequency enhancement mode
023: Mixed tuning
123: Mixed tuning (lowest impedance)
I never use such tuning methods so I will not be discussing the use.




Package
TSMR SANDS earphone
Earphone case
9 pairs of Silicone ear-tips
IEM brush/cleaner tool
IEM Dip-switch tool
Warranty Card/ Instruction Booklet
Earphone cable
Should we still be excited to use balanced armatures?
In many ways the Sands is the poster child for the continued use of balanced armatures. Interestingly I've just done reviews on a whole slew of full-range single dynamic drivers. And I like where they have finally arrived at, I mean ever since 2021 there has been progress taking the sound of single full-range dynamic drivers and basically making them more balanced, musical and more full-range! If that makes sense. But still most of us are fully aware of what is going on with them up-top. They just don't have a sparkly treble. They make up for it with other attributes and there is absolutely nothing really wrong with many of them, except I miss those sparkles. I yearn for those expansions in treble detail, I want it. And that's where the Sands comes in. It's a refreshing splash of treble energy and detail.
The 10mm woofer goes to provide that deep-end of the spectrum when needed, and much of the time it's blended and not a pronounced bass. That's what is so beautiful here............that there is definitely a balance going on. My experience with various ranges of files ended where I would recommend full-quality files to be used with the Sands. Those great recordings will make the Sands sound best. Also some bad recording sound good with the Sands, but some don't. Typically amateur home studio recordings or any older recording that have an upper midrange peak will have that emphases be a little hot. Though many older recording that were still sub-standard seemed to be fine. It's just the Sands replays what you give it, it's not forgiving in the least.
Sound in general:

I would call the Sands bright……………..still, when your dialed-in to an IEMs tone, it's just music. It's not pinna gain bright, it's like full-on 8K resolution clear. Now.........not only is it clear but there are musical elements traveling way way outside the soundstage. These elements have full detail, tone character and texture. At times you can read a review and think you understand a reviewer, but you don't, because everything they said only they experienced, you didn't experience the product they were taking about. That happened to me, after reading the previous review. Thus I agree with the review below, and am amazed by it. It covers not only the history and how Tanasio Mirai arrived at Sands, but explains the Sands individual sound profile. The take on the sound is exactly parallel to mine. For two reviewers to agree on an IEM may be a first for Head-Fi?

https://www.head-fi.org/showcase/tansio-mirai-sands.25799/reviews#review-28355

Reviewers can only go so far explaining an IEM character, or maybe it's not the reviewer, it's us, we can't comprehend all the reviewer is saying even if he is using the best words. It's not exactly miscommunication, it's our lack of experiencing the IEM first hand. We failed to understand because we didn't live the experience. No one is at fault, there is simply a limit to what words can do.

The Tansio Mirai Sands is the first product I've ever heard from Tansio Mirai. It retails for $319.00. Surprisingly I had IEMs which I thought did the same thing as the Sands. You know have a big soundstage and populate it with all kinds of detail and musical elements. Before the Sands arrival I somehow thought "I knew" because I know a little bit about IEMs. But just like above, if you haven't experienced the Sands, then you have no idea. Basically I thought the $1850,00 Nobel Encore did this experience with staging, spatial fireworks and detail approach? But guess what, its been a number of years and a $319.00 dollar IEM may just do it better. I can possibly put the old Encore to rest. Listening to the Encore almost 3000 hours she must be tired. You can't put a price on living through the music, so I don't feel like I lost my initial investment.
Typically we group IEMs in terms of personality,……….how can you not. It gives ease of description if your sound profile understanding is accurate of course. One reason I always loved the Encore was the way it did electric guitars. The guitar is a big part of my life and I'm close to the sound, though I only play acoustic guitar now, in younger years I was in bands and did shows and concerts. So there is this guitar tone, this set of frequencies that are expressive and real which can be what electric guitar is. Guitarist musicians look for this style of tone in playback. Such a tone will cut through the surrounding instruments and delineate you're playing. Your guitar actually sounds louder, when all it is is unique.
The Sands has the uncanny ability capture guitar, the Encore does it too, but the Sands does it better, at least at this point I think it's better.

Remember I'm still in the honeymoon phase. But, I'm pretty sure this is how it's going to stay. Basically there is room inside the soundstage for everything to exist due to space. Perfect amount of space. Now within that space at times, events can go outside. But the greatest asset is the ability of the Sands to place an extra small detail, an extra brush stroke so to speak. I guarantee you there are musical parts you have been listening to for years that you don't hear completely. You think you hear all the information, except you don't know what you don't know. And it's not just because of the brighter midrange or treble (but it kinda is). Additionally, room has been allowed for the presentation of sounds to be observed, thus separation. That distorted crunchy guitar has me going back for seconds and thirds at the dinner table of rock and roll. There is also very well done bass that is delineated and co-exists with the rest of the playback. The bass is careful and authoritative, yet always in kept in check. The bass when in the song file, is always delineated and clear, but every once in a while it comes (more) into focus and when it does, you think WOW. Owning such an endearing quality, it's no surprise the Sands in generating quite the fan-base.

The sound color:

Yep, there is some color going-on (just a splash)………..The color tone is an aspect of timbre, thus giving instruments character. To me it is like a colored light being projected onto the instruments which is ever so dim. So crazy as this sounds, it's a dim light inside of a bright presentation, thus because of the brightness the amber can be noted as existing. This may sound silly, but it may even be gold. Like golden sands shining on this sunset beach, this reflected sunlight reflecting off the water and sand. To tell you the truth, that's where I believe they got the name? Timbre is surprisingly, not too metallic, it's there, but just a little. But most importantly, the steely metallic timbre is not in the individual instruments, only a little. So any off-timbre is more or less a subdued blanket affect. Wait, what…..a beach, a sunset and a blanket……how romantic is that?

EQ/Tone/Cables/DAPs:

There is an audiophile group that is NOT using EQ to adjust the personality profile of the Sands. I fall into that user group, using different cables and DAPs to equalize the Sands. Of course if you're creative you can do both. There may be others so inclined to use EQ to find "personalization" of sonic attributes. And interestingly enough the Sands responds to EQ well, though it seems like a dog on a leash wanting to go along with his master. Try and pull him away from his and his masters trajectory and they both will rebel. Though try a coax a subtle change and you could possibly win in the end. As it turns out the Sands has a special intrinsic character and any tone wheel or EQ attempts seems to take away from the purity in character. We are witnessing an IEM doing everything in its power to shine a style of individualistic tone, and any attempts to change that are met with mutiny. Though I did dial in a number 3 on the bass tone wheel and was met with a nice boost. What we are not doing is going up-frequency (to the midrange and treble) and exploring modification of the Knowles treble provider or dual Sonion set up. In my experience those want to be left be. Don't try and upset their harmonious interplay.

In my testing I spent a day using the HanSound Zen OCC cable in 4.4mm, simply trying to understand the personality of the TMSR Sands. Surprisingly the HanSound Zen was a no go with the Walkman WM1A. The tuning of the 1A is midrange/treble centric to the point of focus in that area. The 1A actually pulls back the energy from the high treble and redistributes such energy into the upper mids. So this mid-centric ability is often wanted but not here and now…….not with the TMSR Sands. Strangely also the bass is pulled on the 1A, all the while still keeping the response warm. Such quick bass is often fun but not with the TMSR Sands. Its natural ability is keeping the bass in check. But guess what I did? I in turn folded in the Walkman WM1Z and all was good.

The W signature of the TMSR Sands blends exquisitely with the V signature low end warmth of the Walkman WM1Z. The WM1Z treble boost seems to not affect the Sands response of brightness having me suspect the 1Z boost travels above and beyond? Instead it gives the Sands an elaborate treble soundstage full of imaging and holographic movement beyond anything I have ever heard in the $319.00 price bracket.

So now we have a more subtle V signature coming from the DAP. Then I decided to roll in the included cable for the time being. Though at times I longed for the HanSound back in place. Though it's no big deal. The basic personality of the 1Z comes through. With all this talk of brightness the 1Z treble is the cat's meow? The treble is expanded out and becomes holographic. That's big imaging filled with transient response.

The Sonion mid providers seem to definitely have a character. That's the thing, I'm positive that the TANSIO MIRAI engineers are at their leisure mixing and matching BA signature profiles until they stumbled upon this mixture. The Knowles has the signature highs and the 2 Sonions are ridiculous at providing all the detail in the mids for us. The character of the midrange in this driver set-up has an amber glow, a color yet all within the realm of correct instrument tone. Such accents provide never ending amusement as you keep going to different albums you know, to glimpse of this spectacle. Like you're short on time the last day of a vacation somewhere. After a couple of days I went back to the HanSound. Really there is almost no difference between the two cables. But there might be just a little? It's just that there was this tad boost in realism? It could be all in my mind?




Music:






KMFDM
IN DUB:
44.1 kHz - 24 bit

This ends fun with the Sands. What's happening here, we are exploiting the imaging factor. Also the way the Sands parleys this tidy bass. If I was making a description of the perfect instrument balance, I would start the study here. The vocals are not only the textbook positioning and tone, they are detailed and ultimately clear.
After a while I really wanted to focus of the imaging and bass tone this album gifts us. I used the green ring provided tips. Going back to the provided tips is both reassuring in a review due to buyers having access to them. Somehow the tips are really great doing both the correct bass response, but also doing something magic with the whole imaging.
The vocals are multitracked and are overlaid one on-top of each other to reach a special style of entertainment. Probably because you heard the singer and expect her to be always in the same place, but she is overdubbed to another positioning in the soundstage. Now with normal IEMs this still goes on, but here the soundstage is so big there is a broad movement to this effect.

DUB LIGHT:
The first song has this Reggae influenced vibe complete with vocal echoing and drum hits. At 1 minute 36 seconds
Lucia Cifarelli
comes in with response aspects to what came before. Yet her stance on the track is so stand-out-ish and noted, no way can she be back-up! But she is filing in as back-up. If anything this song goes to show the great pace obtained when we have BA response and a clean bass.
SUPERHERO DUB:
The next song "SUPERHERO DUB" is special because they bring in the guitar. While no way is this a guitar album, it's presence is critical to the whole vibe. So it a way it is a guitar album if you choose to focus on them. Remember I was talking about balance earlier, well once again the FR is balanced, meaning even though this is a bass heavy style of music, here we are witness to every instrument having equal volume and nothing is over shadowing each other. From 2 minutes 15 seconds to 2 minutes 16.5 seconds is a guitar lead. Yep, a second and a half was the guitar lead. If you auditory-blinked you missed it. Yet everything has a place to exist in this sonic world. Obviously the effects are panned way out to the outskirts of the head-stage, and that's what we paid for.
Somehow new elements are revealed, even though I've have heard this since the release? But of course the difference is never with these particular IEMs.
What this album is in reality is a greatest hits package, only the old songs are remixed. It's a way to get extra millage out of their older material. Yet, at the same time these are some of the best renditions of these songs. They don't even sound like remixes but sound like original songs.

BUMAYE DUB:
Ahh my favorite song on the album. Once again Lucia Cifarelli is in the driver seat here. The backing vocals are so close in sound. These are vocal IEMs that are not actually promoting themselves as such, which makes it all the better. The reason for this is when IEMs are introduced as for vocals, it can be looked at as derogatory to some listeners. Here they do vocals 10/10 but also do the other such responsibilities.
We interrupt this review for a short message:
https://www.head-fi.org/showcase/tansio-mirai-sands.25799/reviews
In his recently published review of the Tansio Mirai Sands, Dsnuts goes on to say in the $319.00 Sands are the very best you can get for the money, if you are onboard with the signature. And guess what? I agree 100% wholeheartedly with such findings.

You can buy the TMSR Sands here:
https://penonaudio.com/tansio-mirai-sands.html
After that brief commercial we are again back to our regularly scheduled programming.

AMNESIA DUB:
This song sounds like the vocals were done in a different studio. Hence the album sequencing, getting better sound, more intoxicating progress. It may be a tad slower in BPM which has the bewildering effects wanted, maybe called for on this #6 song on our playlist? So we are effectively 1/2 through with the record, but not boring at all.
K-M-F DUB
Haha, the synth laser stabs have never sounded better to me? Never? Also such a fun song full of imaging and change-ups! 2 minutes and 38 seconds and this is what the song is about. The bass is stopped as well as the drums. Just taking instruments away can be as effective as adding them in.

Every once in a while an album and an IEM go together one step closer than what is normally found. Interestingly too, you know it upon hearing the first moment of the first track.




Darkher
The Buried Storm:
44.1 kHz - 16 bit

Unbound:
Is this a vocal IEM? Because that's what I'm getting, hearing.......well done vocals. Of course this music is centered around the ability of Jayn Hanna "Darkher" Wissenberg. But like all good music she is active, then drifts off (out of the limelight) as all great artists do. They know that the whole (piece of music) is more important than the individual's ego.
The subtle artifact presented at .039 seconds in of "Unbound" shows that realism of the recording, that is all the reality of life, that's mistakes can and will make there way into a brilliant recording. After further investigation the sound artifacts are throughout the album, even in places that could be edited out. This is not like a Classical recording, where when an instrument case falls over, they just leave the sound in. Our IEM listener often finds any random sound interesting. The soundstage of the Sands isolates the small "bump" on the right, and reminds us that nothing in this world contains perfection. I'm avoiding the obvious here, that this performance is beyond words………..at least my humble words anyway. The strangeness of this piece is its simplicity and the fact that it goes by way too fast. That it's a combination of Jayn's chorus background etherealisms, and her upfront voice (multitracked) that draws us in.
"Unbound" is an exploration of simple elements which gives mental focus to a deeper side, a more pure aspect of life. I think it's a cello opening the song with an acoustic guitar? These artifacts are maybe due to the microscopic recording quality nowadays? That or when the performer is inspired, nothing gets in the way. The TMSR Sands is simply a part in this whole process. The capture of the song, the replay in the DAP and finally the reproduction inside the IEM. Then lastly the sound leaving the ear-tips to the journey in-side our brain.

I'm liking this for the minimalism, but in fact it's made with multiple tracks, still carrying that live feel. Her voice is simply floating here. The balance is impeccable, such balance is the exact volume of her voice in relation to the other instruments. I can't help but feel this is exactly how they wanted the "Unbound" to sound.




The Seas:

Again it's doing vocals perfect, but not in a vocal IEM way? The vocals are more integrated into the whole, the way I want them to be. They are upfront vocals and heard clear as day. This song happens to be my favorite on the album. The fact that it progresses into such grandeur, such depth, while still having feeling of vulnerability that only true artists present when their insides are being studied. She has such a tone to her voice, some songs on this album present a critical upper midrange where the Sands is border-line too much, though here all is well and good. I have come to realize this area of brightness is actually an entire zone, where you can be at the bottom and all is well, but if the volume is too high, you may be required to lower it.

It's always this line of potent values being dialed-in to optimal proportions, like a mixed drink, don't add to much intoxicant or you'll be sorry due to the taste and the effects. It is the same here, only TMSR got the balance right. Meaning they were brave enough to seek that area of brightness that is at the edge of hot. And once living there we are bestowed all the frequencies this album contains. Though to be honest, there is two or three areas in this album where I need to turn it down. Still nothing wrong with that, unless laughably you're not able to turn it down for some off reason. But I accept this feature and don't truly view it as a negative, as it goes along with this territory. This ultimate detail and treble dimension that I have never been to before. Visiting a new land has its risks due to unfamiliar territory. Still I'm 100% glad I boarded the jet.

Immortals:
Etherial is a word I'm going to use again as it is so pertinent to this release. While the vocals are right, they knew to add instrumentation where it fit. Actually I hear this reminiscent of 1970s radio stars in her voice; the Judy Collins of the past; the Joni Mitchell of yesteryear. Her voice is embellished by newly introduced instrumentation. It's a way of teasing the listener, and gradually bringing in the elements of drama. It's not till 4 minutes 4 seconds that the drums fall into full effect. It's the Sands spacial DNA that leaves room for every aspect that now is unfolding, like a Chinese box with in a box.
"In literature a Chinese box structure refers to a frame narrative, a novel or drama that is told in the form of a narrative inside a narrative (and so on), giving views from different perspectives."

Here obviously the methods of production are fully open and seen for what they are. An acoustic guitar with her own voice in the background. A drum hit, slowly but not holding a groove. Yet her voice is the carrier of the progression and the bandmates are following. The timbre here is spot on, no metallic tinges that I can perceive, and that's strange as I think there would be here, especially with the strings at 4 minutes 6 seconds? This song is a psychedelic freak-out, like some mood altering drug coming-on as our perception starts to see behind the facade of life on the surface. Yet it never truly goes to those dark places found found in a true cosmic freak-out, it's but a sampler. Keeping it lightweight in mood, for a dark record. Such a recording shows professionalism in both song writing and performance. A great test record for this particular IEM. It was an important adventure for the TMSR Sands as the tracks walked that line…….the same line the Sands walks…….yet together they transferred the etherial vibe, mood and soul of the music here. I can't help but think besides the tone, the Sands soundstage was responsible for this being so good?



My comparisons:



A wild thing happened. As fate would have it I received the Sands one day before the Rose Technology QT9-MK2S. In fact they are both Hybrids and sport 10mm bass dynamic drivers. While the Rose has a dual TWF30018 for midrange and a dual TWF30019 for the highs, you would think that's a pretty good resume. The Sands sports 2 Sonion balanced armatures for the middle and 1 Knowles balanced armature for high frequency. Now on paper this would seem like both IEM would share similarities. It was slightly anticlimactic. The Sands is $319.00, the Rose $249.00.............so you would guess that the two IEMs would share the same Hybrid qualities. But..........you would be mistaken. The best way to describe the two is with the Sands offering a more vibrant and vivid display of all musical elements. (I like that feature) Where the Rose is slightly better compacted, it ends with less entertainment and less interaction/involvement taking place. IMO Thus the imaging of the Sands was dramatically larger, while a little less complete with the evenness, that drawback was well worth the attributes at hand. So I kept testing and moved from using my DAP for side by side tests to the Sony TA-ZH1ES desktop. The TA was utilized with the MUC-M12NB1 Balanced 4.4mm cable for the QT9-MK2S, and the HanSound Zen OCC in 4.4mm was used for the Sands. The reason I did this was to give the QT9-MK2S every possible advantage. Listening to the QT9-MK2S I liked what I heard, but it seemed to be missing a little note weight. The QT9-MK2S has a new 10mm driver, making it perform simply more even handed missing the boomy bass of the prior QT9-MK2. So the S stands for evenness. I made that nomenclature up.

All I wanted was the QT9-MK2S to become more weighty. Not a lot to ask right? I actually like all the IEM does, even though it's very much prim and proper in comparison to the wild-man the Sands intrinsically is all the time. The TA-ZH1ES is my most weighty DAC/Amplifier. I even utilized DSD Remastering Engine, the DSEE HX and the DC Phase Linearizer. Such fancy processes are just names for a kind of up-sampling effect. They do more than up-sampling, but let's leave it at that. The results were that yes, the QT9-MK2S was the best I ever heard it, but the Sands jumped up too, to a wider soundstage and better imaging. Where the bass on the QT9-MK2S jumped in quality, the Sands jumped in quality too. The bass is simply more prominent and real with the Sands. The Sands bass was distinguished as being way wide out on the soundstage where the QT9-MK2S had noticeable bass, it didn't have much impact, like it forgot to take its vitamins that morning.

Ahhh what can I say, I'm trying to be fair but love is blind and I love the Sands. Is this a question of preference? Maybe a little, but no. I feel most people would gravitate towards the Sands. Though they would need to match it with the correct cable and DAC/Amplifier to get the best results. Some how the Sands BA section is louder and more real, it's like the QT9-MK2S is correct and all, but farther away and being at such distance it needs mental focus to see. Still what is there is very well displayed and complete. The QT9-MK2S needs your best files as with old hot treble masters, it's slightly hot at times. Though get the QT9-MK2S your best polished files and there is no trouble at all.

This ends in emotion as the result of auditory input. Better replay means you are watching the movie on a 60" wide screen TV, and not squinting to see a 12" monitor from across the room. Now I don't want to exactly call the QT9-MK2S a 12 inch monitor, but you get my point. So laughably I did my best to cater to the Rose QT9-MK2S, and it did work out slightly. But still the Sands achieves a full-on 5 score and the Rose just makes a 4.






Conclusion of the review:


While $319.00 is a lot of money, though some audiophile IEMs can cost substantially more. But, if the IEM doesn't float your boat, it doesn't matter how much or how little it costs. The TSMR SANDS is a traditional Hybrid that reminds us why 1 DD and 3 BAs may be all we need. When you match it to the right source and use the correct cable it's quite the experience, at any price.

TSMR has continued to refine and advance the idea of what personal audio can be. Their dreams are your dreams; to have the best IEM for the money. Surprisingly due to not being a Planar or single full-range driver, I thought the Sands ideas where cool, but didn't give them much thought. Maybe it wasn't innovative enough, or cutting-edge enough for my attention?

Though upon getting to know the Sands, it was and is one of my most rewarding

listens

to date. I simply didn't know how far new advances in balanced armature technology could go. I didn't realize that to match Sonion and Knowles drivers with a 10mm dynamic could retrieve such clarity and realism. The fact that this particular IEM goes way above and beyond its humble price point. To a place I thought only TOTL flagship headphones lived. The fact that the whole package is devastatingly beautiful. TSMR knows two things, how to make a really good IEM and how to supply you with the accessories you need to use it. The fit is excellent, the ability to play a wide range of material, great. But most important of all, something that is of incredible value. Because remember it truly doesn't matter how much or how little it costs, but if you relate to the sound and it gives you the sound response your looking for, it's priceless!

Equipment Used:
Sony WM1Z Walkman DAP MrWalkman Firmware 4.4mm/3.5mm
Sony WM1A Walkman DAP MrWalkman Firmware 4.4mm/3.5mm
Sony TA-ZH1ES DAC/AMP Firmware 1.03
Electra Glide Audio Reference Glide-Reference Standard "Fatboy" Power Cord

Sony Walkman Cradle BCR-NWH10


AudioQuest Carbon USB Apple iPad

Disclaimer:
The information you are reading is one individuals thoughts and ideas, your personal results may vary.

Disclaimer: I really want to thank Penon Audio for being so kind to gift Tansio Mirai Sands over. This is an experience I may have missed-out on otherwise.

Order here:
https://penonaudio.com/tansio-mirai-sands.html




End of review:
Last edited:
Tansio Mirai Sands- Tame the beast
Pros
:
Tansio Mirais first dynamic infused traditional hybrid utilizing a highly detailed 10mm bass dynamic+ 2 Sonion BAs for mids+ 1 Knowles BA for highs. Included is a decent accessory package with a highly resolving cable that was first used on their flagship Akibas. Reference level technical sound signature with impeccable imaging and sound separation. 3 bores out of the nozzle means 3 zones of sounds are clearly separated. One of the most detailed treble presentations with a clean tonal character and a highly refined bass. More compact/ physically smaller than their traditional shells with a new lip on the nozzle to help retain tips. Decent passive isolation for your daily walks. Very good-looking hybrid.
Cons
:
Included cable enhances the Sands technical performance which might be a bit too much for some. Brutally revealing of poorly mastered music. Included case is barely big enough to fit the earphones and its cable. Treble shelf from 7Khz-9Khz. The sound is fantastically superb but has a huge caveat, please read the review.
Tansio Mirai Sands
The company that keeps on making high quality in ears brings to the masses their very first traditional hybrid. Composed of a new 10mm bass dynamic, 2 Sonion BAs for mids, 1 Knowles BA for the highs. All in a compact medium sized resin shell. Well vented for the bass complete with 3 tuning switches that mildly boosts the region they are taxed with. If you have never heard of Tansio Mirai or have heard any of their offerings. Tansio Mirai started out making arguably some of the best all BA designs.
The new Sands are a departure from the traditional TSMR shell molds of their past BA designs. The new shells have a few differences, its shape is more traditional semi-custom in form and the nozzle now has a proper lip to retain tips. Prior shell nozzles did not. This little added aspect of the new shell design is worth noting as the prior shell nozzles just had a straight nozzle. The issue with prior shell design was that sometimes tips would slip farther down the nozzle than I would have liked or not fit at all. This new design fixes the one real quibble of their prior shell designs.
The shells are more compact in form, a smaller medium sized all Resin filled cavity design with a nice vent for the bass dynamic on the backside of the shells. The Sands shells are finished off with a nice-looking clear yellow/gold flake face plate and 3 tuning switches.
The rest of the included stuff is their smallish square white faux leather zip up case, several sets of silicone tips, 2 different switch tools, cleaning brush, and their newly developed silver-plated OCC cable. You can purchase the cable in balanced terminations when ordering otherwise they come in single ended.
A word about the cable. This cable Tansio has provided is a nicely resolving well balanced cable in what it does but due to the highly detailed nature of the Sands tuning I do recommend doing some cable rolling for the best synergy for the Sands. The included cable is certainly a good product and is a much better cable than what was provided with TSMR earphones in the past. It is a thinner version of the cable on Tansios flagship Akibas. However, the cable match up here is subjectively not the best with the Sands. Of course, this is just my opinion. I highly recommend a more copper based cable for added fullness and warmth to add to the tonal character of the Sands.
ISN G4 cable shown.
Standardly disclaimers: The Sands was provided by Penon audio for the purpose of a review. If you feel the need to add to your collection one of the best $300 plus earphones for its type in the market, you can get yourself a set
here.
The Sands was burned in for a period of a week straight and are now ready for evaluation using my sources. Ibasso DX300Max, Fiio M15, Shanling M6 pro, M5s, M3s line out to IBasso PB3m IBasso DX160, Sony ZX300 and IFI Black Label for amping.
Tansio Mirai has emerged as a premiere IEM maker/ designer. Their earphones are all of the highest quality standards and consistency. I am most definitely lucky to have had the opportunity to review and hear most of their best IEMS. They all have differences in their sounds of course but the one consistency is their quality. There is no question what you're getting for your hard-earned bucks when it comes to a Tansio Mirai earphone. I have yet to read about or experience any type of negative when it comes to their builds or their designs. The tunings and sounds of course are all subjective but the consistency of a quality solid built product is clearly there.
The Sands represent the group's very first actual dynamic infused hybrid. They recently ventured out of the TSMR all BA designs and have dabbled in a tribrid in the higher end Lands and several flagship level EST infused hybrids BA + EST designs in the Sparks and their newest flagship the Akiba.
I remember when I did a review of their TSMR-3 pros a long time ago thinking just how great that earphone would have sounded with a nice dynamic thrown in there handling the bass for the earphone. Lo n behold not only are the Sands just this but it is clearly a leap in performance from those TSMR-3 pros as well. The design of the Sands incorporates 3 sound bores that emanate the parts of the sounds they are taxed with. Bass is separated from the mid bands which again is separated from the treble. Love this design for multiple driver IEMS as I feel this design not only makes sense but actually has an effect of cleanly separating the sound bands better than utilizing a single tube. This design is more common in much higher end flagship level IEMs, the results of the 3 bored design comes through with a highly detailed reference like level of technicalities.
The sound
Sands have a clear w shaped signature due to the bass, upper mids and mid trebles playing a role in their sound signature but this time around the tuning here is more of a reference tuned detailed analytical sound signature. These share some sound traits from much higher end Tansio offerings including the bass end of the Lands and the treble of the TSMR-6 and mids of their flagship Sparks.
A note about analytical signatures. There is a stigma attached to such tunings and signatures that don't really seem to garner a favorable ideal sound type signature among enthusiasts. Of course if that is the type of tunings you like then there is no problem with that but for the rest of the enthusiasts out there.. You see the word analytical and it is an immediate nope for me. To these folks I say hold on partner. There is more to analytical than just a bright signature. Let me explain what is happening with the Sands here and you can make a judgment call for yourselves. Please read on.
The technicals
A stand out aspect of the Sands signature is how detailed they are and when I say detailed, I mean being able to pick off macro and micro details even with slight tonal nuances of every mid to high notes. Utilizing two Sonion BAs that work together for the mid bands in conjunction with a Knowles treble BA. The Sands have a much higher level of resolving detail that is some of the best, if not the best I have heard at the price point. There are a few earphones I can think of that come closer to the Sands for their detail aspects at the price point, the old Dunu DN2000J, Ibasso IT04 and the recent Yanyin Canons comes to mind, but as a whole package, I can honestly say the Sands are unequaled for its sonically chiseled detail retrieval.
Sound separation mentioned from above is clearly a stand out. For nicely recorded orchestral pieces or live music sets you can hear exactly where the instruments and vocals lie in a moderately large spacious field you're hearing. It has good depth but more importantly very good height of sound all within a nicely encompassing medium wide sound field. Nuanced and layered well beyond what was achievable from yester years earphones and very competitive in these aspects to much more expensive in ears.
You get a rich yet slightly brighter, clean tonal character from the mids which is capped off by a very detailed treble end. The highly detailed treble presentation is done by a highly specialized Knowles treble BA. Instrument separation is most definitely above average for typical hybrids on the Sands due to the two BAs firing off in unison. The spacious nature of the sound, images in a way that you probably have not heard at this price range. If you take a premium for pinpoint precision in your sound presentation, with high levels of detail for your music, the Sands is properly named as much like each small piece of grain that makes a Sand pile. You will hear every individual piece of instrument that makes up the music you're hearing.
At the $300 price level, your typical hybrid IEM will present some good technical aspects that are above average, but the Sands here are for folks that take a premium for outstanding technical aspects and will absolutely love the Sands sound presentation. However there is a caveat to how technical the sound is. I will cover that in my final statement.
Treble.
Is clearly separated from the mid bands due to the treble BA outputting sound out of one of the three sound tubes. This and the treble tuning has a mid treble shelf from 7Khz all the way to roughly 9 Khz. That is 2K, khz of treble coverage in the most sensitive treble area for earphone tunings. Most IEMs will have a spike around these regions for better presence, but the Sands have a moderately boosted shelf. The result is you get treble detail that is not too common at this price range. Treble details are highlighted more so than treble outputting through a single tube mixed with the mids and bass. Treble imaging is heightened due to this design. Treble emphasis is slightly greater than the mids for the Sands. Treble has a very good extension and its tonal character has a roundness/ substance to the treble notes which is something I am not accustomed to hearing at this price range. On much higher end IEMs Yes, but certainly not at the asking price of the Sands. The treble being nicely separated; it has air around the treble notes with easy to hear micro detailing. Folks that love them some full range trebles will love how the Sands portray treble.
However, the Sands full range treble presentation can come off as being slightly aggressive but this is where source and cable matchups play a crucial role in getting the Sands to where you want it. If you get the wrong synergy with the wrong cable and source match up. ( Do not use neutral bright sources and or pure silver cables for example) The Sands can sound aggressive for its treble presentation. If I was to nitpick I would have liked a bit less treble presence by a few dbs especially at the 7-8khz mid treble area. But for what is on there, out of my Ibasso DX300Max and using an aftermarket. ISN G4 cable it is pure ( bliss )
I am going to tell each and every one of you reading this you will have never heard anything like the Sands at this price range achieve the sound they are capable of. It has absolutely no business at the price level it is being sold at. I have done reviews and own some of Tansios highest end earphones. The Lands, the TSMR-6, TSMR-10, Sparks and Akibas. And I would put the sound quality level right around with these much higher end Tansio Mirai earphones. The Sparks and Akiba are both north of $1500 dollars in price point.
This being said the treble here is like a double edge sword. If you are highly sensitive to detailed treble presentations, I would look elsewhere but for folks that want that detail in their treble with ideally extended, tight, rangy, sparkly, sizzly, speedy, crisp, it has a full on treble with zero roll off showing a full gamut of treble character, airy and dimensional to its fullest. The Sands are for you.
However this treble presentation comes with a bit of that analytical stigma attached. A lot of the detail properties for the Sands comes from the treble region hence micro details will be clearly heard. The full treble end of the Sands are a bit much for recordings with too much saturation to begin with. Sands are brutally non forgiving of poorly recorded music. Rock, metal, EDM and some Pop music. They do amazingly well with more instrumental vocal, older analogue recordings in fact you can say the Sands specialize in it. But the catch there is, anything overly emphasized for the treble to begin with will be highlighted, you're going to hear every bit of the details in the recording including its flaws. The Sands do not gloss over anything.
The mids.
The Sands have put to good use two Sonion BAs for its mids. If you use the wrong cable not only the trebles are affected, so are the mids. The mids using the stock cable are relaxed a bit not overly forward but due to ample upper mid pinna gain, vocals are clearly highlighted. Female vocals especially sound stupendous out of the Sands. The mids imaging is worth noting as you're going to get impeccable imaging and precision that is really difficult to hear at this price range. The mids body of sound is moderate in emphasis with a tonal character that can sound slightly bright but once again with the right cable the mids tonality is corrected and sounds superbly natural in the process. Shows hints of that organic rich tonal character Sonion BAs are known for. Mids have somewhat of a scoop for its central mid band but nothing that is egregious.
Some male vocals are not as forward sounding vs female vocals using the Sands but the reference level of clarity in conjunction with its highly technical presentation makes up for any lack of presence in the region. This is another reason why I mention aftermarket cables for the Sands. If you were not a cable believer before. The Sands will make you into a believer. Due to the highly resolving character of the Sands presentation. You will notice differences using cables more than any other earphone you have ever used a cable on. My friendly advice is you want to use a cable that retains its technical aspects and adds some warmth and fullness to the tonal quality while smoothing out the treble area. Will show some pics of what I ended up using for its final sound at the end of the read.
Reference like in clarity, it's overall clean tonal presence with that high level sound imaging, sound separation and you get a euphoric listening experience that achieves much greater results than you would imagine. Instrumental timbre while BA in nature does a great job reproducing a nuanced sound if not just a bit edgy due to how chiseled the sound can be. Stringed instruments especially sound superb. The Sands are a euphoric analytical sound tuning. With well recorded material the Sands will dissect and portray every bit of that recording at every layer of that sound.
Ample upper mid pinna gain means instruments and vocals will be highlighted clearly. Showing excellent sound separation, it will be the orchestral and instrumental scores that will shine with the Sands presentation. Vocals are at a fine line of being emphasized but not exactly shouty at the same time. Again it will come down to how well the vocal track was recorded. Overly saturated material will come through and make something like EDM sound slightly harsh at times. So the Sands are not perfect for every genre. It straddles a fine line of detail and brightness but the trade off is so well worth it when you get the right synergy with the right matching parts to its sound chain.
Bass
Standing tall, right with the technical aspects you get a bass end to match. Bass is proper on the Sands. Here is where a bit of that Lands dynamic bass character comes through on the Sands. One of the biggest surprises for me was when Tansio announced they were making a tribrid with a new 10mm dynamic on the Lands. The Sands dynamic is very much identical to the Lands bass in both performance and emphasis. Having roughly 8dbs of enhanced bass from flat neutral, it is the goldilocks of bass emphasis with excellent presence in both mid to lower sub bass with zero roll off. I was not given any information about the dynamic being used on the Sands but if I was a guessing man just based on its performance the dynamic here sounds identical to the Lands bass end and that is certainly not a bad thing.
Bass is what you would expect from a specialized bass dynamic. It is moderate in emphasis, a full on punchy bass end digging in deep for bass. Its attack and speed is just ever so slightly slower and not as chiseled as the rest of the sound signature but that is due to using two completely different types of drivers being used. While the speed is not exactly perfectly aligned with the mids and treble BA it does a fine job keeping up with the rest of the sound and sounds great doing it. Bass emphasis is enhanced a bit with the 1 switch on. The benefit there is that bass genres sound proper with the switch in the on position. This doesn't add a big boost or anything like that but it does enough for the bass end to hold their own against a highly detailed IEM sound presentation.
Bass has solid definition, is tight and punchy with a rangy tonal quality that clearly shows it is capable. Hence you get a very good tonally and timbrally accurate bass end to the Sands overall sound quality that caps off an amazing sound experience. A euphoric analytical sound signature with very good bass? Yes it can be done, I know it is not common to read about anything analytical with good bass. I mean how can they coexist? Your traditional analytical sound signature means the bass is neutral right? Nope the Sands bass end has some of the best quality capable bass I have heard on anything close to its price range.
In the end
Tansio Mirai seems to have several different reputations. On one hand there is no question of their solid build and quality using premium drivers to achieve their sound. Tansio Mirai sound signatures have now become what Audio Technica once was in the early 2010s. A bright analytical signature? The Sands ability to pick off details and their highly detailed signature is lovely to hear with the right matching source cables and the right type of music but on the other hand I know due to their treble emphasis it will make some folks that are sensitive to highly detailed treble presentations hesitate to take a leap into getting a set. And this is the point where I will make a suggestion to Tansio Mirai.
There is nothing wrong with highly detailed monitors in what we all perceive as a higher end sound tuning however, I want to challenge Tansio Mirai to really look into their treble tunings of earphones past and present. If a person has to make sure they have the right source, cable and tips for optimal sound. To be fair this is what I do with every earphone I listen to anyhow but for the Sands to have a semblance of versatility and influence the final sound to have more musicality this is an absolute requirement.
What is that saying about the earphone design? For folks that look at these reviews to get a good idea of how they sound should know exactly what they are in for before purchasing but at the same time. I have other highly detailed earphones that show more versatility, out of the box. There is a fine line of too much detail and technical to the point where only well recorded stuff sounds great. I do realize that there are enthusiasts that are looking for just this. I would have liked to see the Sands with a bit less in the treble department especially at around the 8Khz region. As they are, the Sands might be too much for some and very good for others.
Not once have I ever had the need to turn on the treble switch on a single TSMR or Tansio made earphone. They all have pronounced treble presence to begin with. It would have been nice to see an actual change from a smooth easy to listen to treble to a more pronounced treble presence when turning on the switch. Just my opinion but it would have been great to have the current treble presence on the Sands actually be what it is with the switch on and with the switch off have it be 3dbs lower for the treble shelf.
I remember hearing the InEar ProPhile 8 IEM with tuning switches in a similar manner to the Tansio Mirai earphones. But the difference there is that the switch for the treble region is clearly smooth and more neutral when not on and then accented with the switch on. There should actually be two levels there. To be honest I have no idea who will actually feel the need to turn on the switch even if it is just a minor enhancement because there is no need for it at all. In fact the idea of using a copper cable with a warmer source is to smooth out the treble presentation for a more balanced tonal character.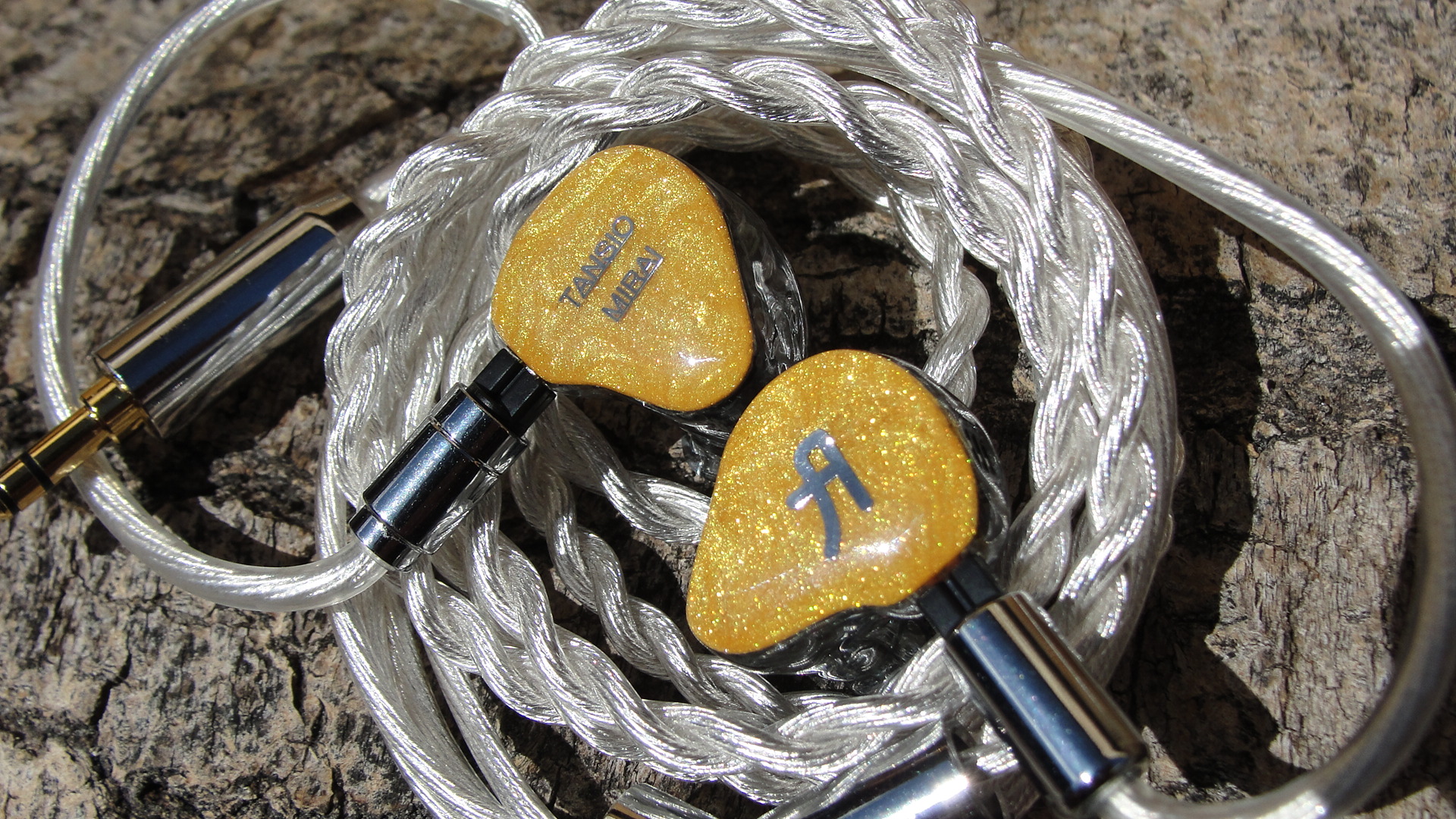 With that being said.
Here is the big caveat
for folks that are willing to give the Sands a go. You have to truly take your time with them, try your best copper based cables and use a source that has some warmth to its tonality. ( Shanling, IBasso DAPs. IFI source) and you will be golden. It will clearly sound better than anything you have heard at their given price point. If you do all the added aspects for the Sands to get that musical synergy down, you will get that grin from ear to ear because you will have never heard anything sound so good at their price point.
Tuning such an earphone should have a detailed treble without treble glare and even on not so good recordings. The Sands trebles are like a high powered microscope for your music and to a different degree so are the Lands. Some may even say their higher end Sparks were like that. House sound trait? Maybe. And maybe it might be time to look at your " house sound." Balance in all things are key especially for sound in my humble opinion and if the tonal character shows brightness then there is too much accented in the regions that accentuate brightness. The Sands can and does sound absolutely spectacular but it comes with that huge caveat. One where you have to have the right source, cable and tips to match up. But are you willing to do all that? Heck I already know some of you reading this have nothing to do with cable rolling and don't believe in it.
No matter what type of tuning a manufacturer achieves, it has to be one where universal versatility is the ideal. Not just for the eastern enthusiasts. After all, you're selling to the world not just for Asia. A universal sound should be the new reference in my opinion. The sound has to be versatile as much as possible and in doing so you're reaching out to enthusiasts of all corners of the globe. To me this is what a true reference sound should be about. Why eliminate a chunk of a possible enthusiast base with a tuning only suited for the OCD and the overly sophisticated?
Not everyone will understand the Sands tuning or give them their due time needed to really figure them out. Hence I hope to see a slight change of tuning philosophy from Tansio Mirai in their future products that are not just about sound tunings that are as detailed as possible. Think more universally with a huge broad range of music we are talking about here and focus on sound balancing and I think Tansio will see an emergence of a greater fan base than they can imagine. The Sands are a mind blowing experience but only for folks that are into their highly detailed technical sound tunings that have the right stuff to go along with it. If you ask me if this sound quality is worth doing all that I mentioned on this read? Absolutely, as they say you gotta,"tame the beast." but for the non sophisticated or the casual listener. You have been warned. Thanks for taking the time to read. Happy listening always.
Bonus cable matchups.
Here is what I am using for the best synergy with the Sands.
First matchup is a nice copper based cable from Penon.
The PAC480
. This cable was what I was using with the Taniso Mirai Lands. And here it has a very similar effect for what it does for the Land to the Sands. The Sands actually benefit greatly with this particular cable as it smoothes that treble shelf of the Sands treble while adding greater note weight to the mids. In balanced form throws out a wider stage than the stock cable to boot.
( As of writing this review. You can now order the PAC480 to go along with the Sands when purchasing. I highly suggest you get a set considering the PAC480 will be highly discounted as a package deal. Worth getting a set for certain.)
I actually tried numerous copper based cables and while most of them did a decent job with the Sands it came down to two cables that stood out to me as being what the Sands needed for proper synergy. Even with cables that cost 6X more than the PAC480. They didn't do better than the PAC480 for how it meshes with the Sands. If your source is more neutral in signature you plan on using with the Sands. This is the cable I recommend over the ISN G4 which is the other cable I will recommend.
ISN G4
.
This pairing is substantial. The PAC480 smooths the treble area better than the G4 here but the G4 makes up for it by not only retaining the technical aspects but actually enhancing some of it like precision and imaging all while adding a more natural tonal character to the Sands sonics. These also have an added effect of enhancing the stage, not to mention the cable color scheme actually matches the yellow, gold flake faceplate on the Sands. For folks that use more warmer tuned sources, this is the cable to get to match up with the Sands. It is a higher grade of cable vs the PAC480 and it shows in its resolving ability. The G4 smooths the treble region a touch but the precision and imaging you get from this cable in conjunction with that warmer source brings a nice higher level of sonics for the Sands. Absolutely mind blowing on my DX300Max.
Last edited: