Item information
Category
Added by
Views

7,423
Watchers

1
Comments

1
Reviews

4
Last update
Rating

3.75 star(s)

4 ratings
General Information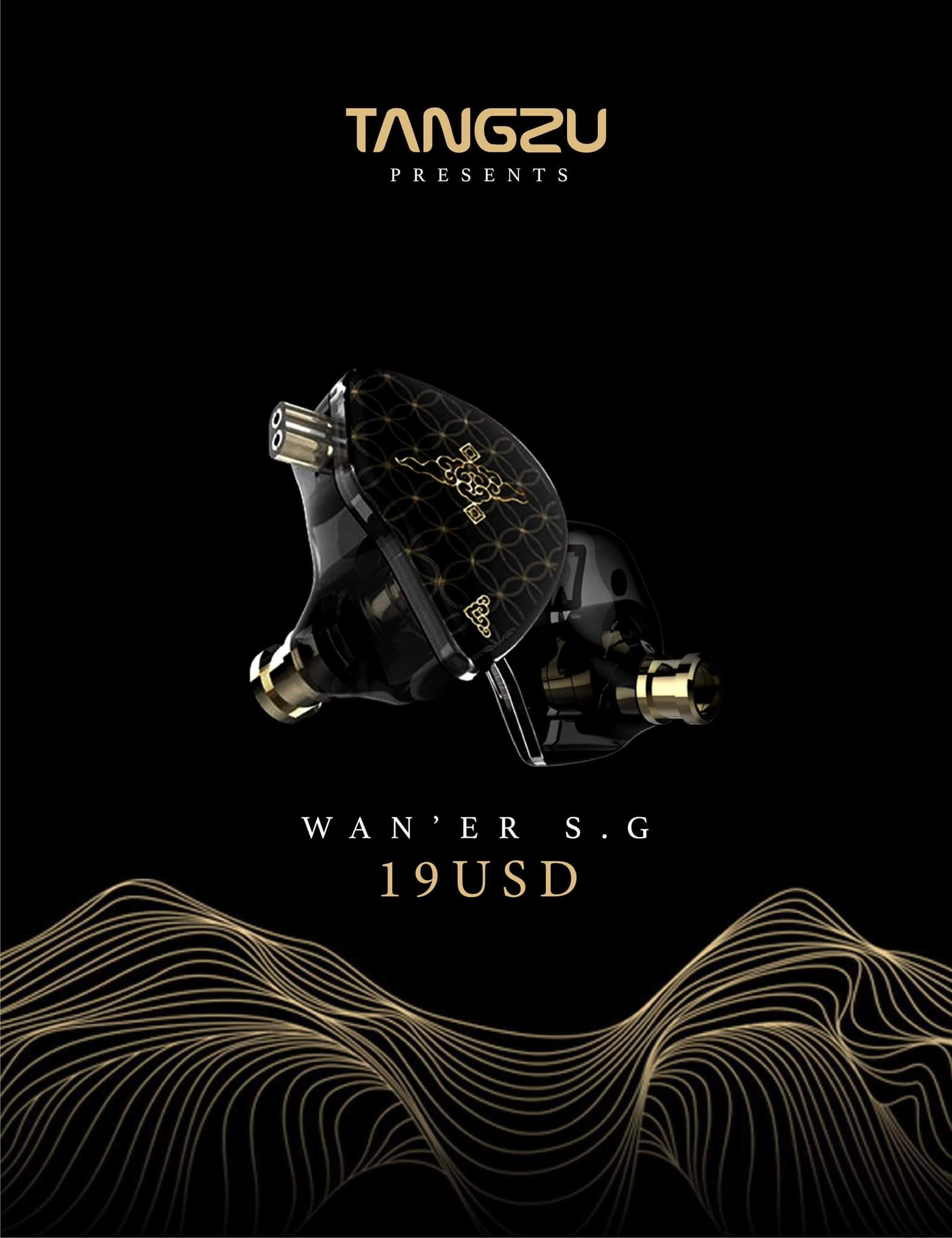 Latest reviews
TangZu Wan'er SG: The Paragon Premier
Pros
:
△ Affordable pricing.
△ It offers 2 colourway options to choose from.
△ A warm, U-shaped tonality that will be more versatile on almost known music genres.
△ Sufficiently punchy bass.
△ Decently textured midrange.
△ Good quality stock cable.
△ Smooth treble with just a hint of sparkle on it.
△ Easy to drive set.
Cons
:
▽ Scantiness of treble air and subdued harmonics.
▽ Noticeable bass bleed.
▽ Technical performances are rather unremarkable.
Wan'er Shangguan was the only known female prime minister that was ever recorded in China's illustrious imperial history. She was one of the most important personalities during the Tang dynasty. Besides being a prime minister, She was also an imperial consort to Empress Wu Zetian's son. She was also known to be a talented poet, calligrapher and an accomplished scribe-administrator while working as her mother-in-law's secretary. Her life ends in a tragic manner as she was executed during a political coup inside the imperial palace.
Wan'er S.G. is Tangzu's first foray on the ultra-budget segment. First, I need to introduce this audio company and what they are in the audio industry. Tangzu Audio was an audio brand formerly known as Tforce Audio. Their first product was the TForce Yuan Li and it received some praises and accolade from the audio community as it delivered an impressive sound that it was considered as a price to performance product that delivers a tonality beyond its price value.
Wan'er S.G. is a single transducer IEM and it has a self-developed 10mm single dynamic driver with a PET (Polyethylene Terephthalate) diaphragm which offers a more durable, better resistant to wear and tear due to constant vibration with less distortion. The internals were encapsulated in a solid polycarbonate plastic shell with geometrical lines and some design-inspired from Tang dynasty era on its faceplate with utmost exhibiting in an attention to detail and it uses a QDC-type 2-pin connector.
The fitting is incredibly comfortable as it is quite light that I don't encounter any issues in a long listening usage. It has a satisfying sealing into my lug holes that it block some external noises from the outside surroundings.
With its product packaging, Tangzu Wa'ner is commendable on this one as it has a decent number of included accessories. For an ultra-budget level set, the presentation of the included accessories are well-organised. Even the product box itself is attractive and it has a stylised portrait of the Premier at the front then some basic specification, QR codes and address at the back. Tangzu really knows how to make the unboxing of their product very appealing.
Here are some included accessories:
● a pair of Tangzu Wan'er S.G. IEMs.
● a white-coloured OFC cable with an L-shaped, 3.5mm termination plug.
● 3 sets of white, medium bore ear tips in different standard sizes. (It actually reminds of a Final audio ear tips)
● 3 sets of black, narrow bored ear tips in different standard sizes.
● a cleaning cloth with a print of the Premier.
For amplification and driveability, Wan'er S.G. is an easy to amplified set that a device with decent power output will be able to power it suitably. It will deliver a good amplitude and full range sounding due to its low impedance circuitry on its internals.
As for tonality, Wan'er S.G. takes a more of a U-shaped sound signature with a balanced-warmish profile on its tuning. This kind of tuning is somewhat of a norm on current Chi-Fi tuning.
LOWS/BASS
:
My initial impression of the bass quality of wan'er was it is thumpy, intense with ample impact. This is not a quantitative bassheads' preferred low frequency sound per se but it delivers a sufficient bass texture. It seems that it focuses more on the mid bass rather than sub bass.
Sub bass certainly has a presence as I discerningly felt those reverb and grumble coming from the instruments such as synthesisers, electric drum machines and low tuned bass guitars on my favourite tracks on certain genres like classic rock, synth-pops and old school hip-hops.
Mid bass has a good texture that will gives more body in bass drum kick, bass guitars and bass-baritone vocals. Bass kicks definitely have this full and thunderous sound while bass guitar has this sombre and resonant then bass-baritone vocals have this broad and dark sound quality that gives a weight and depth in the overall voice quality. This is not the cleanest bass, I hear a noticeable smearing towards the midrange.
MIDRANGE:
Due to some smearing from the bass region, it does give that warmth sounding but it gives a good amount of note density. Another observation that I heard on its midrange quality was that it has a smooth and decent crisp on it. Both male and female vocals boon to the quantity of the note weight. Baritones especially the lighter ones have substantial pleasant and mild with substantial gravelly tone while countertenors have this glassy and mellow quality especially if someone is doing a falsetto singing then tenors have a chesty, fuller and powerful sound that gives a sustaining range. Female vocals especially contralto and mezzo-soprano singers have this euphonic, luscious and tender sound while soprano has a rather a bit warmer sound as I expected a more lighter, brighter and energetic sound especially on lyrical and coloratura types. At least Björk sounds good on this but Mariah Carey and Celine Dion sound a tad lethargic.
On how the instruments sound, strings like acoustic/electric guitars had this crisp sound with ample bright sound on them while violins have this brilliant and sparkling sound on them. Brass instruments like trumpets have this vivid, metallic brilliance sound while trombones have the tense, full and brassy on it. Meanwhile, the flutes have this rich and penetrating sound on them while saxophones have an expressive and reedy sound on them. And the last ones are percussions, toms seem to have a hard and menacing sound, snare drums have this cracking and sharp on them, celesta have a lustrous and bright sound, and pianos have this vibrant and warm sound.
HIGHS/TREBLE:
The treble on Wan'er SG takes on a smooth and safer tuning. It has a enough shimmer due to some possible elevation on the upper mids to presence then a gradual slope towards the brilliance region that gives a lack of air and dampens a bit of its harmonics. The inherent reduction of the upper end is a double-edge sword, it gives a fatigue-free and less sibilance listening experience but at the expense of less detail and resolution capability.
Cymbals have ample glistening and lustrous sound on them and hi-hats have a soughing and shortened buzzing sound.
SOUNDSTAGE, IMAGING & OTHER TECHNICALITIES:
Like its contemporaries within its price range, Wan'er SG has a rather average technical performance. On the overall dimensions of its perceived sound/speaker stage. It has an average to above-average on wideness, a decent height and enough depth on it.
Imaging performance is just usual and nothing exceptional as it gives a fairly 2-dimensional stereo panning that I was able to locate vocals and instrument placement. Separation and layering aspect on this set is passable as it has an enough spacing on each element and stacking of each frequency and dynamic layering on the sonic canvas are quite bog-standard that playing a more complex tracks like multi-instrumental movies scores and orchestral tracks exhibits a thronged and jumbled presentation.
Coherency of the driver performs pretty well, it gives a homogenous and faster transient response given that it has a newer generation of dynamic driver. Resolution-capability wise, it has a more rigid presentation on macro-dynamics and micro-detail retrieval has an ample sharpness to exhibit nuances and fine subtleties of elements on its tracks. Timbre is more natural with just a hint of warmth and a bit of glint.
PEER COMPARISONS:
CCA CRA
● They are actually analogous in everything from implementation of drivers to build quality but Wan'er SG has better product packaging presentation and a bit better stock cable.
● This will be their contrasting aspects and it is their sound profile. CRA is more of a V-shaped sound profile. It focuses on sub bass, a less textured mid bass and lean and recessed midrange. then a scintillating and tad airy treble but it has sibilance and raspiness on it.
● As for technical performance, they have similar technical performance with the exception of soundstage width on which CRA has a narrower presentation.
TRUTHEAR HOLA
● Both Wan'er and Hola are comparable in many ways. Hola shells are 3d-printed, it has an LCP driver and a thicker cable which is currently the best stock cable in the under US$20 price segment. It also has a IEM faux-leather pouch which is quite a rarity on the said price range.
● As for tonality, both of them have a U-shaped sound signature but Hola has more emphasis on sub bass which gives a more tight and cleaner bass, a less textured midrange and an even more smoother treble.
● Technicalities-wise. They are almost alike with the exception of resolution capability but it has less sharper definition on detail retrieval and a narrower soundstage.
To wrap up my review on Tangzu Wan'er S.G.It seems that Tangzu did a good job on Wan'er SG as it became one of the cherry on the top set in under US$20/£17 which makes this price segment even became a crucial point on the current state of portable audio market.
With a very attractive pricing and a competent tuning that you can only find on a $100/£83 price segment a few years ago. For sure that this is not the most technical set but Wan'er SG seems to deliver the best possible sound quality that Tangzu can offer, a compensating feature set in affordable form.
TANGZU Wan'er SG is still available on all e-commerce platforms. Grab and try this set out.
SPECIFICATION:
MODEL:
TANGZU WAN'ER SG
IMPEDANCE:
28Ω
SENSITIVITY:
107dB
FREQUENCY RESPONSE:
20Hz – 20KHz
CABLE LENGTH:
1.2M
PIN TYPE:
QDC-TYPE 2-PIN CONNECTOR (0.78MM)
PLUG TYPE:
3.5mm
DRIVER UNIT(S):
(1) DYNAMIC DRIVER
Some Tracks Tested: ( * = 16-bit FLAC, ** = 24-bit FLAC, *'* = MQA, '*' = DSD, *'= .WAV)
Alison Krauss -When You Say Nothing At All *
Jade Wiedlin - Blue Kiss**
Led Zeppelin - When The Levee Breaks **
Mountain - Mississippi Queen *
Queen - Killer Queen **
Guns N' Roses - Patience *'*
Eric Clapton - Tears in Heaven '*'
Sergio Mendes- Never Gonna Let You Go '*'
Pearl Jam - Daughter **
Roselia - Hidamari Rhodonite *
Assassin - Fight (To Stop The Tyranny)*
Celtic Frost- Visual Aggression *
New Order - Blue Monday *
The Corrs- What Can I do (unplugged version) *
Jimi Hendrix Experience - Voodoo Child *
The Madness- Buggy Trousers *
Metallica - Motorbreath **
Mariah Carey- Always Be My Baby *
Destiny's Child - Say My Name *
Malice Mizer- Au Revoir *
Mozart - Lacrimosa *
New York Philharmonic Orchestra - Dvorak- Symphony 9 " From the New World." *
Eva Cassidy - Fields of Gold (Sting cover)*
Michael Jackson - Give In To Me *
Exciter - Violence and Force *
Diana Krall - Stop This World **
Debbie Gibson - Foolish Beat *'*
The Sisters of Mercy – Lucretia My Reflection**
Suzanne Vega – Luka **
Lauren Christy – Steep *
Ottoman Mehter - Hucum Marsi *
P.S
.
I am not affiliated to TANGZU nor receive monetary incentives and financial gains as they provide me a review unit for an exchange of factual and sincere feedback from yours truly.

Once again, I would like to send my gratitude to STEVE TONG and also to KENT ALFONSO for providing this review unit. I truly appreciate their generosity and trust towards me and other reviewers.


Last edited:
Tangzu Waner review
Pros
:
Balance sound signature
Bang for buck
Fit
Light weight
Option for 2 different colours
Lots of good ear tips
Cons
:
Low quality cable
Treble a little too dark
Average technicalities
Disclaimer: I have no affiliation with Tangzu. I bought this through Shopee with my own money so no one has any affect on this review
Packaging:

I've accidentally lost the cloth when I was cleaning my house, so I'm borrowing the picture from Hifigo instead (thank you Hifigo).
Inside the box include: a cloth with the same art style as the outer box, the iem itself, a SPC cable, 3 pair of grey narrow tips, and 4 pair of white wider bore tips.
Upon closer inspection, the white tips are exactly like the widely known Kbear 07 tips which are wonderful tips in my opinion.
Design/Build quality/Comfort:
I opted for the black version of the Waner.
The housing is made from resin/plastic with a metallic nozzle. The drivers are not so visible compare to the white version because of the dark colored resin.
The faceplace has some very unique pattern on it. Here on the black version, there're some golden coin pattern along with a "cloud" symbol (I think) on the faceplate. The coin patterns are not really vibrant, just enough to see if you pay close attention to it. The overall build quality feels cheap, but it's acceptable given its price.
The housing is on a medium size. It sits perfectly into my ear as you can see in the picture. That being said, the cable itself ruin the wearing experience for me. Eventhough I have a snug fit with the iem itself, the cable's hooks are to big which keeps pulling the iem out of my ear. The cable itself is too soft, which in turn very prone to become tangled. It reminds me of the Blon 03's cable.
Sound impression
Here's where the Tangzu Wan'er shine.
Bass
: The bass is very well controlled, although there's not a lot of bass here. The overall bass will not satisfy hardcore basshead out there, but for me it's just enough. The subbass is present with good rumble, the midbass are well detailed with enough presence to be suitable with some genre like Rock, Pop, EDM, ... I don't find the midbass to be muddy at all.
In "Phoenix Rising" by Calum Graham I can hear every distinct guitar string being plucked. The overall timbre of the guitar sounds natural.
In "Mighty Down Fall" by One OK Rock, the kick drum has enough slam to it without overwhelming the lead singer.
Mids
: With midbass being just enough, has a gentle glide/transition into the mids, I find the mids to be very clean overall with a slight sense of forward to the vocals. The male vocal has this light coloration, warmer characteristic to it where as the female vocal or vocal in the upper midrange to be more engaging, more energetic while not being shouty or harsh.
In "Mocking Bird" by Eminem, his voice was well presented without being push into the background
In "Racing Into The Night" by YOASOBI, it's pretty easy to observe how energetic her voice was without being disorted, shouty or sibilant.
Treble
: The Wan'er has decent yet slightly more laid back, darker treble. It's just enough to show all the micronuances in some busy track that ít's there. Cymbal strikes and hi hats sound natural with good attack and decay yet it lacks some of the sparkle characteristic that I crave. I find the piano or string instruments in these region sound very natural. Overall I find the treble of the Wan'er to be easy too enjoy, yet being too safe in my opinion. Those who are treble sensitive will find these easy to listen to.
In "YouSeeBigGirl" from Attack On Titan or "Licht Und Schatten" from Tokyo Ghoul, I can notice all the micro details in the upper treble range, although I wish to perceive it just a little bit more.
Technicalites
: Soundstage wise, I'd say these have a good sense of width and depth, especially for the price. The imaging, detail retrieval, seperation are average at best.
Source
Phone: Poco F3
Dongle: KT4099, Jcally JA03, 7hz 71, Hiby FC4
I find the Tangzu Wan'er to be very easy to drive. The Wan'er has good compatibility with both the 7hz 71 and Hiby FC4. I find the KT4099 to be too warm and the Jcally JA03 to not have the best detail retrieval.
Comparison

Tangzu Wan'er vs 7hz Zero
Both of these have what I'd called balance tuning, but it's a little bit different to each other. Using the the same white tips from the Wan'er, I can hear the bass on the Wan'er has a bit more of a punch compare to the 7hz Zero. The female vocals on the Wan'er are a bit more forward, more engaging whereas the male vocals are more or less the same. The instruments in the mid region sounds more satisfying. The trebles are where the most differences lie. The 7hz Hero is a tad airier, more lively as well as more detailed compare to the Wan'er. Part of it was due to the lack of bass on the Zero, which in turns shift my focus more onto the treble region. I'd say the timbre on the 7hz Zero are more correct compare to the Wan'er, but both are good. Technicality wise, both are very similar to each other.
About build quality, I like the 7hz Zero way more. Even though the housing on the Zero was a little bit bigger compare to the Wan'er, the overall package was nicer (decent non tangled cable, 2 pin, straight jack)
Conclusion
For 20$, the Tangzu Wan'er is a no brainer for its balance sound signature, especially for someone new to the hobby. I've recommended these for 3 of my friend and so far all of them liked it. Along with other contenders like the 7hz Zero, the Tangzu Wan'er has earn its place among some of the best iem for under 20$, maybe even 50$. It would've easily get 4.5 if it weren't for the low quality cable. So yeah, that's my review of the Tangzu Wan'er. I'm looking forward to what Tangzu has to offer in the future.
Review Of The Tangzu Wan'er S.G.
Pros
:
1. Tonality
2. Explosive and Controlled Bass
3. Well rounded sound signature
4. Forward response presentation
Cons
:
1. Lack of treble extension
2. Peaky lower treble(nitpicking)
3. QDC connectors
Review Of The Tangzu Wan'er ​
Introduction

​
When Tangzu, a Chinese company formerly known as Tforce, released their first planar magnetic driver in-ear monitor, the Zetian Wu, it gained a lot of attention. Unfortunately, I didn't get the chance to review it until now, despite the fact that many audiophiles praised its tuning and other products. They developed an entry-level IEM called the Wan'er S.G, a $20 IEM that I have evaluated, and yes, they live up to the accolades just like the Zetian Wu, thanks to their first take on the planar that provided them a nice exposure. Here is what I have to say about it, but first:
Disclaimer

​
*Since this unit was sent by the generous people at Linsoul, I am grateful to them. And as I've said in all of my evaluations, the same is true for this one: all of the concepts I've expressed below are entirely my own, original ideas that haven't been influenced by anyone else. If interested, visit this link.
*I am not associated with the connection, and I receive no financial assistance from anyone.
*For the remainder of the review, I will refer to these IEMs as "Wan'er"
*I am using different Ear-tips (Moondrop Spring Tips and Azla Sedna Earfit) for convenience and better versatility.
*Finally, I will only evaluate the Wan'er based on their performance, even though I will convey some thoughts over its physical and aesthetics properties as well as what accessories they offer with Wan'er.
Specification

​
S.G. is a single dynamic driver in-ear monitor that uses a PET diaphragm dual-cavity dynamic driver with a strong neodymium n52 magnet. This is the first device I've heard in this price range that use this configuration. If we continue with the shell quality, these are well within the range of what I would anticipate from a $20 IEM. A translucent shell with a metal nozzle and an exquisitely designed faceplate. These unquestionably come with a 5n occ excellent quality cable, an average IEM cable; nothing groundbreaking here, but I can attest to the cable's great caliber. There are two different types of eartips, vocal and balancing, each with three pairs. To keep the IEMs clean, a beautiful printed microfiber cloth is also included. Now for the technical information: these have a sensitivity of 107 dB and an impedance of 20 ohms. The frequency range where the distortion rate is less than 0.5% is between 20Hz and 20kHz.


Sound

​
These offer good technical performance for the price, and the sound is tonally lovely and agreeable. If I can obtain a clean, non-offensive sound for $20, I'm all in. Under this price range, the market has already started to become competitive. Given that the entire response is seamless and loving, the PET driver resembles a natural driver in certain ways. The treble is calming and non-offensive, the mid-range is very well rounded and realistic, and the bass is boomy and fleeting. The characteristics of this IEM are definitely up to par, and I don't think there are any other IEMs in this price range that can compare. Let's explore the sound more.


Treble

​
The treble is clear and unoffensive. The details are beautiful and have a good airy presence in the upper treble, which extends effectively. The lower treble is quite forward-moving and energetic. Particularly the female vocals sound wide and natural in the upper treble and don't distort or get heated. The music in this doesn't have a sibilant or hot sound; it retains the notes' integrity and is presented clearly. The vocals do sound upfront in the lower treble, and the instruments practice cohesiveness. Together, these two elements complement the mix, which most often sounds melodic. Additionally, there is no indication of any objectionable traits. With the exception of the crashes and snares, where I do detect a trace of peakiness, although that is obviously nitpicking. The guitars and synths maintain the metallic persona extremely well to themselves and under control without overpowering the mix. The treble region as a whole can be described as lively and unoffensive, without being overly loud or shouty.
Mid Range

​
The mid range is well-rounded and forward-looking. Although more beautiful and melodious, the higher mids are just as upfront as the lower treble. This region's voices are incredibly expressive and attack you with vigour. The vocals don't sound thin, which makes the mix more robust. While the instruments are as energetic in the lower treble, the vocal and instruments continue to complement one another. The mixture as a whole is quite enticing and appealing. As we approach the lower mid range, the notes maintain the established foundation of warmth and girth, which celebrates the character of the mid range and treble. Although the singers and instruments sound a little muffled, there are no indications of bloating or excessive power. Although it may appear that the lower mid-range are a little reserved, their impact on the upper mid range is minimal. To summarize the mid-range, they are lively, well-controlled, and lyrical.
Bass

​
The bass can best be described as explosive. A PET driver's bass has a lot of boom and is extremely fast and accurate. It has a more amiable, natural tone for the other frequency response zone. Although the mid bass has a strong influence as well, the sub bass zone is where the bass focus is most prominent. Even though it doesn't appear to be bleeding, I am certain after listening to these that it does. The bass has a boomy sound, rumbles loudly, and retracts quickly. Tangzu outdid themselves on the bass response. Even though the sub bass extends far and hits hard, the overall bass response is quite well regulated. The bass response is deep, powerful, and controlled overall.
Technical Performance

​
IEMs in this price range often do not actually exceed much on the technical side. But this IEM performs roughly on par with models like CHU and Zero. Although comparison with CHU and Zero, the stage is not bigger but Wan'er does have outstanding imagery and separation. As all three sounded the same to me, there isn't much to compare in terms of detail retrieval and resolution. The S.G. also has a significant edge here due to speed.
Soundstage, Sound Imaging & Separation

​
Although the holographic staging of the soundstage seems like a very nice approach, and the imaging is quite sharp with good separation, I can generally identify the direction the sounds are coming from.
Speed & Resolution

​
The resolution and detail retrieval are very much average, similar to the other IEMs in this price range, but the attack and decay of notes are incredibly quick, which is incredible for an IEM of this caliber.
Sound Impressions

​
Sources

​
Tempotec V6 - The Tempotec V6 produces a warm, calming tone. It is incredibly simple to power these IEMs. While the overall response is crisp and the bass response is strong and sounds just perfect, the vocals may sound a touch laid back. I made use of both the flac and wav files I had on hand and streaming services like Apple Music. I had no concerns or problems of any kind. I had a terrific time with the Wan'er with V6. Nothing from the V6 came through this IEM that was unpleasant or muted.
Questyle M15 - The presentation becomes more impartial and easier to understand as you listen to the questyle. The voices do appear to be leaner, but still expressive. Although less warm, the bass got more detailed. The treble is wider and crisper. Presentation overall comes off as more analytical than melodious. I gave myself permission to submerge with this couple, and while I found it interesting, I couldn't say the same for how much I liked it.
iFi HIPDAC - When compared to the M15, the iFi HIPDAC's audio output sounds more expansive but feels less detailed. The best part is that the explosion's bass presence is once more audibly felt. The mid range does, however, sound a little shoutier than the other two sources aside from this.
Tracks Used

​
Curtis Mayfield - Pusherman
Earth, Wind & Fire - September
Earth, Wind & Fire - Let's Groove
Boston - More Than A Feeling
Fleetwood Mac - Everywhere(Remastered)
Toto - Africa
The Police - Every Breath You Take
George Benson - Affirmation
Daft Punk - Doin' It Right
Daft Punk - Derezzed
Daft Punk - Tron Legacy (End Titles)
GOJIRA - Amazonia
The Mars Volta - Inertiatic ESP
Fergie - Glamorous
50 Cent - In Da Club
Jay Z - Holy Grail
Erbes - Lies
Nitti Gritti - The Loud
Juelz - Inferno
Conclusion

​
There is certainly fierce competition in this price category, and some of the products have even dubbed themselves the "best budget entry IEM." I doubt I would discuss Wan'er in the same manner if I had to. However, I think that most of these IEMs today have far greater tonal qualities than they did in the past, so it all depends on your preferences. The Wan'er impression can be summed up as musical sounding IEMs with strong bass, a forward midrange, and unobtrusive treble. And I will suggest these to anyone who enjoys a well-balanced IEM.
Last edited:
Comments