General Information
Symphones V8 Drivers for Grado
I'll let Rhydon Rayment introduce his company and philosophy: "Since 2010 Symphones has done more than refine an old tradition: we've started a new one. By fusing dynamic design with the vivid DIY culture we work to enable a new movement of designer artisans. Symphones empowers DIY builders through our dedication to making the highest quality headphone drivers. To achieve optimal results, our products undergo years of design, testing and verification, making each driver worth your patience and skill."
"At Symphones we make headphone drivers by hand using carefully selected materials from local suppliers in Ontario, Canada. Detail is our passion and its no secret that even the adhesives used in our drivers are formulated in-house to our exact specification. We want to give our builders the smoothest, most dynamic and pure sound to showcase their designs. Most of all, we want to expand people's musical tastes and prove that the best headphones don't always come mass produced."
The V8 is (unsurprisingly) the 8th revision of the popular "Magnum" driver series. Gone is the Grado house sound of the Prestige series, and a more refined, natural and smooth sound signature rivalling far more expensive headphones is achieved.
Throughout the revisions, the Symphones' line-up retained the easy to drive, low (32 Ohm) impedance of Grados, which makes them very portable device friendly and do not require a dedicated amplifier. Symphones' drivers are known for improved soundstage, clarity, and detail compared to stock drivers. They have better extension on both the high and low frequencies, with the bass hump a little lower in the range. In a (very brief) summary, the V1 driver was similar to the 325is, with some peaks in the midrange and treble with tight bass but rolled off sub bass. The V2-V3 drivers were less bright and peaky, with forward midrange and strong mid-bass with rolled off deep bass making them excel with acoustic music. The V4 was very well liked and often described as more neutral. V5-V6 drivers also featured aluminum sleeves and a livelier treble, flatter impedance curve and greater, resolving bass. The V6 extended a bit further in highs and lows and had a bit of a mid bass hump (more v-shaped frequency curve) resulting in a fun sound signature, if not especially neutral. The V7 drivers sounded very different than stock Grados with deeper bass and a forward midrange, balanced with an extended high end.
In Rhydon's words the "V8 encompasses improvements related to the diaphragm and its motion, damping of resonances, and bass refinements. Sound lovers will note improvements to the upper, mid, and lower registers, both in resolution and control. Drivers are matched to the tightest tolerance of +/- 0.1db."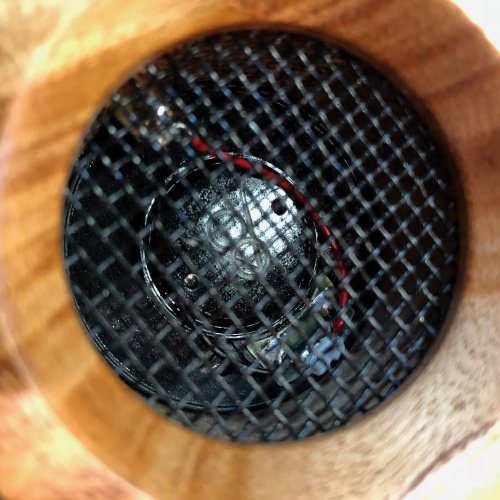 In back to back, A-B testing, the V8 is a noticeable improvement over the V7. It is smoother, more balanced and exhibits greater control. The V7 driver could get a bit loose with deep bass tracks and this is essentially resolved with the V8. The midrange steps back a little (compared to the V7's forwardness) and the overall sound presentation is more balanced and refined. These can be described as having the smoothness of the Sennheiser HD650's paired with the clarity of a Beyerdynamic DT880. Note: my favorite headphone pairing is a modified Bottlehead Crack and HD650 – so this is high praise indeed. Prior to this proper amplification combination, I found the HD650's a bit lifeless or (forgive me) "veiled" for my tastes. The V8 sounds more like this perfect combo, without lugging around the tube amp.
The Symphones V8 sound quality is extraordinarily sweet, clear and neutral. Music comes across in a very transparent manner, with oh-so-smooth midrange and controlled, accurate and deep bass. Vocals are natural in presentation, with no noticeable frequency peaks or rough edges. Texture of complex passages remains clear, separated and detailed with superb imaging. Soundstage is very good for an on-ear headphone, if not quite as wide as the best (albeit much more expensive) headphones – although this may simply be a limiting factor of the supra-aural nature of the Grado design.