Strauss & Wagner EM205 Earphones 3.5mm Connection And Mic+Remote
An everyday listening companion
Pros
:
- Warm and fun sounding
- Good bass extension
- Comfortable and discreet fit
- Tiny and lightweight
- Excellent microphone
- Three button remote control
- Phone friendly, can play loud and clear
- Carrying pouch
Cons
:
- Not an audiophiles dream
- Tuning and technicalities are only suitable for casual listening
- Remote control not so user friendly
- Thin and microphonic cable
- Limited selection of ear tips
The review sample was kindly provided by Audio46 free of charge after I was selected to participate in the Strauss and Wagner EM205 review tour.
The sample was shipped July 25th and due to the hilarious Greek postal service it arrived on October 10th.
Yes this is correct and I am not joking at all so after all this huge delays here I am presenting you my review.
The retail price is $39.96 and you can purchase it from
Audio46
.
Brief description of the product
The EM205 is an earphone with a standard 3.5mm connection, a microphone and volume remote control for music and calls.
They feature a 9mm dynamic driver, standard 3.5mm plug for use with desktop and mobile devices plus a three-button remote with volume and playback adjustment, as well as a microphone for calls and voice commands.
The integrated microphone allows for clearer audio quality thanks to a sensitivity of -43 dB.
Build quality and cable
The EM205 is very small and lightweight, suitable for everyday carry since it will fit literally everywhere.
Build quality is very good with aluminum made housings but the cable is quite thin although there are strain reliefs in all connection points to protect it from bending.
The cable doesn't get tangled very easily, it has microphonic noise and while everything was just fine during my testing time, I wouldn't swear for the longevity of the cable.
Fit and isolation
Fit is very comfortable and discreet while sound isolation is pretty good and gets the job done in noisy environments.
They EM205 stay in place so they can be used for active sports but mind you that there is no official sweat or water proof rating.
Accessories
The package includes three sizes of silicone ear tips for personalized comfort and a small carry pouch.
Microphone and remote control
The microphone call quality is just excellent and the other part can hear you loudly and clearly.
The three button remote control is a mixed bag because while you can adjust the volume with the two dedicated buttons, everything else must be done with the central button and a combination of clicks and presses which is not practical at all.
I am attaching a photo with all the available actions in order to have a clearer picture of what is happening.
Sound impressions
The EM205 with an impedance of 32Ω and a sensitivity of 108dB is specially designed for playing quite loud from ordinary mobile phones or laptops while not picking up internal noise.
My advice is that unless you have something specifically designed for audio then you should definitely use some kind of a tiny USB DAC adapter like I did with the ddHiFi TC35B and Periodic Audio Rhodium to improve the overall experience because the EM205 surely scales up to this point.
Sound quality is good for casual listening and you are not going to miss a lot as long as you accept that this is not an audiophile's dream.
The iem is tuned for providing fun during traveling, working, commuting or any other activities that doesn't call for the listeners full attention, so they have boosted bass and treble to compensate for the noisy environments.
It is a "V" shaped tuning with good sub bass extension (at least for the size), some full bodied and punchy bass that is quite clear, controlled and although it doesn't avoid bleeding into the mids it is not overbearing the rest of the frequencies as some cheap bass-head iems do.
Mid region, although recessed and not too clear, is still defined and engaging with a darker, warmer tilt to it, as for the treble while accentuated it never becomes harsh or fatiguing.
There is enough sparkle and energy, so the overall presentation is not dull or slow but it lacks in extension and body as for detail it is present to a fair amount.
Soundstage is very decent, with a good center image and nicely arranged soundscape from the left to the right without blind spots and sufficient separation so as not to sound overly congested.
At the end
The Strauss and Wagner EM205 is a fun sounding, comfortable, phone friendly, lightweight and well built iem with a modest asking price, suitable for becoming your everyday listening companion.
Test playlist
Copyright - Laskis Petros 2021
EVERYONE NEEDS A PAIR LIKE THIS IN THEIR COLLECTION
Pros
:
Tasteful Sound Curve for earphones- some headphones costing 3x more don't do what these do so well, not over done bass or treble- no siblance, incognito low key design with high fidelity sound that will satisfy young and old because they are so well balanced for the price, remote control is very handy, microphone for phone quality makes it a worth while purchase all by itself! comfortable/lightweight, approaching the sound very close to the 1More triple drivers that cost over $99 for just $40, images similar to more expensive earphones
Cons
:
looks like & feels like a no frills head set, non interchangeable cables, wire can get tangled in it self
Strauss & Wagner EM205 Earphones

​
3.5mm Connection And High End Mic With Remote

​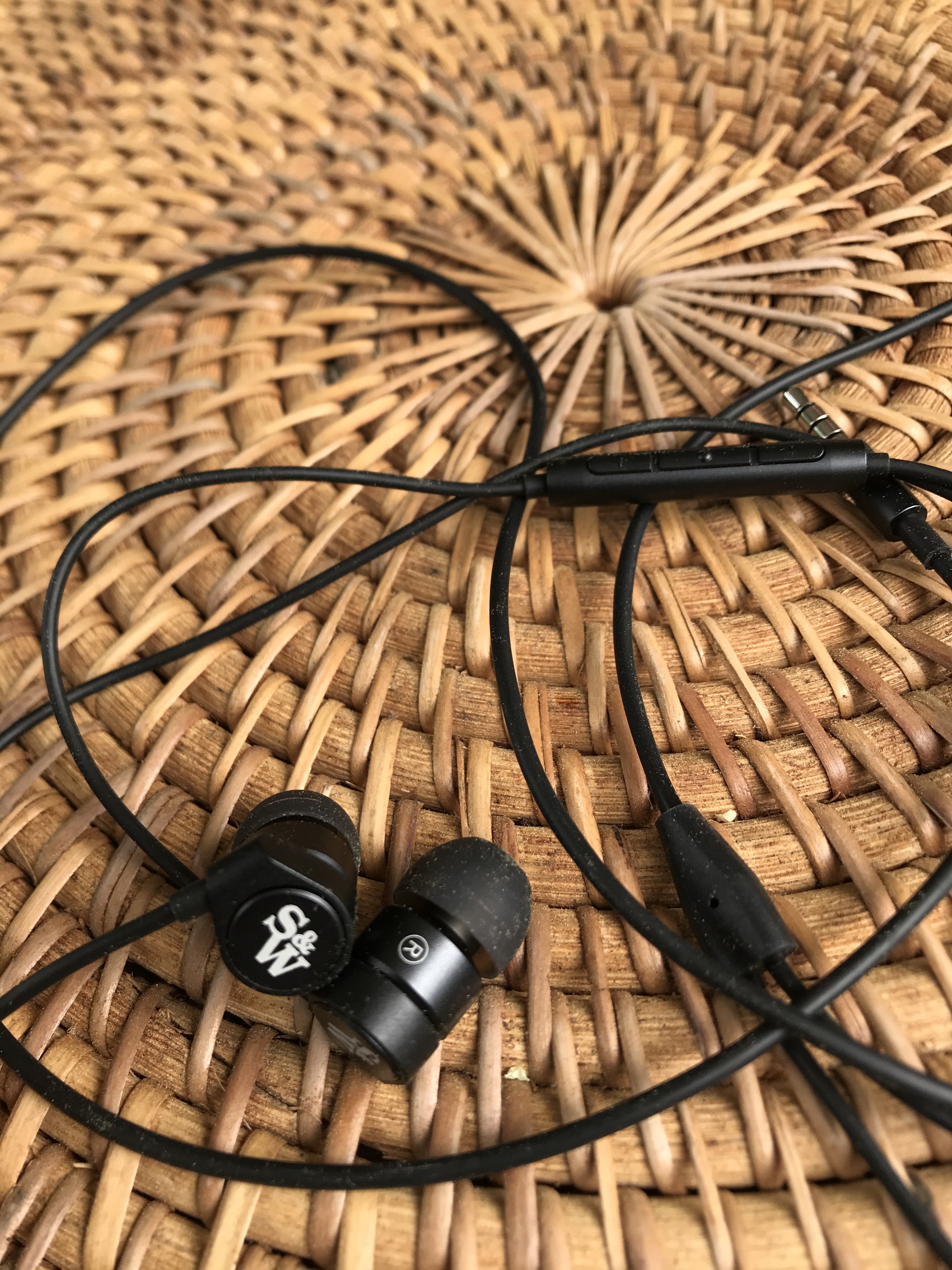 U
p front and always honest in all my reviews...
I am a customer of Audio46- just a guy who loves their service... so the owner reached out after reading some of my high end
reviews
... and said hey you want to test a few affordable in ears? I said, "sure, why not..." so here we are.. these were sent to me for review without incentive for my honest review from
Audio 46
. For more information
Strauss&Wagner.
I
received these in earphones and wasn't expecting much. Boy was I wrong and pleasantly surprised. As soon as I unboxed these and removed them from practical cloth pouch, I was like... 'ok... this will be interesting. Maybe they will sound pretty good...' and well they do. Better than many other similar priced earphones I have bought; some examples : Better than: iPhone EarPods $19, AKG Ear buds $59, RHA MA750i (Ear buds priced at $120 at the time). Bottom line I actually prefer these over the other Strauss & Wagner SI201 sound signature which tends to be a bit bassier- while the EM205 have a much more even hand and are great for all genre of music from classic to rock to EDM to Jazz. The goal of the company was to provide triple the price performance in an affordable package - and I can say these have their place in anyone's go bag. If you commute on public transportation they provide excellent seal so no sound leaks out or in- they are excellent for teleconferences since their quality mic is better than even AKG headphones I have - which to me is a a real head scratcher since AKG makes mics for a main line of business in the professional recording world. The sound from the sEM205 is really close to an ideal sound signature making music coming from portable devices such as phones or daps sound like much more expensive ear phones.
​
A bit on the company: "Strauss & Wagner embodies two of the Western music's most celebrated composers - Richard Strauss and Richard Wagner. Strauss, known for his nuanced compositions and advanced harmonies, championed a technical approach that echoed Wagner's emphasis on a work of art in its totality - in other words, "the big picture." Both musicians' approach to art was with fine attention to detail and immaculate sound, lending itself to big picture products that prove durable, comfortable, and valuable in every facet. Based in New York, this American brand offers a comprehensive one-year warranty on every product. Our hardline attention to nuanced, immaculate sound lends itself to a unique listening experience you won't find anywhere else."
Over all balance is good for this range. Bass and mids female vocals as well as male vocals sound like much more expseive headphones while the treble could be a tad bit more detailed - I think they tuned them to sound best with everyday streaming services such as 320kbps music from Spotify and even high res flac files from Amazon Prime HD Music- and yes even though tehse hp's cost only $40 bucks you can certainly tell when the recordings and sample rates are better sourced. These really are a perfect ez to drive affordable set of headphones that should remain a audiophile's secret but at the same time- word should sent out to those in the know... these are that good... no wonder the owner of Audi46 asked me to review these...
T
hese are a worry free earphone- affordable enough to have a few pairs around- to 'lend' to others even (and never to be seen again because they will "forget" to give you them back).... Often you don't get fidelity with lower priced earphones like these UNTIL you stop and listen- With the S&W em205 they sound full even at low and medium levels- which really defines them as well engineered. Again- they will play loud without a problem, but you don't need to in order to hear the details. These are not detail kings nor were they designed for that- they are tuned to be musical and enjoyable something not requiring analytics or thought - just close your eyes and enjoy. Solid bass gives tons of oomph to pop and funk music and plenty warmth to big rock tracks. There's also some nice sub-bass response, making it suitable for hip-hop as well. But despite its thickness and depth, acoustic instruments, like double basses, still retain a natural timbre and tonality for this price point. Still, classical fans may find this even more appropriate since it is really a subtle peak- neutral low-end with more detail. So, although they present a relatively versatile sound signature, the low end is most ideal for modern genres. These are not analytical or cold- they are warm and musical. If you have a friend or family member using lesser earphones- this makes a great gift to quietly say, "I care about you and your music- try these and hear how good well designed earphones can sound." Technology has gotten to a point now where $40 ear phones sound better than $100-$120 earphones form just a few years ago (case in point the the RMA's I used to own and forgot all about since I got more serious about this hobby). What a great time to know your can actually stretch your dollar to get better quality sound for less when it comes to products like this... This company is as I said making sensible products at sensible prices and I can find nothing more common sense than to say a these are a sure bet. I can recommend them for bargain seekers who want more higher end performance for adorable pricing. These earphones have absolutely no business sounding this good for this kind of coin - and I am lucky to not be a audio snob and judge everything by price or looks or name brands- these are a sure winner for the money. I should add Audio46 is my go to store because they offer free shipping and returns if I don't like it within 30 day so I can not loose. I can also add my set is not going back to
Strauss&Wagner
or
Audio46
since I decided to keep them ... highly recommended.
Last edited: