At the time this review was written, the Soundmagic ST80 was displayed with Asian links for purchase on the Soundmagic website. Here is a link to their listing of the product:  
http://www.soundmagic.com.cn/index.php?c=content&a=show&id=362  
Introduction
It was relatively early in my days of reviewing products when Soundmagic contacted me to see if I would be interested in covering their new flagship E80 and E50 earphones. Being a huge budget audio fan (still am) and having the E30 and E10, I was excited to see what Soundmagic would do with their new lineup. Although not a perfect product, the E80's price to performance ratio in terms of sound quality was off the charts in my opinion. I gave the E80 a rave review for this reason. Here is a link:  
http://www.head-fi.org/products/soundmagic-e80-in-ear-monitor-headphone/reviews/13331
When I attended the Axpona Audio Convention in Chicago on April of 2016, I ran into Jack of TekFX. If you aren't familiar with TekFX, here is some information taken from their website:  
"As a fast growing importer, distributor, and product integration solutions provider, TekFX acts as the vital bridge between manufacturers and end buyers, matching services and products to market needs. By employing a highly selective process for vetting products, we consistently deliver products with a winning combination of value, quality, and support.

Market trends drive our product offerings and service strategy. TekFX brings a breadth and depth of capabilities in support of manufacturers and buyers alike, leveraging our talented staff and efficient international and local logistics operations. For manufacturers, we provide product feature/benefit analysis, regulatory compliance, technical design review, marketing analysis, trade show representation, and sales training.  For buyers, we provide integration/project analysis, solutions design, technical support and service. These and other value-add activities are in addition to our core product distribution services.

With our innovative and entrepreneurial spirit, and our passion for excellence in service, TekFX demonstrates to our suppliers and customers alike that they have chosen the right trading partner."​
TekFX is a distributer for two very popular brands, Fiio and Soundmagic. They are also a supplier for Micca Store, who is the main USA supplier of all things Fiio and Soundmagic related. They also sell a butt-kicking pair of bookshelf speakers. Here is a link to check out their store:  
http://www.miccastore.com/index.php
When visiting Jack's booth, I was able to try sample the X7 and seeing what firmware adjustments Fiio made since being a part of the beta/launch tour. Jack was gracious enough to let me borrow an X7 along with a few amplifier modules. The X7 had come such a long way since my last time sampling the product, I felt an edit to my review was necessary. Here is a link to this edited review:  
http://www.head-fi.org/products/fiio-x7/reviews/14506
The other new and exciting thing I came across that day is the product we will be discussing today. When mentioning how much I enjoyed the E80, Jack recommended I take a look at the ST80. Long story short, it's a modular earphone with similarities to the E80. This new earphone offered a  detachable wired connection, and also a detachable bluetooth lanyard. It was pretty mind blowing stuff to think that Soundmagic would take an already excellent product and improve on it this way. I was able to get a sample to share the news on the product with the Head-Fi community. Is the ST80 an improved E80? Let's find out as we go over them with a comprehensive review.  
Disclaimer
I was given a free sample of the ST80 in exchange for my honest opinion and review. I am in no way affiliated with TekFX or Soundmagic. I would like to take this time to personally thank Jack for the opportunity to experience and review the product.  
My Background
I AM NOT a numbers and graphs audiophile or sound engineer. Personal audio enthusiast? Absolutely! Headphone junkie? Possibly…  
There's something about quality DAPs, DACs, Amplifiers and Earphones that intrigues me. I want to hear any earphone that looks promising, in hopes that I can share my impressions with  enthusiasts and help them find the audio product they're looking for. My Head-Fi profile has a list of audio products ranked from favorite to least favorite. For me, this hobby is more about getting great price to performance ratio from a product, and having a variety of different gear to mix and match. With personal audio gear, we tend to pay a lot of money for minor upgrades. One thing I've learned over the last few years is that just because a headphone has a higher price tag, it doesn't mean that it has superior build and sound quality.  
I'm always looking for great audio at a great price. I'm after headphones and IEMs that give me the "WOW" factor. I can appreciate different builds and sound signatures as long as they are solidly built, with ergonomics and sound that is pleasing to my ears. It's my pleasure to share my experiences with audio products and make recommendations based on gear I have owned and used.  
REVIEW
If you've owned a soundmagic package in the past, you won't see much different from previous packages. The E80 comes in a white box with black accents and lettering. A picture of the box and a small list of features is featured on the front.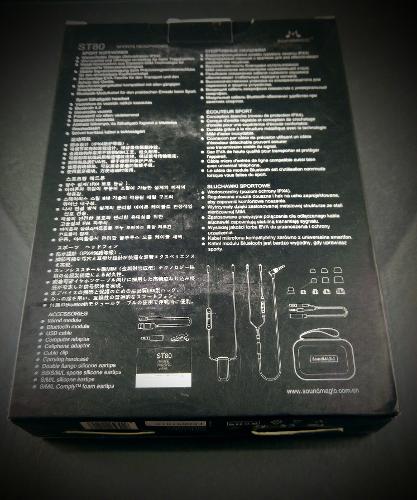 The back of the package lists features and accessories in in several different languages. The left side lists specifications in Chinese and English. The right side has a paragraph about the Soundmagic company and explains the "workout" silicone tips. More on this later in the review.  
Specifications and Accessories
Wireless Specifications
Connection Type: Bluetooth V4.2
Frequency Range: 2.402~2.480 GHz
Transmission Range: 10 meters (approximately 30 feet)
Driver Type: 13.5 mm dynamic drivers with neodymium magnets
Impedance: 16 Ohms
Sensitivity: 100dB @ 1kHz
Transmission Power: Class 2
Working Current: 20mA
Continuous Playback (music): 10-12 hours
Continuous Talk Time: 8-10 hours
Standby Time: 200 hours
Frequency Response: 20Hz to 20kHz
Audio Output: CD Quality (16/48K)
Power Management Modes: Standby, Ready, Pause, Sleep
Operation Temperature: -20C~60C
Weight: 30 grams
Wired Specification
Driver Type: 13.5 mm dynamic drivers with neodymium magnets
Impedance: 16 Ohms
Sensitivity: 100dB @ 1kHz
Maximum Input Power: 20mW
Cable Length: 1.2 meters
Connector: 3.5mm 60 degree L-style gold plated plug
Weight: 25 grams
Frequency Range: 20Hz~16kHz
Sensitivity: 42dB @ 1kHz
Accessories
1X Pair ST80 earphones
1X Wired cable with mic/remote
1X Adapter for PC mic/remote
1X Phone adapter
1X Bluetooth cable with mic/remote
1X Micro USB charging cable
1X Shirt Clip
3X Pair of silicone single flange tips (S,M,L)
1X Pair of silicone dual flange tips (M/L)
4X Pair of ribbed silicone tips for outdoor use (S,S/M,M/L,L)
3X Pair of Comply foam tips (S,M,L)
2X Foam inserts for wired and bluetooth cables
1X Oversized clamshell carrying case
1X Owner's manual
Housings
The thing that stands out first are the plastic ear hooks which loop over the top of the listener's ears. From these hooks the housings attach to a bar that swivels on a built in hinge which rotates in either direction. Left and Right channel markings are on each of these bars. The ST80 housings attach to this small bar via a ball and socket. This allows the housings to oscillate up, down, in and out similar to the way our arms rotate at the shoulder. The entire build appears to be a combination of metal and sturdy plastic components.  
The ST80 has a fairly standard nozzle in terms of length and width. The overall shape is that of a earbud with a nozzle attached. The shape looks familiar to the Titan series from Dunu. A driver venting hole can be seen on the inside portion of the housings where the housing rests against the concha of the user's ear.      
Cable, Y-Split, Cable Jack, Strain Reliefs
There are two cloth coated cables that come in the ST80 package, both of which have a three button microphone and remote which works with both Android and Iphone. Both of them attach to the ST80 housings via an exclusive threaded connection. Although this works well and makes the connection very secure, I do wish there were some way they could have figured out a way to make this work via an MMCX connection similar to the Fidue Sirius. An MMCX fit with and outside threaded washer would have allowed the cables to be used with other earphones, increasing the applicability of the components offered in the package.  
There are a few negatives to note about the cables. First off, the cloth jacketing kinks very easily when it gets twisted (especially when connecting/disconnecting the threaded connections). Secondly, the cloth cable will fray over the course of time and daily use. Last, the cloth cable is considerably microphonic. Any time the cable (wired or bluetooth version) brushed against my skin or clothes cable noise could be heard (even with music playing). On a positive note there is very little spring and virtually no memory (aside from the kinking when twisting it).  
Wired Cable
The wired cable of the ST80 is a respectable offering. The Y split and jack have metal jacketing and adequate strain relief. A detachable chin/neck slider is included and helps to snug things in place. The three button microphone and remote is conveniently located, easy to use, and works well. The ST80 comes with an extra phone and PC adapter, making these earphones very universal and able to be used in just about any application you need them for.    
Bluetooth Cable
The ST80 bluetooth cable is a cleverly designed unit. The electrical components are located in the mic/remote, and the battery is located in the middle of the cable. A clip is connected to the battery pack allowing it to be clipped to the collar of the listener's shirt. The unit is rated as having ten to twelve hours of playback time, eight to ten hours of talk time, and a whopping two hundred hours of standby time. What I can say after a using this cable quite a bit, I NEVER ran out of battery after charging the unit completely the night before. I could use the bluetooth cable a few hours a day without needing to charge it for three or four days.  
Functionality
The wired cable uses a three button microphone and remote that works for both Android and Iphone. I was able to use it without any hang ups. When talking to friends and family, they reported my voice coming through at a three or four on a scale from one to five.  
With the Bluetooth cable I achieved identical result with the microphone and remote. I would run through the functionality of the bluetooth function but they are basically the same as just about any bluetooth device on the market. If you buy the ST80 and have questions about the bluetooth functionality there is a rather large owner's manual you can reference. For now, just know that there is flawless bluetooth functionality and it's easy to use.  
Ergonomics, Fit and Microphonics, Isolation
Regardless of cables used, the ST80 has a somewhat tedious and very tip dependant fit. The way the housings oscillate combined with the fact that these aren't the greatest isolating earphones you'll come across, I had a lot of trouble getting a consistent fit. Aside from the supplied comply foam tips, none of the included tips gave me consistent results. I was able to use a pair of large Sony silicone tips and get something that fit comfortably and sealed well.  
Soundmagic recommends an included tip for outdoor use. These tips have ridges that allows ambient noise in while enjoying your music. While I think their motive is good in offering these, Soundmagic is essentially offering a tip that intentionally doesn't seal. The result with these tips is a thin and lifeless sound.  My recommendation? Don't use these tips. Instead, turn the music down (or off) around traffic or in areas where you need to hear your surroundings. Listen responsibly, period.  
Wearing the earphones is as easily as hooking the earphones over the tops of your ears and rotating the housings into your ears and moving them into position until a seal is achieved. With the wireless cable, there is an added step of either letting the batter pack dangle under your chin, or looping the cable behind the neck and clipping it to the back collar of your shirt.  
Sound Review
I did my demo with my usual gear. I used an LG-V10 for smartphone use, and either my Shanling H3 or iBasso DX80 DAP/Bushmaster D14 DAC/Amp for high fidelity portable use. For desktop use, I used my Toshiba Satellite Laptop in combination with a ifi micro iDSD playing at 32/192 kHz. I tested them with several other sources as well. I used Google Music in its highest download quality (320 KBPS), and also streamed FLAC via Tidal streaming service. I also used purchased and downloaded tracks in MP3, FLAC, WAV and DSD. I make sure that any gear I test has sufficient playtime before writing a review.  
I used my usual same songs for testing gear:
"Limit to your love" by James Blake (bass speed, punch, response)
"Doin' it Right" by Daft Punk (sub bass)
"Get lucky" by Daft Punk (bass to midrange transition resolution, male vocals)
"Madness" by Muse (soundstage, separation)
"Some nights" by Fun (soundstage and male vocals)
"The soundmaker" by Rodrigo y Gabriela (texture and imaging)
"Bassically" by Tei Shi (bass to midrange resolution, female vocals)
"Skinny Love" performed by Birdie (female vocals, acoustic playback)
"One" by Ed Sheeran (male vocals, acoustic playback)
"Outlands" from the Tron Legacy Soundtrack (symphonic presentation, imaging)
"Sultans of swing" by Dire Straits (detail, separation, balance)
"And Justic for All" by Metallica (driver distortion, treble response, rock playback)
"Ten thousand fists" by Disturbed (driver distortion, treble response, rock playback)  
Note: Other tracks were used, but the listed songs were primarily used to assess and break down the gear's response.  
Source Selection
Coming in a 16 Ohms, the ST80 is very easy to drive. These are designed to be a smartphone companion, so don't try to re-invent the wheel on this one. I suppose you could use the ST80 with a DAP, but plugging these things into a desktop unit is overkill. The ST80 is a neutral-ish sounding earphone so expect it to sound good with any low powered source you have. Just know that the ST80 is intended to be your phone's best friend. Using them this way will give you best results in terms of maximizing both sound and functionality.  
NOTE: For the rest of the sound review I will be basing my impressions on using the wired connection. If you are curious if there is a difference between the wired and wireless connection, there definitely is. The ST80 wireless sound is touch less refined, especially at higher frequencies. If you want to maximize sound quality, use the ST80 with a wired connection. Hooking these up wirelessly is taking a half step back in terms of overall fidelity in exchange for convenience.  
Sound Signature
When I first saw the number 80 in the title I assumed these had the same driver. That is not the case. The larger driver of the ST80 provides a similar signature, but not identical. If you own the E80, expect to get a similar sound signature with a touch less refinement and extension at higher and lower frequencies.  
The ST80 is a relatively balanced signature with a little bit of tilt towards lower frequencies, and a little bit of roll off at higher tones. If you are looking for a more neutral tuning than most sports inspired designs, this is definitely a strong candidate for you. The ST80 offers a safe tuning that many can appreciate, although it doesn't seem to have much in terms of wow-factor. To my ears the ST80 could use a touch more clarity at every frequency to be elite.    
Bass
Bass is well tuned and packs equal amounts of punch and rumble. Attack and decay are that of a standard dynamic driver. The difficult fit of the ST80 will determine the impression get when listening to them. What I hear is an earphone that is capable of having appreciable impact, but loses out to mid-bass tones by just a bit when both frequency ranges are playing at the same time. I can appreciate the ST80 bass (and treble) at louder volumes. Turning the volume up seems to create a more natural soundscape to my ears. All bass tones sound more dynamic and natural at louder volumes for me when listening to the ST80.  
Mid-range
Mid-range is very balanced and somewhat bland. Where the ST80 struggles it's with detail and and transients, especially during complex music passages. I can enjoy the midrange of these earphones, however, I can't say that the ST80 has an elite midrange response. Adequate? Yes, but they are missing elements of texture, detail and separation. When there are several instruments playing at the same time during complex musical passages, the ST80 midrange (and sound on a whole) struggles to keep air between each instrument.    
Treble
Treble is relaxed and smooth for the most part. There is an upper midrange/lower treble presence that pops, but other than that things are somewhat smooth. There is a slight metallic twist to the upper frequency, like a soft shimmer. The ST80 avoids sibilance. Cymbal crashes are slightly distant and lack extension. Those who are treble sensitive will enjoy the tuning of these. Those who look for crisp, detailed and extended treble will probably find the ST80 to be lacking.  
Soundstage and Imaging
The ST80 has decent soundstage depth, but the middle frequency focus and lack of detail and height prevents me from saying these things have a large stage. With less complex music soundstage and imaging can be decent. With complex passages the ST80 driver struggles to create a sense of space.  
Comparisons
Because the ST80 is such a unique product, I will compare it to one wired, and one wireless product.  
Soundmagic E80 ($75 on Micca Store's webpage)
This comparison makes sense given the fact that the 80 in each name would lead you to believe the two products use the same driver. That is not the case. The E80 uses a 10mm driver that has a much higher impedance, coming in at 64 Ohms. The ST80 uses a 13.5mm driver with a much lower impedance of 16 Ohms.  
Comparing the two, obviously the E80 has higher power and volume requirements. Listening to the two and volume matching with the same sources, the E80 is a similarly tuned earphone, but has more extension, primarily at upper frequencies. There is also better separation of instruments and more natural transients with the E80. The ST80 is slightly smoother and noticeably less extended at treble frequencies. While the ST80 isn't a bad sounding earphone by any means, the E80 is in an entirely different league sonically speaking. The E80 is also a better isolating earphone.  
Build and design goes to the ST80. The E80 cable is pretty bad, possessing a lot of spring and memory while the ST80 cable is much more fun and easy to manage. ST80 also gets a clear cut victory in terms of accessories.
At the end of this conclusion I'll say that the ST80 is about two thirds the sound quality of the E80, but it makes up for it in terms of technology. The E80 is something that works more with a dedicated DAP, while the ST80 is a GREAT smartphone companion. Choosing between the two forces you to ask what matters more, sound or functionality?  
Meelectronics Sport-Fi X7  (Discontinued, replaced by the X7 Plus)
The Sport-Fi X7 is a bass forward earphone that to this day is probably the best fitting bluetooth earphone I've ever worn.  
Comparing the two, the X7 follows in the footsteps of earphones like the Jbirds Bluebuds X in terms of sound. They are a bass forward tuning that works really well with modern genres of music.  
Comparing the two, the X7 is definitely warmer and bassier of the two. Although the X7 bass may impact lower mid-range tones, it handles other frequencies better. The ST80 is a more balanced sounding earphone who's tuning works better with a larger variety of genres. The X7 isolation is phenomenal. The ST80 allows outside noises to be heard much easier. This may appeal more to those who plan on using them for commuting.  
The big kicker here is battery life. The X7 gets four hours of battery and it's dead. There's no wired cable option. On the other hand, ST80 has TEN TO TWELVE hours of battery life (continuous playback), and if by some chance you rip through the battery (which you probably won't do very often) you have a wired cable to attach and continue to use them. This is a huge advantage for the ST80.  
Design and build is a draw considering the fact that they both have their strengths. The X7 is a phenomenal fitting earphone while the ST80 has both wired and wireless bluetooth options. Accessories goes to the ST80.  
Conclusion
Soundmagic has entered the realm of bluetooth and offers a really solid earphone with a lot of options and applications. I went into this review thinking the ST80 was going to be a wireless version of the E80 sound. Although that's not the case, the ST80 offers enough technology and performance for me to say I'm not necessarily disappointed in what they are offering. Between the battery life, wired and wireless capabilities and rather large accessories package, Soundmagic offers a product that once again that justifies and exceeds its asking price.  
If I were thinking of ways to improve on this item, I would suggest a driver that isolates better, has better separation of sounds, improved clarity and more upper frequency extension. If there was a way to implement the E80 driver into Soundmagic's next bluetooth headphone, we would have something spectacular. Even if the battery life was reduced to drive the less efficient driver it would be worth it in my opinion. I would also use a different jacketing on the cables (something that doesn't kink and won't fray over the course of daily operation).  
When rating a product I have to take all criteria into account. I give the ST80 four stars for build, four stars for design, three and a half stars for fit, five stars for accessories, and three and half stars for sound quality. All in all, I give the ST80 four stars. Did I mention Soundmagic includes a two year warranty? There's a lot to like with these things. To many these will represent a balanced sounding all-in-one solution to their personal audio needs.  
Thanks for reading and happy listening!