I would like to start my review by Thanking SoundMagic and MICCA (their US distributor) for providing me with a review sample of HP200 headphones.
In my opinion SoundMagic is extremely underrated.  A lot of people are familiar with their budget line of E10 in-ears and P21 on-ears headphones, all under $50 with a great price/performance ratio, but overlook their line of full size audiophile over-ear HP150 and HP200 due to $200 price tag without realizing their performance comes close and in some cases even surpasses a higher priced Beyer DTxyz and Senns HDxyz headphones.  As a matter of fact I can actually confirm this since I had a chance to audition DT880/990 loaners in the past and don't recall having the same WOW! factor effect after sub-merging in their sound where I felt bass accuracy didn't reach the same level and upper frequencies were more on a harsh side.  Also, I have read a number of impressions with people praising HP200 over HD600 and even HD650, which is quite a compliment.  I rarely review full size headphones since I focus more on portable footprint of IEMs, but with my previous review of HP150 and now a chance to review HP200 I had to make an exception.  Here is what I found.  
Unboxing and Accessories.  
Let me first start by mentioning this is an updated 2014 version of HP200 full size headphones.  Unlike recently updated HP150, according to SoundMagic HP200 design and tuning remained the same with an exception of a new packaging box and accessories aligned with HP150.  In terms of packaging, it's a similarly designed (as HP150) black/white box with plethora of info about design details, specification, and description of accessories.  Frequency Response graph, identical to the original HP200, is included too, and as I always say: It takes a lot of confidence and pride to put that on the box cover.  Inside of the packaging box I found the entire space occupied by a rectangular carrying hard case box with headphones and all the accessories inside of it.   Accessories still include the same airplane adapter, 1/4" adapter, 3 meter extension cord, but no longer a carabiner clip.  This change is not accidental because SoundMagic also switched to a new rectangular shaped case introduced with HP150.  The case is very Beyer inspired and has plenty of room to keep HP200 in a display foam cutout with a mesh pocket on the flip cover for storage of a detachable cable, extension cord, and other accessories.  The original form-fitted case inspired by V-Moda was OK, but in my opinion it was too tight putting some pressure on the headband and its joints.  If you really think about it, these are large headphones to begin with, and the case will be used more for storage and transportation rather than carrying it outside attached on carabiner.  Regarding the cable, the original detachable part is only 1.2m which is great for portable gear listening, and if you need to extend it - you have additional 3 meters of a decent quality cable.  
Unboxing pics.  
Accessories pics.  
Old vs New HP100/200 case pics.  
Headphone construction and design.
Regarding headphones construction, I will probably use a few quotes from my original HP150 review.  Next to each other, HP150 and HP200 look like twins from headband down to y-fork earcup attachment with the only major difference of a metal grill in open back design.    
HP200 vs HP150.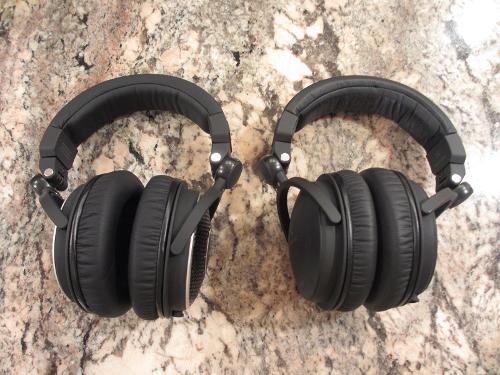 The overall design is very solid, materials are high quality, the build is sturdy, and handling is creak-free.  Starting with an oversized earcups housing 53mm dynamic neodymium drivers, these are attached to y-fork going to the main headband joint.  Though they don't flip 180deg for a flat storage, each earcup does rotates 180deg for dj-style listening.  Also with a help of an additional joint connection there is a unique feature where the whole earcup could swing up 90 degrees to open your ear without a need to shift headband.  For a more compact storage HP200 folds inside of the headband with earcups on top of each other to occupy a minimum footprint, and you can also fold them inward symmetrically by extending the headband to fit earcups inside, though I personally prefer a typical Beats-style folding.  Headband itself is metal reinforced with a very comfortable clamping force.  The adjustment is very smooth and precise and has a marking on the metal band to indicate the steps when you adjust the height of headband.  Inside of the band you have a soft padding, and the whole headband is wrapped in a soft quality pleather.  Of course a big difference in comparison to HP150 is an open back earcups with a steel mesh grill cover.  This cover provides a good level of protection and actually looks pretty cool, though I wish it wouldn't be painted because it can potentially chip down the road.  On the other side, you have a plushy deep earpads that provide enough room between my ears and the drivers to avoid any contact.  From my experience of using HP150 for extended period of time, earpads do get a bit hot but it's very tolerable especially with HP200 having a slightly weaker (in comparison to HP150) clamping force where sound isolation is not the highest priority.  
Just like in HP150, HP200 has a removable cable with 3.5mm connector and twist-lock attachment mechanism located in the left earcup.  Fortunately if you want to step up to a higher quality durable cable, I was able to use Lunashops silver-plated cable (http://www.lunashops.com/goods.php?id=4561) which has 5mm slim housing that goes right inside of the connector.  
With any other typical close back full size headphones I would have mentioned that a snuggly fit of earcups with comfy earpads and perfect amount of clamping force should provide a decent isolation, but these are open backs not intended for sound isolation from outside and to outside.  The intent of these headphones is to provide you with the most life-like listening experience where as a consequence the sound will leak outside at a very noticeable level and you will be well aware of surrounding noise as well.  In my opinion, open back headphones are not intended for public listening, and to enjoy them to their full potential you will need a private listening space.  But in general to summarize the construction and the design, for a full size headphones with a rather large earcups HP200 felt very comfortable and lightweight on my head even during extended listening period, though I got a lot of complaints from my wife and kids to leave the room since a sound leakage was distracting.  
Design detail pics.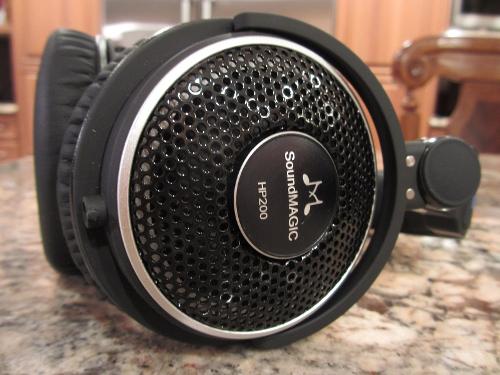 Sound analysis.  
So how do they sound?  I would describe an overall sound as neutral reference type with a slightly v-shaped signature and more emphasis on higher frequencies.  But in NO way this is your typical boring neutral signature with a focus on thin high frequencies reaching sibilance level.  We are talking about a clear and a detailed sound with a nice extension at both sides of the frequency spectrum and life-like natural sound reproduction down to micro-detail level.  Since I use mostly IEMs and closed back full size headphones, it was truly an ear opening experience for me to hear layering and separation of instruments surrounded by the air in 3D space.  But it still felt a bit dry until I paired it up with an amp to breath a new life into a sound.  You don't really need an amp to drive these, but to get the most out of HP200 and to keep their open 3D imaging - you need to find the right amp to make their sound shine.  I found the best synergy when pairing HP200 up with Cayin C5 where I was able to preserve and even enhance its wide soundstage and to improve the dynamics of the sound taking this neutral signature to the next level with an improved balance.  
Surprisingly with a silver-plated cable upgrade (as mentioned before) instead of making it sound brighter and harsher, it tightened up the bass, smoothed out the treble, and kicked it up a notch in micro-detail retrieval.  Additionally, HP200 scaled up very nicely after I switched C5 bass boost on, adding more authority to the bass with a sub-/mid-bass boost, and weight to the lower mids with additional body to warm up the vocals.  
But going back to the original description of the sound, here is what I found after about 60hrs of burn in.  Bass of HP200 has a high level of accuracy down to a sub-bass (rumble) and a punchy mid-bass, though with a bit slower attack.  I did find quality to be excellent, but the original quantity is on a neutral reference level, thus an amp is a big plus.  Also, bass comes out to play only when called upon, and there is a clear separation from lower mids.  As I mentioned above, bass scales up very nicely with an external boost or EQ, whichever you prefer.  Mids are very lean at lower end and brighter and very detailed at higher end.  They are slightly recessed which balances them out with the rest of the frequency range, and the bright nature of mids doesn't get too much in your face making them sound smoother.  Vocals are very clear and detailed, and also benefit a lot from an amp's bass boost to add some body and warmth.  Treble is crisp and bright yet under control without being sibilant, though it does get a bit hot in some of the tracks.  But at the same time it's quite tolerable for an extended listening.  
In comparison to HP150, HP200 has slightly less sub-bass and brighter upper mids/treble which leads HP150 to have a smoother warmer sound.  But otherwise they are very comparable with the biggest difference of HP200 having a much wider airy sound due to an open back design.  
Overall, I was very impressed with performance and design of HP200 full size headphones, but at the same time it made me a bit sad.  With these headphones I was able to achieve a high level of accuracy and details, without sacrificing a bass quality, and scale up the sound beyond a neutral characteristics when properly amped.  Also, the open back design really "opened" up a level of sound stage depth and width like I have never experience before.  At the same time it made me sad because I can't use these headphones too often in my daily listening due to a privacy constraints, though moving forward I probably will be looking for any excuse to spend more time in our guest bedroom or in a basement when kids go to sleep because the sound leakage is quite noticeable.  But regardless of that, it was a pleasure to experience an open back design and to be able to appreciate a true audiophile quality headphones while still maintaining a portable setup of my X5 DAP and C5 amp.  Definitely gets my high recommendation!