Soundaware Esther M1Pro and Analogue: Pure Music Bliss
Introduction
Portable music devices have been cemented into our daily lives for nearly 60 years. The cutting of the cord was born with the Regency TR-1 transistor radio, solidified with the Sony TPS-L2 Walkman, and perfected with the game changing Apple iPod. Nowadays, thanks to the advent of the Smart Phone, virtually everyone has the ability to enjoy their music anywhere and at any time. Gone are the days of the stand-alone music player, the all-in-one/always online/app driven/selfie taking smart device now rein supreme. While convenient as these devices are, there is a trade off to cramming in so much technology into an ever shrinking design; Jack of all trades, master of none. While the general user is seemingly willing to trade off overall quality with a mindset of "it's good enough", in the world of audio enthusiasts this approach simply will no do.  
The Soundaware Esther M1 line-up of portable digital audio players, or DAP, is the antithesis to todays smart-phones. With homage to the original Apple iPod, the Esther M1 embodies the philosophy of having the absolute best possible audiophile sound rivalling the quality of a stand-alone desktop solution wrapped up in a portable package no bigger than a standard deck of playing cards.  
Disclaimer
Soundaware provided me with the Esther M1 analogue and M1Pro as part of the North American Review Tour. I was given 2 weeks to demo the units before I sent them off to the next member of the tour, and was in no way compensated for my words. This review is objective and honest, free of bias.  
About Me
38 years old, I grew up in a family consisting of musicians, broadcaster/sound engineers, and amateur DJs, I always had a deep appreciation and understanding of both music and sound. I was further educated in this self interest after taking courses in both electronics and sound (Electro-Acousto aka The Path to Golden Ears). While I believe a listener's preference in sound is subjective, the science behind it is not. I am not swayed by buzzwords, hype, trends, brand recognition, or big numbers on charts; I am the nemesis of the commissioned salesperson. Opinionated as I am, my words are not only objective but honest. I view all criticism as constructive, as long as it is sincere.   
Headphones used in testing:
PSB M4U 1 |  Meze 99 Classics | Grado SR60i | Polk Nu Voe | Shure SRH440 
AKG - Q701 / K240 Monitor 600Ohm  
Sennheiser - HD 600 / HD 598 / Momentum
Specifications
Size: 115mm * 59mm, the thinnest thickness of 14mm, holding thickness about 15mm
Weight: about 175g
CS5398 DAC
6 Layer gold-plating PCB
Ultra low noise crystal oscillator
Dual Femtosecond FPGA Clocks (M1 Pro)
Sampling rate: 32khz-192khz, DSD (SACD)
Format: MP3, WMA, AAC, ALAC, M4A, CUE, WAV, FLAC, APE, ISO, DSF, DFF etc.
Storage: TF * 2 (single maximum support 128GB, future support will be greater), NTFS, FAT format
Playback time: normal listening about 9 hours
Line Output: 1.4V RMS
Coaxial output: 0.5V p-p, PCM & DSD (DOP)
Screen: 2.4 inch high resolution Sharp IPS hard screen
Distortion + Noise (headphone output): <= 0.002% (44.1khz, 1khz DS3)
Dynamic ratio (headphone output):> = 110db.
Background noise (headphone output): <=-130db.
Amp analog output: 2.8V RMS highest, 97% volume output, distortion <= 0.003%, desktop class AB amp circuits, power output, third gear gain
16 - 300 Ohm recommended headphone impedance
Simply by reading over the listed specifications, how can one not be utterly impressed! Of course, numbers tell only a small story, can be misleading, and may not be indicative of the units actual performance. Does the Esther M1 hold up to Soundaware's claims? One word: Absolutely!  
The Package
As someone who has been in warehousing and manufacturing all my working life, I personally subscribe to the philosophy of ' It is telling of a company's commitment to quality the moment the customer opens the box. ' and Soundaware recognizes and understands this way of thinking. Upon gazing at the Esther's box, Soundaware truly make one feel like they have received a premium product. A nice faux leather burgundy skin is accented by gold leaf lettering, and the main unit and accessories sit nicely in place the in their sturdy slotted velvet lined box. Although not pictured, even the box's lid has a rather thick foam pad lining to the underside, ensuring that nothing gets jostled inside the box. This was a nice change to what I am used to when unboxing, which usually amounts to plain white cardboard, plastic blisters, and packing foam held in place by plastic ties.   
Inside the box Soundaware includes all accessories needed for complete functionality and compatibility.       
- Esther M1 body
- TF card
- USB charging cable
- Micro SD USB card reader
- User manual
- Rubber pad *
- Paper with fast user manual
* I did not receive with my review units  
What is interesting was that I received a couple extra goodies not listed. The first was a rather nice quality 3.5mm to RCA digital coaxial cable. This was not a standard pack-in. Given the quality of the cable and my need for one this was a pleasant surprise. The second unlisted item was a sheet containing a stick-on vinyl skin! Nice! Although I did not actually stick them on, their texture and quality of the adhesive seemed like they would both protect well while being rugged enough to not wear off. In all honesty, it was very
very
difficult for me, as a child of the 1980's, to not go all G.I. Joe/Transformers and put the stickers on the Esther! I almost did, for the sake of science (and the review), but instead I found images from the user @shield that show what the M1 looks like all decked out in sticker goodness!    
Design
As the saying goes, " A picture speaks a thousand words. ", so I will leave all the describing to your eyes.     
Overall, I found the design of the Esther M1 to be both functional and elegant. The unit is both small enough and light enough to carry around without feeling like their is a brick in my pocket. I actually appreciate the slightly beveled screen as well as raised face buttons that give a nice tactile feel, which in turn helps finding the orientation of the device. While out and about I had no trouble reaching into my pocket and easily changing finding the buttons to change track or raise the volume.  
The Sound
The Esther M1 is a true class AB DAP. Making use of hand pickled boutique components, coupled with the very capable CS5398 DAC, the M1 faithfully reproduces the music with great detail and clarity without the often criticized sharpness that a class D device would typically produce. While the analogue sound smooths over the sharp peaks it does so without any loss of detail. For those who are familiar with tube amps and buffers, the M1 offers a very similar sound, but without any discernible colouration or distortion. I would describe it as standing on a hot beach in the tropics with a cool breeze blowing across your body, or for people such as myself that hail from the North, sitting in an outdoor hot tub in January. In other words, a perfect balance of warmth with the right amount of crispness.  
The sound.. what can I say about the sound… so many words in the English language to choose from! Smooth, liquid, detailed, expansive, warm yet crisp, highly resolving, emotion, engaging, musical bliss, pure uncoloured analogue perfection! I have purchased many portable digital audio players over the years ranging from expensive CD players, flash drive/ card based, CD-ROM and early HD models, cheap dollar store iPod wannabes, and every iteration of iPod/iPod touch. Last year I even spend a full day demoing FiiO and Sony DAPs and portable amps ranging from $99 to $600 CND, walking away empty handed as I felt their price and overall sound didn't warrant an upgrade from my 6th Gen. iPod touch. Until the Esther M1, I never thought it was possible to produce such wonderful sound out of any portable device, especially one that rivals many high end desktop solutions!  
In terms of frequency response, the M1 does not add nor take away. To my ears, I would describe it as as flat as flat can get. It really is no different that what I hear out of my iPod and iPod touch, which is great as iDevices are known for their uncoloured, neutral output. Despite sharing a flat response, the differences end there; The M1 utterly destroys the iPod (and most everything else in it's class) in terms of transparency and resolve! The M1 gives an excellent sense of scale and layering. It mattered not if I was listening to my Momentums or my HD 600, the M1's ability to render the finer details was impressive! From the subtlest whispers of a choir, to the excitement of heavy metal transients, the M1's grip on the sound was absolute!  
What really impressed me the perfectly black the background! As mentioned, I am no stranger to DAPs. It's almost a given that a cheap throwaway player will undoubtedly produce a hiss, especially at higher volumes. What surprised me was just how noisy both my SoundBlaster E3 and iPods were! I thought both were pretty silent. I could not hear any discernible hiss at any volume level, even with my IEMs. That all changed when I played a ' digital pure black test track ' through all my devices and cranked the volume. I was shocked at what I heard, even on my iFi stack; Faint noise… Though under normal listening conditions I would not normally hear any noise, and would consider their backgrounds to be pretty black. Playing the same file with the M1 produced absolutely zero noise. It mattered not if the volume was 1 or 100, it was as if the device was powered off! Coloured me impressed! Now to be honest, I had never done this test before as I never knew such a test file existed until recently, so this was rather new to me. The revelation was a real eye opener!   
I am not sure what more I can put to words. Unlike headphones, a DAP is supposed to sound only one way; Correct. There is no sense covering things like the finer details of the mids or the overall size of the soundstage as these points will change from headphone to headphone. All I can tell you is that the Esther M1 reproduces music with such authority, clarity, transparency, blackness, and emotion, it allows the listener to experience the finer details that make up each song and accomplishes what the artists set out to do; Touch the listener's inner soul!  
M1Pro vs M1 Analogue
The only difference between the Ether M1Pro and the M1 Analogue besides some higher quality capacitors is the Dual Femtosecond FPGA Clocks present in the former. This accounts for the $180 difference is price between the two, but is it really worth the added cost? Absolutely! While both devices share 95% of the internal circuitry, they don't share 95% of the sound. Their sound is extremely close, including overall refinement, the M1Pro does possess greater overall transparency. A good analogy would be listening to the M1 Analogue would be akin to looking out through a perfectly transparent and flawless pane of glass, the type that bumbling dads and magpies crash into in a Windex commercial. The M1Pro would be like removing the glass all together, exposing the breeze and rays of sun. Listening to the M1 Analogue first, I was blown away with the sound I was hearing compared to my iPod (and to a lesser extent, my iFi stack). If that was the only unit I had I would be more than content with the sound. However, once I moved on to the M1Pro, there was simply no turning back. The layers of invisible grain were pulled away, exposing a greater sense of life and realism in the recordings.   
Software/Firmware
Love it or hate it, the software of the Esther can be describes as to-the-point. It is a familiar design of basic contextual menus each containing sub-categories. If you have used an old iPod, you would feel quite at home using the M1's interface. There is nothing fancy, no bling, no bells or whistles, just what is needed and nothing more. Personally, I absolutely love the interface. It's simple, it doesn't require a high learning curve nor does it overcomplicate, and most important very easy navigation.  
Moving from one category to the next and from within the contextual itself is easily done so using the track forward/back buttons and the up/down arrows, with the play/pause button being the 'action' button; To exit out of a category and go back one section is accomplished by hitting the 'return arrow' (the top left button with the half looped arrow). However if the user wishes to return back to the current playing song it is as easy as hitting 'M'  button (which I assume means Menu/Music), and vice versa to return to the last used menu. I appreciate this feature as it alleviates the need to constantly back in and out of the menus one screen at a time. Overall, the navigation was snappy with no discernible delay. Controls were responsive, and thanks to the tactile feedback of the bottoms, easy to pull off.  
The pictures below show each category and sub category. They are all self explanatory, so much so that I will not be going over each individual one. If you have a basic understanding of your language, you will have absolutely no issues figuring out what each selection does. Kudos for Soundaware for making things very easy and straight forward to understand.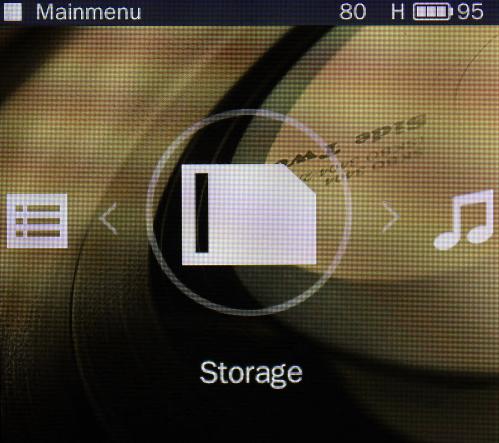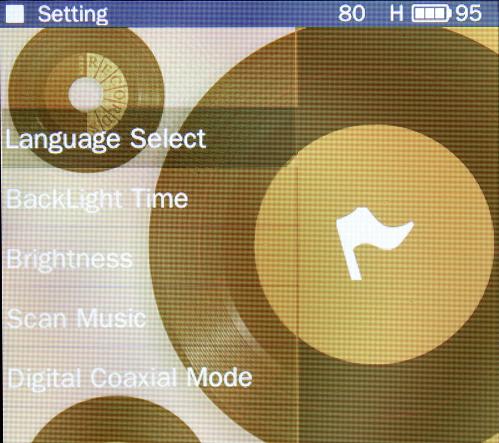 File compatibility was as listed. No matter what file type I threw at the Esther, it played without a hitch. However, not all files are created equal! I did have some issues playing certain Apple Lossless files (ALAC). Depending on what programs were used to encode the file (i.e. iTunes vs XLD), some ALAC simply would not play. In fact, they would not only refuse to play, they would crash the M1 causing the unit to reboot! Besides, ALAC not playing, it seems depending on the file type, ID3 tags and album artwork refused to show. This mostly affects AIFF and WAVE files, with MP3 and certain FLAC displaying their tags and art correctly. Adding to this inconvenience, gapless tracks/albums were played with gaps. Not an issue really, more of an annoyance for some. Personally, the gap between tracks did not bother me nor distract from my listening experience as my gapless albums mostly consist of 4-5 very long songs.  
In terms of software stability, I found the Esther to be incredibly solid and reliable. While both the M1Pro and Analogue had a few snags along the way, it really was my own fault for pushing the device. Under normal listening sessions ranging from a few minutes to hours, not once did the Esther crash, hang, or reboot unexpectedly. It wasn't until I was rapidly switching songs, all 24/96 or better, on random, that either of the M1's crashed. From my experience with technology, in my enthusiast opinion, this wasn't so much a problem with the software or hardware of the Esther, rather the quality of the supplied microSD card. It simply could not handle the data rate at which I was pushing, and as a result, the M1 couldn't cope.  
One annoying issue I came across that I personally dislike is the fact that when the screen is powered off, one must double tap the controls, with a delay between taps, if one wishes to change tracks. The first tap is to essentially wake the screen, the second tap actually does what the user is wanting in the first place. I find this very annoying as habit has taught me that only one tap is needed for virtually every other digital music player I have used over the past 20 years. If there was one issue that I personally think needs addressing before all others, it is this. Granted, the device drains so little power with the screen on, it is just as easy to have the screen at a lower brightness and keep it set to always active. However, given that this is an odd behaviour it really should be remedied.  
Overall, I found the software/firmware of the Esther M1 to be quite satisfactory. Sure, there are a few snags and niggles, but what software doesn't? Most of the issues could easily be resolved with a much needed firmware update, one that Soundaware is currently issuing to the reviewers on the tour. Unfortunately I received the update just as my time was up and needed to ship off the units too the next member on the list before I could install and test the new software. Regardless, if I were to purchase an Esther M1, I would personally be fine with the firmware if it was the same that was installed on my review units.  
Power Output
Soundaware recommends using the M1 with headphones and IEMs ranging from 16 - 300 Ohms, which pretty much has everyone covered. Included in the software options is the ability to change the power output from Low, Medium, and High. After testing all three settings, I have come to the conclusion that the first two are not needed. The volume stepping is in 1% increments, so fine tuning the volume to match your headphone's impedance is simple enough, negating the need for the lower settings all together. It mattered not if it was my Polk BA drivers, Apple EarPods, or my HD 600, high gain proved to work well providing proper amplification gain with no discernible hiss.  
The M1 provided enough power to drive every headphone in my inventory, including my 600 Ohm AKG 240 Monitors to satisfactory levels. However, the output impedance of the Ether is listed at 10 Ohms, far greater than what I am used to with my iPod touch (1.4 Ohms) and my iFi iCan micro SE (virtually 0 Ohms). This of course can cause issues in the form of frequency attenuation or distortion in lower impedance and sensitive headphones. While I don't have any super sensitive headphones, my Polk Nue Voe would be the closest thing. Their sound signature is very warm, so I was concerned that the M1 would kill off some of the treble, and it did. Upon listening I could hear right away that what little sparkle and shine they did have was in fact diminished. Not to the point of gone all together, but enough to be noticeable. In regards to my full sized on-ear headphones, their performance was spot on, with no discernible changes in their overall frequency response. Essentially, they all sounded like they should. The M1 provided enough power to make them all sing, driving them to defining levels without distortion.  
However, there were two headphones to note due to their unexpected behaviour; The AKG Q701 (62 Ohm) and the PSB M4U 1 (32 Ohm). The Q701, having neutral bass, seemed to have lost a a dB  or two in it's response. I wouldn't call it thin sounding, but given the class AB design and overall warm analogue sound of the M1, I assumed that out of all my headphones, the Q701 would benefit more in the low end, but instead it softened it! In regards to my M4U 1, the exact opposite occurred! The PSBs have great bass extension that is north of neutral, and their control on the low end is masterfully done; No bloat, no strong internal resonance, as fast as greased lightening. No matter what type of bass boost I apply, I just can't get any looseness out of the lower end what so ever! When listening to the PSB with the M1, it blew my mind how much of a lush increase in bass I was hearing! Detailed, controlled, layered, yet somehow the M1 gave them not only a harder slam, but a bit of analogue elastic-like looseness that made everything that much more enjoyable! This alone would sway my purchase towards an M1 over the competition! But like most headphones, and one's own ears, YMMV!  
Connectivity
The Esther M1 provides the user with 3 different ways to connect the device via 3.5mm jacks: Headphones out, Line out, and Digital Coaxial out, all with jack detection. Headphone out is pretty self evident, so I won't bother covering this. Line out works as it should, and sounds fantastic playing through my iCan micro SE! I must say whether it was M1—>iCan—>headphones or iDAC—>iCan—>headphones, the stand alone M1 gave my iFi stack a run for it's money! The only issue I have with line out is that it is still dependant on volume. Soundaware recommends setting the volume to 90% for line out for most devices to prevent distortion. I can see the logic in this method as not all amplifiers have a consistent input voltage, so having the ability to fine tune to your device is a welcome addition. Personally, I would prefer it that the software automatically sets the volume to 90%, and lets the user fine tune after the fact.  
Digital Coaxial output works as expected. I had no issues by simply connecting the M1 to my Yamaha receiver, selecting the right input, and pressing play. What surprised me is that using the M1 as a transport device via coax produced a much cleaner, more transparent sound than connecting my Yamaha to my computer via TosLink. A good comparison would be a 1080P video playing through a Component Video cable vs an HDMI. The sound is much warmer, more lush, more natural texture and a nice smoothing over of the digital sharpness! In essence it became more natural to my ears, regardless of the fact that it was the AKM DAC inside the receiver doing the work and not the M1. I often have read that this is simply indicative of COAX vs TosLink, and now that I have experienced the difference first hand, call me a believer!  
Battery Performance
Soundaware claims up to 9 hours of playback for normal listening. I can only conclude that "normal listening" refers to how one would go about using the M1 throughout their day at moderate volume levels with a pair of 32 Ohm headphones. My personal experience concurs with their claim. I was able to squeeze out 8-9 hours of playback playing only lossless AIFF ranging from the standard 16/44 to 24/192 with a few DSD albums thrown in the mix. What surprised me the most was the fact that whether the display was active or not the drain on the battery was virtually identical. Over the source of 4 hours I had the M1Pro and M1 Analogue playing side by side, one with the display active and the other not, and the results of the battery drain were within 5% of each other!  I guess you can say OLED FTW!  
While battery performance during playback was great, the M1 does have some quirks. Firstly, when in standby mode, the drain on the battery is substantial. With a full charge, the M1 in standby mode will drain the battery by 60% if left overnight! Of course one can remedy this by either plugging in the unit when not in use, a habit we all have become accustomed to thanks to our smart phones, or simply powering the device off. The second quirk is that Soundaware recommends you have the M1 attached via USB when powering on the device from a power down option, with the actual device warning you to do so when choosing the option from the menu. Honestly, I often forgot and had no issues powering on the M1 from a shutdown without the deice connected via USB.  
Value
Priced at $520 for the Esther M1 Analogue and $700 for the Esther M1Pro, these DAP are not for the average consumer looking to simply "play music", instead they are geared towards the audio enthusiast who wants an audiophile sound in a portable device. They way I tend to look at pricing vs needs can be compared to a commuter choosing to purchase a Kia rather than a Cadillac. Both vehicles will get you from point A to point B, the difference being one will get you there with total performance and comfort. Not everyone cares about lossless HighRez and DSD let alone paying out the cost of an average smartphone just to play music in which the latter does, and more. However, there are many out there who want the absolute best sound, and dropping $500+ to achieve this goal is not unreasonable; The Esther M1 are for these people.  
Conclusion
I must say, two weeks to demo the Esther M1Pro and analogue went by much too quickly. As the saying goes, " Once you hear something, one can never un-hear it! " and compared to my iPods, the Esther's are the epitome of that statement. Simply put, I never thought it possible to squeeze so much audio goodness into such a small and attractive package. Despite some software quirks, I can not find a negative to say about either the M1Pro nor Analogue. Small and light weight, battery performance "as advertised", simple and easy to use UI, and an absolutely gorgeous and amazing listening experience, Soundaware set the bar for what I look for in a DAP. It is unfortunate that given my current financial situation, by the time I can afford an Esther M1Pro or Analogue both will be antiquated, but I do thank Soundaware for giving me the opportunity to experience  not only what you have to offer, but redefine what I though was possible in a small and attractive device. I would whole-heartedly recommend to anyone looking to experience the absolute best sound possible in a portable device where price is not an issue to look no further than the Soundaware Esther M1Pro or Analogue.