The Black Beauty
Pros
:
A desktop quality listening experience, portability, long battery life
Cons
:
Slightly lackluster sound out-of-the-box, requires extra firmware to be its best
Intro:
The Walkman WM1A has been out for years, yet it never has lost its popularity. Being recently discontinued, maybe it's time for a review? There is a chance that Sony will reintroduce the 1A again though (rumor has it) with Android firmware. So here (with the original) we have a Linux firmware resulting in crazy long battery life, super sound, and a chance to actually change the firmware with after-market firmware by MrWalkman.
Development Process:
Not being able to stream from music services..........the use of the WM1A is going to be interesting only to a certain "cult" group of users. You see Sony in the development process went back.......they went back to a simpler time..........a time when only sound mattered. So in a way there is both less features and more..........less than the previous ZX line, which forced you to use sound effects. Here we have
Direct Source
, for a pure sound. And interesting enough, upon first listen we actually have less bass than the past TOTL ZX line, and less bass than the more expensive (current TOTL) WM1Z. The WM1Z is a whopping $2000 more money. The full retail of the WM1A is $1200. Let's find out how and why the WM1A still has such a following all these years later.
Disclosure:
The Sony WM1A was purchased (for full price) new by yours truly at a Sony retailer. These words are my own being inspired by the product.
The Sony Signature Series:
The WM1A $1200
The WM1Z $3200
The TA-ZH1ES $2200
The DMP-Z1 $8500
The MDR-Z1R $2300
The IER-Z1R $1700
The SA-Z1 $7999
Sony started out from scratch with the WM1A/WM1Z series. That means they threw out every idea and assumption of what a player could be. They told their engineers to make DAPs that have no limits. Being that they have no limits meant that the whole process was re-thought out. There is no DAC chip in the 1A/1Z. More on how the amplifier is the DAC later. So many manufacturers are pushing duel DACs, and even multiple DAC chips. With Sony we are not needing double DAC chips because the amplifier/DAC design eliminates the need. Some (other) DAPs even have (an excessive) 4 outputs; 2X 3.5mm and 2X 2.5mm!
For the first time in a DAP we have 4.4mm. Pentaconn represents 5 pole, yet we only utilize 4 poles. The new plug offers more contact area and a more robust plug. In fact the thing that sold me was 4.4 mm can be used both for home use and portable. The other 1st is this was the first time Sony went balanced in an (all-in-one) portable device. Now I'm not going to say that the balanced design is actually better, but Sony did a marketing trick in that the 4.4mm balanced is a totally separate amplifier in the 1A/1Z. So the players have two amplifiers inside. And interesting enough the 4.4mm amplifier is different sounding. So even if balanced is better or not in design, the 1A/1Z offer a
no holds barred
better macho amplifier on the balanced side!
What's New:
Let's get this straight right from the start. The 1A/1Z offer a brand new sound. This new line "WM" series have a louder response than the ZX line as well as a quieter noise floor. They are also different than the ZX line in that they are called "Walkmans" also they are the first players to be included in the Signature Series. The Sony Corporation was started on the 7th of May 1946, in 2016 they were 70 years old. The Signature Series was designed to commemorate the event. They spent years developing the whole line. So in a way they made their statement; the 1A and 1Z sound totally unique! Actually the sound is not for everyone, as it's not supposed to be. They are attempting to be the best that they can at showing their "signature sound" and it's maybe different? This is Sony saying "This is our sound!" Sony is also offering a style of tone that's not found anywhere else. So.....in a way they are saying "Take it or leave it."
To start out..........with 4.4mm balanced Sony offers native DSD, also with MrWalkmans Firmware we now have native DSD on the 3.5mm port. The S-Master HX Amplifier has been around in Sony amps for ages, but now its been ultimately perfected for use in the 1A/1Z. In traditional design the decoded digital music stream is sent to a D/A converter then a LOW PASS FILTER in the analogue section. In such a design the signal is more susceptible to crosstalk, interference and noise coupling. Even with dual DACs your signals are in very close proximity. Here we use DIGITAL AMPLIFIER TECHNOLOGY with zero feedback. Hence the output stage gets the final LOW PASS FILTER. Because SONY uses a custom semiconductor design, they are in full control to optimize playback
.
Chassis:
At 267 grams the 1A is actually portable. At exactly 1 pound the WM1Z can't leave the house. The difference is the 1A is made from a solid aluminum block and the 1Z is made of OFC. But more than that, the 1A is by far more ergonomic to use. Also amazingly the aluminum is stronger in regards to small impacts, where the 1Z is actually made of a very soft copper. The 1Zs casework is copper with a 14K gold electroplating. The 128GB is your internal storage with a single (user added) card up to 1TB (so far). Both storage areas are read as one (if you want) in song, album etc etc. The 1Z offers a bigger 256GB storage. We expect the players to keep reading bigger (than 1TB) cards when they come out. But there is nothing in writing so far. The screen on both players is a FWVGA 854x480 of resolution in pixels. You have six control buttons on the side, and one more slider "lock-screen" button on the other side. Each button does a control of playback...............with the first three, pause and transport.............and the second three.............volume up, volume down, on and off switch. The tactile feeling of the buttons make function intuitive and fast, never missing the control. Though I'll tell you, I don't use them. I use the farthest up top, screen "light-up" button, and work the file finding and transport buttons right off the touch sensitive screen. Honestly the feeling of the screen is amazing! There is a super small red LED light "charge-indicator" directly below the on-off switch. This light goes off to inform you the device is fully charged. The on-off switch has two modes, a soft press illuminates the display and a long hold/press completely shuts down or turns on the player.
MrWalkmans firmware also enhanced screen speed, so if it had even a nanosecond of lag, that's now gone with everything just as fast and responsive as could be.

Design & Ergonomics:
The players will always be recognizable due to the shape. Note the buttons on the both sides. The left side only has one button for locking the screen. The right side offers a full array of control buttons. You may take such control buttons for granted until you look closely at the other products and how they are supposed to work. For example look at the Astell & Kern SE200. The device comes in at $1800, a total of $600 more, yet offers 4 total buttons on the left side, and a volume knob on the right side. The 1A offers a total of 6 buttons, but not only that the buttons are easy to identify by feel. The key here is very small "nubs' on both the play/pause button and on the volume up button. These 2 "nubs" are identical yet crucial to finding all the rest of the play/transport buttons. The Astell & Kern SE200 seems to place the buttons as an after thought having the switches as only tiny tiny raised items with no markings as to what their function even is. The Sony markers have full indication as to their function here as well as ergonomics in use. Besides the side controls Sony has included a touch screen. While the 854x480 (FWVGA) TFT color display may not be the most remarkable DAP monitor, it is a highly intuitive touchscreen display, and all you really need!
User Interface/Song Searching:
There has been a lot of talk about how Android DAPs offer a better search function. No, we can't put just a few letters in a song title in and have the "computer" find them. What we are given for navigation into songs are two styles of playlists and well as folder, album, song lists. There is a separate list of hi-res in category of Artist, Album or Song. Of course everything is alphabetical. Yet in normal use there are also two folders. You have internal memory and external card. They can also be read combined. But in my normal use I just click on "say" external memory and have all the folders presented in numerical then alphabetical order. Some folders are discographies, others are single albums. It is super easy to distinguish as the folder for discography will have only the bands name, single albums will have the album title. Where people may want more is if you have an involved discography where there are whole groups of live recordings in song format. You may want to go in and re-title the actual songs so they can go into groups? That or simply put them in their own folder; no big deal. But it may be difficult for people not familiar with their library, as there is no search for single song, other than they are able to be put into an alphabetical list.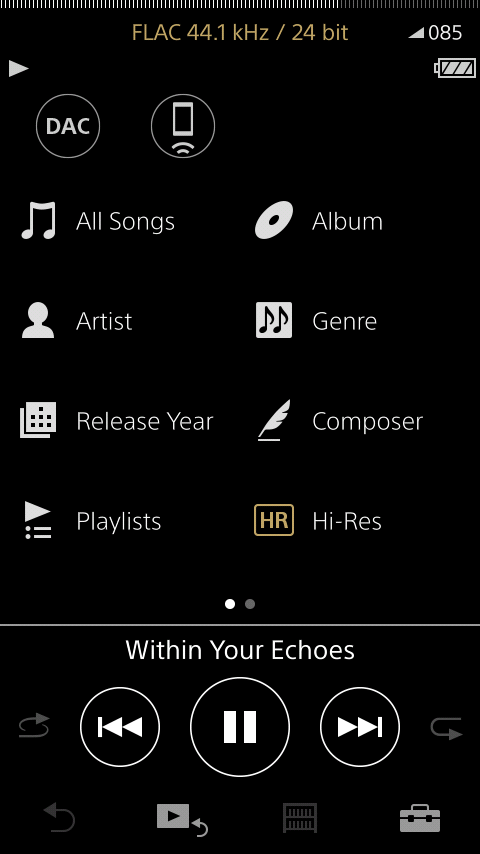 Note Below:
This is your main "play" screen. Everything revolves around this location. You can swipe down one swipe to enter the Tone/EQ screen or up to show the screen above where you will choose your album/song file. There are also many other ways to find music like year or genre. Also note you have complete control over your transport functions.
Page one has:
All Songs
Artist
Release Year
Playlists
Album
Genre
Composer
Hi-Rez
On page two you have:
Recent Transfers
SensMe Channels
Folder
SensMe is a Sony propriety music mood and tempo system of selecting songs. The Walkman does have a clock, but setting it only affects this program.
Sound Settings:
Tone Control/Equalizer:
The Walkman 1A has the ability to utilize old-school tone knobs. Typically when no after processing is wanted we can go processor direct. Which is called
Direct Source
On/Off.
This is the closet path for you to take your music directly, bypassing everything. If tone knobs or EQ is desired the Direct Source is tuned off and you have a choice of using tone knobs or a 10 band EQ.
Probably the best feature of screen navigation is the fact that in a playback setting you can go from the two file screens and pull down a window directly into the transport functions. Now just say then you were playing a song and wanted to EQ it, simply another downward swipe gets you to either the tone knobs or EQ, depending how you have it set up. I can not express how intuitive and simple this all is.
To reiterate further, when a song is playing you have four bottom buttons. The first one is a return arrow which also allows you to return to the album/folder screen 1 or 2. Or the in-play screen is button number two. Number three button does the same as the first button but takes you directly to the front page. The last button takes you to settings. I will not go into all the settings but take note, you can do all kinds of stuff from changing to hi or low gain to sleep timers, to play mode, which controls shuffle or repeat of songs. Though there is one section of the settings that's special to note, and that is Sound Settings.
The Rest Of The Sound Settings:
DSEE HX
DC Phase Linearizer
Dynamic Normalizer
Vinyl Processor
DSEE HX:



DSEE A.I.:
This is one of the most exciting features that allows the Sony DSEE HX propriety program to be selected to further enhance what was originally for low bit-rate files. MrWalkman has taken this to the next level creating a process to enhance even hi-res files. And from someone who normally doesn't ever EQ, this is magic. All styles of bit-rate get pushed out farther, brought in closer and brought into clarity of focus. Actually I don't have words to describe all that this does? Try it.
DSEE HX Settings:
A.I.
Female Vocals
MaleVocals
Percussion
Strings

DC Phase Linearizer:

This is a Sony propriety feature that allows the low end to be made to emulate an analogue amplifier.
The difference styles of the DC Linearizer are:
Type A Low
Type A Standard
Type A High
Type B Low
Type B Standard
Type B High
Vinyl Processor:
Vinyl Processor Modes:
Standard
Arm Resonance
Turntable Resonance
Surface Noise

When the Vinyl Processor was first introduced by Sony it was touted as a novelty (even by Sony Engineers) yet many love the standard setting.


Dynamic Normalizer:
Skip this. This will use compression to equalize the volume of all songs in playback, nullifying the dynamic range.




Walkman DAC Mode/Bluetooth
So many stock softwares/firmwares have taken the 1A to a better place. The early days of 1.02 and Firmware 2.0 were nice. But a big change happened when Sony revealed there was a Bluetooth Receiving chip placed deep inside the player right from the get go! Imagine years went by and the function remained dormant, to finally be operational with firmware 3.00.
This meant you could send files to the Sony Walkman from any device that sent Bluetooth. And don't disregard Bluetooth, because remember even LDAC Bluetooth gets sent to the Walkman and decoded into almost 44.1 kHz/16 bit quality. And remember it's getting all the sound sculpturing treatment talked about earlier if you want! It receives and sends pretty much all styles of Bluetooth.
Bluetooth Codecs:
Bluetooth Bluetooth® v 4.2 Profile: A2DP/AVRCP/OPP Codec: LDAC/SBC, supporting aptX and aptX HD codecs
Memory Cards/ Internal Memory/ Stacking Two Units:
So this has been going on for a while and I have no definitive answer for you. But people feel 1) that different card brands make a difference in sound. 2) Not only that but they feel that possibility the internal memory has a slightly better sound, being best? 3) That you have the ability of stacking players. The stacking uses the included transfer cable as well as Sony WMC-NWH10 USB Conversion Cable. This way has worked with stock firmware. You would do it to listen to the internal storage or memory card of a 1A to play it on a 1Z or vice versa. Does it sound different than a original file in the playing player? Maybe, but the difference is too close to matter. Same with card brands, I found the differences way too small, if anything at all. Though as far as LDAC from one player to the next, it was fantastic. Really LDAC is a very special Bluetooth codec.
USB DAC Mode
:
With firmware 3.00 came DAC mode. This allows connection to all MacBooks, laptops, PCs, streamers, phones and tablets. This allows decoding of most bit-rates and DSD files from the software of your choice. The only issue here is when used with movies. There is a slight 1/2 second lag that is not present in Bluetooth. Such a situation causes lip-syncing issues which may be overcome by some playback software. Best to utilize Bluetooth when watching movies.
Sound:
With the out of box experience being what it is………it is really competitive for the price. But……there is so much more to be had. I mean people are relatively happy with the different stock tunings. But to make it very clear…..there are different stock tunings across the globe…..that is what Sony has done. So in reality there are all kinds of tones to stock. 3.02 is the latest stock release from Sony. It actually depends on your players original country of origin as to how it sounds; not where it was made, but where Sony was shipping them to. So due to different 1A destinations, we have a different end tone. Luckily there are ways to alter that tone. More on that in the region firmware section.

Bass:
Many actually love the WM1A more than the WM1Z. To start with two players could not offer a more contrast in tone. Let's start off with describing the over all feeling at hand. This may not exactly fit in the bass section, but everything is connected, so there is no better place. The overall tone is just slightly warm, yet there is less bass than ZX TOTL line before it, and less bass than the WM1Z. So you may be wondering if there is enough bass. Yes, there is............even for bass-heads. How? Because we are dealing with primarily the overall tone. Meaning that due to the character of bass, it's fast and sculpted. It's deep and pure, but still in its place. The Sony Engineers put Kimber Kable in the 1Z and Film Capacitors in the 1Z along with Fine Sound Registers. But…the 1A has MELF Registers and OFC wiring. Still we found out that Firmware was the key to unlocking the sound. The fact that the 1Z with all the fancy nomenclature really was in reality very close to the 1A!

What we have is a very big soundstage, the difference is that the WM1A is more right to left. It in reality could be the same as the WM1Z in horizontal sound stage, but because it doesn't have the front to back soundstage of the WM1Z, it just seems wider. The bass is fast.............faster than the WM1Z, with a carved-out placement in the soundstage. The sculpted sound has a faster attack and decay. It is just as emotional as any your going to find in audiophile land!

Mids:
First off I have to say the 1A is really all about the midrange. That doesn't diminish the talk of treble and bass, but the mids are to die for. The fact that as I write this review I'm listening to one of my favorite albums and most of the information is in the midrange. As always, it's all about the midrange. The fact that here we are met with this grandiose soundstage with all instruments in balance. Nothing is off, or wrong…….it is this naturalness of tone……this warm yet detailed tone. Even though the WM1Z has more realism in response, at times the lower midrange may seem clogged-up. Due to this the WM1A seems more balanced. I don't care what album or what genre I choose to play, it's complete, it's ultimately enjoyable from an audiophile prospective.
The timbre is dead-on accurate, the decay a dream. It's all here. This is why the WM1A has a following, it delivers the goods. I just can't reiterate how wonderful the guitar tones are with driven guitars, a chunky warm spectacle of pace and timbre. A nice complete tone with added harmonics of a real guitar. The drums too......find their timbre to be perfect. The way the drums fall into place in the mix..............the attack and decay always provide a realism which becomes transporting.

Treble:
A funny thing happened once. A friend of mine had a WM1A and I was trying to describe the WM1Z to him. I told him the WM1Z had even brighter treble. He thought "Wow" even brighter that the WM1A, I don't want it. Here is our confusion. The WM1Z does have a brighter treble, but the WM1A has a forward upper midrange. So it seems as bright as you would ever want. It's the small boost in the upper mids that makes for the ultimate soundstage. It's the upper mids that gets the feeling of extra detail without any stridence or harshness. It's this area at the start of the treble that's fabulous. Small extra little embellishments fall just outside of the soundstage due to this phenomenon. The timbre and dynamics of the vocals come alive in this area too. When you realize that the whole tone is connected…….that there is nothing more to ask for………you will understand why the WM1A is loved so.

Testing done with Midnight v2 (for 1A)-Normal Mode in 4.4mm with Nobel Audio Kaiser 10 Encore IEMs. Direct Source: On


Aftermarket Software:
Now we will give the 1A software to allow it to reach its full potential. We are going to go around Sony and break the rules a little. Does it void the warranty? I don't know? But the good news is it's fully reversible!

How reversible is it?

I've had MrWalkmans firmware in and out of the 1A for years and I'm always able to revert it to stock out of the box condition.
https://www.head-fi.org/threads/sony-walkman-os-custom-firmware-non-android.943661/
https://www.head-fi.org/threads/the-continuation-of-the-sony-walkman-1z-1a-thread.944508/
Finally this thread is 45,721 pages long!
https://www.head-fi.org/threads/sony-nw-wm1z-wm1a.815841/
How?
MrWalkman is keeping the secrets to himself; let's just say there is operational software in the DMP-Z1, 1Z and 1A which is Red Hat Linux.
Ad·https://www.redhat.com/hybrid_cloud/reportRed Hat Linux System - Linux Environment
Sony NW/NWZ series: destination and sounds pressure tool.
https://www.rockbox.org/wiki/SonyNWDestTool
So this was a big deal in finding a better tone from the 1A. We don't actually totally know why; but every region in the world has a different player signature. That's right, you read that correct. Sony sells different 1As all over the world and they are designated to sound slightly different in each area. Why? Maybe Sony feels the players need to match the listeners? Maybe they did studies which show there is a different sound preference at different points on the globe? Maybe Sony is like big fast food conglomerates who tailor their sound tastes for the locals? Mac Donald's actually makes Italian Food in places of the world, or fried chicken. So it's not too much of a stretch to imagine localized tone. But the great part is we can over ride the control. And another great aspect is MrWalkman put a region changer inside the latest new releases of firmware. So that means that instead of accessing the above web site, we can access a computer either Mac or PC and find the region changing software right inside our 1A. A simple change of software lets our 1A have a new sound. Typically "J" or Japan region has the warmest sound. Imagine that they (Sony) saved the best sound for the Japanese locals, no doubt. But in reality there are many wonderful tones to choose. Probably the biggest gift is for the EU listeners. The EU Walkmans have a strict volume limiter which before the region changer was a party pooper. Now with a region change they have the same freedom of loudness as the rest of the world.
The other great thing is we are able to access the Japan sound with-out having a strictly Japanese Language 1A. So remember it's the combination of aftermarket firmware and the destination code which gives us our end sound. So in reality there is a lot to choose from; many different combinations which affect end sound. And if that wasn't enough, region KR3 is new and included with the latest firmware by MrWalkman.
This concludes my review, I hope you enjoyed it.
Size & Weight
DIMENSIONS (W X H X D) 72.9 × 124.2 × 19.9 mm
WEIGHT 267g
Power BATTERY LIFE - CONTINUOUS PLAYBACK MUSIC
33Hour(MP3 128kbps) 26Hour(FLAC 192kHz/24bit) 11Hour(DSD 11.2MHz)
CHARGING TIME (QUICK CHARGE) No
CHARGING TIME (FULL CHARGE) 7 Hour
Storage Media MEMORY SIZE 128GB
Network Connectivity USB CONNECTION
Hi-Speed USB(USB 2.0 compliant) WM-PORT 22 pins
MP3 Yes
LINEAR PCM Yes
DC Phase linearizer, DSEE HX, Dynamic Normalizer, Equalizer (10 band), Source Direct, Tone control
AUDIO PLAYBACK
AAC (Non-DRM), AIFF, ALAC, DSD, FLAC, HE-AAC, Linear PCM, MP3, WMA (Non-DRM) Ape
DISPLAY RESOLUTION
854x480 (FWVGA)
DISPLAY TYPE
TFT color video display
DRAG AND DROP Yes
DSEE HX Yes
DYNAMIC NORMALISER Yes
EQUALISER Yes
HIGH-RESOLUTION AUDIO
High-Resolution Audio
HORIZONTAL / VERTICAL DISPLAY No
MUSIC SEARCHING METHODS
All songs, Album, Artist, Genre, Release year, Composer, Playlists, Hi-Res, Recent transfers, Folder, SensMe Channels
SCREEN SIZE (INCH)
4" (10.2 cm)
Software
OPERATING SYSTEM
Sony original OS
SYSTEM REQUIREMENTS
Mac OS® X v10.8~10.11, Microsoft Windows® 10, Windows Vista® (SP2 or later), Windows® 7 (SP1 or later), Windows® 8.1
Software
TOUCHSCREEN Touchscreen
4.4 mm balanced jack, microSD slot, Stereo mini-jack, WM PORT
WIRELESS CAPABILITIES Bluetooth®, NFC
VIDEO PLAY MODE No
What's In The Box
USB cable
Wrist Strap
Quick Start Guide
Disclaimer:
Sony recommends 200 hours for the 4.4mm connection as well as 200 hours for the 3.5mm connection before the player is burned-in and sounds as designed. Everyone who owns a WM1A will verify this phenomena. This review simply contains one users experience, your end results may vary.
Last edited: