---
The product was loaned to me free of charge for the review purpose in exchange for my honest opinion (Thank You Sony Japan!!!). The review was originally posted on my
blog
, and now I would like to share it with all my readers on head-fi.
Manufacturer website:
Sony
---
Intro.
In the last few years I have been focusing mostly on reviews of the latest audio gear. Especially when it comes to DAPs, they can feel outdated within 3-4 months after the release due to availability of new DACs, Android updates, or just compatibility with 3rd party apps. It's no surprise that DAPs are becoming bloated with smartphone features, and just like a smartphone we have an urge to upgrade it within a year. As a result, some manufacturers lose a focus that DAP stands for a Digital Audio Player, not a Digital Smart Device Player.
Realizing this problem, getting back to the roots of pure audio quality was the main goal behind Sony's Signature Series release with their latest Walkman WM1A/WM1Z Digital Audio Players. WM1Z is not a new release, WM1 DAPs were announced over a year ago, and due to a huge review demand, I was finally able to spend some time with their TOTL flagship. And guess what? A year later, it's still a flagship, still going strong with fw updates, still very relevant, and still highly regarded among audiophiles because it's a pure audio player with Sony's own proprietary hardware design and OS.
Might sounds cliché, but Sony is one of the companies that doesn't need any introduction because so many people grew up on their products. Though I don't use it anymore, I still have a few Cassette Walkmans, CD Discman, Sony Multi-disc CD/DVD changer with A/V receiver and 5.1 Surround speakers, and until a few years ago had an ancient 40" Trinitron TV and even Sony 4-head Hi-Fi VCR. I had a hard time getting rid of that TV, and my kids didn't understand why I was so attached to it because their PlayStation graphics looked not as appealing on it. Well, you get the point.
Surprisingly, when it comes to audio gear, this is my first Sony DAP, though I have been using the same pair of MDR-7506 cans for over a decade; after earpads replacement they look like new and still sound great. That's another thing I always associate with Sony brand, putting quality and durability ahead of everything else. And they continue keeping the bar high with a Signature Series, including WM1Z DAP. As I mentioned already, though it's not a brand-new product, it still feels like a new release to me, and I would like to share with you about my experience using WM1Z DAP in this extended review.
Unboxing.
The unboxing experience of WM1Z was relatively generic. It has a modest packaging sleeve with a partial color picture of NW-WM1Z model, showcasing its distinct golden chassis. Since my package arrived from Japan, the back of the packaging box had a few design highlights in Japanese, including supported lossless formats. And that's about it.
The actual box inside the packaging sleeve is all black with a silver "SONY" logo on top. I thought it would have been neat to have that logo in gold, to go along with WM1Z dress code. Once you open the box, you will find 1Z sitting securely inside of the foam cutout to protect its golden jewel. The only comment here, 1Z arrived with a case in a separate bag, while there was plenty of room inside the main box under the top cover. If the protection case comes standard with WM1Z, maybe it's a good idea to include it inside of the packaging box.
Accessories.
Here, besides the included case and a wrist strap, you will also find a quality usb cable with WM port and dust plugs for headphone ports and WM port. Perhaps adding a screen protector film would have been a nice accessory to include, but other than that - DAPs usually don't come with too many accessories.
I'm sure many will be surprised by wrist strap as one of the included accessories, but due to a heavy weight of 1Z it only makes sense to add extra security when handling this DAP. The included leather case is reinforced with a hard-plastic back plate and a front flip cover protection. It wraps securely around the DAP, and keeps left/right sides open for a full access to controls. The front flip cover makes sense for those who enjoy listening to long playlists and only occasionally use touch screen while mostly relying on hw control buttons.
For me personally, I'm attached to a touch screen, thus upgraded to a case with an open display. Another issue is not having the access to WM port when Sony stock leather case is closed. But this issue is easy to resolve by a quick DIY where you make a cutout for a cable access. And while I do switch between Dignis leather case and Benks TPU case for 1Z, I still find the original Sony leather case to have the most secure protection.
Sony case: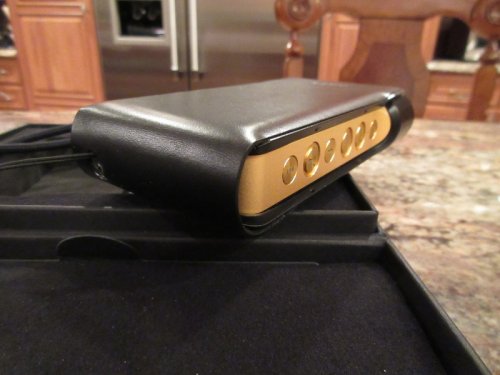 Aftermarket accessories.
If you are like me and need to access the touch screen all the time, having a case with a flip cover can get annoying. There are a few alternatives where I recommend looking into either Dignis leather cases (reviewed
here
) or Benks TPU transparent case (reviewed
here
). Depending on the case selection, either with original Sony or Benks, you can add extra protection to the display with a tempered glass screen protector from Garmas. With Dignis case where you need to slide 1Z in/out, there is a chance of lifting the edges of tempered glass protector, so better look for a regular film protector in that case.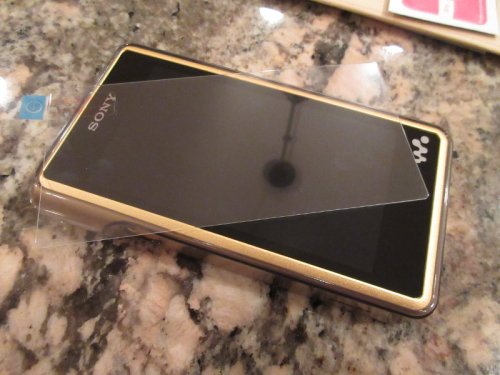 One accessory which is a must-have if you are planning to use your WM1 DAP as a digital transport going into external DAC/amp is WMC-NWH10 usb conversion cable. Due to proprietary nature of WM port, you can't use the charging cable for that, and instead need to use that special USB OTG conversion cable. I also heard, people have success using 1Z/1A with a docking station cradle for ZX2. Also, if you are traveling and afraid to lose or to forget your charging cable, it's good to have handy WMP-NWM10 micro USB converter adapter so you can charge WM1 using standard micro USB cable/charger.
Last, but not least, is 4.4mm adapter. I will talk more about 4.4mm in general in the Design section of the review, but I'm sure many have a collection of balanced cables with 2.5mm termination and not ready to convert everything to 4.4mm yet. Or perhaps you have different DAPs in your collection, both with 2.5mm and 4.4mm ports, so using 2.5mm with 4.4mm adapter is the most efficient solution. While doing my testing, I found that such converter can degrade the sound quality of 1Z balanced output port. Some of this sound degradation is not as obvious and rather subtle, especially with less resolving headphones. But with more resolving/analytical headphones, I noticed Effect Audio adapter to have the highest level of transparency. I haven't tested PWA adapter yet, but have been told it's on the same level as EA adapter. Fidue pigtail converter is convenient since it extends the cable, rather than sticks out from the jack. That Fidue adapter, along with other budget oriented adapters from MEE Audio and Penon, soften the sound and take some sparkle off the top end. One surprise I found was iBasso CA02 adapter, only $15 and sounding better than other budget adapters twice its price.
Bottom line, when you are dealing with custom cable manufacturers, Effect Audio, PWA, Whiplash, Plussound, you will get a much higher quality products because they pay attention to every detail, including brand name connectors, lead-free audio quality solder, and higher purity interconnect wires. With an exception of CA02 adapter, other budget stuff you find on amazon, eBay, or aliexpress will do the job, but don't expect the same level of sound transparency.
Design.
A Signature Series Sony WM1 DAPs were introduced in 2 flavors, WM1A and WM1Z. While overall design is similar, each one has its unique elements. With 1Z having a more premium cost-no-object design, it has 256GB of internal memory (vs 128GB offered in 1A), 1Z has more premium internal components (newly developed high polymer FT CAPs and surface mounted Fine Sound Registers), and the four-wire braided Kimber Kable connecting circuit board to headphone jack. But the biggest, and I mean the "biggest" difference is with a chassis material and its corresponding weight.
Sony starts by milling chassis from a solid block of pure oxygen free copper (OFC) material, using copper due to its higher density and lower resistance when compared to aluminum material used in 1A chassis. Then, copper material is gold plated to prevent the oxidation. As a result, the chassis of 1Z serve as an extension to the circuit board ground. Since I don't have access to 1A, I can't tell you exactly how these DAPs compare, especially due to a difference in selection of internal components and headphone jack wiring. Certainly, aluminum has different electrical properties, including the reduced conductivity. In theory, the ground plane serves as a return path for a power to all the devices on the board, and the higher conductivity of the return path should result in cleaner power and lower noise floor. At the same time, pure copper adds to the weight and the cost when comparing 1A vs 1Z. Thus, you have to consider a trade-off, especially when we are talking about 455g of weight.
With chassis discussion out of the way, the next thing that grabbed my attention was the all glass top display where the visible screen area is 4" with FWVGA 854x480 pixels resolution. It's a deep color display with black and white high contrast scheme. Besides being able to display rich colors of the embedded artwork (depending on the picture size, since some of the graphics wasn't displayed), everything else is black'n'white, with an exception of a few labels in yellow. WM1Z has a touch screen with a very responsive display, no lags what to ever in fw 1.2/2.0.
Looking around the chassis, you will find a Hold slider on the left side, to lock the touch screen functionality. On the right side, you have 6 multi-sized hw buttons, with smaller Power button all the way at the top and charging pinhole LED next to it, two larger Volume +/- buttons below it with a distinct bump on the + button for a blind id, and below it 3 transport control buttons with larger Play/Pause in the middle and smaller skip/forward on either side. Play/Pause button also has a bump for a blind id, just slide your finger without looking at the controls and you will be able to easily feel Volume Up and Play/Pause buttons.
These buttons itself are all metal and gold plated, very durable, no shaking or rattling, with a tactile feedback when pressed, and overall solid feel like they are part of the chassis, stamped right into the gold-plated copper. The ergonomics of the design is very impressive. Due to the weight distribution of the 1Z, my thumb was comfortable controlling the Power (for screen on/off) and adjusting the Volume. For transport control buttons toward the bottom of the right side, I had to slide my right hand down and use both hands, with left one for support to make sure I don't drop the DAP.
Lower left corner of the 1Z bottom has an opening to loop wrist strap, and also a little notch for securing Sony's leather case. In the middle, you have 22-pin WM port which is proprietary to Sony, and used for charging the DAP, connecting to computer to transfer the files, and also for digital out. No analog Line Out is available, only the digital transport output to drive external DAC/amp. Next to it, in the right corner at the bottom, is the dust cover for uSD port which can accommodate 256GB card and probably the latest 400GB as well. Next to it, you will also find another notch for Sony's leather case to latch to. The back of 1Z has a leather-textured rubbery non-slip material with NFC marker when pairing wireless headphones, if NFC is enabled.
The top of 1Z has 3.5mm TRRS single ended stereo headphone jack on the right, rated at 60mW+60mW (at 16 ohms), while on the left you have 4.4mm TRRRS balanced stereo jack, rated at 250mW+250mW (at 16 ohms). 4.4mm is a new JEITA standard designed specifically for balanced headphone jacks. It has a number of advantages, such as being mechanically stronger and having a reduced resistance due to larger cross-sectional area of contact. WM1 uses a brand name Nippon DICS Pentaconn (named after 5 contacts) jack where each connection (L+/L-/R+/R-) has 2 points of contact, made into C shape with both sides of the plug engaged, leading to a larger area of contact which results in lower resistance. For additional failsafe, balanced port has a relay switch, making sure you connect headphones all the way in.
Under the hood.
In my DAP reviews, the "under the hood" section usually starts with a discussion about which DAC is used in the design. And often the discussion continuous talking about using dual DACs in higher end models to separate L/R channels. WM1Z is different because Sony has a totally different approach to this design requirement - using their own digital S-Master HX amplifier.
S-Master digital amp is not a brand-new concept, Sony has been using it in a lot of their high-end desktop audio systems throughout years. But they continue to perfect it, to optimize it, and to adapt it for a portable use with their latest in-house developed S-Master HX semiconductor digital amplifier - model CXD-3778GF. This new evolution of S-Master HX digital amp wasn't only optimized for efficient battery use, but also developed to be compatible with native DSD decoding, Balanced output, and High-Power output. Keep it mind, other entry and mid-fi Sony DAPs, like A40 and NX300, also use CXD-3778GF model, but they have a different implementation of LPF circuit where, for example, A40 uses switching FET inside of CXD-3778GF, while WM1 has high voltage FET outside of the digital amp.
I already mentioned "digital amp" a few times, and would like to talk more about its benefits. In a traditional design, decoded digital data stream is fed into D/A converter for digital signal to be converted into analog, then some Low Pass Filter (LPF), perhaps a volume control, and analog headphone amplifier section. Such traditional design generates "open-loop" distortion which is corrected with a Negative Feedback that has its own problems. Also, with a traditional off-the-shelf DAC architecture design, we see more dual DAC implementations to separate L/R channels in order to reduce the interference and crosstalk.
The problem with this architecture is that majority of the signal goes through analog path which is more susceptible to noise coupling, interference, and crosstalk. Even with L/R channel separation, you are still dealing with a small printed wiring board (pwb) and close proximity of the signals. What S-Master digital amp does is to completely replace the analog amplification with a digital amp technology without a feedback. S-Master doesn't have D/A converter. Instead, the amp processes the digital signal until the final output stage where it uses LPF.
In a digital domain, there is no need for a dual DAC since you don't have to worry about analog signal interference and crosstalk, and because this is a fully custom semiconductor design, Sony is in full control to optimize the audio performance (in this case supporting balanced output with DSD native playback in balanced mode only of up to 11.2MHz and Linear PCM playback up to 384kHz/32bit), and also to optimize battery life depending on the audio format playback. When it comes to audio formats, you have support of most of the lossy and lossless formats, such as MP3, WMA, FLAC, Linear PCM (wav), AAC, HE-AAC, Apple Lossless, AIFF, and DSD. CUE files playback is read as a single file. Also, although there is no menu selection to enable gapless, I tested it with one of my gapless MP3 albums and it worked flawless.
Battery life is truly phenomenal, Sony was able to optimize the performance, depending on the file format, to have a playback of over 30hrs. I ran multiple tests with MP3 and FLAC files, using balanced output, and with direct sound on (no DSP effects) and off. On average, my best-case scenario of playing 320kbps MP3 from 4.4mm HO with direct sound yielded 32 hours of continuous playback. Switching to FLAC, playing continuously from 4.4mm HO with DSP effects enabled – lasted 19 hours.
GUI.
With 1Z being my first Sony DAP, I wasn't sure what to expect, but ended up being pleasantly surprised by the simplicity of its very efficient interface. One thing to mention before getting into GUI, how responsive and fast the navigation of its touch screen is. I never experienced any lag between swiping, and the only complained I had turned out to be due to my unfamiliarity with Sony interface. In order to swipe forward/back through the song, you have to tap and hold the bar for a second and then swipe it to a new position. Instead, I was swiping without tapping first, and couldn't understand why I was switching between the screens. Tap'n'swipe is actually a good idea, to prevent accidental song forwarding. And of course, you can always use hw control buttons on the right side.
Now, about the GUI. The main Playback screen has a very simple and efficient layout. At the top you have a volume bar, representing 120 steps. You tap on it, and it brings up a large circular volume adjustment in a window where you can tap -/+ or swipe the volume around the dial. Underneath the volume bar at the top, you have file format and bit depth of the file you're listening to, along with a numeric volume value to the right of it. Just below it you can also find play/pause icon on the left side and the battery indicator on the right side. Underneath of it, half of the screen is occupied by a cover art (if embedded picture is available and valid), which can also be replaced with either Spectrum Analyzer or Analog Level Meter.
In the lower half of the screen you have a swipe bar to fast forward/back through the song with a total song time, current song marker, and a song number in queue. The song name is underneath of it, then below it you have Playback touch controls, with Play/Pause in the middle, Skip Next/Prev (multi-functional with fast forward/back when press'n'hold), and Play Mode controls which have been added in fw 2.0. All the way to the left you have Shuffle Playback select, and all the way to the right you have Repeat off, Repeat all, and Repeat 1 song touch control. These Play Mode controls were already available under Setting, but now they're conveniently located on top without a need to dig through Settings menu.
From the main Playback screen, you swipe to get to the screen on the right which has 10 Bookmark Lists, or swipe to the screen on the left which has a Play Queue (where you can also choose to view more song details or add it to Playlist or Bookmark List). When you swipe to the screen at the top, you will have a choice of file sorting to view All Songs, Playlist, Hi-Res files, Album, Artist, Genre, Release Year, Composer, Recent Transfers, Folder, or SensMe Channels. This sorting list is easy to customize when you click toolbox icon at the bottom and choose Select Items to Display. As a matter of fact, this toolbox menu icon, will always have a link to the main Settings menu, and also separate settings applicable to that specific screen.
Swiping to the bottom screen brings up a selection of DSP effects which can also been disabled at once by selecting Direct Source On. I will talk in more details about these DSP Effects in the next section of the review. One thing I found very useful is that no matter which screen you go to, except for Settings menu, you always have access to the bottom playback touch controls. And below it, you have a Return back button on the left, and toolbox button on the right. In the middle, you have return to Playback screen button and File sorting screen button.
It does take a few minutes to figure out and get used to this window arrangement, but then it becomes a second nature, very intuitive. The idea is to have everything under your fingertips with a main focus around Playback screen, and everything else within a swipe away.
Settings menu is very simple as well. You start off with Brightness icon (tap to get into the setting) and Bluetooth on/off icon. Next, Basic Settings with Playback, Output, and Device settings. In Playback, you have Play Mode with shuffle and repeat modes, Playback Range, Sleep Timer, Artist list sorting display, and Lyrics display with an option to keep the screen on. In Output setting you have AVLS volume limit enable, High Gain output enable (individually set for either 3.5mm SE or 4.4mm BAL outputs), L/R balance, USB output for DSP (auto or DoP), and DSD Playback setting options.
Device Setting has more generic options such as beep setting, touch panel handling with Hold switch, USB connection options, Auto Power off, Battery care, Clock setting, language setting, Text Input, and Reset/Format where you can reset all the settings, format either internal storage or uSD card, rebuild database, or restore to factory config.
The top main Setting menu also has Bluetooth setting menu to connect to and to add new devices, enable NFC, Bluetooth info, and under Other the unit info where you can confirm FW setting, available storage space, and total hours of audio playback.
DSP Effects.
When Direct Sound is turned off, you are enabling the EQ and DSP effects which can be individually turned on or off. I will talk in more details about each effect below.
Paragraphic EQ (fixed Q)/ Tone Control
- In this window you have access to either 10 Band EQ with a fixed frequency bands (31Hz, 62Hz, 125Hz, 250Hz, 500Hz, 1kHz, 2kHz, 4kHz, 8kHz, 16kHz) or a simplified Tone Control adjustment with only three bands for Bass, Middle, and Treble. Each of these bands, either EQ or Tone, could be adjusted in steps from +10 to -10. In general, adjustment was smooth and natural, no artificial aliasing. You switch between EQ and Tone adjustment by tapping tool box, which also has an option to Save a sound setting.
DSEE HX
- upscales the original compressed or CD quality audio to the equivalent of high-res audio. Here you have 5 different settings from a drop-down menu:
Standard - to my ears it expands soundstage width/depth/height, and improves some of the dynamics/transparency, and it feels like you have a little more air between the layers of the sound.
Female Voice / Male Voice / Percussion / Strings - across these 4 settings, I hear that we start with Standard dynamics expansion as a baseline, and then vary compression of the sound, focusing specifically on frequency band occupied by either vocals, percussions, or string instruments. It's a subtle effect which is hard to describe, but I'm hearing it as a sound compression effect with a focus on a bandwidth occupied by specific vocals/sounds.
DC Phase Linerarizer
- the effect which makes the low frequency phase characteristics of the player closer to a traditional analog amplifier. It's like trying different solid-state amplifiers with a focus on low end emphasis. This effect has its own presets with Type A and B, with each having Low and High variations.
Type A Standard - tightens the bass, adds some coloration to low end, has more emphasis on sub-bass, and some lower mids (a little more body).
- Low/High variation - low gives it a little warmer tonality variation with more rumble, while high shifts this tonality variation closer to mid-bass/lower mids.
Type B Standard - tightens the bass, adds some coloration to low end, has more emphasis on mid-bass, while keeping lower mids more neutral.
- Low/High variation - low gives it a little warmer tonality with a shift that's a little more toward the sub-bass, while high relaxes sub-bass while still keeping lower mids neutral.
These adjustments can really finetune the low end of your song, but to hear the effect of it you need higher res headphones with a good low-end extension.
Dynamic Normalizer
- It's quite an effective hardware type of normalize which first compresses and then raises the volume of the track to match the loudness going from one song to the other. Sony refers to this effect as it minimizes the volume differences between the songs, but at the expense of the compression which raises the volume and kills the dynamics in many tracks I tested. I personally wouldn't use this effect.
Sound Analysis.
I'm glad I waited for fw 2.0 update before starting my critical sound analysis of 1Z because in my opinion the new firmware scaled up the sound performance to be less colored, more neutral, still leaning toward a smoother, organic tonality, but with an improved transparency. I prefer DAP sound to be close to neutral, otherwise your headphones sound signature will be colored. But I was also pleased that after the update, 1Z kept its unique sound characteristics without losing that smooth analog sound texture.
Our brain often plays a trick on us, where after a period of extended listening we get adjusted to the sound, what is called a brain burn in. When analyzing 1Z, I was constantly switching between different DAPs to keep my sound reference in check for a relative comparison. I was impressed how natural 1Z made every pair of headphones sound. Regardless if it's a dynamic driver bass with a deep visceral rumble or a BA bass with a fast, articulate impact, or if it's a lean neutral lower mids or a thicker one with additional body, or if we are talking about a smoother natural upper mids or cold analytical revealing ones, or if a treble has elevated vivid tonality or a reduced sparkle with a more natural definition - 1Z makes everything sound more natural, yet still revealing; warmer, yet not congested; smoother, yet still layered; intimate, yet still multi-dimensional with holographic imaging. Also, it refines the bass quality without affecting too much the quantity.
Another distinct characteristic of 1Z is the black background, especially from balanced output, making the sound more dynamic with a faster transient response when notes are triggered on/off. At the same time, 1Z wouldn't be my first choice to analyze the sound under microscope when I'm looking for a more analytical source. 1Z is great when you want to enjoy listening to your music without too much of a revealing edge that going to make the sound more fatigue.
Since I don't like to use EQ, I prefer to pair up brighter tuned headphones with warmer sources, and vise verse - warmer tuned headphones with more neutral-revealing sources. Here, I was able to pair up and to enjoy everything, regardless of the sound signature.
Additional thing worth mentioning, even so I'm not a big collector of DSD tracks and only have about a dozen I use for testing, when I started to listen and to compare playback of these tracks across my other DAPs, WM1Z stood above them all with the most transparent, layered, and expanded (soundstage) sound.
3.5mm vs 4.4mm
Before fw 2.0, there was a bigger gap in sound quality between SE and BAL, where 3.5mm output was warmer, smoother, and more congested. After the fw 2.0 upgrade, the sound quality of 3.5mm SE output really scaled up, with a very noticeable improvement in soundstage expansion, more transparency in sound, brighter tonality, and darker background.
But even with these improvements, 4.4mm BAL output is still ahead of 3.5mm SE. BAL output soundstage is wider, more holographic, with an improvement in imaging and separation. The background is blacker, making overall sound tighter, more transparent, and with a faster/sharper transient of notes.
Comparison.
Here are my observations while comparing 1Z to other DAPs using multiple IEMs, all volume matched. Obviously, the sound is described from a perspective of how I hear it through those IEMs where the actual sound is the result of their pair up synergy.
1Z vs iBasso DX200 w/amp4
- both have a very wide soundstage, though 1Z is just a little bit wider, but when it comes to soundstage depth 1Z is deeper which makes its soundstage to be more elliptical while DX200 soundstage has relatively less depth which makes its soundstage to be more stretched left-to-right with a shallower depth. Both have a deep black background with a similar retrieval of details, a very similar sound dynamics, but a different tonality. 1Z has a fuller body, smoother, slightly warmer sound which is more analog, like it's coming from a hardware amplifier. DX200 w/amp4 tonality is brighter, with a more neutral body, more revealing sound, and also colder tonality in comparison to 1Z.
1Z vs Lotoo PAW Gold (LPG)
- very similar soundstage where 1Z is just a little wider, while both have the same depth. In terms of tonality, LPG is brighter, colder, especially when it comes to treble where you have more energy and more sparkle - in comparison, 1Z treble is smoother and more relaxed, being slightly laid back. Another noticeable difference is in the bass where 1Z has a deeper sub-bass extension while LPG has more emphasis on mid-bass impact. Both have a dynamic sound with a black background and fast transient of notes on/off. Also, both are the prime example of pure-audio playback devices.
1Z vs Cowon Plenue 2
- 1Z soundstage has more width, while soundstage depth is similar. Here, the first thing that stands out is how neutral and colder P2 sounds in comparison to a fuller body smoother 1Z. Starting with a low end, 1Z has more textured sub-bass extension while P2 has stronger and faster mid-bass punch, lower mids are leaner and more neutral when listening with P2 while 1Z has more body, and treble is brighter in P2 as well, while 1Z is smoother and more organic. Both have a dynamic sound with a black background, and nice layering and separation, but in this example I typically use P2 for more analytical listening while 1Z is used to enjoy the music.
1Z vs theBit Opus#2
- here, while soundstage depth is similar, 1Z is wider in staging. Another noticeable difference is 1Z having a blacker background. Both have a similarly expanded dynamic sound, though 1Z sounds tighter and with a better layering and separation. When it comes to low end, both have a similar emphasis on sub-bass with a similar mid-bass impact. With lower mids, both are a little north of neutral with more body, though despite similar natural tonality - upper mids are more detailed and more transparent in 1Z. With treble. Opus#2 is closer, but still has a little more sparkle in lower treble vs smoother 1Z.
1Z vs FiiO X7ii
- 1Z soundstage is wider and deeper, where width difference is more noticeable. Also, 1Z has a blacker background, and a better dynamic expansion. X7ii sound is leaner and more neutral in comparison to a fuller body smoother sound of 1Z. They both have a nice sub-bass rumble, while X7ii has a little stronger mid-bass punch. Lower mids are leaner and upper mids are thinner in X7ii, while 1Z has more body and more organic in comparison. Treble is also thinner and brighter in X7ii.
1Z certainly has its own unique smoother fuller body sound with a warmer tonality in comparison to many other DAPs. I know many are probably curious how 1Z compares to 1A, but unfortunately I don't have access to it. The same with A&K latest SP1000 which I have zero experience with, thus not being able to compare.
Pair up.
In the following pair up tests I made sure to note either BAL or SE connection, as well as the gain setting and the Volume level (out of max 120).
VE Zen
(BAL, v80 high gain) - in this pair up I was going back'n'forth between low and high gain, and kept coming back to high gain where these 320 ohms earbuds benefit more from a more natural tonality, improved bass texture, neutral body in lower mids, more organic upper mids, and a little more energy in treble.
Audio-Technica ATH-R70x
(SE, v100 high gain) - since I don't have a balanced cable for these 470 ohms open back cans, I was using SE output and had to switch to high gain because in low gain the sound was too neutral, lacking any excitement. In high gain, I hear more sub-bass rumble, mids have more body, there is improved layering, better retrieval of details, and treble has more sparkle. Soundstage is very open, expanded, with a great imaging. Overall sound is very dynamic and more balanced; makes me wonder how it would scale up from balanced output if I ever get the cable.
Audeze EL8C
(SE, v102 low gain) - very interesting how these closed back planars actually sounded better in low gain. Though the sound was tighter with a sharper definition at high gain, the treble sheen was causing ear fatigue. Switching to low gain softened the sound a little, relaxing it, and smoothing out the treble which was a lot more tolerable now. This pair up has a decent bass punch, leaner lower mids, more revealing micro-detailed upper mids, and crisp airy treble. The soundstage width was impressive, but depth was even better, holographic and out of my head.
Oppo PM3
(BAL, v95, low gain) - these Oppo planars are usually sensitive to pair up where in many cases sound is too smooth, somewhat congested, and just too laid back with less resolution. In this pair up, the sound is more detailed, more open, more resolving. It's still lacking when it comes to layering and separation and overall, the sound is not as dynamic, but there is no congestion, bass is tighter, lower mids are more neutral, and retrieval of details in upper mids scales up. I tried it in high gain as well, but the only improvement was a deeper, more textured sub-bass.
Beyerdynamic T5p v2
(BAL, v90, low gain) - another example of me enjoying these Tesla drivers more at low gain where treble sounds a little more natural to my ears. Overall, bass is tight, articulate with a deep, textured sub-bass rumble. Lower mids are neutral, more toward the leaner side, and upper mids are very detailed, layered, nicely separated, and still natural, and treble being crisp and well defined, and smoother in low gain in comparison to a more overwhelming sparkle in high gain.
With the following IEMs, everything was tested in Low Gain from BAL output, thus I will just note a corresponding volume level.
Sennheiser IE800S
(v75) - expanded soundstage, very impressive width and nice depth. Overall sound sig is relative balanced with a deep punchy bass, neutral lower mids with a nice body, very resolving layered upper mids with a natural tonality, treble with a nice crunch, a little splashy in some poorly recorded tracks but not fatigue. In this pair up 10k peak is definitely under control.
HiFiMAN RE2000
(v84) - super wide holographic soundstage, balanced sound sig with a little mid-forward push. Bass goes deep, has a nice rumble, but not as much quantity, mid-bass is tight and punchy, lower mids are lean, upper mids micro detailed, a little thinner, and with a more forward presentation, treble is crisp airy, bright. Overall sound is brighter, leaner, and a little colder. This is probably a case where going back to fw 1.2 would have benefited this pair up.
64 Audio TIA Fourte
(v64) - super wide holographic soundstage, balanced lean sound signature. Deep sub-bass extension and tight punchy mid-bass, but overall low end is closer to neutral. Lean lower mids, brighter revealing micro-detailed upper mids, crisp airy treble with a lot of energy, a little on a thinner side. I think this is another example where a warmer fuller body sound of fw 1.2 could improve this pair up because overall sound could benefit from some warmer tonality.
Campfire Audio VEGA
(v65) - wide expanded soundstage. a little more v-shaped sound sig. Bass is very powerful, coming at you with a full swing of textured sub-bass rumble and slower mid-bass which definitely has an elevated quantity. Lower mids are north of neutral, thick and full of body, upper mids are smooth, detailed, natural, while treble is a little elevated, with a nice crunch and airiness. In some pair ups VEGA could be more L-shaped and treble could get fatigue, but not in this case.
64 Audio U18t
(v65) - very expanded 3D soundstage, balanced sound sig with a natural revealing tonality. Deep sub-bass rumble with a slightly elevated quantity, punchy mid-bass with overall bass being tight and articulate, neutral lower mids, very natural revealing upper mids with a nice layering and sound separation, crisp airy well-defined treble with a perfect balance of energy. This was a very impressive pair up with natural organic tonality without being too smooth or laidback, instead being very transparent and highly resolving.
AAW W900
(v70) - very nice 3D soundstage with a good balance between width and depth, and a nicely balanced sound signature. Bass has a deep sub-bass extension with a noticeable quantity, and a softer mid-bass punch where overall bass has a little slower attack and longer decay, but it's still well controlled. Lower mids have more body, definitely a little north of neutral, upper mids are smooth and detailed, but not very layered or separated, and pushed a little forward out of your head; treble is crisp, airy, and extended.
Beyerdynamic Xelento
(v68) - very nicely expanded 3D soundstage, and overall nice balanced signature, though with an elevated sub-bass. Starting with a bass, the sub-bass rumble goes deep, very textured and noticeably elevated, while mid-bass is tight, punchy, and overall bass is very articulate and well controlled. Lower mids are neutral with a nice body, upper mids are natural, revealing, layered, and with an excellent retrieval of details. Treble is crisp, airy, very well defined, not fatigue, and very energetic. This is an excellent pair up, except some might find sub-bass to be a little overwhelming, though when I switched from BAL to SE, I noticed sub-bass quantity going down a little bit - probably a better pair up in this case.
Westone ES80
(v80) - very nice 3D soundstage expansion, and a balanced-neutral signature with a very natural tonality. Bass has a great extension down to a sub-bass rumble and a fast mid-bass punch, overall bass is very tight and articulate, great quality with a closer to neutral quantity. The same with lower mids, very neutral and clean, while upper mids are very natural, detailed, layered, with a great resolution. Treble is crisp, airy, very extended. This pair up yielded a very natural and detailed tonality.
64 Audio TIA Trio
(v71) - expanded 3D soundstage with a balanced energetic sound signature. Bass is very tight and articulate, lifted, with a strong punch and textured deep sub-bass extension, neutral lower mids with a nice body, very detailed resolving upper mids that have a perfect balance of micro-detail retrieval, while still sounding natural and not analytical. Crisp airy treble with an energetic sparkle. Great pair up, especially in how it brings up the energy in bass and treble.
Wireless connection.
WM1Z comes with Bluetooth 4.2, supporting aptX and aptX HD codecs (added in fw 2.0), and A2DP and AVRCP profiles. Sony also developed their own highly regarded low compression LDAC wireless codec, supported by WM1Z. Since I don't have any headphones with LDAC, I decided to compare 1Z against my smartphone using Senns Momentum Over-ear Wireless and B&W P7 Wireless. In both cases, volume control, play/pause and skip worked flawless, and I noted a consistent 60ft wireless distance coverage in open space with 1Z vs 50ft under the same conditions with my Note 4 smartphone.
Using B&W P7W.
w/1Z
- The sound is very crisp, detailed, transparent, very resolving, balanced sound sig with a powerful bass impact and extension, clear detailed mids, and crisp airy treble. Probably the best I heard P7W in wireless.
w/Note 4
- The sound is more v-shaped with more emphasis on bass and lower treble. Bass is a little more bloated, very powerful, yet a bit overwhelming, mids are detailed but not as transparent or resolving like with 1Z, maybe even a touch veiled in comparison, treble is a little thinner.
Using Sennheiser Momentum Wireless.
w/1Z
- Very crisp transparent sound with an excellent retrieval of details, deeper fuller bass, detailed mids, well defined treble.
w/Note 4
- Sound is also crisp and transparent, but thinner and bass doesn't have the same extension and slam, a little less rumble, and mid-bass sounds hollower in comparison to 1Z pair up. Mids and treble were similar to 1Z wireless pair up.
Conclusion.
Lately, it seems that different manufacturers are competing to include a lot of functionality with every new DAP release because they feel like some people judge DAP value based on quantity of included features, instead of quality. As a result, there are DAPs with balanced output that offers little power increase and not much SNR change, dual brand-name DACs without noticeable sound improvement, wifi support where apps have to be side-loaded, and wireless Bluetooth connections without aptX support. Sony decided to approach their WM1Z DAP design by starting a New chapter with a Fresh page, by making this Signature Series release to stand out from the crowd.
1Z is not trying to be trendy with the latest popular DAC used by others. Instead, Sony implemented their own new S-Master HX digital amp that was designed from the ground up. And as a result, they don't even have to worry about dual DAC because digital amp design keeps L/R channels already isolated. Sony had enough confidence to release their flagship DAP with LDAC support first, and only later added flexibility of aptX and aptX HD. Sony went against the mainstream 2.5mm BAL jack, and were the first to introduce 4.4mm BAL. They used a hefty chunk of OFC material for the chassis because Sony did enough testing to recognize its benefits, despite almost doubling the weight (in comparison to aluminum 1A) and increasing the price (due to material cost). Battery life is also one of the best in comparison to other comparable DAPs.
But the most important thing, Sony kept audio quality as their top priority, without any compromises. WM1Z sounds like a piece of a desktop gear which adds an extra analog dimension to the sound, making other portable sources sound thinner, colder, and more digital in comparison. I'm not saying 1Z will be everyone's cup of tea since I do recognize that many people actually look for a more reference, more revealing, and more neutral sources, relying later on pair ups with external portable amps or driving DAC/amps to color the sound. Also keep in mind, WM1Z is not the only choice if you want to get all this proprietary Sony technology since WM1A is a great alternative at a much lower price and weight, plus you should consider their latest ZX300 as well. But even a year later after its release, WM1Z is still at the top of the DAP food chain, still relevant, still a flagship, and still sounds great, especially after the latest fw update.