Wood, nice big carrying case, semi-open, budget? That's Sivga - a rising brand which originates from China. Many are familiar with Sivga because of their flagship P-II planar magnetic headphone. Some may associate their company with Blon or SendyAudio, they share similar design. SV004 is an entry-level headphone which they offer, but it is much more than your average budget headphone set.
Unboxing expereince -
One thing which I didn't expect from a budget set was an unboxing experience which SIVGA offered. Well designed packaging which meets the standard of the mainstream product packaging, like the one you would find on Sony, Bose, or other well-known companies. Well not quite on the exact level, since those companies actually provide some kind of story or marketing text which will catch your attention. Either way, when you take the "sleeve" off, you will find a hard cardboard box which has the "SIVGA" logo in a silver finish on the front. This box has a magnet-flap system, it doesn't feature any text, and once you open it you will finally find the carrying case which holds the actual headphones and its accessories. So overall, for a sub-200 USD product, the SV004 has very good packaging and has a pretty well rounded off presentation.
Accessories -
You don't usually expect any accessories in the sub-200 USD price range, however I was actually pleasantly surprised to find "plenty" of accessories with the SV004. Two cables? C'mon, you don't see two cables even with some 300 USD products. I was truly pleasantly surprised when I saw that you have one cable with a mic (1,2m long), and another non-mic 2m long cable, which also has a screw-on system for a 6.3mm adapter (which is included). I can say that both cables are flexible, although the 2m one is more flexible.
You also get an airplane adapter. You can use this adapter, well….in airplanes, for those who don't know, you can use this adapter in in-flight entertainment systems so you can watch movies, or listen to music. I don't know about you, but if you ask me, SIVGA did an impressively good job with both the packaging and accessories. Two braided cables, one shorter + mic, the other longer + ready for 6.3mm adapter.. and you get a 6.3mm adapter + airplane adapter. You also get a large hard carrying case, almost forgot to mention it. It's not rock solid, but it is a handy case to store your headphones and accessories in, a very simple and functional case.
What's in the box -
Let's put it in a formal format:
1x 1,2m braided cable with a microphone (and volume buttons)
1x 2m braided cable which has a screw-on system for the 6.3mm adapter
1x canvas pouch (carrying pouch for the cables and adapters)
1x 6.3mm adapter
1x airplane adapter
1x cable tie
Build quality -
Again, another field where I was actually pleasantly surprised. At this price point, you will very often see some flaws or Quality Control (QC), with the SV004 I couldn't find a single part where I could say there has been a mistake or a flaw. You will find major or minor flaws even in the mainstream market, which goes beyond this price point, that is the reason why I appreciate this aspect so much. The SV004 has wooden cups, which is always appreciated, and it has several metal/aluminum parts. The overall construction of this headphone is phenomenal for its price, I am not even exaggerating it. This budget model has a metal grill and an aluminum ring which surrounds it, and the whole headphone construction is made out of metal (I believe it's aluminum). What do I mean by "the whole headphone"? Everything besides: the headphone cups, the headband, the ear-cups and the cable itself is made of metal. And it's high quality construction, I really am happy to see that the housing for the headphone jack is made out of metal, it's very nice to see at this price point. Yes, there might be a plastic part here and there, like on the inner side of the piece which holds the ear-cups.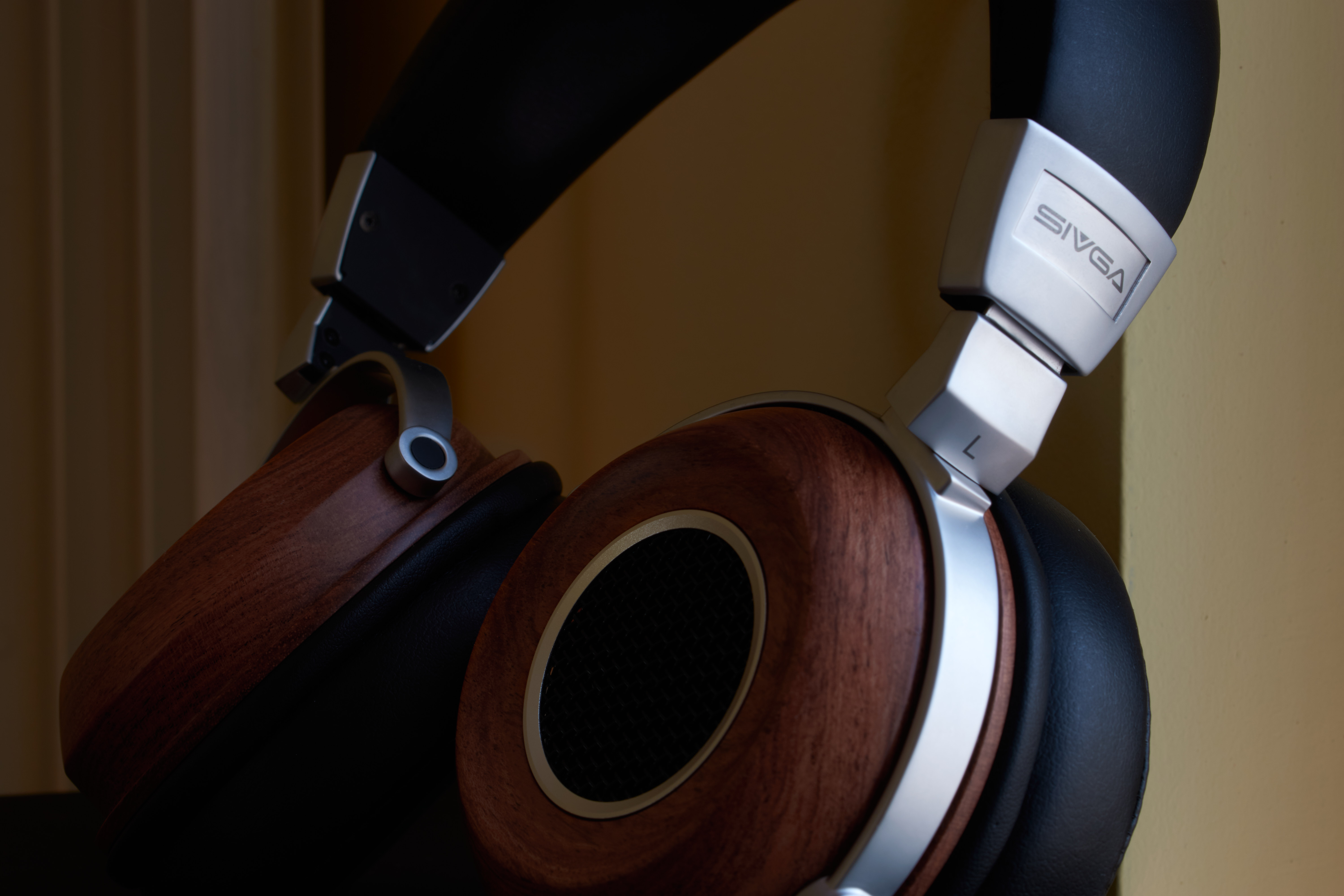 Overall it's a fairly solid headphone, and the headband is nicely padded and soft. Both the ear-cups and the headband are made of faux leather. The cables are braided as mentioned previously, I surely prefer braided cables over bad quality rubber ones, but microphonics are a real problem with braided cables. This whole solid construction gives the SV004 a very nice weight, definitely not heavy, but you can feel that the headphone wasn't made from cheap materials (such as cheap plastic).
Design and design features -
They aren't a beauty queen, but they aren't ugly for sure. The wood finish looks very nice, especially when combined with the matte silver metal and semi-shiny black grill. As mentioned in the build quality segment, there aren't any flaws, I found everything to be precise and precisely fitted, which is something to appreciate. The ear-cups can rotate 180˚ horizontally and vertically, just like a DJ headphone.. except they cannot be folded. The movement of the rotation is very smooth and feels very nice! You can also adjust the height with 11 firm steps, this allows you to comfortable adjust the headphone to your head. There isn't much besides that, except the screw-on system on the 2m braided cable, and the in-line volume control on the 1.2m cable. Although some people spread the misconception that one cable is balanced, I will confirm that both cables are single-ended (3.5mm). Another part which I want to clarify; both the ear-cups and the headband are made of protein leather, also known as "pleather", this is faux-leather.
Comfort -
The soft headband and ear-pads contribute to good comfort. I personally don't have large ears, and I found the ear-pads to be almost small for my ears, they would just about catch the end of my ears and be pressed against them. I took the matter into my own hands, and I kinda stretched the ear-pads from the inner (do at your own risk), but I did so carefully, and the problem went away. Besides that, the comfort is very good, you forget they are on your head. Sometimes they get hot if you are using them for awhile, this might be a concern to those in very humid countries. With the height and 180˚ swivel rotation, you can make sure that they are tailored to your head pretty well.
Sound - Clean performance outside of its price range

Lows
The low end of the SV004 is fairly interesting. The 50mm dynamic driver performs in a unique way. The mid bass is pretty balanced, so you will not get much punch and definition from it. However, the sub-bass can rumble.
I did find the sub-bass to be somewhat missing out because of the balanced mid-bass - it took away some weight, but surely if you turn up the SV004 loud enough, they will literally start to rumble and you will feel it all the way around.
As always, this can be noticed in Hans Zimmer's "Why so Serious?" from mark 3:36.
The balanced mid-bass can be noticed in songs such as Radio Ga Ga, at no specific mark, because the drums are present from the beginning throughout the whole song. However, in songs such as M|O|O|N's "Hydrogen", you can hear that the bass has some satisfying punch and weight. But then again.. in a song such as Kendrick Lamar's "Wesley's Theory" you can feel the lack of weight for the bass present in the song. I personally didn't find this a big problem, as though I felt the sub frequencies had a satisfying performance, while the mid-bass was balanced and let me focus more on the mid range.
"Paper Trails" by DARKSIDE is a great example to notice the dominance of the sub-frequencies of the SV004, you can feel more than you can hear.
Mids
I didn't quite expect a fairly neutral sound signature from the SV004, especially considering their price. However, that is exactly how they sounded, fairly neutral, and not overly recessed.
The whole listening experience of Pink Floyd's album "Wish You Were Here" was very pleasant. I loved the way it revealed details - for example in "Shine On You Crazy Diamond (Pts. 6-9) at mark 10:16, there is a very subtle distortion (sounds like a blown out speaker rattle) which is panned to the left. It's a very subtle and fine detail, but I greatly appreciated that the SV004 was able to capture it and reveal it clearly. If you are having a hard time hearing it, you may hear it more clearly from mark 11:25 - 11:30. I did find some vocals or instruments to sound thin at times, this is mainly due to the lack of bottom end.
Highs
The high-range is leaning towards the bright side. While cymbals do sound quite crisp and sharp on the SV004, when it comes to guitar solo's and some more busy tracks, there is a noticeably amount of fatigue to the sound. I think that the top end is the most noticeable part which was "boosted". Let's take Kendrick Lamar's "Bitch, Don't Kill My Vibe" as an example. Throughout the majority of the song there is a snare which repeats itself. Here, you can notice that it is forward, and it is leaning to the brighter side. It definitely sticks out of the mix. This can be noticed in several songs, but let's mention the one song which I always go over: Travis Scott's "Stopy Trying to Be God", and Stevie Wonder's harmonica in it at mark 5:19. While I usually look for sparkle in the top end, perhaps the SV004 has a little bit too much. I say this because it does sound fatiguing, and if you were to listen to music which has a lot of top-range present, I don't think you would be able to do so for longer periods of time… but again, this depends on the volume you listen to.
Soundstage -
The soundstage is of good size. It's not as spacious as I like it, but I cannot say that it isn't wide. Listening to various tracks where this is very noticeable such as: Burial's "Archangel", "Letter" or "Bubbles" by Yosi Korikawa, "Hunter" by Björk, Daft Punk's "Giorgo by Moroder". There aren't any specific moments in these songs which I would like to reference, as a whole they are very spacious and good to hear imaging.
Conclusion -
I have to say I'm impressed. I'm not going to sit here and focus on the small imperfections.. We are talking about a $90 headphone. At $90, these are amazing. I have to say that when you consider the packaging/unboxing experience, the accessories, the build quality.. I mean wood, and mostly metal/aluminum construction? Yes. The sound quality which is mostly neutral and balanced, even though it has some imperfections, I really did enjoy listening to music. I think the SV004 offers much more than what you would usually see in the mainstream market at this price point. The SV004 as a package is a great deal, especially if you are just looking for an entry-point pair of headphones to carry with you, it's a great package. This being said, I can say that I can recommend the SV004, I personally enjoyed it. While they won't satisfy the bass heads, they are perfect for those who enjoy a variety of music. I liked several genres with the SV004: pop, rock, alternative rock, hip hop, and even some techno tracks.
I also want to put extra emphasis that they had absolutely no flaws. Everything was perfect in terms of build quality. Sivga also stayed very close to its marketing, the sound was mostly balanced, although not soft. The SV004 give a very serious performance for its price range, they are of very good value. I am impressed, and am curious what else SIVGA has to offer.