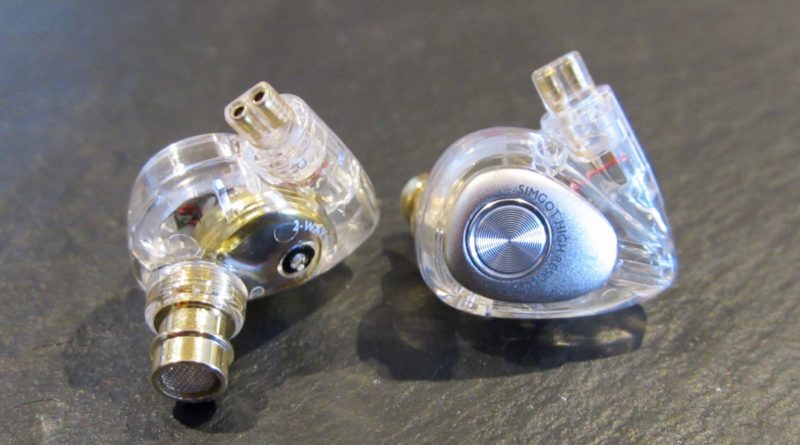 EXECUTIVE SUMMARY
The nicely accessorized, well fitting/isolating Simgot EM2 impresses by its balanced, crisp, transparent, bright, neutralish sound. A more forward (lower) midrange would move it closer to perfection.

INTRODUCTION
I have seen a few reviews of the Simgot EM2 already, most positive, one negative. I was rather surprised when putting these in my ears as I could not remember anything this crisp and clear in the $100-150 class. These Simgot EM2 belong to yet another new generation of multi-driver earphones that sound sleeker, fresher, and more natural than the previous one (as you will see below).

SPECIFICATIONS
Transducer: 10 mm high magnetic compound dynamic driver & Knowles balanced armature RAF-32873 polymer compound titanium-plated diaphragm N50 strong magnetic circuit, acoustic hanging system, Brass stabilizing rings
Frequency Response: 15 Hz – 40 kHz
Sensitivity: ≥101 dB(at 1000 Hz)
Impedance: 15 Ω
Distortion: <1% 101dB(20μpa)
Channel Imbalance: <1.5dB(at 1000Hz)
Rated Power: 10 mW
Cable: 4 cores of SPC braided cable with 2-pin connectors.
Price: $116
(at the time of the review)
Simgot Amazon Store:
LINK

IN THE BOX…
…is quite a lot. The Simgot EM2 are generously accessorized including the best leather case coming with any earphone I have unpacked. What is particularly nicely done is the presentation of two sets of eartips, one narrow-bore for bass emphasis, and another wide-bore one for treble. Although, this turned out to be less useful for me than expected.


PHYSICAL APPEARANCE, HAPTIC, AND BUILD QUALITY
The Simgot EM2's housings are made of acrylic (similar to the NiceHCK DT600 [
review
] and the $$$ Sennheiser IE 500 Pro [
photos
) is good but not as good as CNC machined. The 4-core 2-pin connector cable is flawless, has a chin slider and no microphonics. The cable's metal parts are coated with protective clear plastic.


ERGONOMICS, COMFORT, ISOLATION, AND FIT
Isolation is marvellous, the EM2 are great for street use. Even with cars around I did not miss any of the music's details. Worked also well when my wife watched television next to me. The shells are small and comfortable. I'd compare them in this respect to the Sennheiser IE 40 PRO [
review
].
SOURCE AND EARTIPS
The EM2 were easily driven by my iPhone SE. The included wide-bore tips generated a treble-happy, blurry, unbalanced sound that didn't do it for me. The included narrow-bores, on the other hand, worked just great for me.

TONALITY
JK's tonal preference and testing practice
The included narrow-bore eartips allegedly emphasize bass. But all they do is move the lower treble peak to the left and attenuate the upper treble resonant peak, which creates only the perception of a stronger bass.
Simgot EM2 frequency responses with narrow-bore and wide-bore tips.
The overall image is a gentle U with a forward inclination from between the nicely extended sub-bass into the lower midrange, similar to favourites such as the Sennheiser IE 40 PRO, Soundmagic E10C, or the original black Brainwavz B200. This means that the bass slam comes from way below (and not from the mid-bass or upper bass), which avoids a thick low end and generates clarity in the vocals department of the lower midrange but also keeps warmth to a minimum. The bass is fast, focused and crisp, but not overly punchy, just as purists like it.
Simgot EM2 frequency response with narrow-bore tips.
The lower midrange is a slightly recessed and low voices/rhythm guitars could be a bit denser with more body and lustre, but this recession adds depth to the image. Vocals are clear, well contoured, and natural. The slightly boosted upper midrange adds brightness to the sound but not enough to create harshness. The whole midrange is close to neutral.
Treble fits in with the midrange. It is not overly extended and devoid of strange peaks, which excludes sibilance and piercing. High piano notes are well defined and cymbals are crisp and well resolving but they don't have the sparkle and pearliness of the ISN Rambos [
review
].
Soundstage is of average width, good height, and lesser but still average depth. Instrument separation and layering are good and so are transparency and sense of space. The timbre is almost there for classical music, a bit of natural warmth is missing in the string instruments, but this is rather minor. I find that the DD and the BA work well together and produce a coherent image.
Simgot gives a channel imbalance of maximally 1.5 dB at 1 kHz (see specs above) — I achieved a close to perfect match in my measurements across the frequency spectrum.
In summary, the sound of the Simgot EM2 can be described as leaning towards bright and neutral (but not sterile), with excellent clarity. I found they brightened up some of my dull, muffled old 1980s recordings.
Frequency responses of the Simgot EM2, Ikko OH1, and the Kanas Moondrop Pro: similar graphs, different tonalities.
In comparison, the warmer and more organic sounding single DD Moodrop Kanas Pro ($179) [
review
] have a stronger bass slam, smoother midrange and treble, and less transparency. And they have bigger and much heavier earpieces.
The $139 Ikko OH1 [
photos
] have even more emphasis on sub-bass than the Kanas Pro and a more pronounced V-shaped image than the Simgot EM2, while being warmer across the frequency spectrum. Their alloy shells are marginally bigger and CNC machined.
The fact that the frequency responses of all of the above are essentially identical from approx. 2 kHz down, shows the limitations of the usefulness of measurements for characterizing/comparing the sound of different driver configuration/tunings…and/or that my fantasy took over.
The Sennheiser IE 40 PRO also have a warmer, fuller sound with a more robust low end and more upper treble than the Simgot EM2.
In summary, the EM2 is the closest to neutral, clearest, and the least bassy of the bunch and will appeal to the demanding and mature listener.

CONCLUDING REMARKS
Overall, these Simgot EM2 are a keeper which excel by their clarity — the only improvement I would suggest is bringing the lower midrange forward. The sound quality of this 1+1 hybrid shows once again that less is more and that the race for the highest number of drivers is futile, at least in the budget and mid-price segments. I am sure we will hear a lot more from Simgot in the near future. And since their products are available from amazon, you don't have to wait long for your shipment.

DISCLAIMER
I received the EM2 unsolicited and free from Simgot for my independent review. Thank you very much!
This review was originally posted at
https://audioreviews.org
.
You find a series of photos of the iem
THERE
.
Our generic standard disclaimer
About our measurements