Item information
Added by
Views

6,426
Reviews

6
Last update
Rating

4.33 star(s)

6 ratings
Latest reviews
Previously known as presata
Pros
:
good bass response, solid build and packaging, small and comfortable, pleasant sound with aftermarket eartips
Cons
:
aggressive upper midrange(with the stock tips), dip in the lower mids, the bass is tight but it lacks texture, you need aftermarket tips to make them sound good
source for the review - Sabaj DA3
Songs used for the review
Jim Keltner - Improvisation
Eric Clapton - My father's Eyes
Nah Youn Sun - My Favorite Things
Inception - Dream Collapsing
Steve Strauss - Youngstown
Stimulus Timbre - Expression
Diana Krall – Let's Fall in Love
Trevor Jones - Clear The Tracks!
The DALI CD - Zhao Cong , Moonlight on Spring River
Baba-Yaga, for orchestra, Op. 56
Rebecca Pidgeon - Grandmother
Sara K - Maritime
Trevor Jones - Promentory
Patricia Barber - Regular Pleasures
Dire Straits - Brothers In Arms
Dire Straits - Your Latest Trick
Dave Brubeck - Take Five
Marcin Przybylowicz - Go Back Whence You Came
James Horner - Going After Newt
Hans Zimmer - Dream Is Collapsing
Hans Zimmer - Molossus
Harry Gregson - Emergency Launch
Shpongle - Shpongle Spores
Dizzy Gillespie - Could it Be You
Dominik Eulberg - Björn Borkenkäfer
Trentemøller - The Forest
Kryptic Minds And Leon Switch - Ocean Blue
Nirvana - MTV Unplugged In New York (Album)
Xiomara Laugart - Tears and Rumba (2015) [192-24](Album)
Xiomara Laugart (2006) Xiomara (24-96)(Album)
Xiomara Laugart (2010) La Voz (24-88)(Album)
specs
Transducer unit: 10mm high magnetic composite dynamic driver
Diaphragm: Polymer composite titanium-plated diaphragm
Frequency response: 15Hz-40kHz
Sensitivity: ≥101dB (at 1000Hz)
Impedance: 16Ω
Price - 60$
That is my first review sample, thank you Alan.
Packaging
The packaging is very good, you get very good quality 6 pairs silicone eartips, braided black removable 2 pin cable, the box is nicely padded from the inside so everything is well protected.
Build, fit and comfort
The build is solid, they are made from plastic but it is thick and durable, is not thin plastic body like the Massdrop Nuforce EDC3 for example. The nozzle is made from metal, another good point about their build.
The cable is good but i like to use aftermarket cables.
The comfort is very good for me, they are small and fit very well.
They have two types of tips, 3 sets of wide bore tips and 3 sets of narrower bore.
The wide bore is for cleaner more open sound, narrow bore is for warmer sound with more bass.
I like the tips very much, they are soft and i use them with some of my other in ears.
isolation
The isolation is good but they have a vent in the front, it is not strong but they block some noise.
Overall sound signature.
Mid bass boost with strong upper mid/lower treble area.
EDIT 09.06.2019 - today i tried them with small bore Sony mh1c tips and deep fit, the grain in the upper mids is gone and they are a lot better, the stock tips are holding them back
Bass
Has a boost in the mid bass, is not a lot, probably 3-4db over DF flat line. The extension is good, they can go low but the mid bass is taking the lead here, sub bass takes a step back in the overall response. Bass control is very good, tight with good speed. Texture and details are not very good, lack of separation between the notes, the details are not easy to hear. Overall good bass response with tight hits but not a lot of texture and the sub bass is one step behind the mid bass.
Mids - with the stock tips
Are uneven sounding, kind of dry and not tonally correct. Recession in the lower mids, they sound like detached from the bass, there is no smooth transition from the bass to the midrange. Huge boost in the upper part, the mids lack body and sound very aggressive with some songs.Male vocals sound thin and the female sound very forward, no musicality, no lushness or body, dry and forward.
EDIT - with Sony tips
I found that with small bore eartips and deep fit (from Sony MH1C) the midrange is very improved, smoother and more musical, not so aggressive anymore.
Treble - with stock tips
The boost in the upper mids continue into the lower treble, at the same time they lack upper treble, the extension is poor. For that reason the treble has some grain to it, it sounds rough and unrefined. Lack of air and finesse. The treble is not aggressive like the upper mids but has some edge to it. Overall not very good treble for those reasons.
EDIT - with Sony tips
again, with Sony tips the treble is a lot smoother and the grain is gone, a lot more unoffensive treble response
Soundstage and imaging.
Soundstage has good width but is not very deep. The imaging is not very good, not very specific and with fast and complex tracks is getting a little bit cloudy. The instrument separation is average.
Conclusion
Good package, build and comfort, average sound with the stock tips, smoother pleasant sound with the Sony tips.
For the money they are good only if you use them with narrow bore eartips.
Recommendation to Simgot - Consider including narrow bore eartips instead of the wide bore "analytical" ones.
Have a good one.
Pros
:
Well-suited for most genres
Enjoyable bass response
Well-positioned mids
Good stereo width
Comfortable, isolating fit
Cons
:
Sharp upper mid frequencies
Layering and separation are strictly average
Lacks micro-details
The Simgot EM1 is a relatively new entrant in the crowded sub $100 IEM segment. Without any of the usual aces like dual dynamic driver or hybrid dynamic + armature drivers that you see frequently in recent time, this one purely relies on a single dynamic driver.
Currently available for purchase on
Amazon.com
for $60, the EM1 can also be purchased by direct mail to
overseas@simgot.com
for international destinations.
Note
: The review unit was offered to me for free in exchange for an honest review by Simgot Technology Co. Ltd. representative. This however does not have an impact on my review.
Build, fit and packaging
The EM1 comes in a nice, big box and the contents are organized pretty well. While the package is big, the contents are just the essentials – the IEMs, cable, eartips and a small manual.
Fit is fantastic – they are small enough to fit all ear sizes and comes with a variety of ear-tips to suit every one.
The cable has 4 wires braided till the Y-splitter and then it is split to two per side. The wires after the wire splitter is on the flimsy side and can get tangled while unfolding for use, even when it is rolled and tied for storage. The heat shrink tubes for over-the-ear guides are pleasant and non-intrusive to use. The cable has a slider as well, but it doesn't do its job and is fond of its resting position on top of the Y-splitter.
The 2-pin connectors remind me of the FiiO FH5 – looks pretty similar. Due to the protruded nature of the connector attached to the IEMs, most after-market cables will leave the connector portion exposed, while not hampering functionality.
The 3.5 mm plug is standard affair and no fancy gold-plating or gimmicky texture to it – does its job.
Tip Rolling
The EM1 comes with 2 sets of ear tips – each come in 3 sizes. The first set of tips is for mid-centric sound. These have softer material and short, wide bores. These do not offer great seal. I used the M sized tips of these and the sound was less warm and mid centric as specified, but not my cup of tea. So I did not spend more than 10 minutes with these tips.
The second set of tips are supposed to enhance the bass. These have narrow, longer bores and with the slightly firmer material, offer good seal. Even in the subway, these attenuated external noise to sufficient levels that I did not have to turn up the volume to enjoy music. As always, since there is no active noise cancellation, you do lose the impact of low frequencies in noisier environments. I use the L-sized tips and the rest of the review is with these tips.
So how does it sound?
Here's the setup for my evaluation
Source
: FLACs (16/44.1, 24/48 and 24/96) or Tidal Hi-Fi
Chain 1
: Bit perfect playback through the UAPP player on my LG G6 with ES9218p DAC SOC
Chain 2
: Bit perfect playback through Foobar2k along with my laptop paired with the iFi Nano BL and line out to Headamp Gilmore Lite MK2 amp.
As always, a perfect seal is essential to any IEM. A quick listen to the EM1 is enough to acknowledge that it is a well-rounded package for the price. The IEM has enough weight on bass frequencies and extends well into sub-bass frequencies. While the bass texture is not outstanding, it is good enough to have an enjoyable experience from a small, dynamic driver configuration.
The bass lines on
Steely Dan's Cousin Dupree
are rendered well by the EM1 – enough weight to keep you engaged and feel the impact. The texture on the other hand is not excellent but rendered enough that most of the folks won't complain. The upper-mids have a peak around the 3k and 6k range which make the snare drums sound sharper than what they sound on my other headphones.
The highs are not well-extended like the lows but bring out enough detail while not sounding harsh and airy enough.
The vocals are neither too forward, nor recessed but positioned well. In fact, I love how the EM1 brings out female vocals in most tracks – quite engaging.
Rebecca Pidgeon's The Raven
album is a perfect folly for your EM1 experience. Rebecca's rendition of
Spanish Harlem
comes alive with nice, deep bass notes from the harp and these bass notes continue on a well-rendered layer. The vocals have enough warmth and lifelike texture. On the flip side, there are tracks like
Birdy's Skinny Love
and
Amanda Marshall's Let it Rain
, which have inherent sibilance in the recordings. The sharper upper mids of the EM1 is not a great pairing with such tracks – the vocals can sound metallic, nasal and quite sibilant.
Male vocals can be a hit or a miss based on the singer. To keep the bass from bleeding into the mids there is a dip in the frequency response in the 250 to 500 Hz region. On
History Song
by The Good, The Bad and the queen
, it is easily appreciable that the EM1 keep the mids clean, but the flipside to that is lack of warmth in male vocals. To be noted that while the bass on this song, while satisfying enough on weight, leaves me wanting more when it comes to texture.
The stereo stage is rendered quite well by the EM1 – the width is good, depth is just average (we are talking $60 here). The title track of
Michael Jackson's Thriller
substantiates this fact. Stereo width is pretty good – extends well beyond your head. Sadly, the EM1 is not one that renders layering on tracks very well – the driver is not fast enough and in busy tracks like
Muse's
Madness
, the EM1 cannot bring out the excitement when the track reaches its peak at around the 3-minute mark.
Select Comparisons
Tin Audio T2 –
T2 is a sub $100 veteran that has been appreciated and recommended by many. Retails normally for $50 and can be bought as low as $36 during a sale. The T2's midrange is exemplary, and vocals are rendered life-like. The EM1 cannot make the vocals as engaging as the T2. The higher frequencies on the T2 has a lot of air between notes and packs brilliance, however it can become a bit too hot to handle for some listeners. While the EM1 lacks the airiness, it still is good enough to be engaging for a varied genre of music, compared to the T2. The T2's driver is slow in bass notes and that can have a big impact on the texture of the bass notes, and it also lacks the slam that the EM1 offers.
Between the two, my pick would be the EM1.
FiiO EX1
– Also sold as Dunu Titan 1, the EX1 is a semi-open IEM that was sold in the sub $100 price range. The EX1 is also a single dynamic driver like the EM1 but benefits from a faster driver renders bass texture much better than the Simgot EM1. The vocals are also much better in resolution and texture compared to the Simgot. The upper mids and lower highs is where the EX1 is a bit too hot to handle for me – on the not so well mastered tracks, these can be quite harsh. But on well-mastered tracks, the EX1 offer enough air and details and easily trumps the Simgot EM1.
Conclusion
For a small, dynamic driver IEM at the budget end of the spectrum, the EM1 is a good enough package for the average listener. Seasoned listeners will be left wanting more and that is expected as the Simgot EM1 is not positioned as an audiophile offering. While yu will not be surrounded by music on the EM1, it is engaging enough to be a daily-driver for the casual listener, especially those who like to listen to music on the go.
And guess what – this doesn't drain your wallet.
Pros
:
Great tuning, very enjoyable with popular genres. Nice departure from typical V signatures.
Cons
:
Only average detail retrieval, some issues with instrument seperation
disclaimer: disclaimer: A big thanks to Simgot for sending the Em1 for review. If you have an interest in Simgot products, please check their website, Facebook page, or Amazon Store.
Unboxing / Packaging:
Those familiar with Simgot packaging with recognize the EM1 box as being exactly like the other siblings in the EM line. Slipcover with a lift-top underneath and understated graphics. The slipcover has all the details regarding model so the inner packaging is exactly like the other EM models. Earpieces are in a foam tray at top, carrying case below with accessories hiding inside a box in the lower compartments. This is perhaps a higher level of packing for an entry level model, but it does keep the line in parity.
Accessories:
Accessories with the EM1 are two sets of three tips (balanced and bass enhancing in SML), a soft cloth bag, and instructions. Here we can see the first difference in the entry level and the levels above as the case has gone from being the embossed leather magnetic closure design of the upper models to a simpler drawstring bag but it still serves the purpose well.
Build/Fit:
Shape is shared by all the EM line of earphones, but unlike the previously reviewed EM2 that used smoked transparent housings, the EM1 uses red/blue transparent housings to differentiate left and right earpieces. The polymer used is light weight, well shaped and comfortable in the ear and offers to move very little. For me seating depth is slightly shallow but with large tips a good seal is fairly easily achieved (this requires a size larger tip than I typically wear). There is a single vent on the inside of the shell slightly offset behind the center of the driver and visible in photo 4 and 5 below. Nozzles are Nickel-plated brass and exit the front of the earpieces with a forward rake.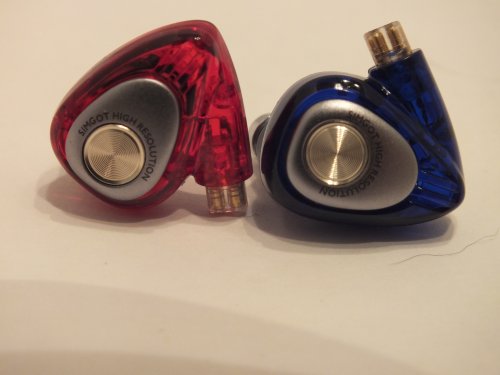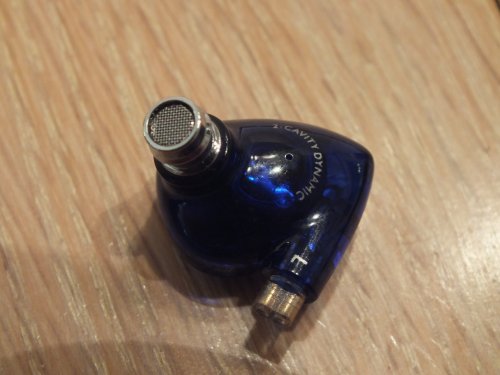 Internals:
The driver in the EM1 is the same 10mm titanium plated composite dynamic of the EN700 Pro so we expect to see similar strengths and weaknesses here. (This is nice for those that like the EN700 Pro but want to spend a few less coin). Nominal impedance is listed as 16Ω with a sensitvity of >101dB/mW at 1kHz. I found the EM1 was easy enough to drive with a phone or tablet but does scale some with better amplification. The ceiling is still reasonably low as I didn't see much of a boost going from something like the xDSD to something like the Burson Swing/Fun combination.
Cable:
The provided cable is listed as a 4 core 6N OFC braided copper cable. The Jack is the straight TRS style with a brushed aluminum in clear soft rubber coating with a proper strain relief and a cable tie for use during storage. Cable is two twisted pairs that are then twisted together up to the splitter and single above it. The splitter matches the jack in style with brushed aluminum inside a soft rubber casing. From there, each pair exits and runs to a pre-formed hook without memory wire and a .78mm hooded bi-pin connector. This connector style is becoming more common but is still semi-proprietary as not all the recesses are the same dimensions. L/R marking on the connectors are extremely hard to see and a red/blue arrangement instead of the brushed aluminum bands would alleviate this and complement the earpieces as well (just a thought).
Tips:
Two cards of tips are provided each containing small, medium, and large tips. The first card is the balanced tips, while the 2nd card is low frequency enhancing. Both styles are single-flanged silicone tips but lengths differ between styles with the bass enhancing tips being taller while the matching neutral tips are wider but not as tall. They are indeed enough different to change the signature and it would be nice if Simgot offered the ability to buy extra pairs of your preferred size and type. For my listening, I used some of each style of tips as the bass enhancement was fun for pleasure listening while the neutral/high frequency tips are a bit closer to neutral (but still not close). Unlike some of the other Simgot models, the EM1 is very much tuned for pleasure listening rather than critical listening so you might was well do what you most enjoy right?
Sound:
[caption id="attachment_2782" align="aligncenter" width="800"]
Graph made using Tip style 1[/caption]
Bass:
I have to admit that with the EM1 sharing a driver with the EN700 Pro, I expected some similarities in the sound profile and some of the same weaknesses to persist. I am very happy to say that the breakdown of the bass at higher volumes on the EN700 Pro does not seem to be shared by its little brother (unless above normal listening levels). That issue may have more to do with shell material and reflections than it does with the driver itself. Sub-bass is present in good quantity with reasonable rumble and roll-off not becoming notable until into the 40Hz range. Mid-bass is in similar quantity to sub-bass and while elevated slightly, it doesn't bloom or get boomy. There is some perceptible bleed into the lower mids thats add a bit of warmth, but doesn't detract substantially from detail (partially as this isnt a super detailed earphone to start with.) Overall the low end is good for those looking for headphones for popular genres that need a good bit of slam and rumble.
Mids:
Lower mids have some shadow from the mid-bass bleed and are slightly recessed but begin to climb forward pretty quickly with upper mids being substantially forward. For this reason higher pitched vocals can sound in front of lower but lower have a bit more warmth and natural tone to them. The climb is gradual so it is hard to pinpoint at exactly what point things start moving forward in the signature and guitar at times seems on even footing with both male and female vocals. String timbre is helped by pushing the mids and upper-mids forward and is better than expected on an entry level product.
Treble:
Lower treble plateaus as it exits the upper-mids so it is inline with upper mids and gives vocals a bit more energy and life. True treble climbs a bit more forward with roll-off not being evident until above about the 7kHz mark. Sparkle and air are better than expected giving the EM1 a nice open sound. I did detect a touch of sibilance, but only with tracks that are known for having it recorded in and tracks with string noise (AKA Boston) are very prominent due to the treble tuning.
Soundstage / Imaging:
Instrument separation is unfortunately only middle of the pack performance and limits both the stage size and the imaging of the EM1. Soundstage is wider than deep and needs that width as instruments tend to overlap on more complex materials at times. A narrower stage would likely sound considerably congested as a result. Imaging is also good as long as their isnt too much going on, but can get a little off as things get complex. Seating the orchestra in your head sometimes overlaps instruments and sometimes gets them slightly out of sequence. While certainly not critical in an entry level set aimed at the casual listener, this will put some people off.
Thoughts / Conclusion:
Lets just start with this. If you are looking for a neutral highly detailed audiophile earphone, this is not it. If you are looking for something to pair with your phone and listen to your favorite hip-hop or pop, this will do swimmingly well. It has good thump and rumble at the low end, plenty of air at the top, and the mids aren't down in a hole like so many entry level V tunings tend to be. If I was shopping for a music loving friend for a birthday or holliday gift, these would be one of my top picks as their tuning offers something for those who like bass, something for those who like treble and something for those who prefer a mid-centric tuning. I'm not quite sure how they pulled that off as it isnt a common trick. What they trade to get that, is a bit of detail and they don't have the worlds best instrument separation both things that can certainly be lived with at this price point. If you have music lover on your gift list, or if you are the music lover and want to give yourself the gift, the EM1 makes a good choice.
Comments
There are no comments to display.