INTRO:-
Signature acoustics is one of best home grown earphone brands here in India. They have mostly ventured into single dynamic driver earphones. The wooden shell earphone C-12 has been their most popular earphone and has seen many revisions to its tuning.
This time around they have collaborated with an OEM and come up with two hybrid driver earphones. SA Raven and SA Ocean. Both the earphones have two Dynamic drivers and one BA driver.
The SA raven is the cheaper one, priced at 2799rs. It already is one of the best value for money earphone in the market. It has only one color option Black.
I am comparing it with a handful of earphones in its price range.
Specifications:
Earphone
: Triple Driver Hybrid Earphone (6 drivers total)
Driver Unit (each ear): 1 balanced armature + 2 Dynamic
Drivers: 10mm + 6mm
Net Weight: 25±5 grams
Cable Length: 1.2m±6mm
Plug Type: 3.5mm
Pin Type: 0.78mm 2 Pin
Frequency: 7-40 KHz
Impedance: 15 Ω
Sensitivity: 105 db
Channel Imbalance ≤ 3 dB
You can get one for yourself from here:-
https://www.amazon.in/Signature-Acoustics-Triple-Driver-Audiophile-Convertible/dp/B07YSFLJPF
Accessories:-
A departure from their eco-friendly packaging the Raven comes in a orthodox cardboard packet.
The SA Raven ships with 3 pair of silicone tips and one pair of foam tips, I would have liked a carry pouch but they have decided not to include any. There is no cable clip either.
It's not that anything else is needed but it would have been nice to add a carry case or pouch in the package.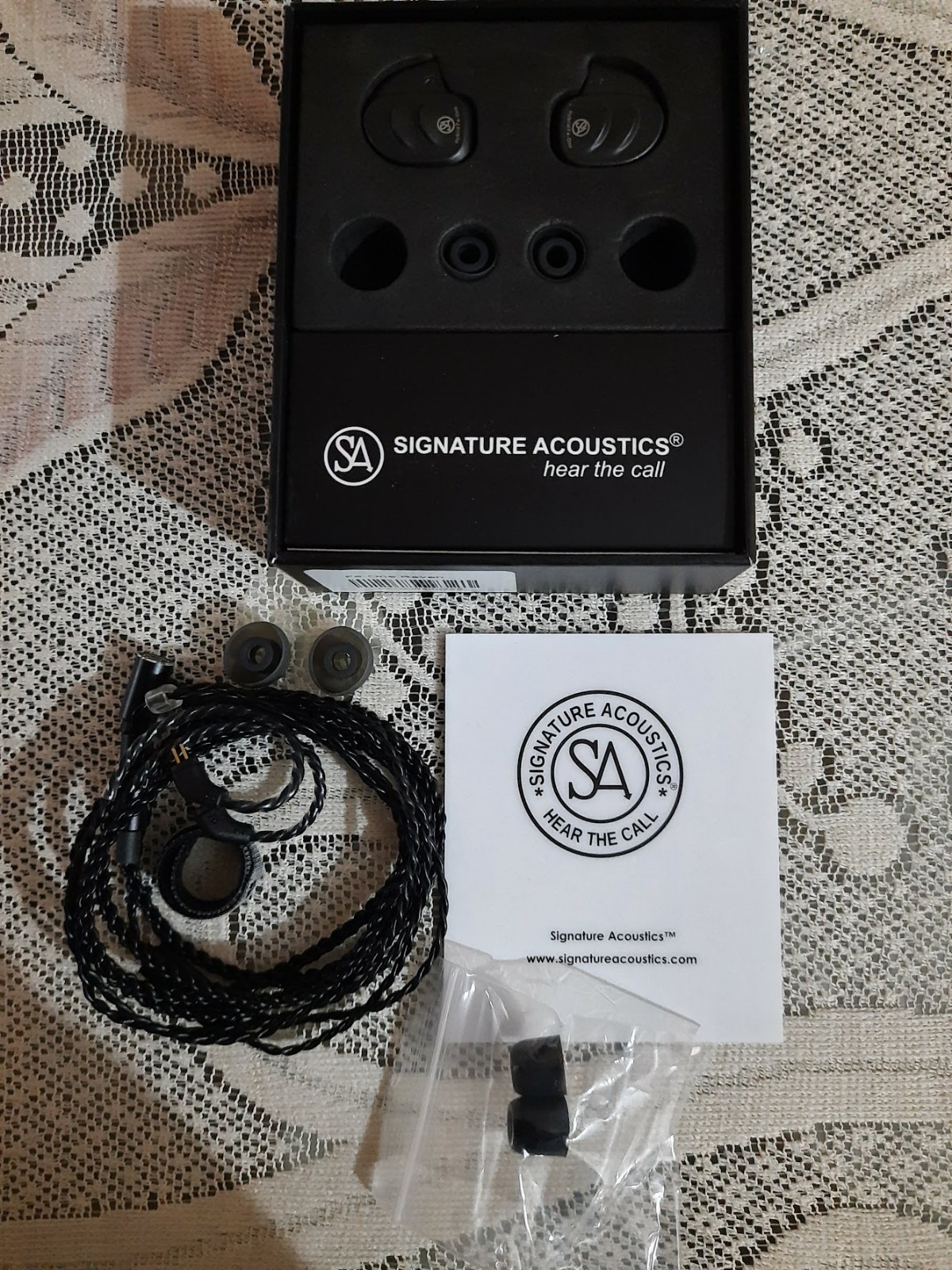 Build quality and ergonomics:-
The raven has a full metal housing with a slightly shallower nozzle length. The stock tips fit very well into the nozzle. Build quality of the earphone is very good.
Ergonomically it is okay. There are more ergonomical earphones in this price range but they are not readily available here in India. The body might feel heavier but one can use the foam tip to get better traction in the ear.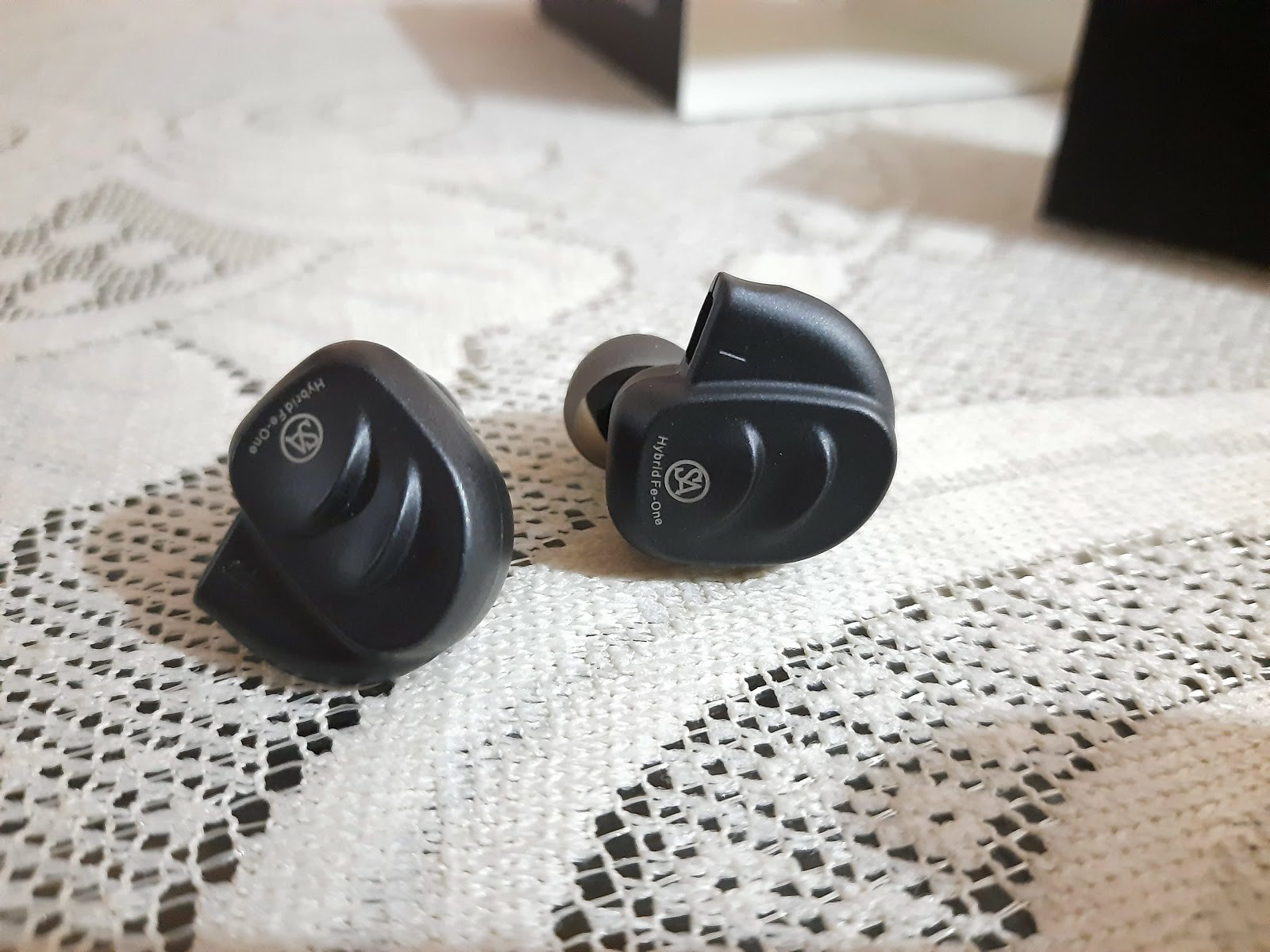 Cable:-
Cable quality is not far better than the KZ earphones but it feels suppler and less bouncy. It is a 4 core braided cable with a 90 degree plug and the 2pin socket is flanked by aggressive cable guides that hold the earphone securely.
the MIC quality is good, the single button remote has good feedback to it.
Al in all, it is a good cable.
Sound Quality:-
The raven has two Dynamic drivers and one BA driver to cover the spectrum. What I like about the driver configuration is that the dynamic drivers take charge of the bass and mid range and deliver without any problem.
The overall signature is balanced without emphasizing any part of the spectrum. It can be labeled as slightly dark and gloomy. The tonality is slightly metallic.
Burned for more than 40 hrs I am using stock tips and my Plenue R for this review.
Even when the Raven has a nominal impedance of just 15ohm it is slightly harder to drive mostly because of the lowly sensitivity of 105db. Driving the raven out of a mobile device is not a problem at all.
Bass:-
Even when the raven has two dynamic drivers, it is fairly balanced sounding earphone without much emphasis on any part of the spectrum and it is true for bass too. It is not big in any stretch of imagination, if you want bigger bass let it be impact or air or even rumble, going for their C-12 V2.1 will yield better results.
This doesn't mean the Raven lacks bass, it delivers the punch when called upon. It is similar to a Ba driver bass, sizeable but not big. Sub-bass has acceptable amount of extension with good amount of rumble. It moves acceptable amount of air too. Mid bass is not over exaggerated at all. It has good body, gives the lower end a fuller feeling. Upper bass is nicely controlled with very good amount of details.
Decay speed is very good, it is not as fast as something like the Brainwavz B200 but for the price it is as fast as it gets from a dynamic driver earphone. There is very good amount of details and the texture of the bass notes are well perceived.
Mid range:-
The Raven has a dedicated 6mm dynamic driver for the mid range. The transition from upper bass to lower mid is good, it is not as flawless as one might expect as the transition region lacks a bit of energy.
Even when the raven is a balanced sounding earphone the mid range is slightly more forward compared to the bass region, especially the vocals have very good pop to them. It delivers very good amount of details and the level of transparency is up to the class. Both male and female vocals have very good amount of details. Male vocals retain good amount of throatiness and female vocals have nice texture to them. I would have liked a bit more accuracy with the tonality but it is not something one will notice.
Instruments have very good amount of details and clarity to them. One cannot expect to pick up micro details but the Raven barely leaves any details behind. Notes have nice sharpness to them, the finishing is very good without any unpolished feeling to them.
Stage size of the raven is just average, on par with competition but the Kinera Sif deliver bigger stage in every direction. The Stage is nicely rounded but I would have liked some more depth to it.
Treble:-
Transition from upper mid to lower treble has a small dip in energy but it is nothing to complain about in this price range.
The treble region of the Raven has very good amount of energy to it. There is plenty of spark and the notes have nice bite to them. Treble extension is as good as it gets for the price range.
Let it be pianos, trumpets or cymbals, they have the very good amount of clarity to them. Finishing of the notes along with the presentation is up to the class, tonality could have been a bit more accurate. Let it be clarity or imaging the Raven doesn't have any problem delivering.
What is really impressive is the amount of control it possesses over the notes. The notes are sharp but not sharp enough to cause any discomfort. There is no sibilance to worry about. If you are not comfortable with slightly aggressive treble notes, you might find it a bit more than desirable.
Layering and separation of the raven is up to the class but thanks to the smaller stage size there isn't much air between instruments.
Comparison:-
VS Kinera SIf:- (not available in India)
The Sif is a single dynamic driver earphone priced at around $40 or 2800rs is one of the most capable earphones under $50. The V shaped sound signature is very engaging. The Overall tonality is more natural.
It has bigger bass size, bass head level bass. Has better sub-bass extension, mid bass is slightly more emphasized. It moves more air, the rumble and slam size is considerably bigger. Mid range is in the V but still has very good transparency and clarity. Vocals have nice texture and are similar to the Raven. What really impresses about the Sif is the cleanliness, notes have very good amount of air between them and deliver better layering and separation. The stage size is considerably bigger. Treble region of the Sif feels dull compared to the Raven. The extension is just okay compared to very good extension of the raven.
The Raven sounds more evolved and is tuned better until the treble is taken into account. Overall Sif is good if you want more bass, but if you are a fan of balance, Raven is the way to go.
VS SoundMagic E50:-
The E50 has only one dynamic driver and retails for around 3000rs.
It has bigger bass, sub-bass is similar with mire prominent mid-bass. Moves more air and the slam is bigger. Mid range lacks the amount of details. Vocals are good but feel less accurate, blunter without appropriate sharpness to them. Stage size is wider with similar depth. Compared to the Raven the E50 sounds veiled. The treble has just average extension without much detail to it.
Layering and separation is not up to the mark.
Raven has better details and better clarity.
Conclusion:-
Looking at the Indian market, the raven is a nice introduction in this price range. It is hard to find a balanced sounding earphone here in India. Everyone is more inclined towards bass heavy sound.
The raven brings plenty of details and adds better functionality with its removable cables. One can go for the BT cable and go wireless without spending a lot to get another BT earphone.
It deliver fantastic amount of details and clarity. If you love slightly forward vocals and enjoy very good amount of details across the spectrum you will love it. It is a very good bang for bucks earphone, a solid deal for just 2800rs.
Thanks for reading, have a nice day.
Cheers.