Before reading below, Please check out my in-depth YouTube review of the Shure SE215 as well! Please support my new channel by clicking "like" and sharing it with your friends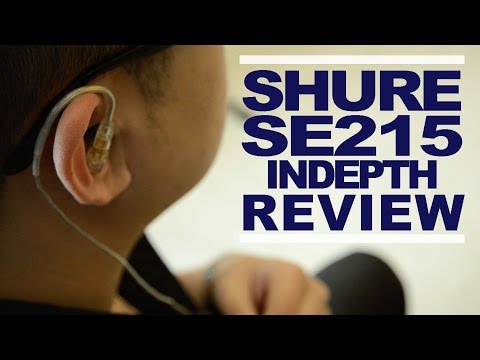 Background Information
Before I begin, I picked these up at my local music store for $99 CAD. They currently retail for $124 CAD and I believe $99 USD. Street and used prices vary widely with the SE215s.  
First of all the reason I rate the SE215 4/5 stars is primarily because of the value it presents under the $100 mark. You will be extremely hard pressed to find a pair of IEMs at this price with such rugged build quality along with its very likeable Shure house sound. Although it is not the most detailed IEM out there it is one of the best in this price point and users who are looking for this type of sound will be satisfied. I also find that this IEM directly caters to the average consumer's preferences due to its plentiful mid-bass impact as well as the forwardness of the midrange especially with male vocals.   
First of all, being a dynamic driver IEM, it does have its strengths and weaknesses. However, it is hard to fault the 215s due to the price you can obtain them for and these shortcomings are nothing major. I personally, am a huge fan of the Shure house sound. Having previously owned the SE315, SE535 and currently own both the SE215 and SE425s I can easily say the SE215 hands down present the best value out of all of these.   
View attachment
View attachment
Accessories
The SE215s don't come with the full Shure "fit kit" that you get with the SE315s and up. Therefore, it is lacking the 1/4inch adapter, the yellow foams, and also the triple flanged eartips. Although you do get a good enough selection with the SE215s with 6 pairs of tips in total (3 pairs of foams + 3 pairs of rubber). Included is also a soft shell case which is a nice touch but don't expect it to protect your IEMs if you plan to toss it around in your bag as it is prone to getting squished. For that, I would recommend a hardshell case like the Pelican 1010.  
View attachment
View attachment
Build Quality
Two words - Simply Outstanding! Definitely a class leader in the build department rivaling many competitors at the $1000+ range. I am happy to see that Shure did not cheap out on the SE215s and maintained the rugged build quality from the SE215's older brothers. Although the SE112 which was released not too long ago does not have this rugged build (which is forgiveable considering the price). The SE215s build just exudes quality and durability. I can clearly see that these were built for professional use.  
The L-Shaped 3.5mm gold-plated jack has a very bulky and industrial design. Strain relief is probably the best I've encountered on any IEM. Although it is important to note that there is a high chance that the SE215s will not be able to fit in your phone cases.  
View attachment
The Y-Splitter is even more impressive. At no time do I feel that the cable will break or tear apart.  
View attachment
The detachable cables are the selling point of the SE215s IMO. Although the Shure connectors are hard to pry off at first, once you get used to them it should be quick and painless. If the cable does die on you (which I highly doubt) replacements can be found for under $50 a piece.  
View attachment
Comfort
Overall decent for me. You will either love the over-the-ear design or hate it. I'm impartial. Although I do still kind of lean towards just a traditional wearing style. It's a lot easier and doesn't require 2 hands. It can be a hassle to put on at first when you are not used to it after a couple days of putting them off and taking them off you get used to it. However, with the over-the-ear design, the SE215s reduce microphonics to a minimal. This is also great for stage use as it keeps the IEMs from moving around while you are moving on stage.   
The negative profile and ergonomics of the SE215s are also a plus. They are suitable for listening in bed as the driver housing does not protrude out so you can lie on your side comfortably. The design of this is very reminiscent of a Custom IEM (CIEM).   
Sound Quality
Probably what most of you guys are expecting! However, I am slightly dissapointed to report that the overall sound quality (SQ) is the SE215s weakest point in comparison to its build, comfort, etc. This is not to say they sound bad, but at this price if you are solely looking for sound quality, you may need to look elsewhere.   
Bass
With the SE215s you can expect thumping bass with good body and impact. The lows do bleed into the mid frequencies but due to the abundance and forwardness of the mids, the midrange is never masked. However, the bass at times can get slightly uncontrolled and boomy on tracks that have quick transients as the dynamic drivers of the SE215s are unable to keep up with the quick decay. Electronic music therefore sounds a bit slow and congested in the lower regions. That is why I prefer slower tracks with the SE215s such as Hip-Hop/R&B. I wouldn't say the SE215s have a good amount of sub-bass but on the contrary, they are more mid-bass focused. They lack the rumble in the lower regions sometimes (Dru Hill - Angel).  
Midrange
Definitely the highlight of these IEMs. As with every Shure SE model that I've heard (up to the SE535s) I find the midrange to be extremely forward and very likeable. You get that warm midrange that works well with vocals and genres such as R&B, Soul. Great also for slower songs such as acoustic and singer-songwriter stuff. Jack Johnson sounds particularly good with these (Jack Johnson - Banana Pancakes). Great amount of detail retrieval in the midrange and just overall a pleasing and buttery smooth experience. Male vocals sound great but female vocals can sound slightly restrained (depending on the singer) as it does lack that upper-midrange to treble sparkle and energy.  
Treble
Only the SE535's have only slightly impressed me with the upper regions. The SE215s I can confidently say that they lack of any sparkle or shimmer in the treble regions. Cymbals and triangles seem forced at times and it feels like trumpets have their mutes on (even when it is being played without the trumpet mute). Many times I can't even hear or barely hear passages in the upper registers without looking for it closely. Not at all impressed with the treble extension on the SE215s.  
Soundstage / Imaging
A very narrow soundstage both vertically and horizontally. Due to the fact that these IEMs lack extension on both the top and the bottom, it is a very mid focused with everything sort of congesting in the centre. The sound is therefore in your face which is a good thing for music professionals who need that sort of reproduction on stage. Not too good for HiFi listening though as the instruments are slightly harder to pick out.  
As described above, the instrument separation is just average, therefore the imaging is just decent as well. Most instruments are heard but once you get up to more demanding tracks the SE215s start to fall apart. On more convoluted tracks, the drivers of the SE215s are only able to pick up the main instruments in the mix leaving a lot of background / secondary instruments not able to be heard clearly or even at all sometimes. Therefore, it does lack transparency in this sense. The placement of instruments does not give you a 3D feel but the 2D left and right panning is done well.  
Final Impressions
All in all, I love the SE215s and use it for work (DJ) where I can throw it around and not worry about breaking it due to its rugged professional design. I also have the Sensaphonic custom sleeves on there which improves the isolation and bass response. It also has the bass quantity that I need when performing on stage. These are my go-to IEMs for under $100 for a well-rounded warm sounding IEM.  
The Shure SE215 deserves a solid recommendation for me due to the fact that it is comfortable, and most of all built like a tank! Sound quality is quite good as well but if you are critical about the finest details, then I would suggest the HiFiMAN RE-400 or the VSonic VSD3 both under $100. To many people who are not used to flat sounding headphones/IEMs these will sound amazing and are very versatile. However, to the more discerned individual who listens to nothing but neutral headphones, these may sound bloated (although most likely an exaggeration) and lacking in detail.  
Tracks Discussed:
Dru Hill - Angel
Jack Johnson - Banana Pancakes  
--  
Happy Listening!  
Kevin