General Information
Latest reviews
Pros
:
15 hours battery life, aptx, balanced sound, nice ergonomics, water resistant, fast charging.
Cons
:
A little Pricy, bulky if you are not using it.
Shanling Mw100 wireless earphones
Rated from a scale from 1 to 10:
7.0
The product was provided to me free of charge for the review purpose in exchange for my honest opinion. Thanks Shanling for the opportunity to review the MW100, you can buy it here, in
amazon
.
Also you can see the Mw100 in their website
here
In the box you can Find

:
-The shanling MW100 earphone
-3 silicon tips (S,M,L)
-Micro usb to usb cable
-carrying pouch
Technicall specification:
Battery life: 15 hours (Playback), 14 hours (Calls) and 300 hours (Standby)
Frequency response: 20 - 20 000 Hz
Bluetooth version: Version 4.1
Driver: 10mm graphene driver
Transmission rate: 10m (30ft)
Supported protocol: HSP/HFP/A2DP/AVRCP
Weight: 34.3g
Charging time: 2 hours
Fast charge: 10 minutes charging for 2 hours music
Supported codec: SBC, AAC and aptX
IPx Rating: IPX5
Bluetooth Chip: CSR8645
Microphone: Sixth-generation of cVc noise cancellation technology
Design (Awesome fit overall and skin friendly material)
First of all, im not a fan of these types of earphones with neckband because the mayority of them have a terrible design and bulky cable feel when you are not using it. Glad that shanling dont take this path and choose the best ergonomic friendly design for every day commute (as is supossed for people that constanly use a Wireless earphone).
The Shell of the earphone (the entire earphone actually) is made with plastic that feels very lightweight to the touch and to the ear that can be also sit very gently to the ear when you put them in. One of my worst fears was the neckband, i was thinking that i will feel it hanging in my neck all the time and i will be uncomfortable but this is not the case at all. When i try them, really have to said that i never fell it at all the liquid neckband and Shanling deserves credit for that.
The bad thing is when you stop using it is because are too bulky thanks to the neckband (you cant put it in your pocket for example). Is totally ok and understable for the design concept. You really need to put that 15 hours batterry life somewhere.
The design is far much better than that horrible bulky neckband piezo of the Samsung level u.
The isolation is average, you can make a phone call with them in the Street without any complication.
About sound (nicely balanced)
Well, i didnt expect a "killer sound" and is it like that. I need to remind that the MW100 was firstly made for people that need a Wireless earphone that you can carry everyday thanks to the 15 hours battery life and also for gym situtations. Also (the most important feature in this case) the sound didnt get interrupted at any time in any situation at all, so you are good to go with a good stable bluetooth connection.
The sound is balanced, not energetic and it didnt have a 3d felling of the soundstage (is more in a linear way). For me is the best tunning that Shanling can adopt in this case because of the type of people that they want to achieve. You are not inmersed in the music while you are walking, you dont have the music "in your face" all the time, is easily likeable for any people that try them on and you cant get bored or overwhelmed by music.
The soundstage, been very linear with some 3d presentation. Is the best way for on the go and been careful to the sounds that surround you (sometimes, because is an in ear model). Very airy mids and music presentation that comes well with every music. You can also feel a nice punch in the centre of the music presentation in a balanced way and it does not bleed in the other frequencies. Felling them relaxing all the time and enjoyable.
The bluetooth chipset is almost dead silent with a little White sound in the background. You can feel it in rare cases or when you are not playing any music (really quiet actually).
Everyday commute experience
I give it a roll for what it been planned the MW100 using them all the week (Monday to Sunday) for giving you an example of how behaves in the daily basis.
I use them for about 3 hours a day (making phone calls and listening to music) and they are your perfect companion thanks to the headband also. I put the earphone in and out of my ear everytime i need to talk and is pretty Handy. You can fell it vey lightweight in an overall experience of use.
The 10 minutes charging is pretty Handy when you are hurry to places and you forget to charge them. When i charge it in a 100% with a daily 3 hours of use, i need to charge them in the 4 day in the night. The 15 hours battery life is very well appeciated in all the cases under an active day of a normal person. The only downside is that you need a place to put them when you are not using it, the neckband is bulky and you may also need a bag for bring them out
Joggin with them are also pleasant and you never fell the neckband, Sometimes you can fell the in-line control but is just because is hanging in your left ear. You also will not have any listening fatigue when you are running, so you can focuse in your exercise.
Also i need to get used to while using it to the in-line control when you want to skip to the other song. You will have to press the volumen botton for 2 seconds if you want to go to the next song or to the previous one, not a big deal really but i need to read the manual for that lol.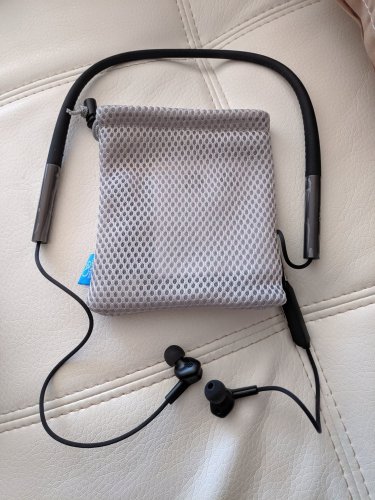 Conclusion (please make it more affordable)
The only downside is the price and i believe that shanling can be more competitive putting them in sale between $30usd and $40usd. There are many bluetooth options more affordable but these are the best if you are looking for a neckband Wireless earphones. Perfect for everyday listening with a lightweight and enjoyable music presentation and im looking to the future waiting for a Wireless (without neackband) bluetooth that shanling can deliver for sure without any problems thanks to the vast experience in audio that they have. Maybe the same balanced sound in a more tiny factor with less batterylife? Well lets heard what shanling have to us in the future.
Pros
:
Attractive Pricing
Good battery life
Stable connectivity
Cons
:
Foam tips might be helpful
Driver shell could be big for those who has small ears
Disclaimer:
Thank you Frankie for sending me the Shanling MW100 in return for my honest opinion. I am not personally affiliated with the companies in any way, nor do I receive any monetary rewards for a positive evaluation. The review is as follows.
Introduction:
Shanling
is founded in 1988. In the same year, Shanling embark their journey in developing audio products and showcased their first Hi-Fi stereo amplifier.
Today, main offices of Shanling are located in Shenzhen and factory is in Dongguang. Shanling is a high-tech company combining R&D, production, processing and sales of products, including Hi-Res portable music players, portable amplifiers, Hi-Fi headphones, SACD/CD players, Hi-Fi amplifiers, power conditioners and many other Hi-Fi products. We have established close relationship with many international top hi-end manufacturers and enjoy a good reputation in the industry.
In 2018, Shanling successfully transform their 30 years of experiences into wireless form. With the launch of
MW100
, it marked the new breakthrough in audio industry. Audiophiles and audio lovers can start to expect more wireless IEMs to be developed and designed by Shanling.
Shanling MW100
Unboxing:
Accessories in the box
In the Box:
MW100
Soft Pouch for Storage
Eartips
Charging Cable
User Guide
Specifications:
Battery life: 15 hours (Playback), 14 hours (Calls) and 300 hours (Standby)
Charging time: 2 hours
Frequency response: 20 - 20 000 Hz
Bluetooth version: Version 4.1
Transmission rate: 10m (30ft)
Supported protocol: HSP/HFP/A2DP/AVRCP
Weight: 34.3g
Supported codec: SBC, AAC and aptX
IP Rating: IPX5
Driver: 10mm graphene driver
Bluetooth Chip: CSR8645
Microphone: Sixth-generation of cVc noise cancellation technology
Design, Fit and Isolation:
Shanling MW100 is a wireless earphones with a silicon neckband. The neckband is fully flexible and you can roll the neckband to keep the unit into the provided storage pouch. I like the implementation of the neckband because it sits well on my neck. Normally, those wireless earphones without neckband always give me headache due to the weight unbalanced between the left and right. With the implementation of the neckband, this is like a paracetamol to treat my headache.
Foldable silicon neckband of MW100
At the driver shell, there is an implementation of magnet. With the presence of the magnet, the earphones stay stable on my chest when I am not listening to it. This is like adding sodium to the paracetamol making it more efficient and faster in action to treat my headache - I love it straightaway when I opened the box and tried on it. Well designed!
Magnets at the driver shells clip together
At the left side of the earphones, there is a microphone which is powered by sixth-generation of cVc noise cancellation technology. The position of the microphone is very ideal - the distance from your mouth to the microphone is minimal. This can maximize the reception of desired sound and minimize the reception of unwanted noise.
Besides microphone, there are three buttons built together with the microphone - Volume controls and multi-purpose button. With this design, user can control the volume and skipping the track immediately with the volume control buttons. Multi-purposes button can be used to pause or play the song and picking up or rejecting phone call.
Control panel on the left
The fitting of MW100 is supreme. I managed to find a good fit with Final Audio Type E ear tips. It stays well in my ear. With the correct ear tips, the isolation is good and MW100 is my daily commuting companion. In Singapore, the trains and buses are always crowded and noisy during the peak hour. With a wireless device like MW100 - I able to isolate most of the noise and submerge myself in my favorite playlist.
Battery life
The advertised battery life of MW100 is 15 hours continuous playback. This could be one of the longest I can find in the market. RHA has a battery life of 12 hours and Sennheiser has a battery life of 10 hours. I tested the battery life myself - Playing 320kbps MP3 from Spotify Premium it served me around 14 hours. Close to the advertised playback hours but do note that this is subjected to the playback volume. Higher the volume, shorter the playback hours.
Normally I spent around 3 to 4 hours commuting daily (disastrous right?). With a full charge in MW100, I can stay worry-less on charging for 3 to 4 days. So basically if I did my math correctly, I only need to charge the device twice a week! MW100 utilized a micro USB port at the control panel, together with volume controls and multi-purpose button.
Micro USB port located at the control panel
Connectivity
MW100 utilizes Bluetooth Version 4.1. It is not the latest in the market but at least it does not give me any headache due to connectivity flaws. MW100 supports SBC, AAC and aptX. This makes MW100 iOS and Android friendly. I have both devices and I able to connect flawlessly. So for those who are considering MW100, connectivity will not be a major factor to be considered. Shanling has a very experienced background in Bluetooth devices development. I am always very impressed by their DAP 2-way Bluetooth abilities.
MW100 in storage pouch
Sound
I tested this unit with my LG G6 playing Spotify Premium. I try to get myself in the consumer range so I did not use any lossless playlist in this review. The overall sound signature of MW100 can be considered as neutral - neither bias against nor for any frequency region in the spectrum. I am surprised because a lot of wireless headphones in this price bracket are designed to be bass cannons. This makes MW100 stands out more among other competitors.
The soundstage is sufficiently wide. In my three weeks spending time with MW100, I did not find any congestion in any tracks. On the y-axis, the depth is sufficient. I can obviously feel and observe the layering in most of the track. With the experience in designing ME100 and ME500, Shanling should come in handy when designing MW100.
Model name spotted on the neckband
Lows
As mentioned, MW100 is the rare one in this price bracket because it is not a bass cannon. For those bass-heads, you might want to look for other alternatives. The lows are sufficiently present. The lows response relatively precise. I would appreciate a faster decay in the lows but due to the depth in the Y-axis, there is no bleeding of the lows towards other frequency in the spectrum. If I were asked to describe the lows of MW100, I would describe it as a wave that hits on the beach - comfortable, decent and sweet.
Mids
This is where I love MW100 the most. If you read my reviews, you will know that I am a pop songs lover - Mandopop, Cantopop or whatever pop. I appreciate good vocal. What do I meant by good vocal? For male vocalists, they should sounds rich and firm while for female vocalists, the sound should be silky smooth. Please allow me to describe in a more Singaporean's way - for male vocalists, I would like it to be Nestle Milo with more Milo powder, to make it thick. For female vocalist, the most appropriate description would be Hong Kong's Silk Stocking Milk Tea. Weird but this could be the most accurate way to describe.
So, when I say I love MW100's mids, it ticked all the mentioned requirement. There was one day when I am doing my final year project, I wore MW100 with me for the whole day and I just love it. Ed Sheeran sounds emotional and soulful while Jennifer Warnes is soaring sweetly and smoothly. Flawlessly done!
Highs
A good highs should compromised a few factors:
Shall not roll-off too early.
Try to avoid frequency peak.
Has sufficient space and air.
This is my personal requirement - You can have your too. Highs for MW100 might be the most polite spectrum. Sometimes I do find it shy a little bit. This actually make this wireless IEM to be tamer and more gentle. This could be the reason why I can spend 3 to 4 hours a day listening to it without any fatigue.
The presence of the high is significant and accurate. It is placed slightly behind the lows and mids frequency spectrum. The air and space is sufficient. No congestion in the highs. The most important point to be observed here is the highs do not crack of sparkle when the volume is turned up. This is one of the common issues I found in most of the IEMs in this price bracket. The highs stand well even with high volume.
Conclusion
With the price of USD59.99, MW100 provides freedom without compromising sound quality to the user. This is the first wireless IEMs from Shanling and I would like to congratulate Shanling - You got it right!
Shanling truly understand what consumer needs and designed MW100 according to the demand. For those who are interested, you can make your order at
Shenzhenaudio.com
. As mentioned, I am not personally affiliated with the companies in any way, nor do I receive any monetary rewards for a positive evaluation.