I don't know who they are... but I like them!
Pros
:
Good performance, good details, good sensation of air, space and extension, overall a good set of IEMs...
Cons
:
Not my favourite tuning (but I still like them) and the short nozzle may not work for everyone...
The Seek Real Audio Airship have been sent to me by Linsoul in exchange for the publication of this review. As usual, they have not made any requests or comments and I will do my best to be unbiased in this review. Saying that, it is always good to consider the fact that I have not had to purchase these IEMs with my own money.
I will leave a non-affiliate link to the Airship via Linsoul on my blog, something that I always do in these cases.
Intro...
Let me start off by saying I have absolutely no idea who Seek Real Audio are. When I received these IEMs from Linsoul, I had seen the name a couple of times on forums but I really hadn't paid any attention. They arrived in a box with a couple of other things that Linsoul sent me and it was pure coincidence that I picked them up first.
I did a quick search of the brand online and other than recent comments and a few reviews, I really didn't find much. As usual, I refrained from reading any of the reviews as I try to keep any expectations (good or bad) at a minimum, when possible of course.
So, basically, when I started listening to the Airship, the only thing I knew was that they are available on Linsoul for $179 and that they feature a single 10mm CNT driver. That's obviously not much info, which is actually just the way I like it, at least before I get to listen to them for a while and form some first impressions.
Since then I have obviously put them on the measuring rig, otherwise I wouldn't be including a graph in this review, but other than that, I still have basically no information about these IEMs or the company itself.
Presentation…
The presentation and contents of the Airship is nothing to complain about. Ok, there is nothing unexpected inside the box but at the same time, the accessories that are included cover the necessities and are of good quality.
The box is inside a cardboard sleeve that shows a spaceship beaming people up, with the phrase "we can hear more possibilities" shown in the top corner. The artwork is lighthearted and original, it is not what I would call "elegant" but at the same time, it at least avoids some of the artwork found on many sets lately.
Upon opening the box, things do look a bit more elegant, with the IEMs sitting in a soft foam cutout, with a nice (faux) leather storage case below. The case is nice and large, without being huge, sporting a good quality finish in black.
Also in the box we get the cable, which I will mention in a moment, a set of foam tips, 3 sets of silicone tips, spare filters for the nozzle, the usual warranty card and other paperwork.
While I think that they could have included more tips, it is also true that usually people will only use one set out of the box, or maybe not even that, as many people will like aftermarket tips of their choice. Personally I found that the medium silicone tips included fit and worked well for me.
Build & Aesthetics…
The shape of the Airship is similar to that of IEMs like the Aune Jasper, although smaller. The nozzle is also not very long, which could prove to be a fit issue for some people. In my case, I find that they fit me perfectly and are probably one of the most comfortable IEMs that I have worn in a long time. The size is small enough to actually fit inside my ear, without anything sticking out, and the nozzle, with the stock medium tips, is exactly the correct length for them to seal perfectly and be very comfortable. Obviously this is going to be different for everone.
The aesthetics are simple but not boring, with a few geometrical shapes and lines that break up what would otherwise be a simple oval. For some reason, the aesthetics remind me of something I am used to seeing from Fiio, just in a different shape.
The build quality also seems to be decent. They are completely metal shells which are very light weight, meaning that (combined with the comfort) I can just forget that I am wearing them.
The included cable is simple but again it of decent quality, with metal hardware (except for the 2.Pin connectors) that are finished in a colour that matches the IEMs. It is a non-braided cable, with a white interior covered by a clear rubber finish. Based on the overall gunmetal grey finish, I would personally have gone with a grey coloured cable rather than the white but that is just a comment rather than a complaint. It is not a spectacular cable but it is more than adequate and swapping it would be a personal choice rather than a necessity.
Sound…
(Note: As always, tracks mentioned are clickable links that allow you to open them in the streaming platform of your choice for reference)
My usual process for testing IEMs (or headphones) is that I just used them for 4 or 5 days almost exclusively (while at work), listening to all kinds of music, as my tastes change a lot depending on my mood. After that period, I will spend various hours listening only to my test tracks (which can be found
here
by the way) and form my detailed impressions, doing any comparisons at the same time.
In the case of the Airship, I took them to the office as usual and when I hit play, it just so happened that my test track list was playing. I must say that I was instantly impressed by the Airship and I actually spent all morning listening to my test tracks.
But I am getting ahead of myself, so lets start, as usual, with a graph of the Airship in comparison to my personal preference target:
(all my measurements can be found and compared on achoreviews.squig.link)
I have said it before but I am going to repeat it again… My target curve is really only as a guidance and sometimes things that follow the curve may still not be enjoyable to me and other things that deviate from the curve will actually be pleasurable. The latter is the case with the Airship.
Starting from the lowest notes, as I always do, the subbass of the Airship is present in both quality and quantity. I know that I say that I am not a fan of overly present bass, although the mid bass is usually where I suffer, if the set does keeps the subbass clean and articulate, then I enjoy it. I have used the Airship for quite a bit of hip hop and have obviously also put it through the usual "
Chameleon
" test, finding that the subbass response is very good, not quite excellent but certainly above many other sets in a similar price bracket, managing to keep things clear and concise while still offering a large presence in the rumbling frequencies.
Moving into the midbass, this may be where I am most impressed by the Airship. It is not the tuning that impresses me, as it is quite a bit above the presence I like and enjoy in this region, it is the way it deals with this additional presence. While there are many IEMs that are slightly over my preferred quantity in the midbass region, giving a warmth to the low end of guitars and basses that I actually like for some genres, there are many more that are way too much for my tastes. This is something that I actually find tiring and I find myself literally having to either switch music, reduce the bass, or even just give up on the IEMs.
Looking at the graph, I would place the Airship in the category of "way overdone for my tastes", yet I don't find it to be the case when listening to them. This is one of those cases where the graph doesn't always relate to the experience. Yes, there is quite a bit more midbass that I would prefer, of that I have no doubt, but it doesn't come across as tiring or make me want to take the IEMs out.
There is a clarity and definition to the midbass notes, as with the subbass, that is very impressive in my opinion, making the majority of my music enjoyable, even with the extra bass. For example, "
No Sanctuary Here
" by Marian Herzog feat Chris Jones, is a track that needs a decent amount of midbass to sound impressive but at the same time is easily overdone and drowns out the rest of the frequencies, the Airship give it (more than) enough quantity to be impressive yet do not make the bass take control more than it should.
I find that the Airship goes from doing a great job of presenting EDM, such as "
Sun is Shining
", without being overly bassy, to reproducing "
Elephants on Ice Skates
" with authority but without bloat. If I had to complain, it would probably be more related to the pluck of the bass guitar in "
Elephants on Ice Skates
" than the bass notes themselves, but that is higher up in the range.
Moving into the mids, there is not really a bass bleed as such but there are times when certain notes seem to carry over just a little too much. This is not a regular occurence but on certain tracks that are busy around the 200Hz to 300Hz mark, it can overshadow the mids a little, due to the slight dip around the 500Hz mark.
As we move up to the higher end of the mids, there is a nice smooth slope that reaches up to the 2.5kHz mark, keeping it's presence up until another peak just below the 5kHz mark. Now, I have said many times that I am sensitive to peaks at 5kHz but as with the bass, I do not find it to be irritating on the Airship. It's true that it isn't really a sole peak at 5k, more of a general presence between 2kHz and 5kHz, and this may be the reason for it not affecting me as much as it does on so many other sets, but I find the upper mids and their transition into the lower treble to be quite smooth and without giving the sensation of being harsh.
A lot of the music I listen to has female vocals and I find that the Airship do a great job of keeping voices present but without adding any harshness or pushing them too far forward. Even with female voices that are often too harsh on many sets, such as Beth in "
Don't You Worry Child
", still remain fairly smooth and do not become shouty and, well, irritating (at least no more than usual
)
Climbing up to the higher end of the frequency range, there is a good extension and a nice sensation of air and breathing space. Many single dynamic driver IEMs suffer from lack of extension in the upper ranges, especially in the lower price categories, the Airship is actually a set that is above average in this regard.
Sibilance is also kept in check, without it being eliminated, meaning that sibilant recordings will still show up but the usual "
Code Cool
" test does keep Patricia Barber within the range that I feel is normal for her vocals in this song.
Soundstage is also above average for a set of IEMs. Ok, it is not a huge space around you, like the sensation you will get from certain open back headphones, but it does create a nice space around you, with a good image placement and good details to go along with it.
Listening to live performances, such as "
Sittin' On The Dock Of The Bay
" or "
Free Fallin'
", the Airship give you a nice sensation of space on stage, making them a pleasure to listen to. The same goes for tracks like "
Strange Fruit
", where the layers of vocals are clearly identified and easily appreciated. The same goes for "
I Concentrate On You
", where the vocals are the center of attention yet the details in the background are still clear, giving the track the effect that it deserves.
Conclusion…
I think that if you have made it this far, I don't really need to say that the Airship are a good set of IEMs, not just for their price but in general. I have really enjoyed listening to them and would have no issues using them as my daily drivers. Do they replace my beloved S12, which are at a similar price tag, I have to be honest and say that I could probably be just as happy with the Airship for my general daily listening as I am with the S12. They are actually tuned very similarly and I do feel that the Airship have actually got more detail than the S12.
There is no doubt that I think that the Airship are worth their price tag and the only thing that I would be worried about when recommending them is fit. For me personally they fit fine, I find them extremely comfortable, but everyone is different.
I am going to leave it here as I feel I have made my opinion quite clear. As I mentioned in a previous review, I have a case that holds 6 sets of IEMs that are my usual go to sets and I think that I need to clear a space in it to award it to the Airship.
(As always, this review can also be found in Spanish both on
www.achoreviews.com
and on
www.youtube.com/achoreviews
)
10mm CNT Dynamic Driver
Pros
:
High detail resolution
Amazing note weight
Truly perfect decay
Looks cool
A complete, even and correctly balanced tune
Deep bass atmosphere
Incredibly small form-factor
Relatively heavy for the size, making fit and feel spectacular
Total absolute cohesiveness
A bigger soundstage than you would guess from a single dynamic driver
Bounce
Carbon Nanotube Design
Fun easy going sound signature
Incredible build quality
Really no pinna gain heat in normal uses
Does any source, any quality of file and any music genre well
Stylish and classy
Great noise occlusion despite their size
Maybe the ultimate sports IEM?
Cons
:
So small people may encounter fit issues
Possible nozzle length issues for some
Slightly heavy bass response
Not sure if shell is made of copper or aluminum, though feels like copper
Hello Friends.............
I want to start this review off with an apology being I am a few days late. I know you are curious as to the Airship's ability and character. The slight delay was only due to trying to discover the Airship's abilities with a path possibly less trotted down? I found the Airship to be well-rounded in typical iPad playback. In-fact the included 3.5mm copper/silver mixed cable was fine with the iPad using 320kbps files. I scaled the opportunistic highs of Rammstein. I then discovered how Ghost sounded using the same files and playback system. Instrument note weight and physicality were amazing. But I was curious.

So curious that I performed an insane 200 hours burn-in process. I was sure that the 10mm CNT driver had more gumption in it. And guess what folks………..I blew the doors off any preconceived notion as to just how far the Airship could fly! This is more like a diary than a review, but it is what is is. Won't you join me as we explore flight with the Seek Real Audio Airship!
Who is SEEK REAL AUDIO?


Appearing out of no-where Seek Real appears to be an established provider of ear-phones straight out of the gate.
Somehow they are utilizing an amazing level of sound design talent and sophistication, as our three debut IEMs come out-of-the-gate scorchingly hot. Not hot sounding, I mean popular and causing ruckus. 1) The Seek Real Airship 1 10mm CNT.........$179.00

2) The Seek Real Fusion 1 DD + 6 BA..........$359.00 3) The Seek Real Proser 2 EST + 4BA + 1DD..........$1,199.00

It is commonly understood to find the Airship $179.00 retail price sectors fully open for commerce. Many more styles of listeners are found at the midrange price bracket than what could be found for the $359.00 Fusion or $1,199.00 Proser. Such is life, that in many ways the $179.00 listener is easier to subdue, simpler in discretion and looking for more fun anyway they can. I'm not calling them cheap, only maybe more pedestrian. Such "common-folk" populate the pages of Head-Fi more frequently. Still it also means there will in-the-end be more hoopla and hype.
Hype?
Well I will say this. The 10mm CNT is causing quite the stir-up here at Redcarmoose Labs. With the pure accessibility that comes from a single driver calling the shots! Such coherence and "oneness" is really something to behold. Still there is a method to my madness. I had to do things to bring the humble Airship afloat. Yep, tweaks were in order. As the 10mm CNT has almost endless ability to scale. You think I'm making this up? Buy a pair. After 200 hours of burn-in the Airship started to become more cohesive and better relaxed. Any grain was polished down and replaced with smoothness. The Airship was always smooth, but the opportunity to become smoother was there. How? I don't know, I just listen to these things, I have a college education but it doesn't cover the abstract and colorful realm of IEM reviews. The route to the final destination was amping, not only amping but cables. Still it needs to be mentioned that not every aftermarket cable fits the recessed sockets the Airship contains. My first attempt at cable-rolling was met with a firm-no-go. It just so happened that the 2pin was a hair too big to be joined with the Airship. In the IEM world there are multiple ways of doing a 2 pin. It's really not a big deal that all plugs are not standardized, but because of this fact, it's hit or miss at times.
What I'm ultimately getting to is there are actually a range of amplifiers which do the Airship good. I often met-up with an IEM that needs a darker amplifier or a brighter amplifier to bring-up a character of replay response which tailors the sound. Here there is no such need. Though I will point out I'm not really into the supplied cable. It's not bad, but you may find aftermarket cables add that touch of pizzazz which will take the Airship out of its humdrums? So really, I don't need to list them, but you may find many aftermarket cables that add the sizzle...........to lift the mood and take the Airship to new and better places.
With that out of the way lets get onto the sound!

Bass, and IEM methodology ramblings:
The Airship has a nice kick. When the Airship arrived I'll admit I wasn't too excited. OK, another single DD that needs a review. How much will it be like every other single DD that has crossed this desk? While this job is fun, there is also an element of "been there, done that" going on. Also I must disclose as of recent I have grown an affinity to the Hybrid sound. Yes, I'm familiar with what most single DD bring to the table, still I yearn for that separation in the highs, that disjointedness that only comes from more than one driver being used. Manufactures are wise too, the cost of using 7 BA Knowles drivers starts to add up when your mass producing these things. Not to mention the actual build complications of sound-tubes and filters. The single DD process does away with all that hodgepodge. The benefits are real too. With coherence and speed. There is obviously something to not trying to coral a 7 driver frequency response into alignment. Some would say it's impossible............that single DD is the route to go? All I will say is Planar, single DD and Hybrid IEMs all have their specialities and downsides. There is no perfect IEM, only better and lesser examples of the art. I also have to be careful in doing single DD reviews as to not be bias as to performance here. Such a firm bias could result in generalizations which give a point lower across the board, just for being a single DD, when I would rather listen to Hybrid models. Also there are trends............such trends are found with the new cheap Planar buys. Much of the heat on single DD inventions have moved to the concept of doing more with Planar. And in time it will all move somewhere else….......to where who knows? So this bass? As anyone into this IEM hobby, you maybe know that a single DD does't always go the lowest, or that that low area is not accentuated in comparison to other IEM methodologies. It's that way here but a nice flexibility. Meaning I played with amps and tips and prior ideas about the Airship slowly changed. The options further took the opinion (my opinion) and changed it for the better. Also I will get this out of the way now. There has been some talk about the nozzle length being on the shorter side of the street? I experimented with about 8 pairs of tips and found sonic responses, but none of them were off or wrong. Meaning I didn't need tips to correct anything. But I did go with Hidizs medium bore, extra long tips. I didn't need the extra length to get fit, but they just felt slightly better in the ear. It may have something to do with nozzle length, maybe not? Though all the tips I tried worked.......all styles. With that said, yes they are borderline too short, but amazing if you get fit, then that's what you have. Medium bore with my most bass heavy DAP was the ticket. The Walkman 1Z was perfect and better than expected. The bass is relatively defined and round. The bass was actually fast and clear, none of that laziness found in many Hybrids. While not 100% clear, the bass has an organic presence where it's ultimately connected to the whole. This whole takes place because sound is emitted by a single driver, no doubt. Still this response could be critically judged as not quite having the drastic separation that could be found in a similar priced Hybrid. But it's nice and more than nice at times.
Midrange:

Many times the midrange gets over looked in this style of tune. Two peaks, one at 2.4K and one at 5.1K. But it's the bass energies that maybe go the full-route to give this IEM its signature character? Yes, it has bass energy, but a marvelous way those energies leave room for the mids to be heard. Much of this comes down to personal preference, but what I'm saying is the mids offer a wonderful presence in-spite of it all. It's probably the 8K that finalizes this balance, but to me the Airship crafts an exquisite balance in the midrange! Everything is heard especially male and female vocals. While not as forward as vocal specially IEMs, there is nothing to want in vocal tonality or separation from the mix. The only issue I had with the midrange was how they did guitars. Remember too, I have done everything-under-the-sun to adjust and work with this IEM. It may simply be a character of DD, but missing was the crunchy-ness and separation of electric guitars in the soundstage. The tone of the guitar was downplayed to placing it is a subdued area of the response. Now take note, I have just done reviews which had Hybrids that over-do the guitar parts, still it's subdued from normal. This ends in the Airship being more of a drums and vocal style of IEM…….nothing wrong with that, nothing at all!

Treble:


There is another peak after 8K, though I'm not sure how accurate that is? Or even the 8K peak measurement (being accurate) for that matter. Still listening, the highs are rolled-off yet fully perceived, just not all separated and all glossed-up like BA life. The trade off, many believe, is a more natural tone found. What is most important here is the completeness and fullness in the soundstage. Due to overall presence, you would be hard-pressed to find much of anything to throw rocks at. It's really the midrange soundstage expansion that is making up for any inadequacies to be perceived. Meaning the highest treble attributes are heard, they just are not the ultimate focus here, and that's OK. The action really is taking place in the midrange, bless-its-heart.

Soundstage:

You know beforehand maybe what I will say? It's medium-big and well positioned in that is where the elements flow to, and they are of a smoothness. Somehow liquid and polished out to perfection. The single DD quality strikes again, in that this wholesomeness is what we are paying for. The ebb and flow of the micro-dynamics, finding that critical area to be alive in the stage. It's very real, and that is the benefit of single DDs, that they own a magic here that no other methodology can touch. The stage is both far-out-wide, and holds front to back. Still none of this would even matter if it wasn't for note weight.

Note weight:

That's why we are here. We suited-up and boarded the Airship for note weight. Any review written about the Airship must included this aspect of our journey. We started with FR, passed-though soundstage and ended up with note-weight. Even in the most challenged of playback senerios, it's there, it's gloriously there. Such is the very reason why you would put up with any short-comings found……..to bask in this note weight. I just finished a review of a $75 dollar more expensive IEM that failed at note weight, and you know what? What? I would take the Airship any day of the week due to this one single feature alone! Of course the other features matter to….as a house needs windows and doors as well as a roof, but still I hope you get my point?

Decay:

Such a big deal here. Balanced armatures do great transient edge attacks. They are also very good at delineating and focusing, as far as note imaging. Though the balanced armature decay is instantaneous. This leaves room in the response for a musical element to follow-up directly behind. While there can be both long decay and short, much also is influenced by the recording environment. So we have natural instrument and vocal decays, but also recording space environment retrieval. There is also electronic processing that gives a synthetic reverb. All such parameters can all fall under decay response. Though it seems note weight and decay go hand in hand, and yes you guessed it, here we are experiencing perfect decay, though slightly bunched-up together due to…….single DD.

The box opening experience:



You get a gorgeous zippered travel case
One set of foam ear-tips
Three sets of silicone ear-tips
Oxygen-free copper silver plated cable 3.5mm X 2 pin
Five sets of replaceable nozzle filters
The Seek Real Audio Airship IEMs
Warranty card
Quality inspection certificate
Instruction card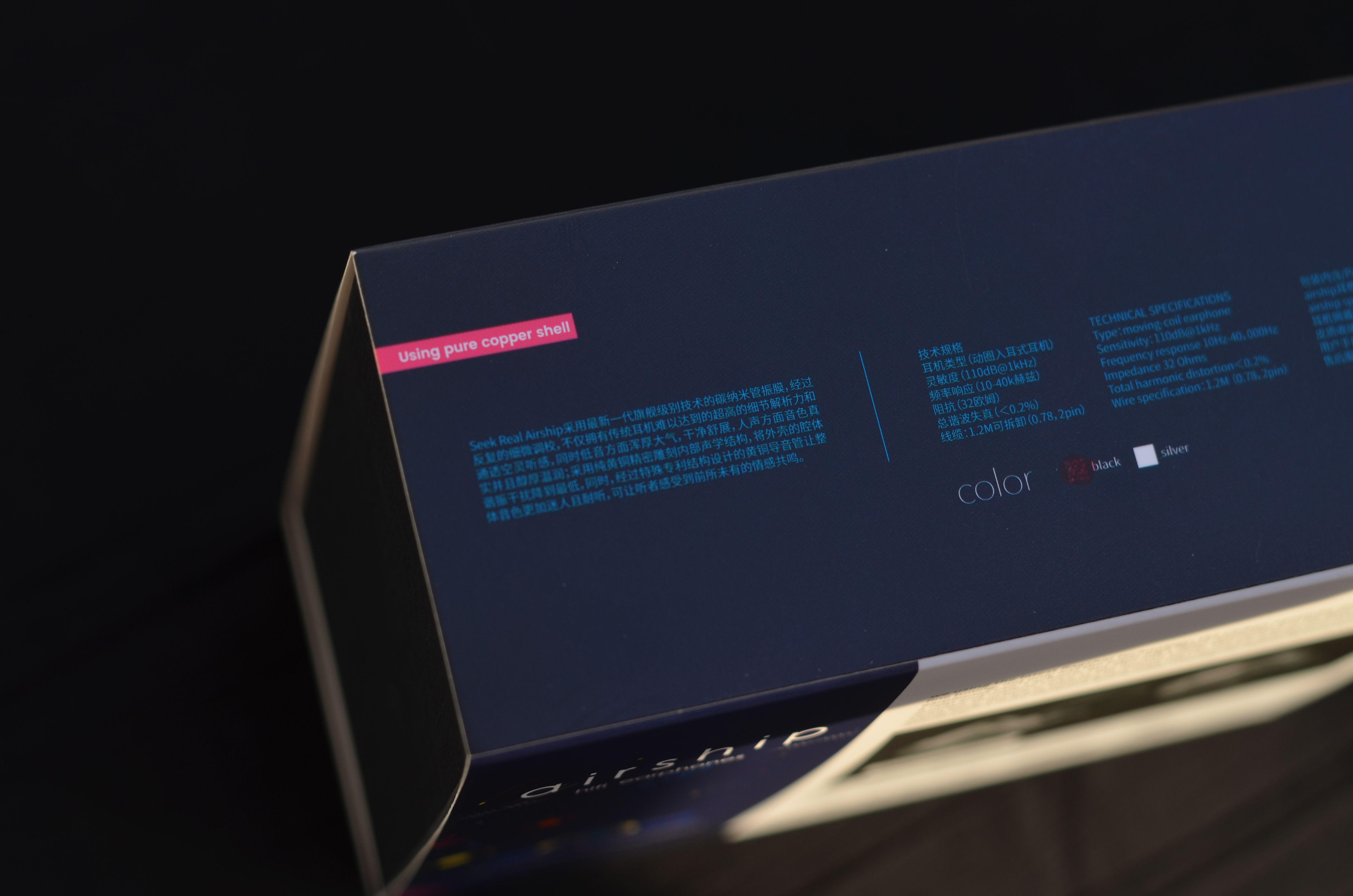 The build:
It says on the box a pure copper build. It says "Pure Copper Shell" so I would take that as what it is, even though it is not always disclosed to what the shell is made from. It's drastically simple with basically two pieces "claim-shelled" together. The finish is a choice of chrome or black. The black is featured in the photographs, though it shines. There is a cloth-style filter screen that sits just inside the nozzle-lip. I haven't needed to change it or modify it for any reason. Though take note you are given 5 sets of additional replacements. The build as a whole is surprisingly heavy, way heavier than you would guess from photographs, also much smaller than you would guess. The combination of heavy and small makes for very good placement. As you could imagine, lightweight and small, no-good, same as big and heavy……….
The cable:
The premium quality copper/silver plated cable is nice. There is a reason why many will just stick with the included cable. The ear-hooks go well to help keep them in place, though I switched to a hookless cable and am doing fine? I don't mean to bag on the included cable, but if you want to experience 4.4mm balanced amplifiers you have no choice than to look at alternative cables. The main point of this single review is
YES
they keep scaling up and up. Using the regular cable only gets you so far, though the right and left,
red
and
blue
dot are a nice add.
The Seek Real Audio Airship


10mm CNT Dynamic Driver Earphone
Seek Real Audio
10mm CNT Dynamic Driver
Balanced Tuning
Aluminum Casing
Premium Acoustic Cable
$179.00
Get them here: https://www.linsoul.com/products/seekreal-airship?variant=42849389314265 Linsoul website: https://www.linsoul.com/ Linsoul Aliexpress Store: https://ddaudio.aliexpress.com/store/2894006 Linsoul USA Amazon Store link: https://www.amazon.com/s?i=merchant-items&me=A267P2DT104U3C Disclaimer:
I really want to thank Kareena from Linsoul for the opportunity to review the Seek Real Airship, it does not have to be sent back, unless they ask.



PRODUCT SPECIFICATIONS


Brand

Seek Real Audio

Model

Airship

Unit configuration

10mm CNT Dynamic Driver

Cable configuration

Oxygen-free copper silver plated

Cable length

1.2m

Plug specification

0.78 2pin removable

Sensitivity

110db

Impedance

32 Ohm

Frequency response

10-40kHz

Total harmonic distortion

< 0.2%
Conclusion:
The Seek Real Audio Airship finds itself hovering right below the $200 price bracket. Producing an even, complete and correct frequency response, the Airship makes its way out of the humdrum of boring and into the realm of exciting. While not doing anything offensive, it rolls in just enough pizzazz to make things fun. Due to the Airship's easy going nature it finds itself interesting and relaxed for long listening sessions. Such flamboyance and flair is kept exquisitely in-check.

While not reflecting the old boring audiophile tune, such a style of bass is almost correct for everyone, despite how it graphs-out to seem. Both the perfect weight and size offers a rare opportunity for success both indoors or out-and-about. If you do choose to stay home a highly upgradable sound profile can be achieved, allowing the Airship to scale with your very best gear. If by chance you do decide to take flight with the Airship, out of the house it becomes the ultimate sports accomplice, offering noise occlusion and close-to-the-ear fit. The company SEEK REAL AUDIO should be proud of this accomplishment, hitting the ball out of the park with their very first attempt. While $179.00 is no easy pill to swallow, the 10mm CNT driver becomes worth every cent in its ability to thrill. Combine that will balanced tuning and we have the ultimate no-brainer.

In a crowded market place the Airship raises above to absolutely prove it's better than so many half-attempts. While not perfect, its finer points do wonders to lay a path into entertainment success. Such examples of note weight and decay are truly enchanting, leaving you no other choice than to be fully immersed in your music. Every once in a while big sound comes from an incredibly small package. If you were wondering if this was that time, it's that time.
Disclaimer: These thoughts and ideas are of one individual, your results may vary.
Equipment Used:
Sony WM1Z Walkman DAP MrWalkman Firmware 4.4mm/3.5mm
Sony WM1A Walkman DAP MrWalkman Firmware 4.4mm/3.5mm
Sony TA-ZH1ES DAC/AMP Firmware 1.03
Electra Glide Audio Reference Glide-Reference Standard "Fatboy" Power Cord
Sony Walkman Cradle BCR-NWH10
AudioQuest Carbon USB
Apple iPad

There is a Seek Real Audio Airship Thread, where enthusiasts can share their thoughts and experiences about this amazing piece of audio art!

https://www.head-fi.org/threads/seek-real-audio-airship-universal-iem.963564/
Last edited: