Continuing off of my Bifrost 4490 review, the Schiit Lyr 2 is the amp. side of my upgrade from the Aune X1s. 'So Army, you're saying in one step you went from a $350 amp/dac combi unit to a $850 setup?' And yup, I certainly did which goes even further into me being a prime example of this hobby being a Pandora's box; that once you open it and have learned what true quality audio sounds like, you'll always crave better.
So after having this unit for right at a year now, how do I feel the Schiit Lyr 2 performs? Can it compare and hold its own against much higher end dacs? Well, please allow me to discuss with you my thoughts and finding of the Schiit audio Lyr 2 headphone tube amplifier. Also, to disclaim. My review will be with using the matched pair of NOS '68 Amperex 6DJ8 Orange Globe tubes I purchased. I used the stock tubes very briefly but all the forums hit the veil they have right on the head. The Lyr 2 really opened up its potential with the better tubes and it's been so long since I've heard them stock I honestly couldn't remember how it sounded.
A little about me
I would like to say that first and foremost I am NOT an "audiophile" but rather an audio enthusiast. I listen to music to enjoy it. Do I prefer a lossless source? Yes, of course. But I can still be very happy streaming from Pandora or even my YouTube "My Mix" playlist. I also prefer equipment that sounds the best to me personally regardless of what frequency response it has or rather or not it's "sonically accurate" and I always have and shall continue to encourage others to do the same.
I'm a 25 year old firefighter, for the City of Concord North Carolina as well as the U.S. Army North Carolina National Guard. The cliché of wanting to do this since I was born couldn't be more present with me. I've worked hard over the last several years to earn this position and now it's time for me to work even harder to keep it.
My interests/hobbies are power lifting, fishing and relaxing to audio products and reviewing them to help other decide on what products would work for them. Few things make me as an audio enthusiast/review feel more accomplished than when someone tells me that I helped them find the type of sound they've always been looking for.
Now, the sound signature I personally favor is a relaxing, warm and sensual sound that just drifts me away in the emotional experience of the music being performed. Yes, accuracy is still important but I will happily sacrifice some of that if I'm presented with a clean, warm sound that can wisp me away into an experience that makes me yearn for more.
My ideal signature are that of respectably forward mids and upper bass range with the bass being controlled but with some slight decay. I like my treble to have nice extension and detail reveal with a smooth roll off up top as to not become harsh in the least. Examples of products that have given me chills and keep giving me the yearning for more feels are the (in no particular order) Bowers & Wilkins P7, Oppo PM-1/2, Empire Ears Hermes VI & Zeus XIV, Audeze LCD-XC, Meze Headphones 99 Classics.
Equipment used at least some point during the review
-Headphone
-Audio-Technica
-ATH-W5000
-ATH-W1000X
-Sennheiser HD650
-Empire Ears Hermes VI
-Meze 99 Classics
-Bowers & Wilkins P7
-Various other models over my year with the product that I just can't recall, but please see my
YouTube channel
for headphones that I've used with the Lyr 2.
-D.A.C.
-PS Audio DirectLink 3
-w/ Cullen Stage IV mod.
-SPL Audio Phonitor e
-Schiit Bifrost 4490
-Source
-LG V20
-HP 15634 Laptop
-Sony Playstation 4
-Luxury & Precision L3
-Misc. Equipment
-Source cleaner
-iFi Nano iUSB3.0
-Video Game
-Destiny
-Final Fantasy XV
Disclaimer
I am by no means sponsored by this company or any of its affiliates. I purchased this product with my own money to be used for my personal reasons.
The following is my take on the product being reviewed. It is to be taken "with a grain of salt" per say and as I always tell people, it is YOUR opinion that matters. So regardless of my take or view on said product, I highly recommend you listen to it yourself and gauge your own opinion.
The Opening Experience
Why I feel so strongly about the initial unboxing experience
Please allow me to explain why I feel so strongly about the initial unboxing experience with a product. Maybe it's due to my southern roots in the hills of eastern Kentucky, but I've always been raised under the pretense of when you introduce yourself to someone for the first time you present yourself with confidence, class, character, pride, and competence. You greet the other person with a true warm smile, eye contact and a firm handshake. Anything less or short implies to other person that you either don't care about them, are too full of yourself, too busy to be bothered by the likes of them, or worse, just generally disrespectful.
As a consumer, I take this same belief to when I open a new product. Why? Because think about it this way. How else can a company introduce themselves to their customers? How do they present their products? Are they packaged with pride and presented in such a way that makes the listener eager to listen to them? Or maybe they're just wrapped up and placed in an available space. How about the box itself? Is it bogged down with jargon that says look at this, look what I can do. I'm better than anything on the market and here's why read this and check out that. Or, is the package clean, simplistic and classy? As if saying to the customer 'Good day, pleasure to meet your acquaintance. Please give me a listen and allow me to show you what I can do and allow my actions to speak louder than my words.'
This is why I feel so strongly about the initial presentation of a product, and I feel it's truly a shame more people don't. But with all that aside, let's discuss how this products introduced itself shall we?
Disclaimer: The Lyr 2 DOES NOT come with tubes already in the socket. That was an oversight on my part to forget to take them out.
Schiit is very consistent with how they package and deliver their products. Each has the same color/design scheme with the only difference between products being the size of the boxes for the given frame style, i.e. magni/modi/vali, bifrost/lyr2/jotunheim, gungnir2/mjolnir, ragnarok/yggdrasil. In addition the framework to the units themselves are very similar with only the input/output ports being different (same examples as before). This is one of the ways that Schiit saves money on building their products, which in turn coincides with cheaper yet higher quality products for us as consumers. But enough of the generality, I should probably talk about the Lyr 2 specifically.
The Lyr 2 arrives in a plain white cardboard box that differs it by having the Schiit logo stamped on the sides along with the given product you purchased written in a blocked, well, box; For example the Lyr 2 115V with just the tubes is written as "L I 115 I S" As you open the box you're greeted by, IMO, a very nice presentation and care given to a product to ensure it arrives safely and in one piece. Each side of the unit is encased in a very firm foam material that, from appearance (I never tested the durability myself), seems to be able to handle any reasonable falls or hits; also, right on top is the user/instruction manual. Finally the product itself is covered with a plastic sleeve to prevent dust from entering the unit, which even it is sealed by a Schiit quality approved sticker. In a small, separate box (that's actually on top of the unit), you've the pair of 6BZ7 tubes (and/or the solid state LISST) which are very protected in a nice, yet softer type of foam. Lastly, on the bottom of the package, you've the power cable.
Lastly, on the bottom of the package, you've the power cable.
As I said in my Bifrost 4490
review
, Schiit does a fantastic job at packaging their products and keeping them safe until they arrive at their customer's doorstep. They then present their product so that us as enthusiasts are genuinely excited to hook it up and hear what ti can really do. This is exactly the kind if thing I look for in a "handshake" given by a company in their unboxing experience. And finally, this is only a personal thing and doesn't effect the review, rather for or against, but Schiit is an American based company that also builds their products here; and I personally really respect that. .
Construction
It seems like I'm comparing the Lyr 2 and Bifrost a lot but seeing as how popular and well build the Bifrost is that's certainly not a bad thing. The Lyr 2 is build from a U shaped aluminum frame with thinner metal sides and bad which works as head blocks to protect both the Lyr 2 and whatever is around it (it can get quite toasty). The front of the unit, from left to right, has the Schiit Lyr 2 logo, very nice and buttery volume knob, and ¼" headphone jack. The back of the unit, from left to right, has the rca inputs, rca outputs, gain switch, power switch, and power input. The top of the unit is where the business is, for the top is where the 2 tube ports are which in and of itself is wrapped by a vented aluminum same as what's on the sides and back. This does a great job at keeping the unit and tubes as cool as reasonably possible, helping the longevity of the unit and tubes alike.
There's a good reason (well, most of the time) that a company becomes and stays popular, and Schiit does it for all the right reasons. They take pride in their appearance, they deliver their products with care, and also build them to last for many, many years to come.
Features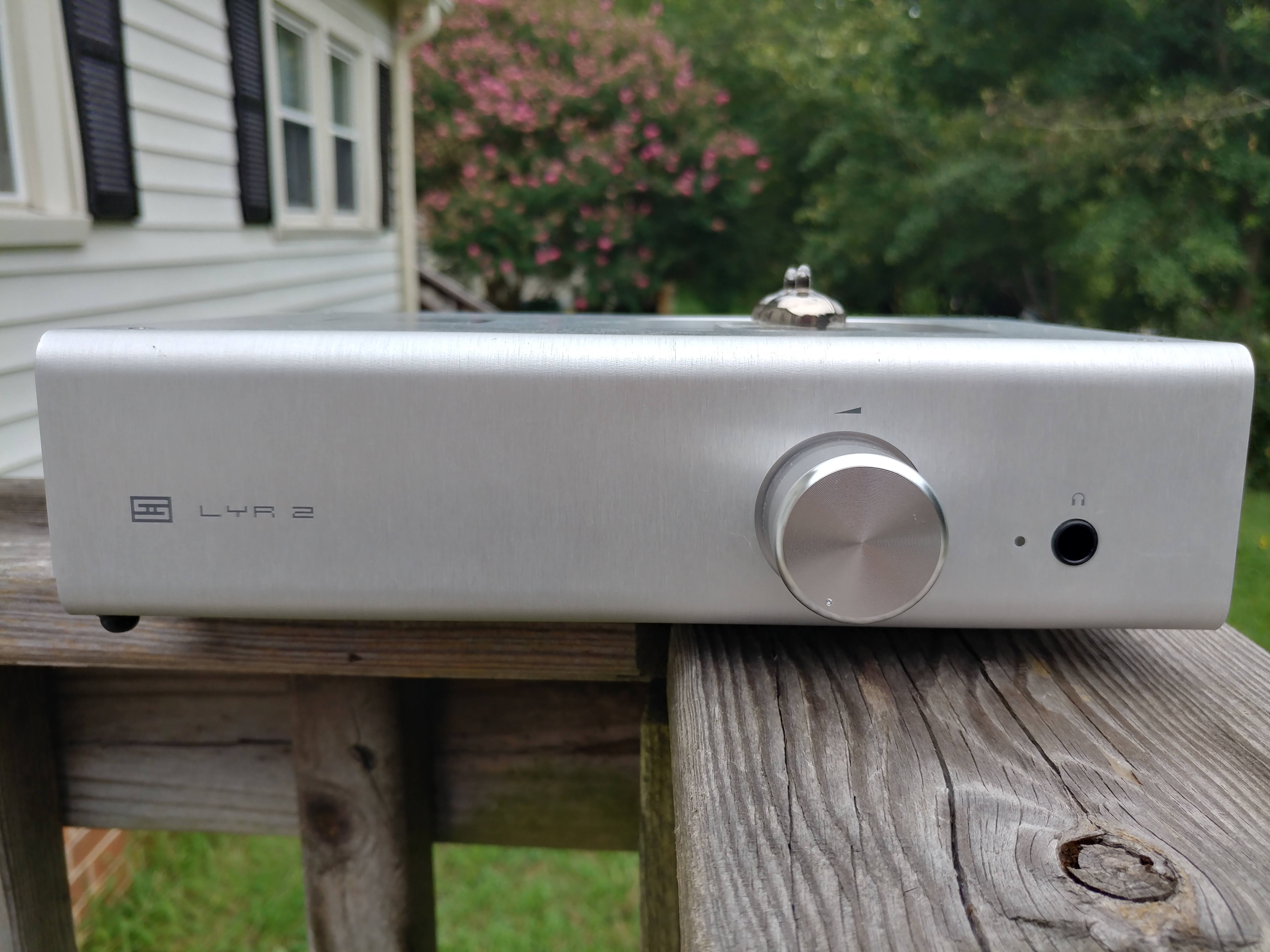 Though most amps. are pretty straight forward with the Schiit Lyr 2, in all honesty, not being much different, it does have some very important things build into the unit that, to me, set it apart from the rest. Available tube sets are 6BZ7, 6DJ8, 6922, ECC88, 2492 just to list a few but a GREAT reference for you is this
Lyr 2 thread
. This, and the Mjolnir 2, have the ability to be turned completely solid state by means of Schiit's linear, integrated solid-state tube or LISST. Then, and this reason played a very large part in my purchase, there's the ability for this amp. to be played with not only high power orthodynamics or even annoyingly picky headphones like the HD800 but they can also play well with sensitive c/iems such as my personal Empire Ears Hermes VI. That flexibility is EXTREMELY important to me for I don't have the funds nor interest to buy multiple products to satisfy multiple needs, I need an amp. with the ability to do it all and do it all very well and during my year with the Schiit Lyr 2, it most certainly has.
Specifications (copied straight from the Schiit website)
Frequency Response: 20Hz-20Khz, -0.1db, 2Hz-500KHz, -3dB
Maximum Power, 32 ohms: 6.0W RMS per channel
Maximum Power, 50 ohms: 4.0W RMS per channel
Maximum Power, 300 ohms: 660mW RMS per channel
Maximum Power, 600 ohms: 330mW RMS per channel
THD: < 0.01%, 20Hz-20KHz, at 1V RMS, gain = 8 mode (worst case, stock tubes)
IMD: < 0.01%, CCIF at 1V RMS, gain = 8 mode (worst case, stock tubes)
SNR: > 98db, unweighted, referenced to 1V RMS, in gain = 1 mode
Crosstalk: < -65dB, 20 Hz-20KHz
Output Impedance: 0.7 ohms (high gain), 0.3 ohms (low gain)
Gain: 7 (16.9db) or 1 (0 db), via rear switch
Topology: Dynamically Adaptive Class A/AB, noninverting, hybrid tube/MOSFET, single voltage gain stage, DC-coupled input and output
Protection: standard muting relay for delayed turn-on and fast turn-off
Power Supply: Two internal power transformers, five internal regulated rails, with over 30,000uf of filter capacitance
Power Consumption: 30W
Size: 9 x 6 x 2.25"
Weight: 6 lbs
All measurements made on a Stanford Research SR1+ Audio Analyzer
Sound
Alas, what the main event of this entire review; how the legendary Schiit Lyr 2 sounds (please see my above disclaimer about the tubes I'm using). I've found that I'm most certainly a tube sound lover and definitely prefer it's warm inviting distortion over that of the solid state accuracy (kinda counter intuitive seeing the amp. I've just recently purchased but oh well). And the Lyr 2 absolutely envelops you in its sound. The Lyr 2 pairs incredibly well with almost any headphone I've put through it from the HD650's and 800's, to Audeze LCD 2 to my custom Empire Ears Hermes VI. Each sounded so at home and really, imo, brought out close to, if not the, best out of them. The only headphone I've tried that didn't pair too well with the Lyr 2 is the Audio-Technica W-5000, can't put my finger on it but they just don't sound that good on it.
My favorite thing about the Lyr 2's sound it its control has over the drivers. The bass becomes very impactful and more controlled than with the other amps I've tried in this price range. The mids gain more body to them and more forward, not by much but enough to be noticed. I also feel that the amp. can take much better advantage of the source it's receiving (like that of the Bifrost [whatever model you're using]) and express all the detail that the dac is creating. The Lyr 2, when I listen to it, breaths such realism into the headphones that they're powering that other amps costing MUCH more came nowhere near. An example I'll compare it to is the SPL Audio Phonitor e. This amp/dac. costs roughly $1,800 and make no mistake it did sound great but, to my ears, it just couldn't do what the Lyr 2 does with making music sound alive and musical.
I really and truly enjoyed my time I had with the Lyr 2 and I will miss it very dearly for its performance per its price really can't be outdone (or at least I've yet to see anything compare). Though I'm not personally into tube rolling, for I did days of research to find what tube fits the sound I personally enjoy, the Lyr 2 can be adapted with a smorgasbord of different style tubes so the consumer may fine tune the sound to fit whatever sound they particularly are looking for. Schiit, to me, allowed the Lyr 2 to be one of the best gateway products to get people into the high end market. At full retail price of $449 this is a respectably affordable amp. that as mentioned earlier, performs MUCH higher than its price would let on. Even those who don't use overly difficult products to drive, in fact quite the opposite, can be at rest with the Lyr 2 (so long as it's in LOW gain mode). The Lyr 2 presents a, for the most part, black background that really plays well with my customs. I can't really fault the Lyr 2 that much because DAP's that cost MORE that are even made and claim to be silent have issues with the Empire Ears line.
Conclusion
To so sum up my thoughts on the Schiit Lyr 2. I am a firm believer that anyone, regardless of their setup, will benefit from the Schiit stack that is the Lyr 2 and Bifrost (whatever model). They pair so well together and price/quality are absolutely unmatched. I've since parted ways with both units but it took an amp and dac costing roughly $4,000 to make me part ways with them. Schiit proudly encourages you to compare their products to others costing multiples more and it's easy to see why after owning them. They perform.
Also, make sure to check out my
unboxing
and
review
videos. They're pretty awesome AND you getta put a face to the Army-Firedawg name. If this review helped you out at all please hit that thumbs up button for it really helps me out a lot. Till next time my friends, stay safe.