Introduction:
Hello.  
Had a thread for these long ago and decided to make the "review" official here.
I got these babies pretty cheap from a friend of mine. It seems he got them from a musician pal he has and when I got them they weren't even opened! The first thing I remember when opening the case was: "HOLY SHHHH THESE ARE HUGE!!!!" lol.  
Anyway, for my impressions:  
Pros:
Very Nice looking (IMO)
Nice big and padded case
Fast sound
Detailed mids
Excellent sound stage and instrument separation
Cable seems good quality but...
Cons:
Cable is long, stiff and slightly microphonic. It also weighs a lot. Also... after using "single-sided" cans, this dual one is just... ugh!
Pads are comfortable but TOO big! So big that the top of the headband actually causes a bit of discomfort.
Sound is airy but it feels that the upper mids and highs are boosted. Can't listen at more than 11 o'clock on the Schiit Magni...
Seems the pads help with soundstage but wide soundstage + boosted highs... meh!
Where is the bass? Definitely missing it (after listening to the Mad Dogs and Signature Pro/DJs plus all my other headphones)
Stats:
10-26,000 Hz frequency response reproduces the full audio spectrum
Unparalleled clarity and presence with wide dynamic range
Engineers can pick out each individual instrument, even in large ensembles
Panoramic, multi-dimensional soundstage
One-of-a-kind look and feel
All-aluminum lightweight frame affords maximum comfort, even after hours of continuous use.
Superior isolation and noise-canceling
Premium leather ear pads with memory foam
Specially engineered and modulated detachable connecting cable made from highly conductive, Kevlar-reinforced, braided oxygen-free copper
Premium gold-plated connectors
Elegant and stylish zippered case with removable over-the-shoulder strap
Comfort and Build:
These monsters of a headphone are DEFINITELY made to withstand torture in a "Studio" environment if need be. Frame seems sturdy enough and seems to be made with excellent materials. Now, comfort is a bit weird. The ear pads are soft and comfortable but the headphones are SO big that sometimes I have to extend them a bit more for they to comform to my head. Not only that, but the included cable weighs a ton and it seems to pull down the headphones a bit more and since this is not a single-ended headphone, you get tugging from both ear cups. Overall comfort is NOT excellent, but it's not that bad either. If you have a more "rounded" face, you'll probably fare better.    
Sound Impressions:
Sound signature kind of reminds me of the Shure SRH940 and KRK 8400s, but I feel that these two sound more "natural" than the Moonlight (this is of course based on memory). Listening right now to something like Calvin Harris - "We'll be Coming Back" (a track I found quite engaging and makes me want to get up fist pump and dance) it's quite underwhelming on this headphone. It's probably all that missing bass/mid-bass.. Listening to Alison Krauss and Union Station - "Sinking Stone" which is an acoustic/vocal drive song is actually quite pleasant BUT still sound artificial... too bad I no longer have the Shures, I would have loved to compare them. Same type of comparisons done with songs different genres like  
- Mexican pop, Paty Cantu - "Afortunadamente No eres tu" (no bass presence, vocals alright, boosted highs all the way, artificial sounding)
- Metalcore (or whatever lol), Killswitch Engage - "The Forgotten" and "Rose of Sharyn" (ouch... ears... are... bleeding... Guitars are way forward -- not bass I guess -- but the attack is just too much for my ears. Again, where is the bass guitar? I can't even discern it!!)
- Emo (or post-hardcore... again... whatever
), Mineral - "& Serenading" (doesn't sound too bad actually... but it's probably because I like the sound even if it's coming out of AM radio! hehehe)
- Merengue, Blanco y Negro - "Pido y Rezo" (Good instrument separation and wide sound stage. Horns and Trumpets feel quite alive, can quite discern the piano, CANNOT hear the bass guitar presence as with other cans, vocals are quite forward BUT again, it sounds too "in your face" and unnatural compared to both the Sig Pros and the Mad Dogs which is probably a more appropriate comparison due to price range...)  
I can say though, if these are aimed for Home and Studio use, I don't remember having monitors that lack that much "body" and warmth even if just a little. (I had some Tapco/Mackie/KRK monitors at home for recording tracks/ideas I came up with and to, of course, listen to a couple of tracks and "steal" chords and stuff like that and I found them quite good.). I guess they boosted it up to make it more "unforgiving" maybe? To maybe TRY and do both (mixing and tracking at home?)? Not sure.    
Conclusion:
For $350 these retail, I think they are asking too much... I'd be content with KRK 8400, Shure SRH840/940, etc. (i.e. That price-range should do much better for these... they do look good though and come with a great case and good quality pads and cable but...). Right now I'm using other "Monitoring" headphones (the Yamaha MT220s) and there is a night/day difference (but I will perform more A/B between them)  
At full retail I CANNOT recommend them.
If you get a good deal on them ($260 down), then I guess they're an "Ok" buy. 
Still I'd recommend Shure SRH940s and Yamaha MT220s to it... you can find these two cheaper (both from $250 and down).    
Hope this helps.  
Thanks.      
**** UPDATE **** Increased the rating because these absolutely ROCK paired with the Burson Soloist SL! Using them right now, bass has come alive a bit, still forward in upper-mids and highs but it's more enjoyable now! **** *****
PICTURE TIME  
This is how they look in their huge-ass case! LOL
Extreme pads!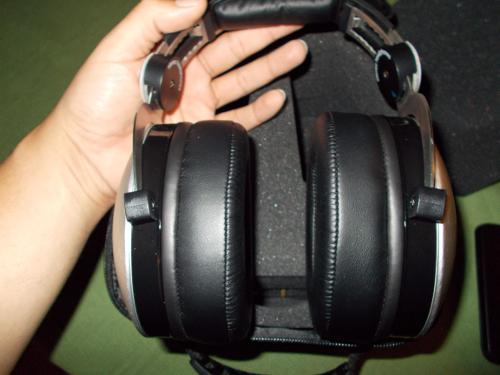 The writing saying "Stereo Headphones" look like something out of the 70s!
Dual entry.
Similar motif, both are "Professional Monitors"... Guess which one I like more... .... ....
HAHAHA look at the pad difference in size!!!! Still, find the Yamaha's more comfortable... ...