Item Information
Ray Samuels Audio The Stealth

,

1

votes
Author:
Category:
Views:

496
Reviews:

1
Comments:

0
Vacuum tube preamp/headphone amp with 4 inputs and outboard power supply.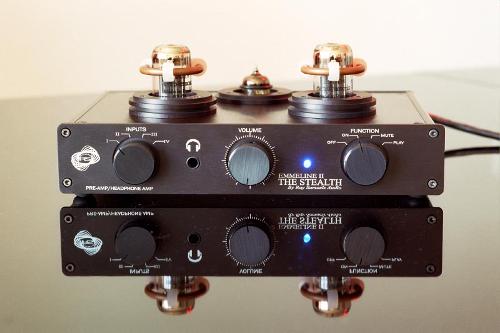 Ray Samuels Audio The Stealth
---
Recent Reviews
RSA The Stealth

Written by Skylab
Published

Oct 13, 2010

Pros - Classic 6SN7 sound; full preamp features

Cons - Not good for low impedance headphones

This is NOT a full review, but really just a rating.  I have owned The Stealth for quite a while.  While one of Ray's older models, it still provides outstanding sound for medium-high impedance headphones, and works exceptionally well as a preamp.  It provides 90% of the sound quality as my three times as expensive Cary SLP-05 as a preamp.  As a headphone amp, it's a little on the warm and dark side, but still with excellent detail.  I prefer using the 12BH7 as the input tube, for a little livelier sound.
 
If you need a multi-input preamp with a excellent headphone out, want lots of tube-rolling options, and have headphones of medium or high impedance, then this is an amp worthy of consideration.  If you don't need the preamp features, though, it's too expensive for the performance of the headphone amp alone.
 


Comments
To view comments, simply sign up and become a member!