Review Questyle M12: More than a top performer
Pros
:
Totally uncolored, natural, organic, relaxing, transparent and full of details sound; great soundstage, top separation and holographic image; amazing dynamics; outstanding quality equaled to desktop products.
Cons
:
Maybe not the tallest and deepest soundstage, but I am nitpicking.
Introduction
I think that Questyle is one of these companies that has caused a sensation in the Hi-Fi world and for a good reason. The company was founded on December 12, 2012, and a year and a half later applied for a global PCT patent on "Current Mode Amplification (CMA)", a new technology that essentially revolutionized how an amplifier works (more on that below), and since then it has been used in all Questyle products, desktop or mobile.
Questyle products are designed to give the consumer the highest, yet trouble-free, audio quality, and they are manufactured at the Foxconn Technology Group, which is known to be one of the technological giants and highest quality manufacturers in China. Look at any of these products and you will immediately realize that it "talks quality in and out". During development, Questyle uses Audio Precision (AP) to test and analyze sound, spending weeks on sound listening, again and again, and even inviting some audiophiles to join the listening in order to perfect both the specifications and the design details and through that sound. And after manufacture, every Questyle product undergoes a strict sound and quality control.
It is then no wonder that since 2015 Questyle has obtained 20 international awards, such as the CES Innovation Award, the iF Industrial Design Award and the VGP Lifestyle Award. Questyle products are sold in the USA, Japan, Germany andthe UK among many other countries, while Questyle Audio has been honored as one of the top 50 competitive enterprises in Shenzhen by Hurun Research Institute in 2017.
So, it did not go unnoticed when, last year, Questyle presented M12, the first mobile headphone Hi-Fi amplifier with DAC incorporating the same technologies as the company's desktop products, which is the product we are going to review today.
Description
M12 uses one of the ESS flagship DAC chips, the ES9281AC, which has decoding capability up to PCM 384kHz/32bit and DSD256, while it renders Master Quality Authenticated (MQA) technology.
Even more impressive is a number of technological innovations that M12 incorporates:
The first and foremost innovation is undoubtedly the patented "Current Mode Amplification (CMA)" technology. This goes back to 2006, when Mr. Jason Wong, Founder and CEO of Questyle, being in his University Lab, came across the concept of "current amplification", which up to then was only used in video processing and high-speed communication. It was a very fascinating idea, as it is both high-speed and very dynamic in nature. So, Mr. Wong asked himself: What if current amplification is brought up to audio? The idea here is, by means of transistors and a fully discrete structure, to amplify current, instead of voltage, in a pure Class A state. The result is multiple: Complete elimination of the Transient Intermodulation Distortion (TIMD); ultra-wide bandwidth (> 500kHz) and ultra-low distortion (THD+N lower than 0.0002%, that is, 10-100 times lower than ordinary professional devices,challenging the physical limits of audio testing). Even more, the CMA technology can be used for amplifiers of any power level (10mW-2000W) and of any size (thousands of square centimeters for some professional amplifiers). It was because of this last ability that the CMA technology could be brought up into a small form such as the M12 unit.

The second technological innovation is the Torex high-efficiency power management, which ensures low power consumption without overheating, thus longer battery life and longer playback (5-6 hours).

Based on all the above, M12 comes with really impressive specs: Frequency response 20Hz-20kHz/±0.1dB; THD+N 0.0003%; background noise lower than -130dB; self-adjusting to suite headphones of impedance 8Ω-600Ω; and power 12.26mW at 300Ω. If the detected impedance is less than 70Ω, M12 will self-adjust to low gain output; if it is more than 70Ω, M12 will self-adjust to high gain output; and if it is more than 600Ω, M12 will automatically switch to 2Vrms line out.

The housing of M12 is made of metal (I suspect CNC aluminum) and comes in two colors, black and silver. The quality is absolutely superb, and apparently Questyle in creating M12 miniaturized one of its bigger headphone amplifiers/DACs.

On the front plate there are two lights: A gain indicator for low gain (green) and high gain (red) mode; and a data indicator for PCM (green), DSD (red) and MQA (magenta).

On the other hand, M12 is petite, its dimensions being 51mm x 16.5mm x 8.1mm. It is truly unbelievable that Questyle put so much technology in such a small device. Of course, all these goodies should translate into sound quality, so let's find out.

Performance

Before I describe the performance of M12, I should mention that all testing was done after I upgraded the firmware (FW) to the latest one 9277; please see

https://questyle-en.oss-us-west-1.aliyuncs.com/Driver/M15 Firmware_v.0427.zip

Now, I am using the word "performance", because M12 has an amplifier and a DAC section, so I shall comment on each one of the two, and the combined effect is what I call performance.

The main characteristic of M12's sound is its amazing tonal balance; balanced sound does not mean what some people view as or call neutral sound. One has to be very careful with this term and because of that I very rarely use it. I do not believe that there actually exist neutral sounding products. Truly neutral means no engagement and no musicality whatsoever, so maybe good for studio recording but not for listening to music. M12's timbre is completely uncolored, and at the same time organic and natural.

The bass is tight, with the right amount of sub- and mainly mid-bass, so you will never feel that M12's sound is warm and certainly not cold; it is quite interesting that Questyle people succeeded in making M12's sound organic but not warm, which I have to admit it requires particular tuning skills.

The mids are very natural and relaxing, and both female and male vocals are very nicely presented; never forward or "shouty" and never recessed. I should also note that although the mids are very natural, they never tend to be intimate.

The tremble is extended but never hissing or harsh; so, one gets plenty of details, sometimes even the finest nuances of music, without ever getting tired even after many hours of listening.

The soundstage is great in width, and I was to nitpick an M12 drawback this will be that its soundstage is not that tall and deep. The separation is absolutely great and the image is totally holographic with the musicians and the singer always in the right place.

The dynamics is truly amazing, and M12 is another beast that can drive any IEM or headphone up to 600 Ω where it automatically switches to 2Vrms line out; it appears that the unit has ample power without ever changing its sound signature. Furthermore, M12 is extremely quiet, without any floor noise even with the most sensitive IEMs. Of course, all this is the result of the Current Mode Amplification technology, this unique feature that characterizes all Questyle products, and it is added for the first time to a mobile unit.

Overall, the timbre is totally uncolored, natural, organic, full bodied and transparent, without being euphonic. The resolution is exemplary, with plenty of details, the soundstage is great in width, the separation and image are absolutely top, and the sound is extremely clean. The job Questyle people did in tuning was unbelievable, and to this certainly helps the ultra-low distortion of M12.

The testing of M12 was done with a variety of musical pieces from TIDAL, varying among the classical songs "The Look of Love" by Diana Krall, "Fast Car" by Tracy Chapman, "Over My Head" by Asaf Avidan and "You Don't Have to Say You Love Me" by Jack Savoretti to mention just a few; Jazz pieces, like "Samba De Orpheus" by Vince Guaraldi; and symphonic pieces like "Fanfare for the Volunteer" by Mark O'Connor. I also used a variety of IEMs and headphones, among them Final A8000 and Pandora Hope VI. In all of them, M12's performance was completely uncolored, natural, organic, relaxing and transparent, nothing short of outstanding.

I compared M12 to my reference portable DAC/AMP, the Resonessence Labs HERUS+ (an upgrade of the original HERUS that has now discontinued). The HERUS+ uses the ESS Sabre ES9010K2M DAC chip, it has a 1/4 inch output and its MSRP used to be $395.00. On the other hand, the design and implementation of the HERUS+ was done by the people who designed and implemented the ESS chips (Mark Mallinson, the owner of Resonessence Labs, was formerly Director of Operations in ESS), so they took full advantage of the ES9010K2M's capabilities. The result is a portable DAC/AMP that is made like a tank, it is a pleasure to look at and a bigger pleasure to listen to; its performance is truly stellar. Well, M12 is damn close to HERUS+; the latter is a bit more full bodied and a bit more detailed, but just a bit. I scratched my head why I like so much M12 and now I know: Because its performance is so damn close to that of HERUS+! Can you buy HERUS+ today, and even if you could, would you spend $395.00 on it? The answer is no, but now you know that you have an option: It is called M12!

Conclusion

It is not enough to say that M12 is an amazing unit. You get a petite amplifier with DAC equipped with the Current Mode Amplification module, a truly revolutionary technology used for the first time in a mobile unit. As a result of this and its flagship ES9281AC DAC chip, the sound is totally uncolored, natural, organic, relaxing, transparent, full of details, with great soundstage, top separation and image, and amazing dynamics. On top of all this, M12's quality is outstanding, the same as in Questyle's desktop amplifiers.

M12 is probably the best implementation of a a portable amplifier with an ESS chip, and one of the top three DAC/AMPs in the market today. At $139.00 it is a bargain. More than a five star performer!

https://www.questyle.com Reviewer's note

: The reviewer is grateful to Jamie Zhou of Questyle Audio for sending him a sample of M12.
Questyle M12: King of $150 price bracket
Pros
:
+ Superb build quality with machined aluminum
+ Smaller size ensures portability
+ Smart Impedance works just great
+ Good amount of power is enough to drive most IEMs
+ Reference grade tuning
+ Good resolution and staging performances
Cons
:
- missing balanced output of 4.4mm
- no lightning port adapter out of the box
Questyle M12: King of $150 price bracket
Summary & Objective:
The
@Questyle
M12 is the first ever dongle release by Questyle promising outstanding performance as always. It comes with great build quality and some nifty features like Smart Impedance detection and Current Amplification which makes it a great contender for the price bracket.
Introduction:
The Questyle M12 comes with great machined aluminum build and promises outstanding sound performance for the price bracket. It is the first ever dongle release by Questyle and have some very nifty new features built-into it.
The Questyle M12 is priced at $139
.
Disclaimer:
This unit was sent by
@Questyle
for the purpose of an honest review.
Everything mentioned in this review are purely my own based on my experiences with the Dongle DAC/AMP.
Design, Build & Features:
I wouldn't want to make this a very long review by describing each feature but for people who want to know here are some extracts from the Questyle website.
Specifications:
The Questyle M12 comes with $139 price tag and the specifications are as below:
https://www.questyle.com/language/en/m12-en/
Material: CNC machined aluminum
Color: Black / Silver
Size: 51[L] X 16.5[W] X 8.1[D] (mm)
Operating System Required:
Android phone and pad: Android 5.0 and above
PC: Win10 1803 and above
Apple cellphone: iOS (You need to buy an OTG cable for Lightning to Type-C.)
Apple computer: Mac OS
DAC Capability of M12:
PCM: 32kHz – 384kHz (16/24/32Bit)
DSD: DSD64(1Bit 2.8MHz) , DSD128(1Bit 5.6MHz), DSD256(1Bit 11.2MHz)
Output Power:
Built-in smart detection circuit will automatically self-adjust the output power to fit different
impedance of headphones.
RL=16Ω,Po=46.11mW;
RL=32Ω,Po=26.71mW;
RL=300Ω,Po=12.26mW;
When the detected impedance is less than 70Ω, M12 will self-adjust to low gain output.
When it is more than 70Ω, M12 will self-adjust to high gain output.
When it is more than 600Ω, M12 will automatically switch to 2Vrms line out.
Frequency Response: ±0.1dB(20Hz-20kHz)
THD+N: 0.0003%
DAC: ESS flagship USB DAC chip ES9281AC
NOW LET'S TALK ABOUT THE SOUND....
Items Used for this Review:
IEMs:
@Vision Ears
EXT,
@DUNU-Topsound
ZEN PRO,
@CampfireAudio
Dorado 2020, Holocene, Honeydew,
@UniqueMelody
MEST MKII,
@IkkoAudio
OH2, Tinhifi T3 plus, P2 Plus
Source
: iPad Pro, iPhone 13 Pro max
Streaming Source:
QOBUZ
Tracks Used:
The tracks I have used can be found from the below playlist that I have used and generally use for most reviews...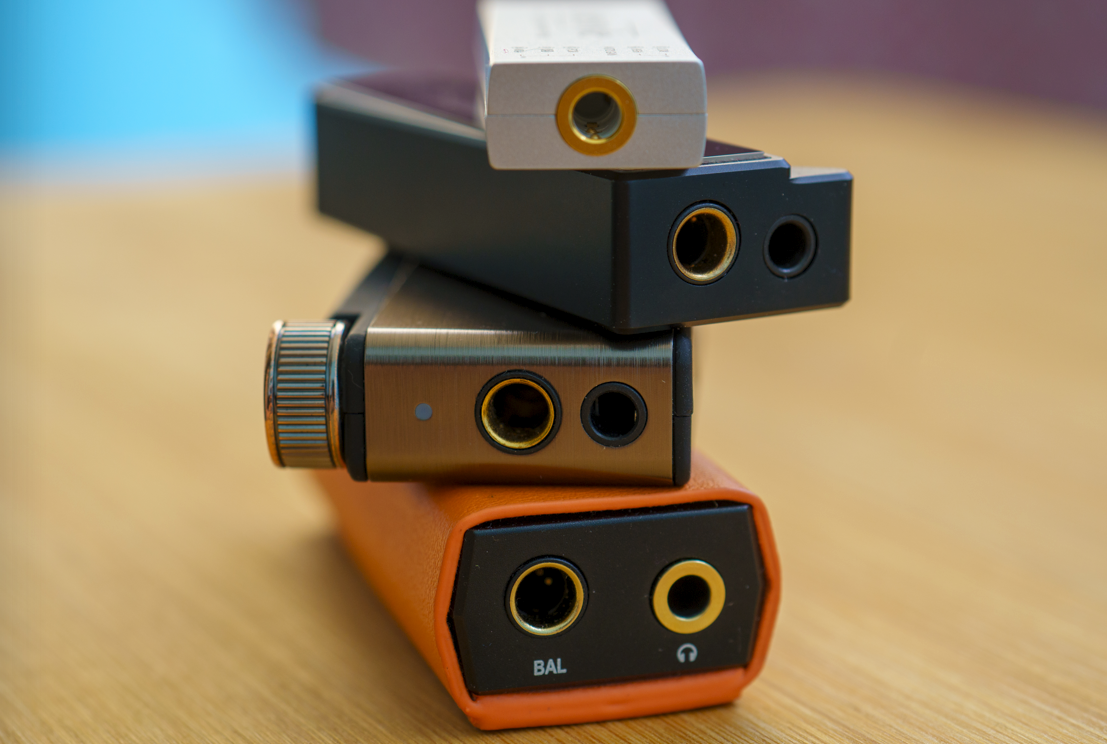 QUESTYLE M12 Sound Impressions in Short:
The BASS:
The Bass sounds just great. has enough details and is able to produce enough attack in the mid base region as well. In tracks like : "
Anna R. Chie (Remastered) - Konstantin Wecker
" and "
Dreams (2001 Remaster) – Fleetwood Mac
" you can feel the the deep attack of the different instruments with just enough details. The thumps and slams are very enjoyable.
The MIDS:
The Midrange really just excels in terms of every single element. It is able to produce an good creamy smooth and textured midrange that is soothing to the ears while having enough details in it. The vocals are natural and both male and female vocals come with good amount of details. Instruments sounded natural. In tracks like: "Anchor
- Trace Bundy
" and "
Ruby Tuesday - Franco Battiato
" while you will love the overall midrange specially transients of the guitars, violins etc... instruments and the vocals.
The TREBLE:
Though some people may complain the ESS DAC chip being a bit bright signature specially in the Treble region - this implementation is just great and seemed quite the reference grade. Hence, the treble just sounded nice and full and without any unwanted peaky-ness.
STAGING & RESOLUTION:
The staging and resolution is just great and just the amount the track requires. Nothing artificial here. Tracks like: "
She Don't Know – Melody Gardot
" or "
Bohemian Rhapsody (live aid) – Queen
" sound good & enjoyable. Resolution is amongst the best in the price bracket and better than few others above it's price bracket also.
Impedance & Amplification:
The smart impedance features seemed to work correctly in all cases that I've tested and the dongle was able to power all IEMs with the rare exception of the Tinhifi P2 plus which requires desktop grade amplification and power.
Pairing:
The best pairing experiences I have found are with slightly warmer or reference grade IEMs. Unlike some other ESS DAC implementations, this doesn't have the tendency to increase peaky-ness when paired with bright IEMs
Comparisons:
Though I have compared all 4 of the dongles I had in my possession -
@iFi audio
Go Blue, Qyestyle M12, Luxury precision W2 and the Cayin RU6 dongles, it wouldn't be fair to compare Questyle M12 with dongles twice it's price. Hence, comparison had been done mainly with the iFI Audio Go Blu which comes at slightly higher price range of $199. Since the Go Blu has BT features also which is not present in M12 - the below comparison is based on wired connection only.BT performance not taken into account here.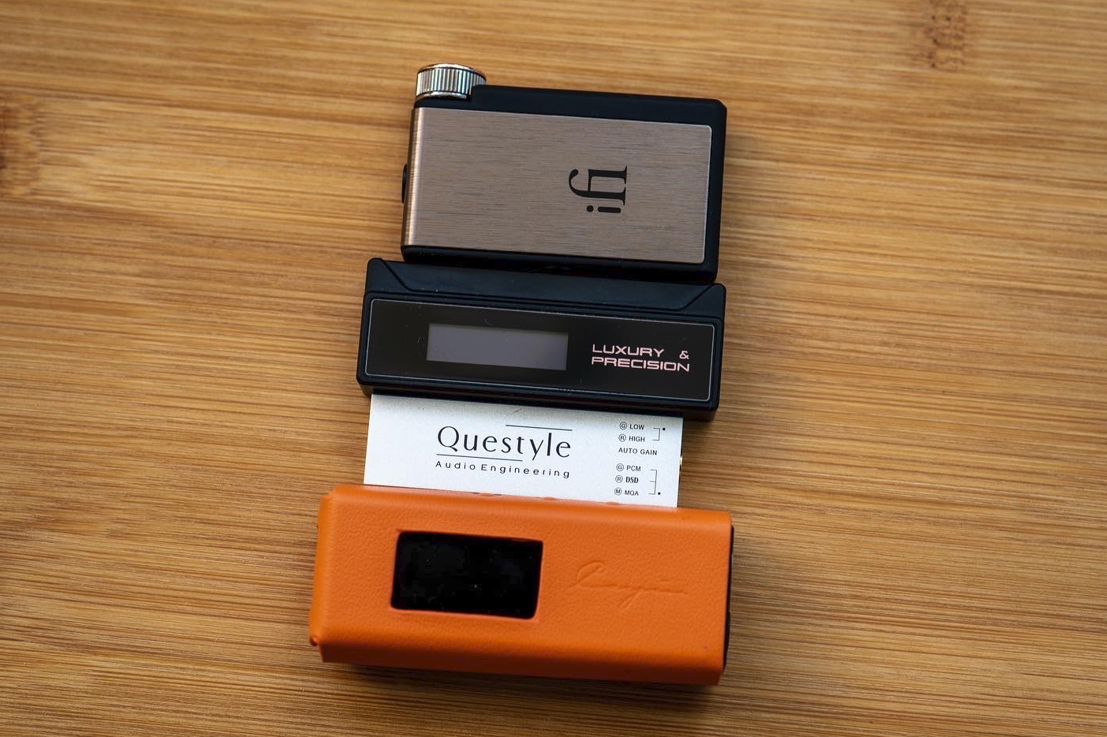 Questyle M12 vs iFi Audio Go Blu:

Build quality:
Both dongles are of extraordinary build quality and have lush premium looks.
Features & Amplification:
While BT features of the Go Blu not taken into account - the smart impedance is a great nifty feature of the M12.the volume dial is a great feature of the Go Blu. both dongles have good amount of power and amplification
Sound performance:
This is where the M12 was found significantly better. The midrange on the Go Blue sounded quite thin and was missing enough texture. the treble also was found a bit on the brighter side on the Go Blu. The M12 was surprisingly quieter than the Go Blu also.
Resolution & Staging:
both dongles have equally good staging performance but the Go Blu lacked slightly in terms of resolution to my ears.
Conclusion
:
The superb performance of the
@Questyle
M12 makes it an easy recommendation to anyone who is looking for a dongle in the $150-200 price range. There are many dongles below the $150 price ranges including Shanling UA2, etc.. and some at slightly higher range like the Go Blu - but the M12 outperforms them all and can easily be considered the King of $150 range dongles.
Small size, Big sound
Pros
:
1. Stellar balance across the range
2. Doesn't sound digital or processed unlike many of its competitors. Natural and analogue ish sound reproduction
3. Extremely precise. Class leading imaging and detail retrieval. Excellent Separation and layering.
4. Clean, neutral and clinical but not at the expense of musicality
5. Loads of body/meat in the sound. Really difficult to find flaws in midrange, bass and treble
6. Exemplary sibilance control. no shrillness or harshness or glassy edge around the sound
7. POWERFUL. Can run power hungry cans like HD 650 with ease. Auto gain works perfectly but has drawbacks in specific cases that I'll
highlight in the Cons section
8. Excellent heat management. Doesn't get hot at all only slightly warm
9. Zero noise. I have seen reports of issues with usb 2.0 and smartphones but havn't faced no such issue myself
10. SMOL
Cons
:
1. Soundstage can feel a little cramped once you come back from relatively wide sounding sources but nothing deal breaking and barely
noticeable after a while
2. Auto gain system doesn't work properly with low impedance low sensitivity iems (Final and Sony ier series iems to be precise). for
example iems that have 16 ohms impedance but below 100 db sensitivity. All ba and hybrids sound amazing and iems without the
mentioned issue as well. A force gain switch could have solved this niche problem.
3. Lacks wow factor. Won't make you go crazy and head over heels at first listen. Slow charmer
4. Battery hog. I have not faced any compatibility issues myself and it has been perfect from day one but in your system may turn out
otherwise especially in old hardware
5. Provided cables are very stiff. I am using a super flexible short paracord cable instead
Umm, I've probably written the full review in the pros and cons sections
But TLDR- Good option under 200 usd range. This is Questyle's cheapest offering and don't expect it to topple their top tier stuff but Questyle's natural charm is still present here. Highly recommended if you are looking for something very very small yet powerful. I am thoroughly enjoying mine
Last edited:
Well built good sounding portable DAC
Pros
:
Well-controlled bass
Can drive even fairly difficult earphones
Good Soundstage width
Metal, good build quality
Cons
:
Drains battery quite a bit
Odd clicking noise while using Apple iPad as a source
Dark case makes text on case hard to read
Would be nice if the indicator told more than whether it is MQA or High Rez (like gave bitrate)
Source

Samsung Galaxy S21 Ultra with USB Audio Player Pro (Bitperfect Mode)

Apple iPad with Apple Music and Qobuz

FIIO BTR5

Apple USB-C to 3.5 mm cable



Earphones

Kinera Nana v2

Moondrop Kanas Pro

Etymotic er2xr





Material



Norah Jones - "Seven Years"

Polyphia - "G.O.A.T."

Royal Blood - "Typhoons"

Alice in Chains - "Down in a Hole" (unplugged version)

Charles Mingus - "Goodbye Pork Pie Hat"

Dire Straits - "Money for Nothing"

Morrissey - "Suedehead"

St. Vincent - "Pay Your Way in Pain"

Johnny Cash - "Hurt"

A Perfect Circle - "Weak and Powerless"

Donald Fagen "I.G.Y."

Fleetwood Mac - "Dreams"

Performance



I do not currently have the means to measure audio equipment, so I will have to convey the Questyle M12 in anecdotal terms only. Overall, the Questyle M12 is an able performer that offers decent performance with even difficult to drive earphones. With Android equipment, the unit performed flawlessly and was easy to use with USB Audio Player Pro. The only issue I had was using the unit with my Apple iPad (Air third gen, latest iOS). When using the M12 on the iPad, there was a clicking sound that would oddly move around the soundstage no matter what app I used. This did not occur when using the Fiio BTR5 (wired or wireless). Other than that issue, the M12 sounded great with every genre of music as a DAC/Amp should.



vs FFiio BTR5



The Fiio BTR5 is a portable DAC/Amp that costs around $110 and includes Bluetooth. The physical size of the BTR5 is slightly thicker and longer than the M12, but still quite small. It does include a belt clip case for convenience.



Both the BTR5 and M12 were able to drive any earphone that I threw at them, though the BTR5's volume is controlled on the unit and got much louder than the M12 fully driven. Sound on both were exceptional offering good bass performance, and a non-grainy treble, two areas of which I am particularly upset if lacking. Bass control on the M12 was a little tighter. Soundstage on both was good on all earphones, but really stood out on the Moondrop Kanas Pro as they both seemed to extend the width significantly over the USB-C dongle. The imaging was a little better on the M12, but not excessively so.



The advantages on the BTR5 are with the Bluetooth capability and the addition of a 2.5mm balanced jack. While testing the BTR5 against the M12, I did not use the balanced connection or Bluetooth, however.



Overall, against the Fiio, I would give the edge on sound and build to the M12 but features to the BTR5.



vs Apple USB-C Dongle



The Apple USB-C dongle is a capable performer considering its low cost but has issues with output. I use the dongle occasionally when I listen to background music as it is simple to just plug and play. The M12 has better resolution, better staging and imaging, and a lot more power.



Overall, against the Apple USB-C to 3.5mm adapter, I would give the edge to the Apple adapter for cost ($9), convenience, and portability (it is so tiny), The M12 is better in all other aspects.
Questyle M12
Pros
:
- Pristine clean and cleat timbre
- Sparkly yet not overly done
- Scalable driving power
Cons
:
- May not always perform great with MQA, may exhibit artifacts
- Picky on power supply from host. The amplification module on this unit is power demanding
Questyle M12​
November 2021 Update: Questyle released a new update for M12. Link here:
LINK
With this new update, what was already a great sounding unit now exhibited even better sonic qualities. There's marked improvements with the top end sparkle and extensions with smooth decays (as tested with FOSTEX T40RP MK3). The overall presentation remained organic and richly textured with amazing technicalities. With this new development, M12 has now jumped over to 5 Star performers in my book. Probably the most well balanced tuned of all ESS Sabre dongles that I have ever listened to
DAC Chip:
ESS Sabre ES9281AC (Single, Current Mode Amplification)
PCM 24bit - 384khz MQA, SNR: -120dB, Power: Adaptive 2 Vrms up to 600Ω, USB Type-C Female Socket, 3.5mm SE (Microphone: No), 51×16.5×8.1mm, Metal Chassis
Listening Equipment:

Etymotic ER4SR, HZSOUND Heart Mirror, VE Monk GO, TIN HiFi P1, Moondrop Aria. Source: USB 3.2 Samsung S20 (Tidal)

​
LISTENING EQUIPMENT USED IMPARTED HUGE INFLUENCE TO SOUND IMPRESSIONS & RATING
​
PROS​
Stellar neutral and natural timbre with exceptional coherence level
Very tight and controlled dynamics, never overbearing, effortless and airy.
Reference grade Treble, Mids and Bass extensions, richly textured
Reference grade Macro and Micro details, beautiful nuances
Surgical technical prowess, exceedingly technical and resolving.
Wonderfully crisp percussions, guitars, synth, piano, and cello
Mildly intimate Mids, succulent Male and Female vocals
Excellent Sub-Bass presence and textures, with great extensions
Mind blowing speed and transients handling.
Razor edged layer separation and spatial positioning, great imaging.
Exemplary sibilance resistance despite being sparkly bright.
Particularly useful indicators for source quality
Very slimline build and lightweight
Great heat management
PHENOMENAL performance for instrumental, EBM and modern music
Drives Tin HiFi P1 Magnetic Planar at 70/100 Volume
CONS
Commendable soundstage but should be slightly wider at this level.
Too much focus on technical prowess and surgical precision – mildly dry sounding on some songs
Prone to picking up RF interferences from mobile phone signals.
Does not react too well with some older model USB 2.0 devices (2018 and older). This dongle require strong current from the USB host. Android older than 2019 models may exhibit crackling or distortion - that is a sign of weak power feed. Best with USB 3.0 and above.
VERDICT​
Questyle M12
. Arguably one the best among the ones tested so far with outright technical prowess and timbre coherence, outclassed Audirect BEAM 2SE and HiBy FC3 on this segment by a step or two. Can be overly pristine when paired with an already ultra-resolving IEMs like the Etymotic ER4SR, but it does not dry the timbre to cause for concerns. For transparency, M12 sets the bar really high for others to follow. However, the somewhat milder velvety smoothness as observed in other TOTL dongles prevented this unit from scoring higher – but by no mean a deal breaker as some may hugely appreciate the stellar coherence especially when paired with an already technically competent and musical IEMs/Headphones. I love this unit the more I listened to it. It is very tidy and disciplined.
A re-run test has been conducted on this M12 due to the fact that my older LG V35 was not providing ample enough power supply for the demanding ES9281AC DAC. I ran the impressions test for the 3rd time on a Xiaomi M9t which audibly allowed the M12 to perform to the fullest potential. Overall the refinement are observed of which the timbre exhibited meatier dynamics and polished edged decays.
Performs the best on my Samsung S20 which has stronger USB 3.2
- the better your phone is, the better this M12 preforms.
($140.00)
Best Pairing:
Flexible pairing with almost anything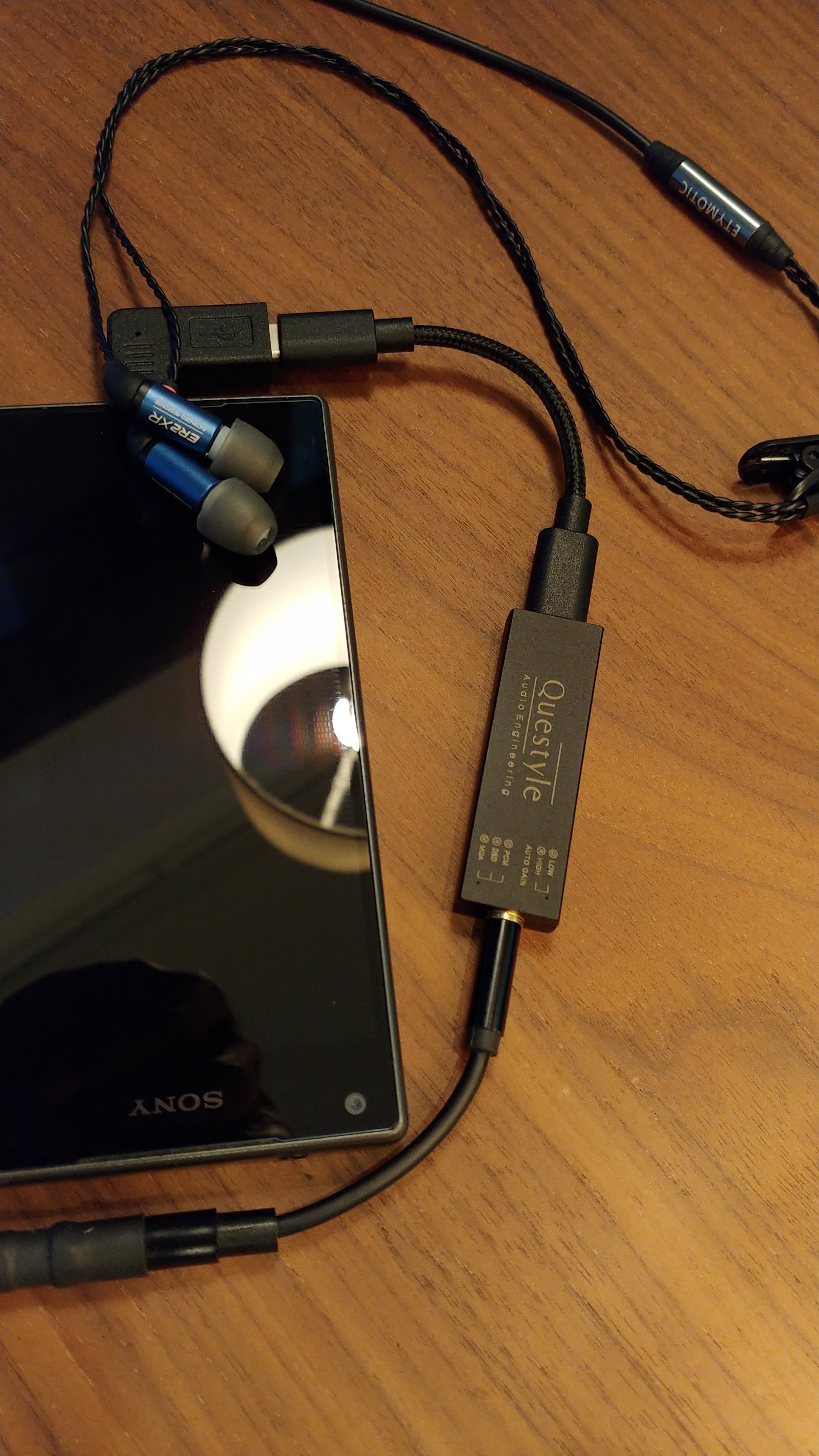 Last edited: