Red Hearts from QOA - Vesper
Pros
:
1)Fixed the problems of the first version in which the membrane sunk when inserted into the ear;
2) The bass has become more controlled, it is slightly less and it does not affect the mids;
3) high frequencies, it seemed to me, also became less harsh and the vocals became a little more natural;
4) Beautiful appearance that will appeal to girls and not only, a fairly long sound guide and a compact shell;
5) Excellent complete cable;
6) Good quality eartips included, no need to buy new ones;
7) not picky about the source(too good with USB-C DACs);
8) comfortable sound for POP/EDM music;
9) soundproofing is above average;
10) They are very light, weightless, good for long wear.
Cons
:
1) red color for some may seem very bright;
2) there is a little crackle of the membrane, but if you only screw the earpiece very hard into your ear;
3) not suitable for styles where a smooth pitch is needed, because there is a little more bass than necessary;
4) there is a little synthetic on the vocals;
5) there is no mesh on the speaker sound guide (dirt can get in)
I already had this model earlier, but in green, which I took almost a year ago when they first went on sale. I will say frankly and honestly - I didn't like the
green version
in terms of sound, because the sound (bass and mids) constantly disappeared, since the
speaker membrane
constantly shifted when inserted into the ear, I had to pull out and blow the earpiece, it was very uncomfortable. The second is the sound, for me at first it seemed too
bassy
with very
bright and synthetic
on female vocals, I got rid of these headphones.
Further, after almost a year, I managed to buy these
RED Vesper
for a very low price, because there were promotional codes and I decided to give these headphones a second chance and listen to them on another player.
First look 0щ0
The set has not changed and remains the same:
iems, hybrid silver/cooper cable that I liked so much that I had to look for the same for other headphones(not found
), and 6 pairs of ear pads with a good case.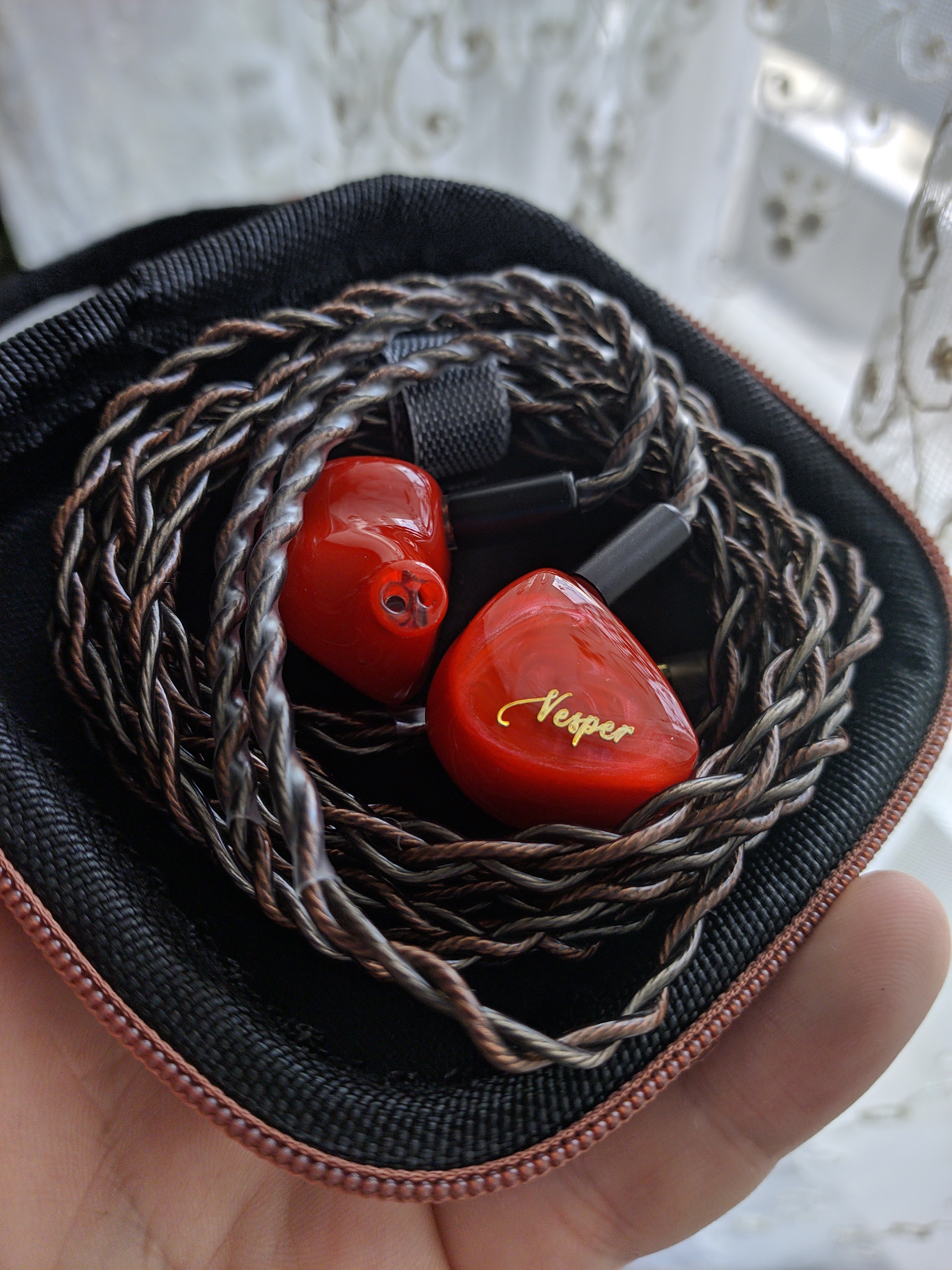 The appearance of the headphones $o$
There are a lot of photo under spoiler
:
Oh yes, they look beautiful, but I agree that the color may be too feminine to some extent, but it seems to me that for
all
young people
, on the contrary, this color will be preferable, since I have not seen headphones that stand out in color for a long time.
There are some
questions about the quality
of workmanship - there are small traces of casting and post-processing on the case, apparently this process is still manual and this case is cast, perhaps also by hand.
Improvements, what?
To be honest, when I bought these headphones, I did not expect a good sound and generally expected mediocrity, but I was a little pleasantly surprised...
The first thing I noticed was that the membrane did not sink in, at first I thought it might be due to other ear pads that I used (not stock ones). I tried the complete ones - the same situation, but if you twist the earpiece in your ear and insert it deeper - that is, a slight crunch, but the sound does not get through. For the sake of interest, I wrote in support about this, to which they answered me:
"In the early models there was a very small compensation hole, due to which the membrane could sink and the sound would disappear, then this hole was expanded... Kinera support".
I remember that when I looked at the internal structure of the green version, I saw that the speaker had a special chamber and there was a hole, but it was filled in - they made this hole, which is why now everything is back to normal.
Phew, so, what about the sound then there?
Talk about SOUND
So we come to the most interesting thing - the sound.
I don't know what gave: roofing felts red racing color or all the same a change in the internal chamber, but the sound got a little better for sure.
The first thing I noticed was a moderate amount of
bass
, now it does not climb into the mids, it has become a little more accurate, it has not lost depth and mass, but now it doesn't hurt my head for sure. There was a lot of bass in the greens.
If we talk about the
mid frequencies
, then that's exactly what has changed and I can hear it - moderately bright vocals. Although it still has a slight synthetic color, it is still a little smaller and it does not scream in your ear. I could not listen to the greens for a long time because the vocals were too close and there were a lot of them, it seems to me that in the greens there was a rise in the 2 - 2.5kHz section, which was why this brightness was.
High frequencies
are slightly softened, but, apparently, due to the fact that there is not such an obvious rise by 2-2.5 kHz, they are felt better in terms of overtones. These are not the best high frequencies in this class for sure, and they are more likely to have small overtones without aggressive distortion.
Resume
These headphones are not new and they will not be able to provide you with something extraordinary in sound, however, I know some people who need a very beautiful design than even a kind of wardrobe item in their style - there are few such headphones, especially considering the fact that they are made exclusively in simple colors without a bright presentation, you must admit - almost all models are already somewhat similar to each other, and here there is a little zest, but the truth is, not for everyone.
i.e. these headphones are a certain balance of sound and style, and for those who need headphones as a bright addition to style.
Pros
:
Balanced
Comfortable
Good grip on the ears (with the fin)
Bang for buck
Cons
:
Overall tuning is good, but the clarity can be improved
Too "balanced", sounded a little too boring
Introducion
This is a new product by QOA, a China-fi brand that hit the market few years back. This brand is affiliated to the brand, Kinera which seems to handle the more high-end products while QOA looks into beginner/intermediate player's market. In general, their earpiece is slightly smaller to cater to ladies which generally have slightly smaller ears. (The overall size is similar to KZ ZSN variant)
Sources
Laptop 3.5mm
Realtek (ALC4050) USB DAC connected to laptop
Topping E30+MX3 connected to laptop
Fiio M3 (DAC & Player mode)
Review done streaming off youtube, digitised vinyl & CD collection (24bits 96kHz - 32bits 192kHz).
Specifications
QoA Vesper with 1DD 10mm + 1BA Knowles Driver
Impedance: 16ohm
Sensitivity: 116db
Plug Type: 3.5mm
Cable Length: 1.2mm ( Detachable )
Cable Material: Silver plated copper mix with copper [4 core]
Frequency Response Range : 20Hz - 20kHz
Accessories
3 pairs of hard silicone tips (S,M,L) [Smaller bore, deeper]
3 pairs of soft silicone tips (S,M,L) [Bigger bore, less deep]
Initial hearing
Starting off with the bass, my first impression was that the bass in overall is pretty strong but very comfortable. (Note that I do love bass but I'm not a bass head) However, the mid bass seem to be a little lacking in punch and dynamics. The vocals is very clean for both male and female but it sounded a little thin and flat. This might be due to the male vocals coinciding the mid bass region and have a little lack of dynamic and energy. Unlike majority chifi product's tuning, the sibilance is very well controlled and is not harsh for female vocal highs. The highs and treble cut off very naturally. Simply put, the FR chart given by QOA fairly summarised the hearing experience, generally very well balanced with slightly stronger bass.
Hearing after minor burning-in
I spent the last 3 days listening to music with this earpiece for about 2-3hr/day. What I found is that the earpiece which was pretty dry have turn a little wetter and more comfortable. The bass in general became stronger and much more punchier. There is little to no change observed in female vocal region, on the other hand, the male vocals became more lively with the improving mid bass. The highs also seem to have been extended by a little and rolled off less steeply, but in overall the highs dies off naturally without the some-what irritating double peaks.
Sound stage & Separation
Sound stage is pretty wide and the separation is rather fantastic in my opinion. But the flat response does not do it justice by reflecting it's true potential for both measure. This is largely due to some instruments with overlapping frequencies making it a little harder to separate, listening to music with instruments of more distinct frequencies separation is good! Sound stage on the other hand is wide revealing some minor details.
Comfort and Isolation
Extremely comfortable in my opinion, sometimes I forgot I was wearing an earpiece The rounded resin case fit nicely on the ears coupled with fins and snug fitting allows very good isolation.
Verdict
Bass: 8.5/10
Mids: 8/10
Highs: 8/10
EQ response: 9/10
Comfort: 9/10
Isolation: 9/10
Sound stage: 8.5/10
Separation: 8/10
Overall: 8.5/10
Again, my review scoring is with respect to per dollar value. Other than the slightly elevated bass, the response is pretty flat and very analytical. Leaning towards being warm and dry, this bring forth a touch of experience similar to listening through a tube amp. I tested a few genre, [Chinese pop, EDM, classical etc.] and they sound pretty nice to me.
Personally, I would prefer a little more bass, high and treble while maintaining the flat tuning. Right a the beginning, I was a little upset as it seem to have no "characteristics", like an outcast boy sitting quietly at the back corner of the class. This is why I only gave a 8ish score for both bass and highs、 The mids was given an 8 simply because it is thin and a little too analytical, sometimes it almost sounded like talking with gusto more than singing.
As a result, I would gladly recommend it to people who would like an earpiece which is more analytical that can perform pretty well in various genre. However, to those who are bass headed or prefer the V&U -shaped tuning, this is not a earpiece to your taste. But of course, if you are a "Lego" player, you can mix around with other accessories here and there and EQ to achieve your desired signature.
Priced @69USD I think it is certainly worth it, in my honest opinion, this thing easily beat the branded $120 range earpieces off the shelves. This thing might even fight the 150-180 contestants if it continue to evolve (DD is awakened to it's full potential)
Mods I did
Like I said in the verdict section, I feel that the mids and vocals is a little too thin for my taste, so I replaced it with a
(1)
Jcally 8 Strands 5N oxygen-free copper cable. Perfectly brings out some liveliness to fit my taste. I also replaced the standard tips with the
(2)
foam ones which squeezed out the juicy bass that I like!
QOA Vesper Review
Pros
:
Well-tuned, fun and balanced, U-Shaped with stronger sub bass, good all-rounder pick, build quality and fit
Cons
:
slightly sluggish in bass segment, rolled off at higher frequencies >> lack of extension in the highs.
More Reviews at:
www.Perrivanaudio.com
!
Driver Setup: 1 Dynamic Driver + 1 Balanced Armature


Price: $89 SGD
Intro
Disclaimer: This review set was graciously lent to me by a friend and the review is written of my own accord.
Some background information on QoA. QoA is an abbreviation for "Queen of Audio" which is a brand formed under Kinera Audio and what makes them unique is that their products were designed with ladies in mind which is not surprising as the creators are ladies too. QoA was founded by 2 sisters in 2018 and the Vesper is the entry tier of the 3 models that they released so far. In this review, we will take a closer look at the Vesper and see how it fare against present day offerings.
Accessories (Score: 7.5/10)
Right off the bat, the box caught my attention with that yellow font and black background and inside it were 2 black cards that provided more information about the Vesper and the IEM sitting in the brown leather-ish case which felt really premium (like the Tin T4). The Vesper comes with a set of tips for you to choose around and a pretty neat cable (below) which I find it to be relatively soft and premium feeling (kudos QoA!).
Relatively well thought out for an IEM in this price range, good cable and carrying case really establishes itself as one of the better products out there.
Build Quality and Fit (Score: 8.0/10)
The Vesper was made to fit smaller ears for the ladies and surprisingly it fit well in mine as well! The ergonomic design and attention on details on its shell really made it super comfortable to wear over longer listening periods (it probably stands at the top 25% percentile in terms of comfort of all the IEMs that I wore so far). I have a slightly larger than average ear so takes that into consideration as to why I felt the Vesper was comfortable to me. The shell itself seems to be durable although I am unsure if it was made of acrylic or plastic, but it felt towards the latter as I spend more time with it.
The Vesper is nailing all the conditions for a superb IEM but it now boils down to the sonic characters and its technical abilities to establish itself as one of the best at its class so lets move on the "Sound".
Sound (Overall Score: 8.0/10)
Overall tuning of the vesper can be described as somewhat U-shaped with a balanced presentation. I have to say that it is a very well-tuned frequency response wise and I really enjoyed the extra energy that it gives.
Sources used
- Ibasso DX120
- IPhone XR
- Atom DAC and AMP
Music and Albums, I listened to
- Alan Walker – Alone/Faded/Darkside
- Billie Eilish – When we all fall asleep, where do we go?
- Tchaikovsky 1812 Overture
- Cigarettes After Sex
- The White Stripes – Seven Nation Army
- One Republic – Human
- Keane – Fears and Hopes
- Nino Rota – The Godfather OST
- Fedde Le Grand – Cinematic
- ARTY – Rebound
- ACDC
- Godfather OST
- Aladdin OST
Bass (Score: 8.0/10)
The Vesper is tuned such that it has a relatively stronger sub-bass as compared to its mid-bass which gives you that solid rumble and body in most tracks. However, I do notice that it has a lower impact and punch when it comes to kick bass and beats which does not bother me at all but however some might feel "lacking" due to a relatively weaker attack (I will explain later on why this might be helpful to the overall presentation of the Vesper). As much as I enjoy the tuning in this region, there are some technical flaws such as dexterity and separation in its sub-bass regions as I move on to bass intensive tracks such as Billie Eilish's Bad Guy.
In general, the bass region was pleasantly tuned and enjoyable to my ears, but I had to deduct some points off for its technical capabilities.
Mids (Score: 8.0/10)
To my surprise, despite being tuned this way, the midrange of the Vesper does not sound hollow nor overpowered at all. Vocals still sounds rather natural without that odd tonality which is very common in many other offerings. Another trait that took me by surprise was that its lower midrange wasn't affected by its emphasis on bass. This presentation is rather well thought out by levelling its mid bass attack and lower midrange voices to avoid any overpowering in presentation. The upper midrange here although slightly emphasised doesn't blow things out of proportion in terms of balance, they do provide that little extra energy, but it doesn't steal the entire stage from its basslines and lower midrange.
A little nit-pick here, the presentation becomes marred when it comes to details and separation with regards to vocals when listening to orchestral choir works such as Godfather's OST. But in overall, great work QoA!
Treble (Score: 7.5/10)
The Vesper's treble doesn't sound sibilant nor harsh at all, they are still able to give you that shiny shimmery feel in its high hats and cymbals when listening to Aladdin's "Friend Like Me". My only concern is that it lacks that "airy-ness and space" as it does have a rather quick roll-off after 10khz. Other than its lack of extended upper treble, I am pleased with what QoA has done so far with the Vesper.
Overall
The Vesper possesses a pretty decent soundstage as well as above average layering capabilities which I find to be a surprise given its price point. It sounds balanced without obvious/huge quirks to its tonality and timbre of instruments. The Vesper remains competitive in today's offerings by being able to do so many things decently well. A lethal package indeed!
Conclusion
The QoA Vesper is truly a complete package for any budding audiophile looking for a budget option that can check the most boxes in their minds. Although it might not be touted for its technical ability, it compensates that by having such a well-tuned frequency response as well as having impressive build quality and fit. For $109 I am happy to recommend this set to anyone in the near $100 range for a relatively clean balanced signature that is fun to listen to.
Last edited: