Quick Stats
Plantronics GameCom Open-Ear Gaming Headset with Full Range Stereo - GAMECOM 377

,

2

votes
Author:
Category:
Views:

419
Images:

1
Reviews:

2
Comments:

0
Average User Rating:

3

/

5

,

2 votes
Wired Connectivity - Stereo - Over-the-head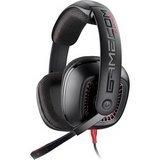 Plantronics GameCom Open-Ear Gaming Headset with Full Range Stereo - GAMECOM 377
Over-Ear item created by nightmancometh, Feb 1, 2011
Average User Rating:

3

/

5

,
Recent User Reviews
"Not good."

Pros - The microphone is OK.

Cons - Terrible build quality, uncomfortable. Audio Control will break and you'll get static or no L/R.

There's really nothing to say about them. The audio is bad, build quality terrible.


"Great 40mm cans!"

Pros - Very good for gaming, microphone is awesome

Cons - Mid-lows a bit bad

Paid 100USD here in Brazil, it costs 50 in the US
Ok so i needed a budget gaming headset and after some research i decided to go for this one.
It's open ear so everyone can hear what i'm playing but i dont really care at home.

I'd say it's pretty close to those 100+ USD gaming headsets.
Cable could be a bit bigger and sometimes it'll pressure a bit under my ear.
Great 40mm cans!

User Comments
To view comments, simply sign up and become a member!