Nice With You If You Are Nice With Them
Pros
:
Rich, nice timbre & personality.
Well calibrated warm-balanced tonality.
Good lowmids and vocals.
Very good highmids and presence.
Very good technicalities, with special mention to imaging.
Cons
:
Careful pairing required. Avoid budget sources and destkop amps.
Midbass transients a bit too slow.
Something more could have been dared on the brilliance section.
I recently had an opportunity to audition a pair of privately-owned Oriveti OH500 IEM – 1 dynamic and 4 balanced armature drivers – for a week and here's my personal experience with them.
Full Device Card

Test setup
Sources: Apogee Groove + Liquid Spark + iEMatch / Questyle QP1R / Sony NW-A55 mrWalkman – Acoustune ET07 eartips – Linsoul LSC08 6N OCC single crystal copper cable – lossless 16-24/44.1-192 FLAC tracks.
Signature analysis

Tonality
When accurately paired Oriveti OH500 have a nicely calibrated warm, rich timbre. Their tonality is almost balanced, presentation is a U-shape, with a distinct accent on low tones also due to relatively more relaxed transients down there.
Sub-Bass
Elevated and extended, Oriveti OH500 produce significant rumble and give very good body to sub-bass frequences. Succumbs to midbass in some occasions which is a sharp downside for me as I'm a die-hard detailed bass fun. YMMV.
Mid Bass
Full-bodied, even buttery and quite well controlled. Well tuned, quite sided in terms of love/hate. The slightest impedance matching issue will deplete this section into a muddy, bloated mess.
Mids
Lowmids are unrecessed and actually very well resolved. A good effort has been applied on Oriveti OH500 to calibrate transients progression from the relatively slower bass to the snappier higher frequencies, not always succeeding in the intent – texturing and naturality are great though. Higher mids are just wonderful: very well tuned, bodied, flutey sometimes, layered and articulated, free from any sibilance or glare when correctly biased. Love them.
Male Vocals
Moderately forward, and especially very natural, articulated and textured.
Female Vocals
A bit furtherly forward compared to males, and fuller. Very well rendered, textured, articulated while always unoffensive. Well done.
Highs
Presence on Oriveti OH500 is masterfully tuned. Crisp, airy, detailed and unscreechy, I really appreciated how they pushed the accent to the limit there yet always staying below the excess-bright threshold. Brilliance is rolledoff though, which is a pity in a sense as it takes some spatial sense away and some extra fizzyness that I specially like on acoustic jazz (YMMV).
Technicalities

Soundstage
Oriveti OH500 proved quite capable in following non-budget DACs on rendering a 3D space, with sizable width and a quite significant depth.
Imaging
Very good. Instruments are properly and precisely cast accross the stage while relative forward vocals tend to occupy the center but in a polite way.
Details
The relative slowness down low is not so serious as to eat up all midbass detail which is in fact present, and quite nice. Still, nothing compared to what the 4 BAs prove able to deliver: a host of small and micro details which are enriching the experience while never scanting into the excessively thin.
Instrument separation
Layering and instrument separation is also very good accross the spectrum on Oriveti OH500 with the sole midbass area showing a relatively lower performance due to the often somewhat preponderant midbass.
Driveability
Extremely picky, due to the very low (12 Ω) impedance paired with a quite significant sensitivity: low quality sources like phones, budget DAPs or DAC-AMPs, and especially desktop amps will have a serious hard time avoiding skewing Oriveti OH500's presentation into an excess or warmth, or inducing early high-mids glare. A mid-tier, or even better a high-end DAP is frankly advised. In lack of better alternatives adopting an iEMatch or similar tool is strongly recommended.
Physicals

Build
Oriveti OH500 housings are made of moulded resin and they appear quite sturdy. I find their smooth finish very elegant, but I'm not so sure how resistant it will be to scratches.
Fit
Nozzles are quite short but they are a sort of natural extention of the main housing shape's protrusion. For this reason – at least for how my outer ears are shaped – I better had to select shorter tips, and even then the result is that the bulk of the housing will not fully rest inside my concha but will partly bend outside, a bit compromising on stability.
Comfort
Housings surface is very smooth and that's great, but positioning is not ideal at least for me, and so consequently is comfort.
Isolation Not more than average, due to the fit situation.
Cable
Stock cable seemed to increase the low frequency accent, irregardless of the pairing. I happened to have a Linsoul LSC08 to swap on, which proved more neutral.
Specifications (declared)
Housing
Handmade Resin Earphone Body
Driver(s)
4 Knowles Balanced Armatures + one 8MM Dynamic Driver.
Connector
MMCX
Cable
Handmade Class 8 Wires (Silver Plated Copper) Braided Detachable Cable
Sensitivity
110 dB
Impedance
12 Ω
Frequency Range
20-20000Hz
Package & Accessories
Leather carry case, 2 sets of S/M/L silicon tips, 2 pairs of M foam tips, 2 pairs of 2-flange silicon tips, cleaning tool, airplane 2-plugs adaper, 6.35-3.5 adapter.
MSRP at this post time
$499,00
Pairing care
The most important note and warning for whoever plans to adopt Oriveti OH500 (or any other very low impedance driver for that matter) is remembering that 12 Ohm is no joke for the majority of low-tier mobile sources, and most if not all desktop headphone amps.
What can – and shall – happen pairing OH500 to an inadequate source is a significant bump-up taking place in the mid-bass area – where OH500 does not need a further embodiement, if something it would actually need some slimming care if you ask me. Another unwanted possible mishap, caused by their low impedance and relatively high sensitivity (110dB), is high mids getting into sharply glaring behaviour as soon as you start raising the volume a bit.
To make some explicit examples, the above 100% happens when pairing to Hidizs AP80Pro, Hiby R3, R3Pro, R5 and R6Pro, Fiio X3-III and BTR5, and I presume many other same-tier direct competitors. Ditto for desktop amps e.g. Liquid Spark or ZEN CAN. In all those cases adopting an iEMatch or a similar impedance adapter is more than a rec, really.
Sony NW-A55 is OK in terms of amping, but I find its warm tonality not an ideal addition to Oriveti OH500's already warm soul. QP1R is a 100% good, so are Lotoo Paw 6000 and Gold Touch. Same for iFi Micro iDSD Signature, provided its built-in iEMatch is switch on at Ultra setting.
Conclusions
When properly paired Oriveti OH500 are very good IEMs. I mainly love their timbre, their distinct personality: they are full-bodied, authoritative, they fill the space with almost tactile sound, in all segments of the spectrum.
To my very personal musical preferences, mid-bass transients are a tad too relaxed – I do prefer snappier plucks and punchier hits down there – yet OH500 never seem to lose control and delivers nice lows texture and layering at all times. What I prefer are highmids and presence trebles though. Those are really something: a wonderful compromise between fullness and detail, crispness and air.
This article also appeared
here
and
here
.
Pros
:
Class leading tonality
Natural timbre
Musical with superb techability
Warm and smooth
3D holographic imaging
Detail retrieval and clarity
Imaging
Build
Accessories
Cons
:
Warm and soothing signature not for everyone
Shell is on the slightly large side
Introduction
Oriveti is the company founded in 2015, the OH500 is their new flagship IEM they launched in 2019. The driver configuration is 4BA+1DD, price of it is $500USD.
Disclaimer
I purchase it from their official website myself for retail price, and the review will be based on my honest opinion through the music I listen to.
Package & Accessories
The package is well presented, it come with the big black cardboard box, with the brand name and model name on the front cover, technical specifications at the back, opening the cover, on the top their is their motto "Listen inspired".
Accessories list:
1 pair x Oriveti OH500 In-Ear Monitor Earphone
1 pcs x 8 Core Detachable Cable with MMCX connectors
1 pcs x Leather Carrying Case
1 pcs x Cleaning tool
1 pcs x Airplane adaptor
1 pcs x 6.35mm to 3.5mm Connector
2 pairs x Silicone Ear Tips (S, M, L)
2 pairs x Foam Ear Tips (M)
2 pairs x Double Flange Ear Tips
The accessories it come with are luxury, especially the leather carry case. It looks gorgeous, the outer layer is made with leather, while the inner layer of carry case give the good protection by using the fluffy material.
The tips option it come with are a lot, from 2 types silicone tips, double flange tips to foam tips. It also come with the airline adaptor, 6.35mm to 3.5 adaptor and cleaning tool.
It come with the 8 core silver plated copper cables, it has 3.5 mm straight connector in metal shell. It features the MMCX connector with L&R label to show left and right. The Y-splitter are metal shell as well as the MMCX male connector. The cable slider are finish in plastic material. It is overall soft and flexible cable.
Design & Build & Comfort
The design of the OH500 is gorgeous, shell are made by resin, shell curve is really smooth and rounded, the shell is using the traditional way to made, not 3D printer. It come with the dark brown color, with the brand logo and name in golden front on the faceplate, it has the vent on inner layer of shell. The shells are slightly transparent, is the overall well design.
The build of OH500 is solid with good build quality, There are no any gap or sharp edges between faceplate and shell. It has the resin filled in at the nozzle of the IEM to hold the component, The BA and DD driver are perfectly placed at the place, while the wire inside are neatly organized. The holes on the nozzle are perfectly drilled and divided into three sound bore for each of two compound drivers and the dynamic driver. The Mmcx female connector do not have sign of wear and tear after I swapped few times of cable.
The comfort is the point I need to mention, the OH500 are on the big side and nozzle is bit short, but thanks for the ergonomics design and slightly angle nozzles it fit OK for me. The isolation is slightly above the average with white stock silicone tips.
Technical Specification
Drivers: 4 Knowles d Balanced Armatures + 1 8MM Dynamic Driver.
Impedance: 12 Ohm
Frequency Response: 20~20KHz
Sensitivity: 110+-3dB/mW, 1000Hz
Distortion: <1%
Sound

Paring
I do find out the tips can affect the sound a lot, there are two silicone tips, black one are more shorter and with softer core, while the white one is more longer and with harder core, the black ear tips has slightly more bass quantity compare to white ear tips with more control bass. The black ear tips have more lower mids and forwards vocal than the white ears tips. The white ear tips offer slightly more treble energy and airiness compare to black ears tips. By the way, I like to pair the OH500 with IKKO CTU01 cable cable, it add bit more clarity by reduce some warm feeling. It also help to add some treble energy and midrange fullness, the sound stage is larger compare to stock cable.
Overall tonality
It is the mildly U shape sounding, with natural, warm, musical and smooth tonality in the dark background.
Bass
The bass is has full bodies presentation with slightly warm tuned, the sub bass has moderate amount of quantity. The sub bass has average extended and above average depth. The bass is tight and well controlled, with moderate speed and rumble, represent in natural and smooth manner.
Mids
The midrange has smooth and musical presentation. It has amazing detail retrieval and clarity. The lower mids are warm and musical with moderate bodies and depth represent in musical manner. The upper mids sound melodious and smooth, with good amount of detail and airiness. The mids range are just amazing, it is musical and smooth, without losing the clarity.
Treble
The treble is soft and mildly, with good amount of detail and extended. The treble never goes too dark or lack of energy, there is moderate amount of airy, sparkle and energy in the upper treble. Which bring to overall smooth and well controlled treble.
Soundstage and imaging
It has above the average depth with average wideness.
It has slightly above the average separation between vocal and instruments.
The imaging is really well, probably the best I ever experienced for its price.
Comparisons
Final audio B1 ($700USD)
Bass
The OH500 has more sub bass quantity than B1. The OH500 bass has less quantity compare to B1, the B1 has better bass extension. The bass are more controlled and detail on OH500, the speed and decay is faster on OH500. The bass has more rumble and weight on the B1, with same level of impact.
Mids
They both represent the mids in smooth and natural manner, but the OH500 are more toward the neutral side. The OH500 has slightly forward vocal compare to B1, while the B1 has more thickness and depth on male vocal compare OH500, the OH500 has slightly forward female vocal compare to B1, the OH500 does the better jobs on clarity, both done amazing jobs on detail, but OH500 did tad better than B1, there are slightly more airy and transparent feeling on OH500.
Treble
The treble on B1 are more forward compare to OH500, the B1 are more attacked in treble, while OH500 are slightly darker and softer. The treble on OH500 are more airiness and open with better extension, the OH500 again does the better detail retrieval.
Soundstage and imaging
Soundstage on OH500 are larger.
Imaging and separation also better on OH500.
Audiofly AF180PRO MKii ($499USD)
Bass
The AF180 has less sub bass and bass quantity compare to OH500, it has close to neutral and fairly linear bass response. The sub bass has better extension and decay on OH500. The bass has more punch and impact on OH500, while the AF180 has better speed, both of them has good levels of control. The clarity are slightly better on AF180, both of the has good amount of details.
Mids
The midrange are fairly neutral on the AF180 with slightly warm tonality, while the OH500 has fuller and slightly toward U shape tonality. The lower midrange has good amount of bodies on both, but the AF180 has clearer presentation, while the OH500 has lusher presentation. The upper midrange has more emphasis on OH500, it has more forward and vividly presentation compare to more accurate presentation on AF180. The detail and clarity are both pretty well, but the transparency levels on OH500 are better, while the AF180 are more accurate.
Treble
The treble are slightly brighter on OH500 with better extension, while the AF180 are slightly darker in comparison. The treble has more emphasis on OH500, whereas the AF180 did it better in term of accuracy. Both has good levels of clarity and detail in the treble. The OH500 has more open and airy presentation, while the AF180 has more accurate tonality.
Soundstage and imaging
The imaging are slightly better on AF180 in term of positioning, the layering are better on the OH500
Westone W40 gen2 ($499USD)
Bass
The sub bass has more quantity on OH500 with better extension and decay. The bass and mid bass has pretty similar in term of quantity, the bass on W40 has better speed, while the OH500 provide more rumble and punch. Both has pretty good level of impact, but the W40 are noticeably quicker. The detail are slightly better on W40, while both of them have pretty good levels of clarity.
Mids
The midrange are both neutral with warm tonality, but the W40 has slightly fuller presentation. The lower midrange has more bodies on the W40, the male vocal sound more emotional, while the OH500 has better clarity and sound more cleaner. The upper midrange has less emphasis on W40, the W40 has soothing and laid back presentations, while the OH500 has more vividly and lively presentation. The clarity and transparency are slightly better on OH500, while both have good level of clarity.
Treble
The treble are more brighter on the OH500 with better extension, the treble on the W40 are slightly darker in comparison. Both of them has good level of clarity and detail. The W40 has more crisp at the top end, while the OH500 are relatively natural timbre in comparison.
Soundstage and imaging
The soundstage are lager on the OH500, but the W40 feel more opener.
The imaging are better on OH500
Dunu EST112 ($489USD)
Bass
The bass has overall fuller and lusher tonality on OH500, on the other hand the EST112 is cleaner and has less organic presentation. The sub bass both extended well, there are quantity on OH500. The OH500 provide more rumble with slower decay speed, on the other hand, the EST112 provide faster and tighter bass. The OH500 has a smoother presentation and provide fuller slam and punch harder, where the EST112 provide more neutrally done bass, and still remain good amount of punch and impact. The detail retrieval and clarity is better on EST112.
Mids
The midrange has again lusher and more organic kind of presentation on OH500, where as the EST112 is clearer and tuned more neutral and colorless. The lower midrange has more bodies on OH500 and sound warmer, while the EST112 sound cleaner and clearer, both have good amount of depth in presentation. The upper midrange has more lively and forwarded presentation on EST112, on the other hand, the OH500 is more laid back and relatively smoother. The detail retrieval and clarity are both pretty well.
Treble
The treble has better extension on EST112 with more vividly presentation, where the OH500 is more laid back. Both of them have smooth and fatiguing free presentation, but the EST112 has more energy and extra brightness in lower midrange. There are more airiness and feel opener on the EST112, the EST112 also has extra silky kind of texture that OH500 doesn't have. The detail retrieval and clarity are slightly better on EST112.
Soundstage and imaging
The soundstage is wider on EST112, while the depth is similar.
The imaging are both pretty well, but the EST112 is slightly better.
Compare to my relatively more objective Head-fi star ranking, this ranking will be more subjective based on my personal preference and it doesn't take price into my consideration.

Scorsystem:
4/10 and below: Waste of money
5/10: Average
6/10: Above average
7/10: Good
8/10: Great
9/10: Excellent
10/10: OMG


Oriveit OH500:
Overall tonality: 8/10
Bass: 8/10
Mids: 9/10
Treble: 7/10

Overall: 8/10
Conclusion
The OH500 will be my top tier for under $500, but this is not for everyone, because the sound is more toward the warm neutral tuned, while a lot of people are more preferring the bright neutral or just slightly warm neutral. But even with the warm tuned, there are still amazing detail retrieval and as well as the imaging. Overall, the OH500 has has top tier tonality along with strong technicality. I think people who is looking for $500 IEM, should also consider this as the option. I will add the OH500 to best $500USD list. Thank you for reading, HAPPY LISTENING.
Oriveti official website:
https://www.oriveti.com
OH500 product page:
https://www.oriveti.com/oh500
Last edited:
Pros
:
studio monitor
resolution
excellent sound stage
outstanding separation
neutral tuning
Cons
:
possibly too warm for some
you have to get used to the signature
Intro
After the OH300 I also borrowed the OH500 from HEADTEK.de for a review, which owns the exclusive rights for the distribution of ORIVETI products in Germany! The OH500 has two more BA drivers than the OH300, which makes him a 5-driver hybrid with a price premium of 180€. In a direct comparison I have to admit that in the beginning the little brother promised me more, but the OH500 could catch up in the long-term test and even overtake the OH300.
Handling
The package contents are identical to the OH300, which means that numerous accessories, such as various sizes of form and silicone tips, a round and high-quality leather transport box and a premium cable with 8 cores find their way into the hands of the buyer. Even a cleaning set for the sound tubes is included and so the scope of delivery including the headphones leaves nothing to be desired.
The wearing comfort is also similar to that of the OH300 despite the slight change in shape of the housing and is therefore excellent! This also applies to the isolation to the inside and outside.
This makes the OH500 equally suitable for stage use, as well as for everyday use, whether on the road or during sports.
The design is similar to the OH300 simple and elegant, without being distinguished by special extravagance, which is also not necessary.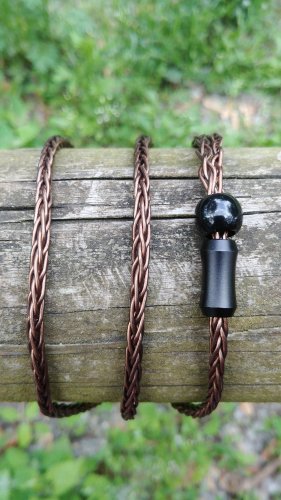 Sound
In contrast to the OH300, the OH500 is slightly warmer and more neutral. It looks smoother and flatter without getting boring or sounding too dull. It simply goes another way, for which you need a short acclimatization period. But then he can convince completely!
The bass is almost identical to that of the OH300, because the same dynamic driver is used among other things. At best, I would describe it a bit rounder and not quite as present, which is more beneficial for purists. Nevertheless, it has enough presence in the overall sound without pushing itself too much into the foreground.
As with the OH300, I would like to see a little more hatching. But that's a high level of complaining, because the performance is above the average of the cheaper Chi-Fi-In-Ears.
In contrast to the OH300, the mids are somewhat warmer, flatter and softer. At the beginning, this is slightly irritating in a direct comparison, but once you get used to it, another strength of the OH500 becomes apparent here. Because the mids are by no means receded, or blunt, but clear and clean, as well as tonally absolutely correct. The positioning of the voices, which move more into the foreground, as well as that of the instruments, is in no way inferior to that of the OH300. Separation and detail are convincing and create a wonderful, transparent sound carpet.
The highs should make the biggest difference between the two models. They are a bit milder on the OH500, but this doesn't limit them in terms of expansion and detail. I would even say that the treble resolution is even finer and more differentiated than with the OH300. There are no problems with sibilants or peaks, which can rarely play a role with the OH300. Similar to the Kanas Pro, or the 1MORE E1010, the highs manage to reveal the smallest nuances in a relaxed way. This already has studio monitoring quality! Due to the created spatiality on different levels, it is always exciting to gain new facets from the music and to immerse it completely. Clearly a highlight of the OH500.
The 3D imaging is one of the best I've heard so far. I have never had an in-ear that could reproduce such a large stage without becoming unnatural or confusing. The price difference to the OH300 is also noticeable here, because not only two BAs were added randomly, but they are accurately tuned to each other and thus manage to enhance the strong sound of the OH300.
Outro
After the long-term test, the OH500 wins the direct comparison to the OH300 and even manages to displace the Kanas Pro from its Tron. The OH500 is certainly not a blind buy, as it probably won't suit every taste due to its tuning, especially if you like it a bit brighter and more bathtub. However, I'm quite enthusiastic and would take him straight to my daily in-ear if I didn't have to give him up again.
The OH500 offers everything that already made the OH300 a premium product and, thanks to its sensitive nature, manages to add a little something to it. Nevertheless, I can absolutely understand if some prefer to go into the race with the OH300. That's just a matter of taste!
HEADTEK:
https://headtek.de/de/oriveti-oh500-premium-4-1-hybrid-hi-fi-in-ear-kopfhoerer.html
ORIVETI:
https://www.oriveti.com/product-page/4-1-model-premium-4-1-hybrid-hifi-iem-headphones
___________________________________________________________
More reviews:
https://en.chi-fiear.com/
Facebook:
https://www.facebook.com/CHIFIEAR/
Last edited: